Read on for your ultimate guide to the best BBQ tool sets. We'll take you through what you need to look for as well as review for you our hand-picked list of favorites on the market today.
The stage is set. Beers iced. Ribs rubbed. Friends are hanging out around the smoking hot grill. And then the unthinkable happens…just as you're turning that sizzling rack of ribs…the spatula breaks.
This is what happened to me last summer. This is what happens when you go cheap with grill tools. Oh, the shame!
Sadly, BBQ tools too often fall into that category of "afterthought."
You're at the store, you see the summer sales, oh, could use a new set of grill tools, and in the basket goes the $20 19-piece grilling tools set. Bargain, right? But it'll end up driving you nuts when the handle breaks, the blades bend, or they are too short. Ouch!
As in all things, you get what you pay for. In general, we say you're better off ditching the sexy-looking case of 19 items (you do know that 8 of these are corn-holders, right?) and instead spend a little more on three or four utensils of real quality.
At a Glance: The Best Grilling Tool Sets Discussed in our Guide
Note: Clicking the above links will take you to further information, current prices and customer reviews on Amazon.
Best Grilling Tools — Our Top Recommendations
If you're serious about your grilling, then you will no doubt want the best tools to enhance your outdoor cooking. Although many that we look at below can be bought individually, it's normally more cost-effective to buy them in a set.
So here are our top recommendations for the best BBQ tool and grilling sets, with products of varying sizes, to suit all budgets.
We've done the research for you and will guide you in detail through our carefully chosen top picks. You're bound to find the right choice among our picks here.
Alpha Grillers Heavy-Duty BBQ Grilling Tool Set
1
This minimalist BBQ tool set from Alpha Grillers is the ideal choice for a chef looking for some heavy-duty tools.
These precision designed tools are well-suited to BBQ professionals and made from such a thick metal that they won't bend or flex, even under the weight of the heaviest steak.
Included in this set is 4 items: An oversized spatula, a two-tine fork, a set of spring-loaded locking tongs and a silicone basting brush.
All the tools are heavy-duty, built to last, have hanging loops for them to be placed where you need them at the grill, and are long enough to keep your hands away from hot surfaces.
All in all, it's a quality set, and they take top spot as our recommendation for the best grilling tools set.
Pros
Super thick brushed stainless steel construction.
Rust-resistant and strong.
Contoured rubber grips for comfort and safety.
Long hanging loops for easy storage.
The leading edge of the spatula is tapered for easy sliding under food.
An extra sharp serrated edge can cut through meats as cooking.
Large head of spatula allows for flipping the largest of steaks.
Scalloped tongs to avoid tearing more delicate foods.
Dishwasher safe for easier cleanup.
Backed by a lifetime money-back guarantee.
Cons
Tongs can often "lock" while being used.
Springs in the tongs can be stiff and need oiling (cooking oil will do!)
Admittedly, this 4-piece BBQ tool set may be quite pricey, but you are getting premium quality heavy-duty tools.
The 18-inch length is ample for keeping you safe when grilling, and the tools have been well-designed. There's even a bottle opener built-into the spatula, to ensure the chef never goes thirsty.
The extra thick stainless steel used to make these ensure that you can pass them down to the next generation of grill chefs. If they should ever break, they're covered by a lifetime warranty.
Weber Original 2-Piece Stainless Steel Tool Set
2
From the self-proclaimed King of Grills — Weber — comes this simple, yet elegantly designed, 2-piece set of tolls for grilling.
The same Weber quality you find in their grills is also evident in this grilling tool set. We particularly like the extra attention to detail in the design.
This oversized tool set boasts soft touch comfortable handles and good steel construction. Some may find the 18-19" length a little hard to handle, but if you're grilling big, these tools will have the reach you need so as not to "singe your little arm hairs" as one owner put it!
The set includes locking tongs, and a spatula with offset handle, both with hanging loops.
Note these tools will likely need to be hung, rather than stored in a drawer as they are very long.
Pros
Stainless steel construction for extra durability and rust-proofing.
Dishwasher safe.
Loops on the ends of the handles for easy storage.
Tongs lock to save space when stored.
Offset handle on spatula to protect your hands, keeping them away from the heat.
Soft touch handles for comfortable and safe grip.
18-inch length for keeping your distance from the flames.
Slotted design of spatula allows grease to run out.
The angled neck of the spatula allows you to keep away from the hot grill when sliding under foods.
Cons
The stainless steel used isn't as thick as some, like the Alpha Grillers tool set.
The spatula seems quite flimsy for a Weber product.
As long as you can accept the limitations of the basic contents, it is a great accompaniment to your Weber grill. You probably are going to have to buy extras, but the basic two to start you off are here.
Some grill enthusiasts will only ever buy Weber official accessories. They are generally good quality, just a little more expensive.
Grill Heat Aid Stainless Steel BBQ Smoker Accessories
3
If you're tired of losing your BBQ tools, this is the first set we've looked at that comes in an attractive and sturdy aluminum carry case for storage.
We particularly liked this set as a gift for the chef in the family, when holiday season comes around. It's a large set that comes with the following items:
3 x thicker size large skewers
3 x thinner size medium skewers.
1 x long-armed spatula with 2 cutting edges.
1 x XL tongs.
1 x tactical chefs knife.
1 x silicone basting brush.
1 x meat fork.
1 x grill cleaner/scraper with brass wire bristles.
At just over five pounds, and with the easily packable case, this is also the ideal tool set for taking camping or to pack with a tailgate grill.
The case itself isn't exactly high quality, but then the cost does reflect that. However, the tools are well-built with solid stainless steel, and come with a lifetime warranty.
Pros
All stainless steel, that are durable and rust resistant.
Safe handles which don't get too hot.
The metal hoops of the handles are easy to hang for storage.
The tactical knife is razor sharp, ideal for slicing through meats.
The spatula features two cutting edges, one with larger serrated teeth.
Bottle opener on top of the spatula handles, for refreshment as you man the grill.
Stoppers on the stainless steel skewers to stop food slipping out of place.
Hooks on the skewers allow for hanging on the side of the grill or upright in a smoker.
Lifetime warranty.
Cons
The carry case isn't aluminum, just a metal foil covered hardboard.
If the case gets wet, it can delaminate, and mold often grows.
Quite expensive compared to other sets, especially if you never use the kebab skewers.
Any chef you were to buy this BBQ tool set for as a gift would be initially impressed. Unfortunately, the poor construction of the case lets it down somewhat, but the tools themselves are great.
Definitely, don't leave this grill set outdoors along with your grill.
Home-Complete BBQ Grill Tool Set — 16 Piece
4
This set from Home-Complete is another which comes in a smart-looking carry case, and it's got everything you need from the must-have tongs and spatula to corn holders and skewers.
It even has a second brush head for the grill brush, so you can toss one in the dishwasher and still not miss a beat at the grill. Here's everything you get with this set:
1 x spatula with serrated tenderizer edge and built-in bottle opener.
1 x long-handled tongs.
2 x kebab skewers with stainless steel handles.
8 x heatproof corn holders.
1 x silicone basting brush.
1 x grill cleaning brush.
1 x spare head for grill brush.
1 x heavy-duty aluminum storage case.
Heads-up that these pieces are slightly shorter than some of the other tools we recommend, so keep those grill gloves at hand. But this does mean it's more compact, at just 1.5 feet long.
What we really liked was the heat-resistant metal handles that won't crack or wear down, like some plastic or wooden handles.
In its handsome aluminum hard case, this set makes a nice gift and works well at its price point.
Pros
Everything you could need at your grill station in one!
Solid and strong stainless steel construction.
Power tongs feature toothed edges for a better grip and can even lift a 2.2-pound chicken.
Elongated heat-resistant handles keep your hands away from the heat.
Easy to clean—dishwasher safe.
The storage box has slots which keep everything neatly organized.
Cons
The case isn't waterproof.
With its compact case, this set from Home-Complete is ideal for your next outdoor expedition. Whether it's a simple tailgating party or a weekend family camping trip, all the tools you need are contained in this sturdy aluminum case.
Just remember the case is not waterproof, so don't leave the set outdoors too long.
Cuisinart CGS-233BK Grilling Tool Set, 3-Piece
5
Cuisinart is known for its quality kitchen utensils, so build quality should be good here, and these tools for the grill include the three basic utensils no grill chef should be without.
Included is a grill spatula with serrated edge and built-in bottle opener, 1 pair of grill tongs, and a grill fork with two prongs.
Available in black, red, gray, navy, or turquoise accented rubberized grips, they ensure a comfortable and secure grip, with the handles also featuring hooks for easy hanging.
Pros
Durable stainless steel tools with integrated hooks that won't snap off.
Long 12-inch handles keep you further away from the hot grill grates.
Rubberized plastic grips are comfortable to hold and available in many bright colors.
The serrated edge of the spatula can be used to scrape the grill of burnt debris.
The bonus glove offers more protection for your hands and is stylish enough to be used indoors too.
A 1-year limited warranty—unusual on budget purchases like this.
Cons
A bit limited, with only three items included.
Not dishwasher safe.
The metal may be too flexible, making the spatula difficult to use for heavier items.
This grilling tool set is the perfect starter kit from a brand you already know and trust.
For flipping burgers, rolling hot dogs and other basic tasks, it has everything you need for the cost of what you might typically pay for a good porterhouse steak.
Cuisinart CGS-5020 20-Piece Deluxe Grill Set
6
Cuisinart also makes larger BBQ tool sets, and this 20-piece deluxe set comes in a high-quality aluminum case, to keep all the utensils organized.
What makes this set stand out from many others is the digital thermometer built-into the extra long fork — no more burning your hands when trying to take a temperature reading.
Here's what you get with this set:
1 x tongs.
1 x silicone basting brush.
1 x chef's spatula.
1 x digital temperature fork.
1 x grill cleaning brush.
1 x replacement head for grill brush.
8 x corn holders.
5 x skewers.
1 x aluminum storage case.
As you can see, it's a comprehensive tool set that has everything you could possibly need for any style of cooking at the grill
Pros
Quality stainless steel construction is durable and won't rust.
Extra wide spatula with cutting edge and a bottle-cap opener built-in.
Balanced, weighted handles for comfortable use.
Digital temperature fork displays both actual and desired temperatures and also has an alarm feature.
Integrated LED light in the temperature fork is useful when cooking at night.
The case allows you to carry the set where you like, with Velcro straps for keeping the tools in place.
One-year warranty included.
Cons
The brush doesn't seem strong enough for a proper scrub of the grill.
The tongs are the real weak point of this set and appear flimsy, with no spring or locking features.
The steel handles can get hot much quicker than rubber or plastic heatproof handles.
If you have put your trust in the Cuisinart brand before, this comprehensive tool set won't let you down.
It contains virtually every tool you'll need for your backyard grill sessions, and even comes in a sturdy case for those tailgate parties. You'll wonder how you ever lived without a digital thermometer fork once you use the one in this set.
Flamen 5-Piece Heavy Duty Stainless Steel BBQ Grill Tools Set
7
This Flamen non-slip 5-piece tool set is a basic, affordable option, yet is both functional and heavy-duty too.
We like the 5 tools included, they cover all the basics without getting too esoteric with corn holders and skewers that you might never use. Included in this set is:
1 x tongs.
1 x spatula.
1 x BBQ fork.
1 x grill brush.
1 x long handled all-purpose knife.
If you're looking for the easiest cooking and clean up process in just five basic tools, this kit is ideal.
Pros
High-quality food-grade stainless steel construction ensures the tools can last many years.
Non-slip thermoplastic handles for a safer and more comfortable grilling experience.
Hoops at the ends of the handles for easy hanging when you're done.
Hanging hoops also work as bottle openers.
Heavy-duty grilling tongs have a serrated edge for cutting.
Wide slotted spatula allows for the grease to run through and also features a cutting edge.
Dishwasher safe.
A perfect gift.
Comes with a 30-day, 100 percent money-back guarantee.
Cons
No storage case included.
The wire brush for cleaning the grill is not as sturdy as others.
When the boys come around for a grill party, they would love a set of tools like this, with a bottle opener for each of them.
It also helps that they are generally good tools and the most frequently used items that you need, all at an exceptionally good price.
How to Choose the Best Grill Tools?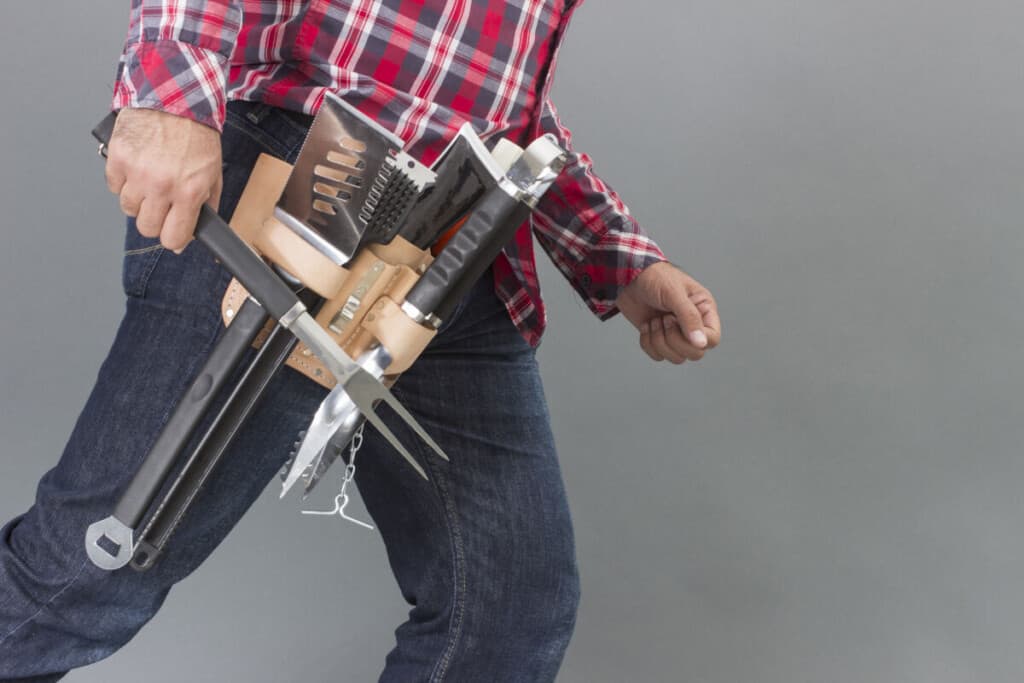 When you're ready to purchase tools for BBQ and grilling, there are seven important things to keep in mind:
Which tools you really need
Which are desirable, but non-essential
Durability and toughness
Length
Advice about handles
Useful extras
What to avoid
Before You Buy — What do You Really Need?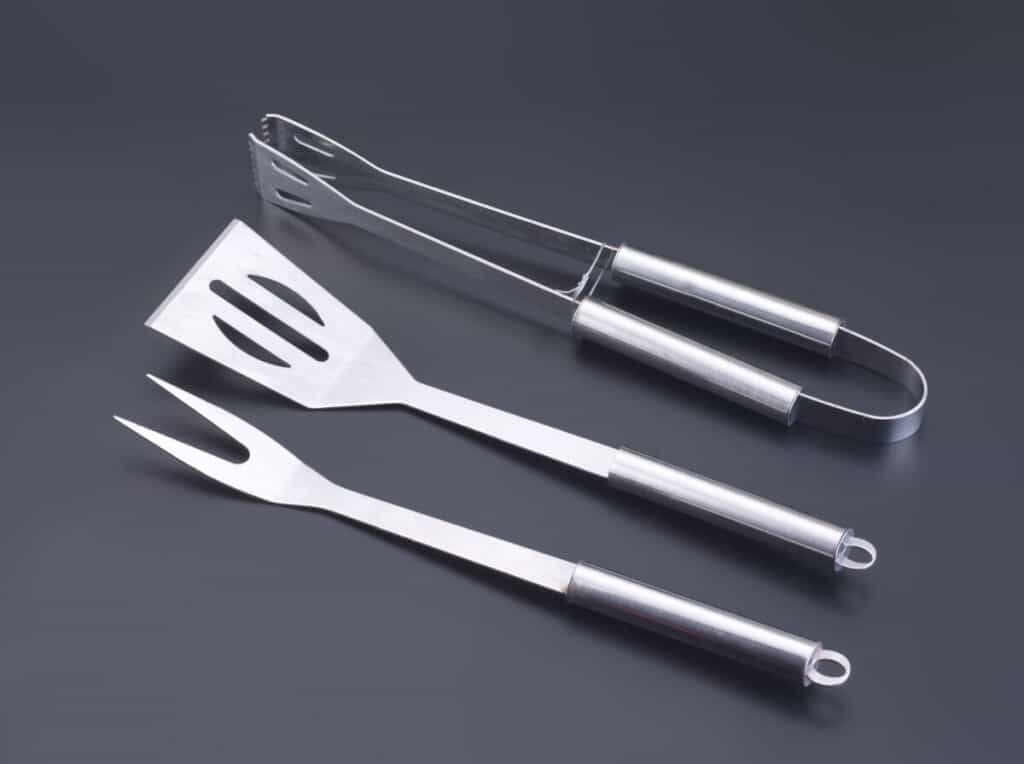 A recent consumer survey by the HPBA (Hearth, Patio & Barbecue Association) found that 70 percent of all US adults owned a grill or smoker. The majority of BBQ owners, 83 percent, had invested in three or more accessories to customize their outdoor grilling.
Three may not sound like an excessive amount of accessories, but many of the BBQ tool sets you can buy today will feature more than 15 tools. Most of the time you will get better value for money with more pieces.
However, some larger sets will have items that you may never use. Basic items like a spatula, tongs and barbecue forks will always get used, but can you say the same for corn on the cob holders?
Consider what is in the tool set, and if you KNOW you won't use a particular item, then it's certainly not value for money, it's a waste.
First, Do You Need — or Want — A Carry Case?
Most of the grilling tool sets we've looked at come in a sort of carry case. These can be ideal if you're going camping, but not always needed if your outdoor kitchen area has storage drawers or cupboards.
If you are looking for the perfect gift for the family chef or a friend, a BBQ tools gift set in a sturdy aluminum or wooden carry case is the ideal choice. I personally love that James Bond feel of being given "A license to grill" with a case full of gadgets from Q!
If you do choose a tool set with a case, try to ensure it is sturdy and weatherproof. Some sharp-edged tools can easily cut through cheap nylon sleeves, and water seeping in can cause the tools to rust.
Secondly, What to Look for in the Best BBQ Tool Set
BBQ tools are criminally overlooked in my opinion. It's only once you've experienced the correct selection of quality utensils that you will realize what you've been missing.
There are some tools which are absolute essentials. We will start with them first before looking at those nice-to-have items.
Side note: You can check out the following guide if you have a smoker and are interested in the best BBQ accessories.
What are the Essential BBQ Tools?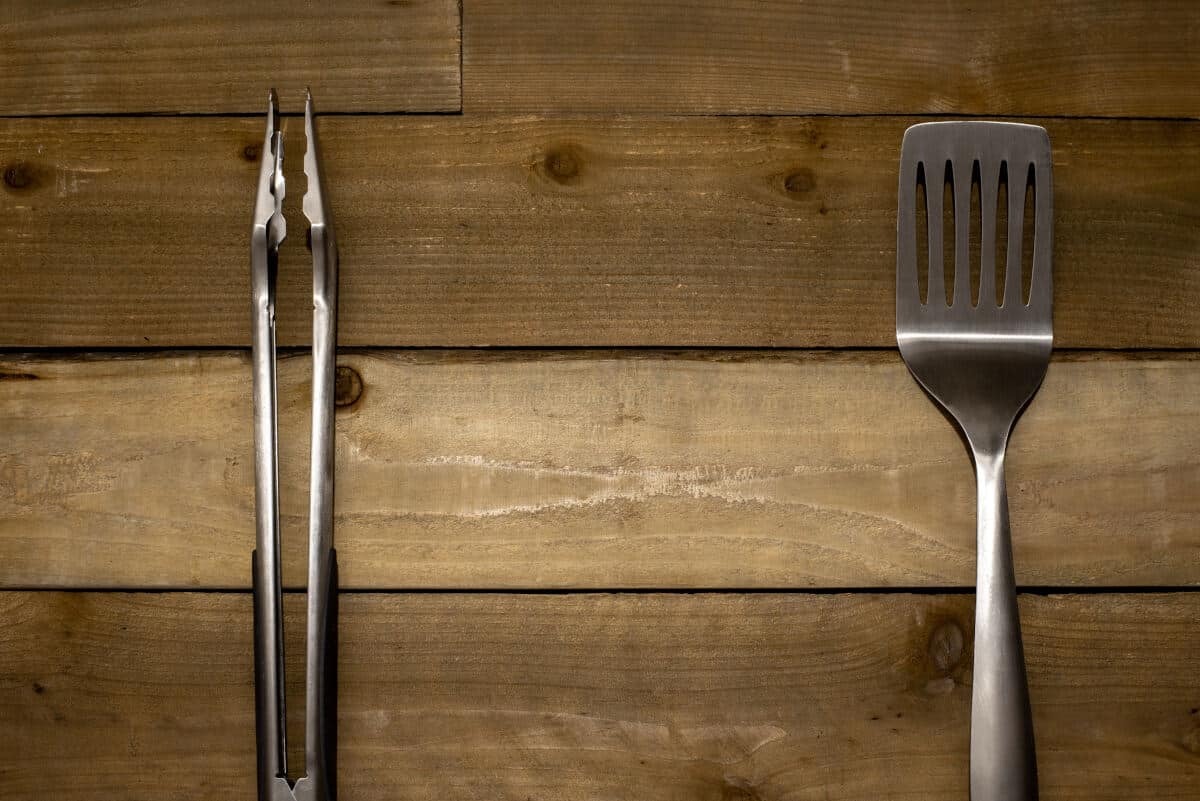 Food needs to be transferred to the grill and turned when cooking. And as food cooks, it can often go dry and require basting. Also, burnt-on bits of protein, and that baste you have applied, will also need cleaning from the grill.
With this in mind, here are the basic four tools you should expect to find in any decent tool set, or want to look for if buying separates
Tongs
A pair of tongs is the most basic of BBQ tools and found in nearly all tool sets. Tongs can be used for placing the food on the grill, turning it as it cooks and removing the food when it's done.
Therefore, this is the tool that handles 90% of your work.
Choose a soft, comfortable silicone or rubber handle for a comfortable hold and beveled or scalloped tips that are wide for controlled gripping and turning.
You want solid tips that align well when brought together. Some models have forked or slotted tips. Now think of asparagus. Thin, delicate, slick with oil. These decorative ends just won't grab that puppy.
Look for two separate arms with a reliable spring-loaded hinge, which is preferable to the one-piece bent-metal design. It's a personal preference, but if it's too tight, your forearm will tire.
Finally, a locking mechanism and hanging loop are good for ease of storage.
Spatula
You need a spatula for turning delicate foods like fish or burgers.
Choose one with an offset handle for easy lifting and for putting a couple more inches between your hand and the inferno.
The classic wide duck-foot shape will work well for most foods and should be thin with a beveled edge to give you flexibility for easing under a sticky piece of chicken.
A robust spatula will have a full "tang" meaning that the piece is made from one solid piece of steel from head to handle.
A serrated edge on the side is nice for cutting food grill-side.
Basting Brush
A key to producing deep layers of flavor on grilled foods is the application of a sauce or marinade as it cooks. Basting the food regularly can also help prevent the food from drying out due to the higher temperatures of outdoor grills.
You've got a couple of choices here: traditional natural fiber mop or modern silicone bristle brush.
Here's the scoop: your mop is going to hold a ton of sauce, great for generously slathering on BBQ sauce. But some people find that, over time, they don't feel as squeaky clean as their silicone rivals.
A silicone brush will clean up great, and give you a little more control when brushing on a sauce, especially on smaller items.
Grill Brush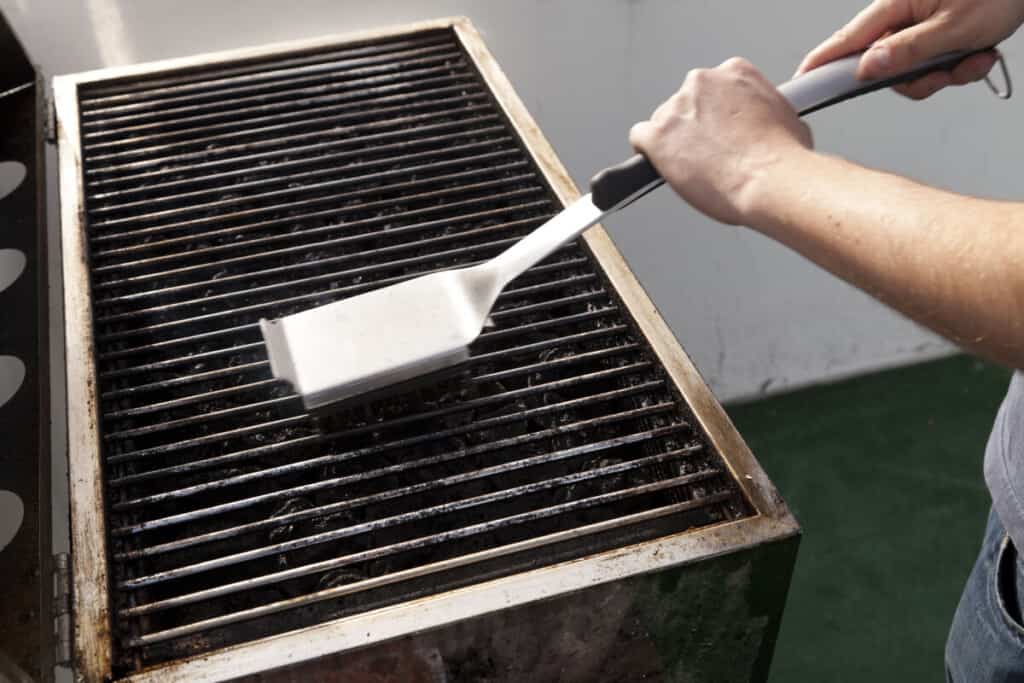 It's inevitable that food will stick to your grill, and it's important that you keep it clean if you want tasty food every time.
You probably haven't given too much thought to this hard-working clean-up guy, but poorly made grill brushes can leave tiny bristles on the grill that can then get worked into your food. Nuff said! (Seriously, check out the dangers of loose grill brush wires…not pretty.)
Choose a brush with sturdy stainless steel wire bristles that are solidly anchored into the shaft. Quality steel wire will not leave rusty deposits on your grill, another thing you would not like to find on your burger. You can find such products in our guide to the best grill brush.
Solid wood or metal construction is best and most durable here. No plastic. While a notched scraper on the end is a must for this piece to get between the bars of the grate.
Non-Essential, but Sometimes Included "Nice-To-Haves"?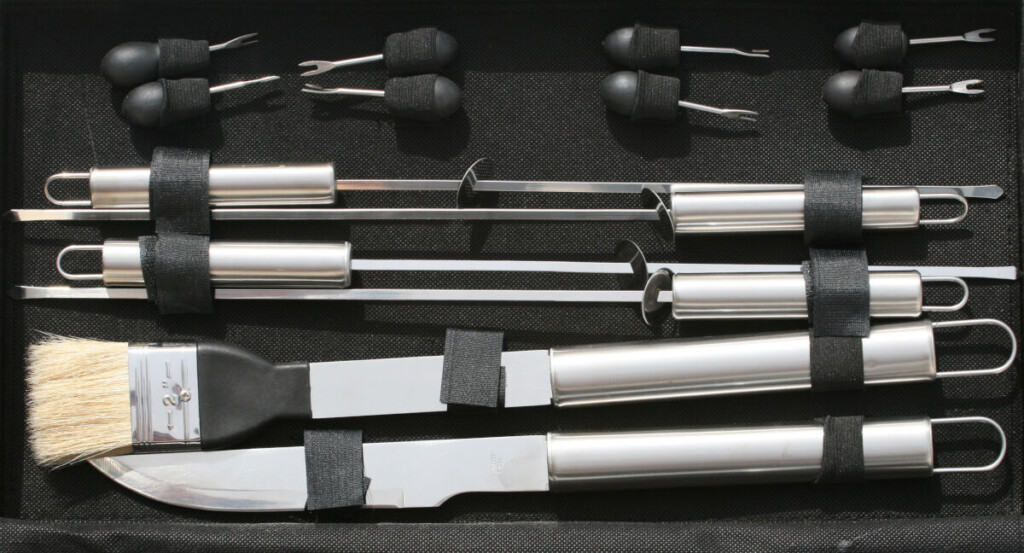 You will find many of the tools below in some BBQ tool sets, but consider whether you really need them?
If you aren't a big fan of kebabs, you definitely won't need kebab skewers and, if only cooking at home, why spend money on even more knives?
However, although these pieces are non-essential, they can be helpful, add further enjoyment to your outdoor cooking, AND be enough to show folks whose pit-master numero uno in town (because that's important, right? Haha.)
Fork
A fork is a common part of many BBQ tool sets. These can be used for moving food around the grill or checking how the meat is doing.
Some more serious BBQ chefs aren't too keen on BBQ forks, as piercing the meat while it's cooking can allow juices to escape and the meat to dry out.
Kebab Rack with BBQ Skewers
What is it about meat on a stick? People just eat it up!
If you like to make kebabs on a regular basis, tool sets which already include skewers can be cheaper than buying them separately. Usually made of stainless steel, they won't char, and thus affect the flavor of the food, as wooden kebab sticks often do.
And a notched rack holds skewers nice and steady just a tad above the grill surface so that small pieces don't burn.
Corn Holders
Fans of corn on the cob will know just how delicious it can taste when prepared on a BBQ. Small metal handles can be inserted into the ends of the cob, making it easier to hold when the corn is hot off the grill.
Knives
You probably already own a set of sharp knives in your kitchen, but a set of knives specifically for BBQ can be useful when you're camping or tailgating.
No more searching in the kitchen drawers for that knife you have accidentally left in the garage with your BBQ, or worse still, at the campsite.
Durability and Toughness: What are the Best Grill Tools Made from?
Your tools are the linemen on the gridiron of your grill. They've got to be tough, strong and built for action. Don't forget, whether charcoal or gas, your grill reaches temperatures far higher than those on the stovetop.
Look for heavy-duty, heat-resistant 430-grade stainless steel. Rolled steel construction will prevent tools from bending under that big juicy rack of ribs. You want to feel a good solid heft in your hand, with just a little flexibility in the case of the spatula.
Heat-resistant handles with wood or silicone accents will give you better grip and control, especially important if you use grill gloves, (and if you don't, you should be using them! So check out our article on the best BBQ gloves.)
Good quality pieces will stand up to high temperatures in the dishwasher as well as at the grill, with stainless steel resisting rust and residue.
Length — Size Does Matter!
We're talking high heat here, folks. Very high heat. And you don't want your hands too close to it. Choose tools shorter than 12" and you'll be cooking more than your food.
At the same time, tools that are too long will be difficult to control, more inclined to bend and break, and make your arm ache.
The perfect length? 16" is ideal for most people, letting you safely reach for the sausage that rolled right to the back of the grill while keeping your hands safe and away from the heat source.
Use this handy at-a-glance table to decide on the size that's right for you:
| Tool | Ideal Length for Most | For Large Grills | For Small Hands or Grills |
| --- | --- | --- | --- |
| Spatula & Tongs | 16" | up to 22" | 13" |
| Basting Brush | 12" | up to 16" | 10" |
| Grill Brush | 18" | up to 21" | 12" |
Advice About Handles
Handles add to the good looks and comfort of your grilling utensils. Wood, rubber and silicone are all fine choices, giving you good grip, even with grill gloves.
Stainless steel handles look sleek and sharp but can be harder to grip with gloves or oily hands. Stainless steel will also get too hot if left near the grill. The only downside with wood handles is that they should not go in the dishwasher.
Do you tend to store or leave tools outside? If so, go with rubber, silicone or stainless steel so that handles can handle Mother Nature!
How does it feel? The weight, comfort and ease-of-handling of grill tools will need to feel right for you personally. I'm at the grill just about every day, and I like a shaped, ergonomic handle for good grip and control.
Features to Look for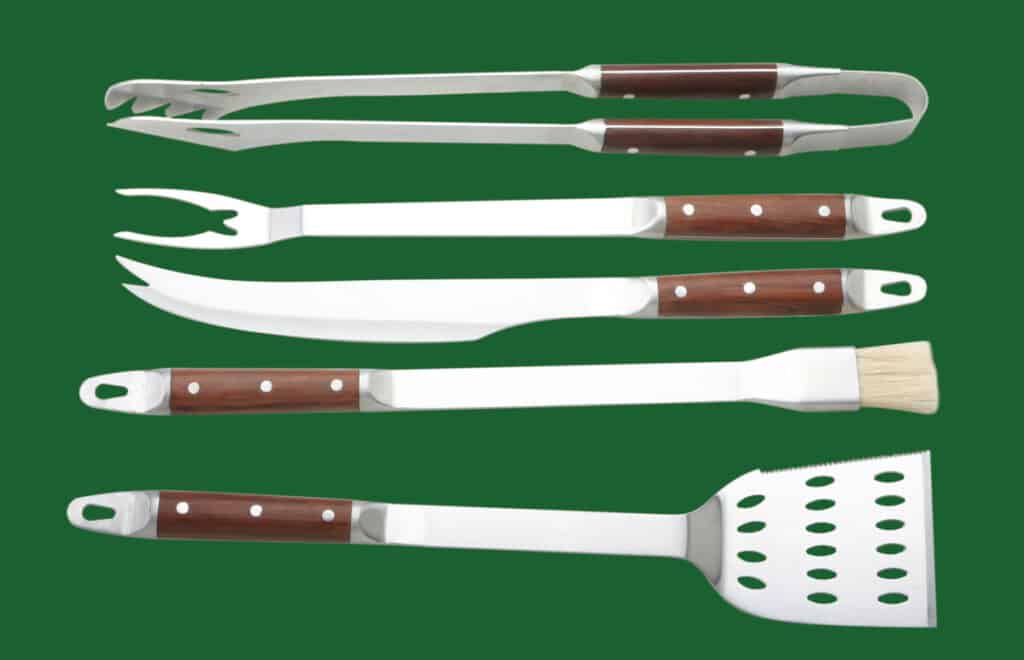 Remember, your BBQ tools are going to be used outdoors for longer periods and at much higher cooking temperatures than normal kitchen utensils.
You should look for the following features that make them more suitable than domestic kitchen utensils for outdoor grilling.
Long Handles
As previously discussed, size matters!
BBQs, especially charcoal grills, can burn at temperatures over 700 degrees Fahrenheit, that's what gives your steak the nice sear. You can also get a sear effect to your arms if not careful! Nearly half of the 16,600 accident room BBQ-related cases every year are thermal burns.
Safety is of the utmost importance when cooking on a BBQ, and long-handled tools will keep a safer distance between you and the flames. The longer the handle, the less chance of singed fingertips.
However, tools with longer handles can also be heavier to use. Ensure the tool has an ergonomic grip, for safer use and less chance of being dropped on the hot grill.
A Way to Hang the Tools up
BBQ tools will get very hot, and you don't want to just put them down on any surface. Ensure that the handle has an eyelet which you can use to hang up the tool when not cooking with it.
When camping, a small storage rack or holders on the grill itself can be an ideal way of storing your utensils.
Heat Resistant
Insulated handles will further protect your hands from the intense heat. Low conducting metals will prevent heat from traveling through the handle too quickly, while high-quality plastics or rubber will also offer heat resistance.
Cheaper plastics will often melt at higher temperatures and can even stick to your hands—not nice!
The best BBQ tools and grill sets tend to be made using stainless steel, which can withstand higher temperatures. Stainless steel is also rust resistant, ideal for cooking outdoors in often damp conditions.
Dishwasher Safe
Like any other cooking utensils, it's important you choose a BBQ tool set with components which are easy to clean. Stainless steel is very easy to wash, with some tools even being dishwasher safe.
Dishwasher-safe tools will generally be more hygienic and safer to use, as dishwashers can reach high temperatures, which kills more bacteria. Although, handwashing will normally clean them with a light scrub in hot, soapy water, you just might want to sanitize them after washing too.
What to Avoid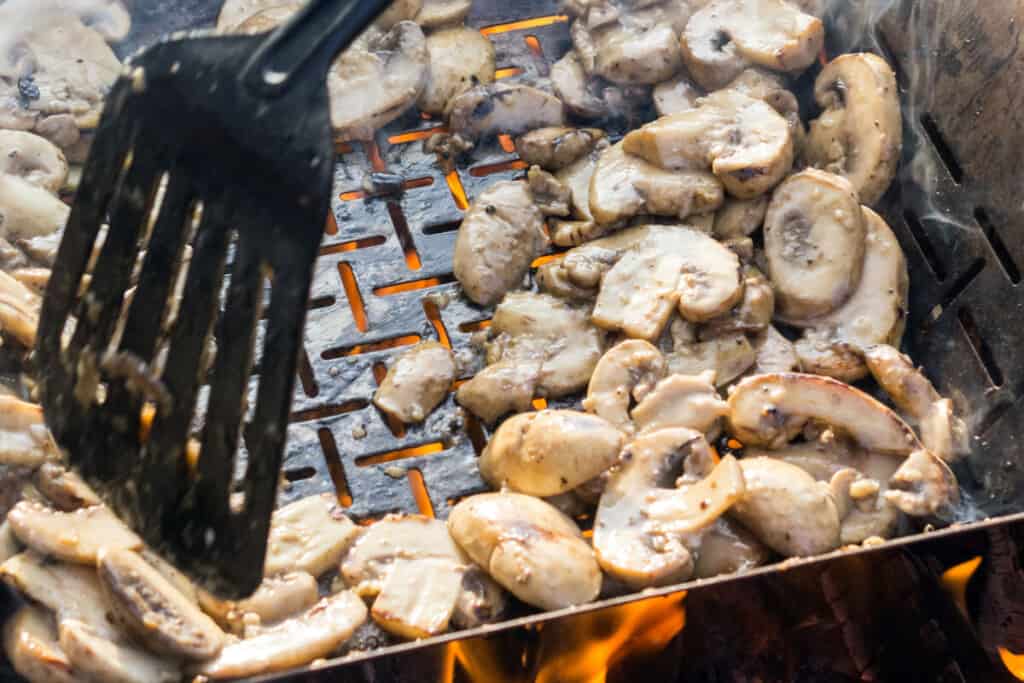 We've scoured the market to bring you a solid selection of quality tools at different price points, and we hope we've helped you understand the features you should be looking for.
But we also want to point out a few things you will want to pass over when choosing grill tools. Check out this short list of BBQ blahs:
Aluminum construction. Lightweight and quick to heat and bend, aluminum will not make it to Labor Day let alone the following summer.
Nylon-coated tong tips that are "heat-proof" (they're not, as you will discover when you have melted a pair, as I have). This material also has a poorer grip on the food than silicone or steel.
A spatula head that is thick and rigid. And how's that going to glide easily under that stubborn pork chop without tearing the succulent skin? Stick with thin but strong metal with a beveled edge and a nice flexibility.
Plastic handles. They'll break before you can say smokin' Joe.
Super sharp metal edges. It seems like it would be a good thing, right? Wrong! Very sharp spatula edges and tong tips will damage some coated non-stick grill surfaces, and tear the skin on delicate foods.
Telescopic handles. Seems cool, but the moving parts just make the tool weaker and prone to bending and breaking when fully extended. Just choose the length you need for the size of your grill. No telescopic features required.
Your take-away here is it pays to spend a little more on a few quality tools, preferably purchased piece-by-piece, or in a small set.
Conclusion
At the end of the day, you take pride in your grill and the finger-licking fare that comes off it. Heck, you probably spent a good chunk of time (and money) choosing that grill. So why insult it with a set of sub-par grill tools? Kind of like wearing flip-flops with an Armani suit!
We hope our in-depth buying guide to the best grilling tools sets has helped you see that the smart money is on the higher quality items that will stand the test of time. For just a few dollars more, you can have a set of premium tools that will make the cookout experience easier and more pleasurable.
In the end, it's about being prepared, equipping yourself with reliable essential pieces and, in our opinion, spending a little more on the quality construction and design you deserve.
Do you have a favorite BBQ tool not featured above? What do you think are the essential tools which should be found in a BBQ tool set? Let us know in the comments below or feel free to ask us any questions.
Happy grilling!