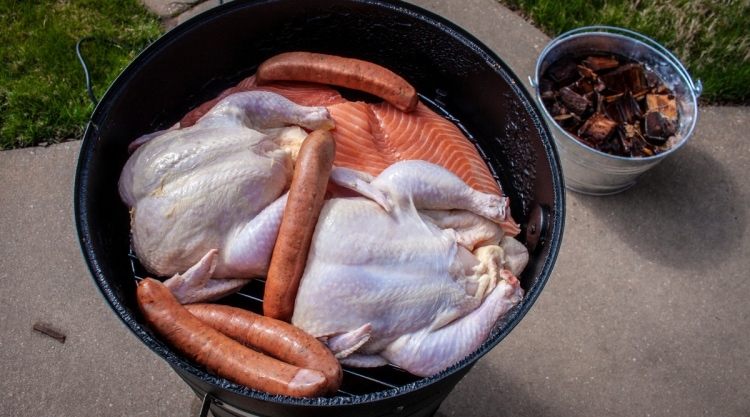 Today we're looking at drum smokers; which are the best on the market? What they are, and how they work.
If you're unfamiliar with drum smokers, or if you've decided you're in the market for one, you've come to the right place. There's an appealing simplicity of a drum smoker and its back-to-basics functionality. Stripped down to the bare essentials, it's a steel barrel with a fire at the bottom and meat at the top.
Often referred to as "UDS" or Ugly Drum Smokers, they won't add a lot of visual appeal to your yard like a stainless steel digital vertical smoker might, or an offset smoker with the classic double-barrel profile and chimney. Once you taste the meat, though, you won't care.
Those who master the drum smoker are rewarded with incredibly delicious meat smoked to perfection, often in a fraction of the time you'd expect.
This article reviews our top 5 most recommended drum smokers, with a range of styles and prices. Then we'll explain, for those who aren't clear, what a drum smoker is and what to look for before jumping in with both feet. Which we're pretty sure you'll want to do when you're done reading.
Ready to bang a few drums? Let's go!
At a Glance: The Best Barrel Smokers Reviewed in this Guide
Reviews of Our Drum Smoker Recommendations
It's "cut to the chase" time! Here are our picks for the five best drum smokers. These are the ones you should have at the top of your list; we'll tell you why, including honest pros and cons for each, and let you know where to get yours.
Oklahoma Joe's Bronco Pro Drum Smoker
1
Oklahoma Joe is one of the best names in smokers, offering a variety of sizes and styles. The Bronco Pro is surprisingly non-ugly for an Ugly Drum Smoker, especially if you go for the orange version. OJ boasts the Bronco Pro is a competition-grade smoker, and it's hard to argue. (Wait a minute. OJ? Bronco? Hmmm…)
It's built to last, featuring heavy-gauge steel construction, large wheels, and porcelain-coated components, including the heat diffuser, charcoal basket, ash pan, and drain cup. It's efficient, too, with a hinged lid with a gasket for a tight seal. That means less smoke outside and more in where you want it.
The basket holds up to 17 pounds of charcoal and wood, enough to keep you smoking all day. For some quick steaks or burgers, simply set the basket on top of the heat diffuser to bring it right up under the grate.
The Bronco Pro has a unique airflow system, using a tall pipe to draw air down below the charcoal. Ending just above the side shelf (which we love), it's easy to access the vent control. Plus, it will keep critters from finding their way inside your smoker between sessions.
The 21.5″ diameter cooking grate is large enough for up to 3 pork shoulders or 16 chicken thighs. Oklahoma Joe includes 3 meat hangers with 9 hooks, so get those racks of ribs ready, or smoke your own sausages with ease.
Speaking of easy, clean up is simple. Remove the drain cap to clean up grease and juices, and lift out the ash pan to dispose of your used charcoal and wood.
Pros
Doubles as a charcoal grill
Side shelf for work space
Efficient vent system for better control of airflow
Oversize wheels and handle for maneuvering
Includes meat hangers and hooks
Capacity for up to 15 hours of smoke time
Cons
Very heavy; weighs approx. 178 pounds
Only one position for the cooking grate, limiting height capacity
This is a serious smoker with many high-end features. Being able to switch the grilling mode quickly is a huge plus; you can smoke and grill in a minimum of space.
It's an investment compared to some others on the market, but the quality and versatility are there, making it well worth a look.
Classic Pit Barrel Cooker Package
2
When your company name is Pit Barrel Cooker, you'd better make a good one! Fortunately, they do. The Classic is a back-to-basics smoker that looks more like the original drums than most we've looked at. Maybe you can convince your friends you made it yourself?
Under the lid, you have your choice of cooking on the standard grill grate or using the eight meat hooks to suspend your food from one or both hanging rods. (TBH, the rods are simple lengths of rebar.)
The grate is a bit smaller than many others we looked at, but that's ok — Pit Barrel recommends hanging your meat as much as possible.
Hanging meat will maximize the usable space of this smaller than average drum smoker; the PBC is based on 30-gallon drums rather than the traditional 55-gallon drums. What it lacks in space, though, it makes up for in speed; expect cooking times approaching half what they would be in most smokers.
There's not much in terms of bells and whistles here — no hinged lid (but there's a hook for hanging it off one of the two handles), no thermometer, and no wheels.
The smoker rests on a stand to keep it off the ground, and there's a single vent with a damper at the bottom. Pit Barrel Cooker recommends setting the damper according to your elevation: 1/4 open for 0–2000′ above sea level, 1/2 for 2,000–5,000′, 3/4 for 5,000–8,000, and fully open for over 8,000′. (If you don't know your elevation, just Google it.)
Pros
Includes hanging rods and 8 meat hooks
Porcelain-enameled 18 gauge steel for heat-retention and easy wipe-down
Practically a set-it-and-forget-it smoker
Next to no learning curve
Includes hook for safely removing cooking components
Cons
No wheels for repositioning
18.5″ grate is narrower than some others we reviewed
Experienced smokers may find it too simplistic
If you've thought about getting into smoking but find it intimidating, have decided that drum smokers may be the types of BBQ smokers best suited to you, then this Pit Barrel Cooker is an excellent pick.
This cooker featured highly in our search for the best beginner smoker, it is highly capable, is easy to operate and delivers amazing results with a minimum of attention.
The Classic Pit Barrel Cooker is also tough to beat in the bang-for-your-buck category.
Gateway Drum Smokers 55 Gallon Charcoal BBQ Smoker
3
If you've ever thought about buying a kamado grill and then balked at the price tag, you need to read this review.
Not going to lie; the Gateway 55 Gallon smoker looks more like a hot water heater than a smoker (or a kamado), with the twin side vents and smooth exterior. But don't let the appearance fool you; this is a serious smoker.
Actually, it's serious about a lot of things. Unlike a lot of drum smokers, this unit has pegs for 3 levels of cooking grates. You only get one included, but it's no big deal to buy two more and majorly expand your cooking real estate. That means plenty of room to smoke tons of smaller items or several medium-size cuts.
There are three vents on the Gateway Drum Smoker — two side pipes and one lid vent. With so much control, you can hit just about any temperature you want. The finish is good to 450F (and there are several colors to choose from), so you can crank it up for roasting, baking, or straight grilling. If you love to cook outdoors, this smoker will keep you busy.
The drum itself is seamless, and the handles, feet, and pipes are welded on. That means minimal heat loss and smoke leakage. It has every appearance of being very, very well-built.
Our only beef with this cooker is the lack of included accessories. You get just one grate and no meat hangers. Our advice: add at least one more grate and a set of meat hangers to your initial order. You will want them.
Pros
Three vents for precision control
Can run low and slow, hot and fast, or anywhere in-between
3 grate positions to choose from
Can use up to 3 grates to triple capacity to 1386 sq. In. (sold separately)
Cooks up to 14 hours
Solid barrel has no seams & vent pipes are welded on; heats evenly and holds temperature
Cons
Removing casters for tailgating, as recommended by Gateway, is impractical
Then again, a 100-pound smoker is impractical for tailgating, anyway
Most accessories sold separately
Interested in a pro-grade smoker with a ton of versatility and hands-on fun? This could be the one.
Easygoproducts Big Bad Barrel Pit Charcoal Barbecue
4
Not familiar with the name? We weren't either. A bit of research reveals EasyGoProducts sells a wide array of backyard, beach, and camping gear. Oh, and those fan-blown wavy guys you see on car lots and in front of furniture stores. They also sell this amazingly versatile drum smoker that you must see to believe.
Fully assembled, the BBB stands about 3 feet tall. Disassembled, it's only about half that size. If you plan to camp or RV with your smoker, you'll love how easy it is to stow and go.
In fact, I'd say on-the-go enjoyment was the major priority for the designers. Not only is it easy to move, but it's a combination charcoal smoker grill that you can use it in different ways depending on how you configure it. With both sections in place, it's a drum smoker. You can also use just the bottom half for a charcoal grill, or as a charcoal fire pit for roasting marshmallows and hanging out.
There's an interesting attachment included that allows for positioning the cooking grate at different heights, but outside the barrel. This is excellent for baking pizza or roasting some veggies or maybe fish.
EasyGoProducts equipped the Big Bad Barrel with six stainless steel utility hooks and included a spatula with a serrated edge, a fork, and a set of tongs. If you keep them with the smoker, you'll always have everything you need in one place.
Although the bottom air vents lack dampers, the lid vent has one. This will allow a degree of flexibility when it comes to setting and adjusting your temperature. (Which you can monitor with the built-in thermometer.)
Pros
Smokes, grills, roasts, and bakes
Barrel brakes down into two pieces for easier transport, tailgating
Large, easy-grip handles
Kit comes with many accessories, including utensils and meat hangers
Lid damper allows some control over internal temperature
Very attractive price for so many features
Cons
Smaller than our other drum smokers
Too short for a very long rack of ribs
For anyone on the fence about smoking, the EasyGoProducts Big Bad Barrel is a great way to test the waters. It may not be the best smoker in existence, but it delivers a bona fide smoking experience with simple controls and does so much more.
Even if you only smoke now and then, at this price you'll get your money's worth. And if you're the kind that loves to get out of Dodge on the weekends, it's pretty much indispensable. Very high on the coolness scale — check it out!
Barrel House Cooker Smoker BHC 18C
5
Barrel House Cooker has a product line-up of exactly one item — the 18C. Fortunately, it's a darn good smoker.
Like a few other compact drum smokers we've seen (it's only about 3′ tall and weighs 45 pounds), the BHC 18C is meant to cook between 275–310F. That's a bit above the traditional low and slow range. The good news is, you'll still get moist, delicious, smoky meat, but in much less time.
Operation is very simple. There's only one damper to worry about it, and you'll only touch it once. It's a set-it-and-forget-it elevation-based damper. Simply look up the elevation where you are and use the guide attached to the side of the barrel to choose your setting.
To access the charcoal basket on the base, just lift the barrel straight up and off. It makes tending the coals a bit tricky mid-cook, but it's incredibly safe and easy to light up.
The 18C comes with a standard grate, an H-Frame, and eight meat hangers. You also get a handy wand for moving components around. There's a built-in lid thermometer, but since that's not the ideal location on a smoker, you can mostly ignore it. It's not useless, though; the underside of thermometer mount is a hook for hanging the lid out of the way.
Speaking of hanging, that's the primary cooking method for this smoker. You'll take the best advantage of the space (narrow, but deep) by hanging meat instead of using the grate. Of course, the grate is great, too, and it rests deep inside the smoker for tons of clearance.
There's a second position for the grate up at the top. Why? By putting the H-Frame at the middle position (normally, it goes at the top), you can elevate the charcoal basket and use the 18C as a standard charcoal grill. Amazing!
As a final cooking option, you can ignore the barrel entirely and use the grate directly on the charcoal basket set on the base. Instant hibachi for some kabobs, yakitori, or a quick sear for a medium-rare steak or two.
Pros
One-touch elevation-based vent
Lift off top for easy access to wood/charcoal
Grill hibachi-style on the base
Cooks meat faster than traditional smokers
Porcelain-enameled 20-gauge steel for durability and easy cleaning
Includes H-Frame and meat hangers
Cons
Not "true" low and slow cooking; might deter hard-core smokers
Without dampers, you cannot adjust for warmer/colder days
The Barrel House Cooker Smoker BHC 18C takes a casual but effective approach to smoking. Is "not so low, not so slow" about to become the newest craze?
If the food is delicious, and it gets more people smoking, why not? We love the versatility and simplicity of this drum smoker.
What is a Drum Smoker?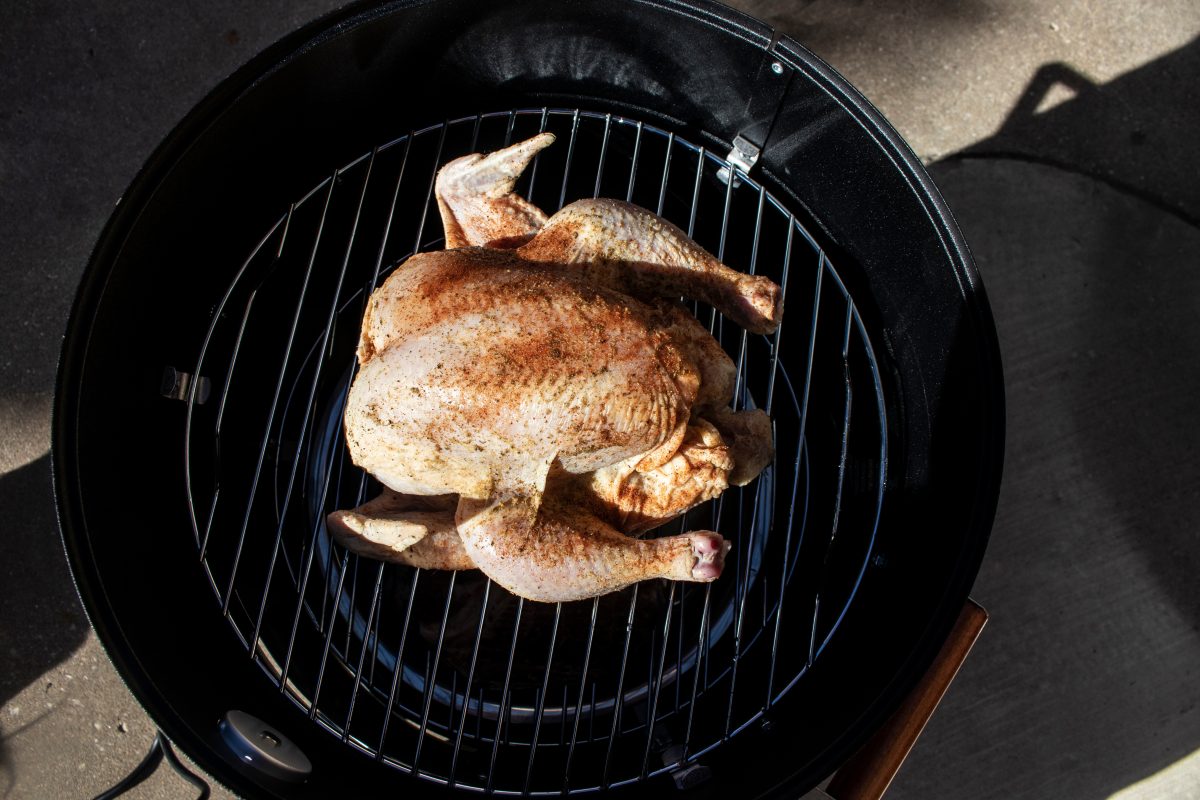 The steel barrel or drum has been around since the early 1900s. It quickly evolved into the 55-gallon oil drum we still see today. Used all over the world, the number in existence by now must be astronomical.
Somewhere, some bright spark decided to use a discard barrel as a barbecue by cutting it in half lengthwise, adding hinges to create a lid, and filling the bottom with charcoal. Probably not long after that, a smoking fan said, "Oh yeah? Watch this!" and cut the top off, instead creating a vertical smoker.
Some people still DIY drum smokers. But, it's much easier just to buy a purpose-built drum smoker — and you get a warranty!
A typical drum smoker features a removable basket to hold your charcoal and wood chunks at the bottom. Closer to the top, you'll find one or more grill grates where the meat sits as it smokes.
Because they're vertical, many work best with meat hung on hooks. A lid caps the unit to hold the smoke in as it flavors the meat. Some units use vents with dampers, while others do not.
You Might Also be Interested in…
Advantages of Drum Smokers Compared to Other Types
There are lots of smoker styles available. What edge does a drum smoker have over them?
Budget-Friendly
Compared to many smokers, end especially pellet grills, drum smokers are a lot easier on the bank account. While some drum smokers do push the $1000 mark, many more are available for $300 or less.
Height Advantage
Compared to an offset smoker or pellet grill, a drum smoker has a small footprint. Like other vertical smokers, drum smokers rely on height, usually favoring meat hangers over cooking grates. If you don't have a lot of room on the patio, you'll appreciate the space-saving bonus.
Fuel Efficiency — They Save You Money Over Time
Many drum smokers operate best at higher temperatures than typical smokers. Between that and the efficiency of a cylinder for even heat distribution for convection cooking, you'll use less charcoal, on average, than with other charcoal smokers.
Easy to Transport
Drum smokers, being tall, take up less room in transport than an offset smoker. Many of them break down into smaller pieces, too. Plus, they're usually lighter and easier to carry than other smoker types. A drum smoker is made for camping, cottaging, RVing, and tailgating.
Are There any Disadvantages?
There's no give without take, no pros without cons. So what are some drawbacks of drum smokers?
Tend to Be Thin and do Not Hold Temperatures Well
They're based on the original oil drums meant to hold liquids in, not maintain a constant temperature. So it's no surprise, most drum smokers are made of thin metal. They may experience temperature fluctuations if the conditions aren't ideal.
Challenging to Learn Compared to Some Other Types
There's no thermostat or digital controller on a drum smoker. If you're not familiar with smoking, you may find it a bit challenging at first. Also, there's a trick to hanging meat securely, and you'll want to master it.
Smaller Capacity
Primary cooking space is limited on a drum smoker. Many offer a single cooking grate, usually between 18 and 21 inches in diameter. Even for hanging meat, some are too short to hang a very long rack clear of the charcoal.
What to Look for in the Best Drum Smokers
Here are some of the criteria we used to compile our list of the 5 best barrel smokers.
Ease of Use
Learning something new is fun, but it shouldn't get in the way of enjoying yourself. Look for a drum smoker that's easy to learn, especially if you aren't familiar with smoking meat. Models with a single, altitude-based vent might appeal to rookies or casual smokers.
Maximum Cooking Space
If you plan on smoking a lot of food at once, you should look at drum smokers that offer several levels for cooking grates. You'll be able to load up on food and max out your smoking session.
Vents for Temperature Control
Some people love total control. If you're one of them, choose a drum smoker with pampered vents damper. Multiple dampers allow precise control over air inflow and exhaust. In turn, this means you can more easily set and adjust the temperature and the amount of smoke.
Cleaning Features
Where there's smoke, there's fire. And ash. There's no avoiding the final clean up after a smoke session. Try and choose a drum smoker with a removable ash tray or a basket you can lift out for disposal to make it easier on yourself. Some models have to be tipped out or need a vacuuming — not always practical options.
Final Thoughts
There's a lot to love about drum smokers. To us, they're a fun way to enjoy real charcoal smoking practically anywhere. For entry-level or experienced outdoor cooks, a drum smoker can add a new dimension to your repertoire and at a fraction of the cost of many alternatives.
We appreciate you making us your jumping-off point for your drum smoker journey. Drop us a line, share your experience with us, or join our online community to chat more.
Cheers, and happy smoking.