In this post, I've put together a roundup of reviews on the best electric knife sharpeners available on the market today, as well as a buying guide and FAQ.
There are many types of knife sharpeners, but traditional whetstones and manual methods require an investment of time to learn their use, and can also take up to half an hour to achieve the perfect edge.
And this is where electric knife sharpeners are a blessing. They can sharpen a knife within one or two minutes, and require almost no skill from the user. They are quick and straightforward to use for anybody.
So below, we first have a round up of some the most popular and top models available.
We then cover what electric knife sharpeners are good for, how to use one, what features you want in a good model, and finish with some frequently asked questions.
In the end, you should either be able to choose your new electric knife sharpener with confidence, or know that an electric is not for you so you can look at other types.
All set? Game on!
At a Glance: The Best Electric Knife Sharpeners Discussed in our Guide
A Detailed Look at Our Top Recommendations
Below we have listed five top models selected to suit different needs and budgets.
We have the best knife sharpeners for home use with Western-style knives, a couple for Japanese knives, a multi-purpose model that can also sharpen scissors and screwdrivers, and a high-end commercial unit for those who want the best.
If you know which style you need, select from the choices below. If you are still unsure, stick around for the buying guide and advice that comes after the review section.
Presto EverSharp Electric Knife Sharpener, 2 stage
1
If you've got a decent selection of knives, and you want to keep them sharp, but you're not looking to leave the mark of Zorro everywhere you go, this could be the choice for you. It's an affordable solution to a problem for folks with simple needs and who are budget conscious.
This 2-stage sharpener uses Sapphirite-coated grinding wheels: heavy grit on stage 1, and fine grit for honing in stage 2. The guides are preset to the correct 20 degree sharpening angle required for most standard kitchen knives to make it easy to sharpen correctly.
There are three suction cups on the base to hold it securely to your countertop — assuming you have a smooth surface. If your counter is tiled or made of butcher block, you'll have to think if there's somewhere else you can set up.
Underneath the sharpening wheels, two receptacles catch all the metal filings that come off your blade for easy disposal.
One shortcoming of this sharpener is how it handles serrated blades. Knives serrated on just one side are fine, but those serrated on both faces can't be run through the Presto 8800.
Check your knives before picking up this, or any sharpener.
If you want to keep your regular knives sharp, but aren't heavily invested in your arsenal, this might be the sharpener you need in your kitchen. For routine maintenance of average blades, this should do the trick.
Chef Pro 3-In-1 Electric Knife and Tool Sharpener System
2
Knives are not the only sharp implements found in most kitchens. Scissors get a serious workout in many homes, and slot screwdrivers are so useful, they find their way into all manner of projects.
Wouldn't it be nice to have just one device to keep all these useful tools at their best?
Considering its diminutive dimensions; a lot is going on in this tiny sharpener. It's only 5.5" in diameter, and weighs just over 1 pound. Incredibly, it houses a two stage sharpener, a separate scissor sharpener, and a screwdriver sharpener. Impressive!
The manufacturer claims it will sharpen either standard or Japanese knives, but it won't do serrated edges.
There is a coarse stage for heavy-duty sharpening and edge restoration, plus a fine stage for finishing the job with a bit of polish.
Scissors sharpen on the side, and screwdrivers insert into a small slot. For convenience, the cord retracts into the unit when not in use.
Not surprisingly, a fast motor in a small housing is going to run hot. For that reason, you shouldn't operate it for more than about 3 minutes at a time before letting it cool down a bit. You also should keep a hand on the unit to steady it, which could be a bit awkward.
While this might not be the sharpener you want for your showpiece knives, it is a good, all-purpose sharpener for many of the items you'll find stashed in your drawer.
The price point on this little guy makes it worth having around for basic sharpening jobs.
Chefs Choice Trizor XV EdgeSelect Professional Electric Knife Sharpener
3
You've done your research, and you've concluded that Japanese knives are what you want on hand when you're prepping and serving your best barbecue.
Still, you're concerned that keeping their 15 degree angles in peak condition will require more labor than you have time for or interest in.
What you need is a simple way to keep a sharp knife without paying a professional, but also without setting aside the better part of a day to do it at home manually on whetstones.
Lucky for you, there's the Trizor XV. That's right — XV, as in Roman numerals for 15, as in degrees. This is a high-quality sharpener made just for Japanese knives. Actually, that's not exactly true; you can put 20 degree blades through the Trizor, but they'll be converted into 15s. That's a neat trick!
This unit uses a three stage process for proper sharpening.
The first two stages employ conical rotating discs coated in diamond abrasives for sharpening and honing. Stage 3 (which they call the "stropping" stage) uses flexible discs to refine and polish the edge. The manufacturer suggests you can use the three stages in a variety of ways to create custom edges for specific jobs.
Straight and serrated blades can be sharpened with the Trizor XV. You can also sharpen both single— and double-bevel blades. Basically, all your Japanese knives will be at home in this sharpener.
If you fancy yourself a kitchen ninja, and you have a collection of Japanese knives, the Trizor XV EdgeSelect would be an excellent choice.
Just remember, you'll need another sharpener for your 20° knives, unless you plan to re-angle them (which in some cases ruins them!)
I.O.Shen Nirey Knife Wizard Electric Sharpener
4
I.O.Shen is an exceptional quality Japanese brand knife, made especially for the Western market. They have the elegance, style, and sharpness of Japanese steel, with balanced and weighty handles much as we prefer in the west.
As a top make of Japanese knives, it stands to reason that they make a companion sharpener.
The I.O.Shen electric sharpener is meant solely for 15-degree Japanese knives and will take any such blade to a beautifully sharpened edge over its two-stage system.
It consists of two sets of spring-loaded grinding wheels, one coarse and one finer, with the spring-loaded feature allowing the tool to sharpen blades of highly variable thickness without the user having to touch any settings.
It can sharpen straight edge and scalloped edge knives, however for serrated knives, you can only run the flat side through, so cannot sharpen double-sided serrated knives.
Chefs Choice 2000 Commercial Diamond Hone Electric Kitchen Knife Sharpener
5
If you're running a commercial food establishment, your knives are more than just an extension of a hobby or something to impress your guests — they're the tools of your trade!
You can't waste time with dull knives, and you don't want to wait for them to be professionally sharpened elsewhere. Is there an efficient way to sharpen in-house?
Clearly, the answer is yes, or else I wouldn't have posed the question. For your professional/commercial/industrial grade knives, the Diamond Hone 2000 seems like the best choice without utterly destroying the bank.
Make no mistake; this machine is a beast. It weighs a whopping 12 pounds, and it's a foot-and-a-half long. A powerful motor provides the juice to turn the diamond abrasives encrusted sharpening wheels. It's a 2-stage process; so you won't be fine-tuning your sharpening job, but you will be getting a razor-sharp edge in short order.
Knives in a commercial environment get a workout and dull quickly — this machine will have them back to cutting cleanly without seriously interrupting your workflow.
It's a versatile machine, capable of handling most types of knives. Serrated, butcher and filleting knives, even Japanese knives — they can all be sharpened in the Diamond Hone 2000. If your professional kitchen has a wide selection of knives, this is your one-stop sharpening shop.
If you do eventually wear out the sharpening surface, you can replace the cartridge through the manufacturer. One reviewer said he had recently done so — after ten years of use. It isn't cheap, but, as another highly descriptive reviewer commented, "It makes knives ungodly sharp."
I don't know exactly how sharp that is, but it sounds pretty darn sharp.
Unless you're seriously into sharpening your knives, this model really is only for commercial applications.
While the initial outlay may seem hefty, it should pay for itself in short order in time and money saved versus sending knives out to be sharpened.
What to Look for in The Best Electric Knife Sharpener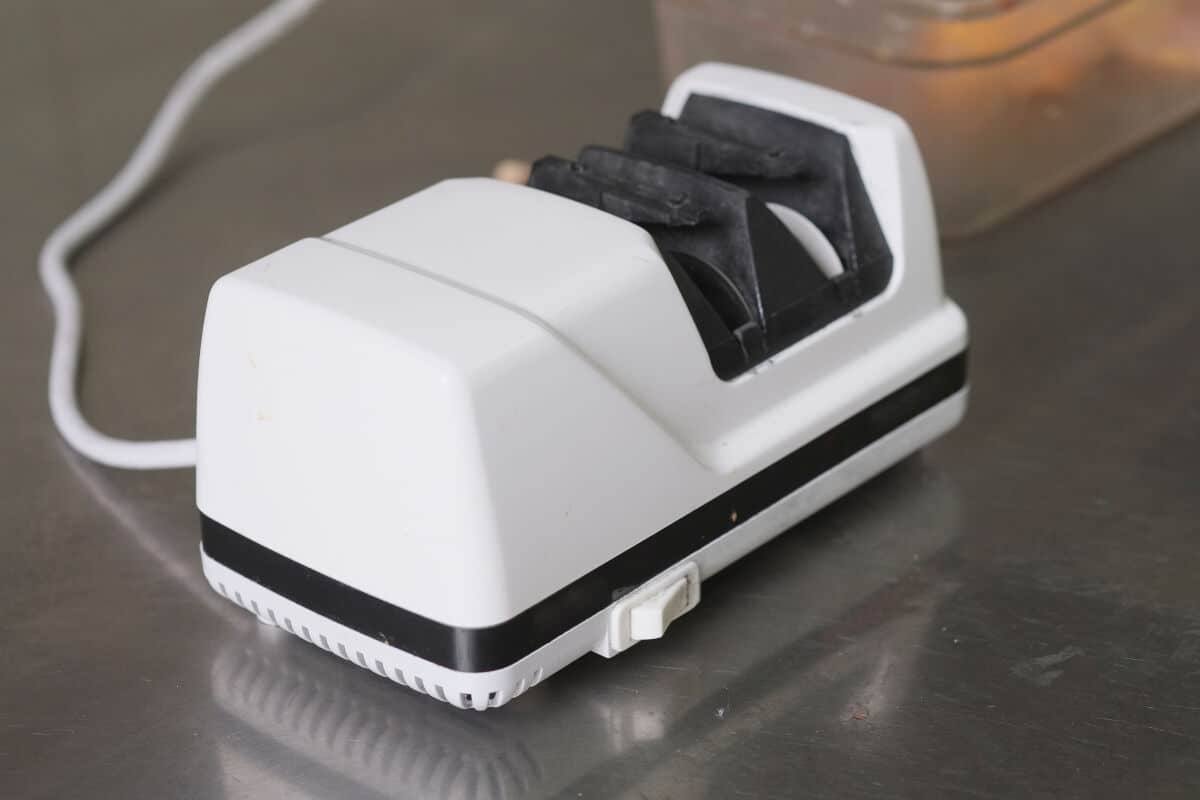 Do you know how to choose the right model for you? Let's review a few important points to consider before you fork over your cash or card.
Choose Your Type, and Multi-purpose or Just for Knives?
There are many kinds of electric sharpeners to choose from. Think about your needs, and think about your knives before you make a decision.
For example, do you just need a sharpener for fixing some beat-up blades and putting on a sharp edge? Or, might you also benefit from a honer, to keep the edge keen between sharpening?
Do you have Japanese or Western knives?
Do you also want to sharpen scissors, chisels and gardening tools, and not only your BBQ knives? Do you only have straight-edged knives, or scalloped and serrated blades too?
Before choosing, have a look at your knives, see what type they are and what they're made of (literally, not metaphorically), and also consider what else you may wish to sharpen as some electrics can handle all sorts of tools.
Different knives may need special care or a different type of sharpener. While most blades are made of steel, some high-end products are now made of ceramic, titanium, and even tungsten carbide. These special knives need sharpeners up to the task.
So make sure you know what knives you are going to sharpen, and that the sharpener you choose is suitable. But be mindful of the fact that a general-purpose sharpener may seem useful, but the quality is usually lower. So be sure you're not doing your blades a disservice by sacrificing quality for versatility.
Number of Stages and Slots
There's more to sharpening a knife than just dragging it through a coarse grinder. While that might suffice to put some life back into a seriously messed up blade, to properly sharpen it you'll also need to fine-tune.
This means at least two stages, one coarse and one fine. Even better is a 3-stage sharpener, each stage finer than the last.
Also, most knives are double-edged, they need sharpening on the left and right side.
Simple sharpeners will have single slots for each stage, so you may need to turn the sharpener round to do both sides. But most semi-decent or better models will have a left and right slot to grind both sides without the need to turn the sharpener round.
Get the Right Angle
Unless you're very familiar with knives, you may not realize that not all blades are formed at the same angle.
As a general rule of thumb, those made in the U.S. And the U.K. Have a blade with a 20° angle at the cutting edge, and Japanese knives employ a 15° angle.
It's crucial to choose a sharpener that will guide your knives through the sharpening element at the correct sharpening angle. Putting a Japanese knife in a sharpener made for 20° blades will result in an incomplete job at best, and a damaged blade at worst.
On the flip side of that coin, running a 20 degree blade through a Japanese sharpener will severely damage the knife, and change the angle of the edge to one it's not made for.
So make sure you get the right tool for the job.
Intended Use: Home or Commercial?
An electric knife sharpener suitable for a professional chef may be overkill for your average weekend warrior or backyard pit boss.
A commercial-grade sharpener may be large, noisy, and bulky because it's designed to be used over and over again, perhaps on a daily basis.
Likewise, a good home sharpener may not stand up to the rigors of restaurant life.
Get the sharpener that's right for your setting, or you're not making a smart investment. Having said that, we totally get the appeal of having restaurant-grade appliances and gadgets at home!
Safety Features
Because all the moving parts are enclosed, and the knife is held away from you during sharpening, there isn't much required in the way of safety features.
However, do make sure if there are at least non-slip feet, or a good sturdy handle to keep the thing still during use. You do not want it slipping while you're handling a sharp knife!
Ease of Cleaning
Sharpening grinds away and removes small pieces of metal from the edge of the blade. This creates fine metal dust as waste from the process.
Try to look for a model that has a removable collection tray that collects the residue for disposal. This will stop the dust from getting around your work surfaces and kitchen.
Brand Reputation / Reliability
You'll be forgiven for not recognizing many of the brand names in the field. It's a good idea to visit manufacturers' sites and also look for forums where people discuss their experiences with various sharpeners. You'll soon get a good idea of which brands are reputable and reliable.
Price
A quick search of electric knife sharpeners will reveal price points from under $20 to well over $500. As with all consumer goods, you seldom get your best value at either end of the spectrum.
Think about how often you expect to use a sharpener, and also about how much you've invested in your knife assortment.
Every knife will benefit from sharpening, but it may be unnecessary to spend hundreds of dollars on a sharpener for a modest selection of blades.
Why Choose an Electric Knife Sharpener Over Other Types?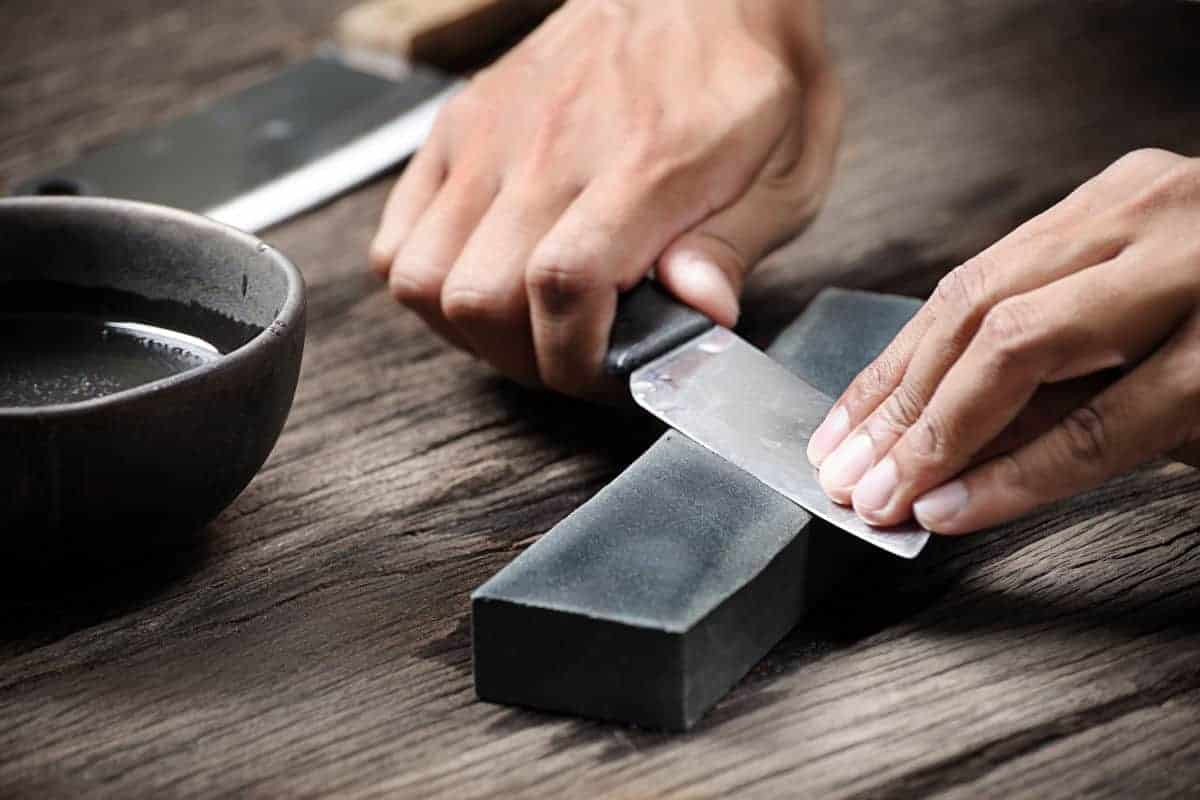 Here are some reasons why you might want to choose an electric knife sharpener over other types:
Advantages of Electric Knife Sharpeners
Ease of Use
The main reason is for ease of use, and no skill required. They are a sharpener for all.
An electric sharpener takes a lot of the guesswork out of sharpening. Multi-stage sharpeners are clearly labeled, making it easy to go through the sharpening process of rough grind, to smooth, without worrying about which grit to choose.
Built-in guides ensure you're sharpening your knife at the correct angle, too — preserving the angle of the cutting edge is crucial to maintaining peak performance.
All you have to do is draw the knife blade through the appropriate slots a few times, and hey presto! It is sharpened and ready to enjoy and use.
Time-Saving
Electric sharpeners are also fast — the spinning sharpening surfaces get the job done far faster than any manual system. Manually sharpening blades can take up to half an hour per blade, whereas an electric model gets the job done in a minute or two.
If you're not interested in spending much time manually sharpening your knives — A Zen-like experience for some enthusiasts — an electric sharpener may be for you.
Safety
Manual knife sharpening requires you to hold the blade, at different angles, for quite some time. Any carelessness or a momentary lapse of attention could result in cutting yourself.
On the other hand, an electric sharpener all but removes any risk of harm, because the knife is always held in place and away from you in angle guides. Plus, you are only handling the knives for such a short time, so the risk of injury is markedly reduced.
Multi-Purpose
Electric knife sharpeners are often suitable for a variety of different knives and other tools. Standard, straight-edged kitchen knives, serrated blades, and even scissors, chisels and screwdrivers can be sharpened on some models.
If you went the manual route, you would need to buy and learn to use a selection of different tools for different tools and knives.
Now, as you might suspect, there are some disadvantages too!
Disadvantages of Electric Knife Sharpeners
Relatively Expensive
The initial cost of a good electric knife sharpener is often high compared to manual solutions, particularly if you want a high-end, professional model. They can set you back into the hundreds of dollars.
However, when you compare this initial cost to time saved compared to manual sharpening, or never sharpening your knives at all and suffering the woes of hacking away at food instead of easy slicing, then the expense soon looks like an investment.
Potential Damage to Knives
You have to hold the knife firmly, but do not press down. And you must not pause when pulling the blade through, but instead, glide it through at a consistent pace.
If you press down on your knife when in the sharpener, or pause partway while pulling through, the fast-spinning wheels can grind away too much material in one spot, causing an irregular over grind section on a small part of the edge, or scratches on the blade.
So there is some potential for damage…but only if used carelessly. If you have an extremely expensive set of high-end custom knives, I would recommend using manual knife sharpeners, to take away any and all risk of damage.
All in all, the advantages easily put the potential disadvantages in the shade. So, in my opinion, an electric sharpener is a good investment.
How To Use an Electric Knife Sharpener
Ease of use is one of the key reasons to own an electric knife sharpener, as I just stated above. Still, there is a right and a wrong way to use one. Here are the steps you'll want to follow:
Clean and dry the knife
Turn on the sharpener
Hold the knife parallel to the work surface (i.e. flat!) And place the blade in either the left or right slot of the first stage
Pull the blade through the sharpener towards yourself
If the knife has a curved tip, pull up near the end of the pass to follow the curve
Repeat the process in the opposite slot
Alternate sides until you can feel a raised burr along the blade with your finger
Move knife to second stage slot and use alternating passes as before
Continue making passes until the burr is gone
Test the knife on a sheet of paper to determine if it's done — it should slice the paper cleanly and easily
TIPS:
Don't apply too much pressure — let the machine do the work
With a 3-stage machine, Stage 1 is only for damaged or very dull knives. For routine sharpening, start with Stage 2
Consult manual before sharpening serrated edges — typically, only Stage 3 should be used
Here's a good video that walks you through the process from start to finish:
Electric Knife Sharpener FAQ
What is an Electric Knife Sharpener, and Why Do I Need One?
A knife sharpener is any device that restores and maintains the cutting edge of a blade. In a nutshell, the blade is rubbed or dragged along a hard, rough surface, removing minute amounts of metal until the cutting edge is thinned and sharp.
Knives dull with repeated use, and a dull knife is hard to work with.
Not having a sharp blade can slow you down, and make it difficult to perform essential tasks associated with barbecuing, such as deboning, filleting, slicing, and carving.
A dull knife can also slip during cutting, creating a higher potential for injury. So a sharper knife is actually safer.
Are Electric Knife Sharpeners any Good?
They are, yes. They are easy-to-use, have a quick sharpening time, require very little to no skill to use, and produce consistently good cutting edges on your lades.
However, no electric sharpener is ever going to be as good as manual sharpeners, or a skilled professional using whetstones. Manual sharpening will produce a finer, sharper edge every time in the hands of an experienced practitioner.
Do Electric Knife Sharpeners Wear Out?
Indeed, they do, yes, without exception.
Most models have diamond abrasives, though even if they use ceramic or stone, with every sharpening, a little of the grinding material is worn away. Eventually, so much is worn that either the replacements are needed, or the entire product needs replacing.
Most sharpeners will last years, or a decade or more, though, under regular use.
Do Electric Knife Sharpeners Ruin Knives?
Potentially hey can. You have to use no pressure and pull the knife through at a consistent speed. Otherwise, different parts of the blade can be ground away at different rates, causing the edge to become wavy instead of flat.
There is the potential for damage if misused, but it is easily avoidable. And any damage is easily fixed by re-sharpening, though it may have to be done manually to recover fully.
Can You Sharpen Scissors With an Electric Knife Sharpener?
Scissors require a special sharpener, so not all models are suitable. Basically, only if the model you have says they are suitable for scissors can you sharpen them. So check the specifications before buying, or the manual if you already own one, to be sure.
Conclusion
And there you have it: the good, the bad, and the ugly in our search for the best electric knife sharpener. They certainly are useful devices, and fairly simple to operate. For many people, this will be an entirely suitable addition to the barbecue (and general kitchen) arsenal.
Do you have a sharpener you just love? Tell us all about it in the comments below!
Or maybe it's just the opposite: if a sharpener chewed up your blade, or just failed to perform, we'd like to know about that, too. We can all learn from each other's failures and successes. In fact, if you have any questions or comments at all, please send them our way.
If you know someone who's in the market for a knife sharpener, or probably should be, please hook him or her up with this article. (We're not Netflix; we don't mind when you share!) Copy/paste the link into your email, or share it on social as much as you like.
Now get out there, barbecue hard, and give it 110%!