In this guide, we go on a search for the best electric smoker under $200. And we've found some hot contenders!
Nothing says epic BBQ more than that smokey flavor you get from low and slow smoked meats. But that doesn't mean you need to have a huge monster of a fire in your backyard to create that taste.
There are now many electric smokers on the market that can produce epic tasting smoked foods without the burning of logs or charcoal. The best part is, they are normally so much cheaper than their gas, wood or charcoal burning counterparts.
At a Glance: The Recommended Products in This Guide
Note: Clicking the above links will take you to further information, current prices and customer reviews on either Home Depot, BBQGuys or Wayfair.
Best Electric Smoker Under 200 Dollars — A Detailed Look at Our Top Picks
Even under $200, you will be astounded by the vast choice of electric smokers available. They may not feature the fancy Bluetooth or remote controls of more expensive models, but they will offer an excellent smoking chamber, worthy of your hard earned bucks.
To make choosing one easier, we have looked at many of the best electric smokers under $200 to bring you, in our opinion, the top five.
Masterbuilt MES 130B Digital Electric Smoker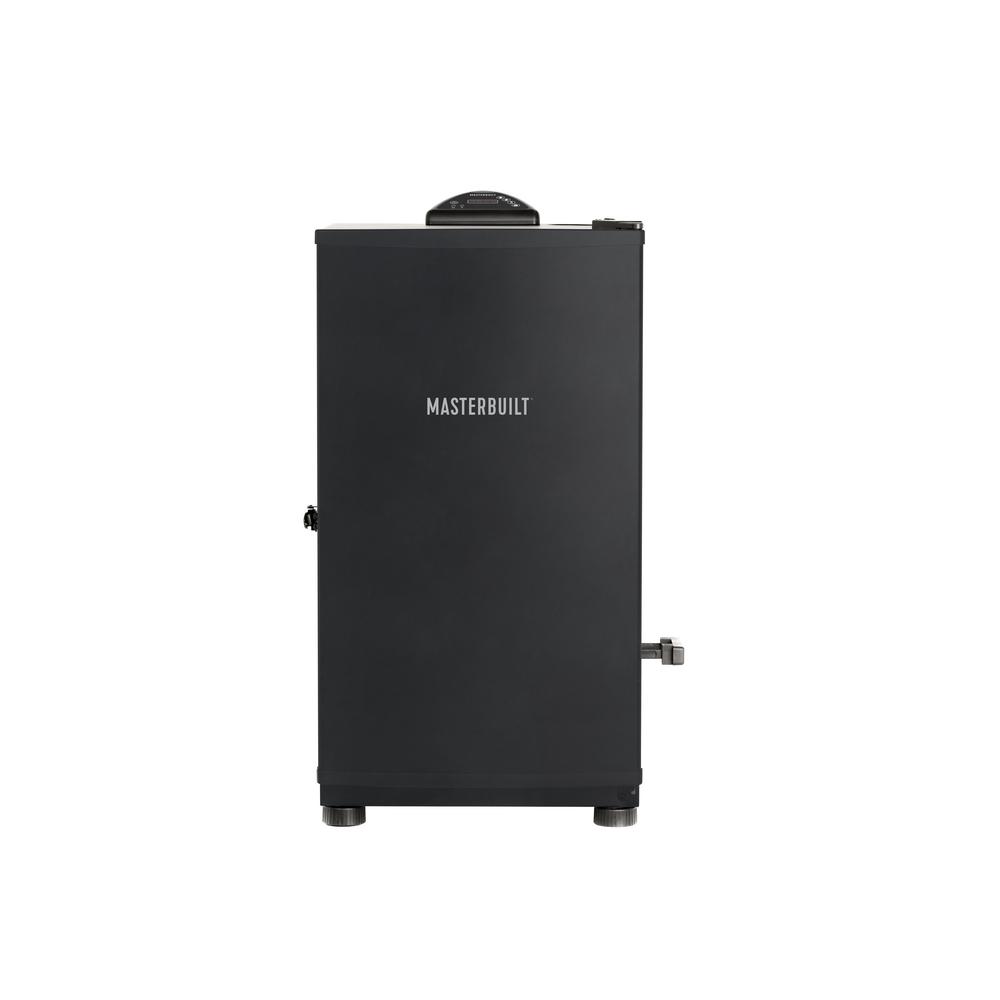 Masterbuilt is well known for its innovative range of affordable smokers, and this electric smoker is a great product to use. It comes with a whole host of features, usually reserved for more expensive models. At just over 34 inches tall, it won't take up too much space on your balcony or in your yard.
Where it does lose points is the 800-watt heating element, which is the least powerful we have looked at. This can be limiting for those who like to cook their meat hot and fast. However, for longer smokes, it's not a problem, with the recommended smoking temperature for most meats being below 250 degrees.
A huge 708 square inches of cooking space is spread out over four chrome-plated racks which will last for many years if maintained. Despite the short 90-day warranty period, the painted steel exterior and solid construction with a double insulated body is very durable for the price.
This smoke cabinet arrives requiring some basic assembly, with the feet needing fixing and the top control panel to be attached. Two wires are all it takes to connect the control panel, and it can be easily removed for storage too.
Four chrome-plated shelves are included in the box, along with a water bowl, drip pan, and grease tray. Also included are the wood chip tray and unique wood chip loader, with full instructions on how to fit all components.
Features
Digital, top-mounted control panel.
LED display for time and temperature.
Four chrome-plated racks with height adjusters.
Adjustable air damper for smoke control.
Patented side loading wood chip system.
Integrated thermostatic control.
Fully insulated body.
Specifications
Power: 800 watts.
Temperature: 100 to 275 degrees Fahrenheit
Cooking Space: 708 square inches.
Dimensions: 18.3 x 19.2 x 34.8 inches.
Weight: 38.6 pounds.
Warranty: 90 days
What We Like
Fully insulated body, with a strong door catch and seal, keeps the smoke and heat in.
Patented woodchip side loading system means you never have to open the door mid-smoke—less chance for smoke to escape.
Spacious cooking surface with four shelves, you could even fit in a turkey if you removed some shelves.
Chrome racks are easily cleaned and prevent debris from sticking to the rack.
The digital panel is easy to read and very simple to set, with just three heat settings and a timer facility.
Optional accessories from Masterbuilt allow this electric smoker to be used for cold smoking.
What We Don't Like
Very short warranty.
Less power than other smokers under $200, and may produce less smoke.
Short screw legs won't sit too well on uneven ground.
This Masterbuilt electric smoker is great for the price. What it lacks in power it makes up for with easy-to-use features. The digital control panel and integrated thermostat control make it ideal for beginners or somebody just looking for a set and go smoker.
Even though it has a short warranty, if maintained correctly, this durable unit should offer you many years of smoking pleasure.
For the latest price and more details on this well-built product, please click here:
Smoke Hollow 30162E 30-Inch Electric Smoker With Adjustable Temperature Control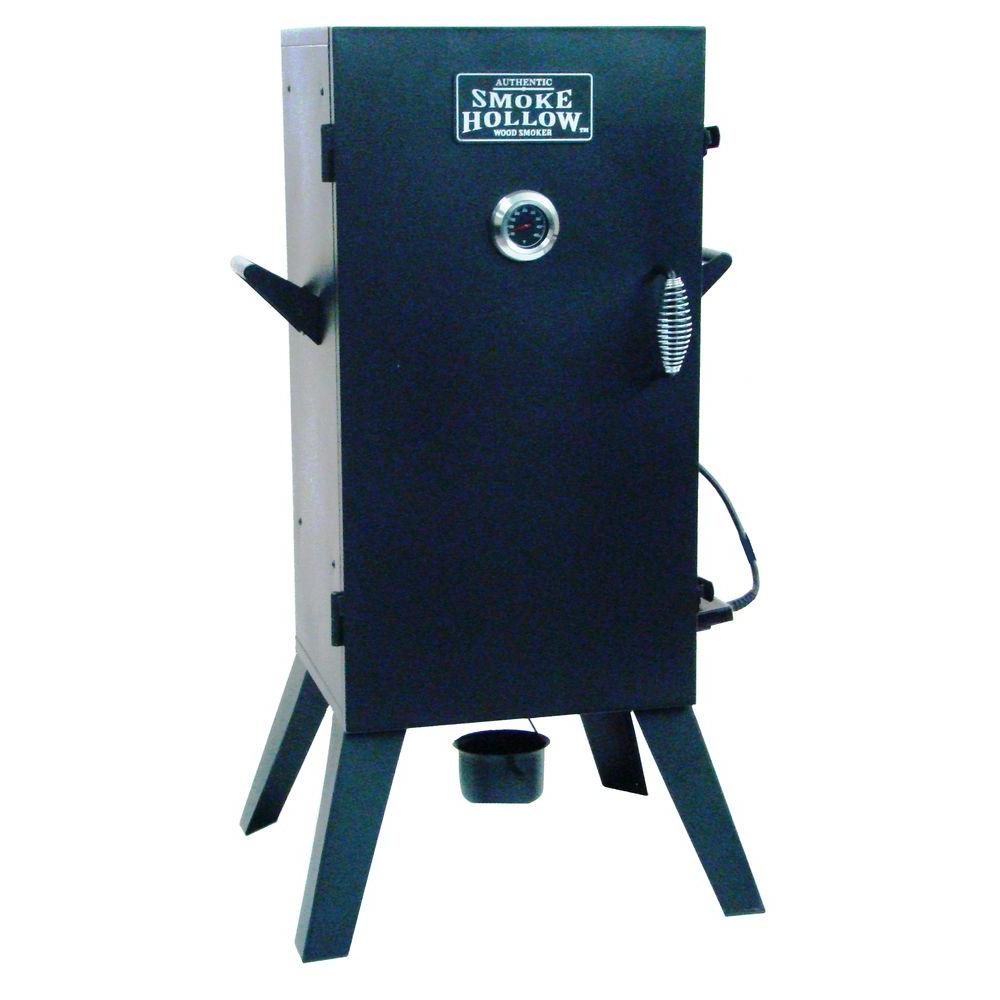 Our runner up for best electric smoker under 200 dollars is from the well-known brand, Smoke Hollow, and has almost double the power of the Masterbuilt. It doesn't, however, have many of the added features. That doesn't make it a bad smoker, just maybe not as easy to use.
Another entry-level electric smoker, the 30-inch tall cabinet offers 540 square inches of cooking surface over three shelves. With the tall legs attached, this unit stands about 38 inches high but has a relatively small footprint at 21.5 inches by 18 inches deep.
The Smoke Hollow electric smoker arrives unassembled and involves a 13-step assembly procedure. The detailed instructions recommend checking all the parts are there first, which I would wholeheartedly agree with—there are plenty of them!
Along with the legs and internal components, like the heating element and air vent tube, this electric smoker is provided with three chrome-plated racks. A wood chip box with lid, a water pan, and grease cup are also provided.
The electric controller is attached to the power lead which plugs into the side of the cabinet. A temperature gauge, which fits on the front door, allows for monitoring the internal temperatures. The door is kept securely closed with the two provided magnetic latches.
Features
Durable steel construction and fully insulated cabinet.
Double wall steel for insulation.
Side handles for easier movement and transportation.
Steel wood chip pan and water pan for more longevity.
Cool to touch spring handle for opening the door.
Magnetic door latching system.
Adjustable heat controller with three settings.
Integrated thermometer.
Specifications
Power: 1500 watts
Temperature: 100 to 300 degrees Fahrenheit.
Cooking Space: 540 square inches.
Dimensions: 21.5 x 18 x 38 inches.
Weight: 51 pounds
Warranty: 1-year.
What We Like
Simple to use and easy to smoke with.
Solid steel construction is rugged and durable.
Three racks offer a wide area for cooking or smoking food.
Chrome-plate wire racks for easier cleaning.
Side handles provide a sturdy grip for moving around your yard.
Easy to attach the grease cup under the cabinet with more space due to tall legs.
Magnetic latches are very strong.
Cool spring wire handle means you don't always need gloves when using this smoker.
A powerful heating element can reach 300 degrees Fahrenheit.
What We Don't Like
Assembly can be quite complicated, you should set aside a couple of hours and check all the pieces are included.
The manual warns that the cooking temperature will be affected by the ambient temperature surrounding the smoker.
If you want a larger cooking space and a more powerful heating element, the Smoke Hollow is the best electric smoker for you. It can cook or smoke a variety of foods. Although temperature control will be more difficult than the Masterbuilt, but practice makes perfect.
For the latest availability and prices on this durable and powerful electric smoker, click here:
Char-Broil Vertical Electric Smoker
Very similar to the Smoke Hollow model we just looked at, this electric smoker from Char-Broil can often be found at a reasonable price. It's a great starter unit for anyone who is just beginning their smoking adventure.
Char-Broil claims the 1500-watt element found on this smoker is capable of reaching 350 degrees Fahrenheit for a wider range of temperature. Whether it can maintain a consistent temperature is another question.
However, with that sort of power, large cooking space and durable construction, the Char-Broil vertical electric smoker offers incredible value for money.
Again, assembly of this electric smoker can be time-consuming, with a 13-step procedure. We can't stress enough that you check the list parts before you begin.
I have often tried building something like this, just to notice one set of screws is missing and it's then been left partially assembled in the kitchen—that doesn't make the wife happy at all!
Detailed instructions guide you through the entire assembly, from fixing the legs to the cabinet, to attaching the internal components. It comes with a temperature gauge mounted in the door, a grease cup and porcelain coated ash pan, in addition to the water pan and wood chip pan.
Features
All steel construction for durability.
Insulated, double-walled construction for heat retention.
A powerful, 1500-watt element with an analog controller.
505 square inches of cooking surface over three chrome-plated wire racks.
Adjustable shelf height.
Door mounted temperature gauge with a bezel.
Wood Chip pan and water pan to retain smoke and moisture.
Large chrome-plated door handle for easier opening of the heavy door.
Easy to clean, with a porcelain ash pan and water bowl.
Specifications
Power: 1500 watts
Temperature: 100 to 350 degrees Fahrenheit.
Cooking Space: 505 square inches.
Dimensions: 17.5 x 20 x 37.8 inches.
Weight: 49.6 pounds.
Warranty: 1 year.
What We Like
Very rugged construction, you won't be afraid of it falling over mid-smoke.
Durable all steel with double-walled insulation retains the heat very well for the price.
A large durable door with chrome-plated handle ensures the smoker door stays shut.
Adjustable shelves allow for a wider variety of meats and poultry to be smoked.
The door-mounted temperature gauge is reliable and great for monitoring your smoke.
Very easy to clean and maintain.
What We Don't Like
Some users have complained the door can be difficult to close, especially when on uneven ground.
This budget smoker from Char-Broil offers a great introduction to smoking meats at a value price. The 505 square inches of smoking space will be enough for most family meals, with adjustable shelves for more variety of foods.
A note of caution: the element can become very hot when set to the highest temperature setting, and the insulation will keep the cabinet hot too.
For the latest price and more details on this value for money electric smoker, click here:
Smoke Hollow 3016DEW 30-Inch Digital Electric Smoker With Window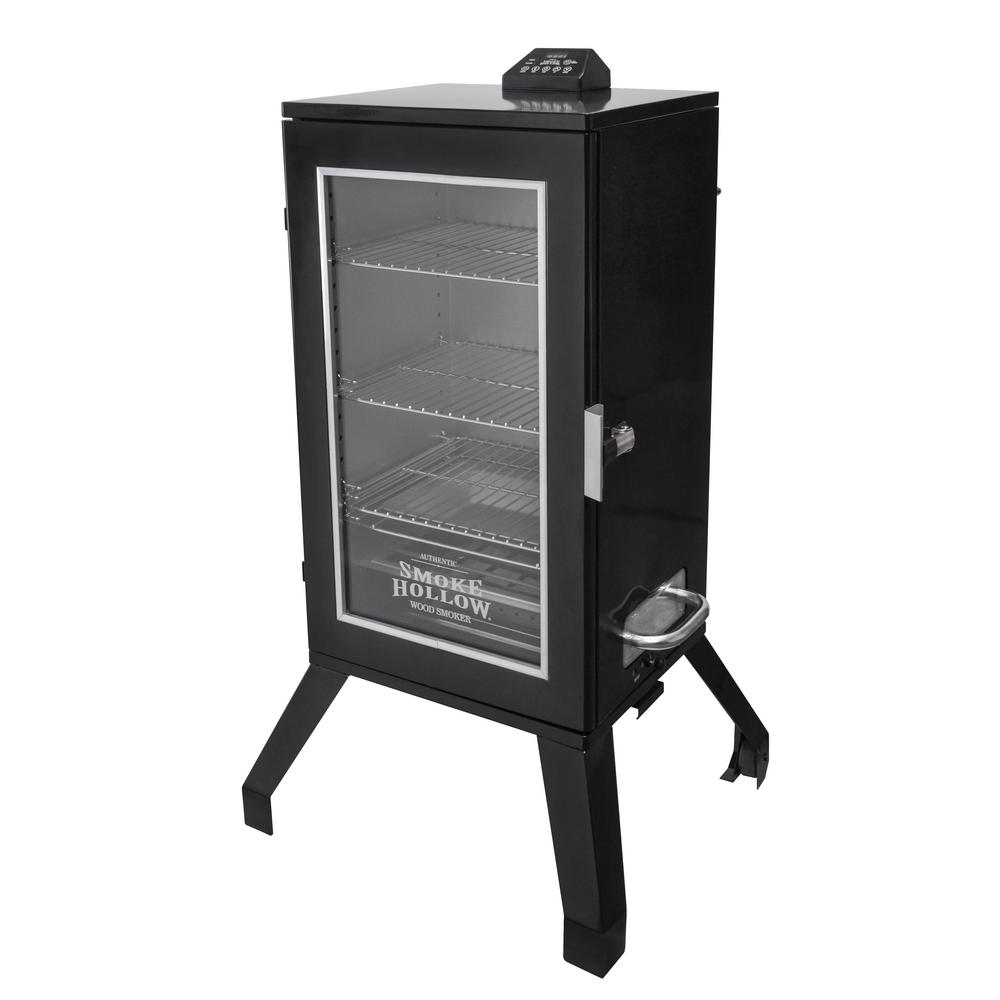 Some people like to observe what is going on as their meats smoke, and this is the only electric smoker we've looked at which has a glass-fronted door. You can easily observe the progress of your meat as it cooks and also check on the water tray or wood chips without ever opening the door.
Like the Masterbuilt electric smoker, it features a digital temperature control panel on the top of the smoke chamber. The panel allows for setting a time and a clear display of the internal temperature for more convenience. It's even meat-probe compatible.
A new external wood tray, like a steel drawer on the side of the cabinet, allows for adding more wood chips without opening the door. There is also a water pan for retaining the moisture of the meat while smoking.
Arriving unassembled, some users have found that the assembly can be tedious. There are detailed instructions and a parts checklist, but you may need assistance, due to the weight of this smoker.
A painted steel chamber has a tempered glass and steel door, which attaches with one secure latch to keep it closed. A 1500-watt element sits at the bottom of the chamber, with the steel wood chip pan sliding above it. Three chrome-plated shelves can be easily removed, and the box also includes a water pan.
The control panel of this smoker is very similar to the Masterbuilt device and fits to the top, with just two wires needing to be connected.
Features
Durable all-steel construction with sturdy legs and handles.
New digital electronic control panel with LED for temperature and time.
Push button on/off and "fast smoke" buttons.
Tempered glass observation window on the front door.
Large, 2-foot cubic capacity.
Three chrome-plated racks with adjustable height.
External steel wood chip loader.
Meat probe compatible—available as an extra from Smoke Hollow.
Specifications
Power: 1500 watts
Temperature: 100 to 300 degrees Fahrenheit.
Cooking Space: 228 square inches.
Dimensions: 20.6 x 23.3 x 41.5 inches
Weight: 51.2 pounds.
Warranty: 1-year.
What We Like
A fully welded steel cabinet for no smoke escape routes.
Insulated cabinet offers good heat retention.
No need for gloves, with cool-touch handles.
"Sure lock" system on door ensures it remains closed when smoking.
The tempered glass door offers a full view of the interior and is surprisingly easy to clean.
Easy to load wood chips mid-smoke, with the external drawer.
Very simple to use, with just a push of a button to change the temperature.
The timer means you can just set it up and leave it to run.
The chrome-coated adjustable shelves are great for whole poultry or larger cuts of brisket, pork butt,
What We Don't Like
Wood Chip tray is on the small side.
Less cooking surface with a narrower body than the Masterbuilt.
Temperature control could be improved.
It can be quite fun to watch your meat or foods as they smoke, although it will never replace Game of Thrones for longer viewing. It's unusual to find an electric smoker with an observation window at this price point, and the digital, easy-to-use control makes it ideal for beginners.
It may feature less cooking space than some smokers we've looked at, but will still be capable of cooking a family dinner.
To check out the latest price on this durable and simple to use electric smoker, click here:
Old Smokey Electric Smoker
Our final choice for the best electric smoker under $200 may look like an oversized tin can, but don't let the simple design fool you. This is probably the most useful tin can you will ever lay your eyes on and is an excellent smoker for beginners or pros alike.
For people who don't have too much space, or simply want something more portable, this lightweight and compact smoker produces excellent smoked food. It's an easy-to-use, set and forget smoker, with less complex tech to malfunction.
Constructed from a corrosion-resistant aluminized steel, the Old Smokey arrives virtually assembled. All the components you need are packed in the smoker, with just a couple of side handles, legs, and the lid handle needing screwing together.
A heating element is based at the bottom of the smoker, and you simply plug the power cord and temperature controller into the prongs. Also included in the box are two 15-inch diameter grill racks for a combined smoking surface of 350 square inches.
A drip pan, wood chip tray, and tight-fitting lid complete the package. This electric smoker even comes complete with some wood chips to start you off.
Features
Durable aluminized steel construction.
Strong fireproof handles.
Tight sealing lid for better smoke retention.
Two cooking racks with handles for easier removal.
Advanced heat thermostat.
The 1250-watt element can reach temperatures of 250 degrees Fahrenheit.
Lightweight and portable at just 23 pounds.
Specifications
Power: 1250 watts.
Temperature: 100 to 250 degrees Fahrenheit.
Cooking Space: 350 square inches.
Dimensions: 15.5 x 15.5 x 29 inches.
Weight: 23 pounds.
Warranty: 1 year.
What We Like
Simple yet durable and corrosion-resistant design.
Won't take up too much space on your patio or in the trunk of your car.
High quality, well sealed and a tight-fitting lid.
Flat lid design allows moisture to drip back into the chamber, with no need for an extra water pan.
Incredibly moist meat.
Even heat distribution.
Easy to use, with no complex digital controllers to malfunction.
The adjustable thermostat allows you to manually set the temperature and cook times.
Surprising how much you can fit in this more compact smoker.
Heat resistant and strong handles for removing the lid or carrying about.
Handles on the grill racks make them easy to load or remove.
Very portable and ideal for that next camping trip or tailgate party.
Even comes with some wood chips — bonus!
What We Don't Like
The main body of the smoker will get very hot during in use.
No thermometer attached, although they're available on the company website.
It can be awkward to load or remove the smoking racks while cooking. Ensure you put enough wood chips in the tray to start.
Difficult to clean the interior of the main chamber—water and electric elements don't tend to go together too well.
The Old Smokey is an electric smoker you're either going to love or hate. Some users, even experienced meat smokers, will love the simplicity of its design. This really is a smoker you can just set up before leaving to have a few beers with your pals, to return to deliciously moist smoked meats.
Unfortunately, others may bemoan its lack of features, like a digital control panel. If you agree that simplicity is the way forward, more details on the Old Smokey and the latest price can be found by clicking here:
What is an Electric Smoker?
An electric smoker is an appliance built for those people who love the taste of smoked foods. As the name suggests, it uses electricity and doesn't involve any flames from burning logs, coals or gas. Instead, a coil is heated and woodchips, sitting above, gently smolder for the smoke.
In their most basic form, an electric smoker will be an upright style cabinet with shelves where you place the foods to be smoked. Simple and less expensive models will use a rheostat for manual temperature control while more advanced models will feature a thermostat for maintaining a consistent temperature.
With an electric smoker, you can smoke large cuts of meat, whole fish or poultry, and even cheese or bacon—basically anything you could put in a traditional charcoal, gas or fire burning smoker. You can also use an electric smoker for cold smoking, 60 degrees Fahrenheit or lower, and traditional barbeque at around 225 degrees.
Benefits of Electric Smokers Over Other Fuel Types
Charcoal enthusiasts may argue that you never get that true smoke flavor with electric, but most of the flavor comes from the wood chips rather than the coal. Other opponents of electric smokers may argue the cost, but electricity is cheaper than continually buying new bags of charcoal or logs, so long term electric smokers are cheaper.
For years I have trusted in my charcoal smokers, but I've certainly got nothing against anybody using an electric one. Here's why you might want your next smoker to be an electric one.
Incredibly Easy to Use
Electric smokers are one of the easiest of the many different types of smoker to use. The only rival for ease of use are pellet smokers, but they will cost a lot more than $200—there is also more tech in them to go wrong.
For beginners to the world of smoking and BBQ, electric smokers are the ideal choice. You simply load up the cabinet, switch it on and set a temperature. As long as you have a stable power source, it should keep running for as long as you like—no more checking if the charcoal is burning or you need to add more fuel.
If you can operate an electric oven, then you can use an electric smoker. Just like an electric oven, a thermostat on a smoker will make it much easier to control and maintain the correct temperatures.
Environmentally Friendly
An electric smoker will generate smoke and heat but tends to be much greener than charcoal or even the best gas smokers. Well, that is greener onsite—although they produce no carbon dioxide when used, the electricity they use actually emits 15 pounds of carbon dioxide per hour.
More importantly, they will be local environment-friendly—no more charcoal fumes wafting over your neighbor's fence. If you live in one of the states where there is a fire ban, especially in summer, an electric smoker may be one of your few options.
It's not just state regulations, many apartment buildings or units will often forbid the use of a charcoal burner. There's very rarely an issue with an electric smoker, and some can even be used indoors, unlike propane models.
Easy to Clean
With no ashes or burnt charcoal to clear out, an electric smoker is much easier to clean than any huge offset smoker. The only debris that will need clearing out is the wood chips in their little box – easy!
Being a cabinet design with shelves, there are no nooks or crannies for food to drop into, unlike grill/smoker combos which have grates. You simply take out the shelves and give the inside cabinet a good clean with a soapy cloth or brush.
No Learning Curve
As we said at the start, the best electric smokers are incredibly easy to use. There's no learning curve typically associated with other smokers, like charcoal or gas powered. It took me several months and plenty of practice to master the charcoal bullet smoker and kamado I have.
Temperature control is so much simpler, with an easy-to-turn dial, and there's no chance of flames blowing out. No need for stoking the fire or learning all the different lighting and refueling techniques, like the minion method used with rings of charcoal.
The operation is so easy, you may not even need to read the instructions before you start smoking. You simply season your new electric smoker before first use, and then it's intuitive. Turn it on, set the temperature, put in your food and wood chips.
Electric smokers are great for lower temperature, low and slow cooks, without the need to learn about dampers and air flow. Just set the temperature and time, then leave the electric smoker to do the work.
What to Look for in the Best Electric Smokers Under $200
In addition to the convenience and ease of use electric smokers offer, they are very affordable too. However not all electric smokers are equal, so how do you know which is best?
Here are some of the most important factors you should look for in the best smoker under $200.
Price
Let's start with the big one, your budget! The fact you are even reading this guide suggests you want to spend less than $200. More expensive doesn't always mean better quality, sometimes the extra cost could be due to the smoker having more features than you actually need.
As the five models we look at below demonstrate, you don't have to spend thousands to get a decent electric smoker. Decide what your needs are, pick your budget and then stick to it.
Ease of Use and Convenience
Most people choose an electric smoker because of how easy and convenient it is, compared to other fuel types. Make sure any model you choose ticks all those boxes and comes with complete instructions and/or recipes if you're a beginner.
Are the controls simple to operate and easy to understand? Although most electric smokers under $200 will be basic, some will require a little more investment of your time. Are the controls or digital panel located in an easy to reach place?
Some less expensive smokers will have a dial placed on a "brick" near the power cable. Other more advanced smokers will feature top mounted digital panels with LED temperature readouts, which will be easier to access.
Temperature Control and Stability
The more advanced electric smokers we've looked at, even under $200, will feature some form of digital thermostat and LED readout. You just set the temperature and go, with maybe the occasional glance at the LED display.
Using an electric smoker without a thermostat will take more practice, with some smokers only offering low, medium and high settings. A thermometer built into the cabinet door can give you an idea of how hot the internal temperature is, and you can adjust the dial accordingly.
Eventually, you will get to know which settings result in what temperatures, but other factors, like the weather, will also affect the temperature. In colder or windier conditions, you may need to turn the heat up more. A thermostat will do this automatically, however.
Cooking Space
Consider how many people you're going to be cooking for. Will it be smoking large amounts of meat for eight people or more, or just the occasional family meal? Try to pick an electric smoker with enough cooking space and shelves for your needs.
Cabinets will often be measured in the cubic feet of space inside, or more traditionally by the actual cooking surfaces in square inches. The more shelves the cabinet can fit will allow for cooking greater quantities of food in one go.
As well as the actual cooking surface or volume, you need to consider what type of foods you'll be smoking. Is the smoker wide enough or deep enough to fit a whole rack of ribs? Will it cope with a full turkey or a large butt of pork, and how many can it fit?
Size
The physical size or footprint of the smoker can be just as important as the internal capacity. Check the dimensions of any electric smoker before you choose one and ensure you have enough space on your patio or deck for it.
If you want an electric smoker you can take on the road with you, check that it will fit in the trunk of your car, or that you have space in the RV.
Finally, consider where you're going to store the unit when not in use. If you have limited space in your garage or shed, consider a more ergonomic or compact design.
Design, Build Quality and Materials Used
Your smoker is probably going to be spending the majority of time outdoors. You'll need something which is rugged and durable to withstand the elements. The durability of an electric smoker will come mainly from the materials used to construct it.
Try to look for electric smokers which use heavy duty materials on the exterior, like stainless steel, which won't rust. Chrome-plated cooking grates on the inside will be more resistant to years of smoking meat.
Is the design well insulated or does it have double-wall insulation for greater heat retention? Does the door have a good seal to prevent smoke from escaping, and a strong latch, maybe magnetic?
And remember, water and electricity don't make a good mix. Check the design has no gaps or holes where water or rain can get in. Is the unit short enough to fit under your awning with enough clearance for smoke if the weather should turn?
Conclusion
By now we hope to have persuaded you that you don't have to spend a fortune to produce the best-smoked meats. The best electric smokers under $200 boast many features which make them even easier to use and offer reasonable cooking spaces.
An electric smoker will be a better choice for beginners than more complex charcoal or gas smokers. Remember, it's the woodchips which give that smokey taste, not the fuel you use.
Our choice for the best electric smoker under $200 would have to be the Masterbuilt MES 130B Digital Electric Smoker. It features a simple to use digital control panel, solid build that will last years, and the largest cooking space we found.
If you have any experiences with smoking meats you'd like to share, or just a question you want to ask, feel free to leave a comment below. We will answer all questions when we can drag ourselves away from the smoker.