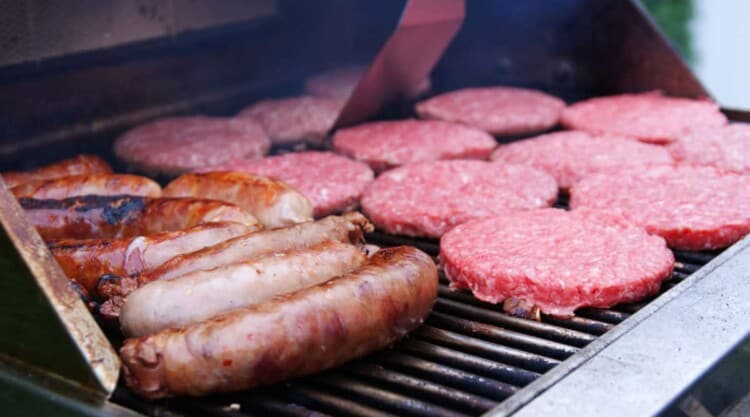 With a modest budget of just $200, can you buy a quality gas grill?
There are many on the market at this price point or under, but in all seriousness, many of them just aren't good enough and will make cooking a chore instead of fun.
This is where we come in. We embarked upon a search for the best gas grills under 200 dollars, and present them to you in this guide.
Below, we start by listing our top recommendations, presenting grills of different sizes — and specs — so there should be something for everyone, and each model is, in our opinion, one of the best you can get at this price point.
We end the article with a guide, that will walk you through the buying journey, going into great detail on what to look for and what to avoid when searching for a gas grill under $200.
At a Glance: Our Recommendations for Best Gas Grills Under 200 Dollars
Note: Clicking the above links will take you to further information, current prices and customer reviews on either Home Depot, BBQGuys or Wayfair.

Editor's Note
All grills on this page were under $200 at the time of writing this article. However, due to the recent worldwide component supply and shipping issues, some products here have now crept slightly over $200. We hope to update this article with newer products under this threshold in the near future.
— Mark Jenner
Best Gas Grill Under 200 dollars — A Detailed Look at Our Top Recommendations
If you've started your search, you'll have noticed there is a wide variety of gas grills out there. To save you some precious time, we've gathered below what we consider to be the best gas grills under $200 available on the market today.
Note: For the best models available at other price points, check out our companion guides:
Royal Gourmet Deluxe 4-Burner Propane Gas Grill with Side Burner
1
If you like to keep your grilling party at home, this grill is ideal for a larger family or a group of friends. Stylish, yet able to handle heavy grilling, the extra large cooking surface will give you enough room for everyone to enjoy their meal at the same time.
What's in the Box
With an extra large cooking surface, solid construction, and additional features, grilling is effortless and enjoyable—this product is built to impress.
Provided unassembled, the easy-to-follow instructions allow for quick construction.
The grill comes with four burners, porcelain enameled cast-iron grates, and a warming rack for additional cooking space. The 4 casters ensure it easy to move around, and the side burner allows you to cook sauces or sides alongside the main star of the shoe in the main cooking chamber.
Manufacturer's Specifications
Fuel type: Propane gas.
Number of main burners: 4
Ignition type: Automatic ignition.
BTUs: 57,000.
Primary cooking area: 469 square inches.
Secondary cooking area: 156 square inches.
Total cooking area: 625 square inches.
Build materials: Porcelain-enameled cast-iron grates, powder coated steel lid, stainless steel burners, handles and control panel.
Dimensions: 22.4 inches by 52 inches by 44.9 inches.
Warranty: One year.
This Grill is for You if…
If you'd like to take grilling to the next level or host friends and family, the Royal Gourmet Deluxe 4-burner is a good-quality grill built to last.
This grill ensures that everyone gets fed at the same time and allows you to regulate the heat by controlling each burner individually. Indirectly cook delicate food on one side, roast your chicken breasts on the other side, while slow cooking your vegetables on the warming rack, as well as a sauce or boiling pan on the side burner.
Another Model Might Be Better for You if…
Even though the grill comes with wheels and can be moved around your backyard, its size makes it difficult to move outside your home. If you're looking to take your grill with you, you may want to consider a more portable gas barbecue.
Pros
Large cooking space.
Easy to start.
Durable and reliable materials.
Strong side tables provide work areas.
Built-in thermometer.
Individual control over burners.
Easy to assemble.
Cons
Some users reported that the gas hose is on the short side.
Packaging could be improved, with some pieces able to move about during transit.
This grill is perfect for a hot summer around the swimming pool with friends and family. It gives you plenty of space, as well as enough heat control to cook all food for a medium-sized party at once and enjoy the food together.
For more information on this popular gas grill, click here.
Cuisinart all Foods Roll-Away Gas Grill
2
Outdoor activities—road trips, camping trips—can be fun but are much more enjoyable when you include a grilling party into the mix.
If portability and quality are both important to you, the Cuisinart CGG-240 combines the best of both worlds.
What's in the Box
With its sharp design, the Cuisinart CGG-240 feels solid at first glance. The two side tables neatly fold back under the cover for storage. This grill is also simple to assemble, and the roll-away folding cart allows for easy transportation—even at the beach.
Monitor the heat with the built-in hood thermometer temperature gauge, while the two stainless steel folding side tables give you ample space to prepare your meal. This grill also comes with large wheels and a foldable stand.
Manufacturer's Specifications
Fuel type: Propane gas.
Number of main burners: One
Ignition type: Twist-start electronic ignition.
BTUs: 15,000.
Total cooking area: 240 square inches.
Build materials: Stainless steel, porcelain-coated cast iron grates.
Dimensions: 27.3 inches by 38 inches by 23.5 inches.
Warranty: Three years.
This Grill is for You if…
Are you a master griller always on the go? Looking for a heavy-duty grill without being too bulky? This grill might be one to consider.
The Cuisinart CGG-240 is foldable— just roll it over to your car and pop it out when you find the right spot to grill. The large wheels make it easier to pull, even on rough surfaces.
This grill also delivers in terms of quality, with porcelain-enamel cast-iron grates and a heat distribution panel reducing flare-ups.
Another Model Might Be Better for You if…
Although the grill itself is very compact, the foldable stand is relatively wide and may not fit small cars with tiny trunks. In this case, a smaller, portable grill would be a better option.
Pros
Built-in temperature gauge.
Large wheels for easy transport.
Grill locks while on the go.
Fits both large and smaller propane gas tanks, and they're easy to attach.
Handle stays cool.
Easy to store.
Some users have successfully converted it to a natural gas grill.
Heats up fast.
Cons
Not suitable for windy weather—holes on each side of the hood.
Some report some quality issues with the ignition system.
With the Cuisinart CGG-240, you don't need to choose convenience over quality. It's a portable barbecue for serious grilling with high-quality construction and material.
To see how compact the grill looks when folded, click here.
Char-Broil Classic 280 2-Burner Liquid Propane Gas Grill With Side Burner
3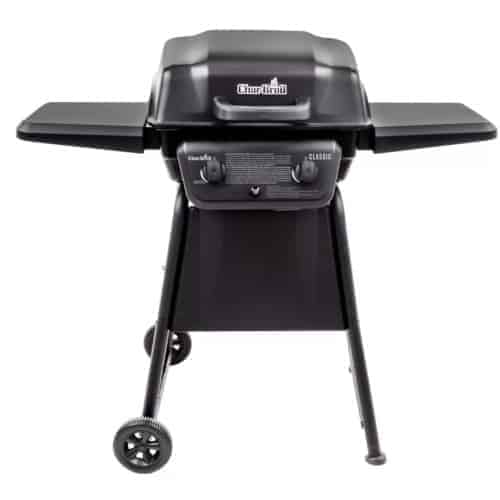 Owning a highly multifunctional gas grill doesn't necessarily require a lot of space. This compact gas grill can fit balconies and smaller backyards, while still providing quality and all the necessary features.
What's in the Box
This grill comes with many separate pieces to assemble, so be armed with patience as it isn't an easy task. Besides elbow grease, you'll also need a screwdriver and wrench to assemble the grill.
This grill comes with a side shelf and an 8000-BTU side burner to keep all meal preparation right in front of you. Hooks are convenient to hang your grilling tools.
Manufacturer's Specifications
Fuel type: Propane gas.
Number of main burners: Two
Ignition type: Piezo ignition system.
BTUs: 28,000—including the side burner.
Total cooking area: 280 square inches.
Build Materials: Porcelain-coated steel lid, stainless steel burners, and porcelain-coated grates.
Dimensions: 24.1 inches by 45.6 inches by 41.9 inches.
Warranty: Five years.
This Grill is for You if…
This grill is ideal for apartment residents, or if you have limited space for grilling.
Compact, it still offers great power in terms of heat and can easily feed up to five people—or more if you've invited kids or someone who eats like a bird.
Another Model Might Be Better for You if…
On the contrary, if you are planning to invite a large group of hungry eaters, the cooking space might be too small, and you'll find yourself making rounds before satisfying everyone's appetite. In this case, something larger is better.
Pros
Gas tank hose and regulator are included.
Fast preheating.
Six-inch wheels allow good maneuverability.
Made of durable material.
Finishes are weather resistant.
Reliable ignition system.
Cons
Smaller cooking surface.
Complicated to assemble with unclear instructions.
Some users report uneven heating.
This grill could be ideal for a casual family barbecue and the high-quality of the material used will ensure a long lifespan. For more information on this gas grill, click here.
Weber Q1000 Liquid Propane Grill
4
Spring and summer can be one of the best seasons of the year, and a barbecue on the beach might be a mandatory ritual. A gas grill such as the Weber Q1000 will be your best friend for any outing beyond your home.
What's in the Box
The Weber Q1000 comes assembled and ready to use, so you can start grilling minutes after opening the box. The elegant black design is very discreet and would fit any patio—but if black is too boring for you, it's also available in seven other colors.
Inside the box, you'll find the grill with a burner control valve—it also includes a set of AAA batteries—a hood with a built-in thermometer, a cast iron cooking grate, and a removable grease pan.
With everything except a gas tank in the box, it's ready to hook up and start grilling!
Manufacturer's Specifications
Fuel type: Liquid propane.
Number of main burners: One
Ignition type: Push button spark
BTUs: 8,500
Total cooking area: 189 square inches.
Build materials: Porcelain-enameled cast-iron cooking grates with cast aluminum hood and body.
Dimensions: 28.41 inches by 16.32 inches by 16.16 inches.
Warranty: Five years.
This Grill is for You if…
At just 31 pounds in weight, the Weber Q1000 is easy to pick up and carry to your backyard or the trunk of your car. Directly on the floor for a picnic setup, or on a table if you're grilling at home, this grill seems perfect for all occasions.
With a smaller cooking space, this grill is ideal for a small family or a couple of friends. The electric ignition allows for an easy start, and the cast iron grates give you the quality you need to serve nicely seared meat.
Another Model Might Be Better for You if…
Weber Q1000's cooking surface might be too small if you have a large family or if you plan on inviting more than just a few friends. A portable grill with a larger cooking surface would be better suited for bigger parties.
Pros
Compact but powerful.
Available in seven colors.
Lightweight and easy to carry.
Built-in thermometer.
Burner control valve to fine tune the heat level.
Easy to clean—grease tray and catch pan.
Cons
The lid doesn't lock and can open while carrying.
Paint chips easily.
Doesn't fit 16-ounce propane bottles.
Valve not easily accessible.
If you like to grill—whether out in nature or at home—the Weber portable grill will nicely fit your lifestyle. Whether for a picnic, the beach, your patio, or camping, this portable gas grill will be your best friend.
Made of cast aluminum, the compact size doesn't give up on quality either, as you would expect from this manufacturer.
Char-Broil Classic 360 3-Burner Liquid Propane Gas Grill With Side Burner
5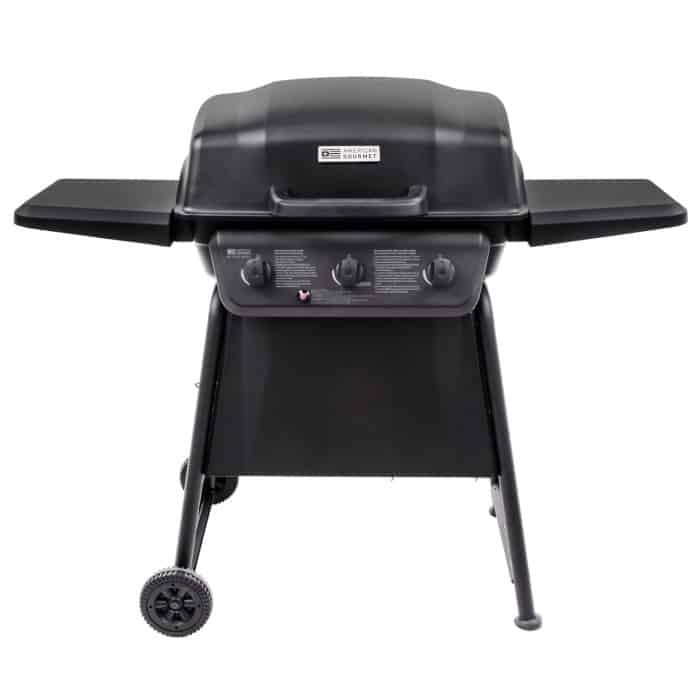 Did you like the previous product but wished it had a larger cooking space? Here is a larger version, allowing you to grill up to 15 burgers at a time while providing the same features and quality—same, but different!
What's in the Box
At first glance, the box seems very strong, and the different pieces come securely packaged. This model is still a challenge to assemble, but some users seem to manage installation in under an hour still.
With three burners, and larger than its baby brother, this grill still doesn't look bulky, showing a slick design with a black porcelain-coated lid.
Manufacturer's Specifications
Fuel type: Propane gas.
Number of main burners: Three
Ignition type: Piezo ignition system.
BTU: 38,000—including the side burner.
Primary cooking area: 360 square inches.
Secondary cooking area: 170 square inches.
Total cooking area: 530 square inches.
Build materials: Porcelain-coated steel lid, stainless steel burners, porcelain-coated grates.
Dimensions: 43.5″ H × 51.18″ W × 24.09″ D
Warranty: Five years.
This Grill is for You if…
This is the perfect grill if you're looking for a multi-functional grill capable of feeding many guests.
The warming rack gives extra space in addition to the already large 530-square inch cooking space. Each burner comes with a separate ignition system which allows for better control over the heat, while the porcelain-coated grates give a nice sear on your steaks.
Another Model Might Be Better for You if…
If you don't have much space for your grill, or you're not planning to cook for large parties, you might want to consider something that will take up less room on your patio.
Pros
Elegant design.
13,000-BTU side burner.
Warming rack.
Metal side shelf.
Sturdy lid ensures the heat stays in.
Cons
Complicated to assemble and disassemble.
No proper grease management drain.
Temperature gauge not included.
With a very classic and chic design, this grill also gives you all the cooking space needed to satisfy your guests and spend an enjoyable afternoon. For more information, click here.
Char-Broil Tru-Infrared Patio Bistro Gas Grill
6
This is the newest trend in outdoor grilling, the future of barbecuing. It's still a gas grill but uses infrared technology as a heat source.
In a regular gas grill, the flame heats the grates directly, while here, the gas heats the infrared plaque which then diffuses intense heat to the grate.
It might take some time to get adjusted to this new form of grilling, but the food seems to be much juicer and tastier.
What's in the Box
Although the grill needs assembly, it seems to be easy to assemble. The box contains a solid stainless steel grid surface—which is different from a regular grate—as well as small warming rack to allow for indirect cooking.
Thanks to the infrared technology, this grill uses less gas providing more heat than other grills—which you can monitor through the built-in thermometer.
Manufacturer's Specifications
Fuel type: Gas Tru-Infrared.
Number of main burners: One
Ignition type: Electronic ignition system.
BTUs: 9,000.
Primary cooking area: 240 square inches.
Secondary cooking area: 80 square inches.
Total cooking area: 320 square inches.
Build materials: Stainless steel cooking grate
Dimensions: 24.4 inches by 25.2 inches by 38.2 inches.
Warranty: One to five years, depending on the parts.
This Grill is for You if…
Have you recently moved to a condo or small apartment but not willing to give up on grilling? This gas grill would probably fit the smallest of balconies and patios while still allowing you to feed up to four people.
This grill is great for those wanting the latest in technology, and grill masters looking to produce restaurant-quality steaks.
Another Model Might Be Better for You if…
If you're planning to cook for a number of people, need a larger cooking area with meal preparation space, or if you don't want to spend time cleaning your grill after each use, I'd recommend looking at something else.
Pros
Keeps your food moist and juicy.
Takes less than an hour to assemble.
Uses less gas.
Delivers even heat.
Prevents flare-ups.
Wood chips or charcoal can be added for extra flavor.
Comes with connector hose.
Small footprint.
Cons
Food tends to stick to the grate.
Grate may be difficult to clean.
Only fits 20-pound gas tanks.
Paint peels off easily.
Users report issues with ignition.
Aside from its attractive and easy-to-store design, the Char-Broil Tru-Infrared also seems to deliver in terms of heat power and grilling quality.
What to Look for in the Best Gas Grills Under $200
What do you need to know before heading to your nearest department store or searching through online retail sites? Here is the information you are going to find useful.
Propane or Natural Gas?
Today, 64 percent of the gas grills used in the United States are propane gas grills. However, natural gas grills are quickly making its way up, and many grills can be bought in both propane and natural gas configuration, or as one that can be converted to the other.
Both types of grills have their pros and cons, so it's really a matter of personal preference and what type of fuel matches your lifestyle.
Natural Gas Grills
Natural gas is a non-toxic, tasteless fuel source that doesn't produce any smell. It's the most convenient too, just turn on the burners and your grill will get started.
Installation
Choosing a natural gas grill requires that you have an available gas line near to your grill's location. Because natural gas is not available in every area, that's the first thing you'll need to confirm before committing to this type of grill, unless you already have it, of course.
If you are located by a natural gas main, some companies may install it for free. However, if you aren't, you'll need to contact your gas company to have the main extended to your home.
The initial setup can be quite complicated, and unless you know what you're doing, this isn't something you want to tackle yourself. Upfront costs to have it done professionally can be significant, but in the long-term, natural gas should be about one-third of the cost of a propane grill.
Many grills have a natural gas kit manual with step-by-step instructions to help you get started.
Here is a great video on installing a natural gas grill.
Most Convenient Grill
Is there anything worse than running out of fuel in the middle of a family gathering? Natural gas grills give you an unlimited source of fuel, so there's no need to worry about stacking extra gas tanks.
Environmentally Friendly
Even though both natural gas and propane have a small carbon footprint, natural gas is the cleanest fossil fuel, with the least impact on our environment.
Limited Portability
Because your natural gas grill is fixed to the gas line, you won't be able to move it around your backyard or carry it to the beach. Natural gas grills have to stay put, and this is the one major inconvenience of these types of grills.
Propane Grills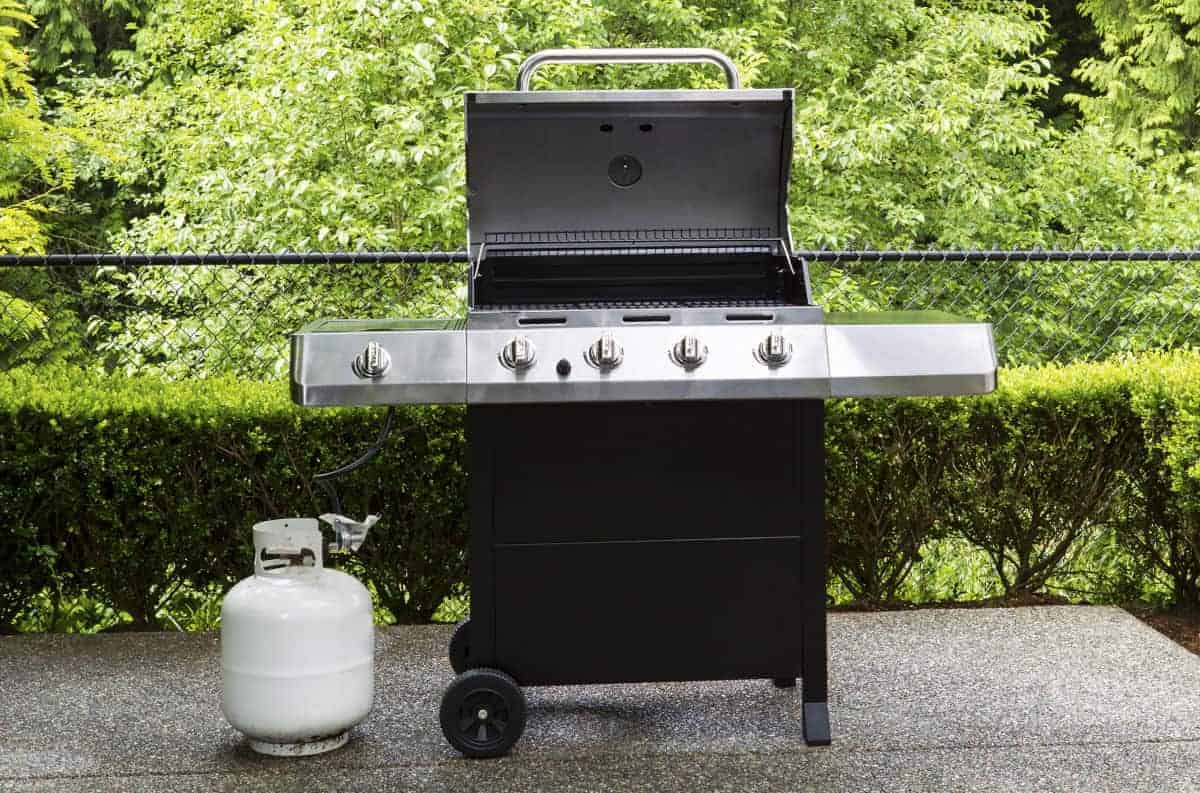 A connector links a propane grill to its reusable tank. When a source of natural gas isn't available—if you're planning to grill in a remote chalet, or if you want to move your grill around—propane gas grills come in very handy.
More Heat
Propane grills are still so popular because they contain more energy than natural gas—2500 BTUs per cubic feet versus 1000 BTUs for natural gas—therefore, propane grills give more heat.
Gas Tanks
Propane gas grills mean that you always need a full gas tank available at home and require back and forth trips to the store.
Gas tanks are, however, very easy to install and readily available in supermarkets and convenience stores. If you run out of gas in the middle of your barbecue party, it's a quick fix. If you live outside the city, stocking a spare tank is a good idea.
Many propane grills also come with a gauge, which will let you know ahead of time when you need to replace the gas tank.
Best Portability
This might be one of the best advantages of propane gas grills, they are movable and your imagination is the limit.
Safety
Because propane is heavier than air, it stays closer to the ground, potentially creating sparks and fires. This is important to keep in mind if you live in a very dry area.
Here are some tips for using your propane gas grill safely.
BTU Level or Heat Flux?
When shopping for your next gas grill, two kinds of heat measurements are available—BTU (British Thermal Unit) and heat flux.
BTU measures the amount of heat created by the burner and therefore the amount of gas used. BTU doesn't indicate the amount of heat the grill can generate, and a higher BTU doesn't necessarily mean that the grill produces more heat or will cook your meal faster.
Don't pick a gas grill based on the BTU only; the size of your grill, as well as its shape, also need to be considered. A smaller, more compact grill can produce more heat with a lower BTU.
Heat flux, however, represents the amount of heat created and usually circles around 85 units. It can be easily calculated by dividing the BTU by the cooking surface in square inches—without the warming racks.
Let's take a concrete example. If you have a gas grill producing 48,000 BTU on 500 square inches, the heat flux will be 96; whereas if you have a larger grill generating 52,500 BTU on 650 square inches, the heat flux will only be 81.
The heat flux measure isn't perfect either, as burners can be closer or further from the cooking surface and there might be cooler areas between the burners.
The Right Size and Cooking Area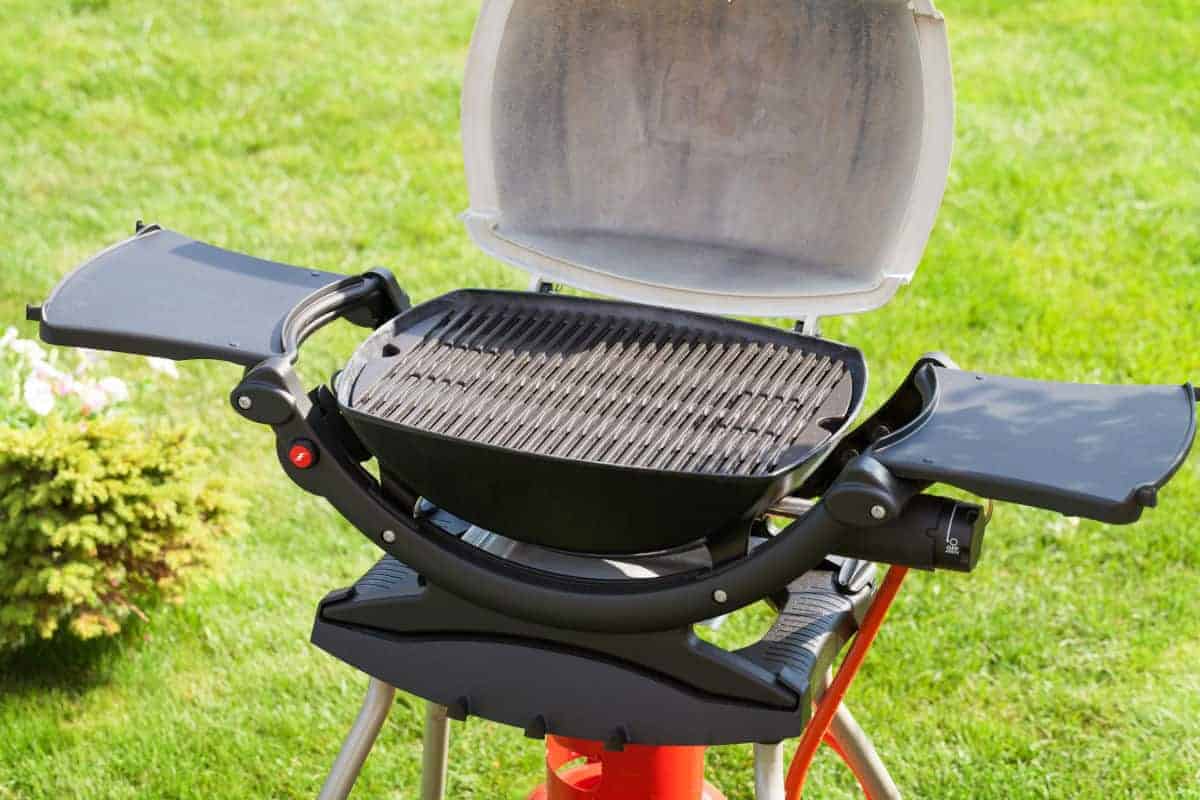 Have you ever been invited to a barbecue and found yourself pacing impatiently, waiting for your turn while watching others eat? Choosing the right cooking space will avoid this inconvenience.
What you cook and how many people you cook for will determine the size you need. A typical gas grill with three burners—450 to 500 square inches—will usually be sufficient for an average household. For large families or weekend parties, you may want to consider a grill with five or six burners—550 to 650 square inches of cooking area.
Pro-tip—It's best to leave at least half an inch between each food item to avoid over packing your cooking area, so things get even heat to every surface, and grill and do not steam.
Consider Your Footprint—How Big is Your Backyard?
In addition to the cooking area, the footprint of the grill should also be considered.
For safety, manufacturers recommend keeping the grill two to three feet away from your house and any combustible materials. Most barbecue grills also come with side shelves which can be either folded or removed, so you have to consider space for them too.
We sometimes think we have more space than we actually do. Before purchasing a grill, you might want to make sure you have the space required to accommodate the overall width of the grill, so get out there with a measuring tape.
Many accessories are now available to expand your grill cooking area without increasing its footprint. A warming rack, for example, hangs on top of the grate and is ideal to cook items at a lower temperature.
Quality Ignition System
All gas grills need an ignition system to start, most of them using a spark to ignite and light the burner.
The quality of the ignition system will rely on the quality of three main components—the spark generator, the wire carrying the spark, and the electrode sending the spark to the ground point.
Some high-end grills come with a separate igniter for each burner, which is a nice touch. However, when they break they are expensive and complicated to repair.
Here are the main ignition systems available, and when the main ignition fails—it usually does at one point—a manual ignition option should be available.
Battery-Operated Ignition
Electric ignition usually works with AAA, AA, or nine-volt batteries. If your ignition isn't working, it's usually an easy fix and is most often a matter of changing the batteries.
Piezoelectric Ignition
Piezoelectric ignition is the original ignition system. It generates a spark by friction and makes a distinctive clicking sound. You might find it very easy-to-use as it only requires you to turn a knob and press a button to get your grill started.
Hot Surface Ignition
This is the latest invention mostly found on high-end grills. No batteries are required, however, you'll need electricity to power the ignition and fire the burners.
These guys explain the different types of ignitions rather well.
How Many Burners?
Every grill master wants his food to have a moist and tender inside and a crisp and crusty exterior. The bigger the cooking surface, the most flexibility you'll have while grilling your favorite meals—so in short, the more burners, the better.
The best gas grills will always come with a minimum of two burners, but potentially up to as many as six.
Some food can be too delicate for direct exposure to the heat source and needs to be slow cooked, or cooked indirectly. To do this, you need to be able to have a burner or two on at one side of the grill, while having none on directly under the food, and the lid closed. For this, you need a large cooking surface and multiple burners.
It's important to keep in mind, however, that burners are the most replaced parts of a gas grill—and while some come with a warranty, still, the more burners, the higher the maintenance expenses.

Editor's Note
Having two or more burners is for me the most important consideration when buying a gas grill. With only one, you are restricted to high heat grilling only. This means no roasting of larger cuts, and no chance to smoke ribs, or pulled pork, or many other delicious treats that require indirect heat grilling.
— Mark Jenner
Why Use a Side Burner?
Side burners are often undervalued and underused but can be extremely useful.
They are ideal for preparing your homemade barbecue sauce, your side soup, or vegetables while grilling your main course. No more running back and forth to the kitchen!
Do You Need a Grill Hood?
A gas grill without a lid considerably limits the type of cooking you can do. If your meat is thicker than three-quarters of an inch, you're going to want a hood.
The lid traps the heat and acts like an oven, helping the food cook through. It creates convection so that the heat doesn't only come from below, but also front, top and sides.
Some hoods are double layered, retaining heat more efficiently. To avoid burning yourself, the handle should be far enough away from the hood to prevent it getting too hot.
Easy Access to Gas Tanks
To refuel propane gas grills, you'll constantly have to replace the gas tank. To make this a smooth task, make sure that the gas tank and its connecting valve are both easily accessible.
What are Flavorizer Bars?
Flavorizer bars are V-shaped pieces of steel placed between the grates and the burners, directing grease away from the burners and preventing them from clogging.
The flavorizer bars vaporize drippings, giving your food extra taste and flavor while redirecting the excess grease into a drip pan. This also avoids flare-ups and protects your food from burning.
Just like grates, they can be of varying quality and can come in different materials—from porcelain enameled to stainless steel—each with their own lifespan.
Flavorizer bars can get very dirty after only a few uses and need to be cleaned regularly. It's best to stay away from oven cleaners, citrus dish soaps, and dishwashers to avoid premature rusting. There's nothing better than good old-fashioned hot soapy water!
Extra Storage Space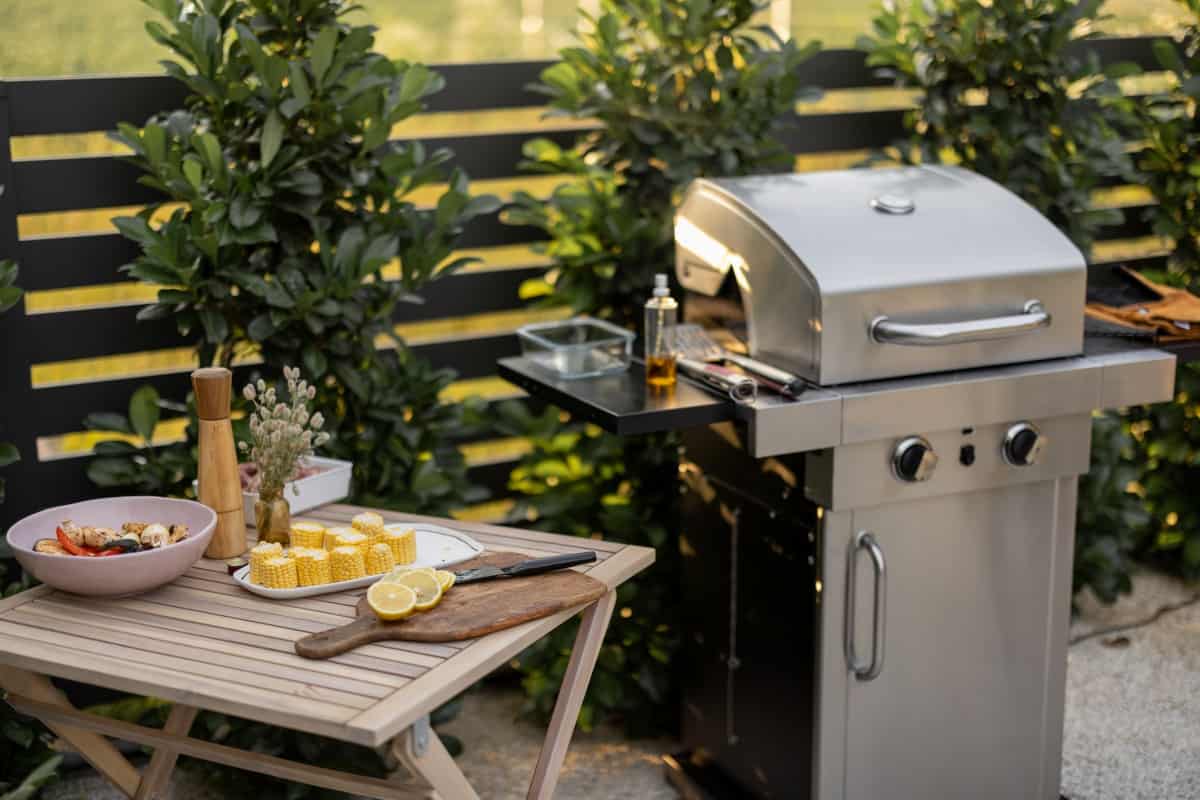 Grill accessories can quickly pile up, from cooking and cleaning tools, ribs racks or rotisserie tools, you will soon realize that extra storage space is desirable to keep you organized. A few options are available:
Portable and foldable stands.
Side-folding shelves for additional preparation space.
Full storage cart with two-door access.
Quality Grates for Quality Grilling
Grates are one of the most important parts of your grill and are typically made of stainless steel, porcelain, or cast iron. Depending on the quality and thickness of the material, the heat will wear them out at a different pace.
Without necessarily being Teflon treated, you'll want a non-sticky surface to avoid losing half of your food to your grate.
Steel Grates
Steel grates are usually the most affordable, but for a reason. Over time, they tend to chip easily—letting your food stick to the grate. Stainless steel grates, however, don't chip as easily if you keep them clean and in good shape.
Porcelain Grates
Porcelain-coated grates also have different levels of quality, but over time the coat will chip leaving the underneath metal exposed and to rust. With these grates, it's best to keep your hard scrapers away and use gentler tools.
Cast Iron Grates
Cast iron grates are heavy and can hold a lot of heat, they leave nice grill marks and cook your meals faster than other grates.
They are also the most durable grates and can last for decades if well maintained. It's best to clean and oil the entire surface after every use, to 'seal them from the elements' and prevent rust forming.
Cast iron grates give you the flexibility to use any cleaning tool you want, so you can choose to invest in tough ones that may last as long as your grate itself.
Overall, cast iron grates are the most durable. However, if you don't want to clean your grate after every use, then a high-quality porcelain grate might be the best option for you.
Build Quality and Materials
Not all gas grills are created equal. The type and thickness of the material, the quality of the different parts, but also how well you take care of it, will determine how long your gas grill will last.
Gas grills are typically made of cast aluminum, cast iron, stainless steel, or sheet metal. Most professionals use stainless steel.
However, don't be fooled! Some less expensive gas grills will be advertised as stainless steel, merely being a metallic body, coated with stainless steel frame. These types of gas grills will rust quickly, leaving you searching for a replacement in no time.
Grill stability is important to prevent your grill from tipping over and losing your food along with it. Checking how the gas grill was put together—the cart, the wheels, the firebox, and the lid—will give you a good indication on how sturdy the construction is. The more stable, the better.
Compared to generic makes, branded grills usually guarantee a certain level of quality and have replacement parts readily available. They'll also have a dedicated customer service and are unlikely to go out of business overnight.
Gas Grill Portability
Because natural gas grills have to remain by the gas line, a propane gas grill might be your only option if you're planning to move it around the backyard or take it with you on camping trips.
Gas grills usually come with two wheels for easier transportation. However, it's best if your grill has wheels or casters at all four corners. Wheels with a full axle are also generally better than those assembled individually to the frame.
Get Grilling!
Whether you're on the go, grilling for your family or hosting the neighborhood, choosing the right grill isn't easy but is crucial for a successful entertaining gathering.
My top choice would be the Weber Q1200 liquid propane grill; as always, Weber doesn't disappoint. With everything except the gas tank supplied, and the grill arriving ready assembled, you're good to go, right out of the box! The sleek, elegant design and choice of colors will probably make it your favorite, too.
However, for it's sheer size and versatility with 4 burners, a side burner, warming rack, side tables and more, the Royal Gourmet would probably make its way onto my patio if I only had $200 to spend.
I hope this information is helpful and will save you some precious time while looking for a new gas grill. Please leave your feedback in the comment section below and let us know if you have any questions, we make sure to answer them all!