If you love to cook outdoors, but you're not interested in messing around with a bunch of charcoal, or you have a charcoal grill, but you'd also like the option of simply firing up at a moment's notice, then you're in the right place with our guide to the best gas grills in 2020.
There are tons of gas grills available to choose from with a confusing array of options and prices ranging from under $100 up into the thousands. How will you know which one is best for you?
Easy – you find that out right here!
In this article, we'll talk about why you might want a gas grill (in case you're still on the fence), what features you should look for, and what factors you should consider.
One of those factors is your budget, and that's why we've reviewed and recommended the 10 best gas grills at a variety of price points.
So read on to find your new grill today.
At a Glance: Our Top Recommendations for Best Gas Grill
Note: Clicking the above links will take you to further information, current prices and customer reviews on Amazon.
Best Gas Grill Reviews
First up, we're ready to present our number one choice for your grilling dollar.
Best Overall – Weber 61010001 Genesis II E-310
There are two kinds of people in this world: people who know how great a Weber barbecue is and people who just haven't owned one yet. If you fall into the second category, now's the time to find out what everyone else already knows.
First impressions of the Genesis II E-310 are very good; it looks solid, well built, spacious, and shiny. Available in either propane or natural gas, this reliable grill covers most of the bases the average griller requires.
Let's start with the burners. With three available burners, it's easy to set up your temperature zones for searing and indirect cooking. This means you can get those grill marks and then shift your steak over to finish cooking through, or you can leave a roast on to cook by convection.
Unlike on cheaper grills, you'll get consistent, even heat along the entire length of the burner – no more hot spots near the back! You'll even get a bit of smoke added thanks to the flavorizer bars catching and burning off the drippings.
Speaking of drippings, anything that gets past the bars will be collected in a handy drip tray easily accessed under the cookbox.
Below the grease collector, you'll find a convenient shelf (one of two) for storing your tools.
The tank mounts under the right-side shelf, freeing up a lot of room. There are also six handy hooks for hanging your BBQ tools while you cook.
The cooking grates are made of porcelain-enameled cast iron and will not only conduct heat evenly, but they'll also last for years with proper care.
The rest of the grill is made of stainless steel, and the lid is also porcelain-enameled. The whole grill is built to last.
Unique to Weber Genesis is the iGrill3 thermometer system. This model is iGrill3-ready, meaning it was designed to accommodate Weber's proprietary Bluetooth thermometer.
Not an essential feature, but it's nice to have, and we do highly recommend owning a digital thermometer. There's a thermometer built into the lid, of course, but these are never accurate enough for determining if your meat is ready.
Main Features and Specs
Number Burners: 3
Secondary Burners: 0
Ignition type: electronic rotary knob
BTU: 37,500
Heat Flux: 73.10
Primary Cooking Area (Sq. In): 513
Secondary Cooking Area (Sq. In): 156
Total Cooking Area: 669
Warranty (years): 10
4 wheels – 2 fixed, 2 swiveling/locking casters
Middle wire rack with a removable drip tray
Snap-in lower shelf slats
2 side shelves – 1 folding, 1 fixed
2 grates and Upper warming shelf
Propane gauge
What We Like
Three burners are enough to create different heat zones.
Grease management system reduces the risk of flare up and gunk build up.
Four wheels including 2 locking casters for easy maneuvering.
What Could be Improved
A lack of side/accessory burners limits your cooking options.
Storage area is generous, but an enclosed space is more practical for long-term storage.
This is one of those cases where enough boxes are ticked to make a product stand out. It isn't the best at everything, but it is very good at everything it offers. Grilling on the Weber Genesis II E-310 will be a genuine pleasure, no matter your skill level.
There are bigger grills, cheaper ones, and those with more bells and whistles. But, you will not likely find a grill that functions as consistently at this quality level. For straight-up grilling, this is the gold standard.
Check out the detailed pictures and a short video at the supplied link. You could even jump right in, skip the rest of the article (though you shouldn't, 'cos it's really good) and place your order now. We certainly wouldn't blame you 😉
Runner-Up – Weber Spirit II E-310 – Model 45010001
Not convinced our top pick is the one for you? Try this beauty on for size! It was a tough decision, and this fantastic grill didn't come in second place by much.
Weber again? While we aren't just shills for the brand, we do recognize a good product when we see it. And this is a damn good product.
Like all Weber grills, the Spirit II looks great just sitting there. It has clean lines, just enough stainless steel to look pro-grade, and the stand inspires confidence with its robust legs and large wheels. You can even choose from four hood colors: black, white, red, and sapphire.
The Spirit II E-310 offers many of the same excellent features as our top pick, the Genesis II E-310, but in a scaled-down package.
For starters, you have the same high-grade burner tubes that burn evenly from end-to-end. This allows for consistent cooking temperatures across the entire grate. There are three of them, allowing for easy set up of temperature zones for searing and finishing, or convection cooking of larger cuts.
Here, too, is the handy grease management system, which may actually be even more nicely packaged on the Spirit II than on the Genesis II.
Channeling all the grease drips into a single pan makes for easy clean up when you're done. Between this and the flavorizer bars, which vaporize most drips and turn them into flavorful smoke, you'll have almost no worries about flare-ups scorching your dinner.
The cooking grates are high-quality porcelain-enameled cast iron, that conduct heat and cook evenly, and will last for years with simple maintenance.
The Weber Spirit ii E-310 comes standard with numerous convenient features including twin side shelves (one folding), tool hooks, and a lower storage shelf. All of these features combine to provide a superior grilling experience, free of "where the heck am I going to put this down?" moments.
Propane models come with a fuel gauge, so you'll never run dry and be left stranded – assuming you remember to check it. And, it's set up for the iGrill3 thermometer system, a nifty add-on for Weber fans to monitor cook temperatures via Bluetooth on their phones.
Main Features and Specs
Number of Main Burners: 3
Secondary Burners: 0
Ignition type: electronic push-button
BTU: 30,000
Heat Flux: 70.75
Primary Cooking Area (Sq. In): 424
Secondary Cooking Area (Sq. In): 105
Total Cooking Area: 529
Warranty (years): 10
Hood thermometer
2 fixed wheels
Grease management system with removable drip tray
Snap-in lower shelf slats
2 side shelves – 1 folding, 1 fixed
2 grates and upper warming shelf
Propane gauge
What We Like
3 burners for creating different heat zones with ease.
Comes in 4 colors – choose your style or match your patio furniture.
High-quality materials and finish.
Grease is channeled into a tray for easy cleanup.
What Could be Improved
With only two wheels, moving it around will be a bit awkward.
No side burners for extra cooking space.
Storage area is smaller than some we looked at (but at least it's there!)
There is a lot to like about this grill, even though there's not actually a lot of it there. Though for the average family, it's hard to imagine needing much more.
Operation will be simple (the Infinity Ignition system is SO easy to use!), consistent, and hassle-free. If you're sick of cheap grills and want a barbecue that functions so smoothly you'll end up taking it for granted, look no further than the Weber Spirit II E-310.
The only hard part will be choosing your color!
You can peruse the color choices, and inspect detailed pictures of the grills many features at the link provided.
Best Budget-Friendly – Char-Broil Performance 300 2-Burner Cabinet Grill
Love to grill, but you're sticking to a tighter budget than our top two picks allow? Or, are you more casual about your grilling and don't feel the need to spend much on a barbecue? Then you'll love our next pick!
Char-Broil has built a business out of making good quality, cost-effective grills for budget-minded consumers. They aren't the very best grills out there, but that's ok; not everyone needs the best. But no one needs the worst!
For casual grilling, this 'cue is hard to beat.
At first glance, you might confuse the closed-cabinet style grill for some sort of tool locker for your garage or workshop. That's actually not such a bad thing! It's nice not to see the propane tank, and the cart looks durable and workman-like.
The stainless steel hood looks great, and we even like the position of the electronic ignitor, placed right between the two burner control knobs for aesthetically pleasing symmetry.
Under the hood of the Performance 300, you'll find twin stainless steel burners and porcelain-coated cast iron grates. We're happy about the quality of the grates, and they should last a long time.
With two burners, you'll still be able to create temperature zones, though not as effectively as on a model with 3 or more. The warming rack is a nice bonus you won't always find on a small grill, and it's perfect for your buns, or doing up some veg while the meat cooks on the main grate.
The slide-out drip pan is another terrific convenience feature usually not found on budget grills. No soup-can-on-a-hook here!
Plus, you get two very generous fold-down side shelves for holding your tools, condiments, seasonings, and food waiting to hit the grill. For more storage, just open the cabinet door and utilize any space that isn't taken up by the propane tank.
For a more detailed look at this grill, you can view our dedicated Char-Broil performance 300 review. Or check out the video below:
Main Features and Specs
Number of Main Burners: 2
Secondary Burners: 0
Ignition type: electronic push-button
BTU: 24,000
Heat Flux: 80
Primary Cooking Area (Sq. In): 300
Secondary Cooking Area (Sq. In): 100
Total Cooking Area: 400
Warranty (years): Burners – 5, Cookbox/Lid – 2, Other parts – 1
Hood thermometer
4 casters – 2 locking, 2 free-rolling
Grease management system with removable drip tray
2 folding side shelves
2 grates and upper warming shelf
What We Like
Large side shelves for holding tools and plates – and they fold down out of the way.
Enclosed storage is neat and tidy-looking, and protects your tank from the elements.
4 casters for easy repositioning.
What Could be Improved
The cooking area is too small for cooking more than a few items at a time.
Harder to establish different heat zones with only 2 burners.
Having wheels is great, but they're really small and may not be patio-friendly.
Sometimes it's ok to look at a product, nod your head and say, "Yup. That's good enough."
This is a nice little grill that packs a surprising number of quality features into a wallet-preserving package. To call the Char-Broil Performance 300 "no frills" would be selling it short; call it "low frills" instead.
We definitely like this product for what it is, and it's proof that no one has to make do with a lousy grill.
Check out our top budget-friendly choice right here, read all about it, find the current price and owners reviews:
Budget-Friendly Runner-Up – Char-Griller 3001 Grillin Pro
Options are always good! Here's our second choice for your best wallet-preserving gas grill.
Did you think we'd accidentally put a smoker into our review roundup?
With the twin chimney-style vents and barrel-shaped cookbox, that's no surprise. It's actually not a bad look – it's pretty bad-ass compared to most gas grills! But does it deliver on performance?
Beyond the smoker-esque appearance, it's a good-looking grill. The all-black finish appears less refined than stainless steel models, but we're not saying that's a bad thing.
It's nice not seeing the propane tank from the front, and the large wheels look sturdy. We're not a big fan of the tubular stand, however, and have concerns about stability, especially if you roll it around a lot. Best to keep your eyes out for loose screws over time.
What's really impressive is that you get not only 3 burners under the hood, but also a side burner in the left hand shelf. Having so many burners really opens up your cooking options.
For example, you could have a chicken roasting in your 2-zone set-up in the main area and cook a side dish of veggies on the outside burner. Or, fry up some bacon while the burgers are grilling.
The side shelf is spacious, and if you're not using the side burner, suddenly your space for spices, sauces, and more is doubled.
There are three hooks for hanging tools when not in use, and you can stash a few things on the bottom shelf, though the front logo panel that hides the tank makes access less than perfect.
With electronic ignition, you'll light up with ease and start cooking in no time. We're not really convinced the smoke vents will add much to the experience, but they shouldn't detract, either.
The sturdy, steel body will last for years, and the porcelain-coated cast iron grates should keep pace. These are great features for a low-cost grill to offer.
Main Features and Specs
Number of Main Burners: 3
Secondary Burners: 1 side burner
Ignition type: Electronic push-button
BTU: 40,800 main, 12,000 side
Heat Flux: 93.15
Primary Cooking Area (Sq. In): 438
Secondary Cooking Area (Sq. In): 192
Total Cooking Area: 630
Warranty (years): Hood and burner tubes – 5, Body, side burner, and parts – 1
Hood thermometer
2 fixed wheels
Grease management system with removable drip tray
1 fixed side shelf
3 grates and upper warming shelf
What We Like
The tank is hidden, but easily accessed.
Having a side burner provides additional cooking options.
Durable materials will allow for a long life with proper care.
What Could be Improved
It will be a bit awkward to access the storage shelf.
Grease catch is not accessible from the front.
Tubular carts tend not to be as sturdy as other styles.
We're very impressed with the versatility of this low-cost grill. The Char-Griller 3001 Grillin' Pro offers the budget-minded or beginner griller room to grow and experiment with cooking styles.
This was very nearly our top choice for the best budget-friendly gas grill and if this is the category that most interests you, it deserves your consideration.
You know how it goes: click the link to see some more pictures, current price and customer reviews of this terrific grill right here
Best High-End – Weber Summit S-470
For some people, nothing but the absolute best will do. Maybe you're made of money; maybe you just know a good investment when you see one. Whichever group you're in, you will not be disappointed with this primo grill.
First impressions? WOW! Where to begin?
This is a gorgeous grill, an uber-professional looking ode to stainless steel. When it comes to impressing friends and neighbors, the shiny Summit S-470 scores huge points.
In terms of cooking, though, that's where this model really shines.
All four main burners light individually with their own integrated ignition systems activated by the lit-up knobs – no holding down a button and waiting for a spark to catch. It's easy to set up temperature zones for convection cooking, or searing and shifting to finish.
Did we say 'searing'? If you love those grill marks, you're going to flip for the dedicated searing zone for concentrated heat.
Like things slower? Flip up the rotisserie motor and turn some birds in front of their own infrared burner. There's also a side burner for frying, boiling, and more. And, we're in love with the built-in smoker box with its own burner. Now you've got the best of all worlds in a single barbecue.
The whole unit is solidly and carefully constructed with premium materials and craftsmanship. Weber knows this grill is an investment, and they want it to last. We wish the wheels were more robust, but we're happy to see four of them.
Weber has provided a ton of convenient features, including two side shelves, six hooks, and a lot of storage inside the cabinet, including more hooks for the rotisserie pieces. Also inside the cabinet is the removable drip tray, where anything that isn't burned off on the flavorizer bars will collect.
An LED fuel gauge keeps track of your propane supply (running out mid-cook sucks), and a light attached to the handle shines down on the grill every time you open the hood. Forgive the pun, but that's a really bright idea.
Main Features and Specs
Number of Main Burners: 4
Secondary Burners: 1 side burner, 1 infrared rotisserie burner, 1 sear burner, 1 smoker burner
Ignition type: Individual electronic 'Snap-Jet'
BTU: 48,800 main, 12,000 side, 10,600 rotisserie, 10, 600 sear, 8,000 smoker
Heat Flux: 104.27
Primary Cooking Area (Sq. In): 468
Secondary Cooking Area (Sq. In): 112
Total Cooking Area: 579
Warranty (years): 10
Hood thermometer
4 swivel casters – 2 locking, 2 free rolling
Grease management system with removable drip tray
2 fixed side shelves w/1 burner, 1 rotisserie motor
2 grates and warming rack
Rotisserie spit and 4 rotisserie forks
Smoker box
Propane gauge
What We Like
Light up knobs and grill light for evening/night grilling.
Lots of accessory burners so you can do more than just grill.
Closed in storage to protect your tools and accessories.
…Basically everything!
What Could be Improved
Side burner knob is lower quality than all the others (no integrated ignitor; have to depress to adjust flame height.)
Small casters may make it difficult to move on rough or uneven surfaces.
The Weber Summit 717001 S-470 is an extraordinary grill; there's seriously not much it can't do. You'll have years of fun cooking your favorites and trying new things.
If it seems like a lot of money to spend, just think about everything you're getting for your money, how often you'll use it, and how long it will last. It's a great investment and one of the very best gas grills out there.
You know you want to see more! Follow the link below to pictures, a video, and the chance to buy what might be the best grill you've ever owned.
High-End Runner-Up – Bull Outdoor Products Angus Cart
There really are some exceptional grills in this category. So many that we couldn't recommend just one. Here's our number 2 pick that's anything but number 2.
Even if you don't cook like one, you'll look like a professional griller with this thing in your yard.
Clean lines and all-stainless steel construction make the Bull Angus Cart look like something out of a commercial kitchen. It looks solid and serious, and we like it.
With four cast-stainless steel burners spread out over a generous 810 square inches of primary cooking space, there is a ton of room here for everything from a burger for everyone on the team to roasts and poultry slowly cooking.
You'll set up temperature zones with ease, plus you can pop a bird on the rotisserie and let the dedicated infrared burner cook it to perfection.
We fully expect this grill to last a very long time. It's made from some of the best stuff there is – 16-gauge, 304 stainless steel. Yes, there are heavier gauges, but we're not talking about an airplane here. This is very good for this application. Plus, there are two layers of it on the hood for even better heat retention.
Check out the casters, too; these are really heavy-duty and should hold up to plenty of movement.
There are two integrated hooks on each side shelf, and a towel bar on each, as well. Inside the double doors, you find additional storage space for your tools and accessories.
Since the pull-out drip tray is above the storage area, it won't interfere with storage.
Inside the cookbox, twin lights will keep you grilling long into those warm summer evenings, or those way-too-early winter nights.
Main Features and Specs
Number of Main Burners: 4
Secondary Burners: 1 infrared back burner rotisserie
BTU: 60,000 main, 15,000 infrared
Heat Flux: 74.07
Primary Cooking Area (Sq. In): 810
Secondary Cooking Area (Sq. In): 210
Total Cooking Area: 1,020
Warranty (years): Grates – lifetime; burners – 20; heat shields, flame tamers, warming rack, manifold, lid handles and caps – 3; all other parts – 1
Hood thermometer
4 casters – 2 fixed, 2 swivel/locking
Grease management system with removable drip tray
2 fixed side shelves
4 grates and warming rack
2 internal lights
Rotisserie spit, motr and 2 rotisserie forks
What We Like
Heavy-duty casters for easy maneuvering around the patio.
Rotisserie included with its own burner.
Closed off, vented storage space under the cookbox.
What Could be Improved
No side burners for cooking extras.
With the rotisserie in place, you lose a lot of workspace.
No fuel tank gauge for keeping track of your propane situation.
The Bull Outdoor Products 44001 Angus Cart is an exceptional grill. The burners are second-to-none, and the overall materials and construction are virtually flawless.
There are less 'extra' features than we might expect on a high-end unit (Bull sells separate side burners and other accessories as part of their lineup of outdoor kitchen products), but it's so well made it's hard to be too upset.
If you value longevity and performance over anything else, your money will be well invested in this grill.
Get to know this outstanding barbecue in detail by clicking the link to pics and specs, current price and owner reviews:
Further Recommended Models
It was tougher to categorize these remaining grills, but each one is noteworthy for its own reasons. If you aren't sold on any of our previous six models, or you just like to be very thorough before you purchase, give these contenders a look.
3 Embers 4-Burner Dual Fuel Propane Gas Grill
Well, that's a mouthful of a name, but it's exactly how it appears on the manufacturer's website.
Other than the name, our first impressions of this grill are totally positive. It looks great, assuming you like stainless steel, and it looks approachable; this is a grill for any skill level.
The standout feature is the glass viewing window. How great is that, and why don't more grills feature this? No more losing heat to check on your food! And, there's plenty of heat to be found coming from the four ceramic-titanium coated stainless steel burners. With a lifetime warranty, they'll be flaming for a very long time.
Another cool feature of the 3 Embers GAS7480BS is the Radiant Embers cooking system. Although they don't explain it at all, it's not hard to figure out.
Each of the four heat tents (one for each burner) is equipped with a mesh screen covering six windows. When the flames are on, they'll start to glow red and radiate heat in two directions thanks to the angles of the tents. This system delivers even heat across the full surface of the grates.
Of course, you can create your distinct temperature zones for searing and convection cooking, though the lid is not very high; don't expect to roast a turkey on this model. However, with its double panels, it will retain heat nicely.
On the right shelf, you'll find a cast iron grill for cooking your sides. Together, the two shelves provide a decent amount of work surface, plus there's a ton of storage space in the two drawers and a bit more behind the door.
If you convert to natural gas, you'll open up a lot of space underneath.
Main Features and Specs
Number of Main Burners: 4
Secondary Burners: 1 side burner
Ignition type: Piezo system (non-electronic sparking)
BTU: 48,000 main, 12,000 side
Heat Flux: 88.89
Primary Cooking Area (Sq. In): 540
Secondary Cooking Area (Sq. In): 160
Total Cooking Area: 700
Warranty (years): Burners – lifetime; all other parts – 3 years
Hood thermometer
4 swivel casters – 2 locking, 2 free rolling
Grease management system with removable drip tray
2 fixed side shelves – 1 w/cast iron burner
3 grates and warming rack
What We Like
Drawers are very practical for storage.
More accurate lid thermometer than usual.
Heavy duty grates should last and last.
What Could be Improved
The ignition is a bit finicky.
Raised lid on side burner makes the usable space on the right shelf very small.
No hooks for hanging tools.
For a grill that looks like a million bucks but doesn't cost anywhere near that, the 3 Embers 4-Burner Dual Fuel Gas Grill is an excellent choice. It combines high-end looks and features with a mid-range price tag.
No, it won't last as long as better-made models, but you'll more than get your money's worth out of the modest investment. Keep this one in mind while you're making your final choice.
Definitely spend a bit of time studying this intriguing product – just click the link! If this is the stainless steel grill of your dreams, or you just can't live without drawers anymore, you can also buy yours now.
Char-Broil Classic 405 4-Burner
Do you like burgers, dogs, sausages, chicken pieces, steak, and chops? For a classic cookout, this basic grill is all you need.
We won't lie – it's not impressive to look at, but you can tell right away it's a classic, simple barbecue. Nothing wrong with that!
For a small grill, there's surprising versatility under the hood. There's enough space on the grate to cook plenty of hamburgers or steaks at a time, enough to feed an average-size family.
With four burners, you can even set up multiple heat zones and do some searing and finishing, or roast some larger cuts or chicken.
Since this is a budget grill, it's light on accessories and bonus features. You do, however, get two more-than-ample side shelves for resting your tools, condiments, rubs, etc.
There's also a swinging warming rack under the porcelain-coated steel lid for getting your buns toasty and for keeping finished food from cooling off outside.
Main Features and Specs
Number of Main Burners: 4
Secondary Burners: 0
Ignition type: Piezo system (non-electronic sparking)
BTU: 32,000
Heat Flux: 79
Primary Cooking Area (Sq. In): 405
Secondary Cooking Area (Sq. In): 190
Total Cooking Area: 595
Warranty (years): Burners – 5; cookbox and lid – 2; all other parts – 1
2 fixed wheels
Grease cup and clip
2 fixed side shelves
1 grate and warming rack
What We Like
Steel shelves instead of the plastic ones seen on some low-cost grills.
Four burners for lots of cooking and multiple temperature zones.
What Could be Improved
No extras like side burners, or even hooks (but it will accommodate an optional rotisserie.)
Tubular carts are not as sturdy as other options.
Not even a hood thermometer – though they're never that accurate, anyway, so no real loss in our opinion.
For many casual grillers, a basic but functional unit like the Char-Broil Classic 405 is all they really need. It isn't fancy, but it is reliable, and it'll get the job done.
With four burners for some cooking options, there's enough here to keep the burgers-and-dogs-with-the-occasional-roast crowd happy all summer long. For the price they're asking, you can't really go wrong.
You can mull this one over as you read through some sales copy and specs, and look at a few more detailed pictures. Order one, while you're at it, have it dropped off right at your doorstep, and satisfy that BBQ craving!
Monument Grills Stainless Steel 4 Burner w/Side Sear Burners
Without question, this is a great looking grill. With stainless steel as far as the eye can see and a pair of neat and tidy doors on the storage area, plus LED-lit control knobs, it sure seems like a high-end product.
Surprisingly, it actually falls in the moderate price category.
The main grill is quite wide, so there's a lot of room for cooking for a crowd. The porcelain-coated cast iron grates are durable and give good heat distribution.
Down below, there are four swiveling and locking casters – the only model we reviewed with this feature. Rolling around on the deck should be a breeze.
With four main stainless steel burners putting out 12,000 BTUs each, you'll establish different heat zones with ease (the classic is two outside burners on, and two inside burners off for great convection cooking).
Additionally, you get not one, but two side burners – one for searing and one for less intense cooking. If you want to do steaks for two, you might not even need the main cookbox. You could also do a reverse sear without sacrificing main grill space.
The slide-out drip pan is accessed from the back, which isn't optimal, but at least there is one. There's a second, smaller one under the sear burner that you can get at from the front.
Additional features include ample storage behind a pair of doors, a hood thermometer, and four hooks on the right shelf for your tools. We really like the light-up knobs, with their cool blue glow – perfect for night grilling!
If rotisserie is your thing, Monument Grills sells a separate kit that is compatible with the 4-Burner Propane Gas Grill.
Main Features and Specs
Number of Main Burners: 4
Secondary Burners: 1 side burner, 1 side sear burner
Ignition type: Push-button electronic
BTU: 48,000 main, 24,000 combined sides
Heat Flux: 93.57
Primary Cooking Area (Sq. In): 513
Secondary Cooking Area (Sq. In): 210
Total Cooking Area: 723
Warranty (years): Burners – 8, rest of the grill – 1
Hood thermometer
4 locking swivel casters
Grease management system with removable drip tray
2 fixed side shelves – 1 w/side burner, 1 w/ceramic sear burner
3 grates and warming rack
What We Like
One of the largest main cooking areas we reviewed, with lots of burners meaning lots of ways to cook.
Lots of bonus features for a modestly-priced grill.
What Could be Improved
Casters never roll as well as wheels.
Stainless steel is very thin.
If you covet the high-end grills but don't want to spend the money, the Monument Grills Stainless Steel 4-Burner may be your solution. Certainly, that's what the manufacturer is aiming for.
Do not, however, expect to get Weber-like performance from this grill; you do tend to get pretty much what you pay for. But, it's still a good-looking, perfectly functional product with some sweet bonus features that make it more than worth considering.
Want to know more? Browse pics, stats, and a video just by following the link. You can place your order when you're done, if you're so inclined, and get this really nifty grill for yourself.
Napoleon Prestige P500RSIBSS
Just in case you thought Weber had the monopoly on mid-range to lower high-end grills, Napoleon is here to make you think again.
The Prestige Series grills are all excellent, but we especially love the P500RSIBSS. Take one glance at the stainless steel construction and you'll have some idea why; this is a sharp-looking grill that says, "Hey. I know what I'm doing. My steaks will be delicious."
Under the hood, you'll discover Napoleon's innovative wave grates. The curvy lines are meant to create additional surface area for more even cooking. Yes, you give up the traditional straight grill marks, but so what? As long as it tastes amazing!
Here you'll also find one of two infrared burners, this one for the included rotisserie. Roast chicken, anyone?
The other infrared burner is built into the left side table. Here, on a miniature wave grill, you can sear steaks, chops, and more to perfection before finishing on the main cooking area. In fact, thin cuts can be seared and finished to a gorgeous medium-rare here with ease. Turn down the heat to use the side burner for sides, sauces, and more delicate items.
Convenience features are plentiful, including a slide-out grease catcher, a lid that pivots at the center instead of hinging at the back for easy opening, light-up control knobs for night grilling, and storage in an enclosed base. The twin side shelves each feature three hooks and a towel bar for holding your gear while you pause to chat or enjoy a beverage.
Not included, but available as a highly recommended option, is Napoleon's exclusive charcoal tray. Designed to fit perfectly in the Prestige 500RSIBSS's cook box and tuning this gasser into a charcoal grill, you can actually cook with charcoal inside your gas grill for that back-to-basics experience and delicious smoky flavor. Now, that is very cool, and just one more awesome reason to buy this grill.
Main Features and Specs
Number of Main Burners: 4
Secondary Burners: 1 infrared side, 1 infrared rear
Ignition type: Electronic "Jet Fire" system
BTU: 48,000 main, 18,000 rotisserie, 14,000 side
Heat Flux: 96
Primary Cooking Area (Sq. In): 500
Secondary Cooking Area (Sq. In): 260 warming rack, 133 side grate)
Total Cooking Area: 893
Warranty (years): Stainless steel base, lid, grates – lifetime; burners, sear plates, rotisserie burner – 10 years full, 50% off for life; all other parts – 2 years
Hood thermometer
4 casters – 2 swivel, 2 swivel/locking
Grease management system with removable drip tray
2 side shelves – 1 fixed w/infrared burner, 1 folding
2 'wave' grates and warming rack
Rotisserie spit, motor and 2 rotisserie forks
What We Like
All-stainless steel construction for maximum longevity.
The ability to sear on the side without using main grate space.
Rotisserie included for perfect chicken.
What Could be Improved
Not including the charcoal accessory is a little stingy.
We really prefer wheels to casters, but for a deck or a cement pad that's not a big deal.
It's very hard to say something negative about the Napoleon Prestige P500RSIBSS-1 gas grill. This is easily one of the most versatile and dependable models we've seen.
It offers a premium grilling experience at a price that's pretty good for everything you get. As a long-term investment in outdoor cooking, it's difficult to do better.
Ready to dive in and make it your own? Just follow the link for more pics (there's a blue-lidded version, too!) and details, and to order one today.
Click to Learn More / Buy from NapoleonGrills
Factors to Consider When Buying
You don't want a two-burner gas grill if you plan on cooking for a huge crowd of all your friends and relatives every weekend. And you don't want a 6 burner if you will only cook for two to four occasionally.
Also, if you're only going to occasionally flip burgers, you don't want a rotisserie attachment, yet if you plan on doing large roasts, you have to make sure there's room to fit such large cuts.
Here are some key factors to think about to help you narrow the field from the many thousands of features and options available today.
What do You Intend to Cook?
If having a bit of barbecue means searing medium rare steaks, grilling chicken breasts, or flipping burgers and dogs, you don't need to break the bank.
Any typical, low-featured gas grill will do the job. You'll want to focus more on general build quality and adequate surface area than on the variety of burner types.
If you're looking to mix things up with ribs and roasts, you'll need to aim a little higher.
Not only will you require a lot of grilling real estate, but you'll also want a high-grade unit with reliable temperature control, and probably options for rotisserie and side searing.
Essential Features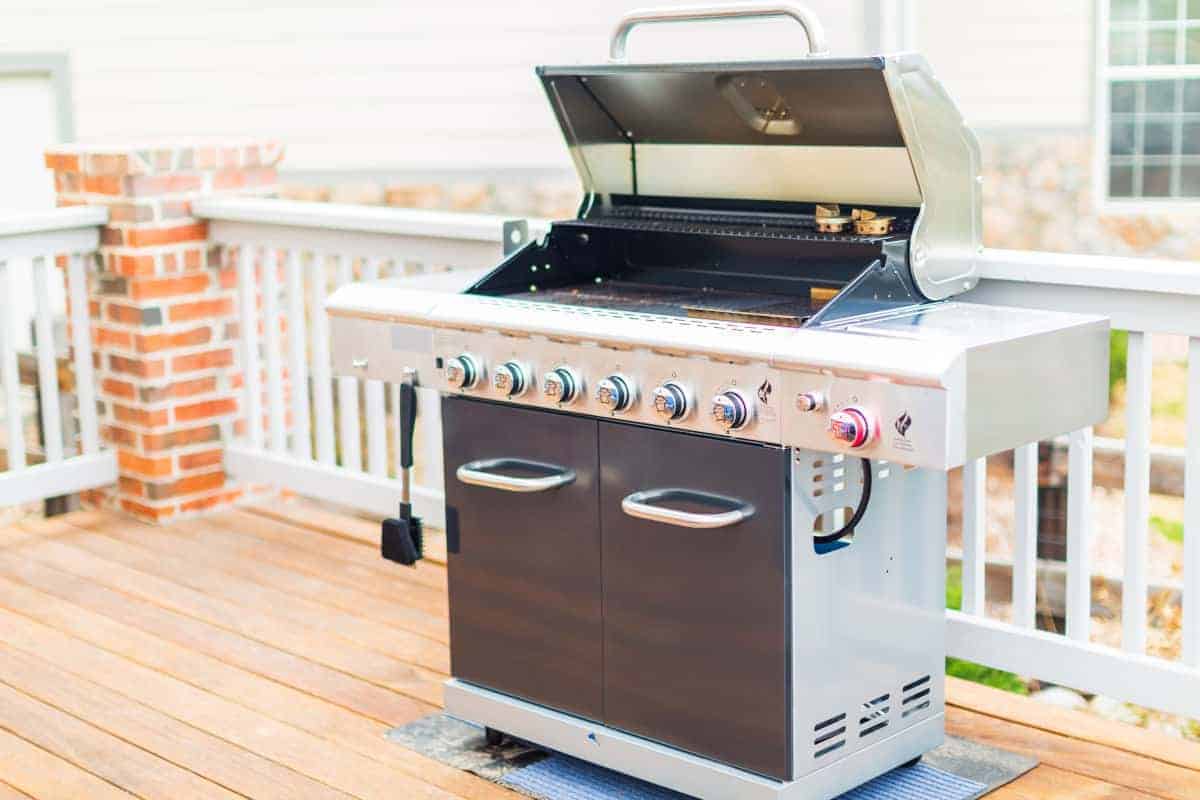 The following are some of the features we think should be on just about everybody's grill.
Side Burners
There's more to barbecuing than just grilling the meat. When the weather is fine, it's a total outdoor experience, and it's a shame to have to leave the yard.
With a side burner (or two), you can cook your side dishes at the same time as you're roasting or grilling the main attraction.
Quality Ignition System
Before there's fire, there must be a spark!
Waiting for a low-quality ignitor to light the gas is not only annoying it's also wasteful and potentially dangerous. The more time that passes before ignition, the more gas builds up, and the more likely a fireball becomes.
Choose a reliable ignition system and leave the matches in the box. Our preference is for electronic starters, but a good Piezo sparker is ok, too.
Grill Hood
Yes, there are good and bad grill hoods. Look for one with plenty of space. This leaves room for good convection for roasting and height for big cuts of meat.
A double lining is a nice feature for heat retention, which is key to good convection cooking. Also, looking to the outside of the grill, choose one with a handle that won't get hot.
Easy Access to Replace or Fill Propane Tanks
If you choose a propane grill, you will have to replace the tank from time to time. Choose a model that makes it as convenient as possible to access, mount, and connect a tank.
Our preference is for tanks mounted on the cart that you can get at from the front, but side access is fine too. Just be sure you have room to maneuver the tank in and out where you plan to use your grill.
Flavorizer Bars or Diffusers
The bane of good grilling is flare-ups. These happen when grease or juice from the meat drips onto the burners and catches fire. A flare-up can burn a good piece of meat to an inedible crisp in seconds.
To prevent, or at least minimize flare-ups, you absolutely must have some kind of barrier between the burners and your food.
This could take the form of a diffuser that spreads out the heat, or flavorizer bars for turning those juices into a bit of tasty smoke.
Non-Essential but Convenient Features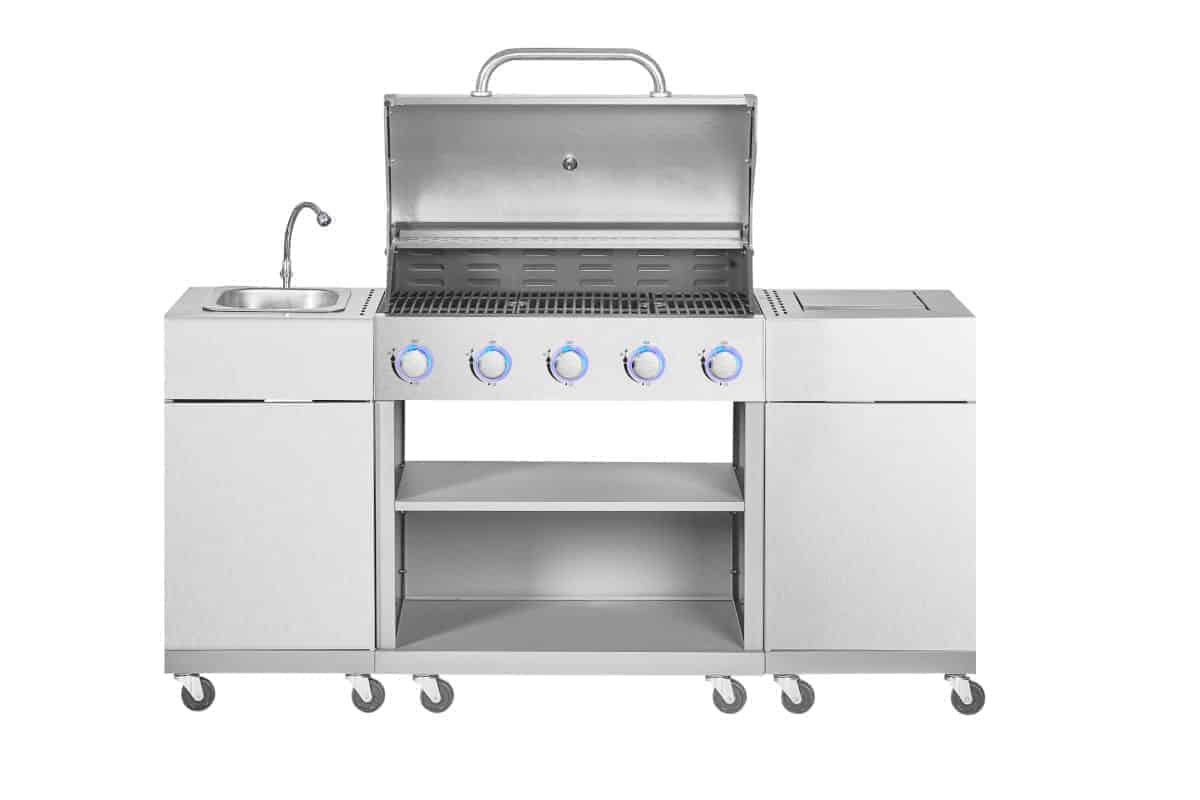 These are what we call the "nice-to-haves" – they aren't deal-breakers, but they can make grilling a better experience.
Extra Storage and Workspace
You never know how much you need work and storage space until you don't have it.
At minimum, get yourself a grill with side shelves for resting your condiments, sauces, rubs, tools, drinks, etc. while you tend to the food. Hooks for hanging your tools are also a godsend sometimes.
You might also want storage space underneath. This is great for stashing stuff you want every time you grill, but need to keep out of the rain and/or snow.
Quality Grates
Crappy grates suck. There's no way to put it any plainer than that. They rust, they flake, and they ruin food.
Stainless steel grates or porcelain-enameled cast iron are both durable in the short term, and they'll last a long time if properly used and cared for.
Avoid cheap, flimsy metal and thin coatings.
Good Burners
The burners in a gas grill have a tough job, what with the constant fire blasting out of them. Low-quality burners may rust over time or weaken from the heat. Your best bets are burner tubes constructed of brass or cast iron, or even heavy-duty aluminum.
Lower grade grills may use thin stainless steel. This is great for keeping costs down, but it's really bad for longevity.
Fuel Gauge
Unlike with charcoal, you can't tell just by looking if you're running low on fuel if you cook with propane. Fortunately, some clever soul invented the fuel gauge.
Choose a grill that comes equipped with a gauge and never get caught short.
Grill Lights
If you like grilling long into summer nights, or in the winter when it gets dark early, a grill light is a serious plus. You can buy them as add-on accessories, but some grills come with them as standard equipment.
Usually, they're mounted on the lid handle, but some have them in the interior. If you live very far north where it's dark half the year, this should be considered essential.
Rotisserie Attachment
Once the grilling bug bites, you'll find yourself wanting to expand your repertoire of techniques. Soon, you'll be experimenting with stuff like cedar planks and gas griddles. A rotisserie is another fun option that many grills come with.
Typically positioned at the back of the grill, and often equipped with its own burner, a rotisserie is amazing for slow-roasting meat enely, especially poultry and fowl.
Infrared Burner
If cooking a steak in a matter of minutes sounds ideal to you, you might enjoy having an infrared burner.
These burners work a little differently than standard burner tubes. Instead of cooking directly over the flame, food rests over a solid surface, typically made of ceramic or glass, which absorbs heat from the flames and then radiates infrared energy into the food.
Infrared burners cook evenly and quickly thanks to the very high temperatures they can reach. Yes, you can turn them down and cook veggies, too, but they're best reserved for rapid searing and cooking of burgers and thin cuts of meat.
Cover
Owning a barbecue cover would be listed with our must-haves, except they don't usually come with a grill, and nor does everyone need one.
If you're able to store your barbecue indoors (say in a shed or garage) between uses, then a grill cover isn't necessary. For all the rest of us, it's a solid investment.
A cover that fits well will protect your grill from snow, wind, rain, sun, and maybe even critters looking for a warm place to nap.
Materials and Build Quality
When you spend your hard-earned money on something (we're assuming you work hard for it – we surely do!), you expect it to last a reasonable amount of time. Your best odds are with a gas grill made of quality materials and assembled with skill and care.
Many cheaper models are made of very flimsy metal painted to look like the good stuff. Cheap grills will rust quickly and/or leak so much heat that they have a hard time cooking in a reasonable amount of time.
Signs of a well-built grill include solid welds and cookboxes made of single pieces of stamped metal.
Look for terms like, "porcelain-enameled cast iron," and "304 stainless steel" to know you're getting high-end features – especially if you're paying high-end prices!
Portability – Need Wheels?
A propane grill is a self-contained cooking unit, and unless you've bought an outdoor kitchen-style model, you might want to move it sometimes.
If you think you'll be stashing your grill in storage occasionally, or that you might want to change locations from time to time (maybe to stay in -or out- of the sun?), consider a unit with wheels.
Choose solid-looking wheels that won't crack easily, and will roll easily over pavers or decks. The bigger the better if you have really rough or uneven surfaces. For smooth decks or cement pads, casters should be just fine.
Safety
As much fun as grilling is, it's vital that we never forget about the potential dangers when we mix gas, fire, and people.
You do not want a wobbly grill that seems like it's barely keeping itself together, or a flimsy cart barely up to the job of supporting the cookbox. Speaking of the cookbox, it gets hot up there, so look for a lid handle positioned or designed to stay cool to the touch.
BTU Level / Heat Flux
BTU (which stands for British Thermal Unit) has long been the measurement of choice for grilling power. Specifically, 1 BTU is the amount of energy required to increase the temperature of a pound of water by 1 Fahrenheit at sea level.
You'll find the BTU rating used on barbecues, furnaces, water heaters, and even A/C units.
In truth, it's not really a measurement of heat generated. When you read the BTU specs for a grill, you're really learning how much gas a unit burns through at maximum output in an hour.
A more efficient grill will get more heat out of less gas than a less efficient one. So, while the less efficient model might have a big BTU number to grab your attention, that doesn't automatically mean it's going to be hotter or cook better than a grill with lower BTUs.
How, then, can we know how hot the grill will get? By knowing its heat flux.
Simply put, heat flux is a measurement of the BTUs per square inch. This is a much better, though still not perfect, indication of how much heat a grill produces.
So, let's say there's a big grill with 50,000 BTU spread over 600 square inches of main grilling space has a heat flux of 83.
Compare that with a smaller, 400 square inch cooking surface with, say, 40,000 BTU. That's a heat flux of 100.
Therefore, despite having less BTUs, the smaller grill is actually capable of generating more heat in a given area.
The average score of our 10 choices is about 85. If you're really into fast, high-heat cooking, look for heat flux around this level or higher. If you have a little more patience, a lower score is ok – especially if there's a searing burner included.
Remember, neither heat flux nor BTUs is the be-all-end-all for BBQ specs. Just don't be fooled by the BTU numbers game many manufacturers play. Bigger isn't always better.
Size
Once you've decided to go with gas, size may be the most important consideration of all.
Think about how many people you plan to cook for – how many burgers, steaks, or whatever, will you want to be able to grill at the same time? While there might only be two of you most of the time, maybe you'd like to leave room for the possibility of entertaining?
You've also got to figure out where the grill is going to be situated in your yard. Do you have the space to accommodate the footprint of the model you want?
There's no point buying a giant 'cue to impress the neighbors if you can't park it anywhere. If you feel you do need a smaller model, check out our guide to the best small grills.
Remember too that you must keep your grill away from plastic surfaces and siding, so you have to plan for free space AROUND your grill too.
Budget
Your budget is your business. The good news is there's a grill to suit every price point.
What you might want to consider, however, is what extra features might be worth stretching the budget for. Or, maybe you could save a few bucks by going with fewer options, especially if you don't think you'll use them much?
Fuel – Propane or Natural Gas?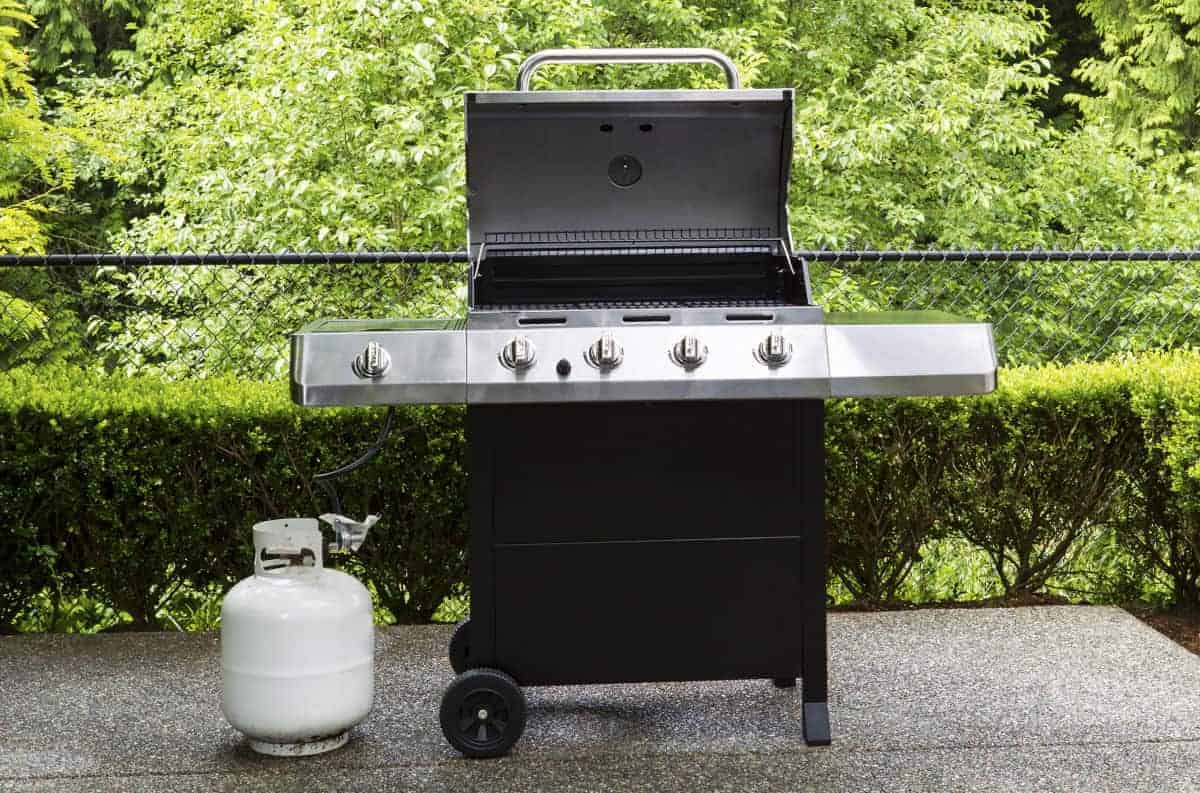 When it comes togas grills, you've got two choices with fuel: propane or natural gas. Or, possibly you have no choice at all – natural gas isn't available everywhere.
If you've already got a hook-up installed, then going with natural may be an easy decision. They're convenient, as they never run out of fuel. If you'd have to have it put in, though, you'll need to decide what's best for you.
Is there a good place to have the line run to? Will it be cost-prohibitive? Do you want to be tethered to a single spot for grilling?
Propane is the most flexible, but natural gas is incredibly convenient. Think carefully before making your choice. By the way, some grills can be converted from propane to natural gas, giving you the freedom to opt-in to LNG cooking later on.
Or maybe you're still on the fence about a gas at all and are considering a charcoal grill? If so, be sure to check out our guide to charcoal vs gas grills which should help you make the right decision once and for all.
Advantages of Using a Gas Grill (Compared to Charcoal)
Why might you want a gas grill instead of charcoal? Here are several reasons why gas is the go-to for many grillers.
Ease of Use – Little Learning Curve
If you know charcoal, or you've done some research already, you know it's not the easiest stuff to work with.
First, you have to choose what kind of charcoal to buy (Lump? Briquettes? Flavored?). Then you have to arrange and light the stuff. Will you try the charcoal snake? Do you want starter cubes? Or will you get a chimney for lighting up?
Don't get us wrong – we love grilling over charcoal and part of the fun is in the details of lighting your coals. But, we also know it isn't for everyone.
Starting a gas grill is as easy as turning a knob or pushing a button. If you can work a kitchen stove, you can use a gas grill.
Economical Fuel
Propane is not very expensive. A 20-pound tank will last a long time, and you'll rarely find yourself needing to top up mid-cook.
If you're looking at just the fuel costs, propane is much less expensive than charcoal on a per-cook basis, as numerous studies have shown.
Instant and Exact Temperature Control
To grill effectively, you need to hit your target temperature and hold it for the duration of the cook session. With charcoal, this means fiddling with vents and dampers to adjust the airflow as this is the only way to control how hot the charcoal burns.
With gas, all you do is light it and set your dials. You'll be at the right temperature in short order and holding it is as easy as making slight adjustments to the burner.
Before long, you'll know exactly where to set your burners for every type of cooking.
Low Maintenance and Cleaning
Part of the appeal of charcoal grilling is the smoke that's put out both by the charcoal itself and any flavorwood you might add. Unfortunately, smoke leaves a residue, including creosote. While it's ok and even desirable to leave a bit of a patina behind, you'll still need to scrape down the inside of your charcoal grill on occasion.
Additionally, ash needs to be removed from the firebox after each cook.
A gas grill doesn't create much smoke, so there's little soot left behind, nor is there ash since there's no solid fuel. The only cleaning you'll need to do will be the grates (as you would with any grill), and any flavorizer bars or burner shields.
Many Possible Extra Features
Buying a gas grill is a little like buying a car – there are so many features to choose from!
There are some that expand your cooking options, such as rotisseries and side burners. Some make operation more convenient, like viewing windows and storage areas.
Think about whether you'd benefit from a cart with wheels for placement and storage options, or perhaps a storage area with a door would suit your style and needs.
The End of the (Gas) Line
That does it for our look at the 10 best gas grills for 2020. There really is something for everyone on this list, no matter your skill level or budget. In fact, you just might find the grill you never knew you really wanted.
Just remember to pick the grill that best suits your needs, both current and future.
If there's anything we didn't cover that you want to know, please fill out our contact form or drop us a line in the comments below. We will absolutely do our very best to answer every question and address every concern that comes across our virtual desks.
Don't forget to join us online for even more chances to interact with us, and others in the BBQ community – look for the links to your favorite social channels below.
Thanks for choosing us for your grilling education. We are literally nothing without you!
Happy grilling!
Product image credits: © Amazon.com