In this article, we take a look at the best gas grills on the market today, that have the right mix of features and quality at a reasonable price.
We'll talk about why you might want a gas grill (in case you're still on the fence), what features you should look for when buying to match your needs, and of course, what to avoid.
If you love to cook outdoors, but you're not interested in messing around with charcoal, or you have a charcoal grill but would also like the option of simply firing up at a moment's notice, then you're in the right place with our guide to the best gas grills in 2023.
There are so many gas grills available to choose from, with a confusing array of options and prices ranging from under $100 up into the thousands. How will you know which one is right for you?
Easy — you find that out right here! So read on to find your new gas grill today.
Reviews of Our Gas Grill Recommendations
First up, we're ready to present our number one choice for your grilling dollar.
Factors to Consider When Buying a Gas Grill
Here are some key factors to think about to help you narrow the field from the many thousands of features and options available today.
What do You Intend to Cook?
If having a bit of barbecue means only searing medium rare steaks, grilling chicken breasts, or flipping burgers and dogs, you don't need to break the bank.
Any typical, low-featured gas grill will do the job. You'll want to focus more on general build quality and adequate surface area than on the variety of burner types.
If you're looking to mix things up with ribs and roasts, you'll need to aim a little higher.
Not only will you require a lot of grilling real estate, but you'll also want a high-grade unit with reliable temperature control, and probably options for rotisserie and side searing.
Essential Features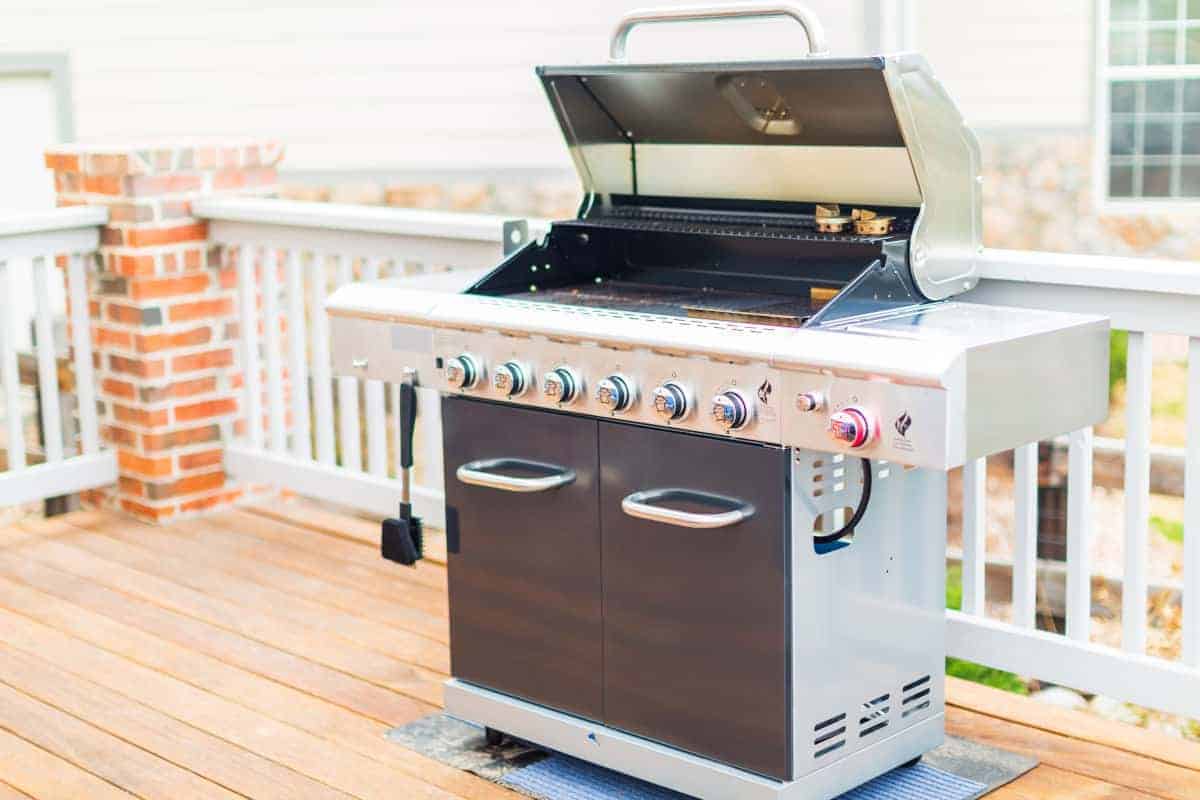 The following are some of the features we think should be on just about everybody's grill.
Side Burners
There's more to barbecuing than just grilling the meat. When the weather is fine, it's a total outdoor experience, and it's a shame to have to leave the yard.
With a side burner (or two), you can cook your side dishes at the same time as you're roasting or grilling the main attraction.
Quality Ignition System
Before there's fire, there must be a spark!
Waiting for a low-quality igniter to light the gas is not only annoying it's also wasteful and potentially dangerous. The more time that passes before ignition, the more gas builds up, and the more likely a fireball becomes.
Choose a reliable ignition system and leave the matches in the box. Our preference is for electronic starters, but a good Piezo sparker is ok, too.
Grill Hood
Yes, there are good and bad grill hoods. Look for one with plenty of space and height, that has room for good convection cooking, necessary for roasting and big cuts of meat.
A double lining is a nice feature for heat retention, which is key to good convection cooking. Also, looking to the outside of the grill, choose one with a handle that won't get hot.
Flavorizer Bars or Diffusers
The bane of good grilling is flare-ups. These happen when grease or juice from the meat drips onto the burners and catches fire. A flare-up can burn a good piece of meat to an inedible crisp in seconds.
To prevent, or at least minimize flare-ups, you absolutely must have some kind of barrier between the burners and your food.
This could take the form of a diffuser that spreads out the heat, or flavorizer bars for turning those juices into a bit of tasty smoke.
Non-Essential but Convenient Features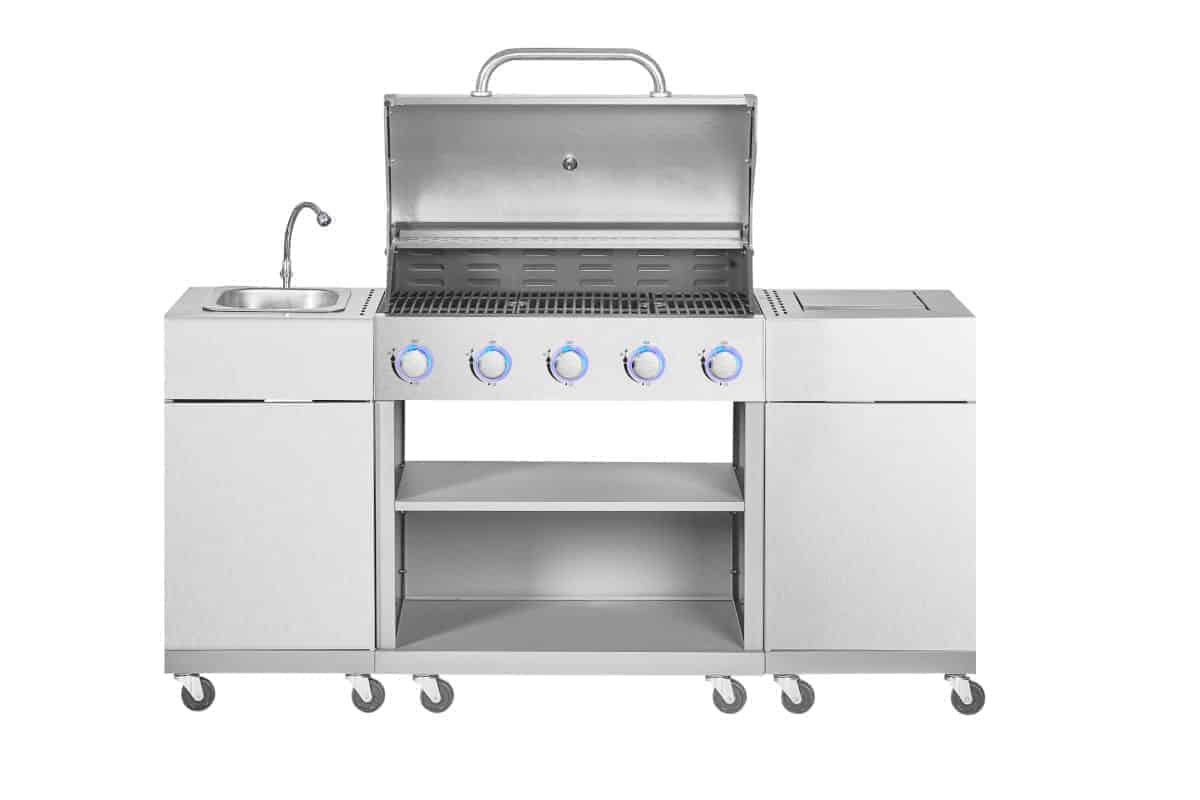 These are what we call the "nice-to-haves" — they aren't deal-breakers, but they can make grilling a better experience.
Extra Storage and Workspace
You never know how much you need work and storage space until you don't have it.
At minimum, get yourself a grill with side shelves for resting your condiments, sauces, rubs, tools, and drinks, while you tend to the food. Hooks for hanging your tools are also a godsend sometimes.
You might also want storage space underneath. This is great for stashing stuff you want every time you grill, but need to keep out of the rain and/or snow.
Quality Grates
Crappy grates suck. There's no way to put it any plainer than that. They rust, they flake, and they ruin food.
Stainless steel grates or porcelain-enameled cast iron are both durable in the short term, and they'll last a long time if properly used and cared for.
Avoid cheap, flimsy metal and thin coatings.
Good Burners
The burners in a gas grill have a tough job, what with the constant fire blasting out of them. Low-quality burners may rust over time or weaken from the heat. Your best bets are burner tubes constructed of brass or cast iron, or even heavy-duty aluminum.
Lower grade grills may use thin stainless steel. This is great for keeping costs down, but it's awful for longevity.
Fuel Gauge
Unlike with charcoal, you can't tell just by looking if you're running low on fuel if you cook with propane. Fortunately, some clever soul invented the fuel gauge.
Choose a grill that comes equipped with a gauge and never get caught short.
Rotisserie Attachment
Once the grilling bug bites, you'll find yourself wanting to expand your repertoire of techniques. Soon, you'll be experimenting with stuff like cedar planks and gas griddles. A rotisserie is another fun option that many grills come with.
Typically positioned at the back of the grill, and often equipped with its own burner, a rotisserie is amazing for slow-roasting meat evenly, especially poultry and fowl.
Infrared Burner
If cooking a steak in a matter of minutes sounds ideal to you, you might enjoy having an infrared burner.
These burners work a little differently than standard burner tubes. Instead of cooking directly over the flame, food rests over a solid surface, typically made of ceramic or glass, which absorbs heat from the flames and then radiates infrared energy into the food.
Infrared burners cook evenly and quickly thanks to the very high temperatures they can reach. Yes, you can turn them down and cook veggies, too, but they're best reserved for rapid searing and cooking of burgers and thin cuts of meat.
Think About Materials and Build Quality
When you spend your hard-earned money on something (we're assuming you work hard for it — we surely do!), you expect it to last a reasonable amount of time. Your best odds are with a gas grill made of quality materials and assembled with skill and care.
Many cheaper gas grills are made of very flimsy metal painted to look like the good stuff. Cheap grills will rust quickly and/or leak so much heat that they have a hard time cooking in a reasonable amount of time.
Signs of a well-built grill include solid welds and cook boxes made of single pieces of stamped metal.
Look for terms like, "porcelain-enameled cast iron," and "304 stainless steel" to know you're getting high-end features — especially if you're paying high-end prices!
Portability — Need Wheels?
A propane grill is a self-contained cooking unit, and unless you've bought an outdoor kitchen-style model, you might want to move it sometimes.
If you think you'll be stashing your grill in storage occasionally, or that you might want to change locations from time to time (maybe to stay in -or out- of the sun?), consider a unit with wheels.
Choose solid-looking wheels that won't crack easily, and will roll easily over pavers or decks. The bigger, the better if you have really rough or uneven surfaces. For smooth decks or cement pads, casters should be just fine.
BTU Level / Heat Flux
BTU (which stands for British Thermal Unit) has long been the measurement of choice for grilling power. Specifically, 1 BTU is the amount of energy required to increase the temperature of a pound of water by 1 Fahrenheit at sea level.
In truth, it's not really a measurement of heat generated. When you read the BTU specs for a grill, you're really learning how much gas a unit burns through at maximum output in an hour.
A more efficient grill will get more heat out of less gas than a less efficient one. So, while the less efficient model might have a big BTU number to grab your attention, that doesn't automatically mean it's going to be hotter or cook better than a grill with lower BTUs.
How, then, can we know how hot the grill will get? By knowing its heat flux.
Simply put, heat flux is a measurement of the BTUs per square inch (divide the BTUs by the cooking surface area in square inches.)
This is a much better, though still not perfect, indication of how much heat a grill produces.
The average score of our 10 choices is about 85. If you're really into fast, high-heat cooking, look for heat flux around this level or higher. If you have a little more patience, a lower score is ok — especially if there's a searing burner included.
Size
Think about how many people you plan to cook for — how many burgers, steaks, or whatever, will you want to be able to grill at the same time? While there might only be two of you most of the time, so a small portable gas grill may suffice, maybe you'd like to leave room for the possibility of entertaining with a larger model?
You've also got to figure out where the grill is going to be situated in your yard. Do you have the space to accommodate the footprint of the model you want?
There's no point buying a giant 'cue to impress the neighbors if you can't park it anywhere. If you feel you do need a smaller model, check out our roundup of reviews searching for the best small grill.
Remember too, that you must keep your grill away from plastic surfaces and siding, so you have to plan for free space AROUND your grill too.
Budget
Your budget is your business. The good news is there's a grill to suit every price point.
What you might want to consider, however, is what extra features might be worth stretching the budget for. Or, maybe you could save a few bucks by going with fewer options, especially if you don't think you'll use them much?
Fuel — Propane or Natural Gas?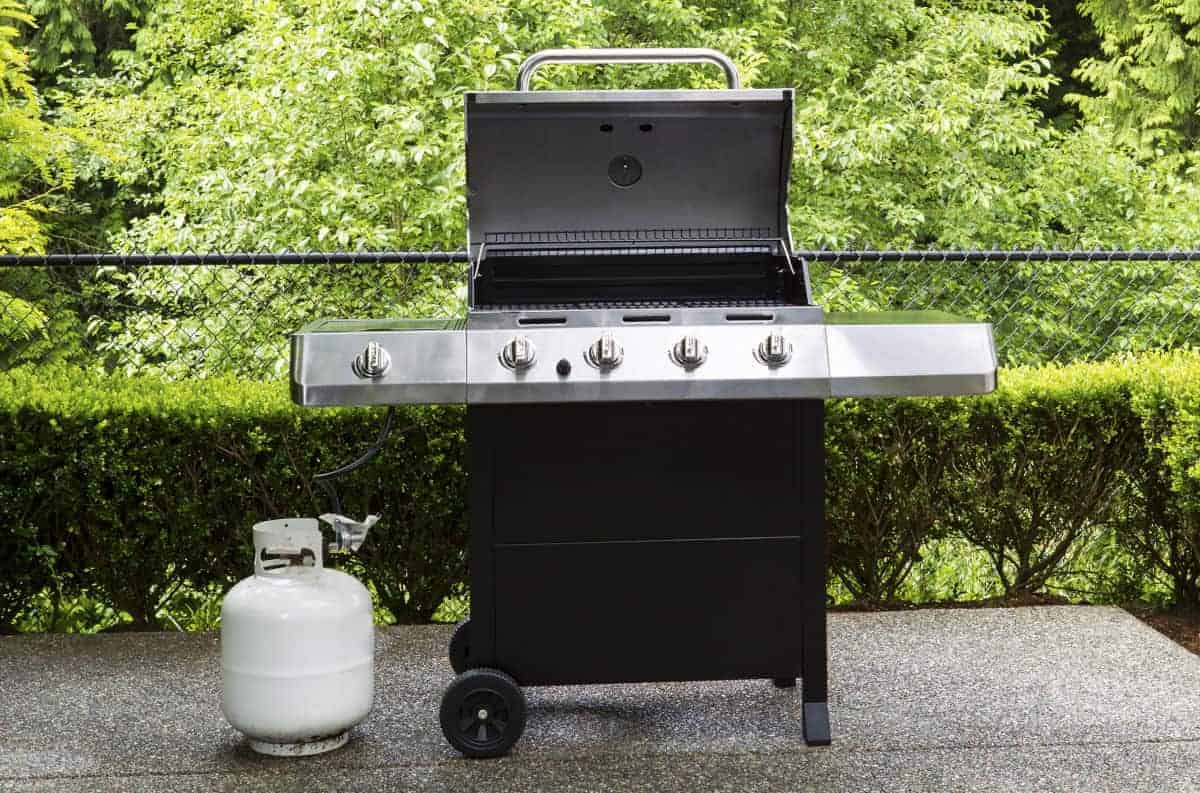 When it comes to gas grills, you've got two choices with fuel: propane or natural gas (Note: We have a companion guide full of natural gas grill reviews.) Or, possibly you have no choice at all — natural gas isn't available everywhere.
If you've already got a hook-up installed, then going with natural may be an easy decision. They're convenient, as they never run out of fuel. If you'd have to have a line put in, though, you'll need to decide what's best for you.
Is there a good place to have the line run to? Will it be cost-prohibitive? Do you want to be tethered to a single spot for grilling?
Propane is the most flexible, but natural gas is incredibly convenient. Think carefully before making your choice. By the way, some grills can be converted from propane to natural gas, giving you the freedom to opt in to LNG cooking later on.
Or maybe you're still on the fence about a gas at all and are considering a charcoal grill? If so, be sure to check out our guide to charcoal vs gas grills which should help you make the right decision once and for all.
The End of the (Gas) Line
That does it for our look at the best gas grills. There really is something for everyone on this list, no matter your gas grilling skill level or budget. In fact, you just might find the grill you never knew you really wanted.
Just remember to pick the grill that best suits your needs, both current and future.
If there's anything we didn't cover that you want to know, please fill out our contact form or drop us a line in the comments below. We will absolutely do our very best to answer every question and address every concern that comes across our virtual desks.
Don't forget to join us online for even more chances to interact with us, and others in the BBQ community — look for the links to your favorite social channels below.
Thanks for choosing us for your grilling education. We are literally nothing without you!
Happy grilling!