Today, I'm going to help you find the best propane smoker on the market today, to suit your own particular needs and budget.
Within the gas smoker reviews below, you will find the best-selling, most highly rated models available. We discuss the features to look for before you buy, and in the mini-reviews, what we like and dislike about each model.
So if you love making delicious smoked barbecue ribs, briskets and turkeys but don't want to stay up all night managing a wood or charcoal fire, you will find one of the propane smokers in this list just right for you.
No more complicated fire setups or all-night fire watches to make sure the coals don't die. Push a button, turn the dial, load your wood and food, and off it goes.
At a Glance: Our Top Picks for Best Propane Smoker
OK, intro out of the way, let's dive right in.
Reviews of the Best Propane Smokers
We tried hard to only show gas smokers and BBQs instead of gas grills that can also smoke because they are very different beasts.
Dedicated gas smokers typically do a far better job at smoking than a grill/smoker combo. Though if you're interested in such products, we do have a dedicated guide to the best smoker grill combos.
We managed to stick to this rule with 9 of our 10 top choices, but as the 'Char-Broil Big Easy Tru-Infrared' is such a unique concept in both grilling and smoking, and such high quality, we felt it had to be on our list…as I'm sure you'll agree when you read about it below.
So, let's get to it!
Masterbuilt 40-inch Propane Smoker with Thermostat Control
1
One of the newest gas smokers from Masterbuilt, and one of the most advanced and top-rated propane smokers on the market, this 40-inch model has safety features and tech not found on competing products.
What makes this unit stand out is thermostatically controlled temperature controller, which keeps the temperature solidly in the range you choose to cook at. Many propane smokers suffer from wide temperature variations, so it's great to see Masterbuilt have tackled this, the most common of complaints.
A 15,750 BTU rated stainless steel burner beneath a heat diffuser helps to distribute heat evenly. Feeding this with gas is a thermostatically controlled regulator that alters the flow to the burner, maintaining a constant cooking temperature of your choosing.
Additionally, a sensor and safety valve work together to detect if the flame has gone out and automatically shut off the gas if so. This is a confidence-building safety feature giving peace of mind if you need to leave your BBQ unattended to do other things while your food is smoking.
The temperature range of this unit is between 180 and 350 degrees Fahrenheit. Low enough for proper low and slow smoking and just high enough to smoke 'hot n fast' or crisp up skin at the end of a cook.
Inside, you will find four chrome-coated cooking racks providing 961 square inches of cooking space. Ample to cook for a large crowd (8 racks of ribs, or 16 whole chickens, for example!)
This is a 2 door propane smoker: One door with a window on the smoking chamber, so you can see at a glance how your cook is progressing without having to open the door. A second provides access to the wood and water trays for easy refilling without losing heat from the cooking chamber. Both doors hold shut by a large, strong latch that you can easily open with one hand.
The gas tank hangs from the side of the main body, and there's a fuel gauge provided, so you always know just how much you have left in the tank. Combined with the four wheels — 2 of which are locking — the gas tank attached to the smoker makes this maneuverable and easy to place around your yard before locking it into place.
Finally, there's an easily accessed side-mounted collection tray for grease, allowing for easier clean-up.
Pros
Patented thermostatic control ensures constant cooking temperature — rare for propane smokers!
Large cooking space can accommodate full briskets without cutting, or vast amounts of food for large crowds.
Safety sensor and shut-off valve give peace of mind in case strong winds blow out the flame.
Four wheels, and a bracket for gas canister, make it maneuverable.
Two doors allow water and wood chips to be refilled without opening the main cooking chamber and letting heat escape.
A glass window on the cooking chamber allows you to see how the cook is progressing without opening the main door.
Cons
If they could've squeezed another 50 or even 30 degrees Fahrenheit onto the top of the temperature range, it would've been awesome for crisping skin and browning meats.
The warranty is a little short compared to some competing models at only one year, and does not cover paint (as they say it may burn off during everyday use — though I've seen no complaints of this 'in the wild.').
The Masterbuilt MB20051316 is a good-looking, highly functional, and spacious BBQ with added features for safety and use making it stand out from the crowd. This earned it top spot and honor of the best propane smoker in our list.
The build quality is decently high. The thermostat keeps the temperature stable, the door latches keep everything sealed, the space allows cooking for 2 or a crowd, the gauge allows monitoring of fuel levels, and the price is reasonable.
Dyna-Glo 43 Inch Wide Body LP Gas Smoker
2
This is a big propane smoker from Dyna-Glo. It is a wide, spacious, heavy-duty looking dual burner, highly capable beast that is great for backyard smokers looking for a decent and convenient product.
Let's start with the size of this thing. It's 43 inches wide, making it the widest in our list, and the one most capable of taking large BBQ cuts whole, such as packer briskets, without having to cut them down to size.
It has a total of 6x height-adjustable cooking grates, providing a huge 1,904 square inches of cooking space, enough for any sized party! With each shelf being removable, you can configure it to accept foods of any height…great for beer can chicken!
The dual burner smoker can output 20,000 BTUs and starts with a simple push-button ignition that pulses an electric starter until the gas is lit quickly and easily. So it's powerful, and easy to start up.
It has large, heavy doors and tight seals, ensuring the heat stays in while smoking, improving efficiency, and protects the cooking chamber from temperature swings and instability in cold and windy weather.
Water and wood chip bowls are located behind a second door, so you can access them during a cook without having to let heat escape from the main cooking chamber.
The water and wood chip bowls are made from heavy-duty porcelain-enameled steel which will last a long time and are larger than you find on most models. Plus, they don't need filling as frequently.
Added features include pre-installed removable rib racks and sausage hooks for flexibility in cooking and a door-mounted analog thermometer for temperature monitoring. Though we would always recommend looking at digital thermometers as they are far more reliable.
Pros
Push-button ignition, variable output burners, and door thermometer make this simple to use with a little learning curve.
Thick metal construction and seals on the latched doors result in good insulation and heat retention for efficient and stable cooking.
Large size allows for cooking large BBQ roast complete without the need to separate into smaller pieces.
6x removable and adjustable height racks mean a versatile cooker that holds a ton of food of varying heights
Large capacity water and wood chip boxes mean less need to refill during cooks.
Supplied rib racks and sausage hooks add to the versatility of this smoker.
Cons
Analog thermometers aren't the most accurate or reliable.
Without thermostat control of the Masterbuilt above, temp isn't quite as stable.
Overall this is an easy-to-use, built-to-last, good value, and effective BBQ that should provide great smoked food for years to come.
In a world of often weakly made, lightweight, and unreliable cabinet smokers with temperatures swaying wildly during cooking, this Dyna-Glo stands out as 'better than most' with the way it's been built and operates. It's a large propane smoker capable of great results, and is the runner-up in picks for best gas smokers.
Cuisinart 36 inch Vertical Propane Smoker
3
Cuisinart are a well-known, prolific, and trusted manufacturer of cooking and kitchen products, so it should come as little surprise to find them having branched out to backyard smokers.
This Cuisinart propane smoker, model COS-244 is an entry-level model for the budget-conscious, and as such, it is made simply to keep the costs down. But this doesn't mean it's not effective or any good!
This is a small smoker at just 20 × 20 × 46 inches, making it great for smaller yards or places where space is limited. However, the smaller size does mean it's limited with the size of the foods it can smoke.
It comes with four 14 inch x 14 inch racks, providing a total cooking surface area of 784 inches. It is ample to cook large amounts of food, but big cuts such as a whole packer brisket will need cutting in two to fit inside. However, a rack of ribs will fit diagonally, pork butts no problem, and most smaller roasts and indeed poultry will fit inside no problem (except for very large turkeys.)
Each of the four racks are removable, so you're able to change the set-up for taller foods such as a beer can chicken if desired.
An adjustable gas supply controls the heat, that unfortunately doesn't have markings on the dial for different temperatures. And to be honest, the built-in door thermometer isn't the most reliable, so there's a bit of a learning curve to setting the right temp (mark the dial yourself for different temps!), and we recommend picking up a digital smoker thermometer for accuracy.
The two doors seal tight with twist lock, stay-cool handles, and the smoker holds heat and smoke well for efficient and stable cooking. However, the build quality isn't the greatest (thinner metals used — you get what you pay for), so temperature will fluctuate on cold, windy days but will be stable on warmer summer days.
A porcelain enamel steel tray holds the smoking wood chips and water when smoking, accessible through the lower bottom door, which provides access without you letting heat escape from the cooking chamber. And the regulator to attach to the propane tank is 40-inches long and easy to connect.
Pros
Biggest 'pro' is the price. It'll be hard to find anything else as decent and capable at this price point!
Simple to assemble and use.
Small footprint for smaller spaces.
The large overall volume will allow you to cook multiple items at once.
Cons
Build quality isn't the best, but you get what you pay for, and they've done a great job considering the price point. It works well and will last.
Owners have complained of the temperature gauge not being accurate, but this is common with all smokers' analog thermometers.
Some owners have said heat and smoke escape a little through the door hinges.
Masterbuilt Patio-2-Portable Propane Smoker
4
The Masterbuilt MPS-20B is a small portable smoker, weighing 22 pounds and measuring just 15.91 × 23.62 × 23.15 inches, making it great for camping or tailgating. I wouldn't recommend it as a good choice if you intend to buy it solely for use at home in your yard. Either buy it for travel or not at all and go larger instead.
I've picked this as the best small propane smoker, but truth be told, it's about the only viable option on the market.
The problem with portable propane smokers is they are…well, they're just too small.
By the time you've added a water pan and wood chips, it doesn't leave much room for the food. They also suffer a lot with not being able to hold temperature well and lack any good features when it comes to setting and maintaining the desired temp.
That being said, this little portable gas smoker from Masterbuilt has proven to be adequate and gets some good reviews. It is perfectly capable at smoking foods, so long as you're willing to learn how to use it properly and can nurse a cook through from start to finish.
Powered by a 1lb gas canister, you can also connect this compact travel unit to larger 20lb tanks if you buy an adapter sold separately.
A push-button ignition system lights the single 5,000 BTU stainless steel burner, which sounds low but is ample for a unit of this compact size.
Inside, you will find two chrome-plated smoking racks, and trays for both water and wood chips. The racks are sufficient to hold two large or four smaller chickens but aren't wide enough to hold a full rack of ribs without cutting into two.
You control temperature by adjusting the gas flow with a regulator knob. It is unmarked for temperatures, so you will need to adjust it and measure on the integrated door thermometer until you hit your desired cooking temp.
Pros
Small and compact for camping tailgating, with foldable legs and an easily packable size and shape.
Easy assembly, and easy to get going (though a learning curve to hit the desired temp by adjustment of the regulator)
Cons
It cannot hold a rack of ribs without splitting them in two (it can cook two racks in this manner.)
The small size and thin materials will mean temperature stability will be difficult in cold and windy weather.
As we already touched on, the options are limited when it comes to portable models. But in our opinion, this is the best small gas smoker you can buy.
Also Recommended
Above, we've picked and shown what we feel are the best gas smokers available today, but they may not be the best for your particular needs and budget.
So below, we take a good look at some alternative models which are still very good, and we highly recommend. They just didn't make the top of the list. After all, there can be only one (or a small few!)
Masterbuilt 44241G2 Gas Smoker
5
At 24.50" L × 60" H × 33" W, this Masterbuilt propane BBQ smoker has excellent interior room and cooking space. It's a good choice for those who feed big families or who cook lots of smoked meat for parties and gatherings.
This unit has dual 10,000 BTU burners and double porcelain-coated wood chip trays. It gives you the versatility to cold or hot smoke by using one or both burners simultaneously.
Many Smoke Hollow 44 owners use one side at a time, switching when one tray of wood gives up the last of its smoke. Or you can cold smoke salmon or cheese at about 125 °F (51 °C) using one burner set low.
It comes equipped with three standard cooking grates, two jerky trays, one rib rack which you can flip to use as a regular rack, and sausage hooks attached to a round rack on the top. You can smoke sausage and bacon on top, let the fat baste some chickens on the next rack while you smoke a brisket below that.
You'll find two dampers (or vents) on this product, one on each side, and you can order a glass door to see what's going on inside without opening it.
Requiring only a wrench and Phillips head screwdriver for assembly, you'll be done in about 40 minutes.
This smoker gives plenty of bang for the buck. It has plenty of room, and the three types of racks give you flexibility in the types of meats you can cook simultaneously. We noticed the water pan reduces fluctuations in the temperature by acting as a heat sink. The gas controls are well-designed and high-quality. It will keep a steady smoking temperature for over 10 hours without adjustments. This is surely one of the best propane smokers on the market today.
This 100-pound unit is stable, sitting on splayed legs. However, a set of wheels or casters would be a huge improvement.
Pros
The double doors are a handy feature by allowing you to access the fire area without disturbing the cooking area
Wide enough, so you don't have to cut your ribs in half, the entire slab fits perfectly
Ample cooking space! The large interior holds up to 60 lbs. Of pork shoulder
Spring handles stay cool
Latches keep doors tight
Cons
The thermometer is strictly decorative, and useless like most bi-metal thermometers
Doors seem to leak a lot of smoke and heat. Latches are good, but the seal is not
Wheels would be nice
The Masterbuilt 44241G2 44-Inch is a good smoker for beginners or experts alike.
It has the internal space to smoke whole racks of ribs without touching the sides. It also has the versatility of being able to cold smoke, good for novices who are learning new smoking techniques and seasoned pros.
The double door system allows for fire and water tending while allowing the meat to stay enveloped in smoke on a windy day.
Char-Broil Vertical Liquid Propane Gas Smoker
6
This Char-Broil vertical liquid propane smoker measures 19.5 x 21.5 x 45.5 inches and only weighs 25 pounds because it's built using thin steel.
It comes with four chrome-plated wire racks and six insert positions, providing a total of 595 square inches of cooking space, and 7,566 cubic inches of cooking space.
One nice feature is the round rack above the top vent. You can keep a saucepan warm above the vent, making use of the residual heat.
This is a 2 door propane smoker, with one for the smoke chamber and a drawer to access the water and wood chips. Two doors are always better because you don't lose heat while refilling water or wood.
The odd design with the Char-Broil is the combination water pan and wood chip tray. It is a steel tray for the wood chips with a steel bowl in the center for the water. The problem is the water can spill into the wood chips extinguishing them. The best solution is use a separate pan of water above the wood.
The handles fit into a bracket on the side to latch the door shut. You need to add some gasket material if you don't want the smoke to leak from the doors.
Pros
You can smoke a 20 lb top sirloin round and an 18 lb pork loin. It has plenty of room for a lot of meat.
Two doors for easy access
It comes with four racks
Top vent pot warming rack
Cons
Not wide enough to put a full slab of spare ribs
The combination water and wood chip tray isn't the best design
The door thermometer is inaccurate, get a good digital thermometer
This Char-Broil Vertical Gas Smoker is relatively cheap, good value for money, is straightforward to use, and has plenty of room inside, although you may need rib racks to cook full racks of spare ribs.
The combination wood and water tray tend to create too much mess and trouble! So instead, use the tray only for wood and place a separate water pan above the wood pan to catch drips to make your gravy.
Camp Chef 24 Inch Smoke Vault
7
This 24" W x 16" D x 30" H, 75 lbs smoker has a stainless steel door making it look a little like an old bank vault, complete with thermometer looking like an old combination lock.
The door thermometer reads from 50 °F to 550 °F. The smokebox sits on top of sturdy splayed legs for added stability. It has three vents for temperature control, one on top and one on each side.
The Camp Chef 24" comes with two cooking racks and one jerky rack with five adjustment levels.
One thing we liked about this cooker is the five shelf adjustments. You can cook chicken on top and ribs below. The wood pan is heavy gauge steel for a long life, and the water pan is porcelain coated.
They protected the burner from the wind, which is a big plus. It features electronic ignition for fast and safe start-up. It can maintain temperatures from 160 °F to 400 °F (71 °C to 204 °C). You have to keep an eye on it to keep +/- 25° of your target temperature.
Camp Chef is the only company to offer a natural gas conversion kit on the market that we know of.
This smoker is a little tight inside. If you cook two chickens on the same rack, move them around halfway through the cooking or the legs will touch and not cook properly. You should consider getting rib racks because it's not big enough to hold a whole rack laying flat.
Pros
Sturdy, easy to clean and assemble.
The stainless-steel door looks great, and even thermometer looks like a combination lock.
The small size makes it easy to store.
It comes with a conversion kit to run off your home's natural gas.
Cons
Some owners have reported smoke leakage from around the door, but you can fix it by adding a Nomex gasket kit which solves the issue.
The thermometer is way off. You need to buy a quality BBQ / meat thermometer combination.
A set of wheels would be nice for easier mobility.
The Camp Chef 24" Smoke Vault is a good gas smoker for novices and people with minimal outdoor space for cooking. It easily fits on a balcony.
The price is right for what you get and a good way to learn the basics of smoking with minimal investment. It's also the only gas smoker we're aware of with a conversion kit available to run using natural gas if you have an outdoor connection at your home.
Invest in a quality thermometer and a good Nomex door gasket kit to get the most out of this product.
Masterbuilt GS30D Propane 2-Door Smoker
8
The Masterbuilt 30-inch vertical gas smoker measures 21.1 x 21.4 x 43.5 inches, weighs 57 pounds, and would be a great BBQ for any budding outdoor chef.
It features four chrome-plated cooking racks creating 717 sq. In. Of cooking space, wide enough to hold a rack of ribs while starting the cook takes one push of the button with the electronic ignition.
Masterbuilt got it right with the double doors: You access the porcelain coated water pan and wood chip pan through the bottom door, leaving the meat to bask in the glory of the smoke and heat in the chamber above.
We would like to see a bigger water pan and seals on the doors, but this is something you can easily and cheaply fix after purchase. As with other smokers in this price range, thermometer isn't the best, and vents on the sides would have helped to control the temperature. There is only one.
The burner is stainless steel for long life and puts out 15,400 BTUs. It does a good job of smoking once you get the temperatures right. It tends to run a little hot, and the water pan dries out rather quickly, so you need to keep an eye on it. The "cool touch" wire handles do stay cool to the touch.
Another nice feature is the inner liner and locking doors. They do help contain the heat and smoke more than other models without a lining. The smoke still leaks out the door, but you can modify it with a proper door seal.
Pros
Liner and locking doors make for better temperature control
2-doors for easy access to the wood chips and water without cooling the cooker
Push-button ignition — no matches required
Stainless steel burner will not rust
Cons
Maintaining a temp under 250 is hard
Get some wood stove insulation tape to seal the door since it leaks
Some users have reported it rusts easily, especially around the burner
The Masterbuilt 30-inch vertical gas smoker is a good starter model for under $200.
To get the most out of it, you will need to make modifications such as blocking the wind from blowing up under the burner, making better door seals and buying a quality digital thermometer. (The thermometer is something you should have no matter what smoker you buy.)
It has plenty of room to try all your favorite recipes and techniques. The 30" model is Masterbuilt's smallest but will hold eight racks of ribs.
Char-Broil The Big Easy Tru-Infrared Smoker Roaster & Grill
9
This 36.2 high x 23 in diameter, 62 lbs smoker is called The Char-Broil Big Easy Infrared Smoker, Roaster, and Grill. But the emphasis is on the smoking and roasting, so we're happy to include it in our list of the best propane smokers.
This unit uses infrared technology to heat up to 400 °F (204 °C) in just a few minutes. The Big Easy works by heating the air between the outer and inner walls creating convective heat.
Infrared heat penetrates the inner wall and cooks the meat. The hot, dry air escapes out of the top before it has a chance to dry out the meat. You end up with moist and tender food without the use of a water pan.
It will hold up to a 25-pound turkey or two chickens in the double-tiered cooking basket. It comes with a 180-square inch grill for the top if you want to cook burgers or steaks.
One drawback of this gas smoker is the top-loading. If you want to check something on the lower rack of the two-tiered basket, you must open the lid and lift out all the food losing heat and smoke in the process.
However, if you just want a nice oven-roasted bird or chunk of meat with a little extra smoke, then this cooker works well.
Pros
Holds 25 pounds of meat or a turkey
Can cook two chickens and a side dish on top.
Removable grease tray catches drippings to make gravy
Cooks like a convection oven with heat surrounding the meat from all sides
Cons
Wood chip bin tends to warp and get stuck.
Difficult to get it down to 225 °F (107 °C) too high for smoking. This unit has trouble cooking at low temps.
Flimsy construction
The Char-Broil Big Easy is much more of a convection oven and grill than a smoker. It cooks evenly with less dehydration than other cookers.
It is small enough to fit on a balcony and does a good job of roasting or grilling.
What are Vertical Propane Gas Smokers?
A vertical propane gas smoker is a steel box with a door, just like a big gym locker or a refrigerator without insulation. It stands vertically, has one or two access doors and wire racks to hold all the goodies.
They take up much less deck and storage space than other horizontal grills and smokers. And the vertical "box" ensures all the meat gets kissed by the smoke as it swirls up from the burner pan below.
Vertical gas smokers all have the same basic design starting with the gas burner at the bottom, then a pan above for the wood. Above that is the water pan that acts as a heat sink to stabilize the temperature and add moisture. Over the water pan are two or more racks to hold the meat.
Most units have vents/dampers to adjust the flow of air and smoke.
The Advantages of a Propane Smoker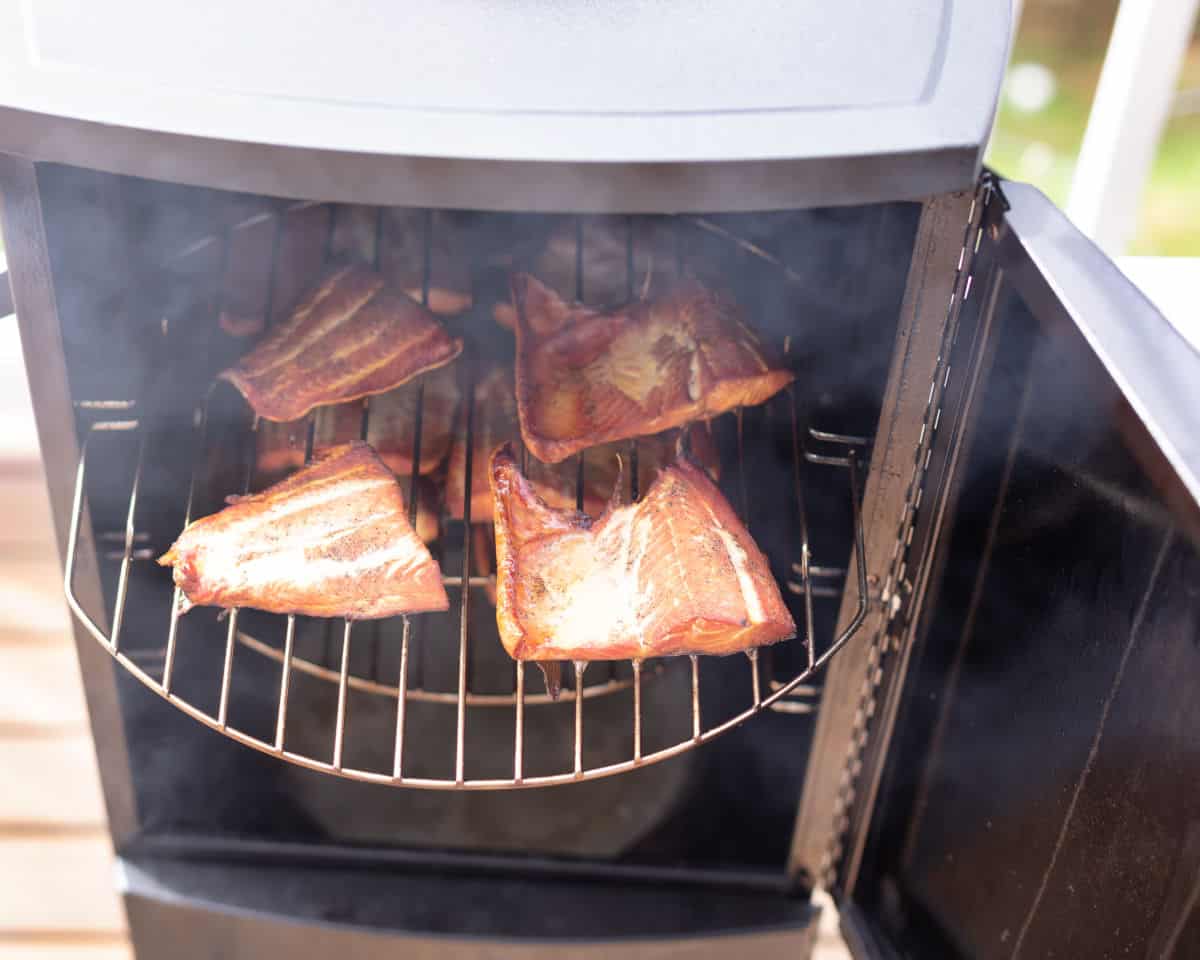 Propane smokers offer some advantages over other types of smokers. Typically, they're less expensive to buy and less costly to run than pellet smokers, electric smokers, or charcoal models of the same size.
They're usually lighter, too, making them more portable. Of course, portable is a relative term because it still takes two people to haul some of them around easily.
And because these smokers use propane, you don't have to stockpile bags of briquettes or logs, and you don't have soot build-up or the amount of ash as you do in a pellet or charcoal smoker.
Most propane smokers have electronic ignition so starting the fire is FAST, and push-button easy. Even if the battery dies, you can still light it with one match (like a good Boy Scout fire).
They're relatively easy to master too. Once you know your cooker, you won't have to make as many adjustments to maintain the temperature as you would when controlling temperature with a charcoal smoker.
You attach the gas tank to the burner with a hose the same way as a gas grill. The burner at the bottom of the cooker heats a pan above that contains the wood for smoke. Once you get your temperature dialed in, it's set and forget.
Another big advantage of vertical smokers is the small space for use and storage. Even the largest models take up less floor space than your refrigerator.
Some Downsides
The biggest downside is taste. Even with the best propane smokers you cannot expect to get the authentic taste you get from a wood or charcoal-burning smoker. But also know that it's close enough, and still very, very tasty. With a gas BBQ, you own one more for convenience rather than the very best end result.
Vertical smokers use thinner gauge steel, making them lighter, but this makes them susceptible to bends and dents, especially during shipping.
Another frequent issue is the lack of airtight seals around doors allowing smoke to escape and making temperature regulation difficult. Purchasing door seals and sealing holes with high-temperature sealant usually does the trick and is an easy mod to perform.
Unless you purchase 43 inches or greater, most grills can't hold a whole rack of ribs flat unless you cut them. This is not an issue unique to gas smokers though, as you can read in our electric smoker reviews, it affects other cabinet-style smokers. However, you can get rib racks to keep them upright in a "U" shape to overcome the size issue.
Burn time is another consideration. At some point, you'll have to change tanks during a long low n slow cook. So always be prepared by having a full tank as a backup.
After you have done a couple of cooks, you'll know how long a tank will last. You can set a timer and swap out the tank like a NASCAR pit crew without losing any heat or cooking time.
Are You Sure a Propane Smoker is Right for You?
Propane smokers are all about convenient cooking at an affordable price.
You aren't buying the best quality smoker. You aren't going for the best taste from a smoker. You are compromising on the best possible taste and build-quality, while maximizing convenience and keeping costs low.
If what you want is the best possible flavor from a set-and-forget smoker, where you program a temperature and walk away to let it do its thing, we recommend you look at our article on pellet smokers and grills. These will cost upwards of double the price of your average gas smoker (and often way higher), but they cook exclusively with wood pellets for a far better smoky flavor, have a higher build quality, and come with extras such as Wi-Fi controllability from your smartphone.
And because it's a comparison many people like to make, we have an article comparing gas smokers to electric smokers.
These two types of smokers look very similar, work very similarly, but are quite different in that electric smokers are more technologically advanced with thermostatic controls, and Wi-Fi connectivity, so you can control them from your phone. And of course, electric smokers use a heating element whereas gas smokers burn gas.
However, many people agree the taste from gas smokers is better than that from electric smokers.
Expert Quote
"… I love the flavor of meat from propane smokers, but it is a tiny bit different from the taste of meat from charcoal smokers, and to my taste, much better than the flavor from electric smokers. The combustion gasses combine with the moisture and the wood smoke and produce a fragrance and flavor that is sometimes reminiscent of bacon. Purists complain about this undertone, but I ask you, just what's wrong with a little bacon?
— Meathead Goldwyn, Amazingribs.com
Features to Look for in the Best Gas Smoker
Stability — As we said before, vertical smokers are lighter and less sturdy than other types. Look for splayed legs adding stability.
Size — Size matters if you don't want to cut your racks of ribs in half to make them fit. Look for a smoker with shelves wide and deep enough to accommodate the ribs.
2-Door Access — Two doors are better than one because you can access the wood and water pans with one door while leaving the upper chamber closed with the smoke and heat still inside.
Temperature ranges — Most vertical smokers tend to cook hotter than charcoal-fired ones. Check with the manufacturer to see how low and how high they can cook, especially if you want to cold smoke fish.
Front Loading — It's always better than top-loading, more easily accessible, and straightforward to use, so always look for that.
Adjustable Shelves — If you cook a whole turkey and then set up for ribs, you'll need adjustable shelves.
What you want is to buy the biggest smoker you can afford that has adjustable shelving and that holds temperatures around 225 °F (107 °C).
Breaking in Your New Smoker
Once you buy and assemble your smoker, and it's standing tall on your back deck, you need to break it in. Don't cook in it yet! Just like with a new iron skillet or any outdoor cooker, you need to "season" it.

Editor's Note
Please don't skip this step! All brand-new smokers and grills come with oils and residues from the manufacturing process that give off nasty smoke and impart nasty flavors when burned. You need to burn this off completely BEFORE you ever use it to cook food.
— Mark Jenner
If they don't tell you in the manual, all you do is wipe down all the internal parts with good cooking oil and let it burn on high heat for 20 minutes or until the smoke stops. This ensures that any grease or paint fumes burn off and won't affect the food.
Let the smoker cool off and wipe off any residue with a towel. Now you're ready to start smoking.
You can find more details in our guide to seasoning your new smoker.
How to Use a Propane Gas Smoker
The layout for a vertical smoker is different to offset or horizontal types. The principle is the same. You just stack things on wire racks instead of arranging them around the fire pit.
The basic steps to get you smoking:
Fill the water pan with water. Place it on the shelf over the wood pan.
Connect the propane tank to the smoker with the approved hose. Check the connections with soapy water. There should be no bubbles indicating a leak. With the door open, turn on the valve and light the burner following the manufacturer's instructions. If the burner fails to light immediately, shut off the gas and control knob. Let the gas clear before trying again.
Set your temperature. Some models may only have Low. Med or High, so you may have to play with it to get to 225 °F (107 °C). This is where a quality digital thermometer comes in handy.
Preheat and experiment with the dampers until you have a steady temperature.
Add your pan filled with wood and let it start to smolder.
Arrange your seasoned meat on the racks.
Close the door, set your timer, and pop open a cold one.
After the cooking, be sure to unhook the gas completely and clean out the cooker for the next use.
Depending on your cooker's size, you may have to replenish the water and wood every hour or so. Many smoking enthusiasts buy these reasonably priced models then modify them to their needs.
Conclusion
All gas smokers are easy to assemble, easy-to-use, and pretty much all function the same. But the one that stands out and hence wins our choice for the best propane gas smoker is the Masterbuilt Thermotemp XL. We recommend this BBQ for beginners and intermediate smokers alike.
We love it because of the large cooking area, ease of use, thermostatically controlled temperature, accuracy and stability. And also it's safety features, and the fact you don't need to trim large cuts like ribs and brisket to fit them in and smoke them.
It is a well-built and well-featured, good functioning bit of kit. This model should give you many years of smoking fun.
If you have any comments about these gas smoker reviews or have experience with any of the propane smokers mentioned here, please let us know your thoughts below.
Happy grilling!