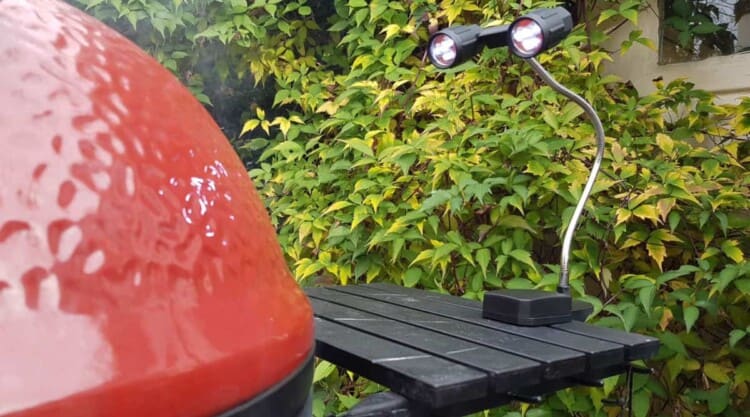 In this article, we discuss what to look for in the best grill light for you, talk about the features you want, what to avoid, and have compiled a list of the best LED grill lights on the market to save you tons of research.
Most barbecue grills don't have access to lighting, or the lights are too far away to be of use. What's the solution? LED Barbecue Grill Lights!
LED grill lights are the answer to nighttime grilling. Instead of black silhouettes suspended over red glowing coals, with a good grill light you can see the grill marks and doneness of all your meat and hot dogs.
Grill lights are portable and attach to almost any shelf or handle, making them suitable for all types of smokers, grills, and any kind of outdoor cooker you can think of.
With surgical precision, they direct a bright beam of light right where you need it. No more cremated hot dogs because you couldn't see.
And, since you can take it anywhere, a grill light also comes in handy as an emergency light in a car, boat, camp, RV or extra workshop light.
At a Glance: The Best Grill Lights Discussed in our Guide
Note: Clicking the above links will take you to further information, current prices and customer reviews on Amazon.
The 6 Best Grill Lights on the Market Today
Here are, in our preferred order, the top lights for illuminating your grill.
Cave Tools Barbecue Grill Light
1
A variety of vendors sell this same light. The only difference is the logo stamped on the light or additional accessories such as a cookbook or gift box. Unlike most reviews, we'll tell you about the product and then review the vendors who sell it.
This grill light attaches directly to the handle of most grills. When you raise the lid, the light is positioned directly above, illuminating the entire grill. With 10 LEDs mounted in two sets of five, this light provides 105 lumens in a flood pattern.
Constructed from rigid ABS plastic, it's water resistant but not weatherproof. It's rated to withstand heat up to 356 °F or 180 °C.
The light can swivel 190° enabling it to shine light anywhere on the grill.
The adjustable metal screw clamp easily attaches to grill handles with diameters up to 1.45″ or 3.7 cm.
The grill light is compact, and the dimensions are 7.5 × 3.5 × 1.8 inches. It doesn't interfere with the operation of the handle.
One nice feature is that it comes with 3 AA batteries ready to use. Battery life is around 18 hours with continuous use or up to 50 hours with the auto shut off mode.
This light has three levels of brightness at 10%, 75%, and 100%. The light turns on and off by gently tapping the switch on top of the light.
Vendors Who Sell The 10 Super Bright LED Handle Mounted Grill Light
You'll find a few vendors selling this light, usually with their logo. Here is a current alphabetical list of vendors based on Amazon and internet searches.
| | Website | Listed on Amazon | Guarantee | Additions |
| --- | --- | --- | --- | --- |
| Cave Tools | Yes | Yes | Lifetime return for full refund | Gift Box |
| Grill Kindle | No | Yes | Not specified | |
| Grilluminator | Yes | Yes | Lifetime replacement or refund | |
| Kohree | No | Yes | Not specified | |
| Kona | Yes | Yes | 5-Year Guarantee | Can be ordered in red |
| Zeust | Not working | Yes | 60-day money-back, lifetime replacement | |
Pros
Floodlight pattern gives good light coverage to a 4-burner grill
Excellent battery life
Touch sensitive power button
Attaches to almost any handle
Heat and water resistant
Comes complete with a weather bag and a screwdriver to access the batteries
Three levels of brightness
Cons
Must attach to a handle. It doesn't stand up without being attached.
Not Weatherproof. It can't handle the rain.
Short neck. Depending upon the handle location of the grill, some light could be obstructed.
This model of grill light is very popular. If it fits your model of grill, this light is a good choice for any backyard barbecue light.
The vendor that seems to have the best working website, good reviews all over the web and a great guarantee is Cave Tools, and it's they who we link to above.
LED Concepts BBQ Grill Light 12 Super Bright LED
2
The beauty of the design of this grilling and barbecue light is the two-way attachable base.
You can use the sturdy magnetic base to hold the light in place or use the built-in C-clamp for non-metal surfaces.
The 22" aluminum gooseneck allows for wider range and clearance that handle mount grill lights can't. 360° flexibility puts the light where you need it.
The all-weather design allows for wet weather use, although it shouldn't be left outside permanently.
Pros
Aluminum construction, corrosion resistant
Higher heat resistance compared to plastic lights
2 ways to attach, clamp or magnetic base
22" gooseneck gives extended reach
Weather resistant
Cons
Narrower beam of light than other models
3 AAA batteries not included
While some users report that the light beam is too narrow, the flexible gooseneck lets you move the light to almost any position on the grill.
BBQ Grill Light LED for Big Green Egg
3
The Big Green Egg has almost a cult following like Airstream Trailers and Volkswagen Beetles. That's why this barbecue grill light is so special.
It fits on the handle using a powder coated metal bracket to hold the LED light right over the grill when the lid is opened.
Once the bracket is attached to the handle, the light slides inside the bracket and held in place with a magnet. It's easy to remove the light so that it doubles as a portable pocket flashlight. Take it anywhere!
3 AAA batteries (not included) power 24 LED lights, providing unobstructed light to the entire cooking surface of your Big Green Egg.
The light is light-duty and not built to withstand the elements or prolonged heat. It's recommended to take the light inside or covered when not in use.
Pros
Powder coated bracket resists corrosion
Easy to mount on the handle
24 LEDs provide plenty of light
Cons
Not weatherproof
3 AAA batteries not included
Not as sturdy or heat-resistant as it could be
This light was designed specifically to fit the Big Green Egg, most of the customers seem to be satisfied.
Chef Buddy Adjustable LED Barbecue Grill Light
4
The Chef Buddy Adjustable light looks like light up binoculars on a gooseneck and has some great features. It has dual lights with three LEDs each.
The Chef Buddy light requires 3 AAA batteries. The head pivots 360°, and the gooseneck provides extra 15 inches of reach.
The only drawback is the clamp. If you don't have a shelf on your BBQ grill, you may have a hard time attaching it.
The clamp springs will hold when clamped horizontally but not very well on vertical surfaces. We found that it can slide off, although the rubber liner inside the clamp helps keep the grip and won't scratch. The dimensions are 5.375 × 5 × 16.25 inches.
Pros
15-inch gooseneck gives extra reach
The C-clamp design allows for mounting to vertical or horizontal surfaces
Fits most grills with a side table
Dual LED lights are very bright
Cons
Not weatherproof
3 AAA batteries not included
Clamp is weak
Plastic can melt near the grill
Overall this is a good light for the money. Be prepared to make adjustments as the neck and clamp could be weak.
And don't get it too close to the high heat.
Life Mounts All Weather LED BBQ Grill Light
5
This light only uses one LED, but it's a big one! The LED, manufactured by CREE, puts out a whopping 300 lumens using only a single AA battery.
Although they claim that it fits every grill, we have had a few reports that on smaller grill handles, it can slide.
The nice thing about the Velcro strap is that it's easy to move and install on another grill or use as a flashlight.
The mounting system is a patented Universal Flex Mount made of durable rubber and rotates 360°. The lens is adjustable to focus the light either on one piece of meat or floodlight the entire grill.
It's weatherproof, heat-resistant and comes with a lifetime guarantee.
One side benefit of the Life Mounts light; you can strap the light to your index finger and use it as a personal reading lamp on an airplane, or anywhere you need light for a small area. It can double as a bicycle light with the strobe light feature for added security.
Pros
Only requires 1 AA battery
Velcro strap makes it easy to change to different grills or locations
Weatherproof
Lifetime warranty
Adjustable lens
Cons
Not very heat-resistant
Velcro Strap not suitable for small diameter handles.
Light may be too narrow for a large grill. Must move it or buy a second.
LIGHT IT by Fulcrum 6 LED lamp
6
Model 20019-301, known as Light It, is a 6 LED wireless BBQ grill or work light.
It works well as a grill light or a portable work light and comes with multiflex clip.
The Light It features a wide-beam lamp mounted on a 19.5-inch gooseneck. The clamp lets you set this light next to your grill, or indeed anywhere you need extra light. It grips boards up to 2'' thick.
Powered by 3 AA batteries, the LEDs should last for 100,000 hours. Overall dimensions are 3.25 in. × 27 in.
Pros
Long gooseneck gives you a larger lighting area
Clamps onto boards up to 2" thick
Auto shut off to increase battery life
Sturdy clamp
Cons
Not weatherproof
Could use some rubber in the clamp for a better grip
The Light It works well as a barbecue grill light. It has a good width of light, the 6 LEDs are bright, and the flexible gooseneck allows for easy adjustment. You need to take this light inside and not leave it in the weather. However, it makes a good workshop or nighttime reading lamp too.
What Is a Barbecue Grill Light?
They are made to attach to a grill shelf or handle and supply light to the cooking area. They were born from necessity.
Before the invention of grill lights, night-time backyard grill masters would run an extension cord and borrow a light from the living room or a trouble light from the garage. Although we have no proof, we're certain that enough wives complained that someone invented the grill light.
Modern barbecue lights are battery operated and use LEDs instead of standard flashlight bulbs.
You'll find two basic types, one that attaches directly to a handle and shines down with limited mobility and the other style mounted on a gooseneck for wider range and reach. You're sure to find a style that fits your needs and grill.
You Might Also be Interested in…
Why and When Would You Use a Grill Light?
Grilling requires high heat, while smoking requires low heat with the coals located away from the meat. Both cooking techniques require carefully monitoring the coals, (assuming a charcoal grill, and not gas) and placement of the meat. You need to see what you're cooking and how the meat looks while you're cooking it.
Grilling at night means you have a greater chance of burning or under-cooking because you can't see the meat properly.
Most outdoor lighting is designed for security, not backyard barbecue grills. Grill lights shine a light right on the cooking area where backyard chefs can cook that steak to perfection.
What Should You Look for in a Barbecue Light?
There are five primary features you want in grill light.
It must fit your grill. Some grill lights attach to a shelf or work only with a specific model of grill such as the Big Green Egg. Check to see if the light you want will attach
It must give enough light. Light is measured in lumens. Look for at least 100 lumens, although some manufacturers don't specify the lumens. A grill light with at least three LEDs would be a minimum. The more LEDs there are, the brighter the light.
The light must focus on the cooking area without any obstructions.
The best grill lights are weatherproof and heat-resistant.
Look for a light that is portable and battery operated. Some models on the market that are hardwired, but those are primarily for permanent outdoor grills. For our guide, we only review portable lights.
How to Choose the Best Grill Light for Your Needs
We'll show you gooseneck and handle-mounted lights for your grill.
Gooseneck mounted lamps work by attaching to a shelf. If your grill doesn't have a shelf, look for a handle mounted light. Handle mounted lights typically use a screw to tighten a clamp around the handle. One model uses Velcro straps.
Determine how often you need to remove the light to see which method is best for your needs.
Closing Recommendations
The first choice you need to make is whether you need a gooseneck style lamp or a handle-mounted light.
Gooseneck type lamps require a surface close to the grill for it to attach properly, like a shelf. They're not meant for attaching to the handle as they would get in the way.
They offer good light from the top if there's a fixed shelf above your grill. Otherwise, the light will shine from the side, not the top. This isn't usually an issue unless you have a large grill and are cooking large pieces of meat like a pork butt.
Handle mounted grill lights project light straight down to the cooking area. You'll need to be sure that the light you choose fits the handle and style of grill. Some lights are brighter than others, and some won't fit all handles, like the light designed for the Big Green Egg.
For a gooseneck light, we suggest the LIGHT IT by Fulcrum, model 20019-301. Although it's not weatherproof, the gooseneck is sturdier than other models, and the clamp holds firmly on most surfaces. The 6 LEDs will light up almost any backyard grill.
For handle mount grill lights, our research shows that the Life Mounts All Weather LED BBQ Grill Light has the easiest, most versatile mounting system, the light is bright, and it's weatherproof. Also, it only requires one battery instead of three.
Whichever model you choose, you can be a barbecue pit-master day or night.
Happy grilling!