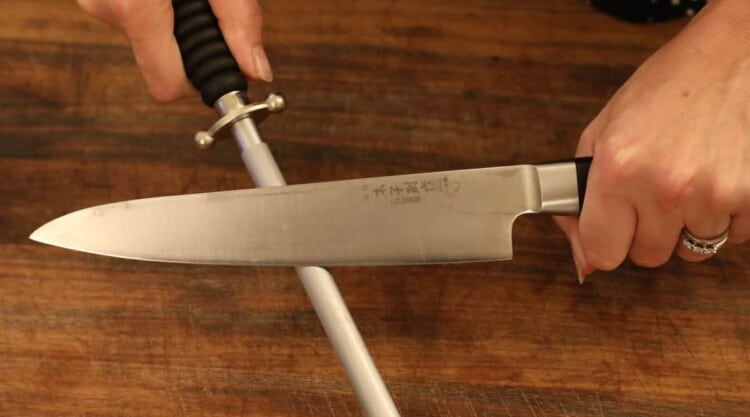 In this article, we explore the world of the best honing steels — or sharpening steels — what they are, why you need one, and how to use it.
We'll also discuss what to look for in a honing steel and make a few recommendations as to which steels are worth your money.
The deeper you get into a pastime or hobby, the more specialized gear you start to accumulate.
While outsiders may see it as an obsession, it's really about trying to enhance your enjoyment of the hobby and get the most out of it you can. It's no different whether you're a scrapbooker, a gardener, or a barbecuer.
For the latter group, that may mean acquiring a smoker in addition to a grill, picking up a remote-sensing thermometer, or buying specialized knives for slicing brisket, or deboning, or butchering.
Of course, all that extra gear needs to be taken care of, which puts you in the position of buying more gear to maintain your other gear. Personally, I don't see a problem with that.
Knives, in particular, need specialized care to keep them in perfect working order. Perhaps you've already read our articles on knife sharpeners? On the types of knife sharpeners, picking the best electric knife sharpeners, and how to use a handheld knife sharpener.
In between sharpening, you will find it necessary to hone your blades. Honing is one of the secrets to a perfect knife-edge, so you should try to pick up the best honing steel you can afford.
So, ready to look at some cutting-edge technology?
At a Glance: The Best Honing Steels Discussed in our Guide
Note: Clicking the above links will take you to further information, current prices and customer reviews on Amazon.
Best Sharpening Steels — Product Round-up & Mini Reviews
After a while, all hones start to look the same. To save you the eyestrain and monotony, we've selected four different hones that we think are good choices.
Have a look at what we've got; one of these should be suitable for your needs.
F Dick 10 Inch Oval Diamond Coated Sharpening Steel
1
If you've invested good money in your knives, don't they deserve a sharpening steel of equal quality? Treat them to a bit of bling with this diamond-coated sharpener.
It's true what they say; nothing is stronger than diamonds (nothing in nature, anyway). This makes it ideal for sharpening your knife blades to a clean, razor-like edge.
Germany's famed knife-maker, F. Dick, has coated this premium sharpening steel with a gritty dust of industrial diamonds, and your dulled steel knives are no match for it.
You'll hear and feel the resistance as you slide the knife blade across the diamond dust. This is good! The thin edge of your knife blade will be brought back to peak performance in only a few passes.
You'll also appreciate the additional surface area provided by the unique oval shape of the business end of the 10-inch sharpener. It allows more of the knife blade to be in contact with the diamonds at once, reducing the number of strokes required to finish the job.
A good grip makes for a safer sharpening session, and the F. Dick 10" oval diamond-coated sharpening steel has a beauty. Made of dual-density polymer, it is ergonomic, fitting nicely into your hand, and has slightly softer material at key pressure points for an enhanced grip.
Be aware that using diamonds on your steel blades too often could shorten their lives as they remove a good bit of steel because they're so hard. (I mean, it's microscopic, but it adds up.) This sharpener is best for occasional use or bringing a badly damaged or extremely dull blade back from the dead.
Pros
Diamond-coated steel for durability and excellent sharpening properties
Oval shape has extra surface area for more blade contact
Ergonomic dual-density polymer handle for better grip
Hole in the end of the handle for hanging between uses
Cons
May be too short for your longest knives
Regular use of diamonds may shorten the life of your knives
If you've been neglecting your prized knives for too long, investing in this excellent sharpening steel might be what they need to return them to like-new condition. You might say diamonds are a grillers best friend. (Or you might not.)
Wusthof 10-Inch Diamond Sharpening Steel
2
We don't all have a lot of time to devote to an activity, even if we know it's important.
Any device that can get the job done quickly and save time on necessary chores is something worth considering if you want to devote your precious time to more satisfying activities.
A hone that practically doubles as a sharpener touches all the bases, but it comes with a couple of caveats.
Although I said hones don't sharpen, this one pretty much does. The diamond surface is so hard it removes small amounts of metal as the blade drags across it. It's a fine grit, though; don't worry about needing to break out the whetstone for finishing.
Wusthof has an excellent reputation in the knife and sharpening industry, so you can rest assured this is a high-quality product. It doesn't come cheap, but when are diamonds ever a bargain?
The slip-resistant plastic handle will fit comfortably in your hand, and there's even a convenient loop on the end if you want to hang your hone on a hook. (Say that five times fast!)
Pros
Top-rated manufacturer
Slip-resistant handle
Diamond surface means less frequent honing
Cons
Diamonds are less forgiving; more care is required
More expensive than most hones
A diamond hone isn't for everyone, but if you take your knives seriously, and you'd prefer to hone only occasionally and rarely sharpen, this might feel like hone sweet hone to you.
F Dick 11-inch Multicut Steel Flat Fine Cut
3
Like a Transformer, there's more to this sharpening steel than meets the eye. Routine maintenance and repairing major damage — this one does it all.
It only takes one glance to see that this is not your usual sharpening steel. Between the wide, flat blade and the six parallel grooves running the length of it, you might wonder what it's even for. Turns out, it's meant to keep your knives in peak condition after everyday use AND smooth out the "oopsies" when your blade suffers serious trauma.
Sliding your knife along this steel's wide, rough surface helps realign and sharpen the blade edge, as you'd expect from a fine steel. Apply a little extra pressure, and the sharp-edged grooves will remove imperfections, folds, and dents on the knife edge by removing microscopic bits of metal.
In addition to being multifunctional, it's also user-friendly; newbies to knife sharpening will find the wide, oval blade easier to use than round-bladed sharpeners. The width and extra surface area makes it very forgiving, and you'll also typically find you get the job done in just a few passes.
Our only criticism is the length or, more accurately, how much of it is fully functional. We may be quibbling, but the grooves don't run the full length of the blade, turning an 11-inch steel into more like a 9.5- or 10-inch steel. For most standard kitchen knives, that should be sufficient, but it may not be enough for your very longest blades.
Pros
Large surface area means fewer passes and easier use
Sharp grooves will remove large dings and dents
Hardened surface excellent for regular sharpening
Handy ring for hanging between uses
Comfortable handle
Cons
Price is a bit steep
11" blade, but only 9.5–10" of grooves
This novel sharpener does not come cheaply. But, if you think of it as replacing two different tools, the value becomes more apparent. Whether you're an old pro with home sharpening or you've just realized your knives aren't performing the way they used to, it's worth the investment.
Green Elephant Ceramic Sharpening Rod, Lightweight & Highly Durable, 11-Inch
4
When you're really into a lifestyle, activity, or hobby, you want to have a nice selection of the gear that goes along with it. Sometimes, though, that stuff can be over-priced and overkill.
If you don't want the basics, but you also don't feel the need to spend a fortune on things you may or may not get the full benefit from, there should be some mid-point that makes sense, shouldn't there?
The Green Elephant 11-inch ceramic rod fills the gap between basic and extreme in the honing segment. The ceramic rod is hard enough to go beyond mere edge straightening and does a bit of restorative sharpening. Overall, though, it's more forgiving than a diamond-coat.
At 11 inches long, it should handle even your longest knives with ease. Speaking of handles, it comes with an ergonomic plastic handle that should be easy and comfortable to hold. The hand guard looks smaller than on some units I looked at, but will still do the job.
If you read the Buyers Guide section above, you already know that ceramic is more easily broken than steel. While that's still true of the Green Elephant, it does have integrated shock-absorbing technology, and a plastic tip, to help protect the rod from drops and bumps.
Pros
1500 grit is perfect for finishing and just a hint of sharpening
Impact resistant
Long enough for almost any kitchen knife
Cons
It's still ceramic and needs special care
Slightly less forgiving than steel
More expensive than most steel rods
For going beyond just "routine" maintenance, a ceramic rod might be worth the investment — if you're the type who likes nice things, and knows how to take care of them. (By that I mean you can't toss this in a drawer!)
Used correctly and carefully, you could really improve the daily performance of your knives with this rod.
Utopia Kitchen 12 Inch Honing Steel and Sharpening Rod
5
If you're a no-nonsense kind of person, you want the tools that get the job done. You don't need bells and whistles, or complicated instructions. Still, that doesn't mean you want cheap-and-nasty gear.
For you, the right choice might be a tried-and-true approach — proven technology, and decent craftsmanship.
This is a classic steel honing rod made of nickel-chrome plated carbon steel, and it's not pretending to be anything it isn't. It's a good length for handling more ordinary kitchen knives, and the design is effective but standard.
I like the over-sized hand guard; there's no way your hand is slipping past this thing and down into the danger zone. The rest of the handle is shaped appropriately for a stable and comfortable grip. A large ring is built-in for hanging up when not in use.
I do have some minor concerns about the pointed end. It's great for holding it at an angle, or for anchoring into a soft surface. But be careful not to damage your counters, however, and keep a firm grip to avoid the bottom skittering away, if you're using the point-down technique rather than holding it in the air.
Pros
Large hand guard
Use right— or left-handed
Will stick to magnetic rack
Cons
The pointed end could be hard on counters
Weighs close to a pound
All available evidence indicates this is everything a basic honing steeling should be. For nearly all knife-honing needs, this will do the trick and may be the best honing steel for you.
F. Dick Packinghouse Steel — 10 Inch Smooth Polished Model
6
"You in, kid? Okay, stay sharp." So said Han Solo to Luke just before taking on a small group of Tie fighters after their escape from the Death Star. Perhaps he meant have a smooth polished sharpening steel handy?
Every time you use a knife, you bend and wear the blade edge; you can't see it with the naked eye, but it does degrade performance noticeably over time. This polished steel, with its low resistance, and non-abrasive surface, is just the thing to restore that edge on a regular basis.
The 10-inch cylindrical steel "blade" is very smooth, allowing you to work out the small bends in your knife without removing much steel. It's easy to think you're actually doing nothing at all, but you'll notice the difference the next time you cut something.
Like your knives, it's important to store your sharpening steel carefully to avoid performance-reducing damage. The large ring at the end of the handle is perfect for the job, and I like how it's separate from the handle itself, making it easier to hang and retrieve.
Pros
Orange handle is easy to see
Large ring for hanging when not in use
Ideal for maintaining sharp edges on fine blades
Cons
Won't restore a blunted blade on its own
Not their most ergonomic handle
While you can't restore a badly blunted knife edge back to peak performance with this alone, it is an essential tool for maintaining the edge on your most-used knives for as long as possible. We highly recommend it as part of your knife arsenal
Zwilling Professional S Sharpening Steel, 12-inch
7
"Go big or go home" has become such a man-sized cliché I hate even to type it. However, there are situations in which bigger really is better.
For anyone with a serious collection of kitchen knives, and perhaps a machete or two in the shed, a standard-size hone just isn't going to cut it, as it were.
Most kitchen knives are small enough to hone effectively on a 10-inch rod. In many cases, even 8 inches will suffice. There are some seriously long knives out there, however, and if you own any, you don't want to mess around with a tiny hone. The Zwilling J.A. Henckels 12" is definitely worth a long look.
It's a good, basic hone with all the features you should expect: a plastic handle shaped for gripping, a hanging loop, and a hand guard. Mind you, that guard looks a little smaller than most, though it's quite decorative. The rod itself is made of carbonized, chrome-plated steel.
Zwilling J.A. Henckels is a very well known knife company, producing some very fine blades. (The weird logo with the stylized men may be familiar to you?)
If you already have a set, this will be a great addition. If you don't, that's ok; this is still an excellent hone no matter what knives you have.
Pros
Highly reputable maker
Long enough for any knife you're likely to own
The handle is very easy to grip
Cons
Small hand guard
18" long and weighs 1 pound — it may be too large for some people
This is a very good quality hone and will keep any knife in good shape between sharpenings. Be sure you really need a hone this long (and that you have a home for your hone) before you buy.
Dalstrong Honing Steel, 10 Inch Rod, Gladiator Series
8
If looks matter to you in your kitchen, you're not alone! So stop putting up with the honing or sharpening steel being the ugly duckling in your knife block and give this beauty a once over.
There's no question the first thing you'll notice about this steel, part of Dalstrong's Gladiator Series, is how sweet it looks. With its three rivets, full tang, engraved logo, and shapely wood grip, the handle is a beauty. You'll be proud to have it in your block!
But does it perform?
The answer is yes — just remember, this is for honing, not sharpening. You can use this regularly to maintain a keen edge, with the fine grooves realigning small bends that turn cutting into a chore. It won't, however, help with a badly damaged blade; that's not what it's built for.
It's made from quality materials, including carbon steel for stain resistance and pakkawood (a kitchen-grade hardwood laminate that's durable and washable). And it comes with a sheath to keep it safe if you don't have a block for storage — and a good thing, too, since there's no hook for hanging.
Our one complaint is that, despite the appearance of a full tang, the tang is not connected to the rod; it screws into the bolster. However, it does the job it's meant to do very well, and it looks darn good doing it, so we're not fussing overly.
Pros
Built like a knife with a triple-riveted handle and full tang
Ergonomic pakkawood handle
Attractive design
High-grade carbon steel
100% money-back satisfaction guarantee
Cons
Rod screws into handle
No hanging hook
A little pricey for this type of tool
Yes, you can get less expensive honing steels. But, they won't look nearly as fine, nor will they feature materials of this quality. If you collect the Gladiator Series knives from Dalstrong, it's a must-have. And even if you don't, it's well worth adding to your set.
What is a Honing Steel?
A honing steel is a device for the maintenance of knife blades.
Typically, it looks like a long, thin, metal rod with a handle at one end. Many high-end knife sets include a honing steel, or one can be purchased separately to match your knife set if that matters to you.
What is a Honing Steel Used For?
Although the terms 'sharpening steel' and 'honing steel' are used interchangeably (and I won't try to upset convention for the sake of this article), the former is rather a misnomer.
You see, a sharpening steel isn't for sharpening; it's for honing.
Ok, if you want to go all word nerd, yes, the dictionary defines honing as, "to sharpen or smooth with a whetstone." In practice though, honing is used to describe the finishing touches wherein something already sharp is brought to an even finer edge.
A sharpener grinds away major imperfections and folds on the edge of the blade and re-establishes the bevels.
Honing is a more subtle process meant to prevent minor issues from becoming major ones. The primary purpose for honing is to set a bent edge true again.
When and How Often Should You Hone a Knife?
Honing is something you can do between sharpenings to keep it in peak condition without subjecting it to the rigors of a full sharpening.
Sharpening takes metal off the blade, and sharpening too often will shorten the life of your knife.
There's no rule as to how often you should hone your knife. Some chefs will hone after (or before) each use, but this may not be necessary. Every other or every few uses may be sufficient.
This will vary depending on the quality of the knife and the way in which it's used. As you might imagine, a knife that chops hard vegetables on a cutting board is going to suffer more wear than one that is occasionally called upon to slice a tender steak.
How To Tell if a Knife Needs Sharpening, Not Honing
Honing should be the go-to process any time you feel your knife is not performing its best. If you're noticeably struggling to make your cuts where once the knife would do the job with ease, it's time to hone.
Complete the honing process and then try cutting again, or give it the paper test.
If the slice still isn't clean, it's time to sharpen. Again, not immediately going right to the sharpener will extend the life of your knife — and if you have a good knife, that's what you want to do!
Buying Advice to Find the Best Honing Steel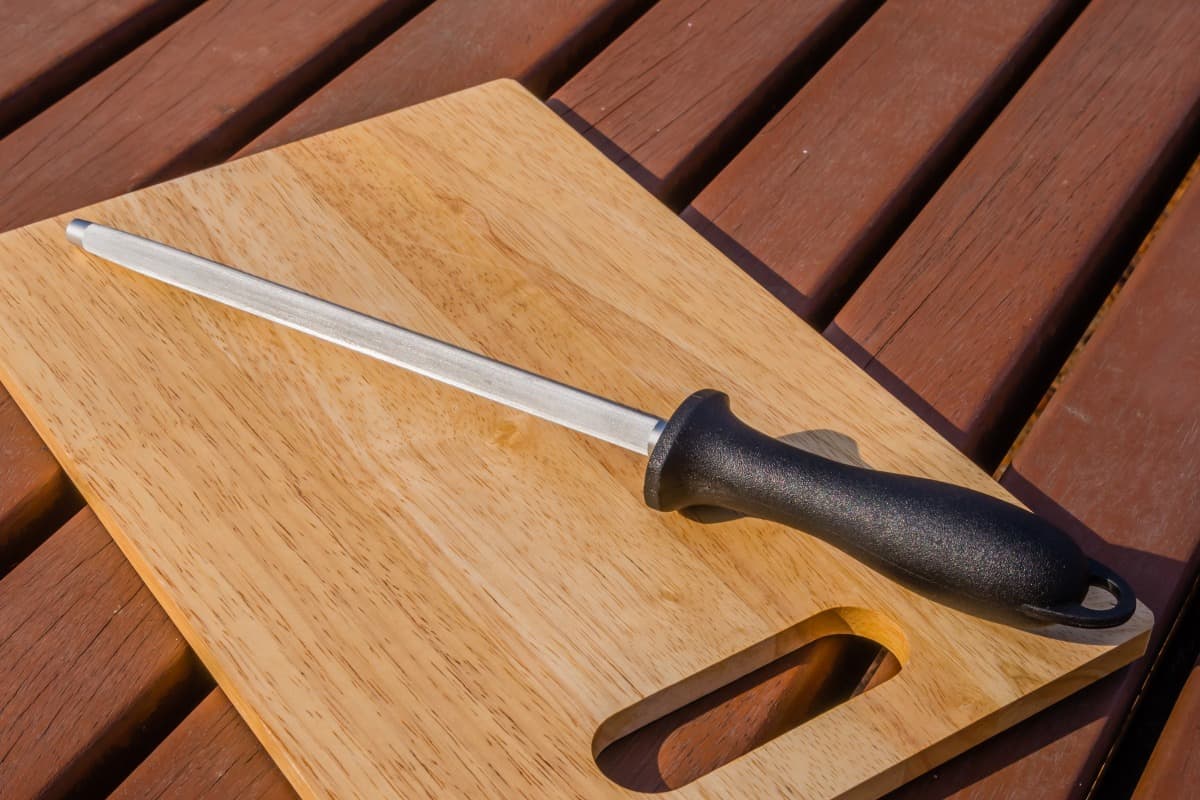 As with so many products, there are many options available of varying quality. Here are a few factors to consider when you're sizing up your steel.
Length
The length you choose should be based on the length of your knives. If you only have smaller knives, like paring knives and chef's knives, you'll only need a smaller hone. Somewhere from 8-9 inches will be plenty.
For longer knives, you'll want a longer hone. It's not that you can't hone a long knife on a short hone, but it's easier on a longer one.
A 10"-12" hone is a good size for most kitchen knives.
Material
There are three main categories of honing steel:
Stainless steel
Ceramic
Diamond
Stainless steel hones are the most common. They are good, all-purpose hones suitable for most knives. They remove only microscopic amounts of metal and will straighten just about any kind of knife blade.
Ceramic hones are harder than stainless steel. They'll take off a bit more metal with each pass than a steel hone, and will actually sharpen a blade slightly. This means fewer trips to the sharpener, and that's not a bad thing. They're a bit brittle (they are ceramic, after all!) so handle with a reasonable amount of care.
Diamond hones are the hardest of the bunch. They will remove a fair amount of metal, coming closer to a true sharpening than the other two types. For that reason, you shouldn't use a diamond hone on a regular basis, or you'll be defeating the life-extending benefits of honing.
They can be expensive but might be right for you if you don't want to hone or sharpen often.
Handle
The handle is a very important part of a honing steel. It's important to keep a firm grip on the hone to keep it from slipping. Slipping while honing could lead to damage, both to the knife and you!
Look for an ergonomic grip that will fit your hand comfortably, and one that's made of a non-slip material, as well as having a 'guard' to protect your hand during honing.
How to Use A Sharpening Steel
I won't go into great detail here, because we have an article on how to use a sharpening steel, but it is a topic worth covering.
So here's a brief video for you to watch where you'll see the technique applied.
Be A Man (or Woman) of Steel
Now that you know a thing or two about caring for your knives, you're ready to be the honing hero of the household.
All joking aside, a well cared for blade will bring you years of enjoyment, and can really enhance your barbecue experience beyond the grill. It's all part of expanding the hobby into a true lifestyle.
If you've got friends or relatives (or both!) who also love to barbecue be sure to tell them about us. You can share this article any way you like — email, social, fax, whatever. (If you actually fax an article to someone, we'd like to see that!)
As always, your thoughts on this, or any of our articles, either negative or positive, are welcome, so please do drop them in the comment section below. We're all ears!
Thanks for spending a part of your day with us.