In this article, we search for the best gas charcoal combo grills. Hybrid grills, that run on either or both of charcoal and gas, depending on which you choose or have handy at the time.
Gas grills are easy to light, heat up and clean, and can be used in any weather. Charcoal grills bring out that beloved authentic smoky flavor, but require some skills and a learning curve to light up and keep at stable temps.
So, charcoal or gas, which is better? This is one debate we just might never hear the end of because there is no right answer.
With that said, tons of people don't want to choose one or the other—they want both! This sort of explains why you will find more than one type of grill in some backyards.
Luckily, many manufacturers have picked up on this, combined fuel types and built the best hybrid grills they possibly could. And that's what we're going to look at in this guide.
Below, we start with a roundup and mini-reviews of some of the best gas charcoal combo grills on the market today.
We then move into a discussion of the benefits and drawbacks when compared to individual, single fuel type units, before moving on to a buying guide to show you what you need to consider and look for in the best models before you buy.
For the record: These are mostly grills, not smokers. You can check this article if you're looking for a detailed look at smoker grill combos.
At a Glance: The Best Hybrid Grills Discussed in our Guide
Note: Clicking the above links will take you to further information, current prices and customer reviews on Amazon.
Best Gas Charcoal Combo Grill Reviews
So, which are the best hybrid grills in town? I'm sure you're as eager as I was to find out.
Well, here is a list of what are — in our opinion — the top models available today, that we're happy to recommend and that you should check out yourself if you're in the market for one.
Pit Boss Memphis Ultimate 4-in-1 LP Gas Charcoal Smoker
1
Definitely the boss of hybrid grills, this beast delivers the ultimate experience to grill with charcoal and gas.
The grill is made of stainless steel with a black section and shiny knobs and trims that give it a sleek look. The grates are cast iron, and the burners are made of stainless steel.
You will also find a side shelf for preparation, two storage drawers, locking caster wheels to support the movement, tool hooks, and a bottle opener.
Assembling the grill takes several hours, and you will need to keep your screwdriver and wrench handy.
All in all it measures 25 × 74 × 47.5 inches, provides over 2,100 square inches of cooking space, and you get a three-burner 30,000 BTU gas grill, side burner, and a charcoal grill.
One unique feature is the glass-doored electric smoker. It allows you to offset smoke into either one of the cooking chambers, giving your food that delicious smoky flavor.
Another cool feature is the six position grade adjustment on the charcoal grill, so you can raise and lower it to change the level of heat your food cooks at.
There is a front air intake and rear chimney exhaust for air flow (and to channel smoke through and out), and each section has a built-in thermometer, so you can monitor the temperatures at which you're cooking.
Pros
HUGE cooking capacity.
Versatile charcoal grill, gas grill and smoker.
Smoky flavor irrespective of the burner used.
Sturdy and durable construction.
Easy to clean.
Cons
Assembling may take some time.
… Not a lot else.
This hybrid is an excellent option for grilling enthusiasts—experts and beginners alike. With smoky flavors coming out of every burner, plus a large cooking area, you will be hooked in no time.
Oklahoma Joe's Charcoal/LP Gas/Smoker Hybrid
2
This gas and charcoal hybrid also comes with a dedicated smoker, so it offers you a variety of cooking styles.
There are two separate chambers with lids, plus the firebox chamber. It comes with a tool rack, grate lifter tool, and storage shelf with a compartment for the fuel cylinder.
Two legs and two wagon-style wheels attach to the base for moving the cart, although, at 205 pounds, you probably won't be moving it far.
All the required parts are included, except the LPG cylinder. Assembling the grill is quite straightforward if you follow the instructions, although you will need someone to help, mainly due to its weight. It's best assembled where you're going to use it, too, for the same reason.
The grill features a 1,060-square-inch total cooking surface, which is ideal for most occasions, whether it's a small family get together or a large party.
There's a 36,000 BTU 3 burner gas grill, a 12,000 BTU side burner for pots and pans, and that can also be used to light a charcoal chimney before pouring into the charcoal cooking chamber for quickly getting to cooking temps.
The primary cooking area has 750 square inches of space, with 6 porcelain coated cat iron grates. There is a 310 square inch cooking surface in the firebox chamber.
Its body is sturdy, made with heavy gauge steel and has a high-quality finish to make it durable. Its cool-touch handles are sturdy, and specially designed to remain cool even when the grills are operating at high temperatures.
Speaking of temperature, each chamber has high-quality temperature gauges mounted on the lids, to help you keep track of the internal temperatures. There should be no burning food with this grill.
Pros
Extra working and storage space.
Heavy-duty construction.
Maintains heat well.
Multiple dampers to control heat and temperature.
Side burner has a cover for use as a shelf when not cooking.
Cons
Some users have complained of smoke leaks around the lid (easily solved with some gasket tape.)
Wheels don't work as well as they should.
For the outdoor cooking enthusiast looking for a durable, well-constructed grill/smoker cooker that offers lots of cooking space, this just might be the hybrid for you.
Backyard Grill 3 Burner Gas/Charcoal Combo
3
Backyard Grill's three-burner hybrid allows you to enjoy the best of both gas and charcoal grill worlds.
With 557 inches of cooking space — 295 square in gas, and 262 square inches in charcoal — this grill can comfortably cook up to 32 burgers at one go. It's superb for both large parties, or a simple grilling experience with the family.
The charcoal side comes with a height adjustable system to allow you better control over your cooking, something missing from many models and an absolute godsend for temperature control.
The gas chamber is powered by 3 independently controlled burners totaling 24,000 BTUs, which also means you're able to create different heat zones.
There's also a 12,000 BTU stainless steel side burner with cover, which can be used for pots and pans, lighting a charcoal chimney, or as a prep table with the cover down and burner off.
It's possible to get a pre-assembled grill from certain stores but, in most cases, it will require assembly.
The package is made up of several small parts which can seem somewhat confusing to assemble and time-consuming. So, with this unit, you're better off calling on that handy buddy to help you set up.
The grill comes with a manual, chrome plated warming rack, porcelain heat plate, toolholders, wire mesh storage and wheels for mobility.
At 90 pounds it is much lighter compared to some other hybrids, which means you don't need to assemble it at its final destination, but wherever you please and then wheel it into place.
Pros
Large cooking space.
Adjustable height charcoal grate.
3 independently controller gas burners for different heat zones
Good storage and work space
Cons
Some parts are prone to rusting easily.
This is a great value-for-money option for hosting family parties and large get-togethers.
Smoke Hollow SH5000 Gas/Charcoal Grill With Smoker
4
This is the go-to model when you want to show off your grilling prowess and impress your friends.
This hybrid grill measures 66 × 22 × 45 inches, weighs 150 pounds and provides over 800 square inch cooking surface, allowing you to cook large amounts of food.
It comes with a cooking grid made of porcelain-coated cast iron, wire mesh rack and wheels for mobility.
The instruction manual comes with diagrams to help you assemble it. You will need some basic tools such as a screwdriver, wrench and a pair of gloves. The process shouldn't take more than 2-3 hours, after which you'll be the grill king of the neighborhood.
There are 3 independently controlled burners totaling 30,000 BTU, plus a 10,000 BTU side burner with a cover so if not in use, can be used as a work / prep table.
Built-in thermometers help you gauge internal temperatures and keep your food from burning, while you can use the firebox to infuse smoky flavors into your meals by burning wood over charcoal, or to provide heat indirect cooking.
It can operate all burners, the charcoal cooking chamber and the offset side firebox simultaneously and is made of sturdy materials.
You won't go far wrong if you choose this model.
Pros
Versatile cooking options
Adjustable charcoal tray and 3 burners allow different heat zones
Lots of storage and prep space
Allows you to cook a variety of foods.
Excellent customer service.
Cons
Some users have complained about poor welding.
Want to be the envy of your friends and family? This sleek looking grill is designed to deliver quality and style at its best.
Char-Griller 5050 Duo Charcoal and Gas Grill
5
This solid grill features two cooking chambers plus side burner. It fires up pretty fast, making grilling on a working day easy.
It is delivered unassembled, so once you take everything out of the box, be sure to check that all parts are there. You will want to clear out all the packaging materials once you are done unboxing to create more working space.
The grill comes with grate lifter, ash pan, condiment basket, stainless-steel heat gauge, and two tow side wheels. Assembly takes a couple of hours, and you will need some basic tools to get it done, such as a wrench and a couple of different screwdrivers. Once you're done, it's time to get the party going.
Its base is double-insulated to increase efficiency while cooking. The heavy steel construction body retains heat well, and you have the chrome-plated warming racks to keep food from going cold.
The adjustable charcoal rack makes it easy for you to control the temperature when you are cooking, as do 3 separately controlled 40,800 total BTU propane burners in the gas cooking chamber.
There's also a 12,000 BTU side burner for cooking in pots and pans, or for lighting your charcoal chimney. It has a cover, so you can prep food on it if it's not in use.
With a total cooking space of 1,260 square inches, this thing is a beast and an excellent option for a family or a small group. There is an optional smoker box that allows you to add that smoky flavor to your food if you desire.
Pros
Easy to assemble.
You can flavor your food.
Double-insulated bottom.
Adjustable charcoal grate.
Easy to clean
Cons
Some users have complained about its susceptibility to rust.
This grill is sturdy, efficient and adaptable. Want to know more about this product?
Char-Broil Gas2coal 3-Burner Propane And Charcoal Hybrid Grill
6
This hybrid grill has only one chamber but don't let that fool you into thinking any less of it. The manufacturer built it in such a way that you can easily switch from one fuel option to the other.
To make the switch between gas and charcoal, simply remove the grates and put the charcoal tray in, then reinsert the grates. Light all three gas burners and shut the lid. Wait for 15 minutes before shutting off the burners. Your coals will become white in another five minutes, and you are good to go.
It comes unassembled, but in most cases, the cooking area is usually pre-assembled. Assembly instructions are relatively easy to understand, and the manual has a lot of pictures to help you visualize what should go where.
This mid-size grill measures 24.6 × 52.5 × 47.5 inches, weighs 104 pounds and comes with a 540-square-inch cooking area.
Three durable stainless steel burners provide 40,000 BTU of power, plus there's a 12,000 BTU side burner for cooking your sides, or you can close a lid over the burner to use the space as a work area side table.
It also has a second side shelf on the other side for preparing your food. You will, however, need to purchase the Char-Broil universal rotisserie separately, if required.
As is somewhat standard, it comes with 2 legs and 2 wheels, so you can move this around if you want to cook in different areas of your garden at times.
Pros
Converts easily between gas and charcoal.
A smaller footprint than others on this list, so good for smaller spaces
Easy to clean.
Cons
No air vents for heat and temperature control.
Rotisserie attachment must be purchased separately
The Char-Broil Gas2Coal grill is easily adjustable between gas and charcoal grills, and provides enough cooking space to cater to a big crowd, while being a medium-sized grill.
Dyna-Glo Dual Fuel Grill
7
This hybrid grill packs in a ton of appealing features, designed to improve its efficiency. With two commercial grade burners producing 12,000 BTUs each, and a variable height charcoal cooking chamber, it offers 952 square inches of total cooking space.
Some of its best features include heat tents that are steel-enameled and double-walled lids. These work together to enable heat retention and even heat distribution, ensuring that your food cooks well.
The charcoal grill is fantastic. It features a charcoal adjustment crank that allows you to control the temperature within the chamber. You also get an access door for easy addition of charcoal or wood chips.
The best part? This chamber has air vents to facilitate controllable air flow.
You can comfortably grill up to 38 burgers at one go on this, so it's perfect for large crowds.
The package includes tool hooks, a 222-square-inch warming rack, integrated towel bars, removable ash pan, collapsible side tables, and a double-door cabinet.
Collapsible side tables allow you to free up space around the grill when it's not in use.
Pros
Easy to set up.
Even distribution of heat across the burners.
Large capacity.
Functional, adjustable heat charcoal chamber.
Cons
For its size, the gas grill doesn't have the highest amount of power.
The Dyna-Glo dual fuel grill is well-thought-out and has lots of features which aren't typically found in hybrids.
What is a Hybrid, Gas and Charcoal Combo Grill?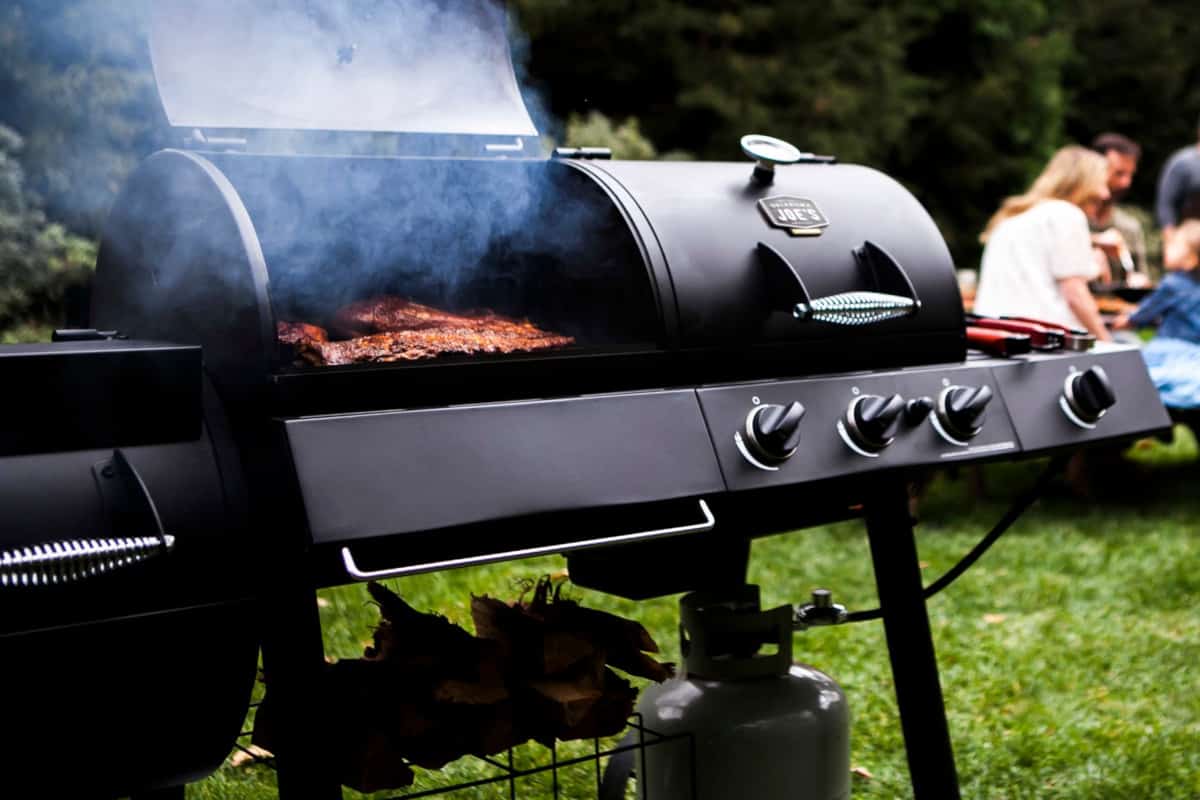 A hybrid grill is one that has more than just one fuel option. It's like having a charcoal fuel section in a gas grill.
Not to be confused with infrared grills that only use gas, hybrids can be fueled by either gas or charcoal.
With a gas and charcoal combo, you get to enjoy the best of both worlds: The convenience and ease of gas when you want it, but the higher level of involvement and authentic smoky flavor of charcoal when you want that too.
Can You Use the Charcoal and Gas Sections at the Same Time?
Yes, you can in some cases; it all depends on the model and brand of hybrid grill you have.
Some of the best hybrid grills have two chambers — essentially, two independent sections with separate lids, all in on piece of equipment. One chamber uses charcoal, while the other runs on gas.
These hybrid grills can be used separately, or at the same time, and can run at different temperatures.
Other hybrids come with only one chamber, which means you have to choose between one fuel type or the other.
Benefits of Cooking on Charcoal and Gas at the Same Time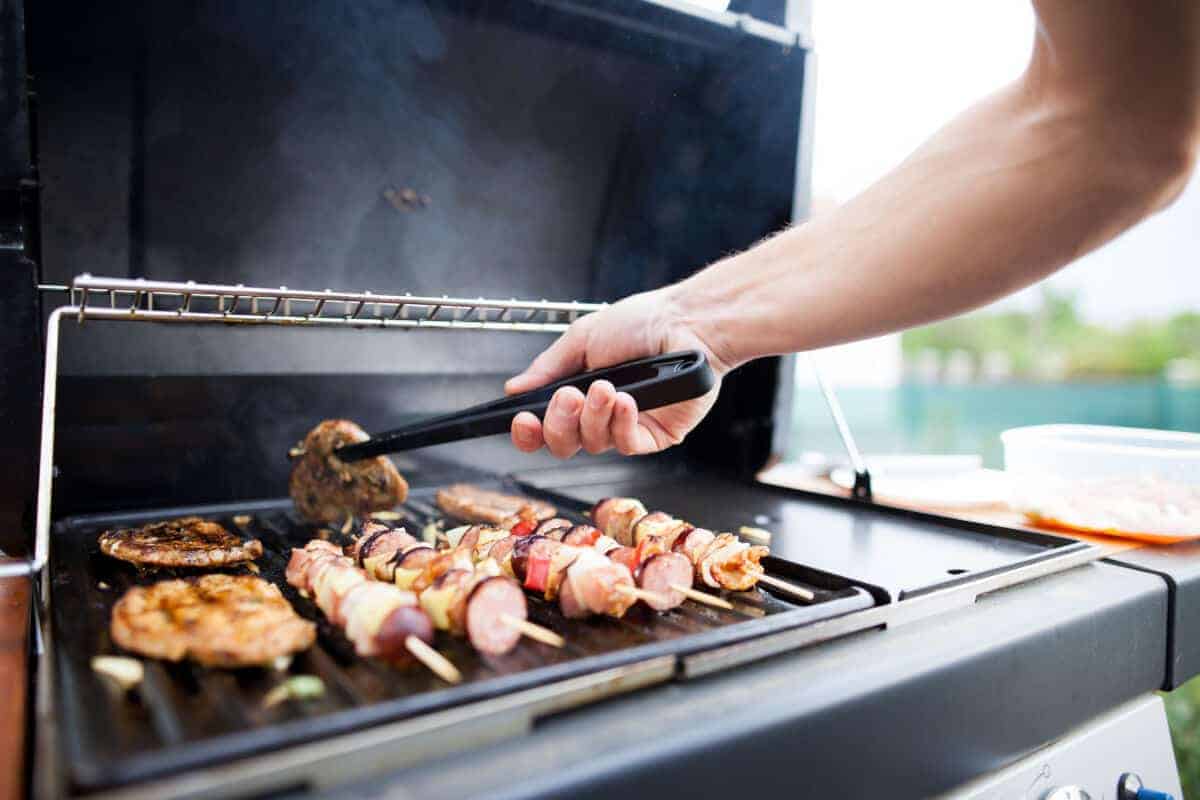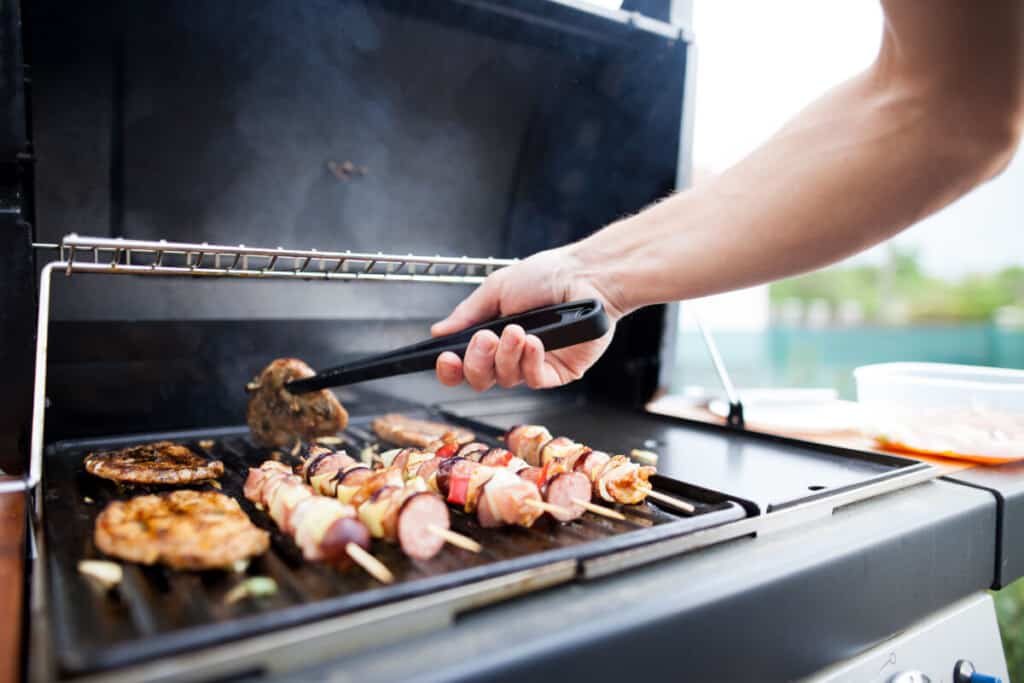 Cooking on charcoal and gas at the same time allows you to take advantage of the best that both options have to offer.
Firstly, since gas heats up fast, you can knock out foods far quicker when you want a quick snack, when you want the convenience of speed instead of taking sweet time over charcoal grilling.
Secondly, you can smoke roast food low n slow over the charcoal, soaking up that smoky flavor until nearly cooked through, before switching over to the gas side for an instant high heat sear to take advantage of the Maillard reaction for added taste.
Without the gas side, you would have to wait a good deal of time to get your charcoal grill up from low roasting temps, to high searing temps.
Thirdly, Hybrid grills can be extremely convenient when you're having a cookout with lots of family members or friends. You normally have twice the cooking surface area because of the two chambers, so can cater to more people.
In addition, you can use the gas option to cook food quickly for those who want their meals out fast, while anyone who wants charcoal flavor in their food can bide their time as it absorbs the smoky aroma on the other side.
Why You Might Want to Buy a Hybrid Grill
Here are a few reasons why you may choose to splash out and buy a propane and charcoal hybrid grill.
You Get More Cooking Options
The versatility of hybrid grills takes away the limits of the single fuel option and allows you to make the choice of exactly how you want to turn out your food.
Since gas can be used in any weather, you can enjoy grilled foods all year. It's great for the times when you only want to spend a short time cooking an outdoor meal, giving you more leisure time with your partner and the kids.
When you have the whole day to spend with family and friends, then the slow and smoky charcoal-flavored option is available for a more laid-back experience.
You Want to Save Space?
Unless you own the small portable type, most gas grills are large and take up a lot of room in your backyard. Owning one of those plus a charcoal grill requires even more space, especially when you consider leaving space around them for safety reasons (no flames near trees, fences, etc.)
Being a two-in-one, a hybrid grill has a smaller footprint than two separate units and therefore takes up less room in your backyard. Plus, if you'd like to you can locate it permanently in a central position and have everything else revolve around it.
Knowing that you always have the dual option available can mean no more shifting grills in and out of the garage for different events or occasions.
Money Saving
Investing in a combo grill saves you a good few dollars when compared to the cost of purchasing two separate, like for like grills.
There's also a chance that certain stores will have offers on gas or charcoal at different times, so you might be able to take advantage of sale offers on both types of fuel when they arise, rather than being tied in to one fuel type.
Larger Cooking Area
Entertaining a large crowd?
Depending on the model, you can get over 700 square inches of cooking space on a hybrid grill—not including prep space. That's a lot of steaks and chicken wings cooking at once!
Any Negatives to Hybrid Grills Compared to Separate Units?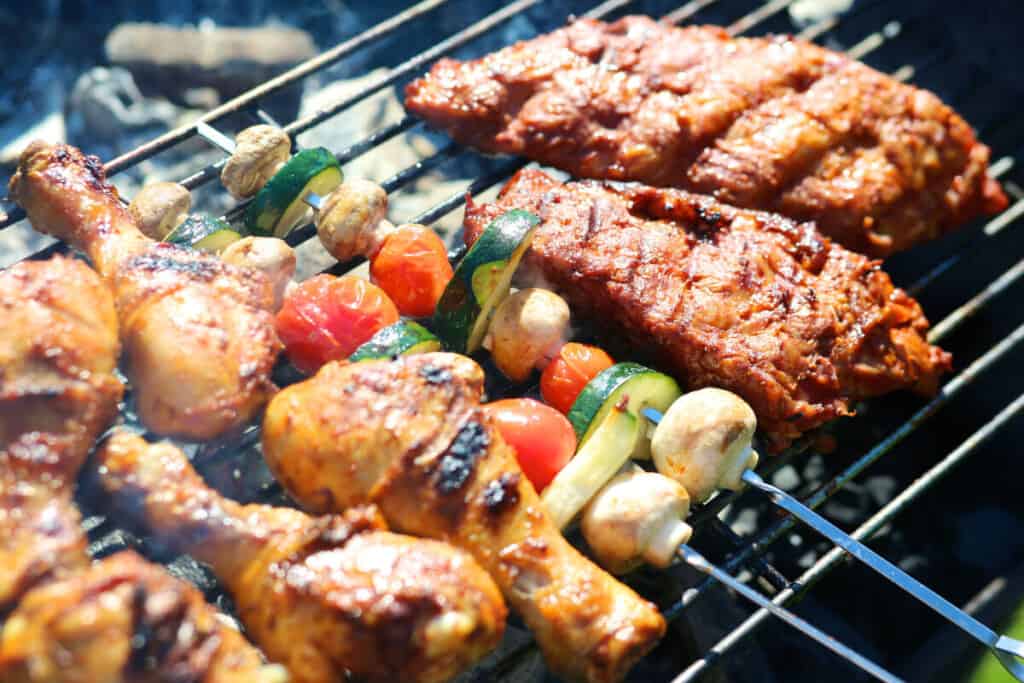 Hybrid grills are great but, like most things in life, they're not without some cons.
More surface to clean. Using two chambers at the same time means you will likely have more areas to clean once you're done grilling. Even when you limit cooking to just one side, you'll still need to wipe down any food particles or oil that splatters onto the other side.
Awkward to move around. Some models are pretty bulky, not to mention heavy, making them difficult to move from place to place.
Compromise on quality. To fit gas and charcoal into one, manufacturers sometimes make certain compromises on quality. Some hybrids lack air vents, which are necessary for air flow in charcoal grills. This makes it difficult to control heat. Other models can be made of lower-quality materials when compared to single fuel units.
What to Look for in the Best Gas Charcoal Combo Grill
When shopping, you will naturally want the best kit you can get for your budget. So, how do you find it?
We have compiled a list of questions you need to ask yourself to make the selection process easier. The one that checks the most, if not all the boxes on your list, is likely the best one for you.
What Size Grill do You Need?
The main factors to consider here are your grilling needs and how much space you have. Don't forget any side tables or prep space also has to be taken into account when measuring up.
Space to freely move around the grill once it's in place also needs to be accounted for too. So…
How many people will you be grilling for on a regular basis? The larger the group, the bigger the grill needed. Keep in mind that a hybrid with 400 square inches can comfortably fit ten 4-inch burgers. Will this be enough for your needs?
A one-chamber hybrid is great for a small family but not for a large group of hungry food enthusiasts. Hybrids with two chambers offer more space and allow you to prepare meals simultaneously and at a much faster rate.
Also, generally, you want to buy a hybrid grill to save space, right? Well, hybrids are quite large, and I know it's already been mentioned, but it's very important that you think about how much space you can spare in your yard.
Configuration of Chambers and Burners
How many cooking chambers does the grill have? How many burners does it have? With 2 or more chambers, you can cook different foods at wildly different temperatures, at the same time.
Also, a hybrid with two or more burners allows you to set up for 2-zone cooking, and grill indirect. This gives you the ability to roast, as well as grill.
Grills that have side burners allow you to cook food that requires pots and pans. If you can find a hybrid that also has side trays for food preparation and built-in storage space, all the better.
The very best, high-end hybrid models come with other cooking options, like rotisserie attachments or the ability to bake pizzas. If you are keen on these features, include them on your list.
Flavorizer Bars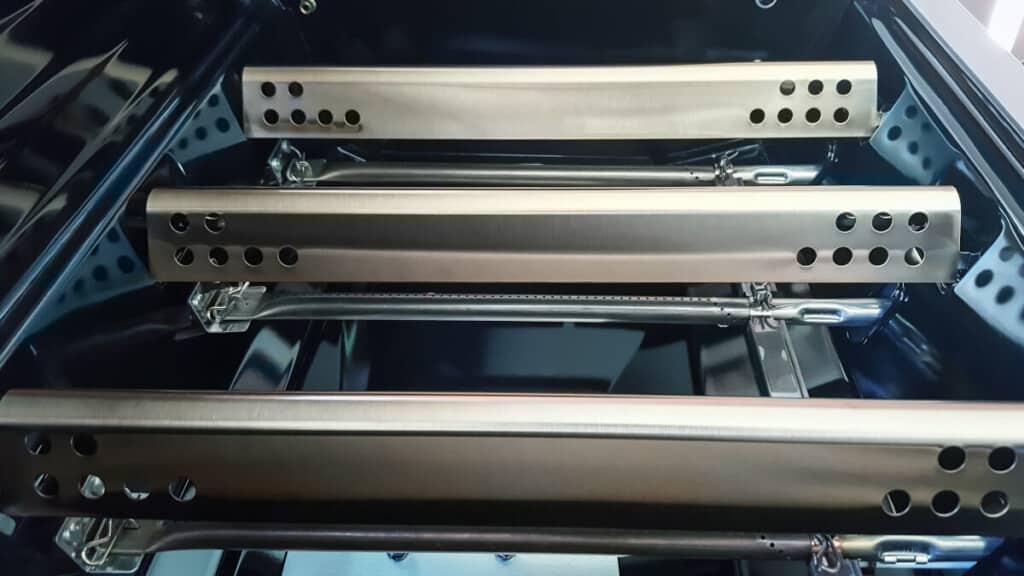 Flavorizer bars are inverted V-shaped steel bars that can be found beneath the cooking grates. Though important, many would say necessary, not all hybrid grills have them. Make sure that you check your preferred model for them.
Flavorizer bars serve many functions, some of them include:
Vaporizing the grease that drips off meats and shedding the excess onto the drip tray. This prevents flare-ups.
Adding flavor and aroma to meats. By vaporizing the grease, the flavorizer bars enhance the aroma and flavor of the grilled meats.
Protecting the burner tubes located below them from clogging.
Creating even distribution of heat throughout the firebox.
It's worth mentioning here that all our top choices for 2023 come with flavorizer bars.
A Quality Ignition System for the Gas
Whether electronic or battery, having a reliable ignition system is important.
Most ignition systems in grills work using a spark, so look for one that lights up easily. The one thing you don't want to do is buy a hybrid grill that requires several tries to start.
Fumbling around with matches is an absolute no-no in this day and age too. There's just no excuse for any gas grill not having a decent electric ignition.
Adjustable Grate Height Over Charcoal
While most hybrids will have this feature, it is necessary to check just to be sure.
You want to buy a grill that comes with a height-adjustable grate on the charcoal side for better heat control. Adjustable grates allow you to control the amount of heat directed at your food. They bring the heat closer or take it further away as needed.
Cooking Grates
Look for high-quality cooking grates, able to last for a good few seasons and stand up to regular use.
Stainless steel or porcelain-coated cast iron grates are preferable for their durability, ease of cleaning and perfect sear marks.
Nice Big Spacious Lids
Look for a hybrid that has a big spacious lid. It will come in handy when you want to grill an entire chicken or large chunks of meat, with which small shallow lids don't allow enough vertical space.
Additionally, high lids allow more circulation of heat and smoke when cooking indirect and when slow cooking and smoking your food.
Some lid handles can get very hot, depending on the materials they're made of. Find a grill with reasonably spaced handles to make it easy for you to open and close them without burning yourself.
Easy to Clean
This goes hand in hand with ease of access to the charcoal chamber. There can be a lot of ash and grease removal to deal with, so you might have a lot of work on you're cleaning agenda.
A grill with a charcoal chamber that is hard to access will be messier and harder to clean. Something that will soon wear on you.
Build Quality, Materials, and Durability
This should go without saying. Some hybrid grills can cost a small fortune, so buy one that won't need to be replaced in a few years.
Do your homework and find out which brands and models are known for their build quality and durability. You don't want to compromise on this.
Warranty
Before parting with your hard-earned money, ensure the hybrid comes with a warranty. A warranty is an assurance from the manufacturer that they are willing to stand by their product.
The time frame on the warranty will differ depending on the parts. For example, burners may have a five-year warranty while other parts are only covered for one or two years. Either way, you know that help is there if something goes wrong.
Price and Value
Almost everyone out there says "You get what you pay for." While that may be true, you should always set out to ensure you get value for your money.
Checking on the build quality and making sure that any extra features you require are available is particularly important. You don't want to end up with a grill that doesn't meet your needs. Conversely, don't pay extra for features you won't use.
When you set a budget, be realistic about how far your money can go and what you will get for it, and then try to stick to that budget. It can be easy to overspend!
Conclusion
Isn't it great to know you don't have to choose between charcoal and gas? There are some great hybrids out there, so you can enjoy the efficiency of gas and the authentic flavors of charcoal, all wrapped up in one appliance.
As far as the best hybrid grill goes, we would have to recommend the Pit Boss Memphis Ultimate 4-in-1 LP gas charcoal smoker. It stands out in terms of functionality, quality and durability.
With over 2,100 square inches of cooking space, you can entertain family and large parties. Plus the smoker allows you to infuse all your grilled food with the smoky BBQ flavor that we all love.
Do you have any suggestions or questions? Feel free to leave them in the comments. We will answer every one.