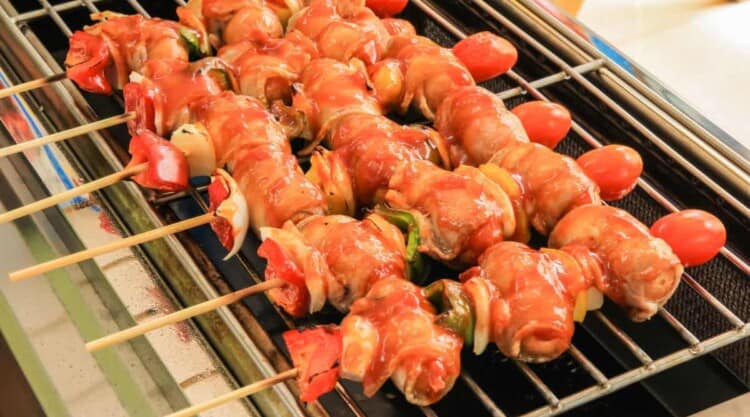 We start this guide with a detailed look and some mini-reviews of some of the best infrared grills available on the market today.
Then we move into a buying guide where you'll learn more on how infrared grills work, the benefits to owning and using one, and what to look for when buying one, so you can be confident you come away with something that perfectly fits your needs and budget.
Not many people own one, but infrared grills are starting to gain in popularity when it comes to outdoor cooking.
The allure of them is their ability to radiate incredibly high heat, to create a perfect sear on any meat that crosses their path, and in record quick time.
They inarguably perform much better at searing than any standard gas grill or charcoal fuelled grills, and are pretty much unhindered by any adverse weather conditions. Not even the strongest winds will slow their searing power.
So for those of us who love to cook outdoors, who seek the perfect crust to our steaks or burgers, infrared grills can't be beaten. And that's what we're going to look at today.
At a Glance: The Best Infrared Grills Discussed in our Guide
Note: Clicking the above links will take you to further information, current prices and customer reviews on Amazon.
Best Infrared Grill Reviews
As the relatively new technology of infrared grilling comes to the mass consumer market, they are becoming increasingly popular, and an ever-increasing selection of infrared grills is now available.
To help cut through the noise and make your search easier, here is a hand-picked selection of high-quality, popular models, with different feature sets and at different price points.
Char-Broil Signature TRU-Infrared 420 3-Burner Cabinet Liquid Propane Gas Grill
1
A junior version of our top pick, this another great choice from Char-Broil.
Measuring 23.5 × 51.1 × 47.2 inches and hence with a slightly smaller primary cooking area of 420 square inches, it still comes with a lot of the benefits the larger version has.
3 main burners outputting 25,500 BTU power the main grill, where you will also find a 155 sq. In. Warming rack. There is also a 13,000 BTU lidded side burner that can be used to prepare sides, or used as a work surface side table.
The cooking grates are porcelain-coated iron, which makes them corrosion resistant and easy to clean.
Underneath the main grill there is a lockable storage area to house your gas bottle, and to store your grilling tools and paraphernalia, while the whole thing stands on 4 casters making it easy to reposition around your yard.
It's not only nifty and efficient, this mini Char-Broil also looks sleek. It effortlessly combines functionality with aesthetics.
Pros
All the benefits of genius infrared technology without the massive size.
A generous cooking area allows for grilling an entire meal in one round.
Easy cleanup.
Affordable price tag compared to its larger counterpart.
Heats up very fast.
Easy conversion from liquid propane to natural gas with a separately sold natural gas conversion kit.
Cons
Can be challenging to assemble.
Some users complain it smokes up a bit, even when the lid is shut.
If you want all the benefits of a quality infrared grill without the hefty price tag and the massive size, you can't go wrong with the Char-Broil 420.
It's not our absolute favorite among the grills on this list, but it comes with all the key features of a decent grill.
Saber Grills R50SC0017 3-Burner Grill
2
Saber is recognized as a quality infrared grill brand because its heating system is extremely effective!
The 3 main 24,000 BTU burners can power the 500 sq. In. primary cooking surface to searing temperatures and be ready to cook in as little as 3 minutes!
Measuring a medium-sized 56.5 × 25.0 × 48.4 inches, it also has a 175 square inch warming rack which can rotate out the way into discrete positions, and an 18,000 BTU side burner for using pans, woks, or cooking side dishes, all adding up to a very versatile grill providing different cooking options.
It has an integrated drip for catching meat juices and easy clean up, heavy-duty castors for easy maneuverability, electronic ignition for easy start up.
And if that isn't enough bells and whistles, it also has internal halogen lights, making this easy to cook on both night and day.
Finally, it has an easy-to-read grate-level temperature gauges for you to monitor your cooks, and can be converted to run on natural gas instead of propane, with a separately sold kit.
There's a reason this grill is a popular model: it stands up to rust, is incredibly durable, highly flexible, and certainly stands out as top-performing.
Pros
Quick, easy cleanup because the surface is non-stick, and the product generally requires little upkeep.
The 18,000-BTU side burner is great for cooking side dishes fast.
Made of strong and durable materials, it's likely to be one you'll keep for a lifetime!
Preheats in merely minutes.
Design allows heat to radiate evenly across the grill's entire surface.
Simple assembly process.
Optimal performance, even in cold temperatures.
Cons
Some users have complained the company's customer service isn't the best.
Not the most affordable grill, although you do get a lot for your bucks.
This high-end, versatile option allows for a variety of cooking modes, abundant cooking space, and you can even convert it to cook with natural gas by using separately sold accessories.
Even on windy or cold days, you'll be able to prepare a generous barbecue meal with this model that locks the heat in.
Solaire Sol-EV17A Everywhere Portable Infrared Grill
3
Whether you're heading to the park or grilling in the convenience of your backyard, the Solaire infrared grill is a compact, portable option that you can take around on either day.
This small, portable infrared propane grill is ideal for carrying around anywhere, with an easy assembly of 6-bolt angles and four adjustable feet. You can transport it with a separately sold bag that also fits a couple of propane tanks. It is also compatible with gas switches, though the conversions are sold separately.
Although it measures only 13.5 × 21 × 8.2 inches and weighs only 15 pounds, it includes a relatively generous 140 square inches of cooking space, powered by a single main burner that outputs 14,000 BTU.
Purposely being small and portable, there is no warming rack or secondary side burner.
Inside the grill are innovative and unique 'v-shaped grids' instead of a typical grate. The theory being that juices dripping from your food collect into the dip of the V and instantly vaporize, creating smoke and adding flavor. A bit like the 'flavorizer bars' you get in a standard grill, but with the flavor enhancing effect dialed up to 11.
Made entirely from 304 stainless steel, on the outside of this grill are 2 strong latches to seal the lid and keep everything inside during travel, as well as two side handles for ease of carrying if you do not purchase the separately available bag.
Finally, to start up the grill it has a user-friendly push-button ignition that couldn't be easier.
Marked at an affordable price tag, this is a great option to take along with you on your next adventure.
Pros
Heats up superfast in just three minutes.
V-shaped grid captures drippings and evaporates them back into the food, leading to great smoky flavor.
Performs just as well as the full-sized grill, despite its compact size.
Distributes heat effectively to deliver natural-tasting food.
Ideal for heading out and about due to its portability.
Quality hardware made with durable materials.
It's energy efficient; you can cook a large meal with just one pound of propane.
Cons
Warranty duration is shorter than other comparable products.
Relatively narrow temperature range, mostly on the hot end of the scale.
If you want to turn heads while flipping burgers at your next picnic barbecue, this option from Solaire will definitely do the trick. Rest assured that it will keep all your barbecue cravings satisfied when you're out and about or simply don't have enough space at home for a larger grill.
Magma Products, Newport 2 Infra-Red Gourmet Series Gas Grill
4
For a compact grill suitable for frequent cooking, you can't go wrong with this pick from Magma.
With a sleek, elegant look, the Magma will have you turning heads the next time you're at a picnic in the park, or wherever else you'd like to take it. It has a lockable lid and folding legs, making it easy to transport and pack away for travel.
It's small at only 22.50 × 11.63 × 11.63 inches but offers a 162 Sq. In. grilling area, ample to cook for 2 to 4 people.
With a viewing window and a thermometer in the lid, it's incredibly easy to keep an eye on the food you're cooking while keeping the heat in.
Users have praised its ability to remain lit in windy weather. It's easy to store and burns just as well as larger burners.
While there are no side tables or work areas — after all, it's a small portable grill — they have thoughtfully designed a shelf you can purchase separately that attaches to the front of the grill for food prep and serving.
Also, built-in is a handy grease management system and easily removable tray that collects grease and drippings, helping to keep the grill clean.
Stainless-steel grill with a rounded-edge design, compatible with disposable, separately sold propane canisters, it has a thermometer built-into the lid and all in all is a decent little grill.
Pros
Ample cooking space, despite the product's compact size.
Durable materials make it both a long-lasting product and one that can withstand different climates.
The swiveling control valve makes it easy to supply the grill with propane or natural gas as needed.
Built-in thermometer simplifies grilling and makes for easy management of cooking times.
Stays lit in windy conditions.
Grease catching system.
Cons
Only has one burner area which doesn't allow much opportunity for cooking different dishes all at once.
Thermometer doesn't display degrees, only colors.
Wherever your outdoor adventures may take you, this option from Magma is likely to be a great companion. It's versatile and works great in different climates and windy conditions.
Whether you're planning to hold your next barbecue at the beach or in the comfort of your patio, you'll be able to cook your food to perfection. Best of all, it's quite portable, given the foldable legs.
Char-Broil Tru-Infrared Patio Bistro Gas Grill
5
If you don't have much available space at home for a larger grill, you might want to check out Char-Broil's infrared patio option.
It measures 25.2″ W × 24.4″ D × 38.2″ H, and offers 240 square inches of primary cooking surface, with 80 square inches of secondary. So you'll get juicy, hot food without sacrificing a lot of precious space in your small condo or on the patio.
This infrared gas grill has a small footprint, but all the essential features needed for a great barbecue.
The electronic ignition, which is integrated into the gas dial, makes it easy to light and a warming rack sits over the grilling area.
It has two wheels for portability, with a shelf at the base to keep your propane tank securely in place. So some assembly is required before use.
It has porcelain coated premium grates for corrosion-resistance and easy cleaning, a towel bar for…well, for towels, but you can also add tool hooks…and it's made from durable stainless steel, so should be good for years of use. And this is backed up by a five-year warranty for burner and firebox, and 2-years for all other parts.
Pros
User-friendly and easy to ignite.
Small footprint; will look good on most patios and balconies.
Basic infrared features make for a more effective cooking experience and juicier flavors.
Takes as little as four minutes to reach its top heat.
Reasonable price point.
Cons
Some users complain that food particles stick to the grate.
Warranty conditions are limited, and rusting is not included.
If you enjoy cooking for a small group of family or close friends, but only have a small space in which to do so, the Char-Broil Tru-Infrared Patio is definitely worth considering.
It might not be as fancy as some of the more impressive grill options out there, but it's great for daily or frequent use.
Char-Broil Grill2GO X200 Portable Tru-Infrared LPG Grill
6
For all you travelers and the nomads out there, the Char-Broil Grill2Go is a great product to help you make the most of weekend trips.
Living up to the brand name, it's definitely one top-notch barbecue product, ideal for cookouts or balcony barbecues.
It measures a small 23.7 × 15 × 13.6 inches, but the 9,500 BTU burner powers a 200 square inches cooking surface, ample room to cook quick grilling items for 2 to 4 people.
It has a carrying handle with locking clips for great portability, plus two side handles if you need to move it around when in use, and it all it sits on two heavy-duty legs making it stable and removing any fear of it knocking over.
A small, road-friendly grill in a high impact frame, with an aluminum lid and cast aluminum firebox. It comes fully assembled, with a temperature gauge built-into the lid, and it all weighs less than 20 pounds.
Pros
Budget-friendly.
Great for travel.
The black color gives it a sleek look.
Generates a minimum of 65 percent infrared power.
Easy to clean.
Cons
Some users complained that the regulator is temperamental and chose to purchase an aftermarket replacement.
Low temperature can still be too hot.
If you're someone who can't wait till your next getaway but would also like to have juicy, smokey BBQ dinners along the way, you definitely need to check out Char-Broil Grill2Go.
Best of all, there's no need to break the bank as it's very reasonably priced!
What to Look for in the Best Infrared Grill for You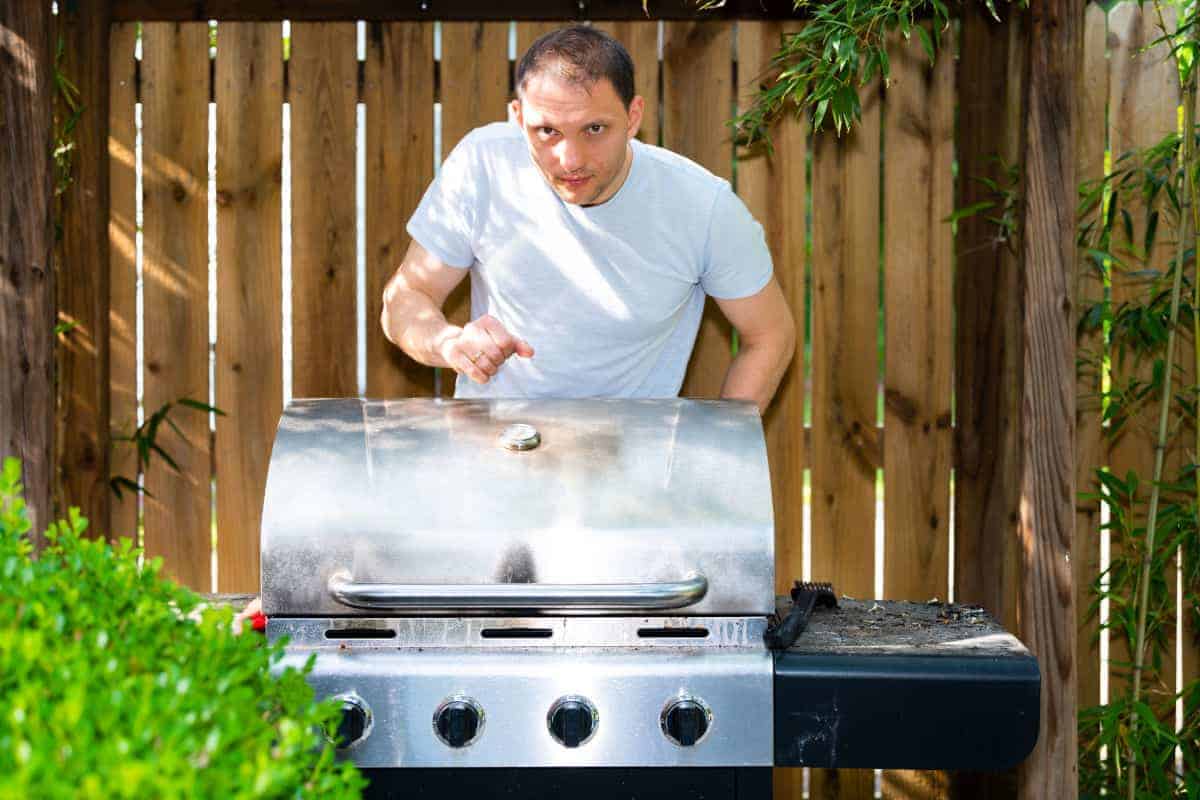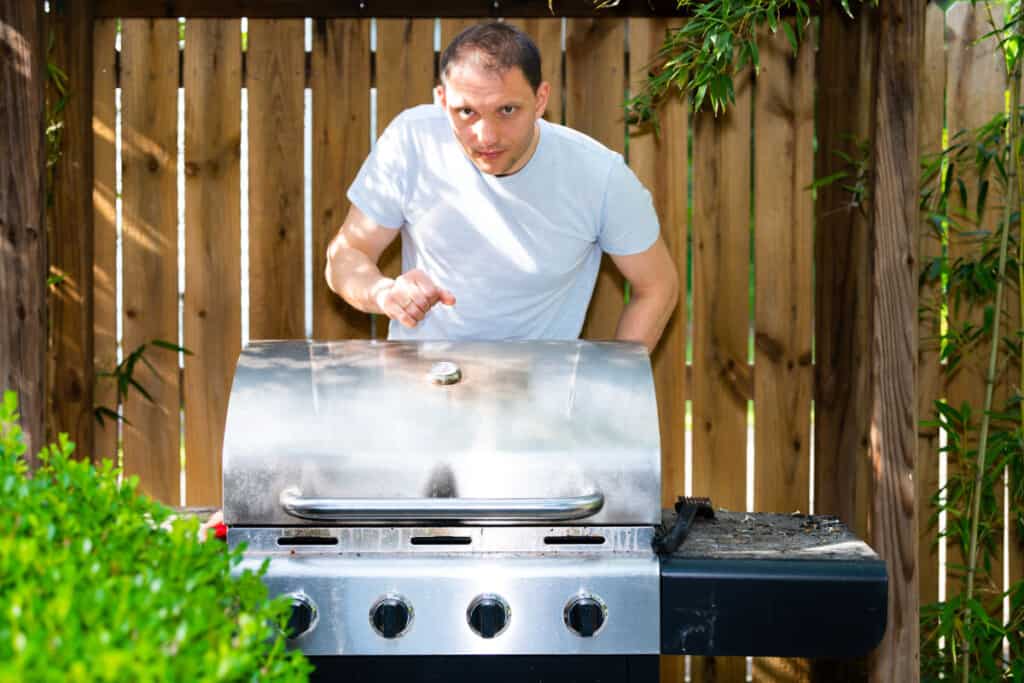 Expanding your outdoor cooking menu will be easier now that you're on your way to infrared grilling. Before you take your pick though, you'll need to have a few specifications in mind, to ensure you're making a wise investment.
From performance to price, a number of factors will affect your choice when you're selecting a grill. Let's take a look at those now.
Fuel Source: Propane or Natural Gas?
Infrared grills are mostly compatible with both propane and natural gas. The ability to switch between the two usually involves separately sold accessories. Propane generally works best with more compact models.
Btu Level / Heat Flux
BTU and heat flux are indicators of heat output. BTU stands for British thermal unit. Despite the name, it's a standard measure of heat output in the United States.
Generally speaking, the higher the BTU of a grill, the hotter it can get. However, BTU is more a measure of 'how much gas the grill uses', rather than a true measure of heat output. And it's even less accurate when it comes to infrared grills.
Having said that though, if comparing 2 infrared grills side by side, the one with the higher BTU is likely to be more powerful.
Ignition System
A quick-to-light ignition system is a major plus that you shouldn't discount. Many top-notch infrared grills come with this feature, usually allowing electronic ignition and removing any need for matches or any manual lighting on the owners part.
A Good Grill Hood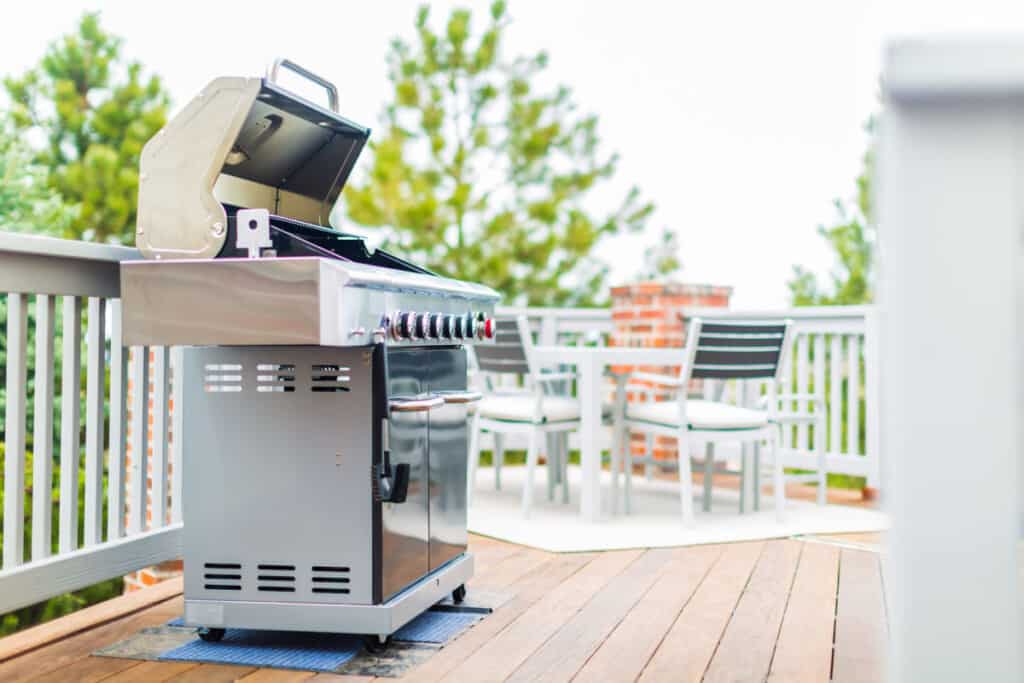 Watch out for a quality grill hood before you make your purchase. You might not need the hood for cooking steaks and burgers, but for everything else, you'll want a spacious one that has ample room for a tall bird or large cut of meat to be cooked inside.
Also, check out the handles; if they get too hot, that can make your cooking experience extremely uncomfortable.
Size, Dimensions, Portability and Capacity
Whether you're using your new grill on your balcony or in your backyard, you need to make sure that the model you're selecting fits into the space you have available, while making sure you leave free space around it, to prevent any possibility of nearby objects catching fire while you cook.
Infrared grills come in several different sizes, mostly dependent on the product's surface area. Whether you're usually cooking for only your small family, a few friends, or a larger group, this is a major factor to consider when you make your choice.
Before you buy, consider how many you are likely to cook for, and buy a grill with a cooking surface area that can cater to your needs.
Also, where you store your grill at home and how often you'll need to move it between places is an important factor to consider.
Depending on your use, lifestyle, and the space you have free, you may or may not prioritize a more compact, portable model.
Number and Configuration of Burners
Most quality infrared grills come with more than one burner, so you have a significant surface area for cooking a large meal at once. Others come with a rotisserie, or are rotisserie-ready, to fulfill all your grilling needs.
Another potential plus is many models come with a warming rack. This keeps cooked food warm or allows you to cook smaller dishes, etc., while you're grilling on your main burner.
Easy Access to Gas Tanks
Most top-notch infrared grills allow the user to power up with an accessible gas tank that won't compromise mobility. Also, many have a gauge for measuring gas levels, so you can assess precisely how much gas you're using.
Flavorizer Bars
Flavorizer bars add that great, fresh-off-the-grill taste to your food by burning dripping fat that causes a smoky flavor.
Fortunately, most infrared grills come with pretty good quality ones.
Grill Grate Materials
Stainless steel or porcelain-coated grill materials have the potential to last longer. Opt for these materials as opposed to others that may be neither durable, nor produce good food.
Shelving and Storage Space
Some grill brands come with ample storage space and shelves. You can use these areas to stash your tools, wood chips, and anything else you'd like to use in the barbecuing process.
Shelves and cupboards included with the grill will make your life easier, and your barbecue experience hassle-free.
Build Quality, Materials, And Durability
Since not all infrared grills are created equal, some will last longer than others. To get maximum returns on your buck, you want to make sure you're choosing a high-quality grill that you can regularly use for years to come.
Buy cheap, buy often is an oft used phrase, and it really does apply to outdoor cooking equipment that has to endure all kinds of weather, as well as incredibly high temperatures during every use.
Extra Features for Easier Use
Additional bonus features, such as integrated thermometers, warming racks, side burners for cooking vegetables or sauces, internal lights — these can all make for a more user-friendly infrared grill that you'll enjoy cooking on time and time again.
Warranty, Price and Value
You do get what you pay for, but you should also set a budget and stick to it.
Be realistic regarding what you can get for different prices, but also seek value in the build quality and features you're paying for.
You also want a manufacturer who stands by their product. A decent warranty period gives you confidence that the grill is good, that it will last, and that there's help available if it doesn't.
1-year is standard with any grill, up to 3 years relatively common. I would personally never buy a grill without a warranty, it kind of shows the manufacturer has no confidence in their own kit.
What is an Infrared Grill?
An infrared grill operates much like a gas or charcoal grill when you're cooking. A key difference, though, is that infrared burners emit direct, persistent heat via radiation, not convection. It's a much more efficient cooking process than traditional grilling.
Traditional gas burners may be more common, but they're really not as fast-heating and user-friendly as infrared grills. There's a reason why most steakhouses use infrared burners; they emit far less diffused heat compared to traditional grills.
The benefits of infrared grilling include quick heating and cooking times, as well as an incredibly even distribution of heat across the entire grill's surface. Since heat distribution is direct and more intense, you get more optimal results from your grilling.
How Does Infrared Grilling Work?
One of the key features of infrared grilling is the panel which sits between the grates and the flame. This is often a perforated ceramic tile, special glass, or metal covered with a stainless-steel mesh.
Infrared works to eliminate the convective air movement in traditional grilling, working by providing radiant heat instead. During the grilling process, gas heats the panel below the food, and then intense heat is radiated to the meat on the grill. This is a very different process to conventional gas grilling, where the grates are directly heated.
Some older types of infrared grills use ceramic plates, although you'll commonly find quality products featuring a glass panel right above the stainless-steel burners. Ceramic plating is reportedly better for higher temperatures.
Others use gas burners to heat a metal surface between the burners and the grates.
The additional plate absorbs the energy and heat from the gas burner before it re-radiates it toward the food.
In this way, the food doesn't come into direct contact with either the electric or the gas heating element. While most traditional grills heat the air inside the grill to very high temperatures, infrared grills provide the majority of their heat from below the food.
This means that the food is less likely to dry out; infrared heats the food directly. Your food can sear at the highest temperatures, or cook slowly on a low, steady heat.
While convective heat destroys the moisture barrier in foods, infrared heat penetrates the moisture barrier to lock in natural juices. This prevents juices from evaporating, locking in the natural tenderness of the meat and vegetables you cook.
Benefits of Infrared Grills Over Other Types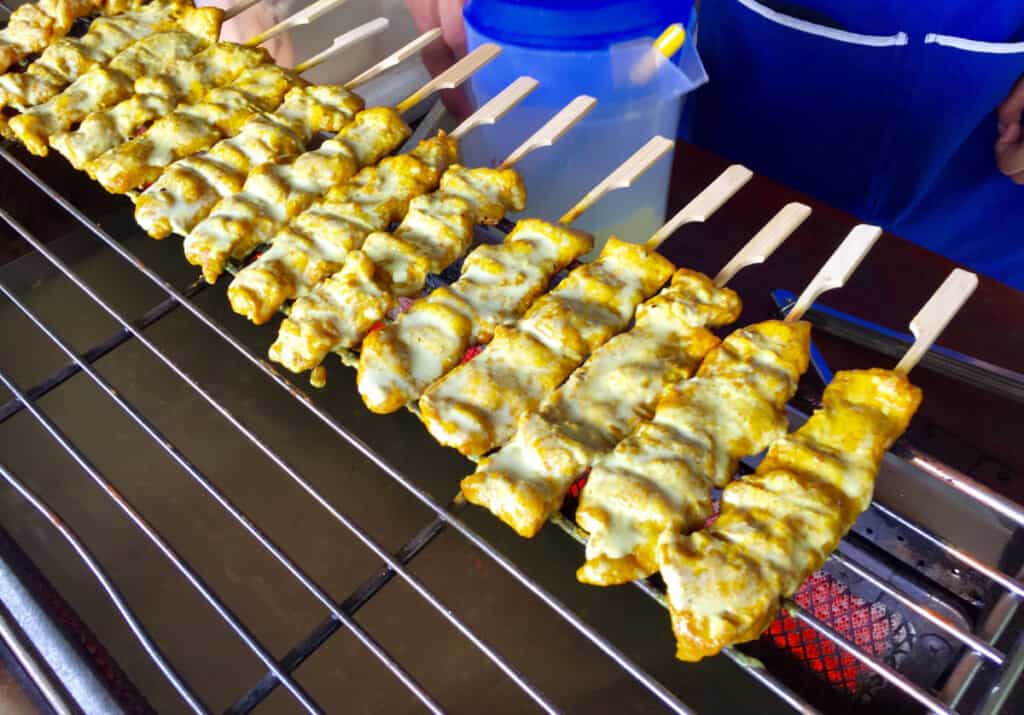 Once a niche cooking commodity, infrared grills are now being widely used among hobbyists and in a lot of steakhouses, for a number of reasons.
Even in home kitchen use, commercial griddles utilizing infrared technology are becoming increasingly popular because of the wide-ranging benefits.
The benefit is you can easily produce a juicy, mouthwatering flavor when you grill, even if you're not a skilled cook. This because the infrared cooking process is so much more effective, easy and foolproof than it is with traditional gas or charcoal grills.
Infrared grills cook very fast, use less gas than traditional options, deliver even heat to your food, allow for multiple cooking methods, and prevent flare-ups. Not to mention, the taste of juicy, barbecued meats is even more rewarding, thanks to the user-friendly infrared grilling process.
Let's take a look at some of the benefits in greater detail now.
They Heat up VERY Quickly
The optimal technology infrared cooking offers means that your meat and vegetables will heat up superfast. Some sources claim that even older infrared barbecues can take as little as three to five minutes to reach the temperature needed, and 15 minutes for the entire cooking process.
If you're someone who works long hours and doesn't have time for the traditional barbecue process, infrared grills could help to make your life a lot easier.
They are Less Affected by Wind
Infrared grills work well in a wide range of climate conditions because the process is reliant on radiant heat.
Unlike traditional grills, there's no need to worry about flames blowing out, charcoal fragments being scattered around or 'rising hot air' being blown around and out of your grill away from the cooking food.
With an infrared grill, the heat is radiant light, impervious to the effects of wind.
They are EXCELLENT for Searing
The heating process in infrared gas grills functions in much the same way as you might visualize the light of a laser beam. The heat moves up, directly through the air and into the food for a higher quality sear, locking in moisture and resulting in fewer flare-ups.
The result is superb, uniform caramelization across the entire surface, and that brown, beautiful crust most BBQ aficionados crave.
They Cook Faster
Infrared grills offer quick preheating times and reach very hot temperatures, usually between 900 and 1,600 degrees Fahrenheit, with ease and within mere minutes.
That's between three and six times the heat that traditional gas or charcoal grills offer, and in just a fraction of the time.
They Provide Very Even Heat
Most grills have hot and cold spots, which affect how the food cooks with some parts of the same foods often being cooked at different temperatures on the same grill.
Infrared heat is generally even throughout the grills entire cooking surface, which means consistent results.
No Flames Means Less Flare-Ups
The additional layer in infrared grills prevents flare-ups, given that they allow hot air to move through the food you're cooking much more effectively.
Food also retains up to 30 percent more moisture than on traditional grills.
Energy Efficient
Infrared grills use less fuel than charcoal or gas grills. Since they offer high heat performance in shorter time frames, you're doing your bit for the environment by using these fuel-efficient appliances.
Easy to Clean
Since there are no ashes left to clean up, you have less to worry about in the aftermath of your barbecue get-together when using an infrared grill.
Are There any Downsides to them?
While purchasing a quality infrared grill is likely to be a great investment, it doesn't come without a few cons. Here are some of the downsides to infrared grills, when compared to more traditional models.
They Tend to Be More Expensive
The cost of many models is much higher than that of regular gas or charcoal grills. Infrared grilling was even historically exclusive to high-end, commercial kitchens until the early 2000s.
This is when the original patent expired, and more manufacturers began appearing on the market, driving prices down through competition.
Some Models Can Be Too Hot for Certain Types of Cooking
Infrared cooking might not be best suited for grilling fish or vegetables, which require a more gentle type of heat than some models can provide (and very useful for this also, is one of the best grill baskets from our guide.)
Truly slow cooking is also likely to be out of the question; with infrared grilling, you don't have the option of regulating low temperatures quite as accurately.
Higher Chance of Burning Food Due to High Heat
The extremely high temperatures also mean that food is more likely to get burned by inattentive cooks.
You'll need to make sure you stick around while the food is cooking and watch the process, otherwise burning might occur.
Conclusion
We all love juicy, hearty burgers and tender-cooked BBQ meats. And the best way to prepare for your next big BBQ bonanza is definitely by choosing the right grill. With the effectiveness and the excellent features infrared grills offer, you'll easily be able to find a great one that suits your needs.
Although revenue is declining in the barbecue and grill manufacturing industry, the market for infrared grills is booming. These burners emit heat in infrared wavelengths which pass through the infrared plate and allow for the best cooking conditions.
My top pick of all discussed above is the Char-Broil Signature Tru-Infrared 525. It has all the features you need in a great product, and because I love having a lot of people over for dinner, and it has the largest cooking surface area, this model would be a great buy.
What's your experience with infrared grills? Do you have a dream grill in mind that you might buy soon? We'd love to hear from you in the comments section, and do let us know if you have any questions.
Happy grilling!