Some knives are better suited to specific tasks than others. For example, some knives are especially good at slicing brisket, while others will rip and tear it, ruining the final product. And that's what we're looking at here today, the best knife for slicing brisket.
If you've ever used a tool for something other than its intended purpose, you know how frustrating it can be. Slot screwdriver as a chisel? Been there. Pipe wrench as a hammer? Done that. Yes, I got the job done, but it was frustrating as heck.
The same is true of knives, though I suspect people are generally less aware they aren't using the right knife. I mean, it's knives, right?
Serrated for meat, not serrated for butter. Oh, and that weird one for transferring butter from the butter dish to your bread, but with which you're not supposed to actually spread the butter.
Cooking brisket is a labor of love for barbecue fanatics. Smoking one to perfection can take an entire day. Do you really want to trust the final stage before serving to just any old knife?
Rather than risk destroying your presentation with a short knife that grabs and tears your brisket as it slices, read on to find out what blade you should be using and why.
At a Glance: The 5 Best Knives for Slicing Brisket Discussed in our Guide
Note: Clicking the above links will take you to further information, current prices and customer reviews on Amazon.
Best Brisket Knife — Product Round-up & Mini Reviews
We've researched on your behalf and present to you our findings.
These are some of the very best knives for slicing brisket out there. To cover all bases and preferences, we've chosen some straight edged, Granton, and serrated.
Which one will be the right one for you?
Victorinox 12 inch Fibrox Pro Slicing Knife
1
For some people, there is no substitute for having confidence in a company. That's why they buy name brand products instead of private label alternatives. While some may think that's a waste of money, there's something to be said for the security of familiarity. Besides, more often than not, you get what you pay for.
Even if you know next to nothing about knives, you've undoubtedly at least heard of Swiss Army knives. You may also have owned one. (I got one for my 21st birthday — 25 years later, I still have it.)
Victorinox is the name behind the iconic knives, and they've been making all kinds of high-quality knives since 1884.
This 12-inch slicing knife is ideal for your best brisket — and for impressing friends with your choice of blade.
The Granton blade is perfect for cutting through meat and other food with ease, and won't tear or shred the fibers.
The blade is high-carbon stainless steel, and you can keep it sharp with a good honing steel.
The Fibrox Pro handle is designed to fit comfortably in your hand and is slip-resistant. Overall, the knife is relatively light, and it's well-balanced for ease of use.
Pros
Reputable name
The straight edge can easily be honed or sharpened
Granton style edge helps reduce tearing of meat
Comfortable handle
Cons
No sheath or storage solution included
No other blades fold out of it ? (OK, I'm kidding.)
Most of the owner complaints I've seen about this knife focus on the length; it's just too long for some people.
My question is: it says it's a 12-inch blade, so what were you expecting? This is an excellent knife that is a perfect size for slicing a big ol' brisket.
Dexter Russell 12 Inch Scalloped Knife
2
Let me say right off the bat that I had some concerns about recommending a knife called, "Dexter." (have you seen the show with the serial killer?) Mind you, with a name like that; it should be more than up to the task of slicing a brisket.
Aaron Franklin recommends this knife in his book, "Franklin Barbecue: A Meat-Smoking Manifesto." Definitely a trustworthy source, so we decided to look closely at this fine looking implement.
You start with a 12-inch, high-carbon steel blade. Add on the polypropylene handle, and you've got a nearly 19-inch miniature sword.
We're glad to see that the handle is meant to withstand both high and low temperatures, meaning you winter grillers in the north can take this one right outside with you.
Among the selling points of this knife are its sanitary features. The handle is easy to clean, and the handle-to-blade seal is meant to be impervious to intrusion, meaning no harmful bacteria or other crud will collect in small gaps between the plastic and the metal.
Nice to know you won't be passing nastiness along from slice to slice.
The scalloped blade provides superior cutting performance vs. straight or serrated edges and should glide through the brisket with ease.
Interestingly, the handle is white rather than the usual black or wood-grain. I guess this adds to the "sanitary" look and feel? Oh, and it's made in the U.S.A. If that sort of thing matters to you.
Pros
Scalloped blade for better carving
Designed for optimum sanitary performance
Made in the U.S.A.
Cons
May not be available outside the U.S.
The handle might not match any of your other knives
No storage sheath included
Overall, we think this is an excellent knife and represents superior value for the money. If you can get your hands on one, we highly recommend it.
Smoke Kitchen Brisket Slicing Knife with 12 Inch Granton Blade
3
If you want a knife that can slice through brisket and ribs like butter for many years to come, you should check out the Smoke Kitchen Brisket Slicing Knife.
Unlike many slicing knives on the market, this knife has been designed explicitly for barbecue by the pitmasters over at Smoked BBQ Source.
The knife has a premium, understated look. You don't get any of the gaudy designs you see from some of the high-end knife makers.
The first thing you notice when you hold this knife in your hand is the weight behind it. This is due to the VG10 Japanese steel and full tang construction, which means the blade extends through the handle.
Having some weight behind you is helpful when slicing larger cuts of meat like brisket.
The knife never feels heavy, though, thanks to the ergonomic handle, which provides a secure grip even during long slicing sessions.
It's important to note that the knife is not dishwasher safe, and it should be cleaned by hand with warm soapy water and dried thoroughly before storing it in the included box.
Pros
Granton blade for easier slicing
Designed for slicing brisket and ribs
Magnetic storage box included
VG10 Japanese steel
Cons
Costs more than some knives
Newer company, so not much in the way of 'brand reputation' to report on
While this knife is more expensive than a Victorinox, you get a superior blade with full tang construction. My opinion is this knife is on par with many slicers costing 10s of dollars more.
Overall, the Smoke Kitchen Slicing Knife offers fantastic value for money and is an excellent addition to any BBQ enthusiast's toolkit.
Dalstrong Shogun Series 12 Inch Carving Knife
4
For some people, it's all about the specs and the details. They want to know everything about what they're buying: how else do you know if you're getting quality goods or not?
No detail is too small, from the product to the packaging. If you're one of those people, have we got the best brisket knife for you!
The Dalstrong VG10 is, to be blunt, a badass knife. If a samurai were shopping for a brisket knife, he'd pick this one, hands down. It really is a beautiful knife to look at, from the etched blade to the engraved butt of the handle. But can it cut?
The manufacturer describes it as "ruthlessly sharp." I don't entirely understand that, but it sounds cool.
The blade is hand-finished, and cut from Japanese high-carbon stainless steel. It's got some flex, but it's a very hard material. With its double-beveled edge and an 8-12° angle (whaaat??) it should cut like a scalpel.
The handle is heat, cold, and impact resistant; that bodes well for a long life. The handle is triple-riveted to the blade, so it ain't going anywhere, and the stainless steel end cap helps balance the knife for ease of use.
Pros
Granton blade
Extra-sharp cutting edge
Solid construction
Comes with a sheath for storage/protection
Looks incredibly macho — this knife will draw attention
Cons
Newer company = undetermined reliability
Expensive compared to most in this list
Might be too "showy" for some tastes
I do confess to finding great aesthetic appeal in this knife, even though I know they're trying to cash in on the mystique of genuine Japanese knives.
Well, Star Wars was a rip-off of a Japanese movie and everyone loves it anyway.
Quality will out! It looks great, the company seems poised to become a major player in the biz, and all indications are that it cuts very well. If you want some flash by the grill, you'll get it with this one.
In fact, if not for the relatively higher price compared to some others on this list, we were going to place this knife as our number one recommended choice, and is actually the one the owner of this site, Mark, owns and uses (it's his blade in the main pic, top of page!)
Wusthof 10 Inch Classic Super Slicer
5
Many carving knives are huge. For some folks, they can be unwieldy and difficult to use. Still, you need a long blade to slice a brisket easily. Surely there's a smaller knife that's still up to the job?
Wusthof is a name you'll see come up in every category of knives and accessories. They are a highly reputable German company with an outstanding line-up of products.
At 10 inches in length, this particular knife (with the fun-to-say moniker, "Super Slicer") is just the thing for carving a big brisket, but without making you feel like you're armed for a jungle trek.
You give up about 2" of blade versus most of the knives we've looked at, and the overall length including handle is just 15.6". That's much more manageable for smaller hands.
You don't give up anything regarding quality, however.
The blade is cut from a single piece of high-carbon steel, and three rivets keep it firmly anchored in the ergonomic handle. A gently scalloped edge will slice your brisket without tearing, giving you the cleanest slices possible with minimal effort.
Pros
Scalloped blade for best cutting
Riveted handle
Well known name in the industry
Cons
Expensive compared to some others in this list
No sheath
Some people may think 10" is too short
If a short sword or machete is not your idea of a kitchen knife, this slightly smaller option might be right for you. All the cutting power with less blade — if you don't mind the money, this is an excellent knife to choose.
Mercer Culinary Millennia 14 Inch Slicer Knife
6
Bigger is better is the mantra of many people, especially big people. There are times when the job and/or the worker do merit larger-than-usual tools to get the work done.
If you're a big dude or dudette, or you plan on carving massive briskets, you may wish to have a knife that gives just a little more.
Let's just say right up front that this is a crazy-long knife. In total from point to butt, the Mercer Culinary Millennia is 22.2" in length. Nearly two feet long. Damn, that's a big knife!
It's made of a single piece of high-carbon, stain-free Japanese steel, and comes with a lifetime warranty. The straight edge can easily be sharpened and honed, but the Granton bevels allow for smooth slicing through just about any food.
Turning to the handle, it's a mix of Santoprene (in a nutshell, a plastic/rubber hybrid) and polypropylene. It's easy to clean, fits in the hand, and has a comfortable grip.
Up near the finger guard you'll find small raised points meant to reduce slippage. That's good, because you don't want to have your hand slip when you're wielding this monster.
Pros
It's really, really long
Granton blade for low-resistance
Japanese steel
Reasonably priced
Cons
It's really, really long
Handle not riveted to blade
Mercer purports to be a major supplier to the culinary industry, and I have no reason to doubt them. This seems to be a decent quality knife for a very reasonable price.
If you really must have the largest knife on the block, try this one and see what you think.
Why Do I Need A Specialist Knife to Slice Brisket?
You might be thinking meat is meat, so do I need a specific knife just for carving brisket? If the answer were no, this article wouldn't be here.
OK, strictly speaking, it isn't necessary. We in fact believe you only need four knives as a BBQ enthusiast. But it is highly advisable if you plan on serving brisket on occasion.
A brisket is a large piece of meat, and the top quality ones are expensive as you're likely aware. So when you carve and serve, you want perfect slices and the best presentation possible, to maximize the wow factor from 16 hours spent cooking an expensive hunk of meat.
In order to carve brisket effectively you need a long blade, especially since it is served in long, thin slices. You'll also want to cut these slices with as little back and forth motion as possible to have a nice clean cut. Excess cutting can lead to torn and ragged slices.
Another good reason for having a brisket knife is the toughness of the cut. It's a fibrous piece of meat, which is why it needs to be cooked low 'n' slow for hours before it's pleasurable to eat.
To cut through this kind of muscle with relative ease, you need a knife that's up to the task.
Should I Use a Manual or an Electric Knife?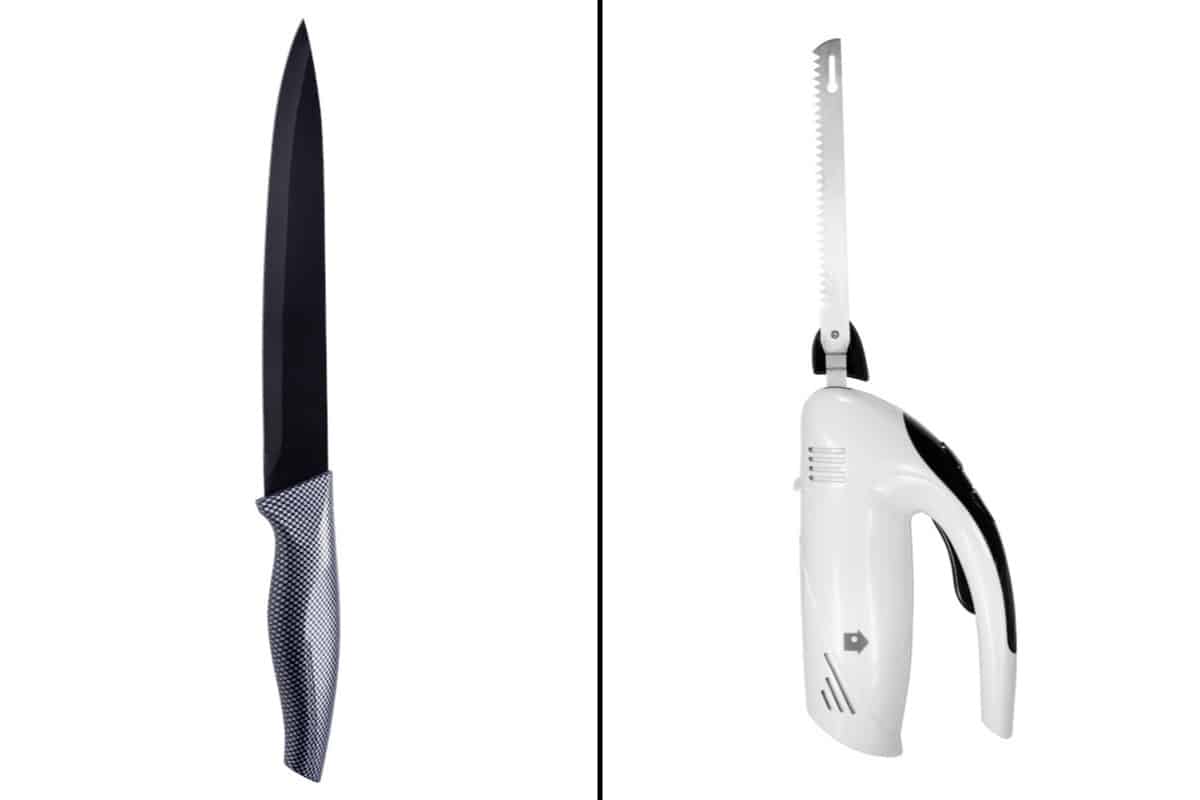 There are two basic categories of carving knife: electric and manual. Which one is the right one to choose, and which do we recommend?
There are pros and cons to each kind. Let's go over them, shall we?
Pros and Cons of Electric Knives
Pros
Faster than manual
Requires less effort/strength
Interchangeable blades for different jobs
Powers through tough cuts
Cons
May break down
Typically more expensive than manual
Way too much forward and backward motion for a brisket that can lead to torn and ragged slices
Needs a power outlet nearby (a pain if in the garden, camping, etc.)
Noisy (hard to sneak a slice in the middle of the night!)
Pros and Cons of Manual Knives
Pros
Easy to control
Never breaks down
Less expensive on average
Can be used anywhere
Best way to achieve perfect, pristine slices with no tearing
Cons
Requires more strength
Slower
Can be very long and awkward to store vs. An electric that comes apart
An electric knife is an excellent choice for anyone who feels he or she doesn't have the strength or dexterity to carve a big piece of meat like a brisket (or a roast, or a big turkey, etc.).
If this is your situation, by all means, get an electric and let the knife do the work for you.
If you're capable, however, we highly recommend going with a manual knife. They're reliable and always ready when you need them.
Most of all, they allow for greater control and finesse when slicing, and usually a better-looking result.
Some people also choose to use a heavy-duty, dedicated electric meat slicing machine, but we find these too harsh on a brisket and almost always cause tearing.
Which Blade is Best: Straight, Serrated, Scalloped, or Granton?
Now that we've settled on a manual, we next need to decide which type of blade to choose: straight, scalloped, or serrated? (So many choices! Aren't you glad you found us?)
If you've read our article on the anatomy of a knife, or ever gone back and forth between different knife-edges, you already know there's a big difference in performance.
Straight
A straight blade can slice very cleanly, but it can be tricky to get a cut started sometimes. You really have to keep your straight edges sharp for them to work well.
Serrated
A serrated blade is designed to grab hold and tear into whatever you're cutting. That's great for tough pieces of meat or tough bread crusts, but they don't leave a lot of opportunity for finesse.
Scalloped
A scalloped blade is the best of both of the above. It will bite, but it won't tear like a serrated blade.
Scalloped edges create a lot of extra cutting edge vs. A straight blade, and all that cutting edge means an easier time getting through. However, it still can grab and tear a bit, especially if the meat is very tender, such as you hope your brisket to be.
Granton
What is a Granton® blade? Well, that's a great question, and I'm glad you asked!
Granton blades are a sub-category of straight edge blades, and they're very popular for carving knives. These knives are easily recognized by the vertical indents running all the way down the length of the blade.
The indents create air pockets and reduce drag while the blade slices, also helping to separate the slice from the meat it's being cut from. This prevents sticking to the knife and hence grabbing and tearing. Slices will fall nicely away from the blade.
The Granton blade is a trademark of the Granton knife company, a U.K. manufacturer founded in 1601. Many companies have copied the style, however, and seem to use the name freely.
On an actual Granton blade, the scallops go right to the edge of the blade, making the blade edge slightly serrated. Other manufacturers have the indents stamped higher into the blade, leaving a straight edge, but still benefitting from the air pockets.
And the Winner is…
In our opinion (and in the opinions of many others), a Granton® blade is the way to go for the best brisket knife. They consistently outperform other knife styles when it comes to slicing brisket.
Sure, other knives will cut meat, but a good straight edged but Granton® blade will make carving a pleasure and not a chore, with the least possibility of grabbing and tearing of very tender brisket.
In our opinion, a Granton edge is the best knife for slicing brisket.
Keep Your Knives Sharp
Once you've invested in a good brisket slicing knife, you will want to keep it sharp for a couple of reasons.
Firstly, a dull knife is harder to use, will rip and tear at your brisket, ruining your presentation and all that hard work. Secondly, a dull knife is actually more dangerous than a sharp knife because of the extra pressure and effort required to use it, resulting in more slips and accidents.
So once you've got your perfect slicer, be sure to invest in either a good electric knife sharpener or one of the best manual knife sharpeners from our guides.
How To Slice A Brisket
We won't go into great detail here as we have an entire article on the topic (how to slice a brisket — against the grain!), so instead take a look at this short video on how to slice a brisket.
You'll see the knife in action and gain some insight as to why we need a whole article on choosing the right knife.
It's Been A Slice
And that's all there is to it.
So, if you haven't added a specialist knife for slicing brisket to your arsenal, now might be the time. Don't let your brisket have the biscuit because of an inferior knife! Use the right tools for perfect slices every time.
If you have a brisket buddy, and you know he or she is doing a hack job on the carving, do them a favor and send them a link to this article. Knowledge is always best when it's shared!
Got anything you'd like to share with us? Your personal tips and tricks, comments or questions? Pictures of a perfect slice of brisket? By all means, please drop them into the comments below, we love to hear from everyone out there.
Got a brisket in the smoker right now? Then you might still have time to run out and get the right knife to slice it with! What are you waiting for??
Happy grilling!