This article lists and reviews the 14 best mail order steak services available online, allowing you to choose a company that suits your specific needs and tastes.
The phrase "mail-order" makes me think about the cheesy ads I saw in comic books when I was a kid. Remember them? I so badly wanted to send away for x-ray specs, ventriloquism lessons and plans to make my own robot.
I never did, and I'm sure it's just as well; all of that stuff was total crap. There was no end of products to waste your money on via mail order from pills to increase your car's fuel efficiency to overseas brides. (As a writer, though, I have to admit that some of the best marketing copy ever written was for mail-order catalogs.)
But, you CAN order incredibly delicious, high-quality steaks and other cuts of meat right to your door through mail order!
To help you avoid a mail order disaster (like the infamous submarine made of cardboard), I've reviewed tons of companies that ship steaks through the mail or courier, and boiled it down to the 14 best.
Below, you will learn what each of them does best and which you should try for the exact steak you're after. From value to premium and some real niche sellers, you don't want to waste your money if it's not here.
All set? Just send $3.95 and a self-addressed stamped envelope…
Our Picks for Best Online Steaks in Different Niches
Best Overall: Porter Road
We do not lightly grant anyone the honor of ranking 1st for best mail order steaks. Trust me when I say these guys have earned it! I'll summarize why below, but you can get the full low down in our Porter Road meat delivery review.
We're big fans of buying meat from good local butchers who source from good local farms. Of course, not everyone is lucky enough to live near a reputable shop. Porter Road has taken that friendly, personal style of shopping and modeled an excellent online shop based on it.
Porter Road started as a Nashville-area butcher shop, with meat hand-cut in their facility in Kentucky. Online since 2017, today, they source meat from select farms in Kentucky, Tennessee, and Pennsylvania that adhere to humane, sustainable agricultural processes. It's all still hand-processed in Kentucky before shipping out to all 48 contiguous states.
From their online store, you can choose to fill your virtual cart with the individual cuts of your choice or pick from a collection of bundles and gift boxes. You can also sign up for a subscription service and receive a curated selection of meats every two, four, or eight weeks. Shipping is free on subscription boxes.
Porter Road offers a wide variety of steaks, including some lesser-known cuts, like the Merlot Steak and the trendy Denver Steak. All their steaks are dry-aged for enhanced flavor.
I should mention that you won't find any grading here. Porter Road deals with small farms, and for most of them, it's simply not worth the extra cost to have the USDA grade every cut. They claim that when their partners have opted for grading, the results are typically Choice Plus or Prime.
In addition to steaks, Porter Road offers an array of beef cuts and products, including wieners, roasts, sausages, ground beef, and even beef bacon and ribs. Plus, they sell enough pork, lamb, and chicken to meet all your carnivorous needs.
We rank Porter Road number 1 overall for its impressive variety of steaks, both famous and obscure, and its approach to the business. You can feel good knowing you're not only going to enjoy delicious meat (at appealing prices, I might add), but you're also supporting hard-working small-scale farmers.
Give them a browse and just see if you don't end up placing your first order today:
Although the name Snake River Farms wouldn't roll out until a couple of decades later, this company's roots extend way back to 1968. Based in Boise, Idaho (a state with more cattle than people), SRF carved out a unique market share for itself.
By breeding Japanese wagyu with American Angus cattle, you could argue that Snake River Farms created a new breed. And wow, do they take their breeding seriously! Today, their exceptional herd roams their 80,000-acre ranch in Washington, grazing on meadow grass in the foothills of the Cascade mountains.
If you didn't know already, wagyu beef is highly prized for its incredible flavor, intense marbling, and buttery texture. Unfortunately, true Japanese wagyu is challenging to get outside of Japan; this may be the next best thing.

(Want to know more about wagyu and why you want to eat it? Read our comprehensive article on Japan's gift to beef lovers here: A guide to wagyu beef.)
Shopping with Snake River Farms is a piece of cake: you can order à la carte, choosing just the cuts you want, select a curated assortment of meats (currently including the Steak Lovers collection, with 11 steaks to enjoy), or become a subscriber and receive a small or large box of meat delivered either monthly or every three months.
Part of what sets SRF apart from other purveyors of American wagyu is the insane quality of their meat. Much of their catalog is "black-grade" wagyu, which exceeds USDA Prime for marbling. Still not good enough? Then try "gold-grade," the highest level of excellence for American wagyu.
Snake River Farms offers fresh and dry-aged beef, including steaks of every cut, corned beef, roasts, and brisket. They also sell premium pork and all your grilling favorites, like hamburgers, hot dogs, and ribs.
We love SRF for many reasons, not least of which is their approach to agriculture. They strive to be as sustainable as possible, including sourcing locally for feed when required, selling their composted waste for fertilizer, and treating their cattle humanely.
Snake River Farms may not be your choice as an everyday source for steaks unless you're pretty flush. But, if you love steak, you owe it to yourself to treat yourself to some of the very finest cuts anywhere. Honestly, this stuff is extraordinary.
Snake River Farms ships to all 50 states at the time of writing, with an added premium for Hawaii and Alaska. You can find out more in our more detailed and comprehensive Snake River Farms review, or check out their range here:
Best Eco-Friendly: Crowd Cow
Crowd Cow hasn't been in the game that long (founded in 2015), but they've quickly made a name for themselves in the mail-order steak market. Heck, they even got a shout-out in the Netflix series The Ranch with Ashton Kutcher and Sam Elliott.
All the meat is sourced from small to mid-sized ranches across the US, each one vetted for adherence to sustainability and eco-sensitive agriculture. So yes, if you're a vegan who somehow stumbled onto this page, it IS possible to eat meat and care about the environment at the same time.
You can choose from grass-fed, pasture-raised, pasture-raised wagyu, and Japanese wagyu on the shopping page. For each category, there's a fine selection of cuts, including all your favorites and a few lesser-known steaks like tri-tip and coulotte.
What's really cool, though, is what happens after you click on the steak you want. Scroll down, and you can read a bio of the exact farm your steak is coming from. In fact, you can even shop by farm and support specific places that perhaps are nearby to you and boost your local economy or that align with your personal values.
You then have the option to follow individual farms to see what others are saying and then spread the word yourself to assist farmers and consumers further.
It's a pretty great set-up that not only provides traceability and consumer confidence but helps out the little guys and gals in an era of mass production meat. Oh, and the steaks are excellent, too!
Click below to check out their range for yourself:
Best for Japanese Wagyu: Holy Grail Steak Company
We're assigning legendary status when we refer to something as "the Holy Grail of…". Said item is coveted by aficionados and rare to the point of near-unattainability. In the steak world, that's Japanese A5 wagyu.
Holy Grail Steak Company offers regular folks like you and me the chance to purchase the highest-quality, rarest steaks in the world. In fact, they are the only online seller of genuine Kobe beef (said by some to be the pinnacle of wagyu) on the planet. That's some Dan Brown-level stuff right there.
The team at Holy Grail refer to themselves as "steak nerds" and "meat ninjas." Based in New York City, they don't raise any beef themselves. They do, however, secure access to the most prized beef in the world, working with select farmers and suppliers in Japan, including ultra-rare cuts like Hokkaido "Snow Beef."
You can also order other premium steaks, such as American and Australian wagyu and Upper Prime Black Angus. Additional offerings include carrot-finished beef, 100% grass-fed prime beef, premium lamb, Kurobuta pork, burgers, and a selection of dry-aged steaks.
Of course, shipping fresh steaks from Japan to your home would be close to impossible. Instead, the freshly butchered steaks are blast-frozen to -30 °F for perfect preservation. Then, they're shipped to you packed in dry ice in a combination of recyclable and biodegradable packaging.
Holy Grail Steak Company delivers to the lower 48 states by ground or air, with free ground shipping for orders over $199 — which, based on their prices, would be hard not to achieve.
They say they can try to accommodate special order requests, so if you're outside the contiguous US and really want to order, you can always contact them and arrange what you can arrange.
If you've ever dreamt of tasting the most decadent, expensive, and least accessible steaks on Earth, short of a plane ticket to Japan, Holy Grail Steak Company is the way to make it happen. It's a heck of a splurge, but what a story you'll have!
Discover the steaks of the rich & famous here:
Best for Halal: Boxed Halal
The Arabic word "halal" translates to "permissible" in English. For Muslims, anything designated as halal is deemed acceptable for consumption or use, according to a religious leader and scholar called an Imam.
Very specific criteria must be met for something to be declared halal, and many certifying bodies do so.
Unfortunately, not all organizations are as thorough as they ought to be, which can confuse Muslim consumers — which companies can they trust?
One of the top certifying bodies in America is Halal Food Standards Alliance of America (HFSSA), and Boxed Halal prominently displays their HFSSA certification label. So, shop with confidence!
Access to mail-order halal beef is phenomenally convenient for consumers, especially those living outside major cities. From their home base in Chicago, Boxed Halal ships frozen products in insulated boxes to anywhere in the United States.
Boxed Halal currently offers a limited selection of steaks, but they're real beauties. At the time of writing, options include ribeye, flank, NY strip, and (when you're feeling fancy) Australian wagyu ribeye and NY strip.
Of course, you don't have to be Muslim to order from Boxed Halal. This is high-quality, grass-fed, grain-finished meat sourced from sustainable farms with no growth hormones or antibiotics. And, it's all USDA certified.
Another nice-to-know fact is that Boxed Halal donates a portion of its profits to families in need.
There's currently no subscription service, and shipping costs are based on weight and your location. Pricing seems to align with other purveyors of similar quality meat, and customer reviews are overwhelmingly favorable. And if you dig the steaks, you might want to try their other beef products (including bacon — pork is forbidden in Muslim culture) and their vast selection of chicken, seafood, lamb, goat, and deli meats.
I've written for a few halal brands in my time, and I know how important this is to Muslim consumers. I also know how hard it can be to find a reputable supplier who sells meat you're happy to eat! Delicious halal steaks delivered right to your door? I can hear some of you saying, "take my money!" already.
Best for Extreme Steaks: Chicago Steak Company
The goal of every griller is to cook the best, most delicious steak humanly possible. The next goal is, of course, to impress the heck out of whomever you're cooking for. Sometimes, that means going to extremes.
For the big steaks you only see on Instagram, the Chicago Steak Company is one of the best sources out there.
Let's look at tomahawks as an example. A tomahawk steak is nothing more than a bone-in ribeye — only the bone is at least 5 inches long! There's no practical value to them, but they look fantastic.
Clicking through to the Tomahawk section of the Chicago Steak Company website reveals five choices (six, if you count the pork version): Premium Angus Dry Aged, Premium Angus Wet Aged, USDA Prime, USDA Prime Dry Aged, and USDA Wet Aged. That's a lot of tommies.
You'll find a similar array of Porterhouse and T-Bone steaks, with sizes up to a whopping 48 oz. They also sell one of my favorite steaks, the Baseball Cut Sirloin. It's only 6 oz., but it's insanely thick, making it basically impossible to cook past medium-rare. If you love the sensation of chewing a mouthful of tender, juicy beef, put a baseball on your shopping list.
Need steaks to impress? Chicago Steak Company ships extremely high-quality, vacuum-sealed, flash-frozen meat to all 50 states. You can browse their website (I recommend a big monitor!) here:
Best Steak Gift Boxes: Kansas City Steaks
Anyone with a barbecue knows that the best gift of all is more meat! If you have a friend, relative, co-worker, or employee who deserves a special treat, I highly recommend reviewing the gift box options from Kansas City Steaks.
There's a dizzying array of gift boxes, some with all steak and others with combinations of food items, and they ship in sophisticated black boxes emblazoned with the Kansas City Steak Company logo. You can also choose combos that include desserts and sides and other main course options.
I love the thoughtful inclusions in some of the boxes. Like the Butter-Topped Gift-Boxed Steaks Special Combo: your lucky recipient gets 2 6oz Filet Mignon, 2 8 oz Kansas City Strips, 2 8 oz Ribeyes, and 3 oz of roasted garlic butter for a decadent finish.
And it's more than just a pretty package — Kansas City Steak Company sells premium aged steaks, including prime rib, porterhouse, and (of course) Kansas City Strip Steaks, aka NY Strip. Plus, you can find hard-to-get cuts like picanha, bone-in filet mignon, and ribeye cap steak.
So, if you are gift hunting for that special meat-lover on your list, hit up the Kansas City Steak Company — and make sure you get an invitation to dinner:
Best for Unique Cuts: Omaha Steaks
It's easy to fall into the steak loop: Sirloin, Strip, Ribeye, repeat. Omaha Steaks makes it easy to break out and try something new, including variations on classics you thought you'd done to death.
Based, of course, in Omaha, Nebraska, Omaha Steaks started in 1917. As a company, they pride themselves on not only delicious steaks but also exceptional butchering. This enables them to provide steaks the likes of which you'll seldom see elsewhere.
Omaha has some surprises even sticking with the better-known cuts, including dry-aged bone-in NY Strip loins and a sirloin cap roast. Don't miss their insane King Cuts, either, like the 48-ounce bone-in ribeye and a 72-ounce top sirloin. (Available at time of writing.)
Omaha Steaks also gives you a chance to try some unique cuts you may only have read about. Like the tender and richly flavorful flat iron steak, pre-carved tri-tips (hellooo, steak sandwich!), and succulent, sliceable flank and skirt steaks. It's a testament to their butcher-first mentality that they've made such a variety available.
Ready to get out of the rut? Omaha Steaks delivers to all 50 states (Alaska and Hawaii are premium-priced), Puerto Rico, the US Virgin Islands, and even north of the border to Canada. And if you're desperate, they offer express service in just 1-2 business days for an added fee.
Check out their impressive line-up here — it's fun to browse:
Best for Busy Lives: Butcher Box
Maybe you love to eat steak and other meat regularly? Maybe you lead a busy life and don't have time to shop? Perhaps you live somewhere without easy access to a butcher shop? Or maybe, it's some combination or even all three?
My point is, there are many good reasons to have someone else do the work for you when it comes to shopping for meat.
Butcher Box is a subscription-based mail-order meat company that's ready to simplify your steak shopping. You start by choosing your plan: you can fully customize an order or select mixed protein, beef & chicken, beef & pork, or all-beef — which would be the go-to for steak lovers.
Then, you choose the size of box you want to be delivered, either 8–11 pounds or 16–22 pounds. Finally, you let them know how often to send your order: every 4, 6, or 8 weeks. That's it!
Now you just wait for delicious steaks to start coming your way. Oh, and shipping is free to all 48 contiguous states.
So, what can you get? The example given for a curated (meaning they choose the meat) smaller box includes:
2 pounds of ground beef
2 New York strip steaks
1 pound premium steak tips
2 pounds chuck roast
4 top sirloin steaks
As you can see, you'll not only get steaks, but you'll also get some other quality beef to cook with. Plus, you can always add on extra steaks or choose to customize your order completely.
Butcher Box offers flat iron steak, top sirloin, ribeye, NY Strip, sirloin cap, and ranch steaks. It's all pasture-raised, grass-fed and finished, and sourced primarily from Australia.
Butcher Box offers a level of quality and convenience that might be just what you're after for a set-it-and-forget-it approach to buying steaks. No more empty freezers!
To see how it works and learn about pricing, visit their website. It's easy to click through and create a sample order without committing to anything:
Best for Game Steaks: Fossil Farms
This entry on our Best of list occupies a unique niche in the mail order meat business. While they sell a selection of excellent steaks, including Angus, Piedmontese, and Japanese and domestic wagyu, Fossil Farms sets itself apart with a variety of non-beef steaks. Ready to get experimental?
Searching for "steak" on their website reveals not only a mouth-watering beef but also intriguing options like yak NY Strip, bison ribeye, and venison Porterhouse. If you're feeling a bit "man vs. Wild," Fossil Farms has you covered!
Basically, you'll find many of the most popular cuts you're familiar with but sourced from farm-raised game animals. In addition to the animals listed above, you can also order steaks carved from antelope, elk, kangaroo, emu, and ostrich.
The rest of the line-up includes:
Alligator
Berkshire pork
Chicken
Duck
Goose
Guinea hen
Lamb
Pheasant
Quail
Rabbit
Squab
Turkey
Wild boar
Fossil Farms, now almost 25 years old, raises many of its own animals in New Jersey and also sources from across the United States. Everything is farm-raised on free-range pastures and fed a vegetarian diet.
Given how few companies sell game like this, it's hard to say how their prices compare to the market. The meats look beautiful, however, and it's incredibly tempting to fill your basket with a bit of everything.
Shipping is available across the continental US, and if you happen to live in Northern NJ, you can get your order delivered.
If you're tired of the same old, same old (I'm game, are you?), you have to check out this catalog of game meats:
Best for Grass-Fed: D'Artagnan
The food industry is full of buzzwords and callouts, and the steak biz is no exception. One of those terms you may have seen is "grass-fed beef." What is it, and do you want it?
There's no mystery here: grass-fed beef comes from cows raised exclusively on grass. Though sometimes, you'll see "grass-fed, grain-finished" for cows that are fattened up for slaughter on grain. Grass-fed cows take longer to mature, and many consider them healthier, offering more nutrients and less fat. Check out this guide for a deeper look into the comparison of grass-fed vs. grain-fed beef.
But doesn't fat equal flavor? Yes, that's usually the case. So to compensate, D'Artagnan (founded by a French woman and named after one of the Three Musketeers) ages its beef on the hoof — they're allowed to graze until they're often twice as old as typical beef cattle.
This extra time in the pasture matures the meat and gives them time to pack in some additional fat marbling. The result is tender, delicious steak that's certified humane and raised in the remote pastures of Australia.
Not convinced? What if I told you D'Artagnan supplies meat to some of the best restaurants and most famous chefs in the country, including Bobby Flay and the late Anthony Bourdain? That's pretty good company!
D'Artagnan ships overnight to all 50 states in recyclable, compostable, and biodegradable packaging. If you want to discover what this grass-fed buzz is all about, do it right and order from these guys:
Best for Value: Farm Foods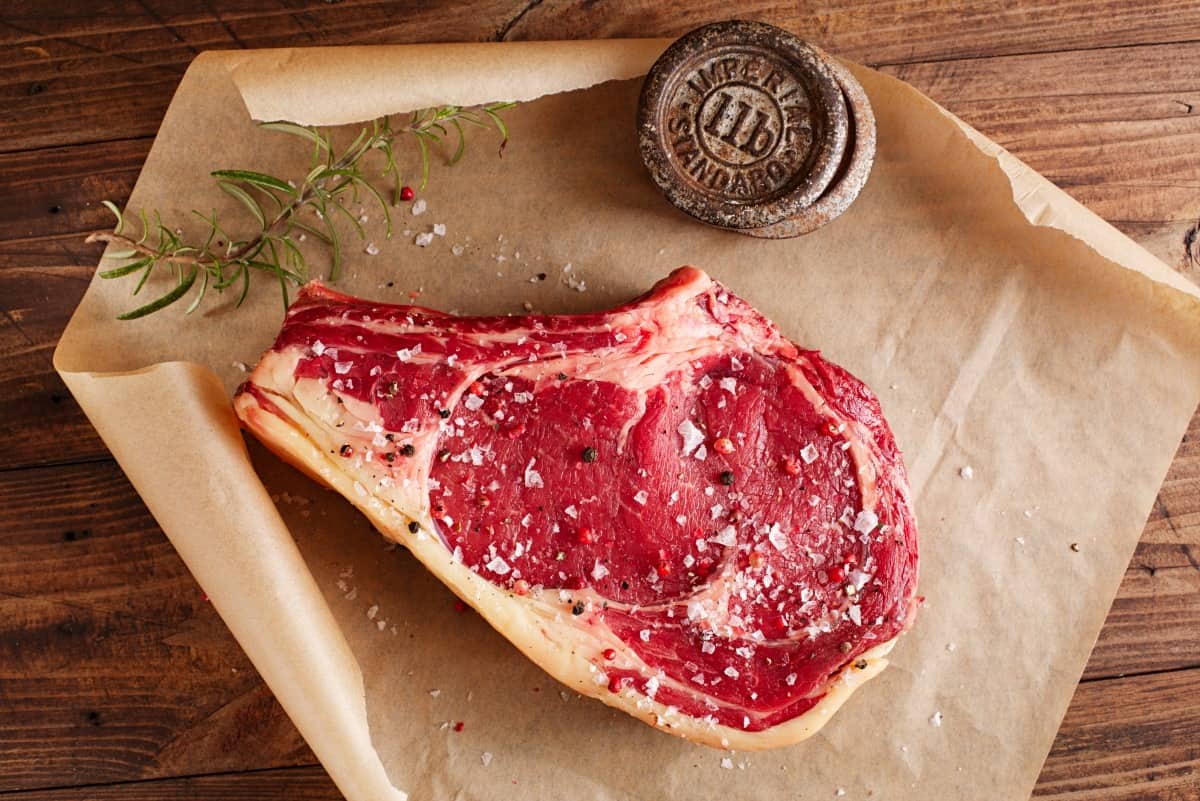 You have to be in a much higher tax bracket than I currently find myself in to eat good steaks more than occasionally — and I stress the word "good" here. It's a premium food category, but that's ok — what's life without treating yourself?
Farm Foods has this notion, however, that steaks can be part of your regular menu planning. It says right on their website:
"We believe that meat should be affordable, without making sacrifices on quality."
To make good on their belief, they offer a range of deals and purchasing options to help keep the costs down. Don't worry, though; it's all good quality, farm-raised, grass-fed & finished beef.
Checking out their steak section, we find all the usual suspects: filet mignon, NY strip, sirloin, and rib eye. Plus, some less common options, including skirt, flat iron, and flank.
Where Farm Foods really shines, however, is in the discounts and bundles available. These change over time, of course, but browsing the site turns up some great deals. In particular, you can save big bucks on mixed bundles that may contain a variety of steak cuts or even a mix of proteins.
This may also be the only site I came across with a dedicated SALE tab leading to the current specials. I'm especially intrigued by the "Surprise Pack" deals, sold at steep discounts. It's not really a surprise, by the way — you can click through and see exactly what you'll get.
Farm Foods also has a wholesale section you can shop from. They do say it's intended for restaurants and the like but that the public is welcome to partake. This is your best bet for large quantities of meat at reasonable prices. Be warned, though; you will have to portion the meat yourself.
Your order ships from Kansas City and, to further reduce costs, any order over 10 pounds ships for free to the lower 48. For a reasonable fee ($29.99USD at time of writing), you can have your steaks shipped to Alaska, Hawaii, or the US Virgin Islands.
If the idea of saving some money has your mouth watering as much as the steaks, support the little guy and give Farm Foods a try:
Best for Variety & Bragging Rights: Lobel's of New York
Lobel's is one of the most famous names in meat, even outside the barbecue community. In fact, they may be better known among the very elite — which frankly, totally excludes me. But, just because I don't hob-nob with Manhattan socialites (Lobel's has a storefront on Madison Avenue), that doesn't mean I can't eat the same steaks!
Now into their sixth generation of family butchers, Lobel's has a long and proud tradition of quality and a close connection with New York City. Case in point, you can enjoy a Lobel's steak sandwich at Yankee Stadium.
Needless to say, there is a lot of cachet when you order steaks from Lobel's, and you'll want to name-drop as much as possible.
But, there's more to it than that, or I wouldn't have them on the list.
Lobel's sells superior quality steaks and lots of them. Between the USDA Prime, Natural Prime, and American Wagyu categories, there are 56 steak cuts to choose from. (Once again, that's accurate as of the time of writing.)
Many cuts are dry-aged for extra flavor, and some are cut double-thick for sharing, like the 30-ounce, 4-inch-thick double strip. Yum, times two!
Take lots of pictures, my friends! There's no question that, for most of us, Lobel's is not your everyday source for steaks. But, if you're a hardcore steak lover, it's an experience you have to try, even if it's only once.
You can discover the legend of Lobel's of New York with a click right here:
Best Dry-Aged: Pat Lafrieda
Many of the better online meat purveyors offer dry-aged steaks. But, no one does it better than Pat LaFrieda, "America's most celebrated butcher," according to his website. Ok, but what's dry-aged, and why should you care?
In a nutshell, you hang beef in a controlled environment and allow time, temperature, air, and humidity to go to work. I won't go into the details, but the result is an incredibly deep, rich flavor and off-the-charts tenderness if done correctly. If you want to know more, including how to try your hand at dry-aging meat at home, here's our complete guide on how to make dry-aged steaks at home.
Now, Pat LaFrieda (the man and the business share the name) sells a variety of lovely looking USDA Prime steaks, expertly butchered and ready for your grill. But, the meat of his operation is the array of dry-aged steaks. It's a drool-worthy gallery of gorgeously marbled meat.
At the time of writing, the line-up included 11 different USDA Prime Black Angus steaks and rib roasts, all dry-aged for a minimum of 30 days. In some cases, you can choose 30, 45, or 60-day dry-aging. Of particular note is the 40-ounce tomahawk steak with LaFrieda's Instagram hashtag engraved into the bone.
Hey, if you're eating steak this exceptional, why wouldn't you show it off to the world?
I won't lie; this is pricey stuff, and you won't even get free shipping. But, you will get an extraordinary steak experience. For a special occasion, LaFrieda should absolutely be on your short-list. You can browse, dream, drool, and finally give in to temptation here:
Final Thoughts
What times we live in, that we can order incredible steaks from across the country, choosing our cuts and quality, sometimes even choosing the specific farm, and have them delivered right to our front door.
If you're a steak lover like I am, you owe it to yourself to try some of these places. Even if you have a great butcher nearby (and I always advocate supporting local business), there are so many options available online for ordering, you'll find something you just can't get any other way.
Thanks for scrolling through the list. Did you find one (or several) you want to try? Let us know who and how your experience was! And if we left your go-to mail-order steak place off the list, share it with us, and maybe we'll include it in a future update.
Happy steak shopping, friends!