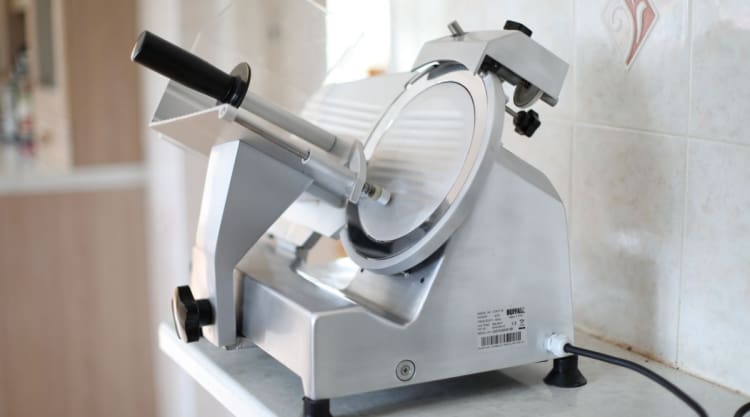 If you're looking for the best meat slicer, you're in the right place.
In this post, we look at 7 of the best in a few different categories, from best commercial meat slicers to top picks best suited for home use.
We guide you through all the details, features, specs, and considerations you should understand, to make the right choice in a meat slicer perfectly suiting your needs and budget.
Saving money with bulk-buying whole joints, speedily running up a load of meat for a crowd, slicing to the exact thickness you want, and perfect uniform slices are delights you will not believe you ever lived without.
And if you make your own bacon or charcuterie, a good slicer is a must for the best possible presentation of product you may have spent weeks or months on to cure and age properly.
Plus, slicing anything but the smallest of quantities by hand is a chore you'll be pleased to avoid.
So let's get into it with the bottom line up front, a list of the models we review in this guide.
At a Glance: Our Top Picks for Best Meat Slicers
Meat Slicer Reviews
We've grouped our meat slicer reviews into four categories:
Best Commercial Slicer (best and runner-up) — For commercial use, or heavy and frequent home users who want the best, with large 10 to 12-inch blades that can handle all foods and will run for hours. Ideal if you make a lot of your own bacon or charcuterie.
Best Mid-Range, (best and runner-up) — For light to frequent users who want a mid-sized, mid-priced unit, with a 10-inch blade that can run for hours and handle everything but frozen foods and the largest of meats.
Best for Light Home Use, (best and runner-up) — For light, infrequent users, who want a unit for occasional use, sliced hams, preserved meats, fruit, and veg, but will be happy with a lighter, smaller unit with a 7 to 10-inch blades.
Budget Pick — The best meat slicer we could find for those on a budget. Still a good bit of kit but not a workhorse that can tackle anything for hours.

Editor's Note
I had a 7.5″ blade, low powered motor slicer for years. When I got into making bacon, I found it a nightmare. Very slow-going for each slice, having to turn it off often for breaks, so it wouldn't overheat, and just not good for that volume of work. I upgraded to a 10″ blade commercial slicer with a powerful motor and the difference is amazing. I highly recommend you go no lower than a 10″ blade if you make a lot of bacon. Even then, you have to fold a belly in half to get it onto the food carriage, so a 12″ is even better.
— Mark Jenner
When researching this machine, I came across someone online who thought it was a motorbike! If that doesn't say power, then what does?!
Out of the box, this unit impresses immediately: sleek, gleaming, aluminum alloy construction and a powerful 420W 0.57HP pure copper motor that spins the blade at an incredible 440 RPM. OK, I can see how it could be mistaken for a motorbike!
But know that this is a big unit. With dimensions close to 2' by 2' and weighing over 60 pounds, this is not a machine you would lift in and out of your kitchen cabinet! It is designed to be permanently on the countertop and is the most professional machine we have on this list.
Built for demanding work conditions, it's well-suited to commercial use; farms, sub shops, catering businesses, etc. If you make your own bacon or smoked meats, do a lot of slicing, and want a top performer that will not tire even after hours of continuous use, this machine is for you.
This premium-grade slicer with a large (11×8.5×8") food tray to hold big pieces of food will go the distance, effortlessly and rapidly slicing everything from meats (cooked and frozen) and vegetables to cheese, bread and fruits.
It's particularly suited to those who make their own belly bacon because the size and 12-inch blade mean you can slice it without folding the belly in half. The only one large enough to accomplish that on this list.
I like the super-smooth Teflon-coated stainless-steel blade. As well as giving you total precision control with slicing anything from wafer-thin to .6", it cleans up beautifully, and food particles do not adhere as much as they do on non-coated meat slicer blades.
Given that cleaning slicers is a negative for some users (and still totally worth it when you sink your teeth into that fresh turkey and pastrami sub!), having an easier-to-clean blade is a plus for me.
An automatic carriage return — after pushing the food through the slicer, the food tray will gently return automatically — Waterproof on/off button for safety, built-in dual whetstone sharpener, and skid-proof stable feet all make this slicer safe and easy-to-use. It also comes with an additional belt and sharpening stones in the box.
This model wins our top spot as the best commercial food slicer.
Pros
Quiet motor
Ease of use, runs smoothly
Easy-to-clean Teflon blade
Self-sharpening
Good customer service including a website that can provide replacement parts such as drive belts
Cons
Big and heavy, but this is what makes it so powerful and high-performance
It would have been nice to have an interchangeable serrated blade, although the blade provided pretty much does it all
At the higher end of the cost scale, but then top quality always is!
This slicer is also available with a stainless steel blade (not Teflon coated), which saves a few tens of dollars on the price.
This is a quality product, made from premium materials, that performs at a high level and will last many years. If the blade was 12-inch, it might have taken our top spot, but has to settle for runner-up best meat slicer.
A commercial level product, it's an aluminum body with a chromium-plated coating carbon steel blade, so it is corrosion-proof, holds a sharp edge for a long time, and is easy to keep clean and hygienic. It's also ETL, and NSF standard approved.
Its mains powered 240W motor spins a 10-inch diameter blade at 282 RPM, so it cuts well and cuts fast. It can slice foods at different thicknesses from 1 to 12 mm (0 – ½"). This is anything from razor-thin to pencil-thick slices of meat and vegetables.
The maximum slicing length is: 210 mm (8-1/4"), maximum cutting height: 170 mm(6 – 7/10"). This is great for all veg, most hams, back bacon, all cheeses, and more. But something as large as streaky bacon will need cutting smaller or folding in half to be sliced.
This product weighs 33 lb and has non-slip feet, so it will stay put during use. It operates silently, doesn't vibrate, and can run for hours without overheating.
It has a blade ring guard and a double illuminated, recessed on/off switch for safety that will prevent any accidental start-ups.
It also has a top-mounted double whetstone blade sharpener that's easy-to-use for keeping the cutting edge razor sharp.
All in all, a quality and reliable product, and definitely one to shortlist.
Pros
Commercial level quality
Chromium-plated carbon steel blade is corrosion-resistant, easy to sharpen and holds a sharp edge for longer.
Aluminum body is anti-rust and easy to clean.
10-inch blade allows for slicing larger foods than many smaller slicers.
Powerful motor can run for hours without over-heating.
Near silent and vibration free operation.
A good weight and non-slip feet ensure it stays put during use.
Cons
A large and heavy unit, so not a product to sit on your kitchen counter when unused and takes up a lot of storage.
Blade not easy to remove for deep cleaning (but this is common to nearly all slicers.)
KWS Commercial 320W Electric Meat Slicer 10 Inch Frozen Meat Deli Slicer
3
We love the KWS 420w slicer so much that we're recommending it again…only this time with slightly fewer and smaller features and less power. Oh, and this one rings up $150 less expensive. Yeah, I thought you'd be interested.
This is an excellent choice of slicer delivering commercial-grade performance at a home-appliance price point. It's still considered a semi-commercial-grade machine and will have no trouble slicing meats raw (semi-frozen works best), cooked, cheese and vegetables.
It wows you with the same beautiful sleek design as the 420W when you pull it out of the box. So what's different?
It's lighter than its 420w relation but still weighs in at a pretty hefty 39.2 pounds, s like the 420W, it's not a machine you want to be moving around.
This unit features a good-sized but smaller food tray and will easily handle slabs of meat up to 7.5" high. We like the slightly smaller overall dimensions of the KWS 320W (20.1″ L × 18.5″ W × 15.5″ H), because it can work in a home kitchen as long as there's sufficient counter space.
If you love cooking your own bacon and pork joints, slicing up a pack of great deli meat for the week or even if you have a small catering or food-related business, this could be an excellent choice for you. The price point is excellent for a machine with this much power, and even running it continuously for an hour will not strain or overheat the .4HP motor.
So if you're looking for a top-of-the-line slicer but don't have room for the premium-grade KWS 420W, this could be a trusty workhorse for you that still delivers peak performance and promises unparalleled durability.
Pros
The 10" blade is made from high-quality steel with a nice smooth Teflon coating for easy clean-up.
Generous-sized food tray 7.5"L × 7" W × 5.5" H
Heavy, non-slip and sturdy.
The unit fits on a counter without taking up the whole counter!
Great range of thicknesses will slice everything from hearty steaks to shaved prosciutto.
A great price for a commercial model with significant HP.
Cons
Hmm, we got nothing here! This is a great machine. Just be sure it's not too much machine (weight and overall size) for your space.
Again, this unit is also available with a stainless-steel blade (no Teflon coating) which saves a few dollars on the price.
VEVOR 10-Inch Commercial Deli Meat Cheese Food Slicer
4
Taking a step down in price, power, and size always make me unsure of what to expect. Can the unit still do the job well? Will it get over-heated or strained with a larger load? But this machine made the shortlist precisely because it checked all the boxes. Including coming out of the box!
Right away, you see that VEVOR has succeeded in packing in all the top features into a smaller compact unit with plenty of eye-candy counter appeal: sleek, easy-to-clean body, smooth curves, and sturdy black knobs, handles, and feet.
With overall dimensions roughly 19 × 19 × 17" and weighing in at 46.8 pounds, this electric food slicer is just about light enough to lift in and out of a cabinet, but heavy enough to stand firm during operation without slipping. It cannot be described as a small item, but it takes up less counter space than the previous models reviewed.
The 240W, or 1/3HP motor does a nice job of slicing meat, vegetables, bread, and cheese. If you're going to work with raw meat, make sure it's only partially frozen, so that the machine can handle it.
The Thickness Adjustment Knob gives you a great range of slicing options from 0 to 17 mm and the 10" steel blade with built-in whetstone sharpeners will stay razor-sharp and effortlessly slice foods up to 8" high.
Pros
Heat output holes underneath to disperse heat which builds up faster in machines with smaller motors
Has a great ring guard for safety which is standard but still good to see in a down-sized machine from the big guns
Waterproof on/off switch to keep wet hands safe
Quiet running
All parts run smoothly and effortlessly, making this machine a pleasure to operate.
Cons
This machine will need occasional breaks and not continuous use. Somewhat standard for all but the top commercial models, though.
Chef'sChoice 615A Electric Meat Slicer Features Precision Thickness Control & Tilted Food Carriage
5
Right out of the box, we could see the chef's choice meat slicer was in a different category. Design and build is more straightforward and basic than the models we've reviewed here so far.
But read on, because this slicer is an excellent choice for people who slice meats only occasionally and aren't looking for a machine to take on big burly slicing jobs.
The 120W motor on this slicer spins a 7-inch stainless steel blade, which means you will not be slicing big pieces over 5" high.
But with a manageable size of approximately 15.5Lx10.4Wx11H and just 10.61 lbs, this unit is definitely a great choice if you want to store the machine out of sight and then bring it out to use occasionally -— without busting your back!
We were impressed at the range of thicknesses the Chefs Choice offers: 0.1 to 0.75" is a range broader than many larger models. However, because of the serrated edge, you can't really get the wafer-thin slices you might want with some charcuterie, it will catch and tear. You need a straight edge for this.
One last thing we like is this machine deconstructs beautifully into multiple pieces for easy cleaning, which is important where raw meat and impeccable hygiene is concerned.
Pros
Removable plastic receiving tray for slices. Just toss it in the dishwasher!
Gear-driven motor for premium durability and longevity
Many pieces come apart for easy cleaning
Excellent range of slicing thickness for a lower-priced machine: 0.1-0.75"
Special lock button to ensure the blade doesn't move when the machine is not in use
Light! 11 pounds is an easy lift for most.
Cons
Gear-driven motor (ah, you noticed it was in "what we liked" too!?) Because, while gears are more durable than belt-driven motors, replacing or repairing them eventually costs more than just quickly switching out a new drive belt.
This unit struggles with soft cheese like pepper jack, but will handle a hard cheese ok.
Super-thin slicing jobs may give better results with a non-serrated blade which is not included, but you can buy separately.
Good little worker for light use, but will need regular rests to cool down if you have a lot to slice.
Meat Slicer, Anescra 200W Electric Deli Food Slicer with Two Removable 7.5 Inch Stainless Steel Blades
6
The Anescra 200W meat slicer's standout feature is it comes with two 7.5-inch stainless steel slicer blades, both a serrated and a straight edge blade. The serrated blade is good for slicing raw foods and crusty bread, the straight edge for cooked and soft foods.
The 200W motor is, in combination with the different blade choices, enough to power through the slicing of meat, cheese, fruit, veg, and bread, raw and cooked, so it's a truly versatile slicer.
However, this is a reasonably powerful motor for such a small design (a good thing!), so will create some heat, meaning it will need to be turned off every half hour or so, instead of running continuously.
Cutting thickness is adjustable from 1 to 15 mm. Not wafer-thin, but thin enough for almost all foods, and a great thickness at the top end.
It's light at only 10lbs, making it easily portable to bring in and out of storage. And it has strong suction feet to prevent slippage during use. It breaks down into many parts easily for cleaning and sanitation.
Overall it's a good little machine, with tons of positive reviews from previous buyers. Worthy of consideration if you only intend to use a slicer infrequently for small tasks.
Pros
Serrated and straight-edge blades to cut a wide range of raw and cooked foods
1–15 mm thickness settings.
Suction cup rubber feet to prevent slipping.
A strong 200-watt motor
Comes apart easily for cleaning
Strong suction rubber feet
Cons
Will need regular off time to keep cool, cannot run continuously.
Chefman Die-Cast Electric Deli & Food Slicer
7
This is the most affordable slicer on this list, with the lowest MSRP at the time of writing. Therefore, you can't expect this to have the build-quality, performance or features of the more premium models above. But you can expect a capable machine, good for occasional light use.
This is a 12 × 9-inch die-cast slicer with a 7.5-inch serrated stainless steel blade, allowing you to cut foods up to 5" in height.
It has a 180W motor, which is good for cutting the majority of foods, but you shouldn't expect it to be able to slice frozen or tough foods. Also, the serrated edge means it cannot slice foods wafer thin without tearing.
It comes apart with a quick-release lever for easy cleaning, has a blade safety guard, and a recessed on / off switch to ensure if there's no accidental powering on.
Marketed as having sturdy non-slip feet, it does only weigh 9.5 lbs, so you have to expect it's not going to be rock solid and will move around some during use.
If budget is your top priority, we recommend this slicer for sure. It's capable and does the job. But if you can spend a bit more, the others on this list are of higher quality and perform better.
Pros
Low, affordable price.
Capable performance, on par with or exceeding others in this price range.
Quick-release components for easier cleaning.
Small and light, so easy to store away when not in use.
Cons
Not powerful enough to handle big, tough foods or frozen meats.
Serrated edge is not kind on soft meats.
You have to be mindful it may move around during use, so treat I gently.
Meat Slicer Buying Guide — What to Look for and Consider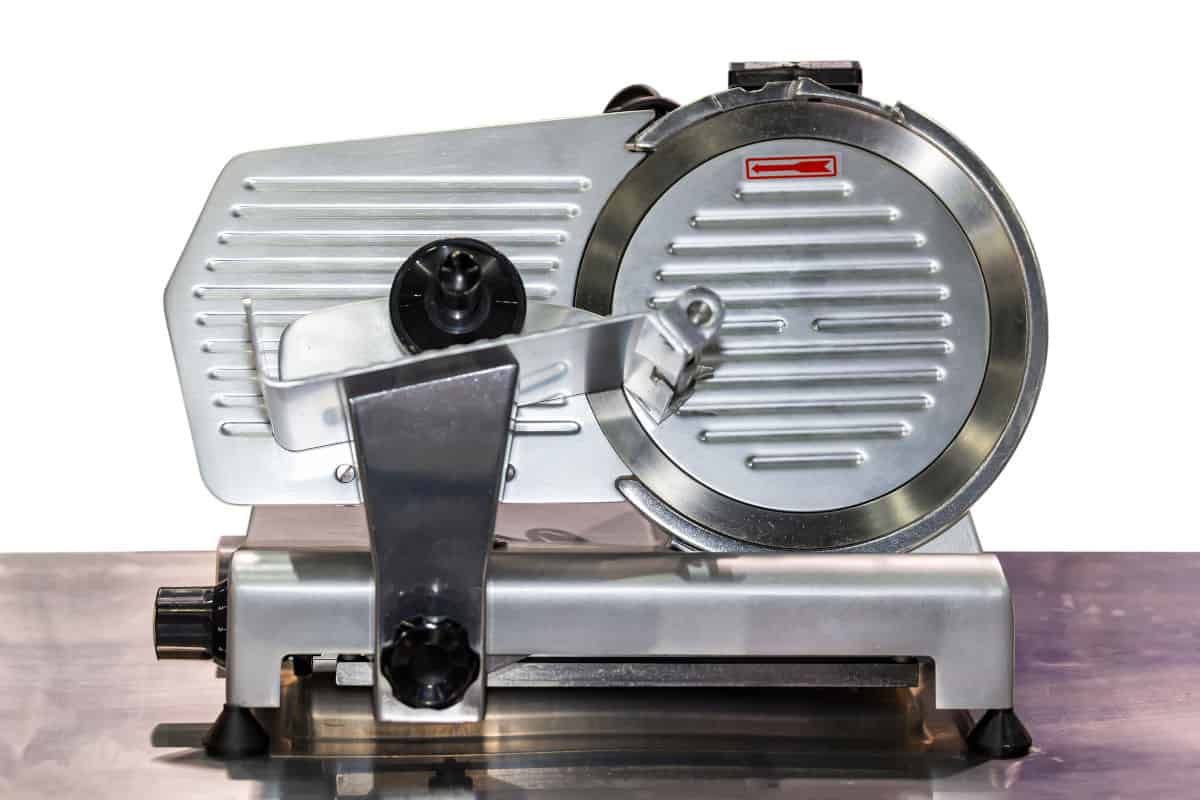 Meat slicers can cost as little as $50, right up through hundreds of dollars to a couple of thousand at the high-end.
Slicers exist with blades from 7 to 12 inches, with motors from 150 to 500W, and overall measurements between 12 x 9 inches up to almost 2-foot square. And they can weigh anything from 10 to 70 pounds.
So which is most suitable for you and your needs? Consider the following.
Heavy-Duty, Frequent or Light Use?
There are three "grades" of electric meat slicer: heavy-duty commercial, frequent, and light home use. Let's take a look at these in more detail.
Heavy-Duty / Commercial
These are the top-of-the-line, biggest, fastest, most robust, and capable electric food slicers on the market. Big and bulky, they aren't designed to be moved in and out storage.
Typically weighing in excess of 50 lbs, they have ½ HP plus motors, minimum 10-inch blades but often 12 to 14 inches, and can slice anything you throw at them, running for hours without breaks.
They come with an abundance of safety and convenience features, such as moisture-proof touchpad controls, multiple speeds, automatic shut-off, removable carriages for cleaning, and zero to minimal blade exposure for safety.
If you're looking to do a lot of slicing on a regular basis, make a ton of bacon at home, or wish to kit out a restaurant or sandwich shop, this is for you.
Frequent use
Weighing in around the 10-40 pound mark means these are machines that can be moved in and out of storage if necessary.
Typically constructed from stainless steel and aluminum alloy with some plastic parts, these machines aren't as ruggedly built as commercial-grade models, but they aren't expected to work as hard either.
240-320 watts of power and a 9 to 10" blade is the standard for a mid-grade machine, which will quickly see you through a moderate job. They can easily handle a variety of meats, many can manage hard cheeses too. However, with lighter units, the motor can become strained if the machine is used for more than 30 minutes continuously.
Ideal for regular but not heavy use. 30 minutes slicing for family sandwiches or prepping for a big gathering/brunch/cookout is the perfect task for these meat slicers.
Light Use
These meat slicers are designed for low volume applications with less than 1 hour of slicing per day. Great for slicing meat, bread, fruits, and vegetables, they aren't meant for cutting raw or frozen meat, or cheese.
These light-weight models will run more slowly with their 120-150W smaller motors, and the motor will need to have regular breaks to cool down if the slicing job is much beyond a small one.
A 7 to 8-inch diameter blade is typical for these entry-level machines, which means you can't slice anything taller than 5 to inches, as the blade will not cut through the whole surface.
A perfect machine for occasional light use for the budget-conscious.
Which Foods and What Size Foods Will You Be Slicing?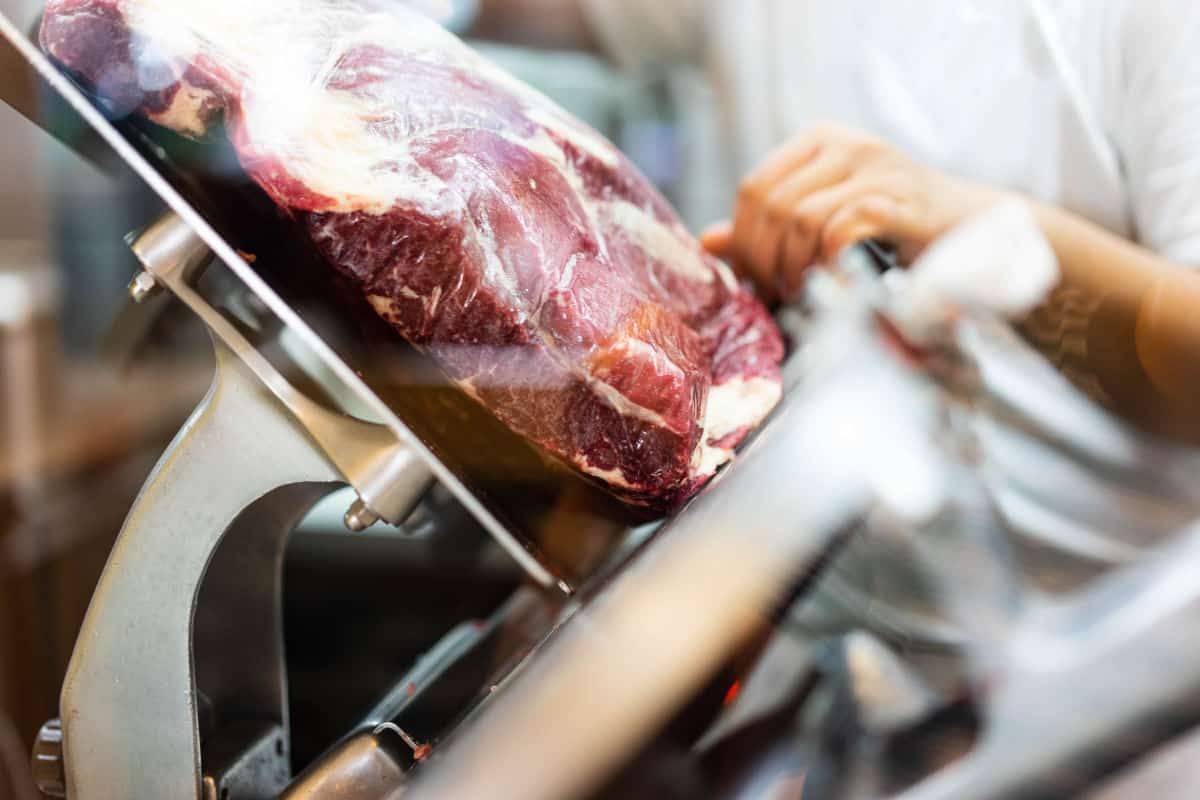 If you're thinking big cuts of meat and large blocks of cheese, then you'll be needing a big enough food tray to hold the food, and a blade large enough to cut through the whole piece cleanly in a single pass.
Also, you may be surprised to know that cheese is harder for these machines to slice than meat, and entry-level models will generally not handle cheese at all.
Finally, do you wish to slice just thick slices of steak to serve up with mashed potatoes? Or paper-thin pastrami for sublime subs?
Ensure the thickness adjustment knob of your chosen model has the range of slicing thicknesses you're looking for.
Size of Blade
A diameter of 7 to 9" is typical for lighter use, 10" to 14" for commercial/heavy use.
And a good rule of thumb is the tallest food you can slice is 2 inches smaller than the blade size. This means:
A 12-inch blade can slice up to 10-inch high food.
A 10-inch blade can slice up to 18-inch high food.
A 7-inch blade can slice up to 5-inch high food.
Make sure you get a blade large enough for your needs!
Serrated or Straight Edge Blade?
A serrated meat slicer blade is basically good for slicing tough bread crust, and through very tough meats. However, because they can grip and tear, you cannot use them for the thinnest of slices you may wish from some hams and charcuterie.
A straight edge blade is a good all-rounder, can slice thick or thin, and as long as you have a powerful motor will easily slice through crusty bread too.
We recommend a straight edge mostly as a 'do-it-all' kind of blade. But if you purchase a budget model, and can go without the thinnest of thin slices, then a serrated blade is sufficient, and can be good to overcome what lower powered motors are lacking.
How Much Slicing Will You Be Doing?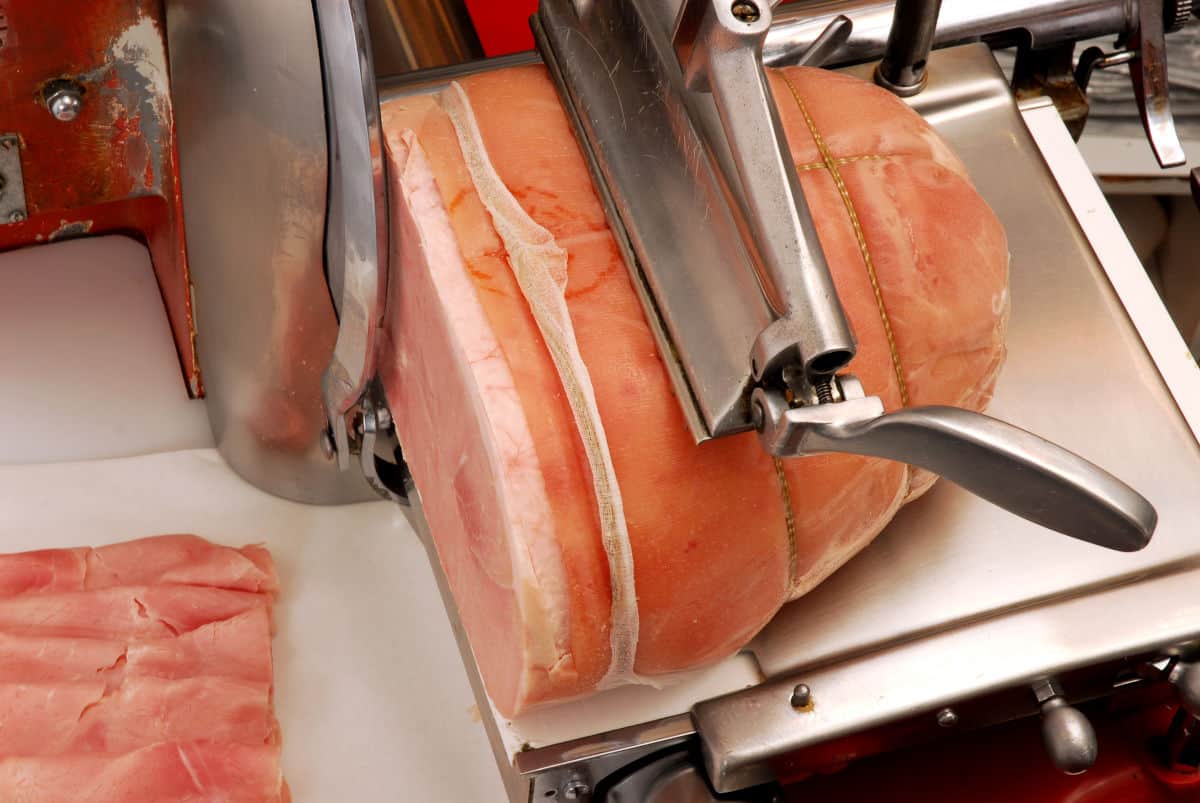 The motors on smaller "lighter" slicers will overheat with intensive use and require breaks to cool down. About 15 minutes of continuous use would be the maximum for these models before needing a break.
That said, these lighter machines are perfect for occasional or light use. But if you'll be using a meat slicer regularly and for long periods, you'll need to opt for a big, powerful, and heavy-duty model.
How Much Power do You Need?
This is a question of how much and what will you be slicing?
Entry-level machines can handle cooked meats, bread, and vegetables with 120W / 0.2 HP. Just know that you will have to let the machine rest after 15 minutes of slicing to allow the motor to cool.
But crank this up to a hefty 420W / 0.5HP if you need to slice semi-frozen meat, cheeses, or any foods in quantity. Premium-grade machines with .5HP will handle anything you can push at them.
Overall Size / Dimensions / Weight
Consider the overall machine (which can weigh anything from 10 to 70 or more pounds) and consider your counter space and kitchen storage.
Don't forget to think too of your own muscle power! Are you up to lifting a big machine in and out of a cabinet regularly? Do you have enough space to just leave the machine out on the counter?
Build Quality
If you're looking for premium quality, then big and bulky is good. Solid steel and cast aluminum construction will ensure durability and ease of use.
With meat slicers, the price will dictate the quality of the product. You pay more; you get more.
Belt-Driven Or Gear-Driven?
This is what connects the blade to the motor. While gears are more durable and longer-wearing — especially nylon gears that are top quality and quieter-running too — this is a mechanical system that will likely wear down eventually and need repairing or replacing expensively.
While not as durable as gears, belt-driven models are more common these days as the drive belts are easy and cheap to replace yourself without a technician's help.
Ease of Cleaning
When you're dealing with meat, sanitation has to be impeccable. And this is a job that's necessary every time you use your slicer, so thinking about ease of cleaning is important.
Some models will come with a special attachment to make the removal and cleaning of the blade easier. If this is a chore you don't relish, make a note of just how many knobs and screws will be involved in cleaning, so you don't have to get out the toolbox every time you use your slicer!
Integrated Blade Sharpener
The best meat slicers these days incorporate this awesome feature.
Whetstones for occasional grinding of the blade during use are housed above the blade, and require just a squeeze of two buttons while it's running to sharpen the edge. This saves you from having to hand-sharpen, which is a dangerous job with a blade this sharp.
A meat slicer with built-in sharpener is a nice feature!
Price
As with all things, you get what you pay for. Premium-grade machines will last longer, provide better, smoother service, and handle anything you want to slice.
You're looking at anything from $350-$3000 for a top-of-the-line meat slicer. You can get away with spending $100- $200 on an entry-level unit for light and occasional use. And mid-grade models will run $150- $400.
Rubber Non-Slip Feet
You don't want a 50-pound machine with a razor-sharp speeding blade to be shifting about as you use it!
Look for sturdy rubber feet or even suction cups to ensure your machine has sufficient grip and stability during operation.
Why Would You Want a Meat Slicer? The Top 6 Benefits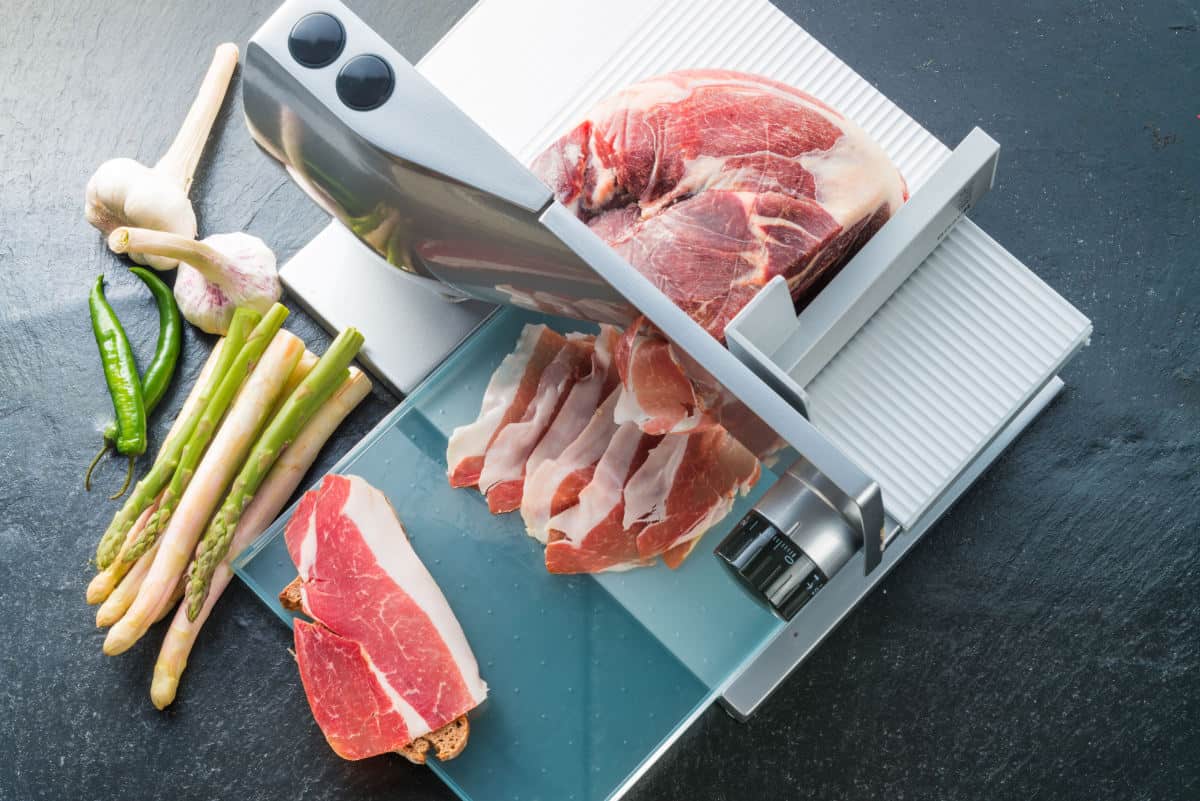 You don't want to needlessly fork over a load of dosh and fill your kitchen with more stuff. So let's talk about need.
Take a moment now to ask yourself the following:
Do you have a large family?
Do you host large gatherings, cookouts, tailgates, brunches?
Do you make or smoke your own meats, bacon and/or cheese?
Do you make a lot of sandwiches?
Do you struggle to safely knife-cut meats and cheeses into uniform slices?
Are precise size and weight of a slice vital to you for portion control?
Do you like to save money?
OK, we know that's a yes to the last question, but if you answered yes to any other questions, read on.
A good meat slicer can be a huge help in a large busy home, saving you time at the chopping board and saving you money at the supermarket. The benefits of owning a slicer are:
1. Efficiency
Your time is valuable. If you spend longer than you wish prepping food for family meals, a catering business, or social events, you can hugely reduce the time you spend cutting by hand by investing in a fast, powerful, and highly efficient meat slicer.
2. Uniformity
Take control of the thickness of your food slices, from wafer-thin for sandwiches to beautiful thick slices to enjoy as your main meal. A meat slicer will deliver precision perfection with every slice, and thinner than you ever could with a kitchen knife.
3. Ease of Use
A meat slicer is simple to use and safer than cutting with a kitchen knife. It's also always ready to go, no special set-up required besides selecting the slicing thickness.
For something such as a rib roast, turkey, or brisket, I would still use a good slicing knife, but anything else (bacon, ham, cheese), a good slicer is just so much easier.
4. Saves money
Buying pre-sliced foods at the deli will always cost you more than slicing them yourself. If you regularly buy a lot of sliced meats, cheeses, and breads, you can quickly make back your investment in a food slicer.
5. Portion control
Many of us are trying to keep a closer watch on how much we eat. By cutting foods to uniform thickness and size, a meat slicer can help you manage portion control.
6. Freshness
This is my personal favorite. The way fresh-sliced meats and cheeses fold so beautifully on a sandwich, the sparkling, juicy freshness of just-sliced vegetables and fruits are as aesthetically pleasing as the food is tasty. Good looks as well as good flavor. Can't beat that.
Conclusion
For efficiency, speed, and cost savings, you can't beat investing in one of the best meat slicers above.
Even the premium models will pay for themselves over time when you think what you're paying for the deli to slice for you instead of buying in bulk and doing it yourself.
We hope in this post we've helped you understand more about a meat slicer's features and operation. And we hope that, with our handy buying guide, we've made choosing the right meat slicer for you an easier task.
But one thing we're pretty sure of, you want one. You want one right now! And you know it's going to be one of your best kitchen buys ever!
Let us know what you thought of our meat slicer reviews. Did you go with one of these models? Is there a model you own and recommend? We love comments and feedback, so please join the conversation below.