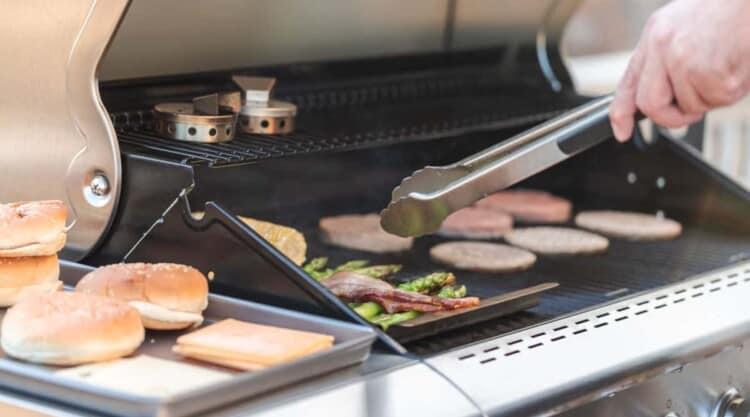 Natural gas grills are fast becoming the preferred fuel of choice, despite the fact that of today's grill owners in America, 64% use propane.
As they're becoming increasingly popular, many more options and variants are now available for you to choose from, so we decided to help people in their search with this guide to the best natural gas grills.
First, we take a look at what we consider to be the seven top models on the market today. Then we take a detailed look at the many factors you need to consider and look for when searching out the right model to suit you and your particular needs.
We then go into what a natural gas grill actually is (just in case some don't know — never assume!), the difference between them and propane grills, and the advantages and disadvantages of cooking with natural gas.
At a Glance: The Best Natural Gas Grills Reviewed in Our Guide
Natural Gas Grill Reviews
As natural gas grills are becoming increasingly popular, a wide selection is now available in different categories.
To make your search easier, here is our selection of the most popular and high-quality models at different price points, with different features…and of course our obligatory 'top pick overall.'
Weber Spirit II E-310 3-Burner Natural Gas Grill
1
Offering a decade-long warranty, Weber grills are renowned for their durable products. And this Spirit E-310, combining performance, quality, and functionality, is suitable for most families.
Although compact at 44.5 by 52 by 27 inches and weighing 110 pounds, this particular model gives you plenty of cooking space for four to six people. It has a primary cooking area of 424 sq. Inches, and a secondary cooking area of 105 sq. Inches.
Three independently controlled burners totaling 30,000 BTU will also give you the flexibility to cook even your most delicate food items through indirect cooking and different temperature heat zones.
The temperature gauge and high-quality porcelain-enameled cast iron grates will assist you in getting a great sear, while the overall materials used for this grill make it high quality, durable, and easy to clean and maintain.
The Weber Spirit ii E-310 is easy to assemble for most and gathers all the necessary technology for a successful grill out. A bright red hood gives a nice splash of color and fun at first glance. Though if red isn't your thing, you can also choose from blue, white, or black.
The compact cart has six useful tool hooks, a temperature gauge, a lower open shelf and two side tables for food prep and additional storage.
All in all, this is a well-built, capable and affordable grill with features to be expected of a high-end manufacturer such as Weber. In our opinion, one of the better value weber natural gas grills.
Pros
Weber quality with lengthy warranty.
Available in four fun colors.
Good even heat distribution and simple temperature control.
Three burners allowing indirect cooking.
Good grease management system for easy cleaning.
Easy to clean.
Cons
No side handles to help move the grill.
Amazon's free assembly service isn't available in all areas.
… Not much else. It's a quality product!
If you're looking for a compact grill to cook for your family or a small group of friends, the Weber Spirit E-310 might be a good match.
Made with durable materials and thoughtfully designed, you should be able to entertain guests for years to come on this product.
We feel, that for the mix of build quality, features, price and more, this is overall the best natural gas grill and takes top spot in our list.
Napoleon Rogue XT 425 Stainless Steel Natural Gas Grill
2
This grill fits well into small spaces at only 48.5 H x 51 W x 25 D Inches, while providing both a decently sized cooking area of 18 X 23.75 inches, and durability due to great build quality.
The three stainless steel burners provide 42,000 BTU of power, and don't only facilitate easy cleaning, they appear to heat up faster than other grills, allowing optimum searing.
The compact design doesn't give up on grilling space either. The extra large primary cooking surface is able to grill up to 26 burgers at once, while the additional warming rack and optional side burner allow different cooking styles.
On opening the box, it's slick and elegant design immediately stands out, easily matching any backyard style and design. Easy to assemble, you should be able to start your first grilling session within an hour.
Durable stainless steel material is found throughout, making it sturdy and easy to clean and maintain.
In addition to the three burners, warming rack, and the optional side burner, the cart comes with four wheels, making it a breeze to move around. The two-door cabinet gives you plenty of storage space too.
This grill also includes useful accessories such as a built-in temperature gauge, and hooks to hang your grilling tools.
A fine looking, fully featured, medium-sized cooker from Napoleon that is sure to tempt many, even perhaps the die-hard Weber fans!
Napoleon have really made a quality grill here that can adapt to a cooks different needs, while providing good workspace for food prep, storage for tools and accessories, and all in quality materials.
Pros
Compact, yet offering large cooking capacity.
Beautiful looking stainless steel finish
Sturdy construction.
Easy to wheel around.
Independent controls allow different cooking methods.
Easy to assemble.
Heats up fast.
Easy to light.
Cons
A bit heavy for some, weighing 126 pounds.
Some users have struggled with assembly…but there are plenty of YouTube videos to follow!
If durability, movability, and grilling ability are important qualities for your next natural gas barbecue — and of course they should be — then this Napoleon grill should be one to consider.
Weber Summit S-470 Stainless-Steel 580-Square-Inch 48,800-BTU Natural-Gas Grill
3
If you're serious about grilling, have a high budget, want close to greatest you can buy with money no object, then this high-end Weber just might be what you're looking for.
From infrared burners to stainless steel grates, the quality of the material used speaks volumes about the quality. And if any issues arise, Weber backs you up with a 10-year warranty.
Beyond the standard features, for those who prefer to grill at night, this model's included light system is a nice touch to support your endeavors.
The metallic smoker box—where you'll place wood chips—sits on its own dedicated burner and gives food that extra flavor your guests will rave about.
At 30 inches long by 66 inches wide by 57 inches high, this fully-loaded grill does have quite a large footprint and will take you some time to assemble. If you don't want this hassle, many online retailers offer an assembly service.
With a primary cooking surface of 468 sq. In., this high-end grill should give you plenty of space to cook 20 burgers at once, plus it has a 112 sq. In. Warming rack to take the total cooking surface area up to 580 sq. In.
Included are four main burners, a sear station burner, and a rotisserie kit which even comes with its own storage area. And the integrated smoker box and burner gives this grill that extra professional touch for smoking meats without added 3rd party accessories.
A lighting system, six hooks, and a built-in thermometer are convenient accessories, taking the list of desirable features a step further.
As you might expect from our high-end pick, this is arguably the most feature-packed and versatile model in this list.
The sheer size of the cooking surface area, included rotisserie kit, infrared technology, integrated smoker box to smolder wood chips for delicious smoky flavor…and more…all make this grill a pleasure to cook with and able to tackle a wide range of grilling needs.
Pros
Grill-out lights on the handle.
Infrared technology for high heat, fast searing.
Integrated smoker box for even tastier food.
Extra thick grates for better searing.
All-in-one solution.
Cons
Light cast aluminum body, which perhaps could have been thicker and more durable.
Some users report flickery and inconsistent lights.
Venting gaps allow rain to get in, overflowing the grease management tray, (easily solved with a barbecue cover!)
The Weber Summit S-470 can't fail to become any serious pitmasters friend. With smoker box, rotisserie, infrared burner, and high-quality materials, this grill has got it all. And it's great for late-night parties with its integrated lights.
This is certainly one of the very best outdoor natural gas grills you can buy today.
Weber Genesis II E-410 Natural Gas Grill
4
If you have a big backyard and need a simple, but large grill that can feed many hungry friends at once, this Weber Genesis natural gas grill might be your go-to model.
Measuring 45″ H × 61″ W × 29″ D, it has a primary cooking surface of 646 square inches, a secondary of 198 square inches, making a total of 844 square inches.
When hosting large parties, the last thing you need is a barbecue that won't start, leading to frustration. With this grill's battery-operated ignition system, a push of a button gets it rolling.
The individual ignition systems of one per burner also provide better control over cooking styles and heat. Weber is so confident about its ignition system's quality that it's guaranteed for 10 years.
The four high-quality stainless steel burners provide 48,000 BTU cooking power, and along with the porcelain-coated cooking grates, give one of the most even heat distributions on the natural gas grill market.
It also has a double-layered hood to help with heat retention, higher fuel economy and better, more even cooking.
Because of its large size, it's preferable to seek a friend's help while assembling this grill. The smoky, red, copper, or black hoods would fit most patio designs and give this barbecue a unique touch.
This product also features two wheels and two locking casters, making it easier to move. And as a bonus, six convenient hooks are included to hang your grilling utensils while you cook.
Again, one of the top models. A somewhat simple yet sufficiently well-featured, well-thought-out and designed natural gas grills on the market comes from Weber.
This product is durable, large enough to be versatile with different heat zones, comes with a great confidence-instilling warranty period and — if it's important to you — looks the business too.
Pros
Easy to start and use.
Available in different colors to match the style of your backyard.
Lower shelf for easy storage of tools and accessories.
Sturdy construction.
Adjustable and even heat distribution.
10-year warranty
Cons
Side burner not included.
The open cart design is second to closing doors in my opinion (though of course costs more.)
Although basic, the Weber E-410 has everything you need for most get-togethers.
As it comes with Weber's reputation for build quality and one of the longest warranties on the market, you won't have to worry about replacing parts through the years. One of the best natural gas grills from a trusted brand, backed up with a good warranty.
Napoleon P500RSIBNSS-3 Prestige 500 Natural Gas Grill
5
Are you a master griller looking for the best natural gas outdoor grill, with all the bells and whistles to level up your barbecue game?
Mixing stainless steel gas burners and the newest infrared technology, this Napoleon grill gives you the flexibility to cook extra-juicy meat in eight different ways.
Measuring 26.5 x 66.25 x 50.25 inches, if provides a total cooking surface area of 760 square inches, enough to cook 39 burgers – 31 in the main cooking area and 8 on the side burner — you shouldn't have any issue extending your guest list.
Soon after opening the box, you'll quickly realize that Napoleon has invested in quality materials both inside and outside the grill.
The extra large cooking space on the Prestige 500 includes four main burners totaling 48,000 BTU, two infrared burners (side and rear), and a warming rack. This grill even includes a high-quality rotisserie kit making it one of the most versatile and complete products on our list.
The infrared technology won't only save you gas, it also heats faster and doesn't dry up your meat, keeping it more succulent and tastier. And the stainless steel cart and parts make it extremely resistant to corrosion and rust.
We also love the wave-shaped grates, they give unique and uncommon searing marks to your meat, while adding a bit of visual style.
The towel bar is a nice touch, and the two door cabinet provides convenient and well-needed storage space.
With an included rotisserie kit, infrared side and rear burners, large cooking area and independently controllable main burners, this is an incredibly versatile product that will have you experimenting with all sorts of new techniques and outdoor cooking adventures.
Pros
Efficient side burner reaching 1,800 degrees Fahrenheit in just seconds for super searing.
Durable and easy to clean.
Infrared technology.
Included rotisserie kit.
Versatile grill allowing all cooking methods.
5-year to lifetime warranty, depending on the part.
Cons
Plastic handles on the cabinet could have been made of metal. Mostly aesthetic, but would make them more durable too.
Have read of some complaints saying the decals come off the front of the grill in time. But Napoleon do send new ones, so this isn't a dealbreaker.
If you're wanting to take your grilling skills to the next level, are looking for a functional NG grill with plenty of features, and a damn good-looking bit of kit, this just might be it.
Blaze 4-Burner Freestanding Natural Gas Grill with Lights
6
Are you looking for the cream of the crop, the king of grills? Not only does this Blaze come with all the equipment you might need and more, but it's also made with 304-grade stainless steel, ensuring lifetime durability.
If the thought of assembling the grill is putting you off, it arrives assembled; only the cart needs to be put together. Alternately, an expert assembly service is available at extra cost.
At 25.75″ D x 56.25″ W x 57.25″ H, this grill provides a total cooking surface area over 700 square inches, powered by four high-quality burners, each providing 14,000 BTUs of power, for a total of 56,000 BTUs.
Another 10,000 BTUs on the rear infrared burner that drives the included rotisserie kit, gives you a total of 66,000 BTUs over a huge, cooking area.
The individual ignition system and heat separators allow for maximal heat control for cooking flexibility. The extra-thick hood increases heat retention while grilling.
This setup includes a freestanding cart and your Blaze 32-inch gas grill. The cart sits on four heavy-duty casters, and has two doors to store your accessories out of sight.
There are handy side tables on each side, a removable warming rack, and a full-width drip tray.
Pros
Easy to assemble.
Larger preparation cooking area than most other grills.
304-grade stainless steel ensures durability.
Heat zone separators create individual cooking zones.
Enclosed storage area.
Cons
The protective coating added for transit isn't easy to remove.
If you're looking for a high-end grill featuring all your present and potential future needs, the Blaze might be one to consider. Although it may represent a heavier initial investment, it should last you for many, many years.
What to Consider When Buying?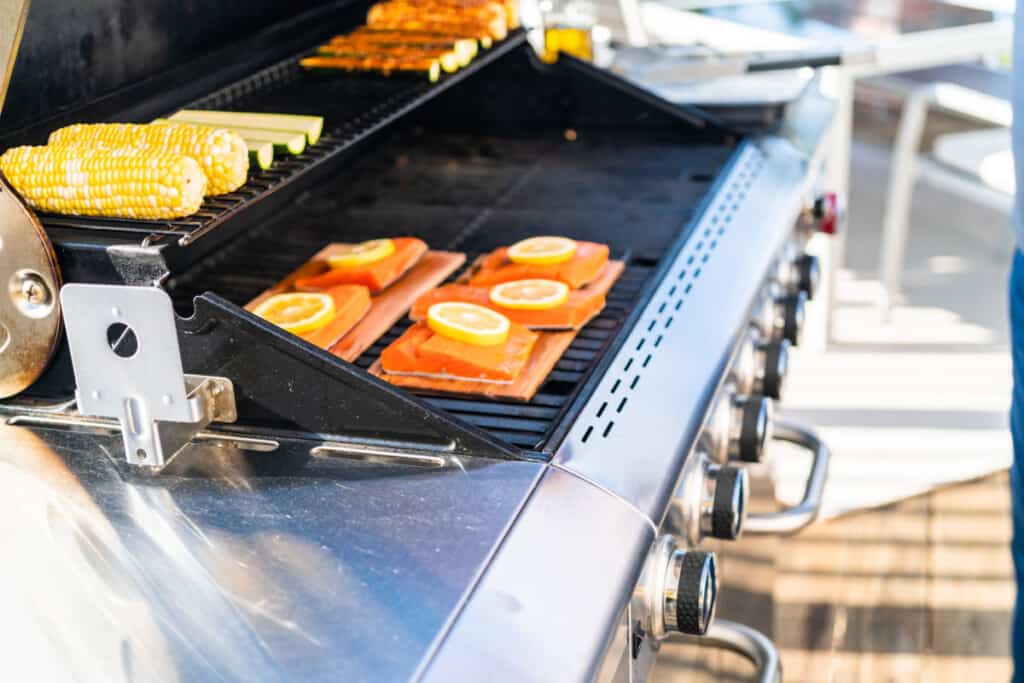 What are the key features to look for in the best natural gas grill for you?
Many hobbyists would only consider looking at BTUs to compare quality and performance, but there is much more to it than this.
What Size Grill do You Need?
Think about how many people you'll most often be feeding.
If you're only going to be cooking for a family of 3, you don't want a 6-burner behemoth! It's just a waste of money, and will cost more fuel than is necessary to heat it through each time you want to cook.
For your guests to eat their meal together and have a good time, selecting the right size cooking space will be the key.
For optimum grilling, plan about an inch of space between each food item. A grill containing three burners—up to 500 square inches—should be enough for an average-sized family.
Larger families or groups should probably aim for five or six burners—up to 650 square inches of cooking area.
Consider Number of Burners
The number of burners doesn't only increase your cooking space, it also impacts your grilling methods and techniques. The more burners you have, the more different 'heat zones' you can have, to cook different foods at different temperatures.
You will also be able to cook 'indirect', where only half or fewer burners are turned on for heat, and meat is placed away from the direct heat source for indirect roasting. Essential for larger cuts like ribs and pulled pork.
Most natural gas grills are built with two to six burners. We suggest getting three minimum if you can afford it, to enjoy the flexibility when needed.
Consider Required Footprint
Where are you planning to place your grill? Do you have a large backyard or a small balcony? Gas grills — along with their side shelves — can take up a significant amount of space, and you'd be disappointed if it doesn't fit in its designated place.
While considering the footprint, you might want to plan for an extra two or three feet all around to keep it away from your home and any flammable objects.
Types and Configuration of Burners
The types of burners will influence how hot they get, how resistant to corrosion they are and how long they will last.
The configuration of the burners decides your flexibility, how many types of cooking you can do at once, and how many different temperatures and varying heat zones.
Let's take a look at the possibilities.
Materials Used
Burners need to withstand a large amount of heat and pressure, therefore the quality of your burners will have a large impact on the quality and longevity of your grill.
Stainless steel burners seem to be the most popular and can withstand corrosion. Don't be fooled, they also come in different qualities and grades.
The most corrosion-resistant grade available is 304 stainless steel and is composed of 10 percent nickel and 18 percent chromium. 430 stainless steel grade is less expensive, but will corrode and rust much faster.
Side Burner
If your grill comes with a side burner, it allows for an additional type of cooking other than direct on the grates: It's used for cooking in pots and pans, things such as homemade soups, sauces, BBQ sides, pasta, rice or anything else you would cook in a pan.
Having a side burner makes cooking easier by letting you have everything you need right in front of you, rather than having to nip in and out of the kitchen to cook things on your standard hob.
Some side burners come with a cover, giving you the option to use it as a shelf when not in use.
Infrared Burner?
Infrared burners are the new kids in town. The innovative technology cooks and sears super quickly, giving it a full flavor.
Instead of heating the grates directly, the gas heats up the infrared emitting plate which then radiates the heat evenly through the grates.
Not only does infrared technology make your food more consistent and hence enjoyable, but it also consumes less fuel while still providing high-intensity heat.
If interested, you can check out our guide for more information on infrared cooking and the best infrared grills.
Cooking Grates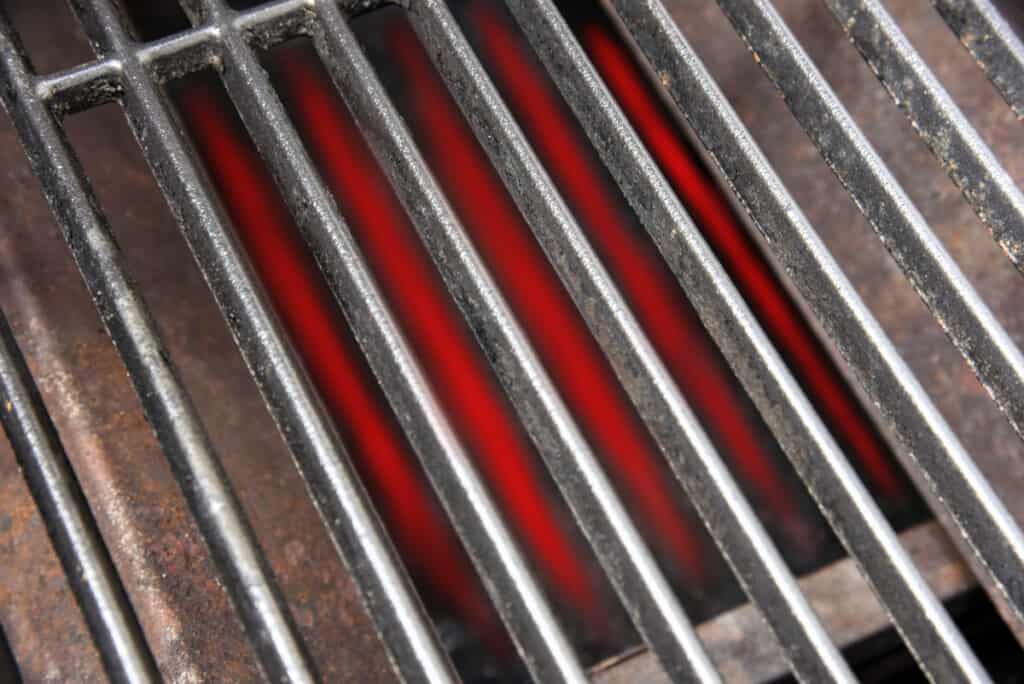 Grates are considered the engine of your grill, and low-quality grates will give you a poorly cooked meal.
Just like burners, they need to be able to last through considerable stress, the repetitive heating and cooling to very high temperatures. The nature and thickness of your grates will determine how fast they'll decay.
Most cooking grates are built with cast iron, porcelain, or stainless steel, with cast iron being great at retaining heat and creating sear marks, porcelain coated being the easiest to keep clean, and stainless steel being the most naturally non-stick surface.
A Quality Ignition System
You've got everything ready, and your hungry guests have just arrived, what could be more annoying than a gas grill that won't start?
The best natural gas grills will have a high-quality ignition system will help you to avoid this kind of embarrassment, and you'll be able to keep your matches for the candles on your next romantic date.
To launch the burner, most ignition systems use a spark. The quality of the spark generator, the cable holding the spark, and the electrode sending the current to its final destination, will determine the caliber of the ignition system.
You'll usually find one of these three ignition systems:
Battery-Powered Ignition — They're most often the easiest ones to fix when a problem arises. Simply change the batteries whenever the ignition is giving you a hard time.
Piezo Ignition — Piezoelectric ignition is easily recognized by its singular clicking sound. It's the pioneer ignition system that gets your grill started in no time by simply turning a knob and pressing a button.
Hot Surface Ignitor — These types of ignition systems are mostly found in very fancy grills and require a connection to mains electricity to operate.
A Nice Big Hood
If you're looking to grill meat thicker than a couple of inches, a high-quality hood will be needed to ensure it's well cooked throughout.
By allowing heat to circulate, and heat to transfer by convection, a nice, tall, well insulated hood allows you to roast foods, rather than relying on purely direct heat grilling.
Indirect cooking — where the food sits on the grates away from the heat source (burners are off under the food) is only possible with a nice large lid.
The roomier and stronger the hood, the more heat it retains, not to mention you need quite some height if you're to stand a rib roast or a large bird under there to roast.
Easy to Clean
All natural gas grills need some kind of maintenance to keep them in good order. When selecting yours, you might want to ensure that all parts — including grates and flavorizers — are easily removable or accessible, to facilitate cleaning.
Your grate and burner material will also have an impact on the amount of cleaning needed. Generally speaking, stainless steel grates and burners require the least amount of maintenance.
Here's an article on how to clean your gas grill when needed.
Extra, Modern Features for Ease of Use and Precision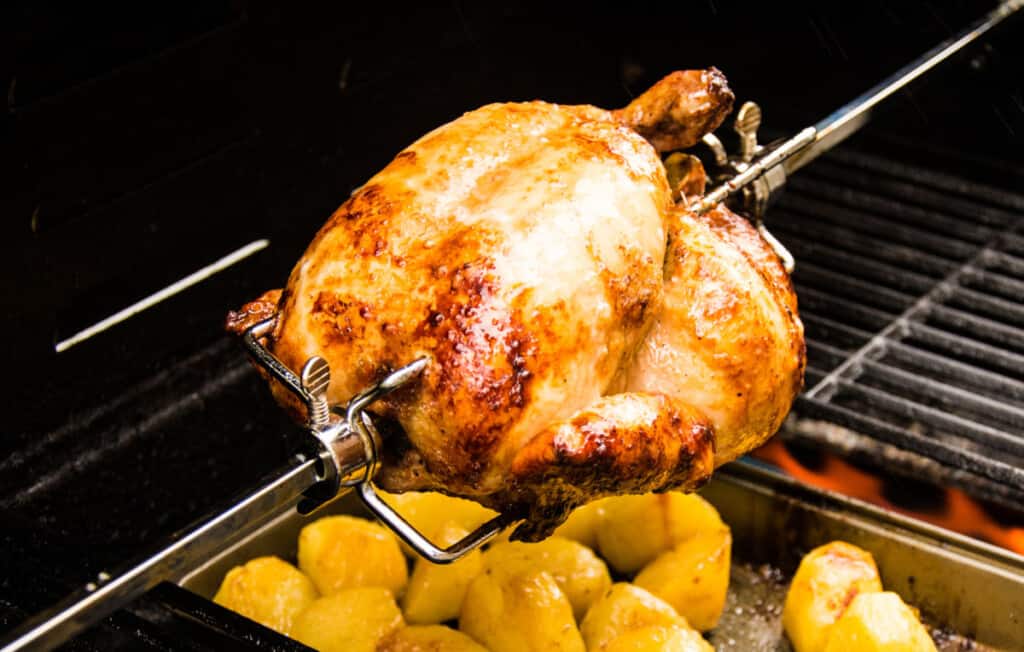 Now that we've covered the basic components and characteristics of natural gas grills, let's accessorize it! Accessories will take your grilling experience to the next level, providing convenience, space, and additional cooking tools.
Additional Space
Many models come with two foldable side tables for additional cooking preparation space. However, the side shelves don't always offer enough space to handle your barbecue paraphernalia.
As they're attached to your gas line, most models come with storage you can use in the cart, as there's no need to hold a propane bottle.
Some models come with a handy drawer or open shelf to place or store your grilling tools. Others may include double doors to keep everything clean and tidy. Convenient hooks allow you to hang your tools while you're grilling.
Decide which you'd prefer before you start looking at options.
Rotisserie
If you're a slow-roast meat devotee, a rotisserie will be the first accessory you'll want to invest in.
A tiny electric motor slowly turns a spit rod, connected to the grill through brackets. The meat is attached to the spit rod, with spit forks holding it into place.
As the meat rotates slowly above the cooking grates, it will cook on all sides and the meat is self-basting as it cooks.
Grilling Tools
A set of grilling tools are a must-have for any outdoor cook, and should include tongs, brushes, spatulas, and other cookware specifically designed for outdoor grilling.
By purchasing all stainless-steel grilling tools — without plastic or wooden handles — you can simply throw them in your dishwasher to clean.
Protective Covers
If you're not using your grill all year around, a cover is a good investment.
Look for one that's made of high-quality waterproof materials, protecting your grill from the weather, dust, and humidity, such as our recommendations in our guide to the best grill covers.
Other Useful Features
If you're a savvy outdoor cook, a built-in thermometer is a nice add-on, giving you an estimation of your grill's temperature at all-times.
Warming racks don't only increase your cooking space, but they also give you the ability to slow cook your delicate food items.
Build Quality, Materials, And Durability
A natural gas barbecue can represent quite an investment, and you'll want to ensure that it lasts.
First, you'll want a sturdy and stable product that won't tip over with the slightest wind. Quickly inspect how the cart is assembled, checking the wheels, lid, and firebox.
Although you'll find models made of sheet metal, cast iron, or even cast aluminum, most devotees choose stainless steel.
Finally, I'd recommend going for branded grills as they usually need to meet high standards and a certain level of quality to protect the brands reputation.
Warranty
A manufacturer's guarantee will depend on the brand and the materials used. From one year to lifetime warranties, manufacturers usually offer different warranties for the burners, the firebox, and other parts of the grill individually.
When selecting your BBQ, make sure to choose a reputable company that will stand by its guarantee in case of any quality or product defects.
Price and Value
Before making a purchase, you might want to set a budget. With so many options out there, it's easy to leave with a barbecue three times the price that you intended to spend.
Generally speaking, quality comes at a higher price point. However, by knowing the features, quality, and material you need, you'll be sure to get the most value for your bucks.
We advise to be realistic with the quality and features you can expect at different price points, but to set a budget and stick to it.
What is Natural Gas?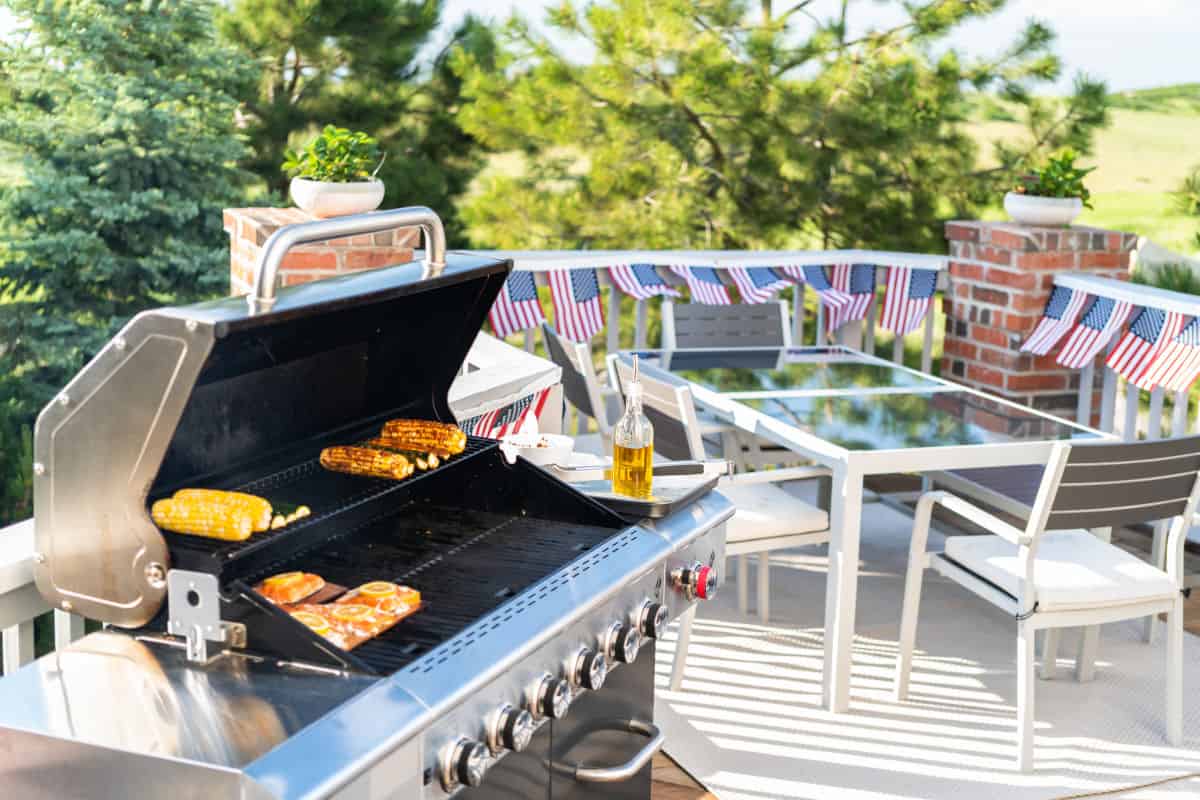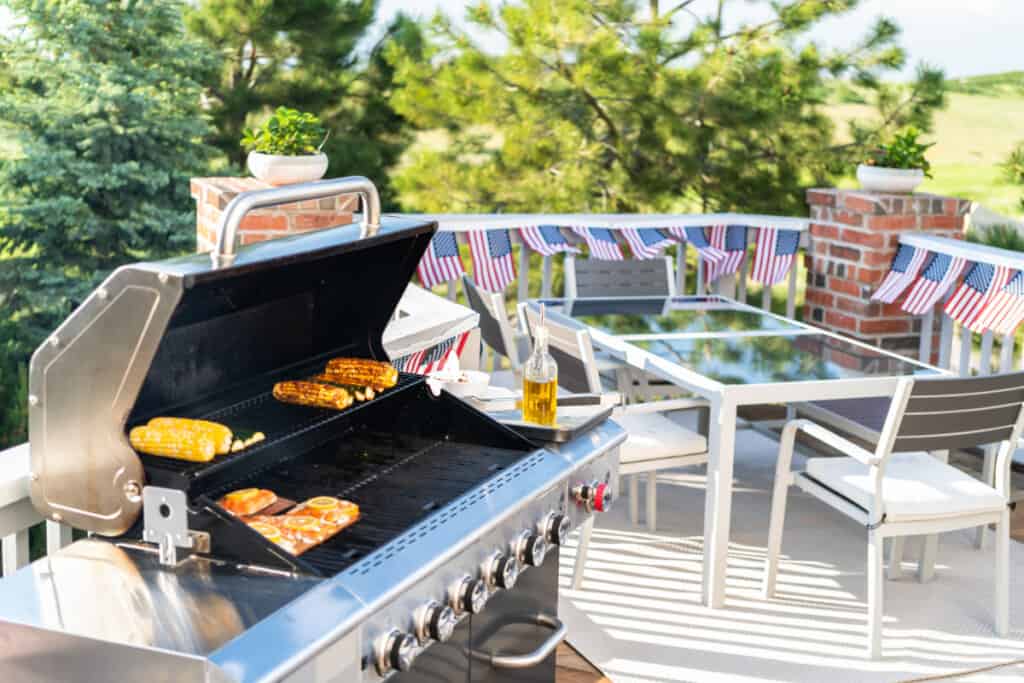 Where does natural gas come from, and how are natural gas grills different from liquid propane ones?
Natural gas is the admirable result of nature's work. After millions of years withstanding heat and pressure, sediments become a non-toxic and odorless fossil energy source, mainly composed of methane.
Unfortunately, it isn't available in every area, in which case you'd need to find other alternatives, such as propane, electric, or a traditional charcoal grill.
What's the Difference Between Natural Gas and Liquid Propane?
Propane delivers more than double the amount of heat of natural gas per cubic foot – 2,500 BTUs versus 1,000 BTUs.
This is one of the reasons propane grills are extremely popular, because they provide more heat per unit of gas.
However, they connect to reusable tanks through a connector, meaning that you'll always need a tank or two to keep the party going.
One of the advantages of propane grills is their portability. Because they aren't attached to a fixed line, they can go wherever you choose, whereas an NG grill is pretty much tied to where the hook-up is.
Are There any Benefits to Cooking With Natural Gas?
Both affordable and green, there are several benefits which we'll explore now.
Budget-Friendly in the Long Run
Although natural gas can potentially mean higher initial costs — if a main has to be extended to your house, for example — it will still represent significant savings in the long run.
For each BTU, natural gas costs on average one-third of the price of liquid propane, not to mention the saving on trips back and forth to the store for swapping propane tanks.
Less Smoke, More Fun
When it comes to smoke during a grilling party, less is more.
Natural gas emits the least amount of exhaust of any fuel, which would otherwise end up in your food, your backyard, and on your clothes.
No Refill Needed
This is one of the main advantages of NG grills. The line will provide you with unlimited fuel whenever you need it. Just ignite the flame and start grilling.
Unlike propane grills, you'll never find yourself in the uncomfortable situation of running out of fuel and needing to leave the party to refuel.
Eco-Friendly Solution
Conveniently, natural gas is also eco-friendly. It contains the smallest carbon footprint, leaving our environment as clean as possible.
Easy Installation
As they need to be hooked up to a main supply, NG grills always require some sort of installation. If you have an existing mains connection at home, then it only needs to be connected to it, and most grills come with detailed instructions on how to set them up.
If you don't have a main line already installed, some companies offer this service for free, so it's usually an easy fix.
In the rare event that the gas main isn't located near your house, you need an extension. In this case, you'll need to contact your gas company.
Can You Use Propane in a Natural Gas Barbecue?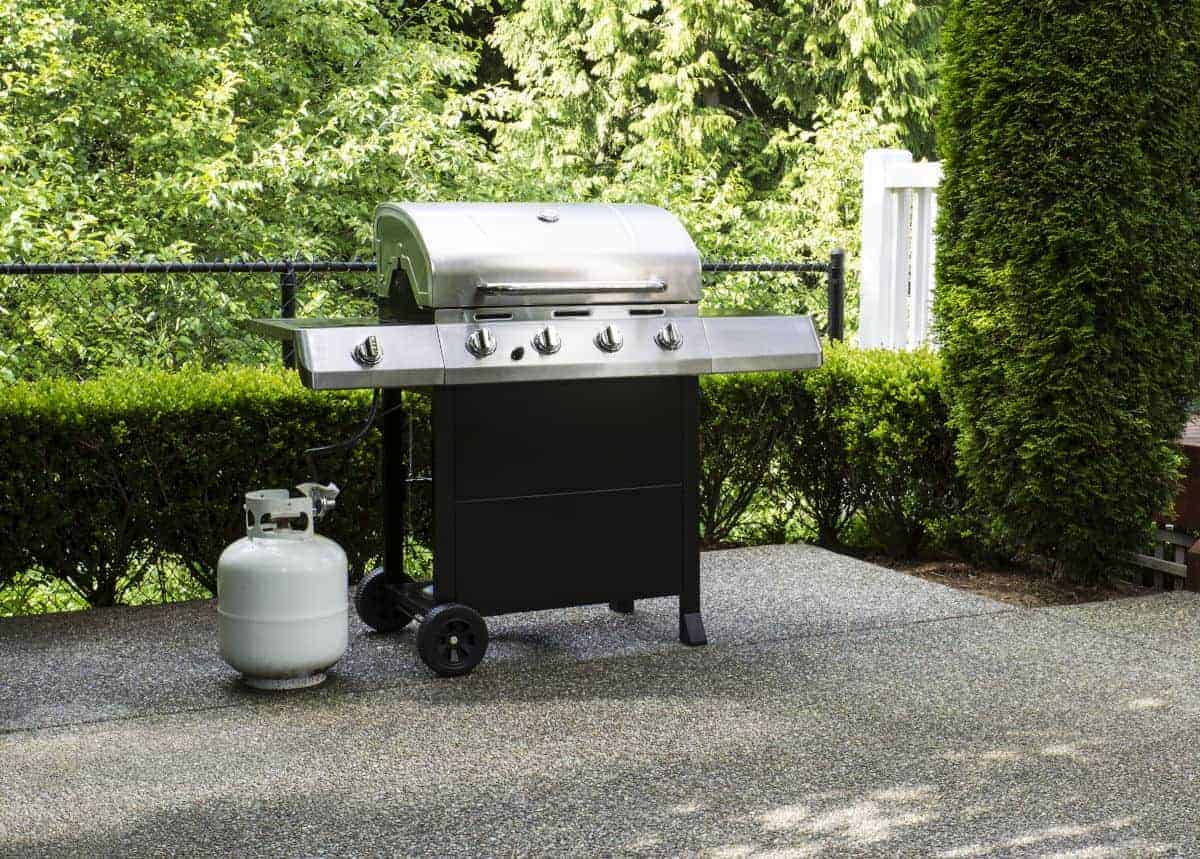 Propane and natural gas contain a different amount of energy, with propane burning with 2.5x more heat generation than natural gas. The pressure, and the oxygen to gas ratio needed for optimum combustion differ between the two as well.
This prevents NG and propane grills from being easily interchangeable. Orifices, attachment hoses, and regulators need to be converted before using propane in a natural gas grill.
Converting from a Propane Grill to a Natural Gas Grill
Not all grills have the ability to be converted from NG to propane. You'd first need to consult the owner's manual or contact the manufacturer.
Most companies supply converter kits which make the procedure safe and fairly simple. The basic process is as follows:
Turn off and disconnect the natural gas supply.
Access the inside the grill by removing the panels.
Replace the existing regulators and valve with the new converter kit pieces. Make sure if they all fit tightly.
Pour a small amount of soapy water around the connections and turn on the gas supply. If you can see bubbles, there's a leak.
Obviously, there's more to it than just this, and perhaps a video 'how to' is useful that shows how to convert a grill from propane to natural gas.
Conclusion
Whether you're looking for a basic gas grill to host small family gatherings or a high-end barbecue with all the bells and whistles, we hope you've found the right product for you in our roundup of the best natural gas grills.
I often hold casual grilling parties with only a few guests. Because I also value multi-purpose and durable grills, the Weber Spirit II E-310 would be my go-to. I'd certainly pick the red hood to match the rest of my backyard furniture!
Do you own a natural gas grill? Which one did you pick? Please leave us your comments below, and we'll make sure to answer them all.