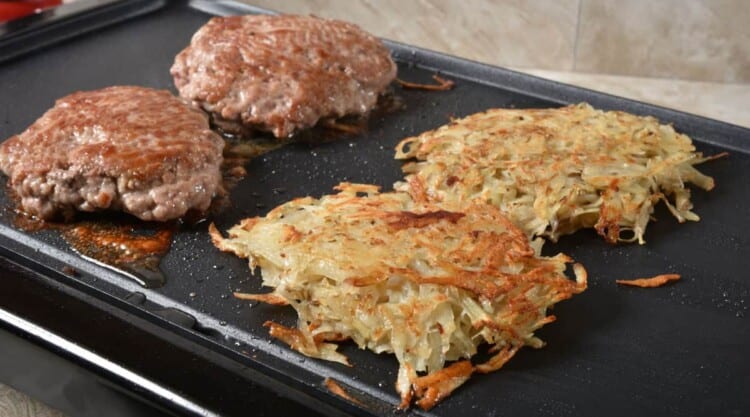 In this detailed buying guide, we go through in depth what you should look for when looking for the best outdoor gas griddle, or flat top grill to fit over your existing gas or charcoal grills.
We take a look at the features and specs to look for, what to avoid, pros and cons of such products, as well featuring a roundup of the 9 best flat top grills and griddles, including 5 you can slip on top of your existing grill, to make the most of equipment you already own.
With the weather warming and grilling season approaching, maybe you're looking for something to cook those impromptu alfresco breakfasts out in the sun?
A traditional gas grill may be great for cooking steak, chicken or bangers, but try cooking eggs, patties or fluffy pancakes on those slotted grates! It's not going to work as everything falls through.
And that's where a product from our guide to the best flat top grills and outdoor griddles comes in. With their solid cooking surfaces, they open up a whole new world of outdoor cooking.
The Best Outdoor Gas Griddles and Flat Top Grills
Best Flat Top Grills to Fit Existing Gas or Charcoal Grills
Note: Clicking the above links will take you to further information, current prices and customer reviews on Amazon.
A Detailed Look at Our Top Picks
With so many griddles on the market, it can be difficult to know which ones stand out as worthy of your money.
There are always flat top grill attachments you can place on a gas grill for that flat top cooking experience, but they won't offer the same ease of use or heat control.
After looking at many of the options on the market, here are, in our opinion, the best outdoor gas griddles and flat top grills powered by propane gas that you can buy today.
Blackstone 36 Inch Outdoor Flat Top Gas Griddle
1
This quality product from Blackstone is one you'll have seen in many restaurants, or poolside at resorts. One of the most durable griddles on the market, the Blackstone features a combination of stainless steel burners, a black steel frame, and a cold-rolled steel cooktop.
Weighing 120 pounds and measuring 62.5 × 22 × 36 inches, it provides a huge 720 square inches of flat top grilling surface, covering four independently controlled burners made of stainless steel, which provide an impressive 60,000 BTUs to provide different heat zones.
The thick, cold-rolled 7-gauge steel cooking surface offers excellent heat retention and more even cooking across the surface.
If you worry this griddle may be too large for your needs, Blackstone offers a smaller version. The Blackstone 28-inch outdoor flat top grill station, which features the same powder coated steel frame and cold rolled flat top. Instead of four burners, it only has two, which offer 30,000 BTUs and a cooking space of 470 square inches.
Arriving unassembled, it takes about 10 minutes to put all the parts together. The main body is already built, with the heavy, almost 50 pounds, cooking surface supplied separately in the box.
All you need for assembly is a Phillips screwdriver and a crescent wrench, although it's probably best to build it outside—you may not get it out of the door fully assembled. A hose and regulator are already attached, and the kit includes all the burner valve knobs and ignition mechanisms you need for operation.
The steel cart legs fold down for you to fix a bottom shelf, two side shelves and a bracket for holding the propane cylinder.
Four industrial-strength casters are attached to the base of the trolley for easier movement, two of which can be locked for more stability.
Pros
Very easy to assemble.
Extremely durable, with all-steel construction.
Larger cooking area than most home gas griddles.
Independent burner controls allow for four different heat zones.
No more trailing hoses with the propane tank attached to the stand.
Plenty of storage and work surfaces. (Note: the 28-inch model only features one side shelf.)
Offers great value per square inch of cooking surface.
Also available in a stainless steel model
Cons
The side-mounted drip tray can make grease management more difficult.
Short, 90-day warranty.
If you want to look like a pro when prepping that next outdoor breakfast, the Blackstone BS36 is the griddle for you. A solid steel stand and cooking top are both built to last and can offer tasty results every time—not just at breakfast, but it has the power for steaks too.
You would have to look very hard to find a traditional grill which offers the same huge grilling area for a similar price.
Royal Gourmet Regal GB4000 4 Burner Gas Griddle
2
This large, 4-burner gas griddle comes from Royal Gourmet, a company located in Georgia, USA, known for their variety of outdoor grilling solutions.
Weighing 125 pounds and measuring 63.8″ × 22.4″ × 34.6″ inches, a 3/16 inch thickness, cold-rolled steel cooking plate on this model provides 784 square inches cooking area, comes pre-seasoned and is very durable, with a stainless steel control panel.
There are a total of four independently controlled stainless steel burners at 13,000 BTUs each, allowing for fantastic heat control and different temperature cooking zones across the surface.
One of the features which make this product stand out is the large capacity grease collection underneath the firebox that will need emptying less often.
An ergonomic design uses a black powder-coated steel frame, with four casters and brakes attached to the legs for maneuverability.
Two large fold-down side tables that can hold up to 25 pounds each, provide for more preparation or storage space as you cook.
It arrives in one package for assembly but at 125 pounds, may need an extra pair of hands to build it. Included in the box are the main body, a thick, cold-rolled steel cooking plate, and the steel frame, with four 3-inch casters attached at the base.
A stainless steel fascia already has all the knobs and ignition controls assembled, with two side shelves and brackets needing fixing to the side of the griddle. The legs can also fold up for easier storage or transportation.
Pros
Large cooking surface with 52,000 BTUs for faster heat up.
Thick griddle top offers better heat retention and more even cooking.
Four independently controlled burners allow for customized griddling and different heat zones.
Grease collection drawer under the firebox is large and easy to empty after use.
Foldable shelves are more sturdy than some other carts.
Industrial material used for casters makes it easy to move, even on rocky or more rugged terrain.
The stainless-steel control panel is simple to clean and built for longevity.
Cons
No bracket or fixings for keeping the propane tank secure when moving the griddle about—only a flimsy hook.
The top can be very heavy to lift when you need to clean the grease management system—not all grease drips into the tray.
This model from Royal Gourmet only just falls below our overall best choice. It is only slightly smaller and marginally less powerful.
However, the Royal Gourmet is still a great choice if you need that larger cooking surface for backyard events or parties. Also, many owners love that huge grease trap under the firebox.
Blackstone Table Top Model
3
Another quality product from Blackstone is this smaller and more portable tabletop griddle.
At 21 pounds and 17.5 × 18 × 8.5 inches, it's cooking surface is almost half the size and weighs far less than our top pick, featuring a generous 268 square inches of cooking space, ample for most small family meals and incredibly portable.
An electronic igniter for it's single 12,000 BTU burner is extremely easy-to-use, and the integrated grease management and drip tray at the front is simple to maintain.
The advantage of this smaller model over many of its competitors is its simplicity.
The thick 1/8-inch cold-rolled steel flat top surface, powered by a H-shaped burner for even heat distribution, is controlled by an easy-to-use dial for temperature control graduated from low to high.
It has rubber feet for stability, and connects to standard 1-pound propane gas bottles.
Pros
The H-shaped burner ensures the whole surface heats up quickly.
The cooking plate can be stored conveniently upside down.
Durable and well constructed.
The all-steel build is easy to clean.
Piezo ignition is easy and reliable to use—no more matches.
The griddle surface flips over for safer travel.
Cons
Not enough surface or heat for cooking larger volumes of food.
The grease cup is rather small and needs regularly emptying while cooking.
No preparation space.
If you plan on cooking on your next camping trip, this will be much easier to set up and use than a traditional grill.
The smaller, one-pound bottle and compact size of this grill can easily fit into most car trunks. And you will enjoy the same quality as many other Blackstone griddles, albeit a little smaller and less powerful.
A sturdy compact griddle, built to last.
Cuisinart CGG-501 Gourmet Gas Griddle
4
Another impressive portable flat top grill is this compact unit from well-known appliance manufacturer, Cuisinart. It features two burners rather than one — so you can still have different heat zones — and an impressive 20,000 BTUs of heat output.
Weighing 25 pounds and measuring 21.00 × 20.50 × 9.00 inches, the 285 square inch cooking surface and compact footprint make it ideal for cooking a steak dinner on your deck, patio, or when RVing.
Unfortunately, the attached hose uses 20-pound propane cylinders, making it somewhat less suitable for camping.
Easy to install, it arrives in just four separate parts. You simply attach the four legs to the base of the painted steel body, before placing the thick cold-rolled steel griddle plate on top. Two side handles on the main body make for easier carrying.
A large drip tray slides in and out of the front fascia, next to the two burner controls. An attached hose with a regulator is supplied for connection to a gas cylinder.
Pros
Powerful, with 20,000 BTUs of heat. Heats up very fast.
Independent control of each burner offers more versatility.
Twist and turn ignition is simple to use.
Cooking plate is easily removed for cleaning.
Durable, with a longer 3-year warranty period than most models at similar prices.
Cons
No markings on the heat control knobs—it does get hot, often well above 400 degrees Fahrenheit.
Short hose, only 4 feet long, considering it uses a 20-pound propane cylinder.
For those outdoor breakfasts or steak dinners on your patio, this compact grill is portable, quick and easy-to-use.
The two-burner design means it will heat up much quicker than some other table-top grills. However, it will get very hot, and you may need practice on setting the correct temp, to avoid burning your foods.
For RVing, alfresco patio dining or even tailgates, it's the ideal grill, but the 20-pound propane tanks it uses makes you question its use as a cooker for camping.
Combination Flat Top Grill and Griddle Worth Considering
Although we've covered what we consider to be the best choices for professional restaurant-style outdoor gas griddles and portable options, there's one more model we feel deserves mention.
The following is a 2-in-1 combo flat top griddle and standard grill, for those not quite willing to give up their traditional grilling just yet.
Camp Chef 2-in-1 Flat Top Griddle and Grill
5
Finally, we come to the Camp Chef Flat Top Grill 600, a griddle which can also be used as a traditional grill.
If you still want those grill grate sear marks on your steak, but the versatility of cooking breakfast goods or smaller more delicate items on a flat top grill, this is the combination model for you.
With this 142 pounds, 62.5″ × 37″ × 22″ unit comes four 12,000 BTU burners, a matchless ignition and 604 square inches of flat top cooking surface.
Removing the interchangeable top reveals a large 501 square inches of traditional grilling grates.
Although you can remove the steel plates from other griddles, it's rarely recommended using them as a grill. Normally the burners will feature no protection from dripping grease or juices, and will clog up, flare up or malfunction.
Not so with this product, that is purposely designed for both uses.
Also included are two folding side shelves for a working area, grease management system with bucket collection, and a side-mounted bracket, hose and regulator for a 20 lb propane gas cylinder.
This large product will often ship in more than one box, some of which may arrive separately. Make sure all the parts have arrived before you start to build the unit as the assembly can be a little more complex than some other griddles.
You will need a Phillips screwdriver and an adjustable wrench for assembly. Turning the main body upside down, attaching the legs and shelves can be quite simple. When you get to building it, ensure you place the deflector hoods over the burners before placing the grates and then the griddle surface on top.
Pros
Easy to remove the griddle top for a traditional grilling experience.
Stainless steel hoods over the burners direct grease into a grease management system.
Large cooking space with plenty of preparation surfaces.
Two under-griddle shelves for more storage.
More control over the temperature, with four independent burners.
Matchless ignition on each burner.
Easy to use, low to high temperature-marked dials.
Micro adjustments for height make for efficient grease flow into drip cup.
Cons
Large footprint, with a drip tray attaching to side shelf meaning they must be up when using as a griddle.
Some parts of the flat top don't heat up evenly, with the grates underneath absorbing heat.
Only two wheels can make it difficult to move, and it can wobble slightly when in use.
Harder to clean, with separate grates and a griddle top both needing attention.
If you really want the option of a traditional gas grill and griddle surface, one option is to purchase an attachable plate for your existing grill (for which we cover options later in this guide!) The other, and more convenient option, is to buy a grill/griddle combo, like this one offered by Camp Chef.
The ideal product with huge space for catering to larger parties, you can simply whip the top off for a more traditional outdoor cooking experience.
Best Outdoor Griddles to Fit Existing Gas and Charcoal Grills
With so many grill-friendly griddle attachments on the market, we have selected those we think are the best.
We haven't picked any manufacturer-specific products, but have opted to include universal-fitting models only — just remember to check those measurements, to make sure it will fit!
You may not always own the same grill, and a griddle plate could last longer than your grill if it's properly cared for.
Universal griddles might fit onto your friend's grill too if you want to take it to a party with you. This isn't to say that official, manufacturer-matched griddles are bad, but they are often more expensive as well as restrictive.
Little Griddle Series for Various Size Grills
6
Little Griddle is a name you will hear mentioned a lot when looking for an attaching flat top for your grill. Despite the name, they're not all little — the full-sized GQ230 model offers a generous 368-square-inch cooking surface.
Made from 100-percent stainless steel, this Professional Series product features a full-width grease well at the front, with generous side walls too. At 23 inches wide it will cover most gas grills and even leave a burner and some grill space free on larger models.
For smaller grills, they also make some models which are "little." It has the same stainless-steel construction as the full sized GQ230, including a grease well, side walls and an underside cross bracing for rigidity.
Still in the Professional Series is the half-sized grill, the Little Griddle GQ120. It measures 12.5 inches by 16 inches deep.
The Little Griddle SQ180 measures 18 inches wide by 13 inches deep. However, this is from the Essential Series and lacks the removable handles of the pro range.
Best of all, this series of products are all covered by a limited lifetime warranty, guaranteed not to chip, twist or bend.
There are 3 in the range, the GQ230, GQ120 and SG180.
All 3 are rated to 600 degrees Fahrenheit, are made of stainless steel, and made to fit atop gas grills. Here are the general specs for each where they differ:
GQ230 Professional Series
Dimensions (W × D × H): 23 × 16 × 4.0
Weight: 16 pounds
GQ120 Griddle Q, Half Size
Dimensions (W × D × H): 12.5 × 16 × 4
Weight: 11 pounds
SQ180 Universal Griddle (Formerly known as Sizzle-Q)
Dimensions (W × D × H): 18 × 13 × 3
Weight: 9 pounds
Pros
Restaurant-quality, 14-gauge stainless steel, which is easy to clean and more durable.
Patented ventilation design at the rear for better airflow (essential for fuelling charcoal fires.).
Very sturdy, with underside cross bracing for strength.
High side walls prevent food from slipping off the surface.
A built-in grease well prevents flare-ups by collecting grease.
Grill top is simple to clean.
Removable handles makes it quicker to remove from your grill—even while still hot.
Lifetime warranty — built to last.
Cons
No handles on the Essential Series, either built-in or removable—harder to remove and clean.
No drain hole in the grease well means it can overflow if not regularly emptied.
Side walls and grease trough can be difficult to keep clean.
Not suitable for use on charcoal grills.
If you're looking for a restaurant-quality griddle which can fit over your existing grill, the stainless-steel Little Griddle series includes some of the best you will find.
Some would argue they aren't big enough, but if you have a larger grill it simply offers the versatility of griddling and grilling at the same time.
Onlyfire Universal Stainless Steel Griddle for BBQ Grills With Removable Handles
7
Onlyfire is another company known for making quality stainless-steel griddles that fit over your existing grill. Even leading grill manufacturer Weber, the "King of the Grills," stocks and recommends Onlyfire accessories for its range of top-selling grills—you don't get a much better recommendation than that!
The stainless-steel universal griddle we looked at weighs 8.7 pounds and measures 18 inches wide, with a depth of 12.5 inches, but there is also 23-inch version available.
Similar to the Little Griddle Professional Series, it features removable handles and even provides a wrench for tightening them.
With over 200 square inch cooking surface, it will fit over virtually any gas grill. A vented cross brace system ensures strength and even heat spread of the cooking surface.
Pros
Heavy-duty stainless-steel non-stick surface is easy to cook on.
Easy to clean while still on the grill.
Sidewalls are high enough to flip or turn foods, keeping them on the cooking surface.
A welded cross brace grid pattern for more stability and strength.
The removable handles are solid, for lifting the plate on and off.
Supplied wrench makes it easy to tighten the handles.
Cons
Roughly welded joints at the backplate may not be as durable as more expensive models.
Only two sizes available, this can limit the grills they fit.
Lack of a drainage hole on grease tray, removing the griddle can be messy and prone to spills.
Almost identical to the Little Griddles Professional Series, this model from Onlyfire is another great product for your grill. It features removable handles and a cross brace support system, but the cooking surface is slightly thinner.
If you find none of the Little Griddle range fits your grill, or you prefer the Weber choice of accessory, then opt for this Onlyfire flat top grill product instead.
Best Round Griddles to Fit Kettles and Kamado Grills
We're not all lucky enough to own a standard square or rectangular shaped grill. I say lucky, but I personally love my little kettle grill. And if you own a kamado, you're certainly lucky to own such a fine piece of equipment.
I've tried using a skillet pan for that flat top effect on my kettle grill, but what do you do with all the drippings that build up in the pan? Fortunately, many companies now manufacture round griddles to fit onto your kettle or kamado grill.
Little Griddle Kettle-Q Flat Top Grill for Round Grills
8
Another quality stainless-steel product from the Little Griddle company, this one has been specially designed for round grills.
The semi-circle design measures 17.5 × 14.5 × 3.5 inches, weighs 11-pounds, features side walls to keep your food on the cooking surface and a grease trough at the front for collecting those troublesome drippings.
The familiar cross-braced underside of the cooking surface allows enough airflow for the charcoal to burn hot while providing strength and rigidity. The full-width grease well at the front makes cleaning simple, even when it's still on the grill.
Unfortunately, it only comes in one size, so make sure it fits your grill before purchase. Better too small and leaving some grilling space, rather than one which won't balance on your grill.
This product is most recommended for use with Big Green Egg, Primo, Kamado Joe (click here for our Kamado Joe review), Bubba Keg, Saffire and most kettle grills, and comes with a lifetime warranty.
Pros
Stainless steel professional-quality construction will last years.
3-inch sidewalls prevent food from spilling over.
Vented cross-brace support promotes better heat distribution across the cooking surface.
Full-sized grease trough at the front means it's easy to clean while on the grill.
Stainless steel is easier to clean and less prone to rust than many cheaper models.
Lifetime warranty, which is rare on smaller items like this.
Cons
Only one size available: you need a kettle with at least an 18-inch diameter for a comfortable fit.
Won't fit some smaller Weber kettles or mobile kettle grills from your gas station.
No handles makes it awkward to lift from the grill.
If you own a round or kettle-style grill, this is a great way to start flat top cooking. It's just a shame a smaller model isn't available to fit on more compact grills.
The stainless-steel construction with vented cross-brace support will offer results just as good as many dedicated standalone models, but on your kettle. This is ideal for camping or tailgating.
Onlyfire Universal Stainless Steel Kettle Griddle
9
Another grill accessory company we looked at earlier, Onlyfire, also make a circular griddle for kettle or kamado style grills.
Similar to the Little Griddles circular product, this 6.5 pound, 17.5 × 20.2 × 3.2 inches flat top grill accessory is made of stainless steel and features a vented cross-brace system.
The main difference with this product for kettle grills is the built-in stainless-steel handles. This makes it much easier to remove it from your grill.
However, the cooking surface feels a little thinner, and it doesn't feature a lifetime warranty like the Little Griddles model, having a 1-year warranty instead.
Pros
Stainless-steel is rust resistant and easy to clean while on the grill.
Large grease well at front prevents flare-ups.
Built-in handles make it much easier to fix and move around your kettle grill.
5-inch raised edge is ideal for flipping eggs or pancakes without losing them.
Offers good value for money.
Cons
The non-stick surface isn't as non-stick as advertised.
Thin stainless-steel cooking surface doesn't retain heat as well as other griddles.
If you own a Weber kettle grill, this is the ideal product which seems to have been designed with those grills in mind. It will perform a decent job and fits perfectly inside the perimeter of your grill.
In terms of value for money, it's hard to beat this flat top for your round grill. But there are better options available if you're willing to spend a little more.
What is an Outdoor Gas Griddle, or Flat Top Grill?
It is, as the name suggests, quite literally a flat grill top.
The Spanish word for a griddle, plancha, probably describes what it is best — plancha literally translates as "grilled on a metal plate." Different to a traditional grill, the top surface is a smooth flat piece of metal, with the heat source directly underneath.
There's no contact between the food and the flames on a griddle, with the heat transferred from the entire metal surface. There are no holes for food to fall through, although the temperature won't be quite as hot as the direct heat of a flame.
Just like outdoor grills, an outdoor griddle can be fuelled by either electricity or gas. You can even get flat top surfaces which attach over a grill for a griddle-like experience.
However, today we will first take a look at gas griddles which run on propane for the convenience of portability in your backyard or out on the road.
Following that, we look at models you can fit over your existing gas or charcoal grill, for cost saving and to make the most of equipment you already own if you can't financially stretch to, or don't have the space for a standalone unit.
Benefits of a Flat Top Griddle Vs. A Standard Grill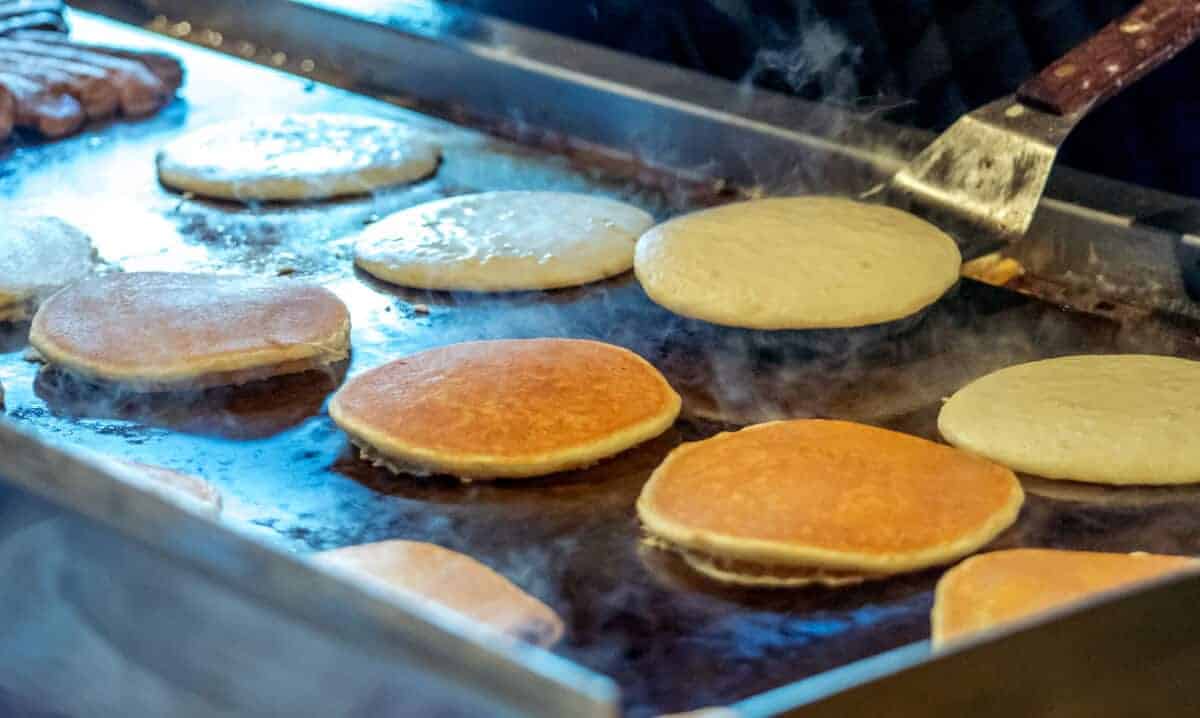 They open up a whole new world of cooking styles. You can fry eggs, make pancakes or omelets, and basically cook anything you would in a frying pan.
Think of your flat top griddle as an outdoor stove with no gaps for food to fall through. Unlike the dry heat of a grill, the solid surface will help prevent moisture from escaping from your food—perfect for those juicy hamburgers.
Delicate foods, like fish steaks or vegetables, are less likely to break up when cooked on a solid heated surface. A heavy-duty steak or bacon-press weight can also be used to push meat or fish onto the surface for a more even crust, and more even cook.
Some ideas for different ways of cooking on a griddle which you just can't do easily on a traditional grill grate include:
Sautéing strips of steak or chicken with your veggies for fajitas. You could even warm up the tortillas.
Using a weighted press to cook burritos or panini-style sandwiches outdoors.
Mongolian BBQ style parties where guests select their own foods, and you stir-fry it on the griddle with a selection of sauces.
Omelette station at your next alfresco brunch.
Chinese stir-fry or fried rice at your next barbecue. Cook the meats on the grill before putting them on your flat top to stir-fry with rice or noodles.
Griddles can provide more space for hamburgers at your next tailgate or camping trip. The burgers will remain moist and juicy as well.
Crêpes for a dessert or even savory crêpes as an appetizer.
Making a breakfast hash just like you see in your local diner.
Flambé a steak without liquor dropping onto the flames and flaring up.
Impress your guests with your teppanyaki skills at your next gathering—just be sure to put in a lot of practice first!
What Type of Foods Cook Best on a Griddle?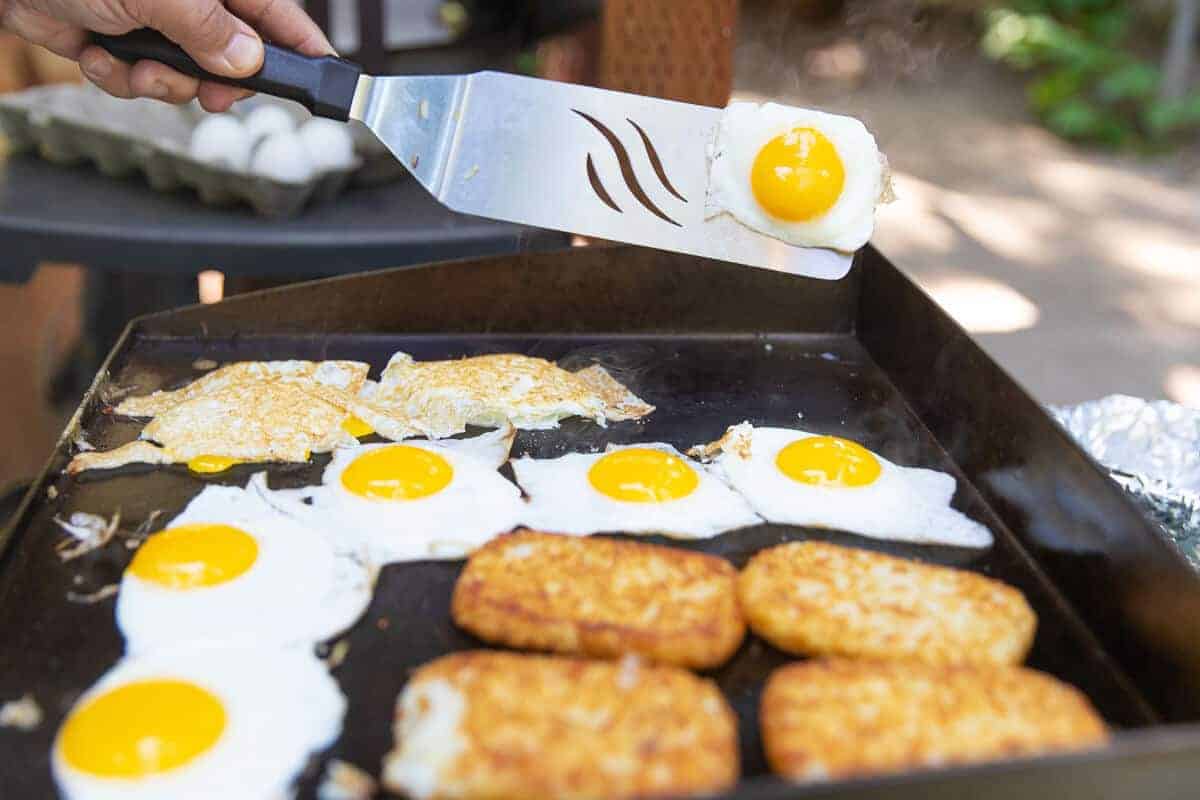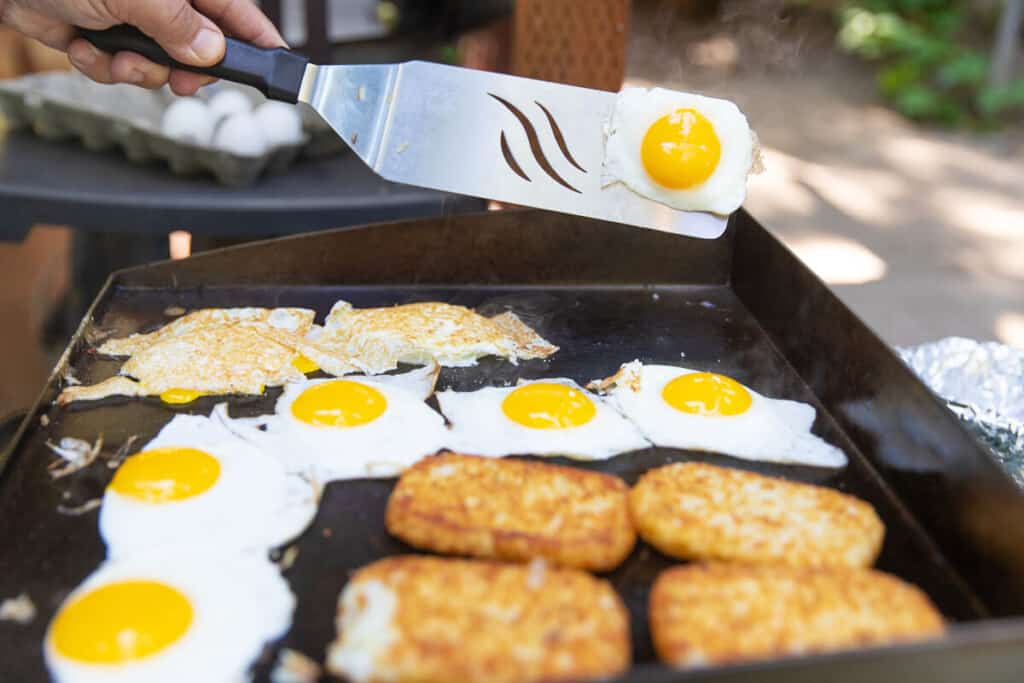 When you say griddle, most people automatically think of breakfasts, eggs, or pancakes. Sure they cook those things brilliantly, but they can do so much more. The Spaniards who love their planchas so much cook almost everything on them, from mixed kebabs and tapas to stunning paellas.
Griddles can be great for cooking hot sandwiches or burgers as you can toast the buns at the same time. The Japanese will often use one like a big frying pan-like surface for teppanyaki—a great way of entertaining your guests, with practice though!
If you want to steam some vegetables, you can use a metal dome dish with some water sprinkled underneath it. The same dome can be used to help the cheese melt on your burgers. And without holes for smaller morsels of food to drop through, a flat top solid surface is a great way of cooking kebabs.
What you probably won't get though is those sear marks you get from a traditional grill—although some models do turn over for a ridged surface. The temperature of a griddle is rarely high enough for a proper sear and won't be as well suited to larger more robust cuts of meat.
What to Consider When Buying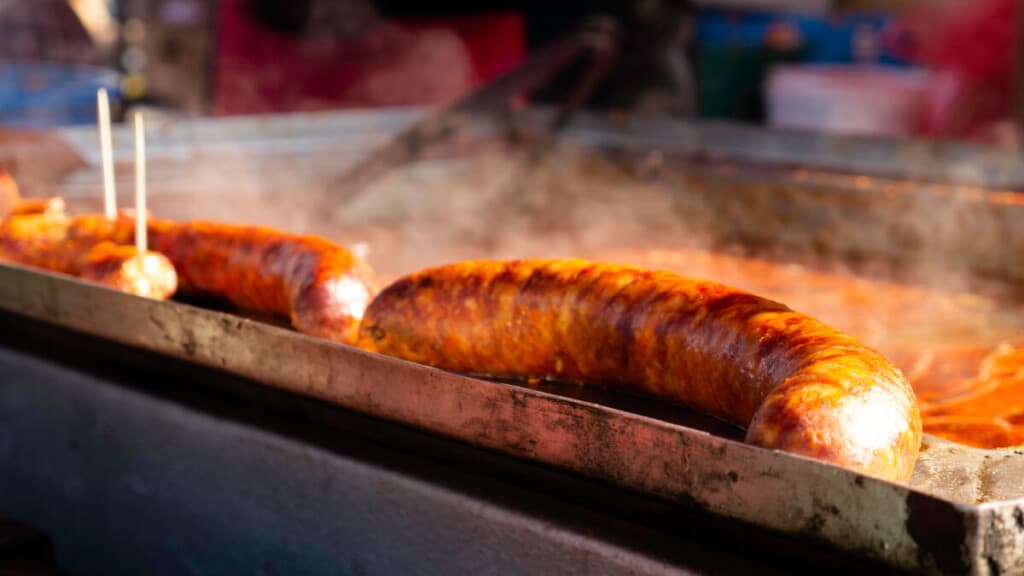 While looking for an outdoor griddle, you'll be amazed at the different variety there is to choose from. From the large, fixed models you often see in roadside cafés to the shiny trolley-style carts used around the pool in fancy hotels. The options are seemingly endless.
You can find smaller cart griddles for home use, tabletop or portable griddles, and even an attachment for the gas or charcoal grill you already own. Which one is best for you, and which will you get the most use from?
Let's take a closer look at some of those options now.
Dedicated Gas Model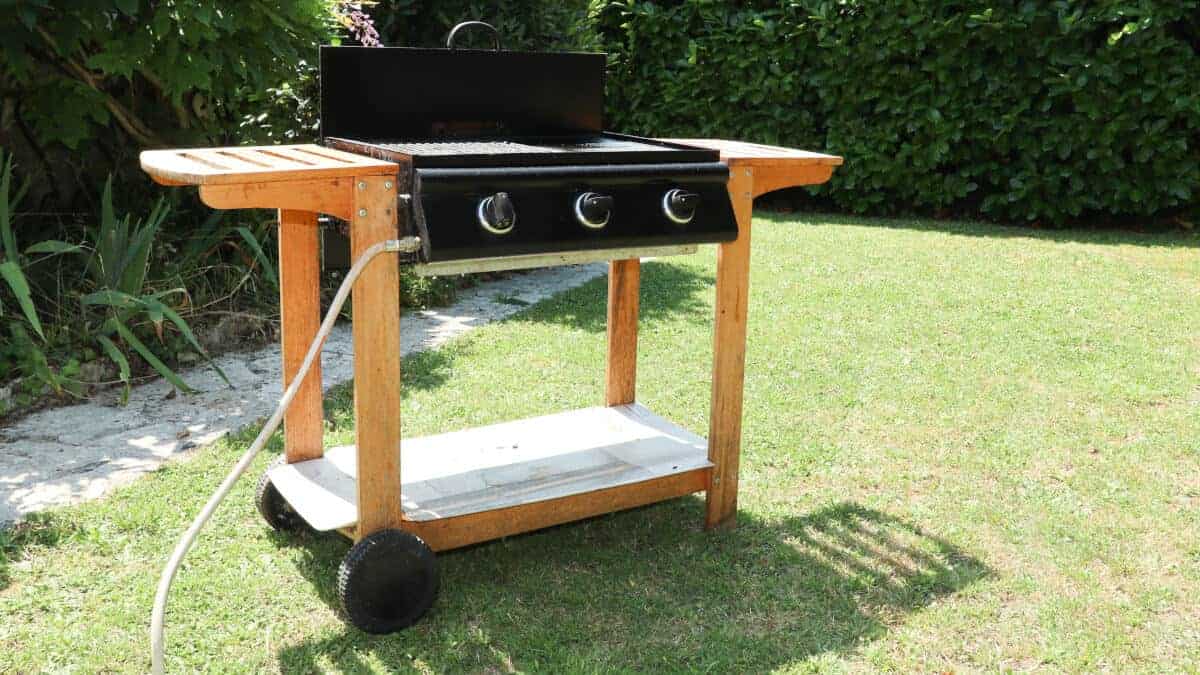 If you think you'll be using your outdoor griddle on a regular basis, it may be worth considering a dedicated gas one. This can exist side by side with your traditional grill on the patio, or even replace the grill.
Of course, that all depends on both your budget and the available space you have on your patio. You're talking another 200 dollars or more for a separate appliance. Some professional models even cost above $1000. Do you really plan on using it enough to get value from it?
If budget isn't an issue, and you have the available space, why not consider a natural gas model? With a decent cover and proper maintenance, you could leave the griddle outdoors for most of the year. Otherwise, choose one on a cart which can be wheeled around your patio or deck and then easily transported indoors for storage.
Tabletop or Portable Griddle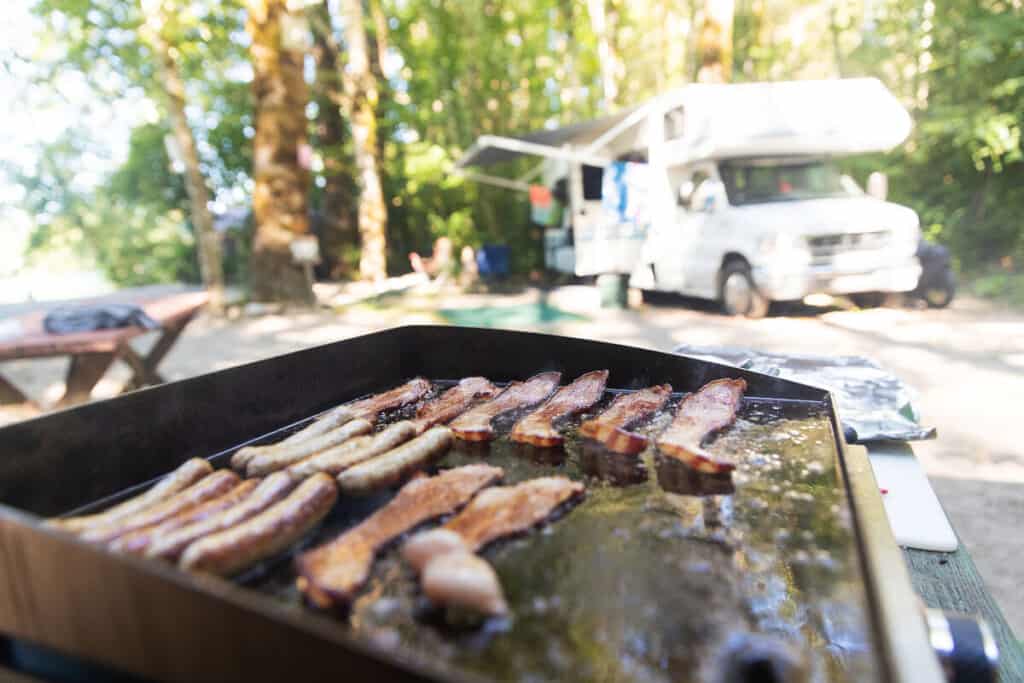 A smaller, more budget-friendly option is the tabletop or portable griddle you can now buy. Although many of the trolley-style ones you can move around your deck have folding legs, some can still be too cumbersome to be truly portable.
A tabletop model will normally be gas powered, although you can also get electric models. The propane cylinders they use are likely to be the disposable 1-pound canisters, which are easy to transport and replace.
Large enough for quickly cooking eggs, pancakes, or breakfast, they're ideal for taking camping because of their versatility. When tailgating, a tabletop griddle, or a smaller portable free-standing model, is ideal for whipping up those burgers and hot dogs for a hungry family.
One to Place on an Existing Grill
If space is limited on your patio, or in the trunk of your car, a griddle plate which fits over the top of your existing grill may be the answer. Not only will it save you space but money, too—an additional cooking plate is cheaper than buying a whole new appliance.
Flat top plates come in a variety of sizes for existing grills, both charcoal and gas. Although, the temperature of these can be harder to control than a gas grill which has heat adjustment knobs for the burner.
Griddle tops can cover just part of the grill to allow you to grill normally at the same time, or cover the whole grill for a larger surface.
They are easy to fit onto your grill, and are highly portable too. Plus, truthfully, a griddle attachment can give results that are just as good as a dedicated unit.
What to Look for in a Dedicated Flat Top Grill and Griddle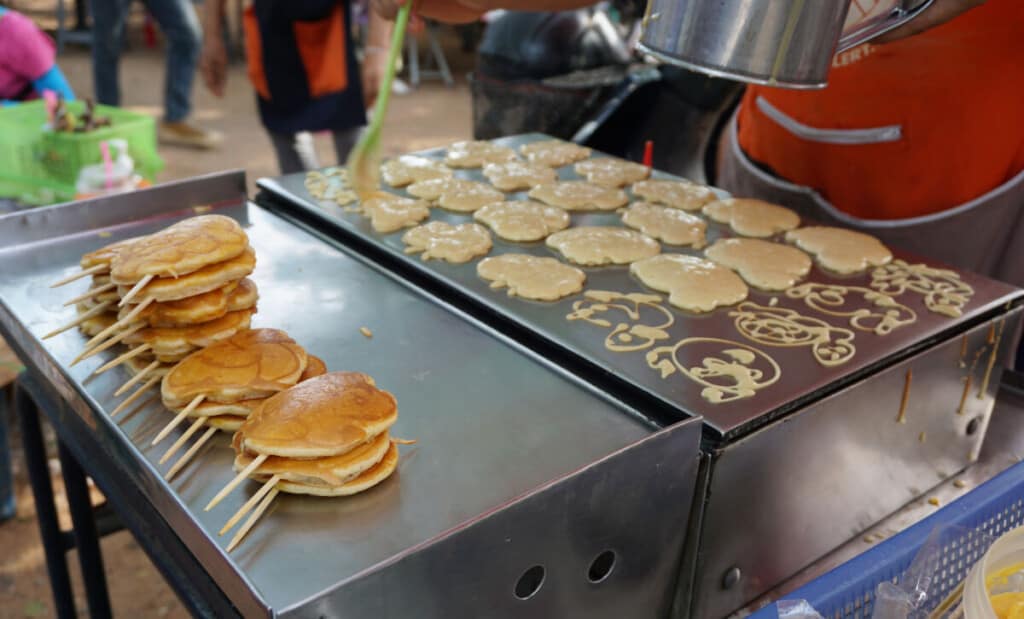 If you've never even looked at an outdoor gas griddle before, let alone bought one, don't worry. Although there are plenty of decisions to be made, we'll guide you through.
Below we will first look at which factors and features are the most important, and what you want to look for.
Size and Footprint
How many people do you intend to cook for? Commercial-style griddles can often cater for 50 people or upwards. Do you really need that much space?
Those that are designed to be used in your backyard will typically have a rectangular design. Smaller, more portable models for use when camping tend to be more of a square shape.
If you only intend cooking for your family, much like a traditional grill, 300 square inches will often be enough. For larger parties, you should be looking for a surface area of 500 square inches or more.
Remember the larger the cooking area, the bigger the whole unit will be. Consider how much space you have in your backyard for the footprint of the grill or how portable you need it to be.
How Many Burners
Just one or two burners will make it more difficult to have different heat zones. You might want a lower heat on one side that you can use for keeping things warm, while cooking your next batch of food on the other side—griddles don't have warming shelves as the heat doesn't radiate enough for a secondary area.
The more burners it has will not only affect the difference in heat from one side to another but will also enable the surface to heat up quicker.
Additionally, you can have more control of the way you cook foods, with steaming or melting under a dome needing less heat being done on one side, with the highest heat possible for searing burgers on the other side.
Temperature Control and Stability
Many of the foods you cook on a griddle will be more delicate and need accurate temperature control. Anybody who has ever tried cooking pancakes will know the importance of this—you don't want to be serving up burnt offerings with a mushy center.
Being a gas-powered griddle, this is pretty much covered and far easier than the plates you often see attached to charcoal grills. Gas griddles will offer the choice of a thermostatic or manual control of the temperature.
If you're the kind of chef or cook who likes to be able to preset a temperature, buying a thermostatic griddle will be a good idea. Thermostats will be found more commonly on electric griddles, but are also seen on the higher end spec gas models too.
Portability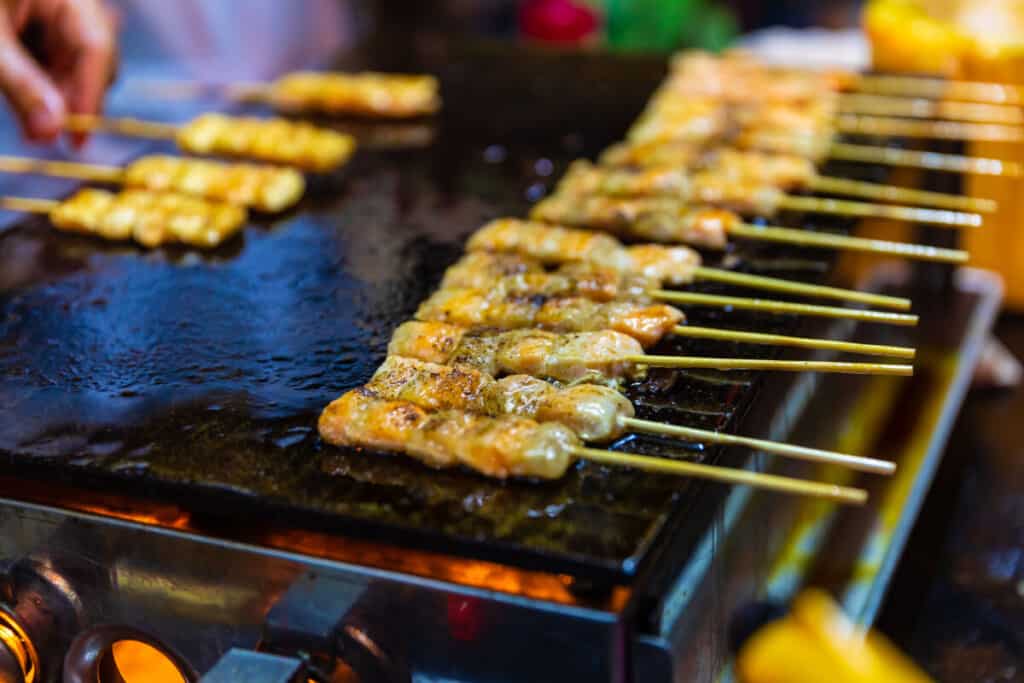 Most of the griddles you look at will have some sort of wheels for moving them when needed. Those known as drop-in griddles come with a trolley which the flat top cooking surface just "drops" into. These trolleys can also have brackets for the propane tank, and shelves for storage or extra work areas.
When looking at the trolley a griddle fits on, check the quality of the wheels. The cooking surfaces can be heavy, so having high quality stronger wheels will allow you to move it about with more ease.
The other option will be a tabletop model which just needs a solid surface to sit on. Most of the portable models will be a tabletop design. Just remember they need to be kept level, to prevent the grease or juices all running to one end.
Materials and Thickness of Cooking Plate
The material used for the top plate can also be very important. Some cheaper materials won't conduct heat too well and may rust easily or break apart. More expensive choices, normally reserved for commercial griddles in restaurants and hotels, are stainless steel or chrome.
Steel or cast iron will normally be found on most griddles for home use, both of which can rust. However, once you have seasoned them or broken them in, they will be virtually non-stick and form a rustproof protective layer. After cleaning the cooking surface, you can just wipe a little vegetable oil over the surface to also help prevent rust.
A thicker griddle will maintain a more consistent heat, which helps when cooking, especially for larger crowds.
Steel griddles, used in most restaurants, are milled to be smooth and about 0.75 inches thick, although you can also get a quarter-inch thick plate. The thicker a plate is, the less likely it is to warp, and it will offer better heat retention.
Overall Design, Build Quality and Materials Used
Models made from a more durable metal, like steel, stainless steel or cast aluminum, in the body construction will look better and last longer.
Stainless steel or chrome griddles will be the most rust-resistant but will also cost significantly more. If made from plain steel or aluminum, is it powder-coated or thermal heat-painted for more longevity?
Is the whole thing, including cart, foldable for easier transportation or storage? Does the cart feature shelves for storage or extra workspace? Check whether the shelves fold down for storage or smaller spaces.
Ease of Cleaning and Maintenance
Griddles can be much easier to clean than traditional grates; there are fewer nooks and crannies for food residue to hide. However, they do retain grease, which doesn't have those grates to slip through.
Those which don't have a grease management system or grease pan built-in is not the best choice. Having a drip pan attached, or some other form of grease runoff will ensure your food cooks perfectly and cleans easier afterward.
A grease channel is somewhere you can easily direct the excess grease with your spatulas you cook—the last thing you want is a burger swimming in a pool of grease.
Cleaning after you finish will be easier on better quality models, with just a wipe of a cloth or sponge removing the grease from the cooking surface, and emptying the grease collector getting the job done.
Price
We all have a budget which we need to stick to when buying any outdoor cooking equipment. Although we like our man-toys with as many features as possible, try to decide a budget and stick to it. Do you really need a griddle that can cook for 50 people?
For a small family unit which you can take on camping trips, a compact tabletop unit will often cost not much more than a hundred bucks. If you are looking for something for your patio or those tailgate parties, you can get many decent restaurant-style griddles for between $300 and $500.
What to Consider if Buying a Griddle for an Existing Grill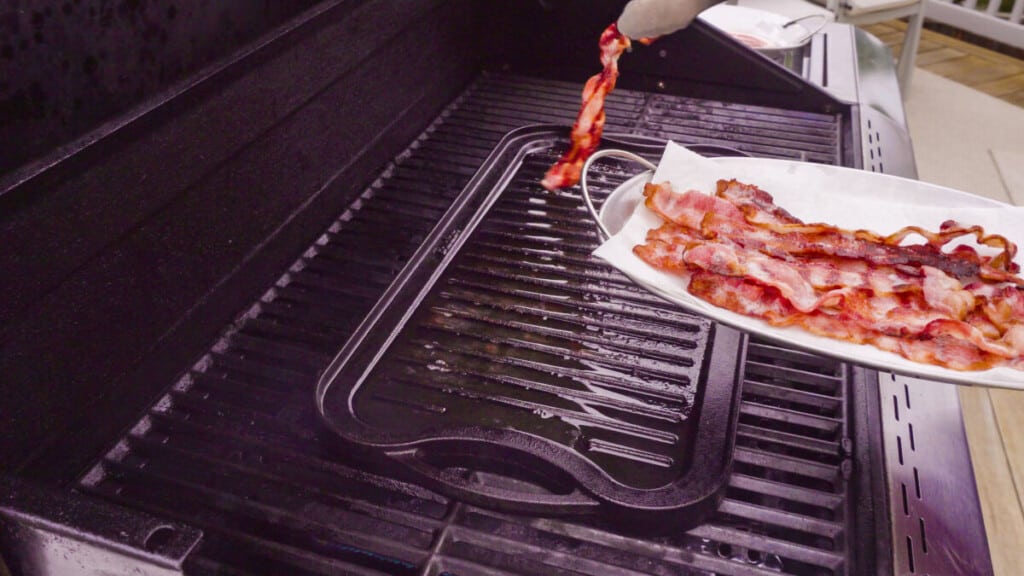 Size is the most important factor when choosing a griddle for your existing grill—ensure you know the exact measurements of your grill so the product you buy can fit.
If you have a smaller grill, you will probably want a griddle that covers the entire surface. With larger appliances, you'll find many products which will still allow space for traditional grilling on the grates at the same time.
You'll find attachments in many sizes and shapes, with round griddles also available if you have a kettle-style grill or kamado.
For safety reasons, try not to pick one which overhangs the grill. It has the potential to be unstable when cooking and dangerous if somebody catches on it while it's hot.
With charcoal grills, you need to ensure the griddle top allows for enough air flow. Remember, charcoal and wood need oxygen to burn: starving the unit of air will put the fire out or cause it to burn much cooler.
Charcoal grills can also take more practice when it comes to setting up different heat zones and maintaining a stable temperature.
Cooking Area
Although you would assume the cooking space is simply the width multiplied by the depth, you have to take into account the grease tray.
Most griddles will have an inch-wide grease trench at the front which can be used for catching any drippings. Models with more height or a greater depth will be able to catch more, reducing the need for emptying as often.
Materials Used and Construction Quality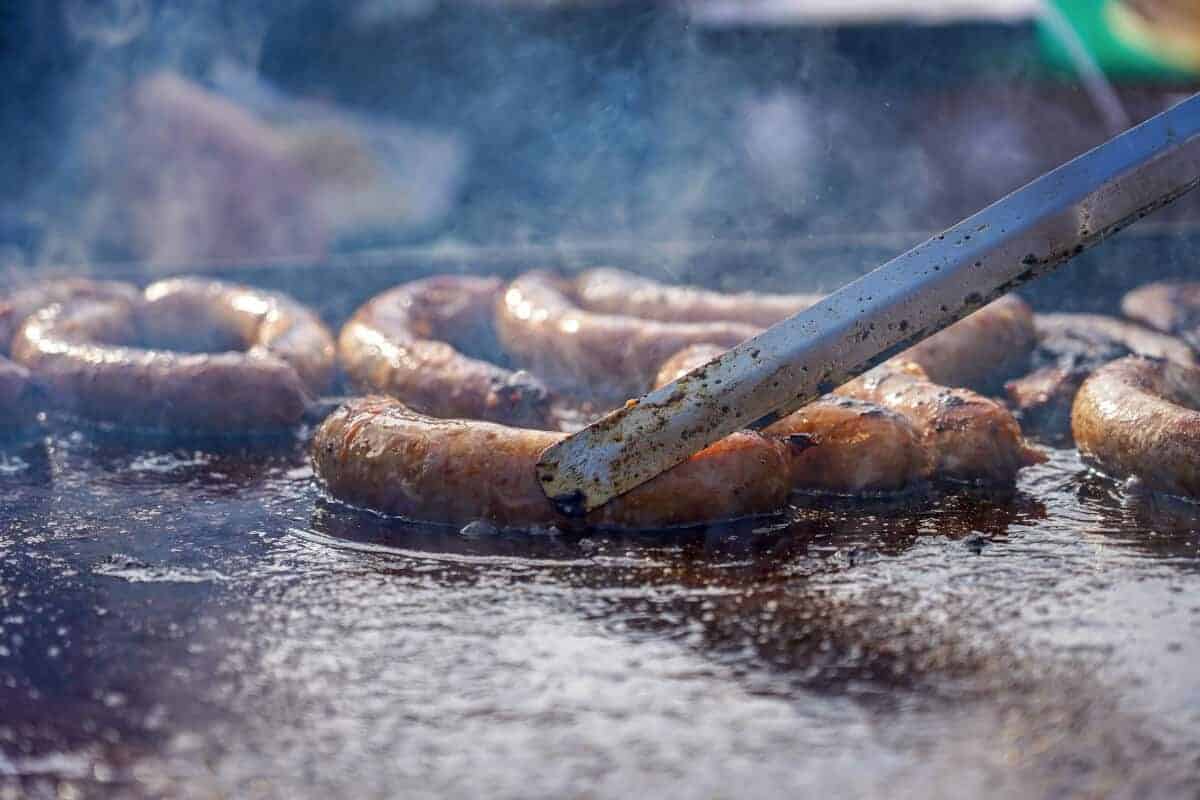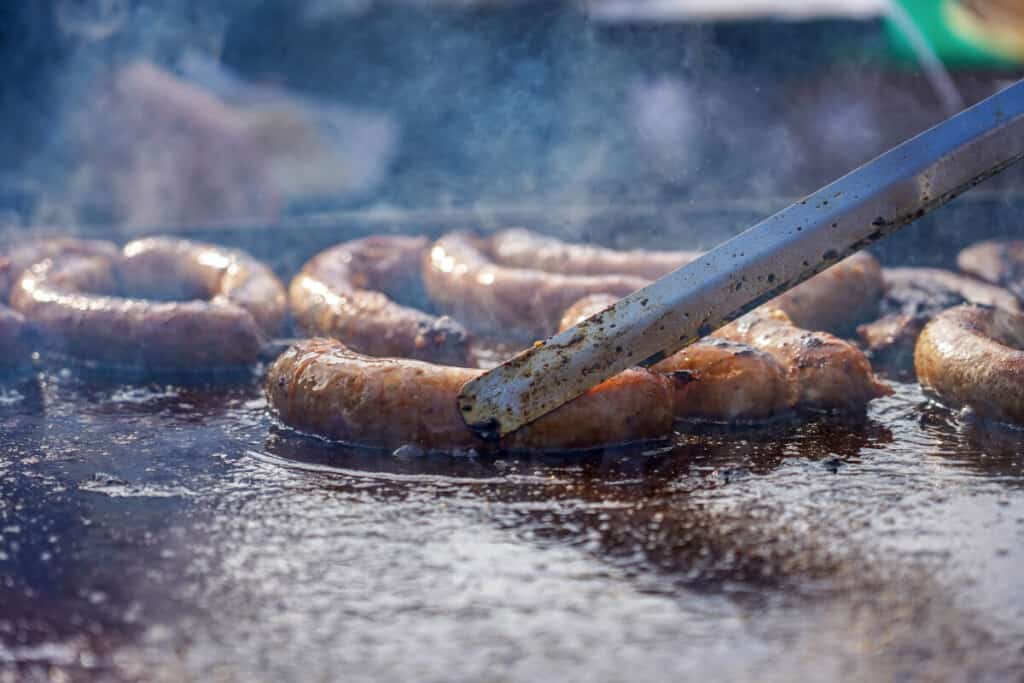 At its most simple, a griddle is a sheet of metal, whether it's cast iron, stainless steel, or an enameled metal.
Most attachments are made of stainless steel, which is both durable and easy to clean. Stainless steel offers less heat retention than cast iron but is much more lightweight, and some would argue one of the healthiest surfaces to cook on.
Try to choose the thickest or best grade of metal, to prevent warping. Temperatures can often reach over 500 degrees Fahrenheit on the cooking surface, or even more if the plate is placed over a charcoal grill.
It's also important to check if there are any issues with the welding or joints—your griddle may be thrown about a little if you intend to take it camping.
Grease Management and Ease of Cleaning
You could be thinking: "Why not just use a metal sheet over the top of my grill?" but what's going to happen to all that grease? As you cook meats or fry those eggs, there are likely to be pools of grease on the cooking surface, not just the occasional drip.
The key advantage to specifically-designed griddles for your grill is the grease management systems they often feature. Large amounts of grease aren't just messy but can cause large flare-ups, which result in dangerous flames.
Instead, a drip tray or grease collection trench at the front of a griddle is safer, cleaner, and healthier. Just using your spatula you can scrape away unwanted juices or grease as you cook into the tray, and clean up at the end is also simpler.
Maintenance
Cooking on a gas griddle can be similar to cooking with cast iron cookware. The more you use it, the more seasoned it will get and the better results you will have.
With the correct care, they should last you a lifetime.
How to Clean a Griddle Before First Use
When your griddle first arrives, you should give it a thorough soapy wash to remove any residue there may be from manufacturing, shipping or storage.
Using a bucket of hot water mixed with soap, use a towel to scrub the entire surface. You should, however, only ever use soap on a brand-new product, out of the box, to avoid washing away that seasoning.
If a grill arrives with a preseasoned surface, the manufacturer may recommend a dry rub down, or water without any soap. Always make sure you properly dry the cooking surface with paper towels and allow it to completely dry before using or putting into storage to avoid rust.
Seasoning a Griddle Surface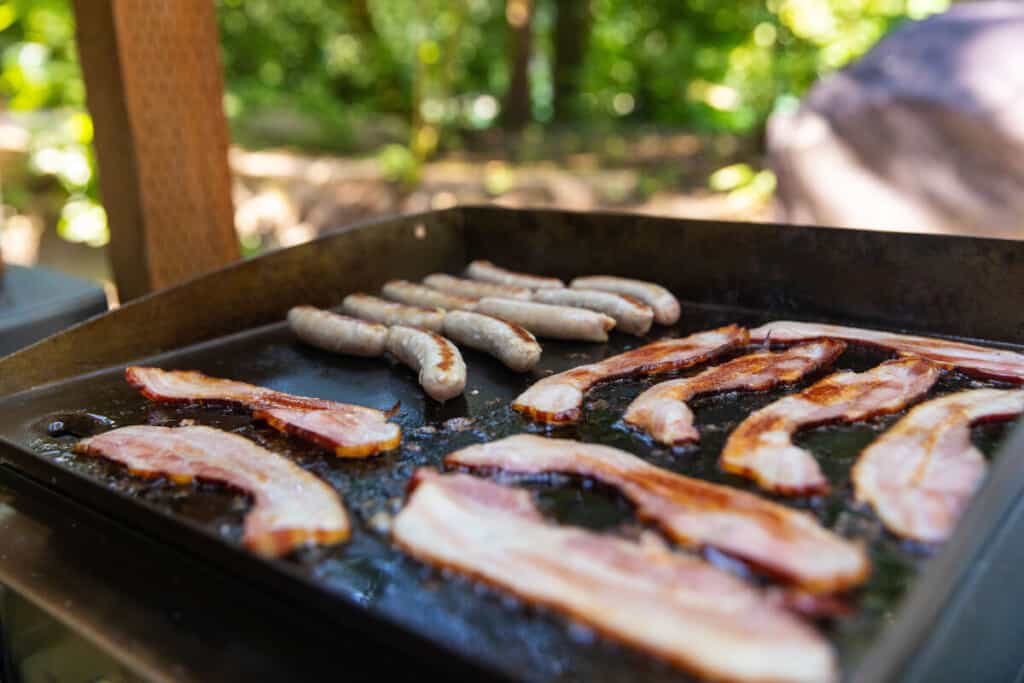 It's very rare you will see a silver griddle surface once it has been used, the black surface is a sign of seasoning. This surface is natural and stick-resistant, but will need manually creating on a brand-new product.
Using some oil, preferably one with a high smoke point, like Coconut oil, or Crisco, sparingly douse the preheated griddle until completely covered, and wipe away any excess. You're looking for a very, very thin covering. Make sure you get into all the corners and the front and sides of the entire surface.
Let the oil heat up, and you will slowly see the surface change color; there may also be some smoke. Don't worry about this; it means the oil is bonding with the metal, which is good.
When the oil is dry, apply a second layer and repeat a second time, before turning off the grill and allowing it to cool down.
How Easy is a Griddle to Clean After Use?
Cleaning one is easy. All you will need is the metal spatula you have been cooking with, some paper towels, hot water, a scouring pad, and some cooking oil.
Allow the griddle to cool down after cooking—you don't want to burn your hands.
Scrape the surface with the metal spatula, or maybe a paint scraper, to slide away any excess pools of grease.
Wipe it with a paper towel, or a dishcloth, but it can still be quite greasy.
Pour a little water on while it's still quite warm but don't use soap. Hot water will be enough to loosen any hardened residue.
Use a nylon scouring pad — never wire or steel wool — to gently rub the surface.
Rinse the loosened debris off with water and paper towels. Remember to regularly empty the drip tray or grease-collecting cup, to prevent spillages.
Dry gently with a soft cloth and season by rubbing a little oil over the surface to prevent rust.
Storing Your Griddle
Where — and how — you store your griddle will also affect its longevity. Consider how often you are going to be using it—are you a weekend chef who uses it every Sunday for breakfast, or is it more of a monthly thing for tailgate parties?
You will need a place which is both dry, to avoid rust, yet cool enough not to be dangerous for any propane tanks. If you intend to put it into storage for longer periods, the griddle top can often be removed and put into a closet. Just remember it will be heavy, and be careful not to drop or chip it as you remove it.
If you intend to store it outside overnight, or in the garage, a heavy-duty canvas cover is a must. Covers act as a shield to prevent any damage, scratches, dust or rust, which would otherwise shorten the life.
Try not to put anything on top of the griddle, as this could damage the surface, and don't put undue pressure on any attached cart. Some models will have legs which can be folded for easier storage.
Conclusion
Once you've tried cooking on one of the best outdoor gas griddles and flat top grills from our guide, you'll find it hard to go back to cooking eggs, pancakes, omelettes and more in your kitchen. Although you may not get the same sear marks or flame-grilled flavor on your meats, the variety of foods you can cook outdoors is much larger.
Our choice for the best outdoor gas griddle would have to be the Blackstone 36-inch outdoor flat top griddle. This stylish product offers enough space and power for even the largest of events or parties, yet features a design which can also make it portable.
Blackstone griddles are built to last, with a durable cold-rolled steel cooking surface and a choice of powder-coated steel or stainless frame. Properly maintained, it should last you a lifetime of alfresco breakfasts or big game tailgates.
If you have any experiences to share or questions to ask, please feel free to leave a comment below. We will answer all questions when asked.
Happy grilling!