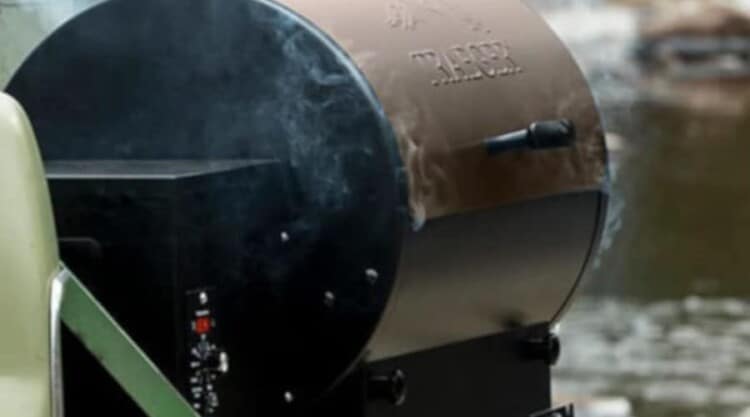 In this guide, we take a deep dive look at the best portable pellet grills and smokers on the market today.
To help you decide which model is right for you, we're going to explain why we think they're so great, and what you should look for in such a grill before you buy.
We then make this really easy on you by reviewing six contenders for the best portable pellet grill on the market today.
Grilling and smoking over wood is a truly elevated experience and is the method most faithful to the roots of the original concept of barbecuing.
Most grilling these days is done over gas or charcoal, of course, and you can always add wood chips or chunks for flavored smoke. Not too many people cook over an all-wood fire anymore, however.
Pellet grills give you the real wood experience but with the convenience of a manufactured product. A portable pellet grill takes the convenience factor a step further, making it possible to enjoy the amazing flavor away from home.
If you're ready to learn more, we're ready to teach!
At a Glance: The 6 Best Portable Pellet Grills and Smokers Discussed in our Guide
Note: Clicking the above links will take you to further information, current prices and customer reviews on Amazon.
Best Portable Pellet Grill — A Detailed Look at Our Top Recommendations
Now that you've familiarized yourself with the criteria for selecting a good portable pellet grill, here are some of our top choices.
We've provided facts and figures plus a mini-review of 6 of the best on the market. Which one will call to you?
Traeger Tailgater Pellet Grill
1
Buying a Traeger automatically puts you into a class of people for whom Traeger is both a noun and a verb, as in "to Traeger" or, "I'm Traegering some brisket this weekend."
They're a passionate bunch, and rightly so; Traeger builds a great pellet smoker, and they feature twice in our list of the best pellet grills.
All Traeger grills include the same automatic auger system to help maintain a constant temperature without anything from you but a load of pellets. That means you get the same quality no matter what model you buy, and we like that.
The Tailgater has a basic, workman-like quality about it — there's nothing fancy here, but it looks solidly built. The bronze-finish lid is quite attractive, though, and stands out in a field dominated by black and stainless steel.
Providing 300 square inch cooking surface on a single level isn't bad for a portable grill, and you'll be able to cook plenty of steaks or burgers, or smoke a brisket or two on the porcelain grate.
Obviously, if you're a habitual tailgater, this one is pretty much calling your name!
It's reasonably compact, and two people should have no trouble lifting it into the back of a pickup truck. RVers will also enjoy bringing this grill along.
Got a smaller vehicle? Then this may not be the portable pellet grill for you.
Even with the legs folded, it still has a relatively large footprint. Plus, with a max. temp. Of about 450F, you may not be able to achieve a truly great sear, so if steaks are your go-to, you may want to keep scrolling.
Specifications and Features
Dimensions (H, D, W): 36" × 18" × 37"
Weight: 62 pounds
Cooking surface area: 300 sq. In.
Temperature range: 150–450 °F
Hopper volume: 8 lbs.
Warranty: 3 years
Pros
Attractive bronze finish on the lid
Folding legs for travelling
Comes with a 20-pound bag of pellets
Drip bucket included
One of the lighter models we've looked at
Cons
Lower max temperature than some other models
No side shelf or tool hooks
No temperature probe connection
Smallest hopper of those we reviewed
Traeger makes an undeniably fine pellet grill, and the Tailgater TFB30LZB offers you the chance to have the Traeger experience away from the backyard.
Newbs and vets alike will appreciate the simplicity and versatility of this terrific product.
Recteq RT-340 Wood Pellet Grill
2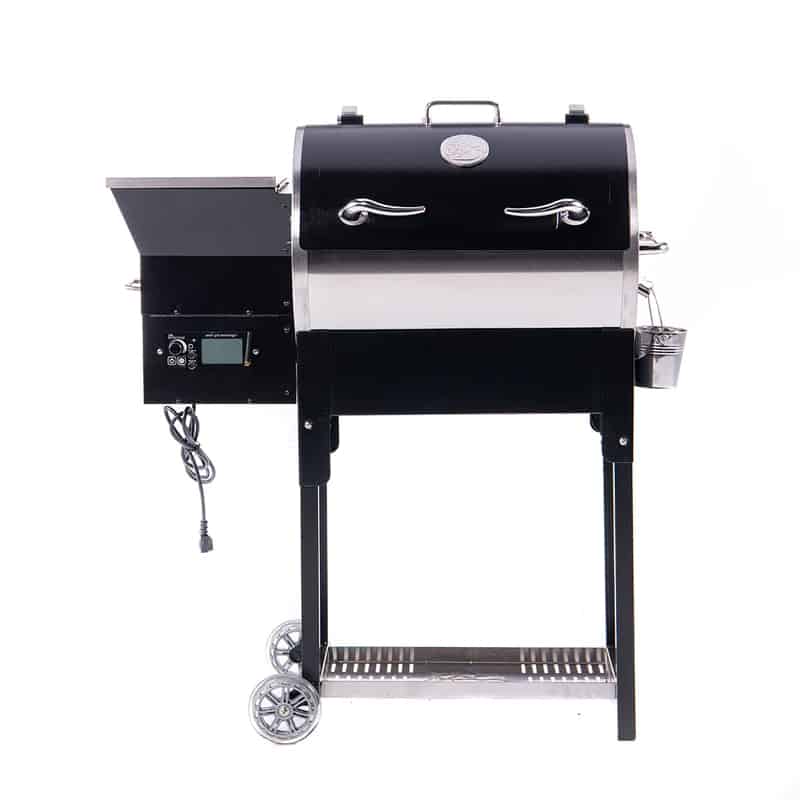 Although we tend not to be taken in by some cheesier conventions associated with barbecuing (novelty aprons, rockin' blues guitar riffs on promo videos, etc.), we do actually enjoy the bullhorn handles on REC TEC grills. The Trailblazer RT-340 sports them in all their glory, and they're a fun design flourish on an already attractive pellet grill.
Set up for optimal enjoyment at home or on the road, the Trailblazer is loaded with modern convenience features like automatic lighting for night grilling and Wi-Fi connectivity for remote monitoring from your smartphone. Nice to know you can still watch the game without risking your roast.
We are particularly pleased with the dual meat probes included. The probes plug directly into the auger control unit and allow you to track the internal temperature of your meat for perfect results every time. (Remember, meat cooks to temperature, not to time, which means a thermometer is far more important than a timer.)
Start up and shut down are automatic, making the Trailblazer safe and easy-to-use. For traveling, the legs fold up, and the lid locks down. And, since there's no paint anywhere, you won't have to worry about appearance — it's going to look great for years. That's especially true with this bundle, which includes a cover to protect your investment.
Expect to spend equal time pellet grilling at home and away? The large hopper is awesome for smoking on a long summer's day, and the Wi-Fi feature is perfect for home use.
Being able to fold up, lock down, and toss it in the truck (with the help of a friend) makes it ideal for travel, too.
Anyone with a penchant for smoking and roasting will also appreciate the twin meat probe thermometers.
Do you think grilling is all there is to BBQ? Well, then an oversize pellet hopper and two meat probes may not be useful to you.
Mind you, we'd encourage you to broaden your horizons a little. Also, it's pretty heavy, so if your capacity for lifting and hauling is limited, a smaller grill may be more suitable.
Specifications and Features
Dimensions (H, D, W): 41" × 18" × 32"
Weight: 80 pounds
Cooking surface area: 340 sq. In., expandable to 511 sq. In. W/optional shelf
Temperature range: < 200 – 500 °F+
Hopper volume: 15 pounds
Warranty: 2-years
Pros
Smartphone remote monitoring gives you freedom to move
Dual probes for monitoring two items at the same time
Large hopper for longer smoking sessions
Can exceed 500 °F for perfect searing
Bundle comes with 80 pounds of pellets, a cover, and a thermometer
Cons
Kinda hefty for a portable grill
Second rack not included
No side table for sauces, tools, etc.
The REC TEC Trailblazer RT-340 hits a sweet spot between portability and uncompromised grilling experience.
You can fold it down for tailgating and camping, but it's big enough that you won't feel like it isn't worth using at home. Plus, it's stylish enough to show off to your friends and maybe even take a few selfies with it. A very solid investment for your grilling dollar.
Green Mountain Grill Davy Crockett Wi-Fi Enabled Pellet Grill
3
At first glance, you know there is something unique about this pellet grill. It looks like a scale model of the real deals, for starters. So what's the story?
The key point of difference on the Davy Crockett is the power supply: in addition to your standard wall plug, you can also plug it into a 12V socket in your vehicle, generator, or battery pack. Failing that, you can use the supplied alligator clips and clamp it right onto your vehicle's battery. Now you really can pellet grill anywhere with ease.
Cleverly, the support legs fold up and over the cooking chamber to be used as carrying handles. At 68 pounds, you might still need help toting it about, but it's a nice feature.
Another sweet bonus is the temperature probe that connects directly to the digital display on the auger controls. That means no guessing if your meat is done or not, and you've saved the price of buying a digital thermometer.
Since it's really meant for life on the road, the designers included two simple but often omitted features: a side shelf, and utensil hooks. Because, let's face it, if you're camping, or grilling in a stadium parking lot, there's probably not going to be a handy place to set things down, is there?
When you're at home, you'll appreciate the generous hopper for longer smokes, and the ability to monitor the temperature from your smartphone via your home wireless network and a free downloadable app. Plus, this bundle includes a weather-proof cover to protect your sweet new grill.
For the griller on the go, this is clearly one of the best options, especially if you're camping and not glamping.
Small families or a few friends hanging out will appreciate the compactness, and it's ideal for someone who mostly grills but would like to do a little smoking on the side.
It's a bit undersized for extended home use, so if you don't plan to take it on the road often, you might want to look at something else.
The small hopper will limit unsupervised smoking sessions, so if massive briskets are your thing, you should consider a larger unit.
Specifications and Features
Dimensions (H, D, W): 31.75" × 23" × 34"
Weight: 68 pounds
Cooking surface area: 219 sq. In.
Temperature range: 150 – 550 °F
Hopper volume: 9 pounds
Warranty: 2-years
Pros
Folding legs and side shelf
Utensil hooks
Thermometer probe connection
Connects to 12V or direct to vehicle battery
Wi-Fi enabled for remote monitoring
Cons
No wheels
Smallest cooking surface of grills we reviewed
Wi-Fi feature probably only useful for home grilling
Camp Chef Pursuit 20 Portable Pellet Grill Smoker
4
Brand new last year came this portable marvel from Camp Chef. Our first impression was that it's an oddly top-heavy smoker, but that at least the cook box and hopper look substantial.
Designed from the ground up for portability, it's so well-thought-out you'll want to lug it everywhere.
First, let's just say that a locking lid should be a given on a portable grill. Well, it isn't, but we're happy to see it on the Camp Chef PPG20. And we love, love, love, how when the legs are folded you can tow it behind you like a suitcase thanks to the positioning of the large, sturdy wheels.
So, it's really portable — but can it cook?
Rack space is nearly equally split between the upper and lower grates; you get 501 sq. In. total, but each individual grate is compact. Plus, you are very limited in terms of cubic inches, which is to say there's very little height available for roasts, chickens, briskets, and other large items. Broiler chickens: yes. Picnic shoulders: not likely.
Still, you have plenty of temperature range to smoke, roast, grill, bake … All the usual suspects. It even comes with not one, but two temperature probes that connect to the built-in LCD. Doneness should never be guessed at, and we appreciate the money-saving addition. Plus, you get all the standard Camp Chef features like auto-igniter, auto-auger, easy temperature control and the ash clean-out system.
Just know you'll be a bit limited as to what you can prepare. But hey, that's ok! You probably didn't drive all the way up to the lake to sit and tend to a 10-hour smoking session.
You can totally make great burgers, steaks, small roasts and fowl, wings, ribs, and so on. And it will all taste deliciously of real wood smoke. Oh, and it has a built-in bottle opener. Shut up and take my money.
The ideal buyer for the Camp Chef PPG20 lives to cook away from home. If your weekends and summer vacations are spent dockside, in stadium parking lots, or camping out, this portable pellet grill is the perfect sidekick.
For homebodies who occasionally grill or smoke on the road, this grill may be too limiting because of its smaller-than-average capacity.
If you have visions of whole smoked turkeys or twin 10-pound briskets smoking side-by-side, this is not the pellet grill for you.
Specifications and Features
Dimensions (H, D, W): 32" × 18.5" × 38"
Folded Dimensions (H, D, W): 21" × 18.5" × 38"
Weight: 82 pounds
Cooking surface area: 501 sq. In. (253 lower, 248 upper)
Temperature range: 160–500 °F
Hopper volume: 10 pounds
Warranty: 3 years
Pros
Two grates for expanding cooking options
Folds to under 2' tall
Locking lid
Rolls when folded
Dual temperature probe connections
Cons
Individual grates are small
No chimney for smoke venting
No workspace
Limited height may prevent you from cooking large items
The Camp Chef Pursuit 20 Portable Pellet Grill is genuinely portable and will travel wherever you go with ease and provide an excellent pellet grilling experience. It's probably not an all-in-one home and away solution, but it's not meant to be. We seriously love this thing.
Traeger Junior Elite 20 Pellet Grill
5
Clean lines, efficient design, and the envy-inducing Traeger logo stamped into the attractive bronze-finish lid: parking the Junior Elite 20 says, "Hey! I'm in the club!" loud and clear.
The Junior is a scaled-down version of the larger Traeger pellet grills, but still offers many of the same excellent features. For example, the auto-auger is run by the Digital Elite Controller, which maintains your cooking temperature automatically. There's a handy, mess-reducing grease spout that deposits neatly into a stainless steel bucket, and the porcelain grill grates are easily cleaned.
Load up with 8 pounds of pellets for a good afternoon or evening of grill or roasting, but keep extra pellets handy if you plan to smoke longer. There's enough height under the lid for chickens and brisket, and enough grate space for a dozen burgers or 3 racks of ribs.
What you don't get with this grill is any kind of work surface, but that helps keep the dimensions down, making it easier to take with you. The legs don't fold, either, so you'll need room to transport the Junior Elite 20 at its full height of 3 feet. We can excuse these details, however, because it's just a darn good little pellet grill.
You could look at this as an introductory pellet grill, and an entry-level membership to Club Traeger (ok, there's no real club; it just feels that way).
And, it just so happens that it's light enough to take with you, provided you have the height in your vehicle or trailer.
Hard-core smokers will find the small grate and hopper combo challenging for long smokes of big meats. And, if you're heading out every weekend, you may grow tired of the lack of folding legs and other travel features.
Specifications and Features
Dimensions: (H, D, W): 36" × 18" × 37"
Weight: 60 pounds
Cooking surface area: 300 sq. In.
Temperature range: < 200 – 500 °F+
Hopper volume: 8 pounds
Warranty: 3 years
Pros
Same build quality as "full size" Traegers
Fairly light
Plenty of height under the lid
Cons
Legs do not fold
Only a single rack
No chimney — smoke exits through any hole it can find
If you're thinking the Traeger Junior Elite 20 Pellet Grill is just the Tailgater with legs that don't fold, well, you're absolutely correct. They are exactly the same, though the Junior Elite mysteriously weighs 2 pounds less.
So, why choose one versus the other?
Pick the Junior Elite if you mostly smoke at home but want to travel occasionally. Pick the Tailgater if you plan to do the opposite. Either is a great grill.
Why a Portable Pellet Grill and Not Gas or Charcoal?
Probably the number one reason to choose a pellet grill is for the flavor; it's tough to compare to the natural smoky taste of food cooked over a wood fire.
Charcoal does not release a lot of flavoring smoke, and gas puts out none at all. To get good smoke you need wood, so you can either add it to gas or charcoal, or just use it exclusively!
Wood pellets make cooking with wood incredibly simple, too. There's no need to cut and clean wood, or try to arrange it for optimal burning — pellets come ready to burn, and the auger feeds the pellets into the fire as needed. All you have to do is set thermostat to the temperature you want and let the auger do the rest.
Ah, you've probably realized that a pellet grill requires electricity to run the automatic auger. That is the one thing that keeps it from being a 100% go-anywhere grill. Still, anywhere you're likely to want to take a grill this size probably has electricity. We're thinking campgrounds, cottages etc.
Where pellet grills really shine is in their ability to do any kind of cooking. With an average temperature range of 160–500 °F, you can smoke, roast, grill, sear, and even bake.
All that, plus delicious wood smoke flavor. And, isn't the smell of wood smoke exactly what you want when you're enjoying the great outdoors?
What to Consider When Shopping for a Portable Pellet Grill
Here are a few of the key considerations for when you're looking through your choices in this specialty category of grills.
Size, Compactness, and Ease of Packing Away
Remember, the whole point of a portable grill is to go wherever you go. If it isn't easy to pack up and take with you, then why do you want it? Don't be fooled by manufacturers who just slap the word "portable" on the description and then try to sell you a massive grill that happens to have wheels and/or a handle.
Think about where you plan to take it, how you plan to get it there and choose an appropriately sized grill.
Work Space / Cooking Surface Area
Consider, too, what you want to cook and for whom you're cooking.
You need enough cooking surface area to make enough food for your purposes, or else you're going to be annoyed every time you fire it up because you're cooking in rounds.
Yes, it has to be small enough to be portable, but there is such a thing as too small. Bottom line: it has to meet your needs.
Design and Features
Aesthetics are worth considering to a degree, but functionality is far more critical. Think about how you like to cook and look for features that support a good grilling experience. That would include convenience features like workspaces, hooks and handles, as well as auto-ignition and feeders.
Plus, remember this is a portable grill, so you may want to look for features like folding legs, lid locks, and high-quality wheels.
Above all, it has to do a good job of cooking your food. How can you know this before you buy, though? Check the next section…
Previous Buyer's Opinions
If you want real honesty that often borders on brutal, look to see what others have said about the grill you're considering. We always recommend taking a few minutes to review posted comments, with Amazon being an excellent source.
Bear in mind that every brand has its share of fanboys (and girls) who aren't the most objective reviewers. On the flip side, you'll get people who will trash a perfectly good product because they either couldn't figure it out, or there was a delivery issue that was NOT the fault of the manufacturer.
Somewhere in the middle lies the truth.
Build Quality, Durability, Suitability For Travel
Not to sound like a broken record, but this is a portable grill, so it needs to be able to stand up to the rigors of travel in the back of your truck, van, or car.
Is it made of durable materials like steel and hard plastics? Are there bits and pieces sticking out that might break off? Does it fold down conveniently? Take a good look at the photos and read the descriptions to find the answers to these questions and more.
You Might Also be Interested in
Accessories or Bonuses
We all love a little extra incentive to buy, right? Well, some portable pellet grills offer some sweet bonuses that can save you money.
Does it come with some smoking pellets to get you started? What about a cover to protect it from the elements? Perhaps a grease bucket included for catching drips, or even an instant-read thermometer?
As long as you're shelling out, you might as well see if you can max out the bang for your buck.
Warranty and Customer Service
When you buy any product, you hope it will give you a lifetime of flawless performance. Of course, that's not always the case. If something goes wrong with your portable pellet grill, you want to know that the manufacturer has your back.
What length of warranty do they offer, and what does it cover? You may wish to research opinions on the quality of their customer service, too. In general, you never want to buy anything significant that isn't backed up by a decent warranty.
Budget
Your budget is your business. There are definitely pellet grills available in every price range, and there may be a difference of several hundred dollars between the least and most expensive portable pellet grills.
It's always a wise idea to stick close to your budget, but before you draw a line in the sand, consider what extras a few more dollars might get you. It may be worth making the investment now rather than regret your decision down the road.
Here's Where We Pack it up
Can you practically smell the smoke and taste the steaks already? Cooking over a real wood fire is a genuine pleasure, and it's only enhanced when you take the experience on the road and share with friends and family.
Now that you know what's the best portable pellet grill for you, we hope you make a purchase and enjoy years of delicious grilling, roasting, and smoking.
Thanks for choosing us for your barbecue information. If you know someone else who could use a few tips or advice, give them a point in our direction. Copy and share the link in your emails, inter-office memos, social media posts, whatever you got.
Plus, do send us your comments and questions. You'll find the links way down at the bottom of the page. Actually, not so far now, since this is the end of the article.
Happy grilling!