Personally, I have a ton of BBQ and smoking equipment, more than one thing for every job, including 3x kettle bbqs, a Kamado Joe, a WSM smoker, a wood-fired oven, rotisserie attachments and much more besides. I'm a bit of a BBQ nut.
However, not everybody has the obsession, space or the budget for quite so many bits of equipment as I do. And that's why we put together this article, searching for the best smoker grill combo: A space saving, money saving, dual purpose outdoor grill and smoker that can benefit many who do not wish to have two or more single-purpose bits of equipment.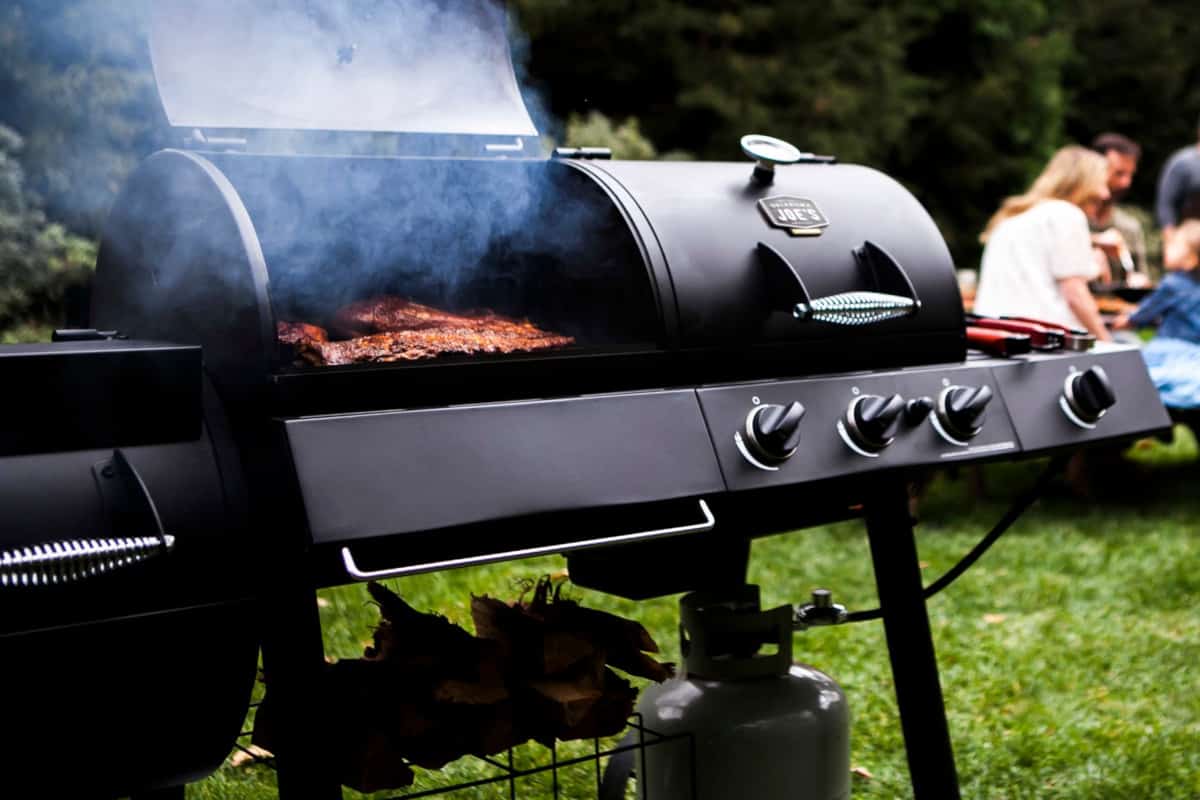 In this article, we take a good look at the best grill smoker combos available in 2019.
We take a look at what differentiates good models from bad, what features you should look for and what to avoid, discuss a few of the top models available today, and generally help you to make the best buying decision to suit your individual budget and needs.
Note: It's quite common for people to use the terms 'hybrid grill' and 'combo grill' interchangeably.
In this article, we concentrate on a search for the best grill smoker combo, which are units specially designed to be able to perform the 2 tasks of high heat grilling, and smoking, all in the same unit, often with 2 or more separate cooking chambers. They are a dual purpose piece of outdoor cooking equipment.
If you are genuinely looking for a hybrid grill, which is a grill only – not a smoker – that can run on both charcoal or gas, then please check out our guide: The best hybrid grills.
At a Glance: Our Recommendations for Best Smoker Grill Combo
Note: Clicking the above links will take you to further information, current prices and customer reviews on Amazon.
Best Smoker Grill Combo – A Detailed Look at Our Top Recommendations
Taking into account the points covered, we've compiled a list of what are, in our opinion, seven of the best smoker grill combos available today.
From the simple barrel style, up to the latest high tec pellet models, we've handpicked a wide range to give you an idea of what's out there.
Oklahoma Joe's Charcoal/LP Gas/Smoker Combo
You'll struggle to find a more complete smoker grill combo than the Oklahoma Joe.
For those who prefer a more traditional smoker in their backyard, this is a 3-in-1 grill, barbecue, and smoker. Perfect for quickly firing up the gas grill for a steak or burger midweek, and slow cooking over charcoal at the weekends.
First Impressions and What's In The Box
Oklahoma Joe's Charcoal and Gas combo is built like a tank to ensure it will last you a lifetime. Made with heavy gauge steel and super durable components, this grill and smoker is huge—definitely not one for use on the road.
Assembly is straightforward, but be prepared for a few hours of hard work. It might be advisable to invite a few friends to help, due to the sheer size and weight of the construction.
Manufacturers Specs
Dimensions: 74 inches W x5 inches D x 50.6 inches H.
Weight: 205 pounds.
Total cooking area: 1,060 square inches.
Primary cooking area: 750 square inches.
Firebox cooking surface: 310 square inches.
3 x 12,000 BTU main burners in grilling chamber.
1 x 12,000 BTU side burner supports a charcoal chimney starter.
6 x porcelain-coated cast iron grates.
Special, Standout Features and the Benefits They Bring
With a total cooking area of 1,060 square inches, this smoker/grill combo will provide enough space for even the largest of backyard parties. Three 12,000 BTU burner tubes and an additional side burner mean you won't be lacking firepower either. If you decide to use charcoal, the side burner could be handy for lighting the chimney starter.
The temperature gauges on each compartment and a multitude of dampers make cooking on this grill easy and efficient. Heat resistant handles allow you to check coals or meats easily, without charring your hands.
Once you're done smoking, the long-lasting porcelain iron grates make for a smooth clean up, and the offset firebox is readily accessible for discarding ash.
Warranty
2-year limited manufacturer's warranty.
What We Like
Thick carbon steel construction.
Huge cooking area.
Cast iron grates are sturdy, yet thin enough for decent sear marks.
Side burner doubles as a prep area.
Cool touch steel handles and lid for safety.
The lower shelf is ideal for storing charcoal or equipment.
Three compartments allow for gas and charcoal cooking or smoking at the same time.
What We Don't Like
You may find the wheels unstable on this grill, making it harder to move.
Silicone seals on this type of smoker often need reinforcement.
With the option of gas or charcoal and the three large compartments, there's not much you can't do on this smoker grill combo. The extra cooking space makes it ideal for larger cookouts—you could even smoke a full turkey on the lower shelf settings.
For the latest deals and prices on the Oklahoma Joe, click here.
Click to Learn More / Buy from Amazon
Smoke Hollow 4-in-1 Combination Gas and Charcoal Grill
This combination gas and charcoal grill from Smoke Hollow offers an offset smoke design similar to the Oklahoma Joe. Slightly smaller and over 40 pounds lighter, it could be an option if you want something for use on your next road trip.
First Impressions and What's In The Box
The lighter weight of the unit compared to many others can make it easier to move, but you'll need a protective cover for the less durable steel.
Assembly can be quite a time consuming affair, with over 47 components included in the box. Everything you need to start grilling is provided, including cast iron grates and a regulator for the propane tank.
Manufacturers Specs
Dimensions: 66 inches W x5 inches D x 45 inches H.
Weight: 160 pounds.
Total cooking area: 860 square inches.
Fuel type: LP gas, charcoal, wood.
3 x 8,300 BTU main burners, stainless steel tubes.
1 x 9,300 BTU side burner.
Porcelain-coated flare guards.
Porcelain-coated cast iron cooking grid.
Smoke Hollow GC1000 cover included.
Special, Standout Features and the Benefits They Bring
Where this combo grill smoker stands out is on the charcoal side. An adjustable charcoal tray and shelf make it easier to control the temperature. The tray can also be removed for simple refueling of the pit.
With over 800 square inches of cooking area, including a warming shelf, you can cater for larger groups. The three 8,300 BTU propane burners offer individual controls, for a more even cooking area. A side burner can be used to keep dishes warm, or for lighting the charcoal.
The attached smoker box is large enough for cooking an entire chicken or smaller dishes. The lid on the smoker box locks down over the durable cast iron grates, to stop excess smoke escaping. A side vent, and adjustable tray to move the coals, provide temperature and airflow regulation without the need to open the chamber.
Warranty
1-year manufacturer's warranty on all parts, except paint, which is guaranteed to be free of defects for 90 days. Repair labor is not covered.
What We Like
The large cooking area—enough space for grilling 20 burgers.
An adjustable charcoal tray is simple to operate for cooking different foods.
Cast iron grates stand up to regular use and are easy to clean.
Individual heat controls for the three burners.
Electronic ignition on each burner.
Includes handles and locking wheels for convenient storage.
What We Don't Like
Materials may not withstand elements as well as other models.
Handles on charcoal box doors can get very hot while cooking.
Only a 1-year warranty.
When looking for a smaller smoker grill combo, the Smoke Hollow fits the bill. The build quality may not be as solid as other models, but it's not at all a bad product. It offers all the features you need, just remember to use a cover when not in use.
For more on the Smoke Hollow 4-in-1 Gas and Charcoal Grill with Firebox, click here.
Click to Learn More / Buy from Amazon
Kamado Joe Classic II, Charcoal Grill and Smoker
There comes a time in every grill enthusiast's life when he wants to move his grilling or smoking up to the next level. The Kamado Joe certainly isn't a cheap upgrade, but it's very rare anybody goes back after choosing one.
Once you've mastered the skill of cooking on this kamado, you could find it the most versatile piece of outdoor cooking equipment you've ever owned.
First Impressions and What's In The Box
Perhaps the first thing you'll notice when your Kamado Joe Classic arrives is how heavy it is. For such a compact unit, it weighs in at 188 pounds—so you won't want to move it too far. It arrives in a very well packaged box, which is a good thing, as the ceramic can be quite fragile.
Opening the box not only reveals the kamado "egg" itself, but also all the accessories you'll need. A rolling stand with locking wheels, twin side tables, a Grill Gripper for grabbing the hot grates, and an ash tool to help with cleanup. Also included is Kamado Joe's innovative Divide & Conquer grate system, a heat deflector, and split grill grate.
Assembly of the grill is pretty straightforward, although it's weight may mean you need an able-bodied assistant. The Kamado Joe Classic II is one of the more attractive kamados on the market, with a glossy red exterior.
Build quality is of the highest standard, with everything solidly attached, and latches that stay tightly sealed when closed.
Manufacturers Specs
Dimensions: 46.5 inches W x 48 inches H x 28-inch D.
Weight: 188 pounds.
Cooking Surface: 18-inch diameter.
Cooking surface with grill expander: 407 square inches.
Cooking surface with two sets of grates: 508 square inches.
Cooking surface with both grates & grill expander: 660 square inches.
Temperature Range: 225°F–750°F
Special, Standout Features and the Benefits They Bring
Versatility is the biggest advantage this Kamado style grill has to offer. A Kontrol Tower Top vent allows you to manage airflow easier. Used in conjunction with the bottom vent you can regulate the temperature more accurately—essential for those low and slow smoking sessions.
You would imagine the 18-inch grate would restrict your cooking area, but a novel grill system allows you to set up grates at staggered heights. When used with the heat deflectors, you can create different temperature zones for direct and indirect grilling at the same time.
Cooking on any kamado takes practice, but the Classic II aims to simplify it.
You don't have to scoop the ash out by hand with this grill combo; the removable ash drawer allows for hassle-free cleaning.
A patented airlift hinge makes the substantial lid easy to open with just two fingers. On the other side of the lid, a rust-resistant latch ensures all that heat and smoke are sealed inside the grill when cooking—particularly useful, considering the lid doesn't auto close.
Warranty
Limited lifetime warranty on ceramic parts, 5-year warranty on all metal parts, 3-year warranty on heat deflector and pizza stone, 1-year warranty on thermometer and gaskets.
What We Like
Heat-resistant ceramic stays cool to the touch.
An improved ventilation system for better airflow and temperature control.
Mesh fiberglass gasket for an airtight, smoke-retaining seal.
Versatile divide & conquer grilling system for different cooking methods and temperature zones.
Great for smoking.
Accessories available including a pizza stone, rotisserie spit, rib rack, and a further grill expander.
Ash drawer for easy cleanup.
Side tables are great for storing condiments or tools.
What We Don't Like
Heavy, at nearly 200 pounds, you won't want to move it too often
Can be challenging to master for newbies.
Charcoal only (with wood for smoke flavor), no facility for gas.
There's no doubt that the Kamado Joe Classic II is a premium grill and smoker, that many outdoor cooking enthusiasts envy. Its stylish design is not only eye-catching but also robust.
Click here for more on the latest deals and kits available.
Click to Learn More / Buy from Amazon
REC TEC Grills Bull | RT-700
If you can't survive without your cell phone, tablet or any other gadget, this could satisfy your hunger for hi-tech. The latest wood pellet grill from Rec Tec offers state-of-the-art technology in a quality smoker grill combo.
First Impressions and What's In The Box
Inside the box, you will find the enormous barbecue body, a stainless steel cooking rack, drip pan, and deflector plate. For the exterior fittings, you also get tool hooks, a towel ring, a grease bucket, and the legs, with wheels and shelves. Finally, there are two large stainless steel horns—don't screw them to the front of your truck, they're the lid handles.
The garish orange/red colors of the previous RT-680 have been replaced with simple, yet elegant, stainless steel. Every single part: hooks, shelves, and handles are made from the same stainless steel, for a more durable grill.
Manufacturers Specs
Dimensions: 54 inches W x 36 inches D x 50 inches H.
Weight: 195 pounds.
Main cooking surface: 702 square inches.
Total cooking surface (with 2nd shelf): 1054 square inches.
Hopper size: 40 pounds.
Dual meat probes.
Stainless steel cooking chamber.
Wi-Pellet Wi-Fi
Temperature range: 200 degrees to 500 degrees Fahrenheit.
304-grade stainless steel fire pot, heat deflector, and drip pan.
HotFlash ceramic ignition system.
110 V AC GFCI outlet. NEC compliant safety standard.
Special, Standout Features and the Benefits They Bring
The real beauty of wood pellet smoker grill combos is how simple they are to use and can be left unattended. This latest model from Rec Tec adds techy features that make the grill even more convenient to cook or smoke with.
A control box on the side of the unit houses the temperature dial, two meat probes, and a Wi-Fi button. The thermostat guarantees temperatures ranging from 200 to 500 degrees Fahrenheit—enough for a slow cook or a quick grill of a steak.
A Wi-Fi app for your smartphone allows you to switch on the grill, set the temperature and monitor the cooking from anywhere.
A 40-pound hopper means you can continue cooking for nearly 40 hours; it even features a divide so you can use mixed pellets. The temperature dial on the grill itself is smooth, with 5-degree increments. A large digital display tells you the current temperature and also whether the pellets are successfully lit or not.
Warranty
6-year manufacturer's warranty. 30-day money-back guarantee.
What We Like
Smart Grill technology PID maintains a precise temperature.
Wi-Pellet Wi-Fi controls and monitors the grill wirelessly.
Auto-shutdown mode with a push of a button for cool
The maximum setting over 500 degrees—ideal for searing steaks.
Dual meat probes for monitoring two cooks at the same time.
Extra interior light for grilling in the day or night.
Plenty of grilling space.
What We Don't Like
Dual meat probes can vary by as much as 10 degrees Fahrenheit.
Some teething problems with the Rec Tec grills app have been reported.
If you like to be at the cutting edge of your field, this Rec Tec wood pellet smoker grill combo is for you. It's expensive, but the solid build quality should last you many years.
To know how much being an early adopter of this technology will cost, click here for more details.
Click to Learn More / Buy from Amazon
Pit Barrel Classic Cooker
Sometimes you want the versatility of a smoker grill combo when you're on the move. Wouldn't it be great to smoke a brisket overnight while you stay in the great outdoors? A barrel-style grill smoker combo offers all the features you use at home, with the bonus of all accessories stored inside it.
First Impressions and What's In The Box
You'll be ready to grill within minutes of taking this barrel out of the box. No tricky assembly, just unpack everything. With eight hanging hooks, a standard grate, charcoal basket, and two heavy-duty steel rods, you have everything you need for a BBQ right out of the box.
The Pit Barrel cooker is constructed from durable steel, upgraded to 18 gauge, coated with a porcelain enamel layer. This allows it to function better in adverse weather conditions.
Manufacturers Specs
Dimensions: 21 inches W x 21 inches D x 32 inches H.
30-gallon porcelain-coated steel drum.
Weight: 57 pounds.
Fuel: Charcoal or wood only.
Cooking area: 18.5-inch diameter grate surfaces.
Additional cooking area with 8 stainless-steel hooks, 2 steel hanging rods.
Special, Standout Features and the Benefits They Bring
A barrel cooker is so simple to use and has a huge capacity. Although you get grill grates for burgers, steaks or plank cooking salmon, you also get hanging hooks. Larger cuts of meat or whole birds can be hung for smoking, and should result in a crispy skin.
The Pit Barrel uses charcoal as fuel, which can be messier than propane, but lining the barrel with heavy duty aluminum can help the cleanup. The hooks tend to be easier to clean than traditional grates of other smoker grill combos. Just season the meat, hang it from a hook or rod, close the lid and leave until cooked.
For tailgating or camping, it's easy to pack up, with very little fuss or assembly needed at the other end. To take home, merely empty the ashes when cold, by tipping over the barrel—in a responsible way of course!
Warranty
1-year limited manufacturer's warranty.
What We Like
Large capacity.
Great for smoking meats, with a set-up and forget-about-it process.
Online information is
Four airflow exit holes for smoke and temperature regulation.
Design of barrel retains natural moisture without the need for a water pan.
What We Don't Like
Restricted temperature adjustment.
Needs a consistent supply of charcoal for longer burns.
The grate can be too far away from the heat for grilling steaks or burgers.
For a simple grill smoker combo, you can easily throw in the back of your truck, the Pit Barrel is the go-to solution. It's so simple to use, you may even want to use it in your backyard. The large capacity offered by the hanging system provides meats with a crispy exterior, but retaining the moisture inside.
As a grill, the Pit Barrel can cook the meats, just don't expect that sear you get with a dedicated grill. To join the Pit Barrel revolution, or for more details, click here.
Click to Learn More / Buy from Amazon
Traeger Texas Elite 34 Grill & Smoker
Grill aficionados argue you won't go back to gas or charcoal after using a pellet grill—food cooked over burning wood tastes so much better! They don't all have to cost the earth, this stylish pellet fueled combo from Traeger Grills costs a little more than a gas and charcoal combo grill, and is totally worth it.
First Impressions and What's In The Box
Don't be fooled by the cheaper price tag of this Traeger, it still features a durable steel construction. Finished with a powder-coated paint, it sports a stylish two-tone color design which is easy to clean.
Wider legs and sturdy wheels on the Traeger ensure stability for those longer cooks, and make it easier to move around the patio. At only 125 pounds in weight, it's lighter than many other smoker grill combos and should only need one person to put together.
With the top part arriving fully assembled, it's just a matter of attaching the legs and handles, along with placing the chimney and grease tray.
Manufacturers Specs
Dimensions: 54 inches W x 22 inches D x 49 inches H.
Weight: 125 pounds.
Pellet hopper capacity: 18 pounds.
Cooking capacity: 646 square inches.
Digital Elite controller maintains temperatures +/- 20 degrees up to 450 degrees Fahrenheit.
Electronic auto-start ignition.
Porcelain grill grates.
Special, Standout Features and the Benefits They Bring
Although more compact than similar pellet grills, the Traeger offers a generous cooking area of 646 square inches. This is more than enough for cooking for your family or for a small event with guests present. Porcelain grates are included, and the non-stick surface makes them straightforward to clean.
The Digital Elite controller is easy to use, with a large LED display for the temperature inside. A large dial in the middle allows for controlling the temperature to the nearest 20 degrees Fahrenheit. Think of it as having your own oven outside.
Ignition is easy, with a simple click of a button engaging the auto-start function. Within two minutes you'll see smoke, and preheating the grill with the lid closed only takes a further 10 minutes—much quicker than a charcoal model.
The 18-pound hopper will pack in enough pellets for 12 hours or more cook time, long enough for even the slowest smoke of a brisket.
Warranty
3-year manufacturer's warranty.
What We Like
Affordable price for a wood pellet smoker grill.
Simple to use, with a large LED thermostat LED display.
Efficient pellet burn of 2 pounds every hour on the highest setting.
Safety shutdown cycle burns off leftover pellets before closing down completely.
Easy to clean, with an integrated grease management system.
What We Don't Like
Maximum temperature of 450 degrees Fahrenheit doesn't sear meats too well.
Temperature variation of +/- 20 degrees offers less accurate
The thinner steel used may not hold the heat in cooler
If you want to try your hand at wood pellet smoking and grilling, the Traeger is an ideal place to start. This grill smoker combo offers a generous cooking area and simple to use operation.
To find out the price and availability of the Traeger Texas Elite 34, click here.
Click to Learn More / Buy from Amazon
Camp Chef Woodwind Classic 24 Pellet Grill with Sear Box
Any serious outdoor chef will know, those signature grill marks add the finishing touches as well as great taste. If you're looking for the ultimate sear on your steaks, the Camp Chef Woodwind Classic has you covered with an extra sear box.
First Impressions and What's In The Box
The first thing you notice upon receiving this Camp Chef pellet grill is the sear box. Make no mistakes, this isn't your traditional firebox, but rather a high powered propane cooking chamber. The sear box, like the rest of this grill, is made of a heavy duty steel construction to withstand those higher temperatures.
Assembly is quite straightforward, with four-wheeled legs for easy movement included and a bottom storage shelf.
Manufacturers Specs
Dimensions: 48.5 inches W x 24 inches D x 49 inches H.
Weight: 150 pounds.
Pellet hopper capacity: 22 pounds.
Primary cooking space: 811 square inches with warming shelf.
Electrical auto-start ignition.
900 degrees Fahrenheit sear box with 16,000 BTU stainless steel burner.
Total cooking capacity: 4,850 cubic inches.
Slide & Grill technology with Smart Smoke feature.
Dual LED temperature readout.
Grill temperature settings from 160 degrees to 500 degrees Fahrenheit.
Porcelain enamel steel grates.
Special, Standout Features and the Benefits They Bring
Like other pellet grills, the Camp Chef uses a powerful auger to move compressed pellets of wood over a heated electrical element. This allows for the unit to quickly come up to temperature and provide more control. A digital controller does all the work for you, just set it and leave to smoke.
One of the top features of this model is the easy pellet exchange system. If you like to experiment with flavor, a simple pull of a lever discharges all the current pellets. You can swiftly load in a new batch, ready for your next BBQ.
The main difference offered by this innovative wood pellet smoker grill combo is that sear box at the side. Powered with propane, it can reach soaring temperatures of up to 900 degrees for that perfect caramelization and crust. Due to the separate design, you can even use the sear box independently, ideal for a mid-week burger fix.
Warranty
3-year extended warranty from the manufacturer.
What We Like
Easy to light with automatic ignition.
LED thermostat and dual meat probes—better temperature regulation.
Wide cooking area.
No more bland steaks or chicken with the extra sear
Easy to change pellets for different flavors.
Solid steel construction with a stable base and legs.
Patented ash clear out system.
What We Don't Like
The external surface of the sear box can get hot.
Automatic temperature control isn't as reliable as more expensive models.
For that ultimate sear, you really can't beat the Camp Chef Woodwind Classic. Where else will you get a grill that offers 900 degrees Fahrenheit of cooking temperature? Never again do you have to worry about all the juices and flavors running out of your meats.
For more details on this unique smoker grill combo from Camp Chef, click here.
Click to Learn More / Buy from Amazon
What is a Combination Smoker Grill?
Put simply, a combination smoker grill is an appliance which can either be used for grilling your food, or for low n slow smoking and roasting. It's a dual use piece of equipment, able to serve two purposes and to replace two single-use bits of kit.
Think of them as outdoor versions of the oven you might have at home, with high heat hobs and a variable heat oven, to perform all styles of cooking outdoors.
Just like traditional grills, they can be powered by either gas or charcoal. Some top end models will also use a combination of electric elements and possibly even burning wood.
They will usually include 2 cooking chambers, a separate grill area and some form of smoke box. You can either cook over direct heat for a familiar grill, or close the lid down for a smoke chamber. As hot smoke passes over the meat it will slowly cook, imparting a unique BBQ flavor – great for brisket or slow-cooked pork butts.
Benefits of a Smoker Grill Combo, Rather than Separate Units
Modern smoker grill combo units are often advertised as 4-in-1, or even 6-in-1, models. You can bake, roast, grill, broil, smoke or sear your meats and other foods.
A grill smoker combo can offer versatility, whether you choose charcoal/wood or propane as your main fuel source.
Multiple chambers may allow you to cook with gas on one side, and charcoal on the other. Some you can grill and smoke at the same time, or sear then roast, or smoke then sear, all on the same unit.
But the main benefits are a question of both space and cost.
Buying a smoker grill combo can be more cost effective than purchasing a separate model for each. Many of the high-end propane gas grills alone will often cost as much as a combo. And think of all that extra space you'll be saving on your patio, or in the back of your truck if going camping or tailgating.
Here's a short video showing the kind of results you can achieve with a smoker grill combo—ideal for a two-stage cook of glazed ribs.
Are There Any Downsides?
It's not all good news. Remember the phrase "jack of all trades, master of none?" The same could be said about some smoker grill combos.
Many of the gas models have a wide range of temperatures, from about 150-450 degrees Fahrenheit. Although the browning of meats, known as the Maillard reaction, takes place at just over 300 degrees Fahrenheit, you will need over 600 degrees of heat for the desired caramelization and grill marks.
Also, some barrel, or "egg" style, combos will make excellent smokers, but may lack grilling ability. The coals or wood can be too far from the grates for an effective grilling of meats.
Space saving ideas, like hooks or hanging rods, can increase the amount of food smoked, but do little for grilling steaks or burgers.
What Makes a Good Smoker Grill Combo?
When choosing the best smoker grill combo, you need to consider what makes them more versatile, effective and good at both jobs they are to perform.
Multiple types of fuel, different chambers, or basic design, can all affect what you cook on it.
So let's take a look at what's important.
Grilling Area and Cooking Surface Size
How many people do you plan on cooking for? If you have a larger family, you'll need more cooking space than you would for two or three people.
The smoker part will typically need at least 12 inches of clearance when closed if you plan on cooking a whole turkey in it. A width of 16 inches or more will enable you to place an entire rack of ribs in the smoker, without having to cut them down.
Extra warming shelves and side burners can provide even more cooking surface. Barrel style cookers may have the facility for more than one grate, or space-saving hooks to hang meat from.
Temperature Range and Stability
You're going to want one with a wide temperature range. This will allow for searing the outside of your steaks, as well as slowly cooking your brisket. Less powerful or more compact smoker grill combos may struggle to hit those higher temperatures.
For slower cookouts, like a 16-hour pulled pork, you're going to need to maintain the temperature at a constant level. When smoking meats, it's recommended you keep a temperature of approximately 225 degrees Fahrenheit. Too high and the meat will just end up tough and dry, too low and it will lengthen the cooking time to unreasonable levels.
Charcoal or wood-burning combos tend to be the most difficult for controlling temperature. Maintaining the correct heat may involve opening and closing multiple vents, adjusting charcoal shelves or using chimney stack control. In contrast, with gas, you simply turn a dial to alter the burners—instantly changing the temperature.
For the best temperature control, a wood pellet burning smoker grill combo is the way to go. Purists would argue you can't beat the taste of meat cooked over wood, and it's greener too.
Wood pellet grills feature the latest technology, which pushes wood pellets from a hopper over a heated electrical element—this allows for temperatures to be accurately set to variations within as little as 5 degrees Fahrenheit.
Build Quality, Materials, and Durability
Is the metal strong enough to withstand constant high temperatures, especially over longer periods? Will the surfaces be easy to clean? How durable is the metal used, not just for the exterior, but also components like the grates or smoke chamber?
Heavy duty stainless steel tends to be the best option for the outside of a grill, although it, too, will eventually rust. A cover should always be used if you plan on leaving your grill outdoors. Powder-coated paints and ceramics may not rust, but can be fragile and chip easily.
The thickness of the steel used will not only ensure the grill lid doesn't buckle, but also provide insulation to keep the heat in. Metal graded as 10 or 12 gauge will be robust and, even if it should rust, it's thick enough not to weaken for years. Any chambers or lids should have solid gasket seals, which will stop both smoke and heat escaping.
The smoker/grills legs are just as important. You need a stable base to ensure it doesn't tip over while you're cooking. Large sturdy wheels will make it easier to move around your patio or backyard. Ensure the wheels are stable enough to move the unit while it's still hot.
Modern Features Making Use Easier and More Precise
Some smoker grill combos have extra features, making them easier to use for better results. Smoking and outdoor grilling is a learning experience, and any help will only improve the quality of food you serve.
When cooking low and slow, temperature control is one of the most important aspects, especially when smoking meats. Features to look for include:
Thermometers and probes built into the hoods or electrics, which help you maintain a more precise temperature.
Thermostats built into many wood pellet combos can be as accurate as your indoor oven—some can even be controlled wirelessly by an app on your smart device.
Advanced systems of dampers and chimneys that adjust the airflow and temperature.
Side burners, for cooking sides while you smoke or grill.
Rotisserie attachments.
Ash catchers, drip pans and other features that make clean up easier.
Ease of Access to Get to Cooking Surfaces
Although thermometers can help you tell whether the food is cooked, sometimes you just want to take a quick peek. Or maybe you need to add a few more burgers for late arrivals. Heat-resistant handles on the lid of the grill will ensure you don't burn yourself when your unit is at its highest temperature.
Does the grill combo feature separate compartments for grilling foods and smoking at the same time? The last thing you want is smoke escaping every time you check on the meats being grilled.
An adjustable shelf will often allow you to move the charcoal close to the cooking surface without opening the chamber at all.
Vertical style smoker grill combos, like egg or barrel styles, can be harder to rearrange the meats once cooking. Heat rises and it can often be very hot to stand above. Invest in the longest pair of grilling tongs you can find, and heatproof gloves are a good idea too.
Easy to Clean
Removable ash pans and grease management systems make a grill much easier to clean.
Porcelain-coated grates will be more durable and offer less chance of getting food stuck to them. Stuck-on food residue can lead to the growth of bacteria inside of the grill, so keeping it clean is crucial.
Warranty
Your new grill/smoker combination unit is an investment, and you're going to want to make sure it's properly covered. Most manufacturers offer at least a 3-year warranty on their products, with many of the high-end models coming with a lifetime warranty.
Cheaper and more basic grills which offer a combination of smoking or grilling may only feature a 12-month warranty but can be much less expensive to repair. Parts for the more expensive pellet-style grills and the electrical components can be quite pricey, so a more extended warranty is essential.
Price And Value
For those starting out or on a budget, a good option is the offset smoker grill. These generally are the least expensive on the market, often the same price as a good quality grill only model. Although, they typically use charcoal and don't offer the convenience of gas.
Gas or propane powered combos can even offer the facility of charcoal and present the best value. Not only are you getting a smoker, but a quality instant lighting gas grill as well. For those impromptu outdoor parties, you could be cooking within minutes just as easily as you could be smoking meat overnight.
The ultimate in combination cooking is, without doubt, offered by wood pellet grills, but they can also be costly. With a pellet grill, you can do it all, from the slow-smoked Southern style BBQ, to grilling or roasting. Results can also be easier to achieve, in comparison to a gas or charcoal smoker.
Conclusion
Smoking meat can be fun, and bring a whole new flavor experience to outdoor cooking. The best smoker grill combo allows for quick midweek meals, or those longer weekend smokes.
They can save you both valuable space on your patio and, more importantly, cash, with only one appliance needed, rather than two.
If you have any feedback or questions, we'd love to hear from you in the comments below. Please do share your advice and experiences!
Product image credits: © Amazon.com