Today, we're going to help you choose the best smoker grill combo to suit your precise budget, needs, and desires.
You will learn what differentiates good models from bad, what features you should look for, and what to avoid. We discuss a few of the top models available today and generally help you to make the right buying decision.
I have a ton of BBQ and smoking equipment, more than one thing for every job. This includes three kettle BBQs, two Kamado Joes, a WSM smoker, a wood-fired oven, rotisserie attachments, and much more besides. I'm a bit of a BBQ nut.
However, not everybody has the obsession, space, or the budget for quite so many bits of equipment as I do. And that's why we put together this article.
A smoker grill combo is a space-saving, money-saving, dual-purpose bit of outdoor cooking equipment that can benefit many who do not wish to have two or more single-purpose bits of kit.
At a Glance: Our Top Picks for Best BBQ Smoker Grill
Reviews of Our Smoker Grill Combo Recommendations
Below we've compiled a list of what are, in our opinion, the top six contenders for the title of the best BBQ smoker grill available today.
From the simple barrel-style up to the latest high tec pellet models, we've handpicked a wide range to give you an idea of what's out there.

Editor's Note
It's common for people to confuse the terms 'hybrid grill' and 'combo grill.' They do refer to different things!
A hybrid is a grill that can run on both charcoal or gas — but is not a smoker. If you are genuinely looking for a hybrid, dual fuel outdoor cooker, then please check out our guide: The best hybrid grills.
— Mark Jenner
Masterbuilt Gravity Fed Series
1
The Masterbuilt gravity series charcoal grill smoker combo is somewhat like a pellet grill…but runs on charcoal!
It combines a charcoal hopper with smart technology that allows you to set a temp, place a firelighter starter cube, close a door, and watch as the grill comes up to your desired temperature and controls it automatically for you, hands off.
A fan inside controls airflow to the burning coals, controlling its burn rate to settle at the desired temp. And as coals burn and turn to ash, they fall out of the hopper, down through a fire grate into an ash drawer, and gravity causes fresh coals to fall down and ignite, keeping the fire going.
The digital controller allows you to set temperatures between 225 F at the low-end for low n slow smoking, up to 700 F at the high-end for grilling and searing.
Controlling temperatures on the Masterbuilt gravity Fed series is as simple as setting the temp on the controller, and walking away. There is no fire management to learn, it's as easy as your kitchen oven.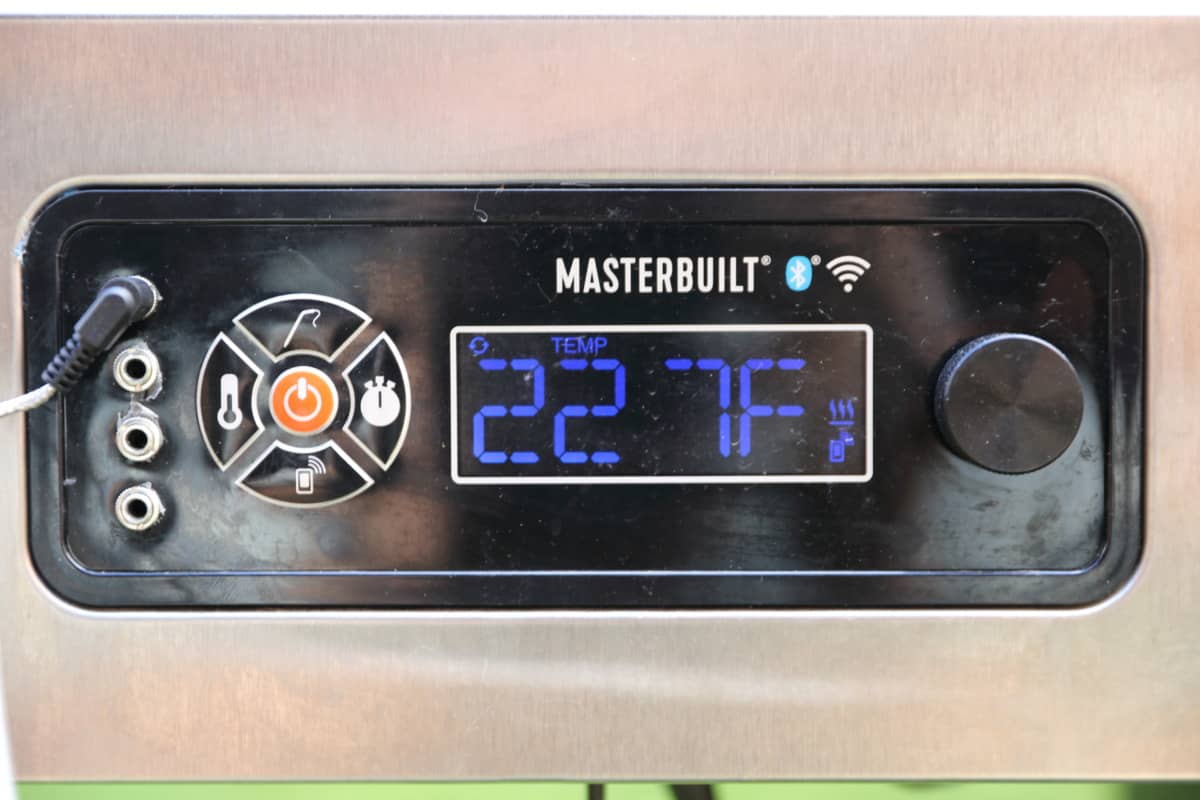 Wi-Fi connectivity allows you to control it from on an app from your smartphone, monitoring temps and changing settings remotely, wherever you happen to be. So you can enjoy time with guests, rather than being tied to the grill.
There's also built-in cooking chamber and meat thermometer probes, so you do not need to spend extra on a 3rd party smoker thermometer.
The 1050 series that I own comes in at 24.65 × 54.13 × 51.97 inches, and weighs 147 lbs. So it's not exactly solid, but is decently built and should last many years. It has two fixed wheels and two rotating lockable castors, making it easy to move about and to lock in place.
The hopper can hold 10 lbs of lump charcoal, or 16 lbs of briquettes, which is enough for a good 12 to 16 hours of smoking without refilling, but of course, far less for high heat grilling.
For clean up after cooking, there is a removable ash drawer that you simply out and dump and a grease pan that catches drips and is easy to remove and clean.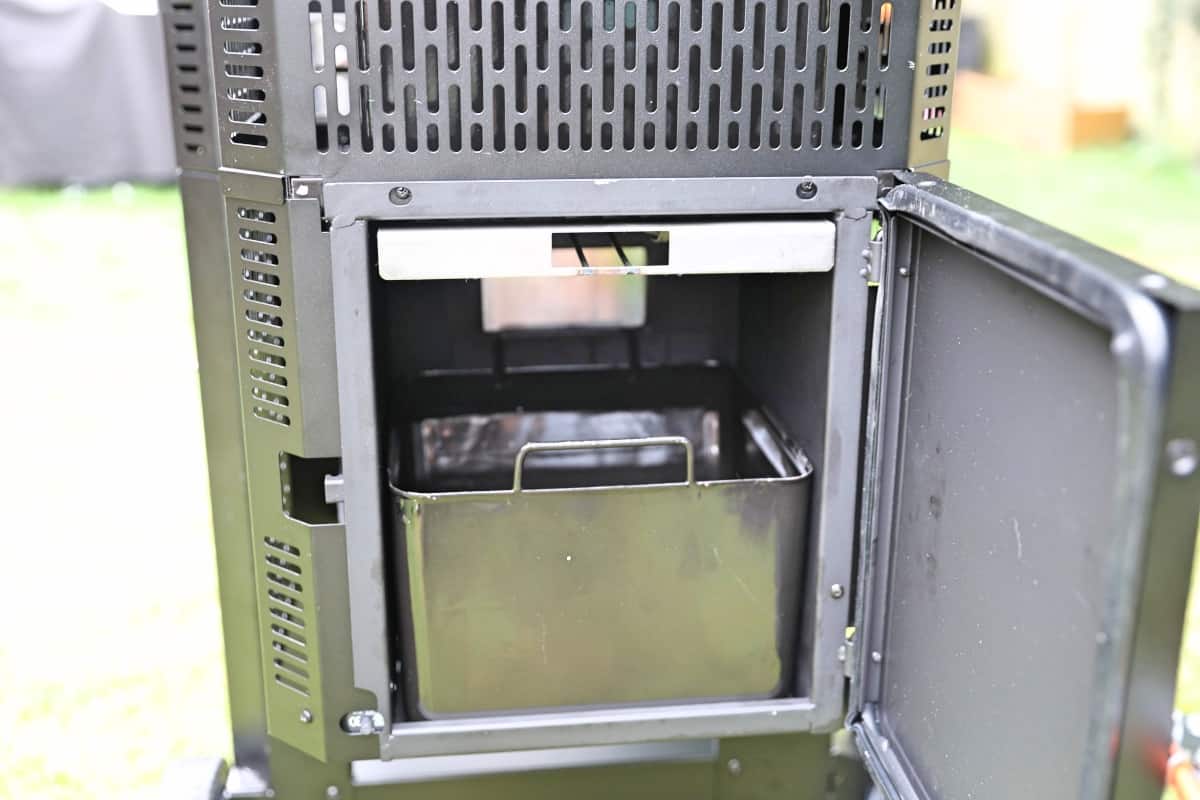 The above photos come from a 1050 model that I personally own and use often, but Masterbuilt in fact has three versions of this great combination grill and smoker. Here is a comparison chart showing how each compares.
Although I own the 1050 version, I think the 800 version is more suitable for most people. It is a good size, can handle a lot of food at once, will be more fuel-efficient than the larger 1050, and also comes with a flat top griddle for more versatility in cooking techniques you can use. So I would consider purchasing the 800 version rather than the 1050 I own.
Pros
True dual-purpose smoking and grilling (225 F to 700F), all from the same unit, with no compromise.
Authentic charcoal and wood smoked flavor.
Very easy-to-use.
Easy clean up of ash and grease, with removable pans easy to take out and dump.
Remote control and monitoring from a smartphone app is a nice addition.
Great price and value for money.
Cons
Fuel efficiency not the best due to heat loss through somewhat thin sheet metal parts, so ongoing cost to run is higher than some alternatives
1-year warranty a bit on the short side compared to most.
All in all, this is a versatile combo grill and smoker that is good value for the money.
In this one unit, depending on the temperature you set, you can do low and slow smoking or high heat grilling, and all with the authentic flavor of charcoal, something that even the best gassers or pellet grills cannot match.
Please check our detailed Masterbuilt Gravity Fed Series review for more details on this excellent bit of kit.
Pit Boss KC Combo Series 4-In-1
2
Pit Boss wants to do it all with this 4-in-1 beast. In fact, their marketing copy touts the KC Combo as an 11-in-1 cooker! Why settle for a mere 2-in-1 or even a 3-in-1?
It's like the Spinal Tap "these go to 11" amplifier of barbecues. Need to "grill, smoke, bake, braise, roast, sear, char-grill, barbecue, scramble, stir-fry, and sauté" all in one place? Read on.
Take one look at the Pit Boss KC Combo, and you'll know this is not for beginners or casual grillers. This is exclusively for those who have mastered or want to master every aspect of outdoor cooking.
Oh, and it's also for people with a lot of room in the backyard — when assembled, it's a walloping 69 x 26.6 x 51.4 inches. That's nearly 6 feet long!
Ok, let's break it down and see what makes this a 4-in-1 cooker.
First, you've got a pellet grill and smoker. That's at the left-hand end of the KC Combo, starting with the huge 26-pound hopper next to the two-level cooking area. The lower rack provides 439.4 square inches of primary cooking space, with an additional 135.77 square inches up top. It's not huge, but it's ample room for some smoking or pellet grilling to get that real smoke flavor.
You can even open the heat deflector to expose the firepot for flame broiling.
Next, you've got the gas grilling zone. Connect a propane tank and grill to your heart's content on the 439-square-inch grate. A trio of baffles keep drippings off the burners and convert them into taste-enhancing vapors.
And three separate burners make it easy to set up for multi-zone and indirect heat cooking.
Lastly, the KC Combo comes with a 321-square-inch griddle insert for the gas grill section. With the flattop in place, you can make eggs, pancakes, bacon, smash burgers, fish, wings, and more.
Convenience features include a grease management system, ash clean-out, hopper dump, lower storage shelf, four casters (including two that swivel and lock), and a side work shelf.
Like any self-respecting pellet grill, the KC Combo features a PID digital controller with built-in Wi-Fi and Bluetooth control from a free smart device app. Two meat probes are included to help you nail the perfect doneness every time.
This grill is also Wi-Fi ready, so you can connect it to your home network, to monitor and control many aspects of your cook from anywhere you have an internet connection. Here's a quick video overview from Pit-Boss on this feature:
Finally, another cool feature is built-in lighting for night-time grilling. A nice touch and useful for those long, overnight smokes of briskets and pork butts.
Pros
There's nothing you can't cook on this thing; if it fits under one of the lids, it's good to go
Can remotely control your pellet cook with the free smart device app
Built-in grill lighting
Huge hopper for long smoking sessions
Made from heavy-duty stainless steel
5-year limited warranty
Cons
It's absolutely massive, so you need a large space in the backyard
Individual cooking areas are of average size
The Pit Boss KC Combo Series 4-in-1 is so versatile you'll wish you had more arms. The freedom to cook anything you can think of on one cooker makes this a great value, especially when considering what it could cost to buy each component separately.
It's a space-saver, too, compared to owning a separate pellet smoker, gas grill, and griddle.
If your motto is "cook all the things," this probably belongs in your backyard.
Oklahoma Joe's Charcoal/LP Gas/Smoker Combo
3
You'll struggle to find a more complete smoker grill combo than the Oklahoma Joe.
For those who'd like a more traditional smoker in their backyard is this 3-in-1 grill, barbecue, and smoker. Perfect for quickly firing up for a steak or burger midweek and slow cooking over charcoal at the weekends.
Oklahoma Joe's grill and smoker is built like a tank to ensure it will last you a lifetime.
This 205 lbs., 74″ W × 5″ D × 50.6″ H cooker is made with heavy gauge steel and super durable components, this cooker is huge — definitely not one for use on the road.
Assembly is straightforward but be prepared for a few hours of hard work. It might be advisable to invite a few friends to help due to the construction's sheer size and weight.
With 6 × porcelain-coated cast-iron grates providing a total cooking area of 1,060 square inches, this BBQ grill and smoker will provide enough space for even the largest of backyard parties.
Three 12,000 BTU main burner tubes and an additional 12,000 BTU side burner mean you won't be lacking firepower either. If you decide to use charcoal, the side burner could be handy for lighting the chimney starter.
The temperature gauges on each compartment and a multitude of dampers make temperature control on this grill, while heat-resistant handles allow you to check coals or meats easily, without charring your hands.
Once you're done smoking, the offset firebox is readily accessible for discarding ash.
Pros
Thick carbon steel construction.
Huge cooking area.
Cast iron grates are sturdy, yet thin enough for decent sear marks.
Side burner doubles as a prep area.
Cool touch steel handles and lid for safety.
The lower shelf is ideal for storing charcoal or equipment.
Three compartments allow for gas and charcoal cooking or smoking at the same time.
2-year limited manufacturer's warranty.
Cons
You may find the wheels unstable on this grill, making it harder to move.
Silicone seals on this type of smoker often need reinforcement.
With the option of gas or charcoal and the three large compartments, there's not much you can't do on this unit.
The extra cooking space makes it ideal for larger cookouts. You could even smoke a full turkey on the lower shelf settings. At this price, the Oklahoma Joe easily wins our top pick as best combination grill smoker on a budget.
There comes a time in every grill enthusiast's life when he wants to move his grilling or smoking up to the next level. The Kamado Joe certainly isn't a cheap upgrade, but rarely, anybody goes back after choosing one.
Once you've mastered the skill of cooking on this kamado, you could find it the most versatile piece of outdoor cooking equipment you've ever owned.
The Kamado Joe Big Joe III is one of the more attractive and best kamado grills on the market, with a glossy red exterior.
Perhaps the first thing you'll notice when your Big Joe III arrives is how heavy it is. It measures 58.4" (W) x 53.7" (H) x 35.8" (D) and weighs a whopping 487 lbs, so you won't want to move it too far too often.
It arrives in a very well packaged box, which is a good thing, as the ceramic can be quite fragile.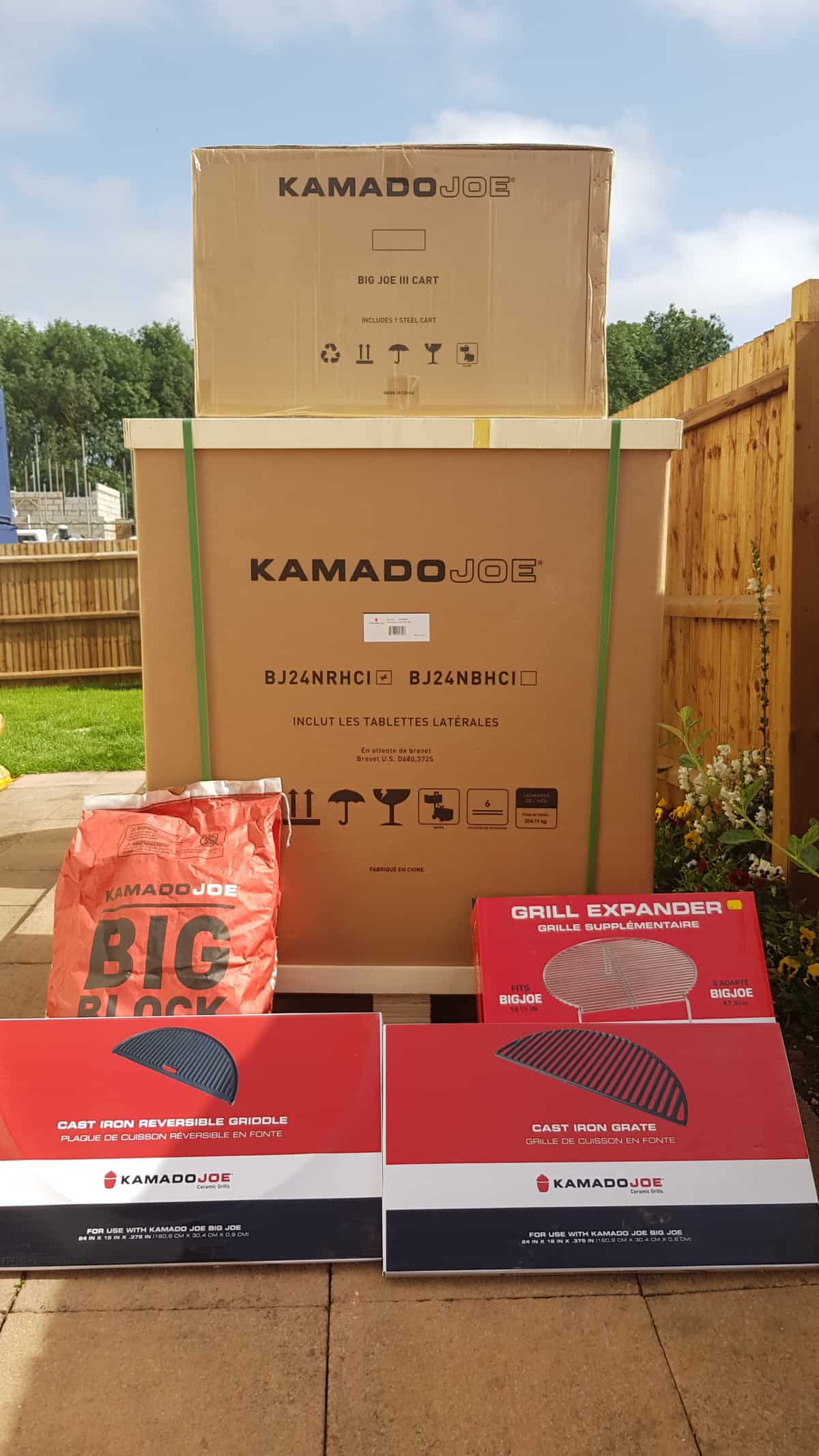 Opening the box reveals not only the kamado "egg" itself but also all the accessories you'll need.
Heavy-duty, rolling galvanized steel cart
Divide and conquer system (for creating different grilling and temperature zones)
Harvard University designed, patented Slo-Roller system for low n slow smoking
Ash removal tool and grate gripper tool for lifting out the hot cooking grate
Flip-up side tables.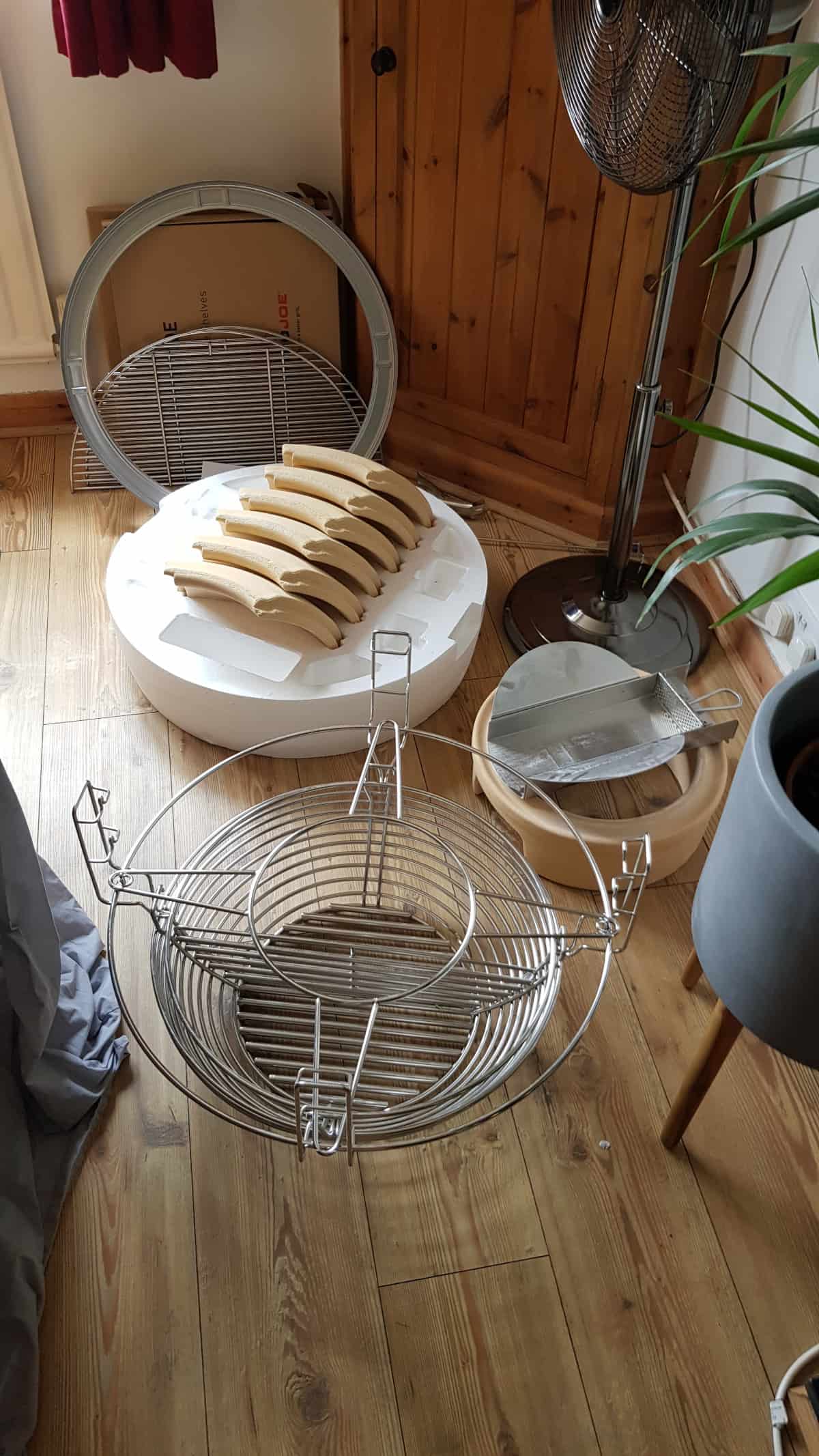 Assembly of this grill and smoker is pretty straightforward, although its weight may mean you need an able-bodied assistant.
With this premium smoker grill combo the build quality is of the highest standard, with everything solidly attached and latches that stay tightly sealed when closed.
A patented airlift hinge makes the substantial lid easy to open with just two fingers.
On the other side of the lid, a rust-resistant latch ensures all that heat and smoke are sealed inside the grill when cooking by squeezing tight, long-life fiberglass seals. These are an excellent advancement over the more typical felt gaskets used in other kamados, which tend to wear out every 6 to 12 months.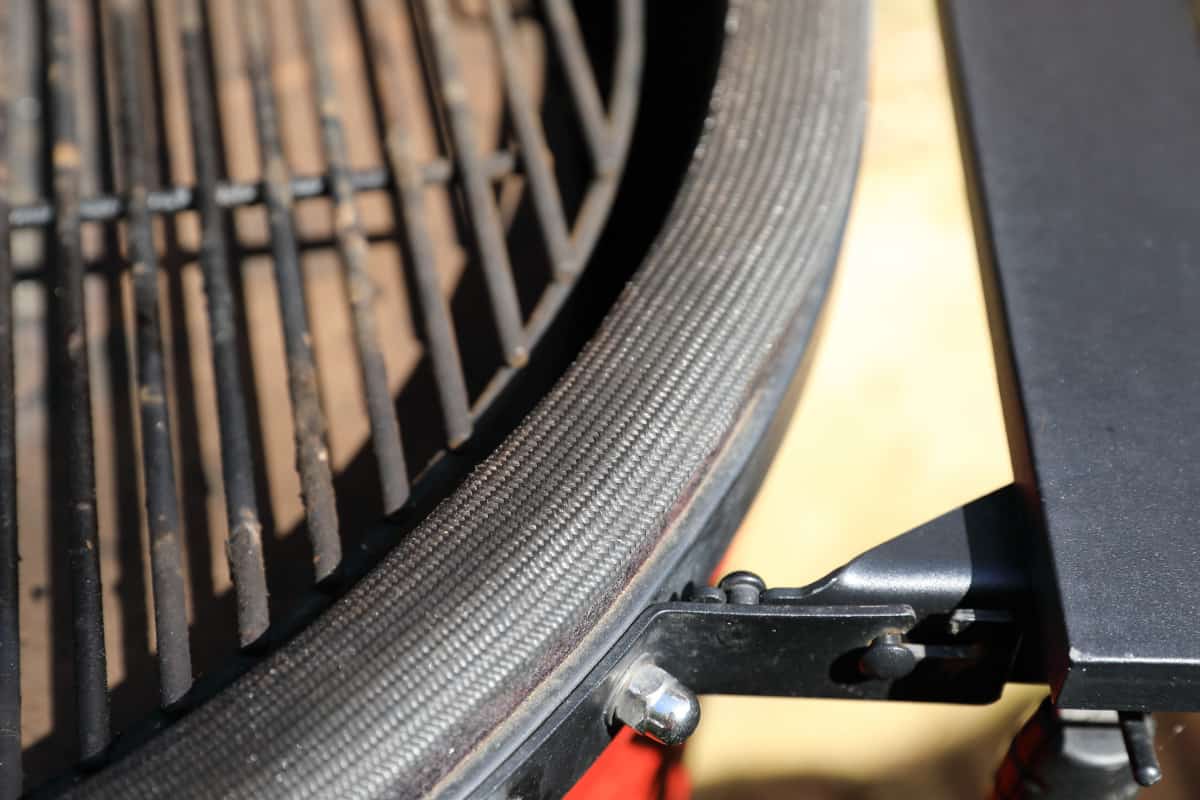 Versatility is the most significant advantage this Kamado style cooker has to offer.
A Kontrol Tower Top vent allows you to manage airflow easier. Used in conjunction with the bottom vent, you can regulate the temperature more accurately—essential for those low and slow smoking sessions.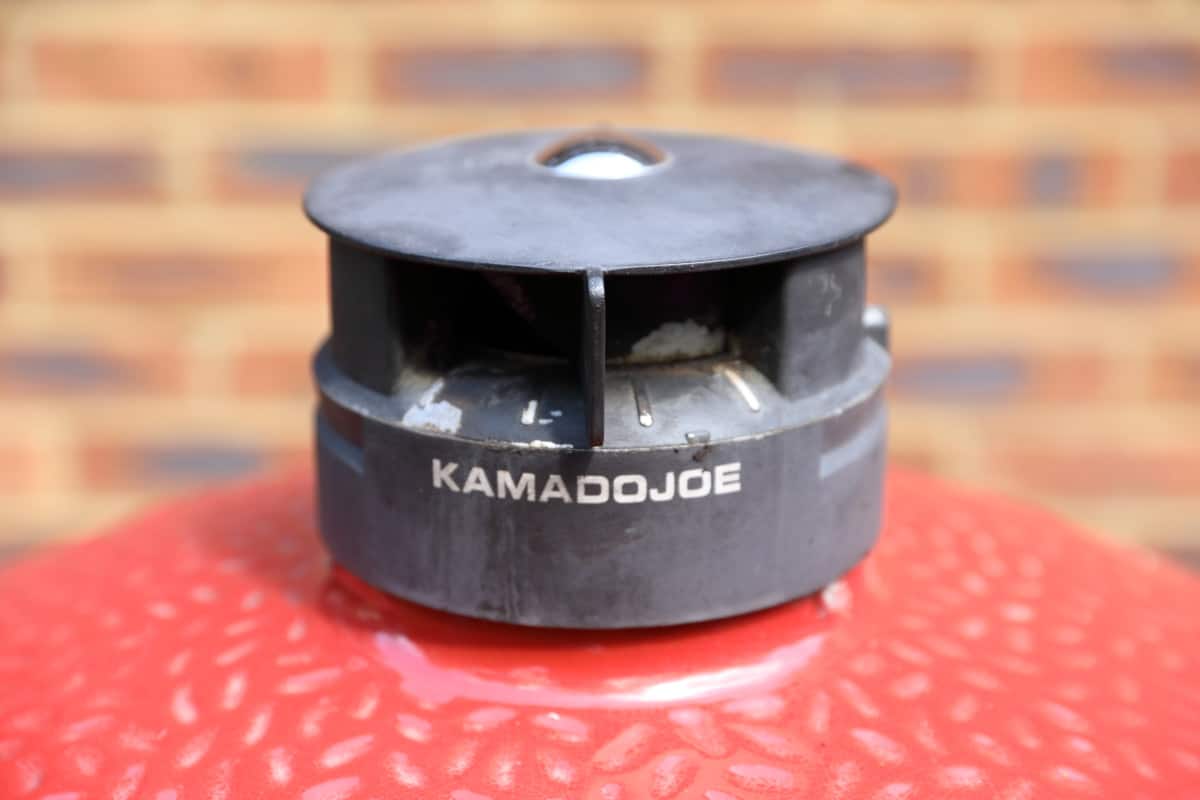 You would imagine the 24-inch grate would restrict your cooking area, but a novel grill system allows you to set up the grill grates at staggered heights. When used with the heat deflectors, you can create different temperature zones for direct and indirect grilling at the same time.
Cooking on any kamado takes practice, but the Big Joe III aims to simplify it.
You don't have to scoop the ash out by hand with this grill combo either; the removable ash pan allows for hassle-free cleaning.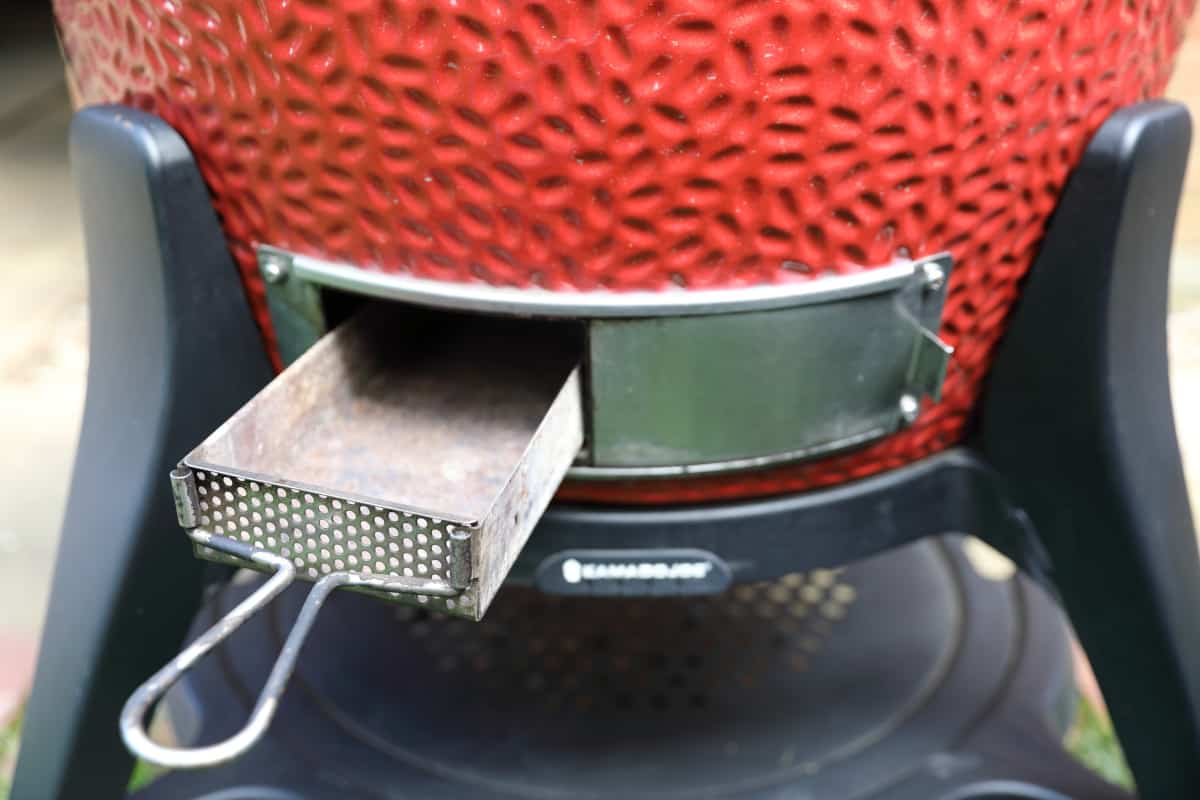 Finally, the SloRoller hyperbolic insert, designed by Harvard university students, can be used to eliminate any hot spots, and distribute heat and smoke in circling vortexes throughout the cooking chambers for the most consistent and even cooks.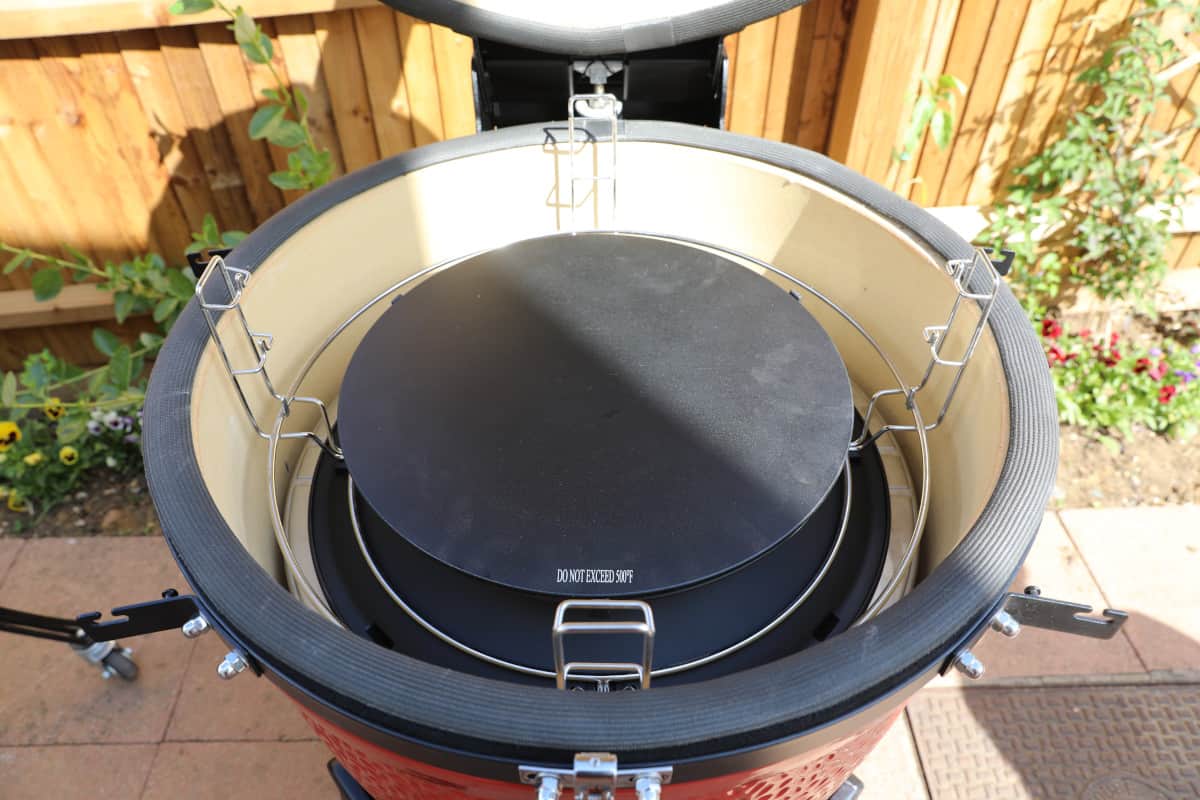 I use this insert for all my low and slow cooks, and it really does work well and helps to create wonderfully smoked, evenly cooked food.
There's no doubt that the Kamado Joe Big Joe III is a premium product that many outdoor cooking enthusiasts envy. Its stylish design is not only eye-catching but also robust, and it's capabilities and versatility, in both grilling and smoking, are something to behold.
It's the true Swiss army knife of outdoor cooking that can do a little of everything, and do it well, earning it top spot as the best charcoal grill smoker in our list.
Learn more in our hands on review and testing of the Kamado Joe Big Joe III.
Camp Chef 36 in. Wi-Fi Woodwind Pellet Grill & Smoker with Sidekick
5
Any serious outdoor chef will know that those signature grill marks add the finishing touches and great taste to food. And any dedicated outdoor chef will know that pellet grills, as a whole, do not sear as well as gas or charcoal grills. They simply cannot reach the blazing hot temperatures required.
Well, the Camp Chef Woodwind Wi-Fi pellet smoker grill combo can do it all, from 160 F to 650 F smoking and grilling in the main smoking chamber to 900 F grilling and searing on the attached sidekick. With this unit, you can smoke, grill, roast, and bake all on one piece of equipment.
The Camp Chef Woodwind is a high-tech unit, with a PID controller that has a constant temperature feedback loop, dialing in and keeping temps incredibly accurately. All you need to do is set a temp on the controller, and it stays there. It's push-button easy.
It also has Wi-Fi connectivity, so you can connect it to your home network, and then use the 'Camp Chef Connect' smartphone app to monitor, control, and change settings for your cook from anywhere you have a mobile phone signal.
You can receive notifications about your cook, monitor the temp of your cooker and the internal temp of your food, as well as change temperature settings, all from the palm of your hand, wherever you happen to be, without being tied to the grill.
Mostly this product is a smoker, using wood pellets as fuel to low n slow smoke foods such as brisket, pulled pork, and ribs. But it has two great features turning it into a combo smoker grill also.
Inside the main grill body, you can slide a heat deflector out of the way to grill over the flames from the fire pot at up to 650F.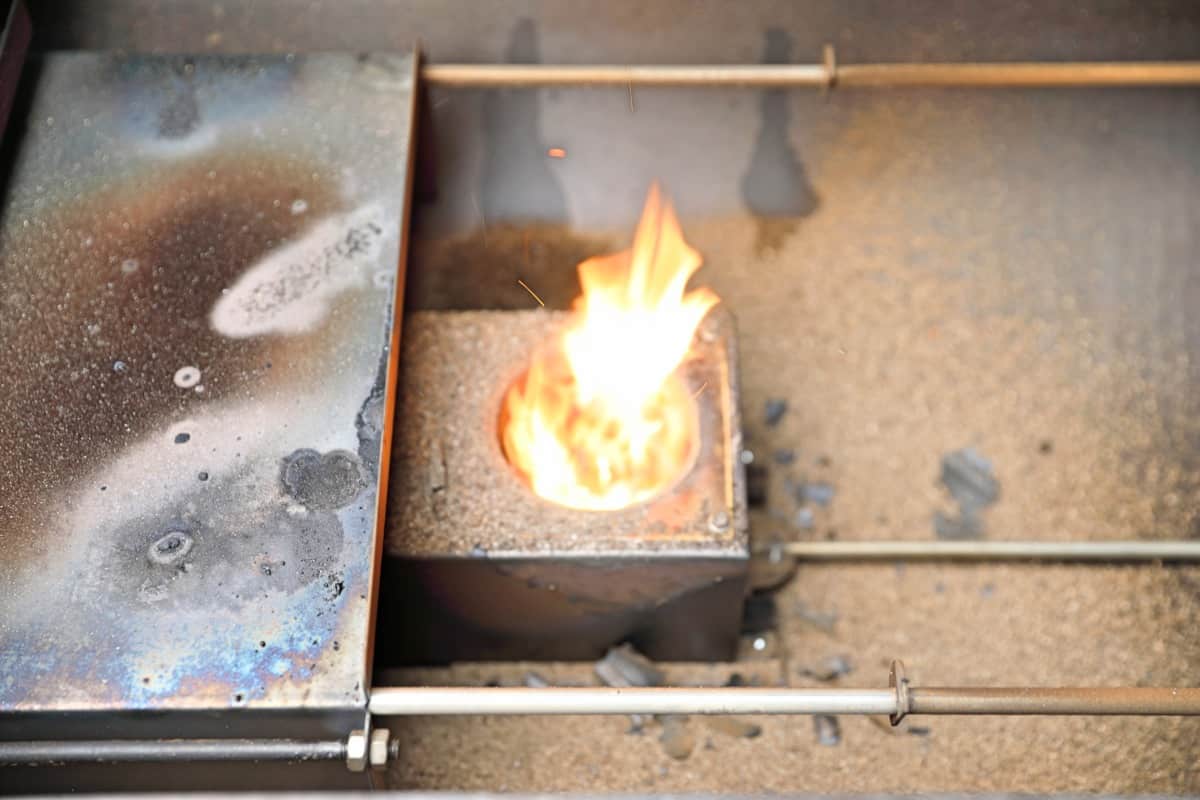 And it also has a 180 square inches, 16,000 BTU propane fueled side sear box that can reach 900 F.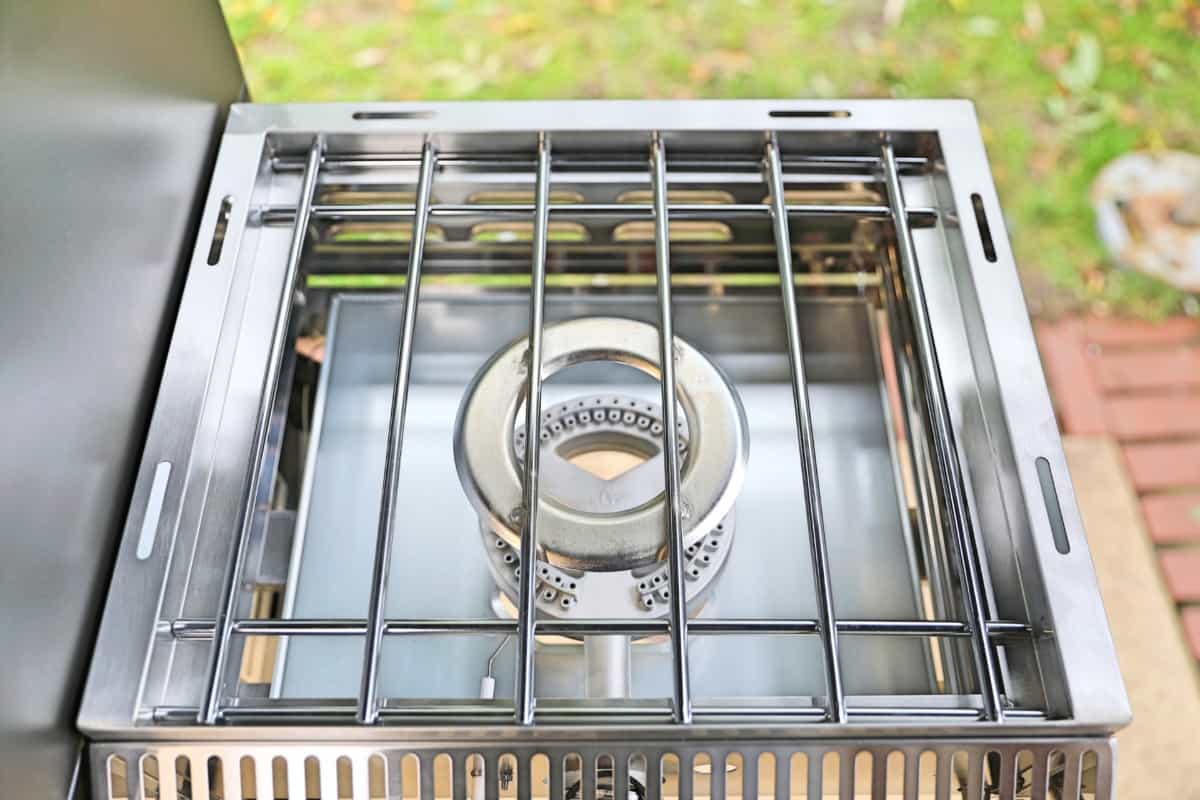 So you can start foods with a sear and then finish with a low smoke, or low smoke until nearly up to temp and then finish with a sear. Perfect!
Like the rest of this grill, the sear box is made of a heavy-duty steel construction to withstand those higher temperatures. And due to the separate design, you can even use it independently, ideal for a mid-week burger fix.
The Woodwind also has a line of attachments you can add to the sidekick, such as a pizza oven, a flat top griddle or a sear box attachment, taking this model's versatility to even more incredible heights.
Other standout features include a simplified ash cleanout system, with which you can empty the ashes with a simple pull of a knob.
Four temperature probes enable you to monitor the internal temperature of four foods simultaneously. No more overcooking or drying out foods…and no need to buy an extra 3rd party thermometer.
It has a 22 lb wood pellet hopper capacity, so it can hold a full bag (no more storing partially empty bags of fuel!), and the hopper has a window, so you can see how much fuel remains without lifting a lid.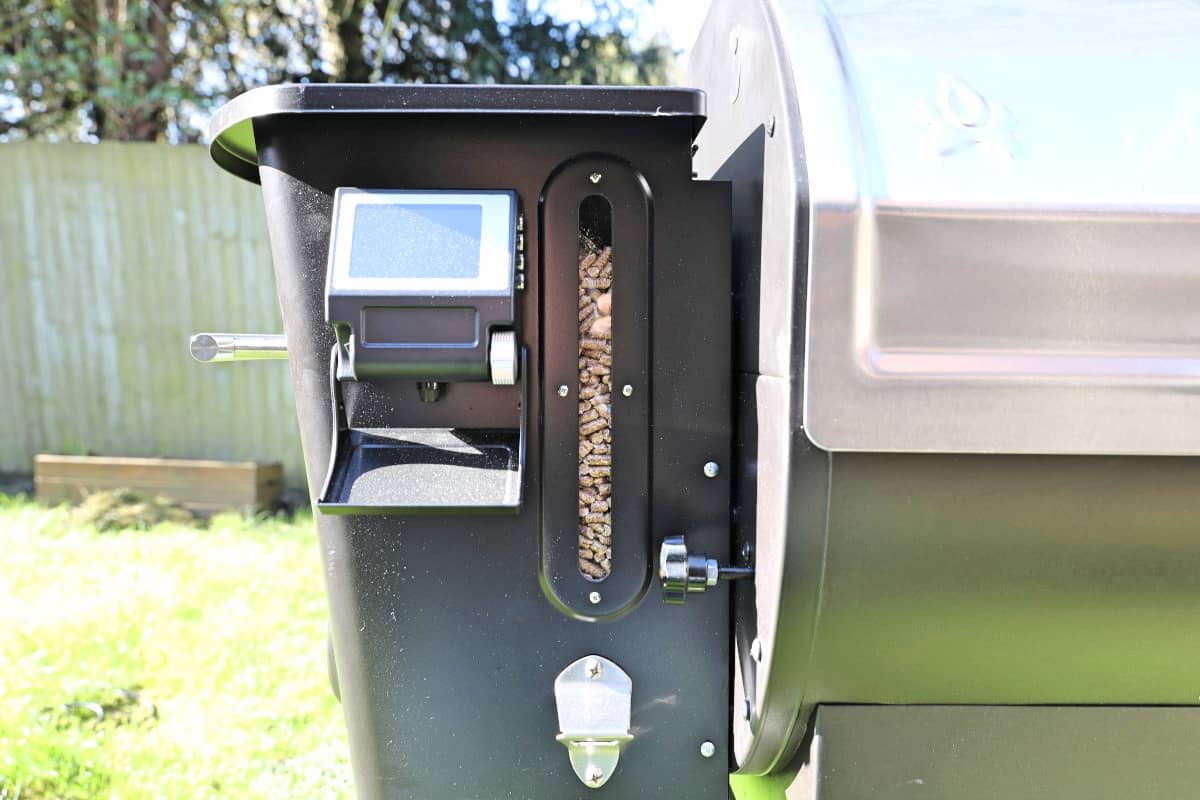 The hopper is also easy to empty by pulling a knob that opens a chute, causing the pellets to empty out. This is a great feature as in many pellet grills, you have to scoop them out by hand, which can be very tedious if you wish to change smoking wood flavors.
Pros
As easy to set and keep steady temperatures as your kitchen oven
Best in class temperature control and monitoring
Wi-Fi enabled for monitoring and control anywhere with an internet connection from your smartphone
Can sear at up to 900 F
Easy clean-up and emptying of unused pellets
Huge cooking area
Extremely versatile
3-year warranty
Cons
A lot of new to market technology, so longevity is as yet unproven
This Camp Chef Combo Grill and Smoker is high-tech, full-featured, incredibly versatile, great to look at, and a great value price for what you get and what it can do. It's also so tech rich that it's easy-to-use, making it one of the best smokers for beginners. What's not to like?
For more details, please see our hands on testing and review of the Camp Chef Woodwind with Sidekick.
18-1/2 Inch Classic Pit Barrel Cooker Package
6
Sometimes you want the versatility of a smoker grill combo when you're on the move. Wouldn't it be great to smoke a brisket overnight while you stay in the great outdoors?
A barrel-style grill smoker combo offers all the features you use at home, with the bonus of all accessories stored inside it.
You'll be ready to cook within minutes of taking this barrel out of the box. It measures 21 × 21 × 31.1 inches, and weighs 57 pounds, so is perfectly manageable for most people alone. And there's no tricky assembly, just unpack everything, and it's ready to go.
With eight hanging hooks, a standard grill grate, charcoal basket, and two heavy-duty steel rods, you have everything you need for a BBQ right out of the box.
The Pit Barrel smoker is constructed from durable steel, upgraded to 18 gauge, coated with a porcelain enamel layer. This allows it to function better in adverse weather conditions.
A barrel style cooker is so simple to use and has a huge capacity. Although you get grill grates for burgers, steaks or plank cooking salmon, you also get hanging hooks. Larger cuts of meat or whole birds can be hung for smoking and result in crispy skin.
The Pit Barrel uses charcoal as fuel, which can be messier than propane to clean up.
The hooks tend to be easier to clean than traditional grates of other smoker grill combos, and just as simple to use. Just season the meat, hang it from a hook or rod, close the lid and leave until cooked.
It's easy to pack up for tailgating or camping, with very little fuss or assembly needed at the other end. To take home, merely empty the ashes when cold, by tipping over the barrel—in a responsible way of course!
Pros
Large capacity.
Great for smoking meats, with a set-up and forget-about-it process.
Four airflow exit holes for smoke and temperature regulation.
Design of barrel retains natural moisture without the need for a water pan.
1-year limited manufacturer's warranty.
Cons
Restricted temperature adjustment.
Needs a consistent supply of charcoal for longer burns.
The grate can be too far away from the heat for grilling steaks or burgers.
For a simple grill smoker combo you can easily throw in the back of your truck, the Pit Barrel is the go-to solution. It's so simple to use, and creates such great results that even competition BBQ chefs are known to use this bit of kit.
How do a Grill and Smoker Differ?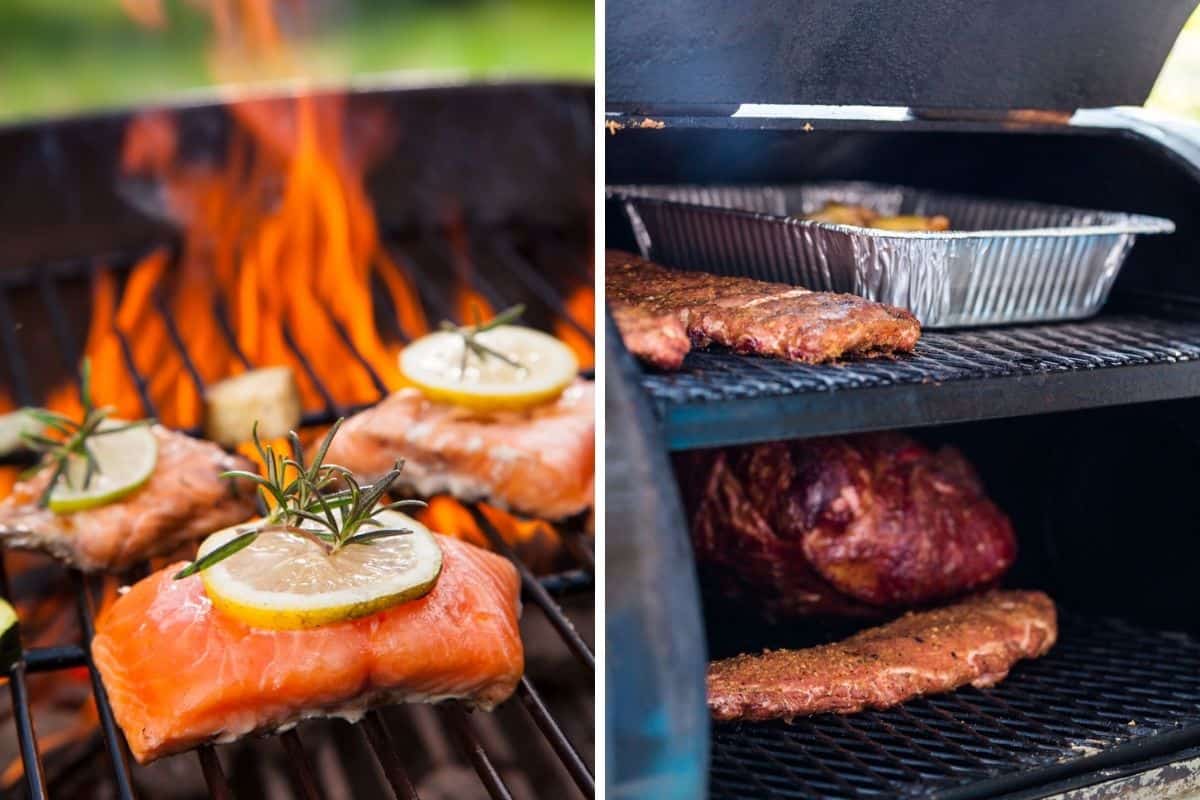 A smoker is a device designed to cook foods 'low n slow', mostly at temps between 225 and 325 F. Smokers are what people call 'barbecues' and are typically used to cook large cuts of cheaper, tougher meat for many hours until fall-apart tender. Think ribs, pork butts and brisket.
A grill is designed to cook foods very quickly, at searing hot temperatures from 325 F up to 700 F. Typical things to grill 'hot and fast' are cuts like steak, chops, fish, lobster and vegetables.
Grilling and smoking are very different methods of cooking, for very different foods. Typically, you would buy either a grill, a smoker, or one of each to cook different ways on separate units. That is, unless you buy a grill and smoker combo…
What is a Combination Smoker Grill?
Put simply, a combination smoker grill is an appliance which can be used for both grilling and for low n slow smoking and roasting. It's a dual-use piece of equipment that can serve two purposes and replace two single-use bits of kit.
Think of them as outdoor versions of the oven you might have at home, with high heat hobs and a variable heat oven, to perform all styles of cooking outdoors.
Just like traditional grills, they can be powered by either gas or charcoal. Some top end models will also use a combination of electric elements and possibly even burning wood.
Benefits of a Smoker Grill Combo, Rather than Separate Units
Modern smoker grill combo units are often advertised as 4-in-1, or even 6-in-1, models. You can bake, roast, grill, broil, smoke, or sear your meats and other foods.
A combination unit offers more versatility. Multiple chambers may allow you to cook with gas on one side and charcoal on the other. Some you can grill and smoke at the same time, or sear then roast, or smoke then sear, all on the same unit.
But the main benefits are a question of both space and cost.
Buying a smoker grill combo can be more cost-effective than purchasing a separate model for each. Many of the high-end propane gas grills alone will often cost as much as a combo. And think of the extra space you'll save on your patio or the back of your truck if camping or tailgating.
Here's a short video showing the kind of results you can achieve with a smoker grill combo—ideal for a two-stage cook of glazed ribs.
Are There Any Downsides?
It's not all good news. Remember the phrase "jack of all trades, master of none?" The same could be said about some smoker grill combos.
Many of the gas models have a wide range of temperatures, from about 150-450 degrees Fahrenheit. Although the browning of meats, known as the Maillard reaction, takes place at just over 300 degrees Fahrenheit, you will need over 600 degrees of heat for the desired caramelization and grill marks.
Also, some barrel or "egg" style combos will make excellent smokers, but may lack grilling ability. The coals or wood can be too far from the grates for an effective grilling of meats.
Space-saving ideas, like hooks or hanging rods, can increase the amount of food smoked, but do little for grilling steaks or burgers.
What to Consider When Buying
When choosing the best grill smoker combo, you need to consider what makes them more versatile, effective and good at both jobs they are to perform.
Multiple types of fuel, different chambers, or basic design, can all affect what you cook on it.
So let's take a look at what's important.
Type of Fuel it Uses
When it comes to fuel, you have to trade off between ease of use, with amount of flavor.
Your choices, with their pros and cons are:
Charcoal — Maximum, authentic flavor of all fuel types. But the messiest to use and the most ash left behind to dispose of after cooking.
Wood logs — Second place in the flavor stakes, though preferred by many. Log burners are authentic and give great flavor. They are tough to learn, control and manage well, though.
Pellets — Second best in the flavor stakes. Clean to use compressed wood pellets, with no charcoal dust to get dirty with. Some ash to dispose of after use though.
Gas — Imparts very little flavor onto food on its own, with all flavor imparted being from wood that's added. No mess to deal with, no ashes to clean up after use (apart from added wood.)
Electric — Imparts no flavor whatsoever onto food. Must add wood for smoke flavor. No mess or ash to deal with (apart from added wood.)

Editor's Note
I strongly recommend going for a charcoal fueled product for maximum flavor in the best smoker grill combos, but they are the most 'work.' For ease of use, go for a product from our pellet smoker reviews. These are just as easy-to-use as gas or electric, but produce better food.
— Mark Jenner
Type of Smoker Grill
These dual-purpose cookers mainly come in the following styles, listed with their main benefits:
Kamados — Typically ceramic, but a few metal models now exist. These egg-shaped cookers can do it all, from cold smoking to baking pizza, searing, smoking and more. Incredibly fuel-efficient, they hold heat well and create a moist cooking environment for incredible food. However, they do have a learning curve for managing a charcoal fire to keep a stable target temperature.
Pellet Smokers — They look a lot like a traditional gas grill, with a hopper stuck to the side. The most technologically advanced of all outdoor cookers, pellet smokers are push-button easy to operate, and true set and forget cookers. Load up your food, set a temperature, let it do all the work. However, they can often struggle to hit true searing temperatures (not so with the Camp Chef in this guide!)
Gravity Fed Charcoal Smoker Grills — Relatively new to the scene, these you fill with charcoal or pellets, and as they burn their ashes fall down out of the firebox and are replaced with new fuel from above, fed by their own weight gravity. Other than this, they look and operate like your typical grill.
Traditional Style Charcoal and Gas Grills and Smokers — Typically barrel-shaped, these use either gas or charcoal for fuel that burns directly underneath cooking grates where you place your food for high heat grilling. For smoking, they will have a 'firebox' offset to the side where you can start a fire to create heat and smoke that travels out over the food, rather than cooking it from below.
Drum Smokers — As the name suggests, these are a smoker grill combo made from oil drums. Perhaps the simplest of all smokers, they can also be used for grilling by having variable height grates you can place closer to, or further away from the fire. Fantastic smokers, but typically not the best at grilling compared to other types.
Grilling Area and Cooking Surface Size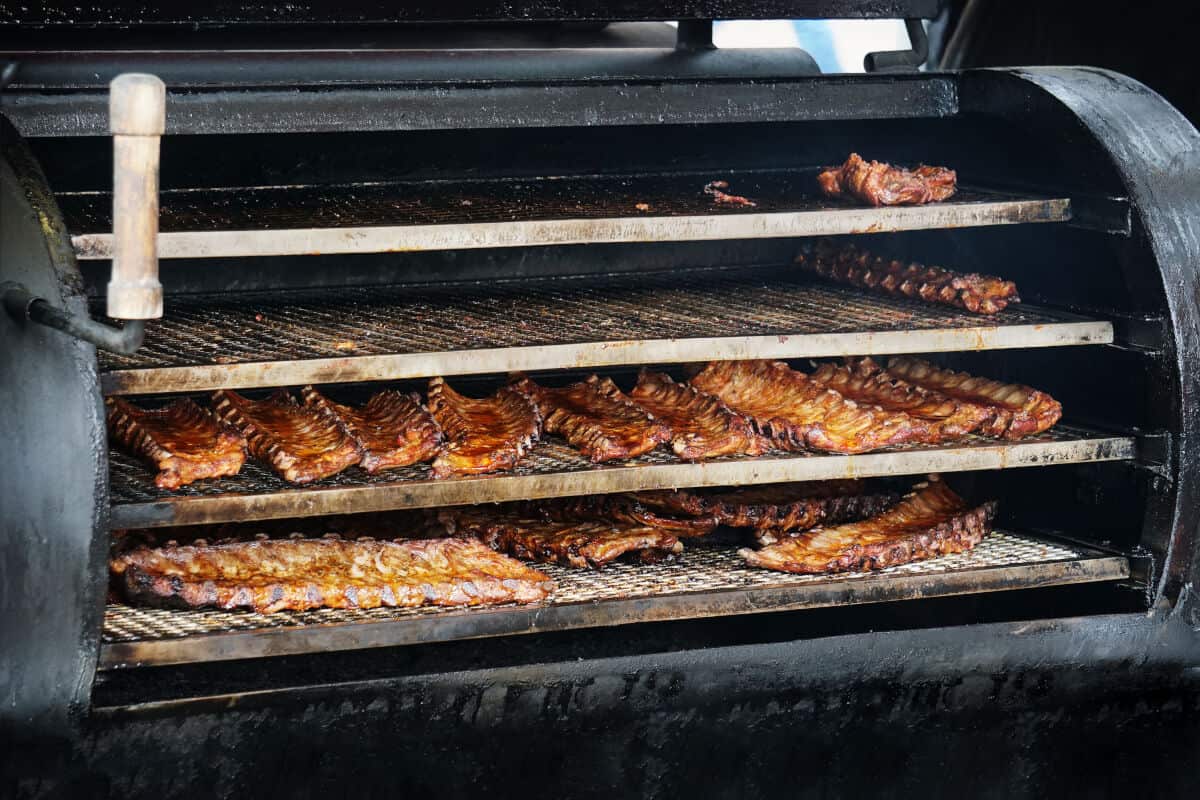 How many people do you plan on cooking for? If you have a larger family, you'll need more cooking space than you would for two or three people.
The smoker part will typically need at least 12 inches of clearance when closed if you plan on cooking a whole turkey in it. A width of 16 inches or more will enable you to place an entire rack of ribs in the smoker, without having to cut them down.
Extra warming shelves and side burners can provide even more cooking surface. Barrel style cookers may have the facility for more than one grate, or space-saving hooks to hang meat from.
Footprint — Do You have the Required Space in Your Yard?
Some combo grill smokers are big! With some types having up to three separate cooking chambers, plus a side table or two, they can be as much as 7 feet wide or more.
However, some types — such as a kamado or drum smoker — can be as small as 22 inches across.
So make sure to keep in mind the available space you have in which to place your cooker, including clearance from your house, and fences, trees or shrubs for fire safety purposes.
Temperature Range and Stability
You're going to want a product with a wide temperature range to allow for searing the outside of your steaks, as well as slowly cooking your brisket.
For hot and fast grilling you need to get up over 500 F, 600 F+ is even better. Less powerful or more compact smoker grill combos may struggle to hit those higher temperatures.
For slower cookouts like a 16-hour pulled pork, you're going to need to maintain the temperature at a constant, recommended temperature between 225 and 250 F. Too high and the meat will just end up tough and dry, too low it will lengthen the cooking time to unreasonable levels.
Charcoal or wood-burning combos tend to be the most difficult for controlling temperature. Maintaining the correct heat may involve opening and closing multiple vents, adjusting charcoal shelves or using chimney stack control.
In contrast, with gas, you simply turn a dial to alter the burners—instantly changing the temperature.
For the best mix of temperature control and flavor though, a wood pellet burning smoker grill combo is the way to go. Purists would argue you can't beat the taste of meat cooked over wood, and it's greener too. Plus temperature control is as simple as programming a temp into a digital controller.
Build Quality, Materials, and Durability
Is the metal strong enough to withstand constant high temperatures, especially over longer periods? Will the surfaces be easy to clean? How durable is the metal used, not just for the exterior but also for the grates or smoke chamber components?
Heavy-duty stainless steel tends to be the best option for the outside of a grill, although it, too, will eventually rust. A cover should always be used if you plan on leaving it outdoors. Powder-coated paints and ceramics may not rust, but can be fragile and chip easily.
The thickness of the steel used will also provide insulation to keep the heat in. Metal graded as 10 or 12 gauge will be robust and, even if it should rust, it's thick enough not to weaken for years.
Any chambers or lids should have solid gasket seals, which will stop both smoke and heat escaping.
The smoker/grills legs are just as important. You need a stable base to ensure it doesn't tip over while you're cooking. Large sturdy wheels will make it easier to move around your patio or backyard. Ensure the wheels are stable enough to move the unit while it's still hot.
Modern Features Making Use Easier and More Precise
Some smoker grill combos have extra features, making them easier to use for better results. Smoking and outdoor grilling is a learning experience, and any help will only improve the quality of food you serve.
When cooking low and slow, temperature control is one of the most important aspects, especially when smoking meats. Features to look for include:
Thermometers and probes built-into the hoods or electrics, which help you maintain a more precise temperature.
Thermostats built-into many wood pellet combos can be as accurate as your indoor oven—some can even be controlled wirelessly by an app on your smart device.
Advanced systems of dampers and chimneys that adjust the airflow and temperature.
Side burners, for cooking sides while you smoke or grill.
Rotisserie attachments.
Ash catchers, drip pans and other features that make clean up easier.
Top Tip
Try to buy a unit that comes with all the added features and accessories you think you'll want and need. Buying something more basic and adding to it later ends up being more expensive in the long run, often by a large amount.
Ease of Access to Get to Cooking Surfaces
Although thermometers can help you tell whether the food is cooked, sometimes you just want to take a quick peek. Or maybe you need to add a few more burgers for late arrivals. Heat-resistant handles on the grill's lid will ensure you don't burn yourself when your unit is at its highest temperature.
Does the grill combo feature separate compartments for grilling foods and smoking at the same time? The last thing you want is smoke escaping every time you check on the food you're cooking.
An adjustable shelf will often allow you to move the charcoal close to the cooking surface without opening the chamber at all.
Vertical-style smoker grill combos, like egg or barrel styles, can be harder to rearrange the meats once cooking. Heat rises, and it can often be very hot to stand above. Invest in the longest pair of tongs you can find, and heatproof gloves are a good idea too.
Easy to Clean
Removable ash pans and grease management systems make a product much easier to clean.
Porcelain-coated grates will be more durable and offer less chance of getting food stuck to them. Stuck-on food residue can lead to bacteria's growth inside the grill, so keeping it clean is crucial.
Warranty
Your new grill/smoker combination unit is an investment, and you're going to want to make sure it's properly covered. Most manufacturers offer at least a 3-year warranty on their products, with many of the high-end models coming with a lifetime warranty.
Cheaper and more basic products which offer a combination of smoking or grilling may only feature a 12-month warranty but can be much less expensive to repair. Parts for the more expensive pellet-style grills and the electrical components can be quite pricey, so a more extended warranty is essential.
Price and Value
For those starting out or on a budget, a good option is the offset-type smoker grill. These generally are the least expensive on the market, often the same price as a good quality grill only model. Although, they typically use charcoal and don't offer the convenience of gas.
Gas or propane-powered combos can offer the facility of charcoal and present the best value. Not only are you getting a smoker, but a quality instant lighting gas grill as well. For those impromptu outdoor parties, you could be cooking within minutes just as easily as you could be smoking meat overnight.
The ultimate in combination cooking is, without doubt, offered by wood pellet grills, but they can also be costly. With a pellet grill, you can do it all, from the slow-smoked Southern-style BBQ, to grilling or roasting. Results can also be easier to achieve, in comparison to a gas or charcoal smoker.
So think in terms of long-term price and value. How often will you use it? How long will a unit last you? What quality are you getting for the price?
Conclusion
Smoking meat can be fun, and bring a whole new flavor experience to outdoor cooking. The best smoker grill combo allows for quick midweek meals, or those longer weekend smokes.
They can save you both valuable space on your patio and, more importantly, cash, with only one appliance needed, rather than two.
If you have any feedback or questions, we'd love to hear from you in the comments below. Please do share your advice and experiences!