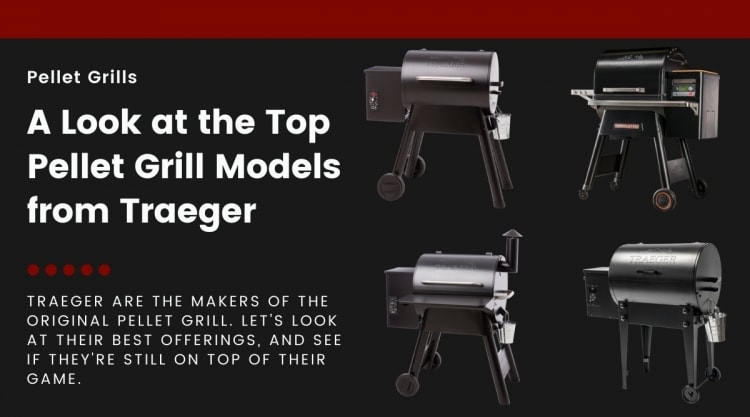 If you're looking for info on the best Traeger grills, you've come to the right place because here, we're reviewing five of Traeger's best and most popular grills, covering a range of sizes and features.
We'll look at each one in detail to learn what they can do for you, what we like about each model, and what could be improved.
By the end of this guide, you'll have a clear idea of which Traeger pellet grill is the one for you so you can enter the world of Traeger smoking.
There are several pellet grill manufacturers out there, selling many top-quality pellet grills. But Traeger was first to market. Today, they're still recognized as one of the leaders in the field.
Traeger sell a wide range of pellet smokers, ranging from tailgating size to commercial-grade with trailer hitch hook-ups, and it verges on overwhelming trying to decide which one is right for you.
So in this guide, we've brought together our best Traeger grill reviews to help you cut to the chase. Let's start with the popular Timberline range.
At a Glance: The Best Traeger Grills We Discuss in This Guide
Traeger Grill Reviews
Let's take a good look at 5 of Traeger's top offerings.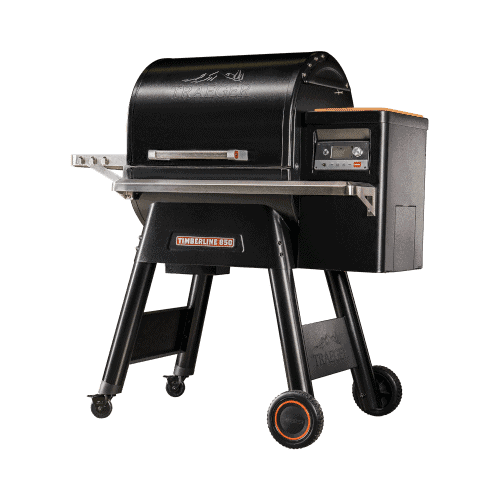 in 2019, Traeger released three all-new grill series, with Timberline as the top-of-the-line of all Traeger pellet smokers. Makes sense, right? You have to climb a long way up the mountain to reach the Timberline.
If you hadn't guessed already, 850 represents the total cooking capacity of this grill; you get 858 square inches of space spread over three grates. (Apparently, 850 is a sexier, more marketable number than 858.)
The main grate is 352 square inches, secondary is 308 sq. In., and the top rack is 198 sq. In. While each grate is modestly sized, because Traeger's cook with indirect heat and convection, you'll get even cooking on each rack. If you need more height, you can take out one or both upper racks.
Traeger estimates there's room for up to 9 chickens, 8 racks of ribs, or 6 pork butts.
An automated hopper dispenses pellets as needed to maintain the temperature of your choice. With a fully-loaded capacity of 24 pounds, you should be able to smoke virtually all day without refilling.
Thanks to an included meat temperature probe, though, you won't cook even one minute longer than necessary.
All the new Traeger grills include their new D2 Controller with Wi-Fire technology.
The D2 temperature control system is a durable, direct-drive auger mechanism for precise pellet dispensing. It also offers a broad temperature range of about 160 °F to over 450 °F. That means you can do everything from smoke low 'n' slow to roast and bake. Plus, it's easy to set your target temperature and timer to monitor your session.
With Wi-Fire, the grill connects to your home wireless network so that you can control every aspect of your cook from your phone via proprietary app. This gives you the freedom to go about your life without worrying about checking on your grill regularly.
By stepping up to the Timberline series, you'll benefit from a few premium features.
Your hopper can sense how full (or empty) it is, preventing you from running out of fuel unexpectedly. (The Ironwood series also comes with the sensor.) You also get rugged stainless steel grates, a stainless steel front work shelf for easier prepping, and a cool magnetic cutting board for slicing and dicing meat and ingredients on the spot.
Best of all, the Timberline 850 boasts full double-wall construction. This extra insulation helps keep heat in and cold out, allowing for faster heat up and more consistent temperatures, plus a better fuel economy for lower ongoing running costs.
If you live in a cool climate, you'll appreciate this detail.
Pros
Wireless control
Stainless steel double walls
High-quality powder-coated steel
Adjustable racking system
4 wheels for easy maneuvering
Cons
3-year warranty is shorter than many competitors
Primary cooking surface isn't that big
No lower storage shelf included (you can buy one separately)
If you don't mind spending the extra money, the Traeger Timberline 850 is one of the very best pellet grills you can buy. In fact, it's one of the best smokers or grills out there, period.
For capacity, precision temperature control, and ease-of-use, it's very tough to beat.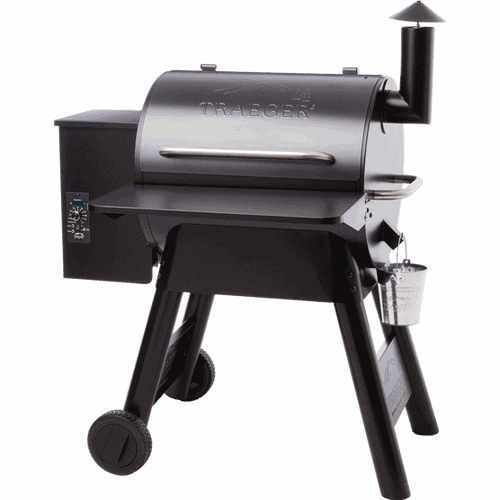 The Ironwood wood pellet grill is the mid-tier series of Traeger's newest grills. They feature many of the same upgrades as the Timberline grills and are a step-up from the base Pro series.
As explained in the Timberline 850 review, the number references the cooking capacity of the grill. Between the primary and secondary grates, you'll get a spacious 649 square inches of cook space — 418 on the main grate and 231 on the upper grate.
That means you actually have more surface area on the primary surface on the 650 than in the 850 pellet smokers! They're the same width, but the 650's grate is 3 inches deeper. Depending on how you use your space, that could be an advantage.
Traeger estimates the Ironwood 650 will cook 8 chickens at once, or 5 racks of ribs, or 6 pork butts.
The Ironwood 650 features the same programmable D2 controller, with direct drive for precision and durability, variable speed auger, and variable speed fan. Combined, these features mean steadier, more accurate temperature control, and less freaking out over fluctuations.
You also get Wi-Fire connectivity for remote access and control over your grill from any smartphone, anywhere you can connect to the internet — provided you have a home wireless network.
If you're smoking meat for hours, you'll be glad to be untethered from your grill.
For better cold-weather cooking, the Ironwood 650 features double sidewalls. The layer of dead air between the walls acts as insulation and reduces the severity of temperature swings. It also keeps the grill from working extra hard to get up to temperature, saving you time and pellets.
You don't give up much if you opt for the Ironwood over the Timberline, and it's certain to provide years of grilling, baking, smoking, and roasting pleasure.
Pros
Hopper holds exactly one full 20-pound bag of pellets
Side shelf with hooks included
Adjustable grates
Pellet hopper sensor included
4 wheels for easy maneuvering
Cons
No front work shelf included (you can buy one separately)
No lower shelf included or available
Traeger delivers a great combination of features on this mid-level grill that will leave you wanting for very little. It's a terrific investment for a serious smoker and griller.
The Pro Series is the bottom rung on the ladder of Traeger's latest grills. But that doesn't mean they aren't fantastic and worth owning! In fact, they are the most popular line of Traeger smoker.
Although you'll notice fewer buttons, the D2 controller is essentially the same on the Pro grills as on the Ironwood and Timberline. The auger is the same, the Wi-Fire connectivity is the same. Heck, even the main grate capacity is the same as the Ironwood 650 – 418 square inches.
The Traeger 575 Pro is nicely sized for a family, with a total of 572 square inches cooking area. In theory, that's good for up to 24 burgers, 5 racks of ribs, or 4 chickens. So, you could cook for a party with ease, or just a few people without feeling you're wasting a lot of space.
A welcome bonus on a "budget" grill, a single meat probe is included. Connect it directly to the controller to keeps tabs on your meat at the grill itself, or with the app on your smartphone while you're watching TV or socializing with guests.
What you don't get with the Pro 575 is any prep or storage space, though you can buy a folding front shelf separately.
You also get single-wall construction, meaning less efficient heat retention than on the Ironwood or Timberline grills.
Also, the 575 has just two wheels; ALL the other Pro, Ironwood, and Timberline grills include four.
Still, these are relatively minor exclusions, and this is an excellent pellet grill, whether it's your first or an upgrade from a previous unit.
Pros
Same D2 control panel and Wi-Fire tech as higher-tier grills
Budget-friendly without giving up quality
Available in black or bronze
Cons
18-pound hopper capacity is too small for a full bag of pellets
Only 2 wheels, compared to 4 on all 5 of the other Traegers looked at — why?
All in all, the Pro 575 by Traeger provides a robust pellet grilling experience that's user-friendly and wallet-friendly(-er) at the same time.
It's a logical step-up from a charcoal or gas rig for the casual smoker who knows better than to over-compromise and wants to begin smoking on a Traeger pellet grill at an affordable price.
No one would blame you for thinking you need to have a pretty fat bank account to become part of the Traeger crowd. Not the case! The Traeger Bronson provides all the advantages of pellet grilling in a stripped-down package at an affordable price.
This family-sized pellet smoker has a single main porcelain-coated grate with 300 square inches of cooking space. According to Traeger, that'll accommodate up to 18 hot dogs, a dozen burgers, three rib racks, or two chickens. That's ideal for day-to-day grilling, and the occasional party, if you're so inclined.
It comes equipped with Traeger's Digital Elite Controller, including a simple LED display and a knob for setting the temperature. A claimed range of less than 180 °F on the 'Smoke' setting to as much as 450 °F on 'High' means you can smoke, bake, and roast.
The 10-pound hopper capacity is smaller than most "full-size" Traeger pellet grills. So, while it's ample for most grilling applications, you may need to top up for really extended smoking sessions.
Being an introductory pellet grill, you won't get the fancy features found on more expensive models.
For instance, thermostat does not offer a timer, nor can you monitor it via Wi-Fi. Also, there's no plug-in for a meat probe thermometer. Fortunately, you can get around all these issues with the purchase of a remote wireless thermometer.
Pros
Priced comparably to better-quality gas and charcoal grills/smokers
Sturdy A-frame stand
Easy to set the target temperature
Yard-friendly at only 35 inches wide
Cons
No programmability or probe hook-up on the controller
Small-capacity hopper means partial bags of pellets left over and top-ups for long smokes
Only 2 wheels
If you've never tried pellet grilling, and you want the experience without the price tag, the Traeger Bronson is your way into the club. It's also the perfect introduction to smoking meat, without buying a dedicated smoker, saving you room on the patio.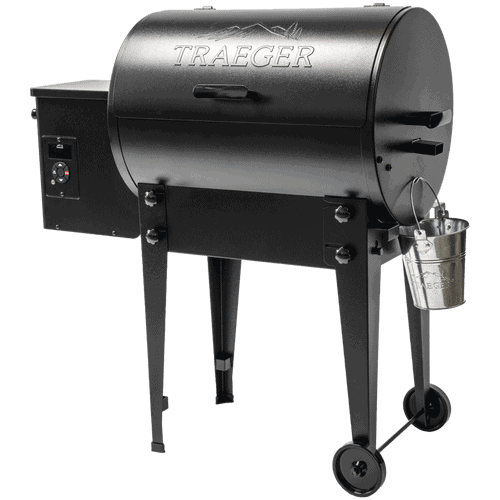 It's time to take the pellet grilling show on the road! If you're in the "rolling stone gathers no moss" club, the Traeger Tailgater is your passport to tasty food at home or away.
Lots of BBQ makers offer a portable or "tailgating" model. The problem with many of them, though, is that they are SO small, it's hardly worth bothering.
Tailgating and camping are social activities, and you'll usually want to cook enough to share. The Traeger Tailgater has 300 square inch cooking surface — enough for two whole chickens, a few racks of ribs, or up to 12 burgers.
If it's so big, though, how can it be portable? The legs easily fold down, reducing the height from 36 inches to about 20. That means you can operate it right off the back of your truck or on a table. Just know that it still weighs 62 pounds empty, so you'll need some help moving it around.
The hopper holds just 8 pounds of pellets, but that's enough for grilling small items. There's enough room for smoking big cuts, but you'll need to reload after a few hours.
A sweet bonus is the ability to connect a meat probe thermometer directly to the programmable controller. That's a convenient addition that'll improve the quality of your cooking — meat should be cooked to temperature, not to time.
The controller features an LCD, plus a circular array of buttons a lot like what you'll find on a TV remote. It's less intuitive than the knob-style controllers, but it won't take long to get the hang of it.
Pros
Available in 4 colors — black (shown here), silver, blue, bronze
Enough space for at-home cooking for a family
Upgraded controller versus many portables, and even some at-home models
Cons
Still pretty heavy for a "portable"
Tiny hopper isn't ideal for long smoke sessions
Would prefer a knob-style controller
The Traeger Tailgater is a two-birds-with-one-stone kinda pellet smoker; it's big enough to use at home and compact enough to take to sports events, cottages, and camping. It even features as the top pick in our lineup of the best portable pellet smokers.
This may be the choice for you if you consider grilling part of the experience when you go away.
Traeger Brand and Reputation
Like it says earlier in the article, Traeger is the original pellet grill company. They got their start making pellet-fired heating stoves in Oregon, and saw an opportunity to revolutionize home grilling and smoking. The first Traeger grill came to market in 1988.
Traeger quickly established a reputation as a builder of high-quality grills and developed a cult-like following. If you don't believe me, Google "Traegering" — it won't even try to correct your spelling. When your company name turns into a verb, you're doing something right.
Other companies have risen to challenge Traeger, as discussed in our Pit Boss Vs Traeger comparison, and our look at REC TEC grills vs Traegers offerings. But most will say that Traeger is the original, and still the best.
The basics of pellet grilling haven't changed much, but the complexity and user-friendliness have. Thanks, to available features like variable speed augers and fans, Wi-Fi connectivity, and modern circuitry, a new Traeger is better in every way than an original.
Traeger's reputation for reliability took a bit of a hit not so many years ago, but that's no longer an issue. No longer resting on their laurels, they've taken up the challenge of competition from other companies and now produce excellent pellet grills without exception.
They are known for offering good customer support and service. While you'll find a few complaints online, very few of them go unresolved.
Status updates for the Wi-Fire connectivity system are available 24/7 on their website, as well as firmware updates. Troubleshooting tips for typical issues are offered in a comprehensive FAQ section, and you can access tons of recipes and grilling advice. Plus, there's a 1-800 number available 7 days a week if you need to give them a ring.
Alternatives
Traeger is the original pellet grill manufacturer, but many other companies have entered the fray and produce some quality kit to rival, and dare we say maybe even better than their offerings?
So have you considered any of the alternatives?
If not, may we suggest you check out our guides comparing Camp Chef to Pit Boss grills, our look at how Traeger Grills compare to Camp Chef, or even our look at the best Camp Chef pellet grills?
You don't want to have buyer's remorse if you rush into buying a Traeger without considering all the options and alternatives!
How to Choose the Right Traeger for You
Now that we've looked at the individual pros and cons of five of Traegers top grills, let's review some of the categories you should weigh before making a purchase decision.
It's the old "measure twice, cut once" approach to grill shopping.
Size and Cooking Area
Within the five grills reviewed here, there is a wide range of sizes and capacities. Which one works best for your lifestyle? Think about what you like to cook and who you cook for.
For example, if you've got a big family, and you want to smoke a couple of turkeys every Thanksgiving and/or Christmas, or carve off slices of brisket at summer get-togethers for a crowd, you need a lot of space.
On the other hand, if you only intend to make a few burgers or a chicken for your small family, keep it small; you don't want to waste pellets heating unused space.
Consider, too, where you plan to use your new pellet grill. Assess your available space and review the exterior dimensions of the grill you're eyeballing before you buy.
You might be surprised at how the grilling space is oriented can affect the overall size. For example, the Timberline 850 has about 200 extra square inches of space compared to the Ironwood 650. But it's the exact same width and only 1 inch deeper.
Temperature Range
Part of what makes a pellet grill so versatile is the temperature range. Smoking happens only at low temperatures, generally between 225 °F and 275 °F. To bake or roast, though, you'll need to crank it up over 300 °F and ideally up to 400 °F. Grilling happens once you get into the 450 °F neighborhood.
All Traegers have the low-end covered, with the ability to smoke low 'n' slow or hold cooked food at temperatures below 200 °F. What they don't all have is the capability of hitting the high-end temps of 500 °F+ that allow for fast grilling, just like on a gas or charcoal grill.
If you want the maximum temperature range, opt for the Ironwood or Timberline series grills.
If you're less concerned with scorching temperatures (you can't truly sear on a pellet grill without access to direct heat, anyway), this isn't going to be a deciding factor for you.
You Might Also be Interested in
Technology Used
All Traeger grills (and all pellet grills in general) burn wood pellets delivered automatically from a hopper to the fire pot by an auger. How that system works and how you interact with it varies between models.
For example, not all Traegers have Wi-Fi connectivity. If you want to monitor and run your grill by remote control, basically, you'll want this feature.
The new Pro, Ironside, and Timberline grills also offer more precise temperatures thanks to variable speed augers and fans.
That doesn't mean Traegers without those features are inferior — they just require a bit more attention.
If you love smoking food and plan to do it often, the money spent on the extra tech will pay off. But, if you're more of a casual smoker and expect to make a lot of burgers, sausages, and chops, you'll likely be fine without those gadgets and gizmos.
Extra Features and Attachments
Some higher-priced units offer some sweet bonuses to tease a few more dollars out of your wallet. Some are truly useful, like a side shelf for prep, while others are more gimmicky, like a magnetic bamboo cutting board.
If you're used to grilling without these extras, well, you perhaps won't miss what you've never had. That being said, extra work and storage space is always a plus. If you think you might want shelves, check if the model you're considering either comes with them or has them available for purchase.
Consider, too, what adding on "missing" features later might cost. It could be that it's worth investing in a model that includes everything you want upfront versus buying them separately down the road.
Of course, some features aren't available as upgrades from the accessory shop. For example, the hopper you get is the hopper you're stuck with, so be sure it's big enough out of the box for your needs. The same goes for a meat temperature probe port — get it now, or get it never.
Build and Materials
All Traegers are well-made, but some are made better than others. Actually, it's more accurate to say they're made of better stuff.
Lower-cost units feature porcelain-coated grates, whereas the top-of-the-line Timberline grills have stainless steel grates. In fact, the more you spend, the more stainless steel you get, and that's never a bad thing.
The Timberline and Ironwood grills also feature degrees of double-walled insulation, making them better at maintaining temperatures. If you value peak efficiency or plan to use your grill in chilly weather, it might be worth the extra cost.
Portability
This is a pretty simple one — do you want to use your pellet smoker anywhere other than your own yard?
If so, opt for a portable model, like the Traeger Tailgater. If that's a hard no, scratch it off your list.
Price
With Traeger, you typically get what you pay for. That means while they sometimes cost more than the competitors, it's money well-spent on a quality grill. But how much have you got in your budget?
It's possible to pick up an entry-level Traeger for a reasonable cost. You could view it as testing the waters to see if pellet grilling is for you. However, you may not get the most complete experience.
It's also possible to spend a lot of money on a Traeger, with all the bells and whistles you can dream up. Before you do, though, think about if that might be overkill for you, and how you could save a few bucks.
Mind you, stretching the budget now could be viewed as an investment. You'll have more options every time you light up the grill, an overall easier experience, and many years of enjoyment.
Final Thoughts
After reading our best Traeger grill reviews, you should have a clear understanding of which is the right Traeger pellet grill for you.
There are many options to consider, so be sure to review every aspect of each model and compare them to your ideal grilling set up.
As always, thank you for reading and for doing your research with us. Buying a grill isn't something to do blindly, especially if you're making the jump to an entirely new type of grill.
Stick around and search the site for even more tips and reviews to help you make the best choice.
Cheers to great grilling!