In this post, we'll explain the simple but knock-out method of chicken and turkey injection recipes, how to use them, and what kind of cuts it works best with.
Oh, and of course we'll load you up with a handpicked shortlist of the best turkey and chicken injection recipes out there, so you can get right on it and enjoy the benefits in your next cook!
Because when adding flavor to meat, you have two choices: Either on the inside or outside.
Now "outside" you've probably got covered. These are your seasoning rubs, marinades, and sauces. I guess you already have a few go-to favorites here?
But adding flavor to the inside? This is what injecting meat is all about and let me tell you, it adds unbelievable moisture and flavor, especially to potentially dry meats like turkey and chicken.
Of course, you can marinate chicken and turkey, but it takes time for the flavors to seep in. Injecting is instant. If you've never tried injecting flavor into the meat, read on.
Why Inject Turkey or Chicken? Don't Marinades Flavor Meat Enough?
Don't get me wrong, I'm the biggest fan of marinades, rubs and sauces. They all help pump up the intensity and complexity of the meat's flavor. But even with long slow soaking, flavoring just the surface can only do so much.
Injecting meat gets in deep to the flesh and muscle tissue, and also adds much-needed moisture from within.
Think of it as marinating from the inside! For competition pit-masters, injecting is the go-to method for adding flavor.
No Waste. No Wait.
Ever felt that pang of sadness as you throw out your beautiful but contaminated marinade once the meat's ready to cook? Yup, been there. And I've tried boiling it up too for a safe pour-over for the meat, but it's not quite the same.
And how about brining? Great method but boy does it tie up some real estate in your refrigerator for several days.
With injecting, there is no waste of the good stuff, it all goes in. Best of all, there's no lengthy wait as with brining and marinating. Just stick and cook!
Of course, if you do have time to let your injected meat sit for an hour or longer, the result will be even better.
Top Tip
For times when you do use a marinade, you don't have to throw it out after use! You can add it to a pan, add extra ingredients, boil it (kills the germs), reduce it until thickened, then use it as a baste, glaze, or dipping sauce.
Chicken and Turkey Injection Recipes!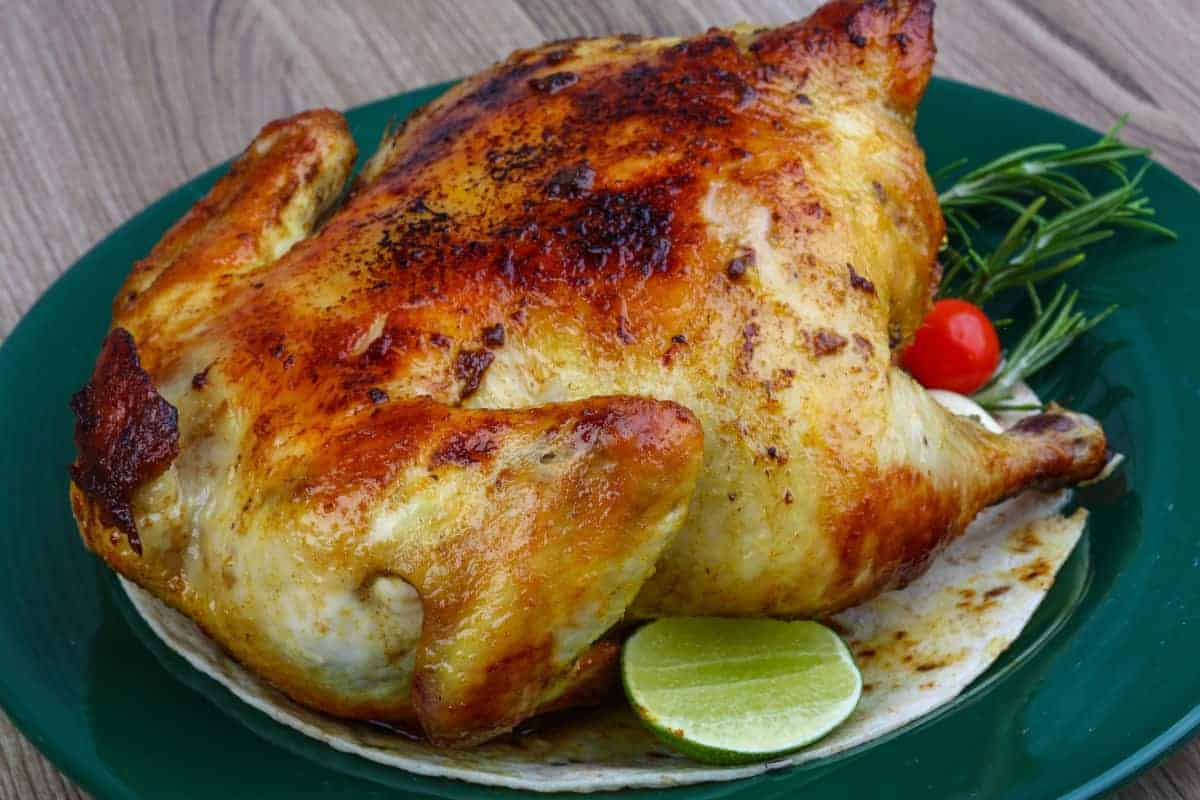 I know you are itching to get started, so if you're to find out what to inject chicken with, check out my carefully researched and tested short list of the best poultry injection recipes.
These all work great on turkey and chicken, and honestly, probably anything else you can think of! Quantities given are for turkey injection marinade, so if you're prepping chicken, just refrigerate extra marinade for another time.
OK, so, kicking off with my all-time favorite…
Sweet & Spicy Turkey Injection Marinade Recipe
This Spicy, sweet, aromatic turkey injection recipe from geniuskitchen.com will knock your socks off! In our opinion, it's the best turkey injection recipe you can find, or at least very close to it!
Because it's strained, there are no bits, so you can use a thin needle and pierce the turkey all over to really penetrate with flavor. Bye bye bland and dry!
Ingredients:
Chicken broth
Crushed garlic cloves and olive oil OR garlic oil
Salt
Honey
Hot sauce, such as sriracha
Worcestershire sauce
Fresh rosemary or dried
Fresh sage leaf or dried
Fresh thyme or dried
Bay leaf
How To:
Combine all ingredients in a saucepan and simmer five minutes.
Cool and strain through cheesecloth or a fine-mesh strainer into a narrow glass.
Load up your syringe and inject into the turkey throughout all the breast and thighs.
You are ready to cook right away, or let it sit 1-24 hours for deeper flavor.
For ingredient quantities, and more detailed instructions, head on over to geniuskitchen.com.
Lemon-Butter Injection Marinade Plus Rub
If you are out to wow your people, this turkey injection recipe created by allrecipes.com is for you. Classic pairing of lemon and butter delivers melt-in-the-mouth tenderness.
Add the herby rub for crispy aromatic skin, and you've pretty much died and gone to fowl heaven.
Marinade:
Chicken broth
Lemon juice
Butter
Garlic powder
English mustard powder
Minced fresh ginger
Rub:
Butter, softened
Fresh rosemary, chopped
Fresh thyme, chopped
Crushed garlic
Salt & pepper to taste
How To:
Combine all marinade ingredients in a small saucepan and simmer 5 minutes.
Cool and pour into a narrow glass.
Load up your syringe and inject into the turkey throughout all the breast and thighs.
Combine all rub ingredients and, lifting gently the skin of the bird, use a small spatula to spread the rub all over the meat under the skin.
Brush outer skin with a little olive oil and season with salt and pepper.
You are ready to cook right away, or let it sit 1-24 hours for deeper flavor.
For ingredient quantities and more detailed instructions, head on over to allrecipes.com.
Holy-Moly Cajun Injection
Let's just say that by following this Cajun turkey injection recipe from geniuskitchen.com, will not result in something like your grandmother's Thanksgiving bird!
This takes it up a notch with spices, chili and beer. Tame it if you like by subbing broth and apple juice for the beer and reducing spices, it will still be toe-curlingly good!
In our opinion, this is one of the best chicken injection recipes that everyone should at least try once. It's incredibly complex, yet balanced, and a true explosion of flavor.
Ingredients:
Paprika
Chili powder
Ground pepper
Salt
Onion powder
Garlic powder
Cayenne powder
Bottle of beer
Bay leaves
Crushed garlic
Worcestershire sauce
Honey
How To:
Combine all ingredients and bring to the boil in a saucepan. Reduce to one cup.
Cool and strain before pouring into a narrow glass.
Load up your syringe and inject into the turkey throughout all the breast and thighs.
You are ready to cook right away, or let it sit 1-24 hours for deeper flavor.
For ingredient quantities and more detailed instructions, head on over to geniuskitchen.com.
How to Inject a Chicken or Turkey
Check out this quick video showing you how to inject a turkey, before going over our written instructions below.
Once your marinade is made up, load up the syringe using a narrow glass or vase for easy uptake.
With the barrel loaded, you want to stick the meat in several places, all over the bird.
How many times you inject is really up to you. If you don't like the appearance of the puncture holes, keep it minimal. If you're not bothered by holes, go for it (and the cooking process will minimize the holes, so personally, holes don't bother me).
The idea is to help the marinade penetrate the meat evenly, so the more sticks you do, the more uniformly flavored the resulting meat will be. Personally, we aim to cover the whole bird, in a grid like fashion, injecting in one-inch intervals.
However, if you're not into dart board turkey, here's a pro-tip:
After the first injection, withdraw the needle, then re-insert it in the same hole but at a different angle, and inject the marinade again. You can do this several times at various angles reaching different parts of the meat, but all through the one puncture hole.
With turkey and chicken, always do at least one injection into each breast, and both thighs and legs. Essentially, the thickest parts of the bird.
Most of us have experienced that dry stick-in-the-throat turkey that only a good slug of wine or beer will wash down! And you want to ensure if this never happens on your dinner table again.
More Quick Tips on Using an Injector
Get the right depth with the needle. Go too shallow, and all that delicious chicken injection recipe will just spill right out again. Go too deep and the marinade may seep out the other side of the meat and be lost.
You just need to eyeball the thickness of the meat, take a visual measure of the needle's length and aim for the center.
Worried about marinating your shirt along with the bird? Loosely cover the meat with a sheet of saran wrap and stick the needle right through it into the meat. This way, any juice that squirts out will not hit your grilling togs.
Match the color of your marinade to the meat…that's to say, if you do choose a dark soy sauce marinade with light turkey breast, the cooked meat will have a blotchy look, depending on where you injected. Hey, it'll still taste awesome. Just a question of aesthetics!
Always depress the plunger and release the marinade slowly so that it has time to disperse and be absorbed.
How much? A good rule of thumb is that each breast and thigh should be injected with about .5 oz of marinade per 5 lbs of meat. So if you have a 25 lb bird, aim for a 2.5 oz shot of marinade for each main segment of the meat.
Don't overdo it, it's possible to inject so much that you lose the flavor of the meat itself. Go easy, you're aiming to enhance rather than overwhelm. As with all things barbecue, experiment and discover your preferences as you go along.
What is a Meat Injector?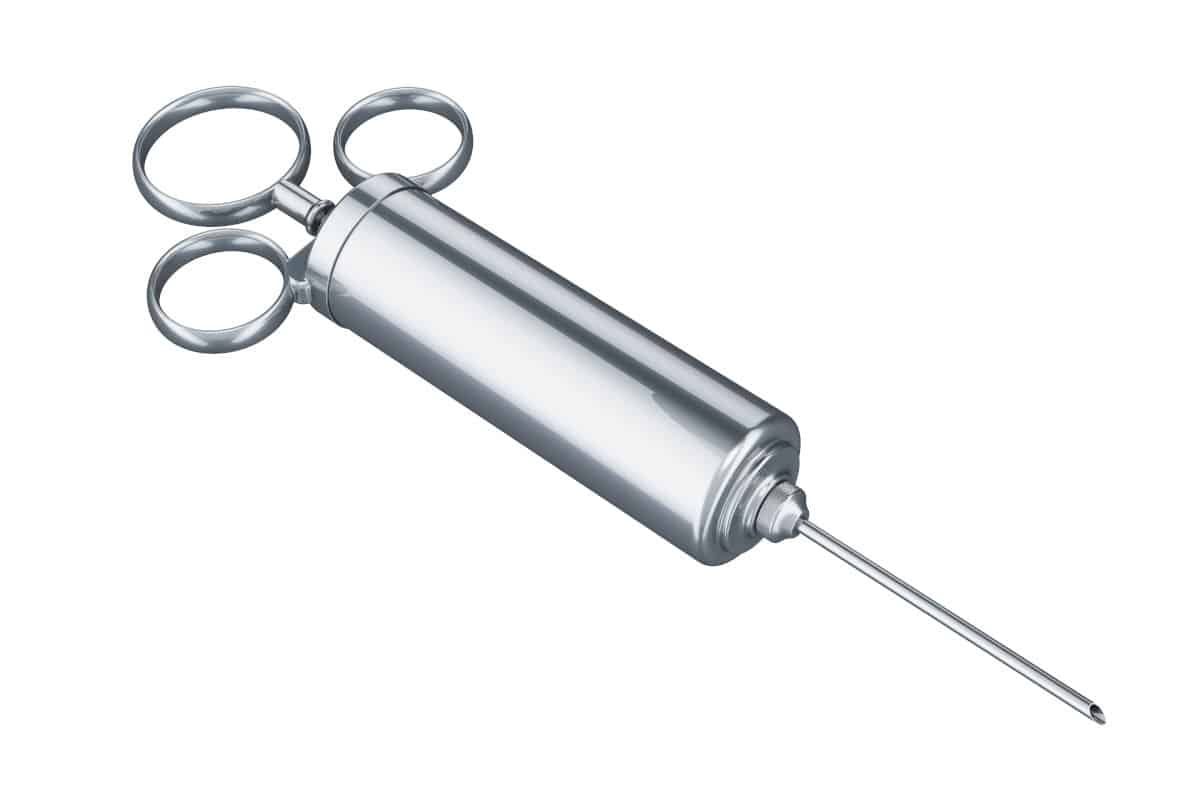 Well, it's not so different from what happens at the doctor's office when you roll up your sleeve, only a lot more appetizing!
So the meat injector is basically an oversize hypodermic syringe with a metal or plastic barrel (metal is more durable), and a needle attached.
The barrel will hold a couple of ounces of marinade. The needle tip is solid and sharp for penetrating the meat cleanly, while having holes down the sides to allow the marinade out.
Top Tip
Because it's the sides of the needle that has holes, not the tip, it will be hard to suck up marinade from a shallow dish. So use a tall, thin glass, small narrow vase or similar. This way, the extended needle is fully submerged in the marinade to start its withdrawal.
What to Look for in a Meat Injector
You want to see three rings on the syringe pull for easy manipulation, even with slippery hands.
For longevity, look for one with a metal barrel, which is sturdier and more robust than plastic. Make sure it has machine-washable parts, as injectors get very dirty and nobody likes to do handwashing these days…do they?
Look for a model that has at least two needles of different thickness, one for simple liquids, and another to allow finely ground dry herbs and spices to pass through.
Here's one such injector that I like Amazon.
What Goes into an Injection Marinade?
Nothing with bits! Sorry folks, but crushed garlic and chopped herbs will only clog the needle (although some injectors come with an especially wide needle option).
Think melted butter, seasoned oils, broth, fruit juices, vinegars, wines and beers. Finely ground spices, garlic salt and onion powder make the cut, as do soy sauce, teriyaki and honey. So you aren't at a loss for choices.
The recommended method is to gently heat all your chosen ingredients in a pan, stir well, allow to cool and then suck up into, or pour into your syringe barrel. Could it be any easier?
Which Meats Work Best With Injecting?
Those big dry birds? We're talking transformation. No need to smother in gravy anymore to add flavor to that turkey breast.
Turkey and chicken achieve a whole new nirvana with the aid of injectors!
Brisket, pork, lamb and duck can also benefit from injecting. Though these meats have a higher fat content which enables them to stay moist in the first place.
This Inside Job Pays Off
In flavor. Tenderness. Juiciness. Plus, it's so darn easy. And investing in a meat injector will not break the bank either.
For me, the best part is that you can dramatically boost the flavor of thick turkey breasts that otherwise risk drying out by the time the whole bird is cooked. This plus the fact that if you're up against it and have no time to marinade or brine, injecting will do the job in minutes.
My final advice? Don't wait 'til the holidays. Injecting is one of the best, easiest and most versatile ways you can enhance the humble chicken and turkey. Get in on it today!
So how did your experience with injecting go? We'd love to hear your story, your tips, what worked for you and what you liked best.
Happy grilling!