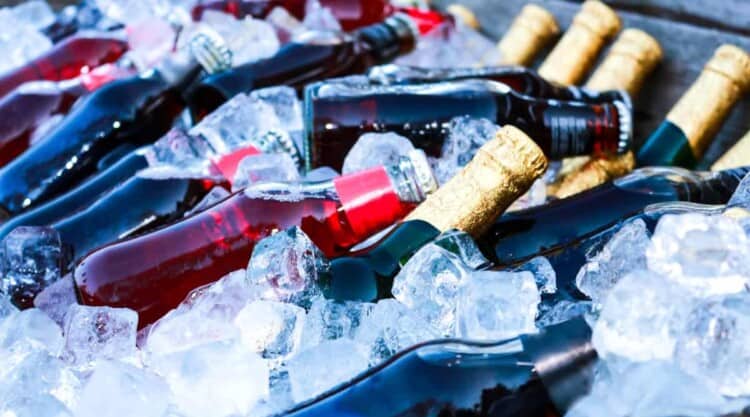 Learn about the best coolers with wheels in our buying guide with a handy discussion on what features and specs to look for in a capable model, as well as our recommendations on the best models to buy.
Carrying sufficient food and drink for your entire family can mean hauling a cooler the size of a small refrigerator, and as heavy as one too. The good news is, there's an answer.
What you need is one of the top wheeled coolers from this guide. They will allow you enough space to carry food and drink to feed a small army while being easy to transport at the same time.
Our goal here is top help you spell the end to tepid drinks and warm sandwiches.
At a Glance: Our Picks for Best Wheeled Coolers
Reviews of the Best Coolers With Wheels
Below are our choices for the best wheeled coolers available today. They all have their own distinct appeal, making them excellent for different needs.
1
Pelican Products ProGear Elite Wheeled Cooler
♔ Top Pick
I've frequently found that the names of products can be misleading. Sneaky manufacturers often include terms such as 'ultimate,' 'premium,' or 'supreme' to lead you into thinking this must be the best item available.
More often than not, this can result in some disappointment when you discover that the product doesn't live up to its name. Hence, I was pleased to find with the Pelican Elite, that's precisely what this cooler is — elite.
Just looking at its insulation performance, you can immediately tell this is one serious cooler. With an incredible 10-day ice retention capability, it's ideal for those extended camping vacations.
It achieves this through three main facets. Firstly, the two-inch polyurethane insulation keeps the warmth out and the cool air in. Secondly, the lid gasket is made from the same grade material that your refrigerator seal uses at home. Thirdly, there is a raised base.
Ingeniously, the base is lifted off the floor by four 'feet.' They raise the bottom up away from the ground, thus reducing the amount of heat. What's most impressive is they have a small surface area — ensuring that even these feet don't conduct warmth.
The two wheels are both large and with heavy tread. This results in a product that's as equally happy on flat ground as it is in the roughest of terrains. When it's not being pulled, the wheels are raised off the floor by the feet. A nice feature which prevents any chance of the cooler running away on sloping ground.
Thick reinforced handles lay flat to the body when not in use. A benefit that both saves space and prevents damage if knocked in the back of your trunk. When in use, they're extendable, making them ideal for people of any height.
There are a few coolers available with a larger capacity, but at 80 quarts capacity, this should prove more than sufficient for family use. Anything bigger than this and it could begin to lose portability.
This unit will take all the knocks, scrapes, and accidents that you can throw at it. With reinforced corners, stainless-steel hardware, and ultra-violet protection — it's a product that will last for years. It's even bear-resistant!
Don't think all this practicality and strength has been at the cost of extra features. Some nice characteristics of this product include a fish ruler, a built-in bottle opener, and a hose-attachable drain plug.
It's definitely at the top end of the market in terms of price, but once purchased, you'll probably never need another cooler again as it has a limited lifetime warranty.
Pros
Refrigerator grade gasket.
10-day ice retention.
Wheels raised off the ground when not in use.
Built to last.
Lifetime guarantee.
Ultra-violet protection.
Built-in cup holders and bottle opener.
Made in the USA.
Cons
Due to its build and insulation quality, it's one of the heaviest wheeled coolers.
If you're looking for the ultimate premium cooler, this is the ideal choice. Unsurpassed ice retention combined with strength and durability makes it the Ferrari of wheeled coolers.
2
Seavilis Milee-Heavy Duty Wheeled Cooler 70QT
♔ Runner-Up
There's little fun in discovering a product you bought isn't fit for its purpose. In the case of this cooler, that's not going to be the case. Described as heavy-duty, it genuinely lives up to its name.
Make no mistake; if you're looking for the most robust wheeled cooler available, there are few better than this. It's perfect for people who are going to be pushing (or pulling) their outdoor cooling to the absolute max.
Starting with the two heavy-duty wheels, it's more of a tractor than a cooler. Massive seven-inch rubberized wheels, combined with a deep tread, means that this product can handle any terrain.
Whether at the beach, in the forest, or on a dirt track, these wheels provide both grip and easy pulling. Their solid construction ensures that they will neither puncture nor become damaged.
This product takes a novel approach to the handles. Instead of the typical molded plastic design, they're manufactured from military grade nylon (with a plastic hand-grip). This soft approach avoids any chance of the handles being knocked and broken — which can happen with the more rigid designs.
Throw it into the back of your truck and there's no chance of damage. The roto-molded case protects the contents, and the cooler itself.
Unlike many competing models, you can even stand on it. With a weight capacity of 220 pounds, it's a product that can take the mass of most people — useful if you're short on seats.
Furthermore, the solid construction enables you to use the 70-quart capacity to the max, without fear of overloading. Whatever you place in it should remain cool for up to six days.
A final quirky feature is an air-release mechanism. As air cools, pressure drops, meaning that the outside pressure is greater than that in the cooler. This can make some units difficult to open. On this rolling cooler, the pressure can be equalized before opening, allowing easy access.
Pros
Large, seven-inch wheels.
Sturdy and rugged construction.
Can carry the weight of one person up to 220 pounds.
Stainless-steel latches.
Anti-slip feet.
Ultra-violet resistant material.
Cons
A premium price for a premium product.
Sometimes the great outdoors can be demanding, both on you and your equipment. While this cooler isn't going to provide you with the stamina and power for endurance hikes, it still provides ruggedness and strength to tackle the harshest environments.
3
Igloo Ice Cube 60 Quart Roller Cooler
♔ Budget Pick
As nice as it is to have a premium unit, such as the Pelican 55-quart, I think it's often sensible to bring things back to basics. That's why I'm quite keen on this Igloo cooler.
No frills and no unnecessary extras, just a basic wheeled cooler that's not going to break the bank.
This no-nonsense product is ideal as either a second unit or one that's just going to be used occasionally.
With a capacity of 60 quarts, it's more than sufficient to transport both food and drinks for a family of four.
The longest dimension is the height, being 20 inches. It's a tall cooler on wheels, rather than wide. This may suit people who have a higher trunk or drive a truck. The design reduces the footprint, possibly working as a space-saver.
The ultratherm insulation should provide between three and five days of ice retention, as long as the lid remains shut. As this is considered more of a budget model, there are no latches to secure the top. So care is recommended to ensure that heat is not lost.
In addition, the lid is hollow, which does improve the lightweight feel. However, this also prevents you from using it as a seat.
The two wide wheels will work well over soft terrain. However, the lack of sufficient tread could make it hard to handle on rough or damp ground.
This wheeled cooler's telescopic handle, together with the vertical design of the container, make it easy to maneuver. In addition, the top of this handle has equipment hangers, useful for adding bags or totes.
Extras included in this basic rolling cooler are four drink holders, a drain plug, and molded side handles for carriage.
Strength-wise, this should last the distance, if not overladen or used too frequently.
Pros
No frills, back-to-basics styling.
Hangers for bags on the handle.
Four cup holders.
Lightweight construction for its capacity.
Cons
No latches to retain the lid in position.
The entire length of the handles is plastic: may not stand up to heavy-duty use.
Purchasing a great wheeled cooler doesn't have to cost a fortune. This product is ideal for people who won't use one often, but demand an effective unit, and wins our spot for best wheeled cooler on a budget.
4
Coleman 62 Quart Xtreme 5 Wheeled Cooler
Recommended
I think there's nothing better than kicking back and relaxing outside with family and friends. Good company, and plenty of liquid refreshment make for a memorable experience.
The problem is, sometimes that fun can be brought to an abrupt end as the last can is taken from the cooler. You were more than happy to keep the party going, but now there's nothing left to drink. That's why I like this model — its large capacity.
This is the perfect wheeled cooler for friendly, informal get-togethers. Its 62-quart capacity allows you to keep up to 85 cans cool — with room for ice — for the duration of your party.
What's more, there are four drink holders molded into the lid helping to ensure that there are no accidents should the occasion become a little raucous.
It has hinged handles which do not extend, hence a little bending will be required to raise it initially.
A neat little characteristic is the inclusion of easy-grip handles on either side. This allows it not just to be wheeled, but also carried between two people if the weight of the drinks is too much for one person or the ground too rough.
The two durable wheels are both thick and with heavy tread, allowing for a secure grip and easy rolling even on sand, making this a good product for beach parties.
This cooler will retain ice for up to five days. Hence, if this is to be used for food storage too, it will remain safe and chilled.
The rugged thermoplastic exterior will clean easily, both from spills and general outdoor detritus. Furthermore, should there be any accidents inside, it has an easy-drain channel. This allows liquids or melted ice to be drained from it without tilting. It can be done even while holding food or drinks.
Should space be an issue in your car or trailer, it's rather compact for a 62-quart container and reasonably priced, so purchasing it will not break the bank. You won't be worrying about your guests damaging the cooler, however much they're enjoying themselves.
Pros
Holds 85 beverage cans.
No-tilt draining feature.
Four molded drink holders.
Dual handles for carrying, should the ground be too uneven to wheel.
This is a brilliant wheeled cooler for informal soirées. It would perfectly suit those long days out at the beach or relaxing evenings. At a great price, it is functional but will not hurt the wallet.
5
Igloo 110 Qt Glide Pro Portable Large Ice Chest Wheeled Cooler
Recommended
Let me be honest with you, I'm not the strongest of people. Despite resolving every January to join the gym, I always find some excuse to procrastinate and put it off until the following year. That's why any product that makes lifting easier is a godsend, and that's the case with this wheeled cooler.
The unique design of the slide-and-lock extendable handles increases leverage. This makes raising tit effortless and straightforward. Even if like me, you lack in the power department, it's easy to move.
According to the Bureau of Labor Statistics, over a million people are injured every year through incorrect lifting and carrying heavy objects. This cooler will increase safety and may be of interest to people with an existing back condition. Furthermore, the molded handles will help in alleviating hand fatigue.
There's one more benefit of this leverage mechanism. Being one of the larger coolers, footprint-wise, and with an enormous 110-quart capacity, this would typically lead it to be an absolute beast to move. The handle design makes it simple.
Insulated with Ultratherm, it should retain ice for around five days. While the two wheels have tread, their slightly small size could make it difficult to move over soft sand, especially if it's filled to maximum capacity.
The build quality is rugged and strong, but still has a pleasing aesthetic design — not the industrial look of the Milee model above. The zinc-plated steel hardware won't perish or oxidize, making it perfect for damp weather conditions.
This product is at a similar pricing level to the smaller units, giving it one of the best cost-to-volume ratios of any cooler we looked at.
Pros
Novel design — extendable handles increase leverage.
Easy on the back — ideal for those lacking in strength.
Enormous 110-quart capacity.
Zinc-plated hardware.
Rugged and built to last.
Cons
Larger wheels would be an improvement, considering the large capacity.
Going outdoors for food and drinks should be a pleasure, not a chore. This cooler allows you to move even the largest of banquets with ease. A perfect choice for the strength-challenged, or for seniors, while being our pick for the best wheeled cooler with a large capacity.
The aspect I dislike most about going out for the day or a short vacation is packing the car. Having kids, there's never enough room in the trunk to fit everything in. At times, it can seem like a math problem trying to figure out the best configuration.
That's why I was pleased to see that there's a wheeled cooler that isn't rigid. With its flexible design, this product is great for squeezing into tight spaces and an ideal companion for travel.
Not only is this is an excellent cooler for when you're lacking in space, but it's also perfect for longer journeys. Complying with carry-on baggage standards, it can be stored as cabin luggage with many airlines.
To reduce the size even further, it comes complete with two bungee cords which both add security and compress the cooler to the smallest size possible.
Although a soft-material construction, don't think this isn't hardy. Admittedly, it won't provide the protection of a solid case. But, the BPA material is still hard-wearing. What's more, it has been treated with an antimicrobial coat to prevent issues from fungus, mildew, and mold.
The 15.72-quart capacity, together with its lightweight design (only 2.2 pounds!) would make this is an excellent product for day trips, especially for outdoor concerts and festivals. Equally, the ice retention capability of around 24 hours means that it's really only for one-day use.
The interior includes a removable "hard" liner, to be used when packing with ice, although this can be taken out if using sealed ice packs.
The telescopic handle allows someone of any height to wheel it with ease. However, the small wheels mean that it's not particularly suited to rough terrain.
Another good day-trip feature is the four exterior uncooled pockets. This means in many circumstances it can be utilized for non-food carriage instead of a backpack.
Pros
Carry-on sized cooler.
Soft-bodied for easy packing.
Very lightweight.
Excellent price.
Numerous exterior pockets.
Ideal for single-day use.
Anti-fungal coating.
Cons
Short ice retention time.
Small wheels make it unsuitable for challenging ground.
When space is short, and you want a lightweight and practical cooler to see you through your day out, this is a perfect choice.
Although not great for extended periods of use, it could serve as a useful second cooler to complement a larger, solid version.
7
Pelican 55QW White Tailgater Cooler (55QT)
Recommended
Sometimes life needs a little luxury. Practical and sensible has its place, but often it's nice to have something a little extra.
This wheeled cooler is one of the most finely crafted available. While a little on the pricey side, it is desirable — after all, diamonds don't come cheap, right?
The 55-quart capacity, and 29.25 inches by 20.18 inches footprint, may at first seem a little limiting. Yet, it's the quality of all the components that make this product stand out.
It boasts the thickest insulation walls in the entire cooler market, leading to an incredible 10-day ice retention period. Thus, making it excellent for extended trips.
The latches on this model don't just click shut, they lock. So, there's little chance of this unit accidentally opening and spilling its contents across your trunk or campsite. These latches are substantial and wide, enabling them to be opened easily, even with gloved hands.
In addition, there are two access holes to fit a padlock, for even greater security.
The two oversized wheels, with their extra-wide design, make it excellent on softer ground. Their large footprint reduces the ground pressure which can prevent it from getting stuck in sand or mud. Furthermore, for rougher terrain, deep tread improves adhesion, reducing the likelihood of spinning wheels.
Handle-wise, everything is catered for. Firstly, it includes two side handles which are molded to the case itself. This means that even when fully laden, there's little chance of these handles becoming stressed and breaking away from the unit. They allow the cooler to be carried, if required, either by one or two people.
Secondly, there's a rear located telescopic handle. The long extendability is suitable for people up to six-foot, eight inches in height. Perfect for the taller person.
The polyethylene body will stand up to years of use.
Even if these factors aren't enough, there is an included bottle opener, non-skidding and non-marking feet, threaded drain plug, cup holders and two wire trays.
Pros
One of the most well-designed of all coolers.
Made in the USA.
Durable.
Wheels perfect for both soft and hard uneven ground.
Carry handles molded to container body for strength.
Locking latches.
Cons
Lacks space considering the cost.
When you demand the best in every aspect of your cooler this product is ideal. It's a great gift for yourself, or could be considered an amazing wedding present. Thought through from beginning to end for durability, practicality, and ease of use, it's the cream of the crop.
8
Coleman 16-Quart Personal Wheeled Cooler
Recommended
There's a temptation to think that bigger is better, but that's not always the case. Most of the wheeled coolers mentioned above are excellent for large get-togethers or extended breaks. But what if you need something a little more compact?
That's why this cooler is so useful. It's ideal for just wheeling out onto the patio, heading out to the ball field, or just a couple of hours in the park.
Despite its small footprint of 14.9 inches by 10.8 inches, it's deceivingly spacious. The 16-quart capacity will allow you to cool up to 22 cans or even two 2-liter soda bottles stored upright — still with enough room for some tasty snacks.
That being said, its compact size allows it to be easily stored in a vehicle's trunk, back seat, or even in the foot well.
The insulation will keep the contents cool for one to two days. This may not sound as impressive as some of the other products in this article, but it isn't designed for that.
With this cooler, it's a case of pop in a few cans and some food and head out to relax for a few hours.
The two wheels are impressively treaded, making them suitable for wet ground, although they're not very wide. If you go heavy on the beverages and need to wheel the unit, the telescopic handle with an ergonomic grip will make it both pleasurable and easy.
Conversely, should you want to carry it, the two body-molded handles make it simple.
Coming from a respected manufacturer, Coleman, you know that this is a unit which will stand up to frequent use. The polyethylene walls will tackle most of the challenges that nature can present.
Although around the same price as some larger units, its quality of build makes it a great value product.
Pros
Perfect for home use, taking to the ball game, or used purely as an extra drinks cooler.
Easily storable and transportable.
Lightweight.
Cons
No drain feature, so it will need to be tipped upside down to empty.
If you're just looking at sitting back and relaxing with a drink in the yard, or want a few drinks at the game, this is the ideal wheeled cooler. Lightweight yet durable, it will see you through many happy weekends.
What is a Wheeled Cooler? When are They Best Used?
Naturally, as the name suggests, it's a cooler with wheels. However, to describe it that simply is to do it a disservice.
The key aspect is it makes the whole transportation of food and drinks much easier and with less effort than standard coolers. What's more, they can keep food at a temperature that will inhibit the growth of bacteria, such as listeria.
This makes them particularly attractive for occasions where:
Access to transport is limited — if getting to your favorite camping spot involves a lot of walking, wheeling a cooler is much easier than carrying.
You have heavy items to carry — it only takes a few water and soda bottles to make for a substantial load.
You're required to maneuver over rough terrain — the low center of gravity makes it much simpler than carrying a cooler in your hands or arms.
These features mean that they're especially suited to:
Camping.
Fishing.
Hunting.
Days-out.
Walking vacations.
Visiting the beach.
Concerts and festivals.
Outdoor grilling occasions.
Tailgating.
In brief, any occasion where you need refrigeration outside, and you have a lot of drinks and food to carry, wheeled coolers are the answer.
Wheeled Versus Non-Wheeled
So, is it just transportability that raises rolling coolers above their non-wheeled siblings? Here's a quick overview of the pros and cons of each.
Wheeled Coolers
Pros
Makes moving heavy items easy — let's face it, you wouldn't carry boulders around your garden — you'd use a wheelbarrow.
Pulling is easier than lifting — preventing excess strain on the body.
Usually requires only one person to move it.
Ideal for use in remote areas — where your automobile or camper cannot be parked close.
Perfect for moving over rough terrain — it's easier to keep your balance with nothing in your arms.
Can keep contents cooler for longer — especially where there is no heat transfer through conduction from the ground through to the base.
Cons
More expensive than non-wheeled.
Chance of the cooler "running away" on steep inclines.
Wheels may drop off on cheaper versions — always choose the best quality.
Non-Wheeled Coolers
Coolers without wheels are generally speaking lumped into two main categories: Soft sided coolers and semi-permanent coolers meant for your patio. They have their pros and cons:
Pros
Cheaper than wheeled versions.
Less to go wrong — no wheels to fall off or telescopic handles to break.
Sometimes more easily packed or stacked into the trunk of a car.
Cons
Heavy and cumbersome to carry — often requiring more than one person.
Likelihood of dropping — losing your food on the ground is not a great start to a camping vacation.
Most non-wheeled coolers sit directly on the floor — this can raise the internal temperature quicker than if raised off the ground.
What to Look for When Buying
Certain features and elements of build quality can make a wheeled cooler a quality product, or one that is best skipped over and left on the shelf. Let's take a look at what you should be looking for in a suitable model.
Size and Capacity
This is probably the first thing to think about with rolling coolers. Personally, I recommend you start by considering how you will be transporting it.
If it's going to be carried in your car's trunk, the back seat, or in your camper/trailer, measure the available area first. This will provide you with the maximum size you can fit in. Remember, it's not just the footprint — there's height to consider too.
Always bear in mind that your trunk may also be used for tents, children's toys, bicycles, or luggage. Take this into account when ascertaining free available space.
The next thing to think about is the size you actually require. Dependent on the size of your family and the type of excursion will dictate how much capacity you need. For example, one person out for a day of fishing will require a much smaller cooler than a family of four on an extended camping vacation.
Finally, remember this: although wheeled coolers are easier to transport than non-wheeled, loading a 100-quart cooler full of beer cans is still going to be heavy to pull. Bear in mind you own strength limitations.
Insulation Performance
Some of the items you carry in a rolling cooler are there purely for comfort. For example, a cold soda is much more enjoyable than a warm one. However, other items, like food or medicines, are there for safety.
The insulation performance you require depends on its use. Usually, this is measured in how long ice can be kept frozen while at an ambient temperature of 90 degrees Fahrenheit.
If you're thinking of a cooler for camping vacations, look for one with a few days of ice retention. If you're planning on using it for day trips, lesser insulation is required.
Wheel Type
Just as automobiles have different tires for a variety of road conditions, so do wheeled coolers. Most wheels are simply molded sheer plastic — fine for rolling down sidewalks, roads, and patios.
However, on more uneven and challenging ground, wheels of this type just will not grip. If you intend to pull the cooler over rough terrain, or off-road, the best coolers with wheels are rubberized, large, and with a significant tread depth.
The larger the wheels, the bigger the surface area and ability to cope with stone, gravel, sand, and mud.

Editor's Note
This is honestly more important than you may think! Remember when you came off your skateboard or ground to a halt on roller skates because a small stone got stuck under the wheel? Or wheels that don't even turn if they meet sand? You don't want this happening to a fully-loaded cooler you're dragging along on your day out. You'll end up carrying it, defeating the purpose of the item. Go for large, all-terrain wheels if you can.
— Mark Jenner
Number of Wheels
Coolers with wheels are designed with either two or four wheels, with two being both the most common and practical.
There used to be an argument that four wheels were better, as they lifted the base of the cooler from the ground. Thus, reducing heat transfer and keeping the contents better chilled.
Nowadays, many of the two-wheeled rolling coolers have a pair of stubby supports that fulfill this function.
Furthermore, two-wheeled varieties are more versatile over difficult terrain. Four wheels dictate that the cooler has to be kept horizontal to allow all wheels to touch the floor at once. One with two wheels can be tipped and twisted around challenging corners and/or inclines.
Type and Height of Handle
There are two main factors to consider with the handle. Firstly, the shape — if you're planning on pulling the cooler for any length of time, especially if it's heavily laden, this can cause hand and arm fatigue.
Look for a handle that is cushioned or padded, and ergonomically designed so that it fits well into the hand. It should have some type of texture for grip as well — A nice feature if it's going to be used in wet conditions.
Secondly, some models have telescopic or extendable handles. These are very useful since they're adjustable for people of different heights.
Other coolers, however, have fixed handles. This can result in having to bend over to pull it along. Straining the back in this way can be quite hazardous.
Unique or Desirable Features?
While the wide array of wheeled coolers can sometimes make choice a little overwhelming, it also has some benefits.
Many models have their own distinct features that make them stand out to a particular demographic, which — equally — may have no benefit to others. Characteristics such as built-in bottle openers, fish rulers, soda holders, and tote hangers, all have a select appeal. Consider what unique features you would find useful.
Some coolers will also come with ice packs included. For those that don't, we highly recommend buying some because ice packs help keep food and beverages a lot colder for a lot longer! You can check out some options in our guide: The best ice packs for coolers.
Durability
Being in the great outdoors is amazing, but it can be challenging on both you and the equipment you bring along.
Rough terrain, tree branches, and unpredictable weather, are all factors to consider. To ensure your essential supplies are kept safe, choose a cooler that is rugged enough to cope with the elements.
Furthermore, the more durable the cooler, the more years of use you will get from it, saving you money in the long run.
For the toughest models, look for ones made from thick thermoplastic, with metal latches and reinforced corners and/or walls.
Price and Budget
There are some great value wheeled coolers on the market, but also a lot of trash too. Seek out a product that has all the features you require, with a build quality that will last. Then, consider your budget and choose accordingly.
Expensive doesn't always mean the best — especially if it has extra functions which you're never going to use.
Conclusion
The best coolers with wheels are a fantastic way of safely and easily transporting chilled food and drink. With the ability to take the strain away from carrying heavy items, they're ideal just as a life-hack or for those with limited strength.
The above products all have their own special features to meet different price or usage requirements, allowing you to easily chill and transport foods during outdoor pursuits, whatever your needs.
I hope you've enjoyed this article, and it's helped you choose the right wheeled cooler for your specific needs. If you have any questions or feedback on this guide, please don't hesitate to leave me a message in the comment section below.