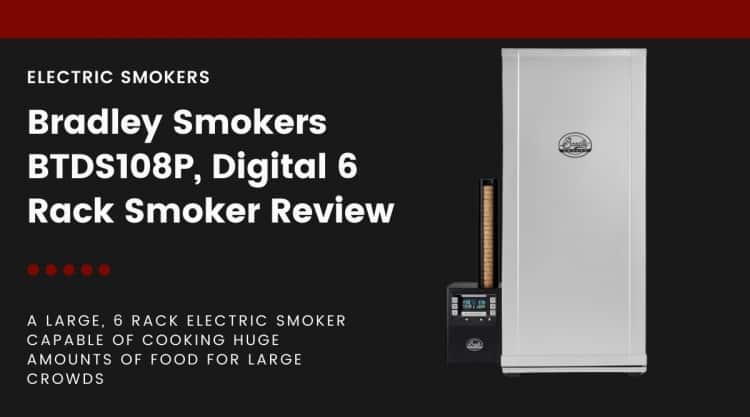 The subject of this article is tall, good-looking, versatile, talented, and ruggedly built.
Some of you will be disappointed to hear I'm talking about the Bradley Smoker, not Bradley Cooper. Though if he wanted to hang in my backyard, I suppose that would be ok, too, as long as he likes barbecue.
It seems like every day there are more players in the home-smoking field, making it increasingly difficult to decide which one is right for you. Today, we're going in-depth with a Bradley Electric Smoker Review, specifically model BTDS108P, their digital 6 rack smoker.
In this review, we'll look at all the important features to find out what's so great about it (or not-so-great!) and help you decide if it should be in the running to be your next smoker.
Will we declare a star is born, or is it just another hangover waiting to happen? Read on to find out!
The Bradley Smoker BTDS108P Digital 6 Rack Smoker in a Nutshell
The reason to buy an electric smoker is to make smoking meat easier for the owner. A digital thermostat regulates the temperature you've set for your smoke session without the need for adjusting baffles, vents, or dampers.
Additionally, this unit feeds fuel into the burner automatically along a conveyor, not unlike a pellet grill. The difference is the Bradley Smoker uses proprietary flavor wood that they call "bisquettes" as fuel. This saves you from having to open the door during a smoke session to add more wood.
A Few Words About Bradley Smoker
So it turns out "Bradley" is a last name, not a first name when it comes to the Bradley Smoker company. We don't know what the original Mr. Bradley's name was, though, because his son Wade, who wrote the company bio on their website, only refers to him as "dad."
Apparently, the company began in the 70s as the result of an exchange of information: Dad shared his salmon fishing secret with a master smoker who revealed the key to good smoking. A long story follows, and if you want to read it, you can find it on the Bradley Smoker site.
It's a Canadian company with offices in British Columbia, as well as Illinois and Arizona in the United States. In addition to smokers, they sell smoker accessories, cures and syrups, and recipe books.
What's in the Box?
Smoke tower
Digital control box/generator/bisquette feeder
Water pan
Drip tray
6 stainless steel wire racks
Owner's manual
Recipe book
First Impressions
Like many smokers, the Bradley Smoker BTDS108P looks a lot like a small fridge — A stainless steel one, no less. (It's actually powder epoxy steel on the exterior.)
But, then you spot that interesting sidepiece and the bisquette tower, and you know it's something else. Honestly, it's unlike any other smoker you'll ever see.
It has clean lines and looks like a home appliance rather than a piece of commercial equipment. Up to you whether that's good or bad, but it looks pretty sharp to me.
Inside, the BTDS108P is all nice and shiny, at least when you first get it. It's nice to see a full complement of racks for maximum configuration options. The mesh construction means you can easily smoke veggies and fish without needing to buy specialty racks.
Overall build quality looks good, and assembly is simple. You'll be up and smoking in no time!
Why Do Customers Choose the Bradley Electric Digital 6 Rack Smoker?
The simplicity of this smoker will appeal to novice smokers or those who just don't want to fuss and fidget with a traditional charcoal smoker.
Buyers know they're getting a well-built, easy to operate smoker that takes set-it-and-forget-it to new levels.
As a bonus, ash clean up is next to zero, since the bisquettes extinguish before they burn that far down. It's one of the cleanest, simplest smokers on the market, and it's backed by a North American company with many years experience building smokers.
Specs
Dimensions: (W, D, H): 17.75" x 14" x 39.5" — digital box adds 6.75" to width
Weight: 57 pounds
Portability: Fixed location
Fuel type: Electric burner with compressed wood bisquette fuel
Total cooking surface: 780 sq. In. (130 sq. In. × 6 racks)
Temp range: Ambient to 250 °F (120 °C). Maximum temperature is 320 °F (160 °C)
Key Features
6 removable mesh racks
Digital temperature control and timer with auto-shutoff
Autofeed bisquette conveyor
Water bowl for extinguishing spent bisquettes
Vertical smoke chamber
Separate bisquette burner and heating element
Being a vertical smoker means you have tons of space for smoking very large cuts like whole turkeys or briskets. You'll probably have room left over for a rack or two of ribs, too. Or, use up to all 6 included racks at once to smoke a feast's worth of smaller pieces. That's amazing if you're hosting the whole clan at once, your kid's team, or a holiday event.
At the heart of the Bradley Smoker is the bisquette feeder system. It's incredibly convenient; you won't have to cut wood, there's no awkwardly pouring pellets, and zero playing with messy charcoal. There's barely even any ash to clean up because the spent bisquettes drop into the water dish before they can be reduced to food-spoiling powder.
You can also choose from 17 different flavors of wood bisquettes to suit your food and tastes. They even offer unique blends like Caribbean, Ginger Sesame, and Beer.
The bisquettes themselves burn cleanly and evenly. Pucks are exchanged every 20 minutes to ensure if there's a consistent flow of smoke. Meanwhile, a separate heating element does the actual cooking providing heat with minimal fluctuation throughout the smoke session. You could, in fact, slow roast food in this smoker without any smoke at all — but why?
The digital control center allows you to set the temperature you want to smoke at and then let the electronic brain take over. You'll spend far less time tending your smoker than you will with a charcoal model. Set the timer for how long you want to cook, and the Bradley Smoker shuts off automatically, virtually eliminating the possibility of overcooking.
Ease of Use
Loading the bisquettes is incredibly simple, their uniform shape allowing them to slide perfectly into the holding tower.
After that, it's all pushing buttons.
The digital interface is clearly labeled and easy-to-read, so there should be little chance of error. You can even switch from Fahrenheit to Celsius if that's your preference.
Cleaning and Maintenance
Between smokes, leave your Bradley Smoker unplugged to protect the electronics from shock damage and the plug and cord from the weather. Definitely cover it up, and store it somewhere dry.
For cleaning, remove all the racks, the water bowl, and the drip pan. Empty the bowl and discard the old bisquettes before handwashing everything with hot water and mild dish soap. Or, you can just put them in the dishwasher.
Inside, you can wipe the surfaces down with a damp cloth, but do not use soap or cleaners. In fact, don't even clean it too much; you want to leave some seasoning inside. Concentrate on removing any grease that could start a fire and clearing out wood particles.
Wipe out the damper and around the door seal to keep them moving and closing correctly. And, scrape any residue off the burner with a scraper or a wire brush. Do it carefully, though, to avoid damaging the element.
Available Support
If you have questions or need help with your Bradley Smoker product, there are plenty of ways you can turn.
For starters, you can call them, send an email, or use the online contact form. There are also pages of blog entries full of tips and advice for cooking and maintenance. Prefer visuals? Choose from 20 different videos posted to their website. Plus, downloadable manuals, spec sheets, and more are available in PDF format.
If you're a social media fan, you can fill your feeds with Bradley Smoker's official channels on Facebook, Instagram, Twitter, Pinterest, and YouTube. And, don't miss the Bradley Forums where you can sift through thousands of topics, posts, and replies. If your questions aren't answered here, they may never be.
Sifting through these posts, it seems the consensus is that their customer service reps are helpful and patient when troubleshooting issues for owners.
Anyone who enjoys being part of a community should look into joining one of the many unofficial Bradley Smoker Facebook groups around the world. The largest is the Bradley Smoker Fan Club, boasting around 6400 members. There's also Bradley Smoker Tips & Recipes to help you out on your smoking journey.
You can find the Bradley Smoker Fan Club here: Bradley smokers Facebook group.
For Bradley Smoker Tips & Recipes, click here: Bradley smokers tips and recipes Facebook group.
Available Upgrades, Accessories and Attachments
Want to expand your smoking repertoire? Bradley Smoker offers sausage hooks, jerky racks, and fine-mesh, non-stick "Magic Mats" to keep delicate foods from disintegrating on the regular shelves. There's even a cold smoke adaptor that's perfect for smoking cheese, nuts, and more at very low temperatures.
They also sell a pretty sweet rolling kitchen cart that features two shelves and a butcher block top — just the thing for carving your smoked goodies in style.
But, if you buy just one accessory, make it the weather-resistant cover. The easiest way to protect your investment is always to keep Mother Nature away from your smoker.
Warranty Details
Bradley Smoker provides a 1-year limited warranty against manufacturer's defects. This covers repair or replacement of the defective part(s), whichever they deem appropriate.
Register your new smoker online, and if there's a warranty issue, you can start a claim at their website, or you can give them a call at their toll-free number.
Quick Tips to Get the Best Out of the Bradley Digital 6 Rack Smoker
Make sure to season your new electric smoker before first use. It will increase its lifespan.
Rotate and swap racks during smoking for even smoke coverage and cooking
Don't overfill the racks — leave space for airflow around your food
Leave the vent at least partially open at all-times while the smoker is in use
Change the water in the water bowl every 2 hours
Try different flavors of wood to see what you like best; consider mixing flavors on a single smoke, too, for a unique taste
Use warm water in the bowl to avoid it becoming a heat sink and increasing the preheat time
Pros
The automatic feeder means never having to open the door to add more wood
Wood stops burning before it turns to ash, so there's no acrid smoke
Set your target temperature and the timer, then walk away
Spacious interior with lots of square and cubic inches, but a compact footprint that's yard-friendly
Bradley Smoker offers 17 different flavors of bisquette plus a variety pack of 5 of the most popular types
Cons
You have to use Bradley's wood bisquettes, but they're awfully convenient!
The bisquette holder is open to the environment, so you'll have to use it in a covered area like in a garage (with the door open!) or under a canopy or gazebo of some sort
There's no alarm when the timer ends, but you should be using a wireless digital thermometer with an alarm when you smoke meat, anyway
Should You Buy the Bradley Smoker BTDS108P Digital 6 Rack Smoker?
Do you like delicious smoked food with minimal effort? If your answer is yes, then this may be an excellent choice of smoker for you.
The convenience of electric power with digital control AND self-feeding, mess-free wood is hard to beat. This is a very good smoker, also appears in our guide where we searched for the best electric smoker, and there's a lot about it to love. We definitely recommend it, especially for newcomers to smoking.
Other Models Might Suit You If:
You have a ready supply of hardwood for smoking on hand
You have a small family and would be better off with a smaller unit
You and charcoal cooking go way back, and you can't imagine giving it up (though you never know till you try!)
Final Thoughts
So that's a wrap on our Bradley Electric Smoker review.
The people at Bradley Smoker have put a lot of thought, research, and testing into their smokers. Their guiding principle was that there had to be a way to make smoking more user-friendly and less labor-intensive.
We think they've achieved something pretty remarkable with the Bradley Smoker BTDS108P digital 6 rack smoker. It may be one of the most accessible smokers on the market.
For further details and to check current pricing at Amazon, please click a link below:
Thanks for reading, and may many happy smokes be in your future.