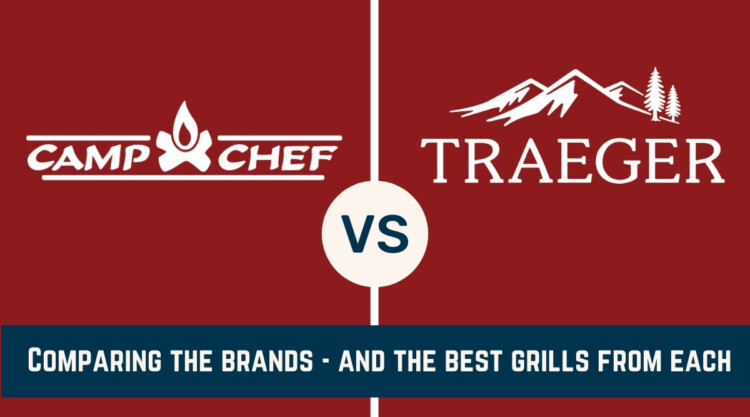 This article combines unbiased product reviews and head-to-head comparisons of Camp Chef and Traeger pellet grills, to help you make an informed choice between which of these two brands might be right for you.
So who's ready for a couple of heavyweights to go toe-to-toe?
Traeger may have invented the pellet grill, but Camp Chef is out to perfect the experience. There's some good money and good food on the line here — so which pellet grill is right for you?
To help you make the best choice, we've compiled reviews of six grills from each manufacturer. You'll get vital specs and honest pros and cons for each. Plus, we've dug deep into several vital categories to see which pellet grill performs the best overall.
It all kicks off with a brief look at the history of Traeger and Camp Chef.
Is one of these fabulous grills the best choice for your outdoor cooking needs? Read on to find out.
Camp Chef Vs Traeger — Brand Overviews
Here's a quick introduction to each of these leading contenders in the pellet grill market, with a bit of their backstories, and what makes each unique.
Camp Chef History
The brainchild of an American outdoor enthusiast, Camp Chef was founded in 1990 for one reason: to build a better outdoor cooker. Their first product, the Pro60, is a portable, propane-powered camp stove.
Since then, Camp Chef's line-up has expanded to include flat-top grills, portable BBQs, smokers, and, recently, pellet grills. The current roster includes about ten different models, each available in a variety of configurations and colors.
Camp Chef calls Cache Valley, Utah, home. In a market increasingly dominated by faceless companies, they strive to offer friendly service from a small team of dedicated experts.
Traeger History
Back in 1988, when Traeger released their first grill, burning pellets was reserved for home heating systems. Based in Oregon, Traeger recognized an opportunity to do something totally new and switch their production from pellet stoves to pellet grills.
For years, their patented technology allowed them a monopoly in their newly-created grilling niche. In time, others joined the market. Traeger's fine products and devoted following kept them on top, though there are challengers for the crown.
Conceptually, not much has changed in pellet grilling for over 30 years. But, today's Traeger pellet grill models are far superior, taking advantage of modern digital technology for a user-friendly grilling experience.
Traeger headquarters in Salt Lake City, Utah, and produce over 25 grills in various configurations. Three new series of grills launched in 2019: Pro, Ironwood, and Timberline. Combined, they total six models, two in each series.
Camp Chef Vs Traeger Comparison
Both Camp Chef and Traeger have entries in our list of the best pellet grills for 2023, but how do they differ to each other? What factors should you consider when weighing them up, to tell them apart?
When considering any grill purchase, these eight categories should be top of mind. Let's see which maker comes out on top in each section and name our overall winner.
Build Quality and Construction
Both Traeger and Camp Chef use high-quality materials, including stainless steel and cast iron. The carts/stands are sturdy and durable, and the fit-and-finish is always top-notch.
Where Traeger has an edge is the double-wall construction found on the Ironwood and Timberline Series grills. This extra layer (side walls on the Ironwood, full firebox on the Timberline) helps better regulate the temperature inside by providing a barrier from the temperature outside.
Verdict
Both are great, but Traeger wins this round.
Cooking Space
Traeger's six main grills offer a range of six different capacities, two in each series.
Camp Chef pellet smokers all feature one of three different main cooking surface sizes: 663, 429, or 253 square inches. (Only two models, including a portable pellet grill, feature the smallest grate.) Secondary cooking surfaces vary in size to create more options.
Verdict
This is a tough one, but I'll go with Traeger for providing six distinct grill sizes.
Temperature Range
All six of the grills we reviewed claim precisely the same temperature range: 160 °F to 500 °F. And both models offer up intelligent, easy-to-use temperature controllers. So, how do we determine a winner?
Two of the Camp Chef grills offer something the Traeger grills don't — access to direct, over-the-flame cooking. Camp Chef says you can hit 650 °F on the main grate at full power over the fire. Hello, grill marks!
Verdict
Camp Chef comes out on top with its clever searing feature.
Temperature Control
Traeger definitely stepped up its game when it developed the Pro D2 Controller. Then, they kindly included it on all their new grills. It's a great unit and easy-to-use.
But, Camp Chef also leveled-up with its new Gen 2 and Woodwind digital controllers. The Gen 2 controllers (found on the SmokePro SG 24 and DLX 24 reviewed below) are simple, intuitive, and feature large displays. The Woodwind controller is a thing of beauty, with a huge, full-color display, simple combination dial/button, and all the info you need in one spot.
On top of that, their controllers feature something called PID (Proportional–Integral–Derivative) control technology. We won't try to explain it; frankly, we can't — but here's an article that does. In a nutshell, it's a highly advanced algorithm that dramatically reduces temperature fluctuations, keeping you within 5 °F of your target.
Verdict
We wish all Camp Chef grills featured the Woodwind controller, kind of like how Traeger includes the Pro D2 on each model. Still, we declare Camp Chef the winner in this category.
Hopper Capacity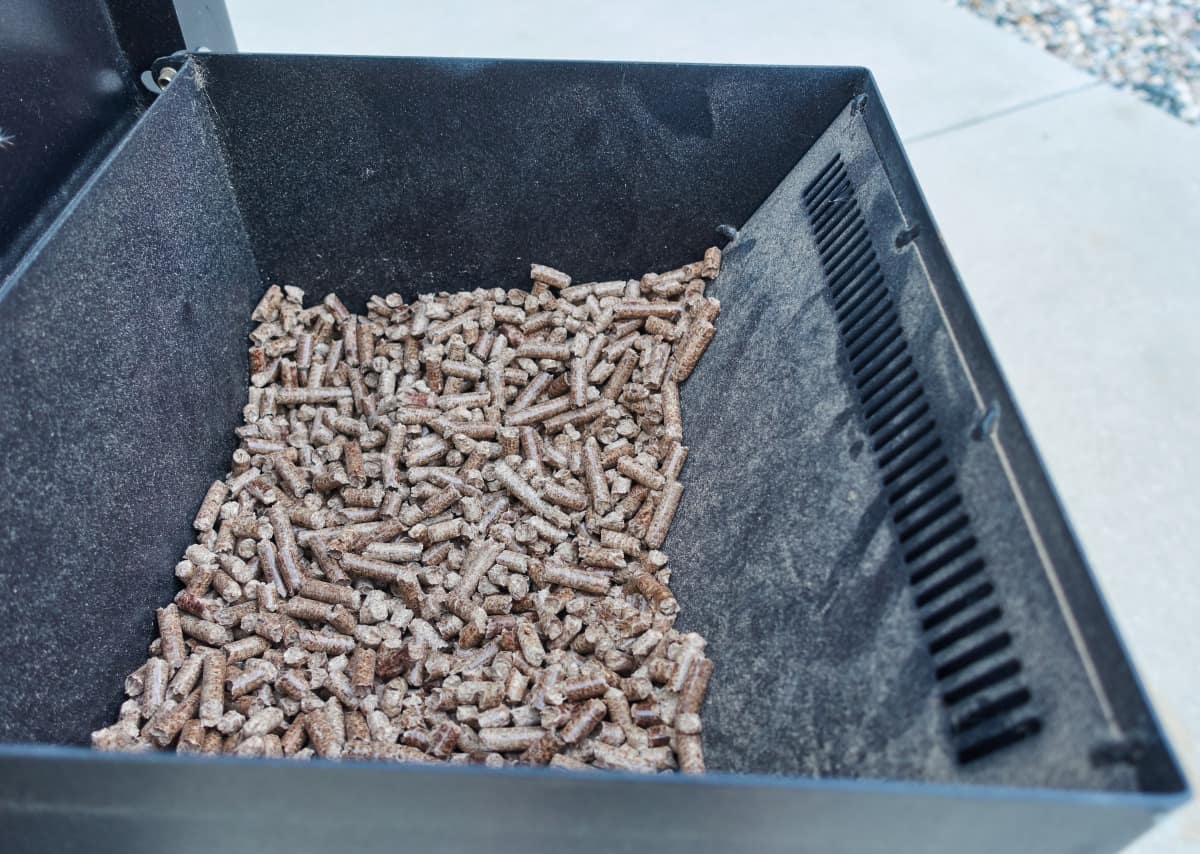 Between the six grills reviewed in this article, Traeger offers differing hopper capacities of 24, 20, and 18 pounds for their wood pellets. Camp Chef counters with two 22-pounders and one at 18 pounds.
Verdict
In a perfect world, all hoppers would have at least a 20-pound capacity for hardwood pellets, the size of a full bag of pellets. Camp Chef takes this one, with two grills exceeding 20 pounds, allowing you to wait until you're down to just a pound or two of pellets, and then refill with an entire bag.
Added Features, Bells and Whistles
Traeger offers several premium inclusions with its grills, including a meat probe, pellet sensor (Ironwood and Timberline only), work surfaces (again, Ironwood and Timberline only), and some fun add-ons.
However, for features, Camp Chef blows them out of the water.
Not only do you get two probes with the Gen 2 controller models or four on a Woodwind pellet grill, but you also get the amazing Slide and Grill feature. This allows for over-the-fire grilling, just like on a typical barbecue.
They also sell some fabulous add-ons, including a searing station and a small oven that's perfect for pizza, fish, or even desserts.
Verdict
Camp Chef wins this one running away.
Price
None of these grills are what you'd call "inexpensive." But, value is more important than price — what do you get for your money?
It's hard to criticize either manufacturer for their prices. You pay a fair bit, but you get a lot for your money, more than enough to justify the outlay.
The bottom line, though, is that Camp Chef offers a ton of goodies and a great pellet grill for less money than comparable Traeger models.
Verdict
Camp Chef is our victor for BBQ bang-for-the-buck.
Warranty
Camp Chef and Traeger each offer a 3-year limited warranty against manufacturer's defects.
Camp Chef offers a 30-day refund policy for unused equipment, minus shipping costs. Traeger provides the same policy, but for 45 days.
Verdict
I should probably score this as a tie, but I'll give it to Traeger for the extra 15 days on the refund policy. Not that you're likely to return either grill.
Overall Winner?
It's not easy to choose a winner from such fantastic grills. Both companies provide a ton of value and exceptional pellet grilling experiences.
If I have to choose, though (and I pretty much do), I'm going with Camp Chef as the overall winner in this battle.
Of course, that doesn't make Traeger a "loser" by any stretch! Buying a Traeger is a terrific investment, and we're sure you'll love yours, should you end up buying one.
But, the combination of features, functionality, add-ons for even more fun, and incredible value Camp Chef offers is sincerely impressive.
Traeger Vs Camp Chef — Reviews of Their Grills at Different Price Points
We've named our overall winner, but that doesn't mean you can't pick your own!
Here are six honest reviews of a sampling of each company's roster, starting with 3 grills from the Camp Chef product line, taking one from each price tag level in their range.
Could your next pellet grill be in this list?
A Look at Camp Chef Grills at Different Price Points
Camp Chef Woodwind Wi-Fi 36
1
Most pellet grills claim to be all-in-one outdoor cookers; you can grill, smoke, roast, braise, bake — anything you can think of. Except sear.
Yes, they'll all tell you searing is possible if you run at peak temperature. While 450 °F or 500 °F is hot enough to sear, with indirect heat you won't get the same effect. The Woodwind Wi-Fi 36 solves that problem with a simple solution.
Pull out the handle near the 22-pound-capacity hopper to engage the Slide and Grill feature. Doing so exposes the fire pot, creating an area on the main grate where you can cook directly over the flame.
Even without that, the Camp Chef Woodwind Wi-Fi 36 pellet smoker is an excellent, full-featured pellet grill. There's loads of space for smoking even the biggest cuts. You get four meat probe thermometers for total control over your cook, and you can monitor the whole show from either the detailed on-board display or from your smartphone.
Camp Chef also have an attachment called the 'sidekick', that can connect different accessories such as a sear box, a pizza oven, or a griddle, making this a truly versatile smoker and grill. For an in-depth look at this grills capabilities, you should check out our dedicated Camp Chef Woodwind Wi-Fi 36 review.
Specs
Primary cooking area: 663 sq. In.
Secondary cooking area: 573 sq. In.
Hopper capacity: 22 lbs.
Temperature range: 160 °F to 500 °F; direct flame cooking up to 650 °F
3-year warranty
Pros
Large full-color digital display with weather-resistant cover and single dial/button control
Includes 4 meat probe thermometers
Slide and Grill feature allows direct flame cooking for true searing
Smoke Number system for increasing/decreasing smoke volume
Viewing window shows how many pellets are left
Bluetooth/Wi-Fi enabled; control entire cook from smartphone app
Cons
At over 5 feet wide, it may not be suitable for small yards/patios (In which case, you can try the smaller Wi-Fi 24)
Camp Chef Smokepro SG24
2
For big smoke flavor in a compact package, the Pro SG24 is a worthwhile investment. It's especially appealing for those who want to smoke regularly, but haven't got a lot of space.
The primary and secondary cooking areas are pretty close to the same size. While that's not much of a benefit when you're grilling, for smoking, it means getting nearly twice the surface area in the same footprint. (Limited somewhat by the height.)
Like the larger Woodwind pellet grills, you get the Slide and Grill feature for searing directly over the flames and the Smoke Number system for fine-tuning how much smoky flavor you'll enjoy.
The controller is somewhat stripped down compared to the Woodwind, but still features two meat probes and Wi-Fi connectivity. You also get a large, 22-pound hopper and a side shelf.
Specs
Primary cooking area: 429 square inches of cooking area
Secondary cooking area: 382 sq. In.
Hopper capacity: 22 lbs.
Temperature range: 160 °F to 500 °F; direct flame cooking up to 650 °F
3-year warranty
Pros
Large on-board digital display
Includes 2 meat probe thermometers
Slide and Grill feature for direct flame cooking/searing
Smoke Number system for increasing/decreasing smoke volume
Viewing window to see how many pellets are remaining
Bluetooth/Wi-Fi enabled; control cook from smartphone app
Cons
No lower shelf for storage/stability
Supports half as many probes as Woodwind model (but twice as many as Traeger)
Camp Chef Smokepro DLX 24 Pellet Grill
3
The DLX 24 Camp Chef pellet grill is a stripped-down version of the SG 24. The upper rack is less than half the size on the DLX, the hopper is four pounds smaller, there's no Wi-Fi capability, and no searing zone.
But, the essentials for a great cooking session are all here; an easy-to-use digital controller, two meat probes for accurate cooking, and the Smoke Number system for getting just the right amount of smoky goodness in your food.
Don't let the lack of flashy features put you off. Instead, think about whether you really need them or not. If searing isn't your thing, you won't miss the Slide and Grill feature. The same goes for the Wi-Fi/Bluetooth connectivity — saving some cash might be worth giving up yet another reason to stay tethered to your phone.
Specs
Primary cooking area: 429 sq. In.
Secondary cooking area: 141 sq. In.
Hopper capacity: 18 lbs.
Temperature range: 160 °F to 500 °F
3-year warranty
Pros
Large, intuitive on-board digital display and controller
Includes 2 meat probe thermometers
Smoke Number system for adjusting smoke volume
Viewing window to monitor pellet load
Cons
No Wi-Fi connectivity
No direct heat access for searing (an optional sear box attachment is available for all Camp Chef pellet grills)
A Look at Traeger Grills at Different Price Points
Traeger Grills Timberline 850 Grill
1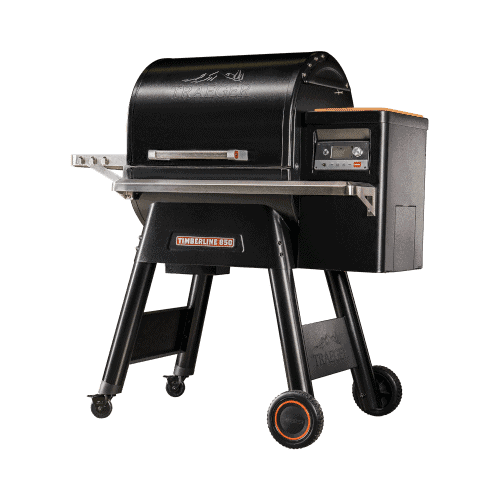 This is Traeger's top-of-the-line, totally decked-out pellet grill.
The Timberline pellet grills boast full double-wall construction for superior heat retention and stainless steel cooking grates, front shelf, and side shelf. Traeger provides a meat probe that connects directly to the controller for keeping tabs on your cook. A cool pellet sensor tracks hopper fullness and reports to the app, so you'll never be caught short.
The excellent PRO D2 Controller gives you full control over every aspect of your cook session. And if you love smoke, engage Super Smoke Mode to ramp up the flavor.
Specs
Primary cooking area: 352 square inches of cooking space
Secondary cooking area: 308 sq. In.
Tertiary cooking area: 198 sq. In.
Hopper capacity: 24 lbs.
Temperature range: 160 °F to 500 °F
3-year warranty
Pros
Powder-coated/stainless steel construction
3 levels of cooking surfaces, including two adjustable racks
Double walls for better heat retention
Wi-Fire Wi-Fi enabled for Traeger app connectivity
Pellet sensor included
4 wheels for easy maneuvering
Cons
Primary cooking surface is smaller than in the Ironwood grills
Front shelf is quite skinny
Traeger Grills Ironwood 650 Grill
2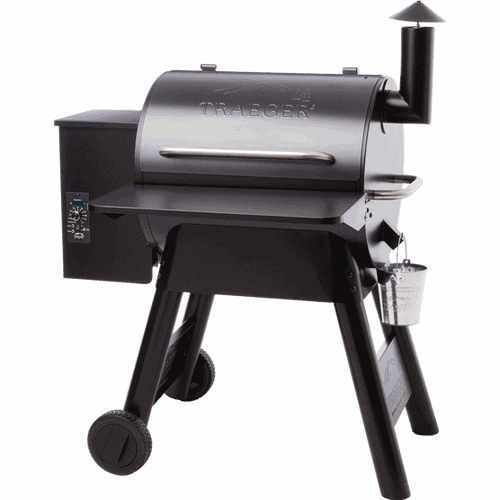 This may be their mid-level pellet smoker, but the Ironwood outpaces many of the best on the market. With more primary cooking surface than the Timberline, and plenty of secondary space, you'll be smoking the briskets and shoulders of your dreams. Equipped with double side-walls, you can be confident of minimal temperature fluctuations no matter the conditions.
Many great features from the Timberline grills are included on the Ironwood Series grills. You'll get the life-saving pellet sensor, a side shelf, and the D2 Controller, complete with Wi-Fi connectivity, a meat probe and the ability to control it all from your phone.
Specs
Primary cooking area: 418 square inches of cooking space
Secondary cooking area: 231 sq. In.
Hopper capacity: 20 lbs.
Temperature range: 160 °F to 500 °F
3-year warranty
Pros
Powder-coated/stainless steel construction
Adjustable second-tier rack
Double side-walls for excellent heat retention
Wi-Fire Wi-Fi enabled for smartphone control with the Traeger app
Pellet level sensor
Cons
Primary cooking surface sizes are no bigger than the Pro Series grills
Just a single work surface included
Traeger Grills Pro Series 575 Pellet Grill
3
We wish Traeger's idea of "entry level" applied everywhere — these sweet pellet grills come equipped with seriously premium features.
The D2 Drivetrain and digital controller in the Pro Series grills are the same as those in the Ironwood and Timberline series grills. That means precision control, easy temperature management, and using your smartphone to monitor the cook from beginning to end.
They've also included a meat probe thermometer, the only way to really know if your meat is done the way you like it.
There are a couple of features missing from the Pro Series 575, including the pellet sensor and the double-wall construction. If you really miss the sensor, by the way, you can buy one as an add-on and still be WAY below the cost of upgrading to an Ironwood. If you want to join the Traeger club, this is the cheapest way in. And it's pretty damn good.
Specs
Primary cooking area: 418 sq. In.
Secondary cooking area: 154 sq. In.
Hopper capacity: 18 lbs.
Temperature range: 160 °F to 500 °F
3-year warranty
Pros
Powder-coated steel construction
Same size primary cooking surface as Ironwood
Has cool-looking stovepipe chimney
Porcelain-coated grills
Wi-Fire Wi-Fi enabled for control via Traeger app, same as higher-end models
Cons
Lacks double-wall insulation offered in other two series
Hopper won't hold a full bag of pellets
No work surfaces
Alternative Options
We have many more guides and reviews on pellet grills that we will link to here to help you make the right buying decision for your next pellet smoker.
First off, we have a handful of Camp Chef smoker reviews.
Next, we pit some manufacturers against each other, looking at the brand's reputation, quality, and more, with reviews of each brand's top offerings.
We have a guide on Camp Chef vs Pit Boss, a detailed look at Traeger vs Pit Boss, and finally, an article comparing Rec Tec vs Traeger. Dig in and be sure to get exactly what's right for you!
Wrapping it up
The pellet grilling titans have finished duking it out, and in our face off of Camp Chef vs Traeger, we have our preferred winner in the Camp Chef Woodwind Wi-Fi 36
Do you agree with our pick? Either way, any one of these six grills has the potential to be exactly what you need to make backyard cooking a joy.
Still not convinced? Check out even more product reviews and brand comparisons on our site. The more you know, the more confident you'll be in your final choice.
Cheers to you for choosing us to help you make this big decision. We know too well that it isn't easy! When you do buy your new grill, drop us a line to share the big news — we love to hear from our readers through the online form or on social media. Then, browse the site for the best recipes, grilling tips, and reviews of BBQ gear to make every cookout a success.
Happy pellet grilling, and welcome to the club!