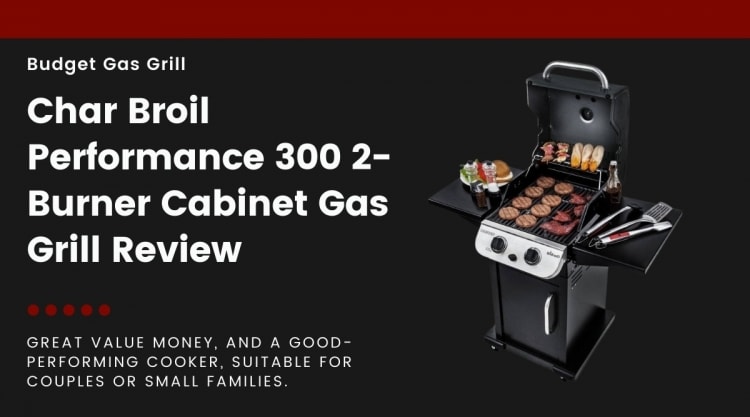 Sometimes, when you want a job done, you want it done well, and you want it done quickly. This applies to just about any possible situation from cleaning your car to making dinner.
Since this is a barbecue site, let's address that second scenario with our Char-Broil Performance 300 review.
There is no doubt that cooking with gas is incredibly convenient, and it's fast. Gas fires up instantly, and there's no waiting for solid fuel to catch, as is the case with charcoal.
Of course, some believe charcoal grilling is superior to gas. We're not here to argue that point, either for or against. (We're pro-tasty BBQ, no matter the fuel!)
We are here, however, to tell you about the Char-Broil Performance 300 2-burner cabinet liquid propane gas grill.
It might be the simple solution for convenient backyard cooking you need.
Keep reading to discover the features and benefits that make this compact grill worth considering for your yard.
The Char-Broil Performance 300 2-Burner Gas Grill in a Nutshell
This is a simple gas barbecue for basic grilling that happens to come equipped with some desirable features not found on many budget grills.
It runs on liquid propane, so there's no need for charcoal or other solid fuels. With two burners you have control over your barbecue session, with the possibility of creating 2-zone cooking.
There's ample workspace and convenient enclosed storage with a 2 door cabinet.
A Few Words About Char-Broil
Founded in 1948, you can't say Columbus, Georgia-based Char-Broil came late to the party.
Backyard cooking was just getting started as post-war America set about inventing suburban living, and Char-Broil was one of the first on the scene. Since then, they've laid claim to numerous firsts, including the first portable grill, the first electric grill, and the first gas grill to feature an electric igniter.
In fact, Char-Broil is so committed to making better barbecues, they actually have an Idea Submission form on their website. If you have a patented or patent-pending idea in any of the following categories, Char-Broil wants to know:
Appliances and systems
Accessory items and devices
Service, maintenance and repair items
Tools and utensils
Covers and protective materials and systems
Energy efficiency, sustainability, and environmental impact
How cool is that? Any inventors out there?
What's in the Box?
Owner's manual
Firebox and lid, including burner tubes and igniter
Parts and hardware for assembling cart
Lid and door handles
4 x casters
2 x side shelves
1 x AAA battery
Propane tank connection
First Impressions
This is an undeniably attractive grill, with the two-tone stainless steel and painted black surfaces. It's also nice to look at a propane grill and not see the ugly tank balanced on a stand or resting on the ground. The twin side shelves look spacious and seem to invite you to cook more food and experiment with flavorings.
The overall design is classic for backyard propane grilling, and there's nothing wrong with that. It's not in the least bit intimidating, with just two gas control knobs and the igniter button on the control panel. That makes it very welcoming for new or casual grillers.
Build quality is good, with stainless steel used through much of the grill. The fully enclosed cabinet with four casters makes it look much less flimsy than some open-legged grills we've seen. Overall, the fit and finish are just fine, though how well you put it together will also factor into the equation.
Just a note that we like this grill so much it appears in both our best gas grills guide, and our recommendations for the best gas grills under $300.
To check current prices and for some extra details, you can follow this link:
Why Do Customers Choose the Char-Broil Performance 300 2-Burner Gas Grill?
Char-Broil is a familiar brand, even to casual grillers; their buyers trust they're getting a good product.
Owners of this model appreciate the convenience features and the flexibility of 2-burner cooking, all wrapped up in a budget-friendly barbecue.
Key Features
Porcelain-coated cast iron cooking grate
Stainless steel burners and lid
2 x folding painted steel side shelves
4 x casters; 2 locking
2 x burners
Electronic ignition
Grease pan
Storage cabinet/LPG tank holder
Cheap, flimsy grates can ruin an otherwise good grilling experience. The main cooking surface is made of durable cast iron that should last for years, especially with the porcelain coating there to protect it from moisture and food debris.
The two side shelves are just what the griller ordered for holding all the bits and pieces you end up needing. Seriously, if you've ever grilled without shelves, you know how valuable these are. Plus, they fold down, meaning the Char-Broil Performance 300 takes up much less space in storage than many comparable grills.
One of the reasons to choose a gas grill is the hassle-free start-up. With a push-button electronic igniter, you won't even need to light a match to get your flame on. Save your eyebrows!
Beneath the firebox, you'll find a grease pan. On many lower-cost grills, all you get is a tiny bucket that you hope the grease will drain into. With this large pan, you'll catch every drop, keeping your cooking area looking its best.
Speaking of the firebox, it's supported by a fully enclosed cabinet on four casters. (You can lock two of them to be sure the grill stays in place.) This is a premium feature you don't find on many inexpensive propane grills.
Not only does it provide a welcome bit of storage space, but it also protects your propane tank and the regulator from the effects of wind, snow, and rain. That's good for both safety and performance, and it's a heck of a lot nicer to look at, too, than an exposed propane tank.
Ease of Use
You'd have trouble finding an easier grill to use than the Char-Broil Performance 300.
Start-up requires just the turn of a valve and the push of a button. From there, the twin knobs allow precise control over flame height for anything from slow roasting to high-temperature searing.
Even novice grillers will have no trouble cooking perfect hamburgers, hot dogs, pork chops, and sausages, probably right from their first attempt.
Cleaning and Maintenance
Taking proper care of your Char-Broil Performance 300 can help extend its life. For unpainted interior surfaces, the manufacturer recommends using either a water and detergent solution or a specialized grill-cleaning product along with a scrub brush. This will remove grease and carbon build-up.
Plastic and painted surfaces may be washed with a specialist grill cleaner, or plain warm, soapy water and a non-abrasive cloth. You can do the same with any stainless steel surfaces and follow up with a dry cloth to remove any streaks. Or, if you have a stainless steel cleaner for your indoor kitchen, you can use that on your grill, too. Scrape food residue off the cooking grates with a bristle free grill brush or a wooden paddle.
Char-Broil also recommends occasionally removing the burner tubes and clearing debris from the holes and cleaning out the insides with a bottle brush.
Always inspect the connection with the propane tank before use to ensure if there are no leaks.
Cover when not in use to protect everything from the elements, and disconnect the propane tank before storing indoors during the winter — assuming you stop grilling if and when the mercury dips where you live.
Specs
Dimensions (H, W, D): 44" x 42.9" x 24"
Weight: 82.5 pounds
Portability: Semi-permanent location
Fuel type: Propane
Cooking capacity: 300 sq. In. primary; 100 sq. In. Warming
Number of burners: 2
BTUs: 2 × 12,000
Preheat required: 15-20 minutes on high
Available Support
If you're having issues with your grill, start at the support section of the Char-Broil website. There's a Q&A section for each product where other owners may have asked the same questions you have in mind. Plus, you can download your manual if you've lost it.
Still don't have the info you need? Well, you can give them a call on a toll-free line Monday through Saturday, send an email, or try the live chat 7 days a week from 9 to 9 Eastern Standard Time.
A check of the Better Business Bureau website reveals Char-Broil has been an accredited business since 1989. They have an A+ rating and a total of 5 negative reviews, and all have been dealt with appropriately.
A note about ratings: people are always more likely to complain than to praise online, and many poor ratings are left by customers who are either unreasonable or who wrecked their own grill. So always take super-negative reviews with a pinch of salt. How such issues are dealt with are important, and Char-Broil comes across as caring and very customer satisfaction focused.
Overall, they have a long-standing reputation for backing their products and supporting their customers.
To take part in their official social communities, you can follow Char-Broil on Facebook, Instagram, Twitter, Pinterest, and YouTube. The YouTube channel alone boasts more than 360 videos to help you on your grilling journey. Oh, and they have a newsletter you can subscribe to for recipes monthly.
Available Upgrades, Accessories and Attachments
Not content with just the basics? Char-Broil can help! They offer a vast assortment of tools and accessories, including nylon cleaning brushes, woks, pizza pans, smoker boxes, and beer can chicken roasters.
The lid of the Performance 300 even features openings to allow the use of an electric rotisserie. Now you've got some real options for more advanced cooking.
Additionally, this grill is compatible with Char-Broil's Gear Trax line of accessories. This simple system allows you to add on knobs, hooks, magnets, or baskets for hanging tools.
If you buy nothing else, though, be sure and buy a fitted cover for your new grill to keep the elements out. This small investment will pay off by extending the life of your new grill. Even if you live in a warm, dry climate, a cover will protect your grill from the sun and dust.
Warranty Details
Char-Broil provides a variable warranty on this grill, covering perforation, manufacturing and material defects. You get 5 years on the burners, 2-years on the firebox and lid, and 1-year on everything else. Be aware that rust is not included in the perforation guarantee.
Be sure to register your new grill to make life easier should a warranty issue arise. Begin your warranty claim with a phone call or a visit to the Char-Broil website.
Summary of Pros and Cons
Pros
Two burners for 2-zone cooking
The convenience of instant-on propane gas
Four casters make it easy to move around
Side shelves are a big help for holding tools, seasonings, sauces, etc.
Enclosed storage protects and hides your LPG tank
Char-Broil offers many accessories and add-ons, despite being a budget-conscious grill
Cons
Why even bother with the lid thermometer? Get yourself a good Bluetooth digital thermometer, monitor cooks from your phone and ignore the built-in one!
The LPG tank takes up most of the cabinet volume, leaving little room for storage — but, it's worth it to protect your tank and improve the look of your grill
Quick Tips to Get the Best Out of this Grill
Open the valve on the tank before turning on the burners to avoid activating a safety feature that will prevent the grill from exceeding 300F
Don't use lava rocks in the firebox for extra flavor — you'll void your warranty
Take advantage of the four casters — position yourself out of the wind for better temperature control
Should You Buy the Char-Broil Performance 300 2-Burner Gas Grill?
That entirely depends on your particular needs.
We firmly believe this grill represents value for the money. It's a cost-effective barbecue that still allows you the freedom to do more than just the most basic grilling.
For small families or singles, casual grillers who don't want to deal with charcoal, or grilling enthusiasts who sometimes want the option of quickly cooking some food, in our opinion, your money will be well spent on the Char-Broil Performance 300.
Other Models Might Suit You If
You regularly cook for big groups or have a large family and need more surface area
You plan on roasting large cuts frequently and want more space for two-zone cooking
Final Thoughts
That about wraps up our Char Broil Performance 300 2-Burner Cabinet Gas Grill Review.
Char-Broil, long-established as innovators in the world of barbecue, has delivered a much-needed product: a low-cost 'cue with enough features and options to satisfy users beyond their first steps into grilling.
When it comes to bang for the buck, you really can't miss with this grill. It really is an appealing little cooker.
If you've got comments or questions, shoot them over in the comments section below, and we'll for sure give you our best answer. Follow along on social, too, for extra interaction.
Until next time, thanks for reading!