Are you searching for the best online meat delivery service? Of course you are; that's why you're reading this article.
I'm going to make your search a bit easier with this review of Crowd Cow, one of a series of articles on the growing online meat industry.
I'll be honest, when I first heard the name "Crowd Cow" on the Netflix series The Ranch, I assumed it was made up. Little did I know it's the real deal and has been since 2015.
In my Crowd Cow review, I'll give you a quick history of the company and a rundown of what they sell.
We'll check out the checkout process and sample a few prices.
Quality is always a concern, so I'll touch on that, compare them with the competition and let you know what I like about them and what could be improved.
Stick with me till the end and discover if Crowd Cow is the right choice for your next (or first!) online meat delivery order.
Crowd Cow Overview and the Story Behind Them
Two buddies who enjoy meat founded Crowd Cow out of a desire to demystify the meat-buying process and make high quality meat more readily available to the masses.
Like many people, they bought their meat at the grocery store but found themselves wondering where the meat came from initially. They'd heard friends talking about the excellent meat available from local farms but found the process cumbersome.
The purpose of Crowd Cow is to seamlessly connect consumers with ranches, enabling buyers to purchase just the meat they want and not have to buy by the freezer-load.
All the meat sold on Crowd Cow is traceable back to ranches and farms around the world. What's available at any given time varies, and you can shop by farm, protein type, or cut.
If you're eco-aware, you'll be happy to hear that Crowd Cow uses 100% recyclable and compostable packaging.
In fact, they advertise that you can compost, burn, or dissolve their foam containers in water.
Plus, they purchase carbon offsets to make each order fully carbon-neutral.
Selection
If you're into high quality meat, you'll be into Crowd Cow. They offer farm-fresh protein in the following categories:
Beef, including grass-fed, pasture-raised grain-fed, and wagyu
Pork
Lamb
Turkey
Chicken
Bison
Seafood
Let's have a quick glance at each, shall we?
Beef
The beef options are broken down further into 100% grass-fed, pasture-raised grain-fed, Japanese wagyu, and domestic wagyu.
There's a good array of cuts and prices on offer here, all of it dry-aged for at least 14 days.
You can pick up beautifully marbled Denver Steaks for less than a dollar an ounce, among other budget-friendly steaks. Or, treat yourself to a gorgeous Boneless Ribeye End Cut, Filet Mignon, or New York Strip Steaks.
There's also ground beef, stir-fry beef, and hot dogs for some casual grilling.
Want premium choices? Browse through the American and Japanese wagyu beef. This is some of the finest beef anywhere in the world.
What's wagyu, you ask? We've got all you need to know right here in our feature article on wagyu.
You should sincerely look at the pictures of this stuff. The marbling is, pardon the clickbait wording, insane. Then again, so are the prices. A $170USD ribeye is slightly out of my price range right now. But, dear LORD, would I like to try one!
Pork
Choose from a wide array of pork products, including chops, tenderloin, ribs, bacon, and roasts.
You can even decide between pasture-raised heritage breeds, and "all-natural" pork.
Lamb
Crowd Cow offers a selection of American lamb, including chops, legs, racks, ground, and more.
Lamb fans might like the Greek Lamb Share, including a leg of lamb, 8 loin chops, and a jar of Greek seasoning.
Turkey
Get your gobble on with full birds, ground turkey, turkey hot dogs, and turkey burgers.
The Pastured Turkey must be the ultimate Thanksgiving indulgence — A 15-pound bird will set you back $119, including the giblets. (Dibs on the neck!)
Chicken
Opt for either free-range or pasture-raised chicken, and select pieces or whole birds.
Wing fans, you're covered, too. And I love that there's a "dark meat lover pack," cos that's my meat of choice.
Bison
This is a recent addition to the line-up.
Right now, you can buy ground bison, hot dogs, burgers, brats, and kebab chunks. With any luck, there might be steaks and more down the road.
Sustainable Seafood
No cows here (not even sea cows), but there's a small selection of sustainable seafood to pick from.
Wild-caught Maine lobster sure would go great with a steak! There are also fish and crab legs on the menu.
I'd be tempted to try a shrimp burger for something new, and it is pretty cool to be able to order Icelandic Arctic Char online.
Also available, are smoked fish and surf & turf boxes like salmon and Filet Mignon, lobster, and New York Strip steaks.
Other Stuff
Want to pad out a gift order? Add in a jar of dry rub or some Crowd Cow apparel.
Grading
Crowd Cow does not provide USDA grading on the meat you're buying. It's all federally inspected (as required by U.S. law), but the farmers here exercise their right to skip the grading process.
That might make a difference to some customers, but it really shouldn't. Grading is subjective, and it's an added cost. Save your money and trust these honest ranchers to sell you meat they'd eat themselves.
Packing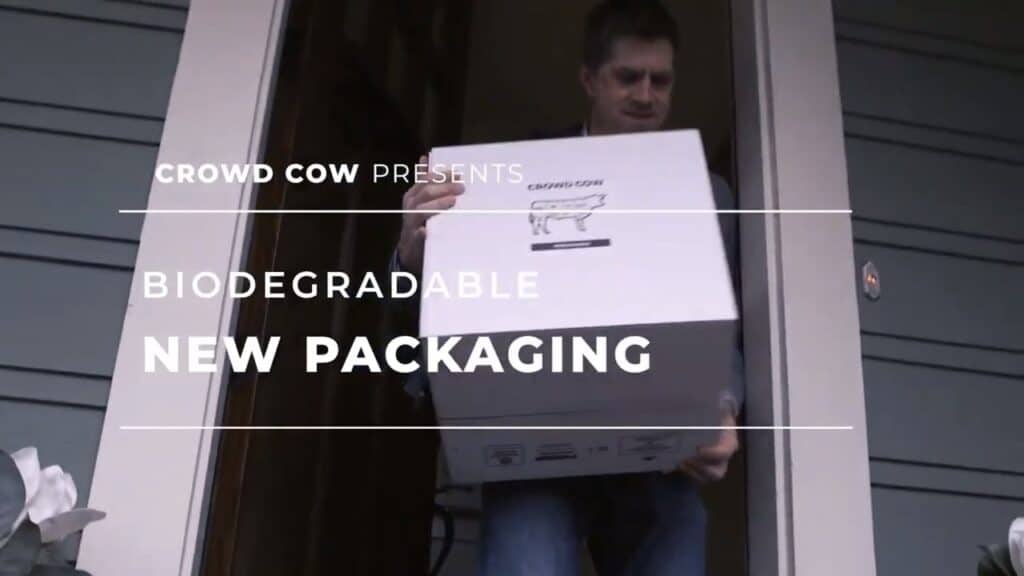 Crowd Cow orders are shipped frozen, and cuts are individually vacuum-sealed.
They come shipped in boxes lined with compostable foam insulation and packed with dry ice.
Ordering Process
Using crowd cow to place an order requires an account, but it's easy to make one. If you don't make one straight away, you'll have to do it to add anything to your virtual shopping cart.
You get a discount for being a subscriber, but there's no option not to sign in, so I find that a bit weird.
When you're ready to buy, simply click an item to add it to your cart. You may have some options to choose from, such as what farm you want to order from or whether you prefer grass— or grain-fed beef. Once chosen, you can select your quantity.
Next, you'll have a chance to make this a recurring, subscription service style order or leave it a one-time deal.
Recurring orders are custom-built based on what's available and your past orders. It's a nifty way to have a steady flow of meat coming in, and you can either take what they offer or customize it exactly the way you like.
You save 5% or more on repeat orders and qualify for free shipping at a lower dollar value than one-time orders.
Payment is with a credit card only.
Shipping
Despite sourcing globally, Crowd Cow only ships within the U.S., and further limits itself to the 48 contiguous states.
Shipping to most states, what Crowd Cow calls the "1 and 2 day ship zones," incurs $12.99 shipping costs for orders under $149. For other states (mostly in middle America), it's $19.99.
Orders of $149 and up qualify for free shipping, as do subscription boxes of $99 and up.
Price
The discounts begin from the moment you sign up, and the pricing seems entirely fair.
There are options from affordable to premium, depending on what you're after.
Here's a sample, with all prices being accurate on the day of writing this review:
Bone-in ribeye steak — 16 oz. grass-fed, $32 each
Filet mignon — 6 oz. grain-finished, $17 each
Japanese wagyu New York Strip steak — 12 oz., $120
Beef hot dogs — 12 oz. pack, grain-finished, $9
Top sirloin — 6 oz. grain-finished, $8.25 each
Boneless pork chops — 2-pack of 7 oz. Chops, $12.25
Chicken breasts — 2-pound pack, $22
How Good is Crowd Cow's Product?
It's hard to find a negative word about Crowd Cow on the internet. Not only do they offer a wonderful service for farmers, but they're also hooking up shoppers with food they might not otherwise find anywhere.
You can even get on the waitlist for Olive Wagyu, possibly the rarest beef in the world, with only 2000 head of cattle, all them in a remote part of Japan.
Customers love the variety, the ease of shopping, and the convenience of a recurring subscription.
Most of all, they appreciate the quality. There's no factory-farmed food here, and the difference is appreciable. From high-end to everyday meats, Crowd Cow sells food worth getting excited about.
Comparing Crowd Cow With Competitors
Among all the services I reviewed, Crowd Cow probably best nailed the variety sweet spot.
They aren't overwhelming like Omaha Steaks might be to some, but they're way ahead of Porter Road, who offer neither turkey nor seafood.
You'll find a good array of price points, too. You can shop for what I call "affordable luxury" meats that are well above grocery store-grade, but won't cause you to miss a car payment.
And, you can buy genuine A5 Japanese wagyu — some of the finest beef known to man, and actually higher quality than Snake River offers.
If you're into traceability, definitely choose Crowd Cow. The ability to choose by farm is unparalleled in the online meat delivery market.
What We Like
Shopping local is always great. Crowd Cow allows you to shop local on a global scale, supporting smaller operations and independent farmers.
I'm not a hard-core environmentalist, but I do love the biodegradable, cornstarch foam and recyclable packaging.
There's a wide variety of meat available at a variety of price points, but all of it very good quality. Actually, some of it is exceptionally good.
What Could Be Improved
Your shipping options are limited — actually, there aren't any. All orders are sent via FedEx Ground, with no choice for expedited shipping.
Having the choice to pay via PayPal would be nice, and almost expected in the 2020s.
Final Thoughts
Shopping for meat on Crowd Cow must be what it's like to be a buyer for an upscale restaurant.
You get to pick and choose the cuts you want from some of the best farms around the world. It feels good knowing where your meat comes from, and unless you go to the farm yourself, you won't feel any more connected to your food than you will here.
Hats off to the founders — this is a much-needed service.
If, after reading our Crowd Cow review, it sounds like your kind of shopping experience, head to the site and have fun!
If you're still on the fence, check out our other online meat delivery service reviews for further comparisons.
While you're waiting for your meat to arrive, I suggest combing our site for recipes, reviews, tips, and more. It's all part of the journey towards better barbecue.
Be sure to join us on social, too, to talk about your wins, epic fails and to hang out with other grillers.