For the Fuego Professional F24C, Fuego Living took their standard award-winning Fuego Element grill, and packed it full of user-friendly features, creating the beauty that we take you through in this review.
We're going to run you through all of its features, from how it works, to its simplicity and ease, what we love about it, what we think could be improved, and whether we recommend it as a top gas grill.
For the record, we really like this grill, so let's take a closer look as to why!
General Overview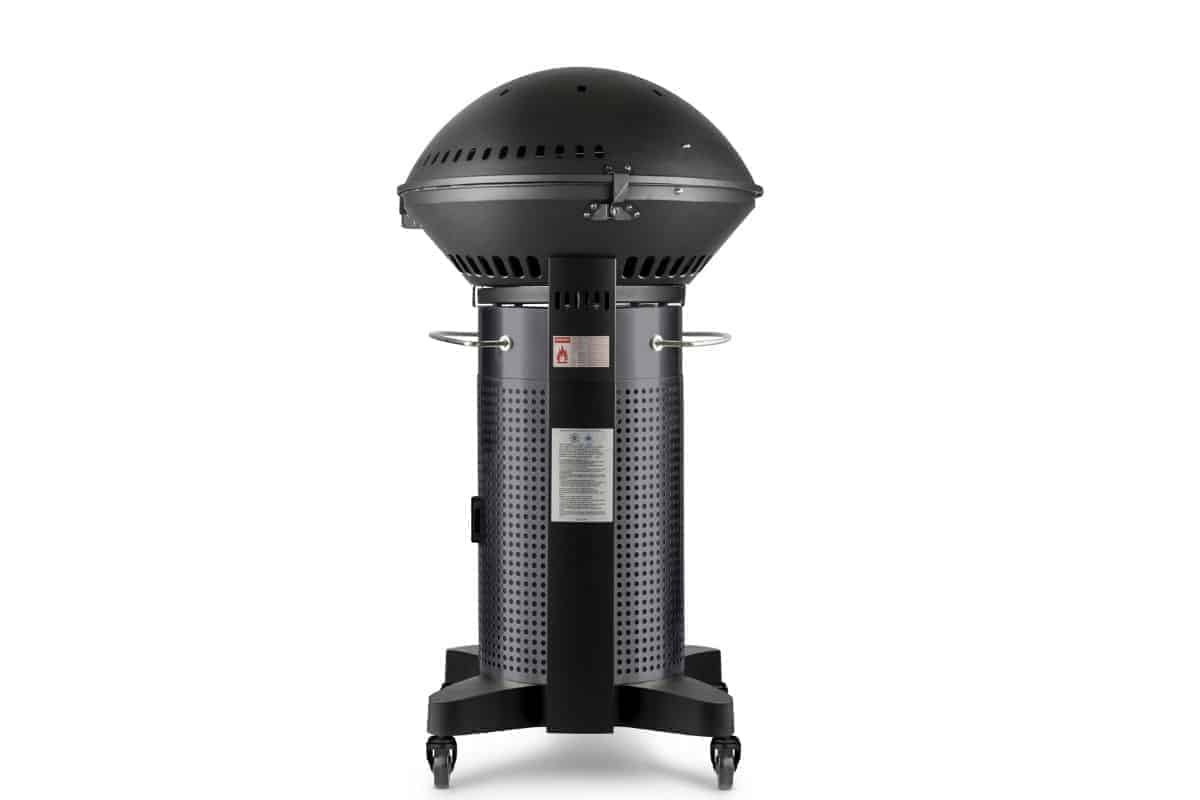 The Fuego Pro is their latest model, which is essentially an upgraded version of their Fuego Element.
Fuego took their customers feedback and market research, and combined it to create something special!
Here's a quick video overview, before we get into the meat of the article:
It's a sleek-looking gas grill that would stand tall and proud in any grill aficionados BBQ collection.
Despite its compact set-up, it offers a great grill experience, thanks to the dual burner system that provides direct and indirect grilling.
It has a cooking capacity big enough to accommodate a large family comfortably.
Being super compact, it's also easy to move around, so you don't have to worry about it when redesigning your yard. It can be moved to wherever you want it.
It heats up super quick (probably quicker than your kitchen oven!), which means you don't have to plan a grilling session far in advance. It's ready and waiting for when you need it, and just looks great when you don't.
Key Features
In no particular order, here are our favorite key features of the Fuego Pro:
Easy To Assemble
This gas grill is super quick and easy to assemble, with Fuego claiming:
"is quite possibly the easiest grill on the market to assemble"
But how true is this bold statement? Very true, and let me show you why…
It comes with clear guidelines. You only need 2 tools, a utility knife to cut the box open, and a Phillips head screwdriver.
With less than 20 fasteners, it can be whipped together in less than 30 minutes. And with its fast heating-up capabilities, this means you could be eating from it in less than an hour of delivery.
Pretty darned impressive, meaning you could seduce your other-half with succulent steak before they've realized you've ordered yet another BBQ gadget!
Heats Up High and Fast
The Fuego Pro is one of the quickest around, with 'time to temperature' of just 5 minutes to 550 °F!
And it is cleverly designed with a dual 26,500 BTU/hour burner, which is fuel-efficient for our eco-conscious readers.
So, if you're one of those people that get a hankering for a burger, like right now (!), then this is the grill for you.
Fire it up, and by the time you've got all your food out, it's ready to go! This unit does not mess around.
Generous Cooking Space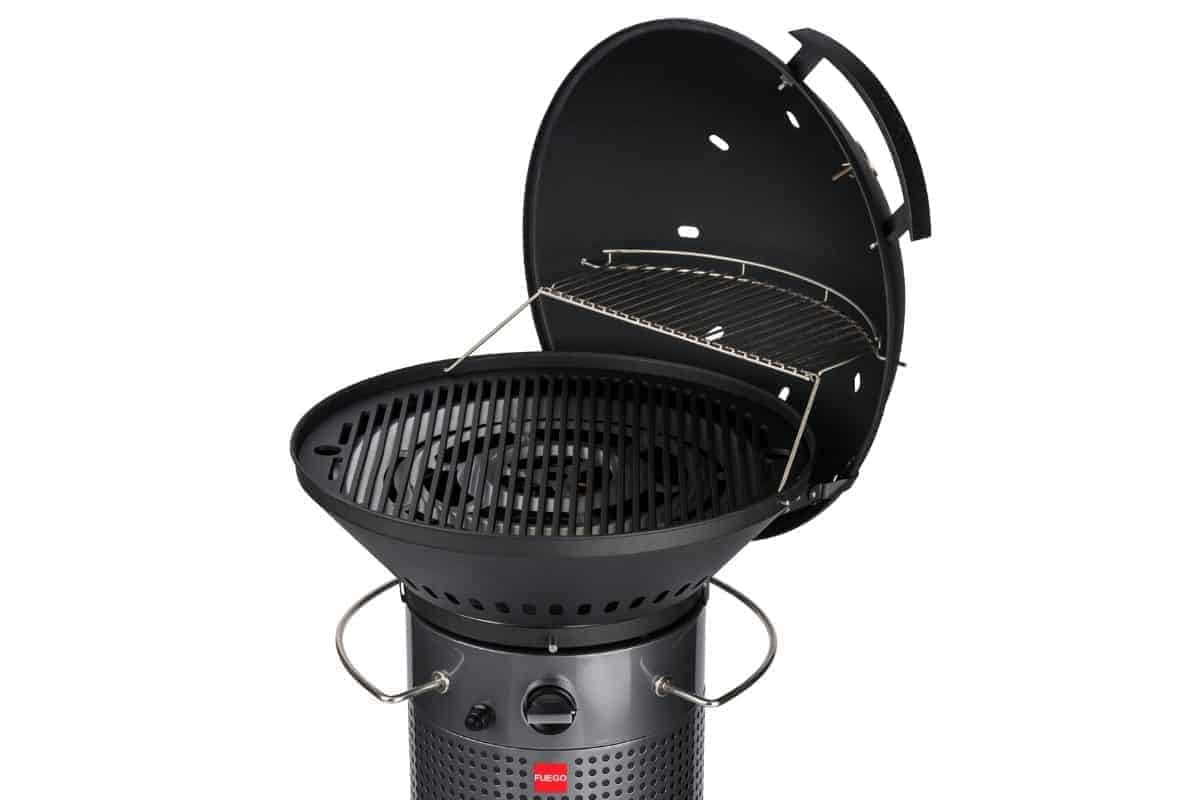 Despite being so compact, this grill offers 415 square inches of grilling area, and 110 square inches in the warming rack. That is 525 square inches in total.
This means that there is enough room to cook 20 quarter lb. Burgers at once.
Under the lid, you also get a 9" high grilling space, and that's enough for 3 beer can chickens, or a ginormous joint for a low and slow feast.
The Fuego Pro might just be the Tardis of the grilling kingdom!
Compact and Portable
With all of its well-thought-out features, you get all of this in a 24" x 24" footprint. This makes it small enough to fit on your decking area or balcony, or sit nicely in those awkward nooks and crannies that you might have in your BBQ space.
It has smooth-rolling, non-marking, industrial wheels that allow you to move it around your yard and lock it into place.
The 21" base is stable, so you don't have to worry about an unstable rickety grill as you do with other portable grills.
The propane gas tank storage underneath conceals any unsightly tanks, making it easy on the eye, with an almost sci-fi look about it.
Manufacturers Specifications
Dimensions (with lid closed): 24" (W) x 24" (D) x 47" (H)
Grilling Space: 525 square inches (415 square inches main grate & 110 square inches on warming grate)
Weight: 80 pounds
Fuel Type: Gas
Built-in lid thermometer
Ease of Use
You already know how quick it is to assemble, but how easy is it once it's up and running? Super-simple …
Relying on propane gas, you attach it as you would with any other, and then just fire it up with the electronic ignition system which relies on a simple push of a button.
No pushing and twisting knobs at specific angles and waiting. Push the electronic button in, and Bob's your uncle, you're good to go!
Chuck your meat on, and the rest is up to you. The Fuego Pro is simplicity at its best!
Performance
This grill does what it says on the tin.
It offers a high-quality grill that is super simple and compact. The well-thought-out design means you have everything that you need for good grilling performance and nothing that you don't.
It allows you to cook a staggering amount of food, considering how tiny it is. And with their balanced heat and dual-ring burners, it offers a great grilling experience with dual-zone capabilities for better temperature control.
Not many compact grills of this size offer both direct and indirect grilling, so its performance is top-notch in our books! It reaches up to 650f, which is plenty hot for most grillers.
The only slight downside that we can see (for some grillers out there) is that it doesn't have a prepping area for those who like to prep as they go, or have somewhere to place their beer or rubs. However ….
If this is something you really want, then Fuego has once again thought of their customers and offer a clip-on side shelf (sold separately), which offers 100 square inches and can take up to 10lb. In weight.
Maintenance and Cleaning
Fuego have even ensured their customers have an easy time cleaning it.
Compared to other models, they have removed over 100 square inches from the bottom of the fire bowl, meaning that any food or debris falls straight on the tray.
This residue tray allows the grease to drip down and then safely stores it away from the firebox. Simply whip it out with the handle and clean it.
Clean the grill grates after every use as you would with any other grill, and the rest of the grill every 3 to 4 uses for easier maintenance. Overall, the Fuego Pro is relatively simple to clean.
Design and Build Quality
Fuego hasn't created just any old gas grill, they have cleverly designed a system that offers a concentric dual ring burner. And with the 15lb. Cast iron grate, it ensures that there aren't any hot spots, and you can get those Insta-worthy sear marks anywhere on the grill.
The dual-zone burner system, with its single knob control, allows you to adjust the inner and outer burners and choose either the outer ring to utilize the indirect method for low and slow cooking, or both for fast and direct grilling.
The outer burner offers 18,000 BTU/hr rate for the indirect low and slow, while the central burner adds 8,500 BTU/hr capacity for direct grilling.
Overall, it offers a staggering 26,500 BTU/hr rate providing a uniform maximum temp of 650F direct heat across the grill. Their grill performance page explains it all.
The LPG tank storage makes it a discreet and good-looking grill, with a tight and secure latch that means that it does not rattle when grilling or moving it around.
Again, showing that Fuego has thought of every little detail for your grilling experience.
The lid's open-close range of movement is offset at a 45-degree angle, meaning that you don't have to place your arm directly over the grill plate, risking heat burns.
Compared to other compact and simplistic grills, the Fuego Pro is built to last for many years to come, and with their warranty you can be sure that it will.
Warranty and Support
Fuego offers a 1-year comprehensive part warranty on the entire product, with a 3-year limited part warranty that covers the stainless burner. As with all warranties, be sure to check out the small print.
Fuego has an email address for you to send any questions to, or make a claim on your warranty, and they also have a direct customer hotline and submission request.
Customer support that is as easy as pie!
They also have a blog page where they offer a variety of Fuego-specific recipes, from pumpkin pie to Fuego dogs, bratwursts to Brussels sprouts, and even grilled s'more chocolate pizza!
Final Verdict
If you're after a simple and compact grill that packs user-friendly features and promises a high-quality cook, then the Fuego Pro might just be the grill for you!
Pros
Easy to set up — you only need 2 tools and 20 to 30 minutes!
Quick heat up — near-instant grilling at your fingertips!
Large grilling capacity despite its sleek design
Compact and discreet
Accessories available — cover, pizza kit, natural gas conversion kit and meat thermometer.
Cons
Simplistic — no accessories or preparation side tables come as standard, making it a little basic for some grillers. However, in our opinion this is precisely its appeal.
And hey, if this Fuego doesn't 'light your fire', then there's plenty more to choose from in our propane grill reviews.
Value for Money?
We think that the Fuego Pro is definitely value for money, it offers large capacity cooking for a small grill, and with its sturdy build and well-thought-out design, it offers a lot of BBQ bang for your buck!
Is this a Recommended Product?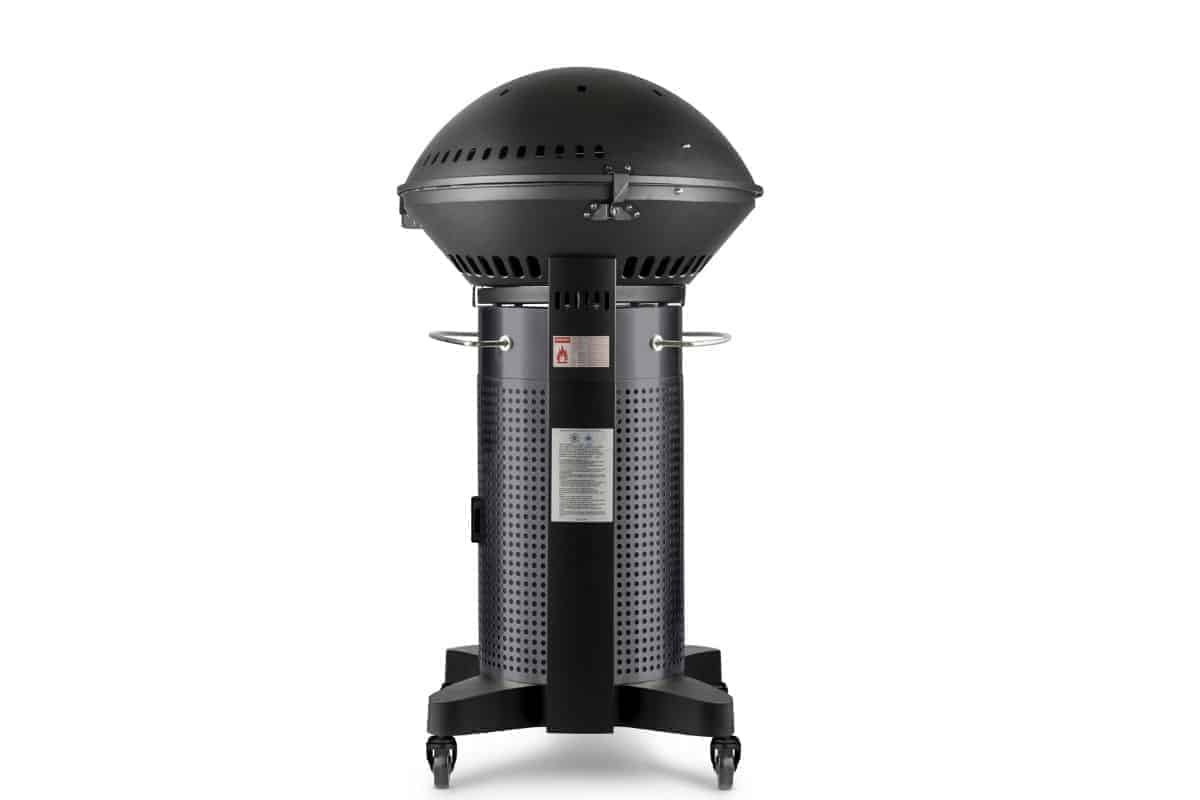 As you have probably guessed, we like the Fuego Pro and recommend it for those looking for a convenient quick-fire grill.
Conclusion
The Fuego Profession F24C is a big step-up from its predecessor, and Fuego has really thought about what they could improve by taking their customer feedback very seriously.
After putting all that together, they have created this compact and intelligent design that any gas griller would love.
Do you have a Fuego Pro? We would love to hear your Fuego knowledge or anything that you think they could improve on in the comments below!