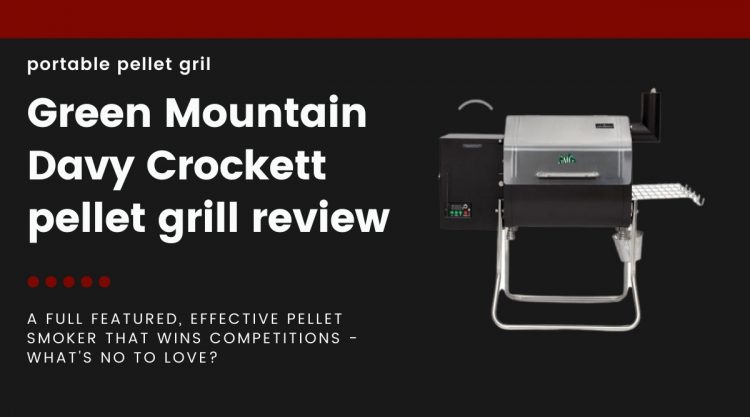 In this Green Mountain Davy Crockett review, we break down what the Davy Crockett is, how it works, what features it has, what makes it great, and of course, whether we recommend you spend your Benjamins on it or not.
Food, fire, and friends always means a good time to us! So when it comes to grilling on the road, whether at the beach, in the forest or tailgating, we often have to forfeit our all-singing, all-dancing family grill in place of one that we can lift and fit into the car or truck.
Unfortunately, it usually means a portable charcoal barbecue with little capacity for low'n'slow tenderness, or smoky goodness.
When we heard about the Green Mountain Grills Davy Crockett, and their tagline that it is the "Ultimate Tailgater Pellet Grill", we knew we had to review what could be a game-changer.
We know you're well aware of how much better smoked food is, that's why you're here, right? And you, like us, want to know if this grill is worth your hard-earned dollar.
In this review we will show you that with the Davy Crockett, you can go wherever you like and create the most awesome smoked food, all well within your budget.
To the main event, let's go!
The Green Mountain Grills Davy Crockett in a Nutshell
This green mountain pellet grill is a family-sized, digital Wi-Fi controlled pellet grill smoker.
From its lightweight build to the many high-tech features, it is designed to go wherever you go. It has three choices of power connection for whatever situation you find yourself in.
The Wi-Fi capability means you can still enjoy your holiday, day out, or event without having to sit and babysit the grill. Plus, it has enough capacity to cook for 4 to 6 people.
For instance, a whole upright chicken will fit with its specially designed pitched hood.
The integral meat probe and temperature control system means you can monitor and cook to perfection whether you are camping, hunting, house-boating, festivaling, or anything else you can think of.
The Davy Crockett has your back! But don't take my word for it, listen to a BBQ competition winner singing its praises:
A Few Words About Green Mountain Grills
The history and origins of Green Mountain Grills is somewhat sparse on their website, but with a little digging, we uncovered some more detail.
Jason Baker, Green Mountain Grill's business development executive, says the company was the brainchild of his father.
Baker says that his father was an avid griller, but he was always disappointed with the grills that he used and was continuously thinking of ways to improve it. In 2007, he combined his two loves, grilling and design, and produced his first grill prototype. Green mountain smokers was created, and the rest is history.
The Green Mountain Grill website has a dealer locator to help you find your local specialist dealer, and it currently covers the US, Australia, New Zealand, Mexico, and South Africa.
The cookers are assembled in China, but management, sales, and distribution are managed at their HQ in Reno, Nevada.
What's in the Box?
Here is a quick rundown of what you can find in the box:
Davy Crockett pellet smoker body
Chimney elbow with adjustable close
3 x power cables: 110v AC/DC mains plug in; 12v vehicle power take off (cigarette lighter) cable; double clamp battery hook-up
2 stainless-steel grill grates
1 x stainless-steel 'hook-on' side tray
1 x heat shield
Grease tray x 2
Stainless-steel grease bucket
Wi-Fi antenna
T-bar assembly tool
Instruction manual
Meat probe
Starter bag of pellets
And how about an unboxing and assembly video? It's a great way to see what his grill is really all about!
First Impressions
Our first thoughts are that this is nothing like the average portable grill.
With the stylish matte black and stainless-steel finish, it looks more like a mini-me version of a high-end wood pellet smoker, albeit somewhat shorter. But as the saying goes, good things come in small packages.
The metal lid and handle are solid and well-engineered, especially for a portable unit. By design, this should mean better heat retention and control as it will lose less heat than some of its counterparts with their thin sheet metal.
The legs fold up into position as handles for the grill, making it easy to carry. That being said, at around 57lbs, some may find it a tad heavy to carry alone.
Extending the legs into stand-up mode is simple — just pull them apart until they click and lock into position. That way, you can be sure that the grill will remain stable.
Overall, this Davy Crockett pellet grill is a quality looking, portable unit that feels heavy-duty and very capable. Then you remember it also has fully controllable Wi-Fi capability and realize just how much it offers in such a versatile compact unit.
First impressions are definitely good, and so are lasting ones. It even made our list of the best portable pellet grills available today!
Why Do Customers Choose the Green Mountain Davy Crockett Pellet Grill?
Simple, it is a great purchase for those that want convenience when traveling and cooking away from home.
You can carry it easily and set it up at your campsite in minutes. Plus, with the companion app 'server mode' you can use the remote-control settings while still exploring your surroundings. No being tied to the grill to monitor temps!
That, coupled with the low cost and excellent customer support, means that many loyal fans of other brands who made the switch to Green Mountain Grill were happy they did.
Specifications
Voltage: 12V
Wattage: 60W avg
Weight: 68lbs
Dimensions (legs open): 31.75" (H) x 34" (W) x 23" (D)
Dimensions (legs closed): 20.5" (H) x 27.75" (W) x 17.5" (D)
Height of the cooking surface to lid: 7.75"
Surface cooking area: 219 square inches
Auger motor RPM: 4.7 ~ 5.2
Fan motor RPM: 0.45A; 4100 RPM
Grease tray: 13 gauge steel
Grease tray function: open flame technology
Igniter: 12V; 100W
Hopper pellet capacity: 9lbs
The key features for this little unit will show just how much design has gone into this little belter:
Precise Temperature Control with Wi-Fi enabled App
The Green Mountain Grills companion app allows for full remote access to your grill when connected in either Wi-Fi or server mode, enabling you to set precise temperatures and adjust them at will remotely.
The temperature preset you choose on the app is controlled by an electronic PID on the grill that monitors the ambient temperature up to 10 times per second, adjusting the flow of pellets and airflow to compensate.
Technically Excellent Fuel Feed System
The firebox that burns the pellets uses the venturi design (small vertical vents) that causes the airflow to spiral and redistribute heat evenly around the fire pot for maximum heat distribution.
This ensures the complete consumption of pellets and reducing ash production to practically nothing.
This, in conjunction with the positive air pressure fan in the hopper, means that pressure is created to increase airflow through the pellets, which prevents burn-back from the fire pit and any fires within the hopper.
Added to this system is the chimney vent that allows you to fully adjust the opening, which can be used to assist the temperature control, or even increase or decrease the amount of smoke you get on your food.
Ease of Use
This grill is designed as a portable smoker, so its primary goal is to travel well and be simple to use. And guess what, it does precisely that.
With a one-touch ignition, automated Wi-Fi controlled pellet feeder, and precise 5-degree temperature increments that can be adjusted on the app, you will be cooking fantastic food with next to no effort.
Tipping the scales at just 57lbs, it might not be as light as a portable BBQ, but it is, without doubt, the lightest smoker and grill combo available. This is damned impressive when you think it is a proper smoker and grill, not a halfhearted one like most portable offerings.
The way to view the ease of the Davy Crockett is that it is a portable grill that can easily become a dedicated grill when you reach your destination.
Not many portables can carry that accolade with any seriousness.
Cleaning and Maintenance
There are no special features of note that assist in the cleaning of the Davy Crockett. Like many smokers, it isn't too involved, but it's also not the quickest of jobs. The main clean will be pretty much the same as any other grill.
The grates will need scraping and brushing after each cook to remove food debris. The grease pan will require a wipe down if the food cooked was particularly fatty.
This can be made easier if you wrap the pan in heavy-duty foil so that you can whip it off and chuck it. The same goes for the grease bucket, you can wash it out, or you can line it with a disposable container or foil.
When it comes to ash, thankfully, the efficiency of this grill means very little is left behind. So, all you will need to do is vacuum out the bottom of the fire pit and hopper every other use.
Removing the ash does two things, it improves the smoke flavor on the cook by removing stale ash, but also helps to prevent fire in the hopper where the dust collects, so don't skip this step.
The outside of the grill is made of stainless steel, cast alloy, and powder-coated metal. It will need a wash down with soapy water and some metal cleaner/polish to protect its surfaces from the elements.
Investing in a well-fitted cover will also keep it looking good and rust-free for years to come.
Available Support
Green Mountain Grills as a company are very popular. Just look at their social media sites, and you will see how many people are staunch supporters, waxing lyrical about how great their products are and the value for money they give.
They are also very popular with competition grillmasters and have won swathes of awards with the Davy Crockett in particular.
The website has a support section that covers pretty much everything you will ever need in terms of instructional videos, manuals, recipes, spares, and customer support should you have any issues with your grill.
They also have a blog that will keep you up-to-date with events, news, and competitions.
While the first port of call for after-sales support comes from their vendors that you buy from, you can also contact them direct via phone, email, and their social media channels.
Available Upgrades, Accessories, and Attachments
The first accessory you need to buy for your Davy Crockett pellet grill is a selection of their different flavor pellets. Take a look at their descriptions and the reviews, and you'll see why.
The Green Mountain Grill accessories page is jam-packed full of goodies that you will instantly want.
Many of their accessories will make your grilling experience much easier, such as tray liners and bucket liners. As well as extra wants such as their branded brushed aluminum spritz bottle through to their snap back caps.
The one accessory that you absolutely must get is the wood fired pizza attachment. With a temp capacity of up to 900f, you can cook pizza, sear steak, and bake bread. It will take your cooking to the next level!
There is also an extensive parts store with tutorials for repairs if you find yourself out of warranty and having to do a fix yourself.
Warranty Details
Their limited warranty covers defects in workmanship and materials for a period of 3 years from the date of first retail purchase.
Green Mountain Grills will replace or repair any defective Green Mountain grill returned to either them or one of their dealers, by the original purchaser.
Quick Tips to Get the Best Out of the Green Mountain Grills Davy Crockett Grill
Ambient temperature can affect the heat control, so be sure to account for that with the chimney vent setting and enough pellets as it will burn more pellets in colder settings.
Line the grease bucket and drip tray with heavy-duty foil to make clean-up a breeze, especially when you don't have running water.
When set up on a table, the front leg of the grill will hang down from the edge and can be used for hanging tools and cloths.
Final Verdict
Here is a quick rundown about the Davy Crockett in all its glory:
Pros
Automatic temperature control
Pellets create less mess
Deep smoke-ring penetration every time
Lightweight and compact
Great build quality
Multiple portable power options
Wi-Fi connected, with a remote mobile app for monitoring and control
Cons
Hopper capacity is small (but it kind of has to be)
The 2-piece grease tray is a tad fiddly
Should You Buy the Green Mountain Grills Davy Crockett Grill?
Well, we think you might have already guessed the answer to this one — it's a resounding yes from us!
If you love grilled food, and especially smoke grilled food, and you could happily eat it everywhere you go, then this grill makes it a reality.
With the Davy Crockett being so compact and portable, with such great build quality and excellent value for money, if you like to travel we can't see any reason why you shouldn't buy it.
If you haven't got a grill, then it would make a great starter. Or if you've already got a bigger version in your yard, then you could keep this one in the back of the truck for an ad-hoc date night under the stars with your other half (now that would score you some points!)
Other Models Might Suit You If
You want something that can feed the five thousand. As great as this grill is, if you have a lot of hungry mouths to feed it will take several rotations of food to feed more than a half dozen people at a time.
You're only interested in fire-charred food from a grill. If you have no interest in low 'n' slow cooking or the flavor of smoke, then this is probably a waste of your hard-earned cash.
If you think bigger is better and want a grill that takes center stage and looks good, this one might be a tad on the bite size side. Maybe take a look at full-sized pellet grills
Final Thoughts
For a grill designed as portable, it ticks all the boxes and more. It performs so well that it could easily replace a lot of dedicated home grills with its feature-packed design and sturdy build quality.
When you go searching for reviews, you may see people lamenting the Green Mountain Grill Davy Crockett for its lack of grill space, lack of shelves, and its small hopper capacity.
But this is precisely it's appeal, so if you're after everything we have gone through, then ignore the few poor reviews it has.
We say that this grill is a wolf in sheep's clothing, and it is the portable game-changer that we first thought it could be.