The best meat grinders are among the most exciting kitchen appliances you can buy. With one, you could be grinding your own meat for a thousand different tasting homemade burger patties, meatballs or winter warmer casseroles.
Many also now feature attachments that allow you to produce your own Middle Eastern kubbe or sausages…so you can put your sausage stuffer away.
But with ground meat so readily available, why should you grind your own?
Well, in this article, we're going to look at the benefits of home-ground meat, and some of the different types of grinders you can choose from.
Next, focusing primarily on electric models, we go on to discuss what you should look for in a model that's perfect for you and your home. We then go on to recommend what are, in our opinion, seven of the best meat grinders you can buy in 2023.
At a Glance: The Best Meat Grinders You Can Buy Today
Meat Grinder Reviews
Considering all the factors we've looked at above, here is our list of the seven best meat grinders that we're happy to recommend.
We have tried to choose models from a wide range of brands and to suit every budget. Think of the best grinders as an investment and choose the one most suited to your needs.
LEM Products W781A Stainless Steel Big Bite Electric #22-Meat Grinder (1-HP)
1
This model from LEM Products is one of the more premium grinders we have featured. With its modern, brushed steel finish, it would look just as at home in a restaurant as a domestic kitchen.
For people who like to grind a lot of meat on a regular basis, it's a powerful and durable meat grinder which makes light work of any grind.
A great feature of this grinder is LEM's patented Big Bite™ technology on the auger. A larger "bite" at the end of the auger ensures it grabs more meat and moves it toward the grinder head. More efficient and faster grinding allows up to 13 pounds of meat per minute to be ground.
Another key feature in this grinder is the ETL certified motor, which comes permanently lubricated, to keep the metal gears working for years to come. With 750 watts of power at 60Hz, the motor can get hot, and constant lubrication will keep all the working parts fully operational.
The stainless steel motor housing comes with a heavy-duty handle, which makes it easier to move, despite the heavy weight of the unit. Another good feature is a built-in circuit breaker—very important for safe use. The circuit breaker will prevent any accidents or damage to the grinder from electrical overload.
Different grinding plates, for both a fine or coarse grind, are ideal for use with the sausage stuffing tubes. You could produce almost commercial levels of all types of sausages at home with this grinder.
Manufacturer Specs
9.13 W × 20.24 L × 15.98 H inches.
Weighs 49.7 pounds.
Permanently lubricated 120-volt, 750-watt motor.
Grinds approximately 13 pounds per minute.
Stainless steel motor housing.
Built-in circuit breaker.
Stainless steel head, auger and meat pan.
One stainless steel cutting knife.
Two stainless steel grinder plates (fine 3/16-inch, coarse 3/8-inch).
Three sausage stuffing tubes.
Five-year warranty and lifetime customer support.
If you're serious about your meat grinding, you will be hard pushed to find a better choice than the LEM Products Big Bite grinder.
If you need a professional device to frequently grind large quantities, it can't be beaten on power, functionality and quality. This wins it top pick as best electric meat grinder for the money.
Pros
Extended auger pulls more meat in less time.
Rifling design of the head pushes meat forward with less user interaction.
Larger chunks of meat are reduced in size by the auger—less clogging.
Built-in circuit breaker protects against electrical overload.
Permanently lubricated motor protects the inner gears.
Quiet in operation compared to other commercial-style grinders.
Includes many useful accessories.
A five-year factory warranty protects your investment. Lifetime customer support.
Cons
Not an impulse purchase for most buyers.
Very heavy; even with heavy-duty handles it can be hard to move.
No reverse gear.
Our review is of the #22 size, the company does, however, offer different sizes, including the popular #12 with a 0.75 HP motor, for those who don't need quite as much output. All LEM Big Bite grinders come with the same impressive five-year warranty.
The Powerful STX Turboforce Classic 3000 Series Electric Meat Grinder & Sausage Stuffer
2
This powerful home meat grinder from STX International comes with plenty of useful accessories. A compact design brings commercial-grade performance to your domestic kitchen at a fraction of the price of a professional model.
The use of pair blades and plates makes this electric grinder stand out from the competition. This feature ensures the blades stay sharper when used for the intended meat type, and provides for a faster and more exact grinding texture.
The #12 grinding head is larger than most domestic grinders and made of food grade cast aluminum. With a wider feeding tube, large quantities of food are easily processed by the powerful motor. The locked wattage motor delivers between 800 and 1200 watts of power, equivalent to a performance of 2.4 horsepower.
We really like the safety features this meat grinder offers, with a circuit breaker in case of a jam, and recessed control buttons. This great feature prevents the user from accidentally bumping any buttons while the machine is in use. The product is easy to put together, durable and needs very little maintenance.
Also advertised as a sausage stuffer, accessories include three filling tubes and a beaner (sausage filling) plate. The wide range of accessories also consists of a kubbe maker for a little taste of the Middle East at home.
Manufacturer Specs
16.5 by 6.5 by 14.5 inches fully assembled.
Weighs 12 pounds.
110/120 V 60 Hz.
Maximum locked motor wattage: 1200W peak power.
Grinds up to 225 pounds per hour.
3-speed switch—low, high and reverse.
Stop and reset switch circuit breaker.
Size #12 polished cast aluminum grinding head.
Three steel grinding plates.
Three stainless steel cutting blades.
Includes three sausage stuffing tubes with an adapter.
Kubbe
Three-year manufacturers warranty.
If you intend to do some heavy-duty grinding, the STX-3000 TurboForce is among the most affordable semi-commercial grinders available, and one of the top meat grinders for home use.
With its multiple cutting blades for longevity and powerful motor, this grinder can fulfill all your meat grinding needs for many years.
Pros
Powerful motor can grind sinuous meat without blocking the auger.
Circuit breaker protects the motor against any sudden power surge.
Easy to disassemble for cleaning.
Three blade and disc grinding system.
Wide hopper can handle more meat.
Three-year warranty for parts and labor, fix or replace guarantee.
Cons
Can be very loud in operation.
Air cooling system is not too efficient.
Not all parts are dishwasher safe.
LEM Products #10 Stainless Steel Clamp-on Hand Grinder
3
Manual meat grinders don't get any more old school than this one from LEM Products.
This may look like a product your grandparents would use, but it works just as well as modern mincers. Built to last, grandma may still have one in her kitchen from years ago.
The finish shines brightly on this sturdy-looking stainless steel meat grinder from LEM, which is one grinder that will last you years and won't corrode or rust.
With a wider clamp stand opening, this manual meat grinder can be attached to almost any table or countertop.
You may find that the output of the grinder sits much lower than the output of many other manual grinders. You will need a shallow bowl or plate to catch meat as it falls.
The grinder has a stainless steel blade for smooth blade chopping, and it's efficient and powerful. It even includes sausage stuffing tubes and includes a set of coarse and thin grinder plates for different grinds.
Manufacturer Specs
11.5 inches by 8.3 inches by 5.3 inches.
Weighs 8 pounds.
Heavy-duty stainless-steel construction.
Includes two stainless-steel plates—coarse: 0.38-inch, and fine: 0.19-inch.
Set of three plastic sausage stuffing tubes.
Stainless steel knife and a stainless stuffing star.
Clamp at base accommodates a width of 1.25 inches.
A sturdy manual meat grinder, the LEM clamp-on hand grinder should last many years. It will chew through pork, beef, and game.
Stainless steel will prevent rusting and contains no harmful chemicals that may alter the taste or quality of the food.
Pros
Stainless steel construction is solid, rust— and corrosion-proof.
Excellent mechanism for clamping on wide surfaces.
It can grind any type of meat and even soft bones.
Three sausage stuffing tubes are included.
Wood crank handle is both stronger and more comfortable than plastic or steel.
Easy to take apart for cleaning.
Cons
It looks as if some metal welds or finishes are jagged and sharp.
Because it is too close to the edge of the counter, ground meat may be difficult to collect.
A premium product at a premium price compared to other manual grinders.
Sunmile SM-G73 Heavy Duty Electric Meat Grinder and Sausage Stuffer Maker 1000W
4
The Sunmile SM-G73 is another great compact electric meat grinder for the budget-conscious shopper. This ultra-stylish appliance is heavy-duty enough to grind a whole deer, yet light on size and your wallet.
A great feature of this product is the brushed stainless steel finish of the main housing. It will complement any kitchen counter, be easy to keep clean, and is durable and rust-resistant.
Inside the housing is a 600-watt motor, which is rated at a powerful 1.6 HP. A size #8 grinding head is slightly smaller than commercial style models but should be enough to grind most meats. However, you may have to cut the meat into smaller chunks for the narrower feeding tube.
The cutting blade and three stainless steel grinding plates provided are all stainless steel and safe to put in the dishwasher. Unfortunately, other parts, like the meat tray, grinding head and feeder tube, are made of aluminum, which must be handwashed. Other weaker parts of the construction include plastic gears, which can wear down with heavy use.
Using the three included sausage filling tubes, you could produce small amounts of sausages at home for you and your family.
Manufacturer Specs
17 by 10.7 by 8.6 inches.
Weighs 12.8 pounds.
Stainless steel body.
600W motor–peak power 1000W.
3-speed switch setting.
Reset and safety switch circuit breaker.
Size #8 cast aluminum grinding head.
Extra large hopper.
Three stainless steel cutting plates.
One stainless steel cutting blade.
Three sausage attachments.
One plastic food pusher.
One-year manufacturers warranty.
Although it may not be the best meat grinder or have the largest motor we have looked at, this machine is a very efficient grinder. It can still grind nearly 3 pounds of meat per minute, though you may have to chop it finer first.
If making sausages, it provides a complete package, with all accessories included.
Pros
The aluminum casing is lightweight with stainless steel wrap for durability.
Powerful motor with easy-to-use large switches.
Reverse motor control makes it easier to clear jams.
Circuit breaker to prevent the motor from overheating or a power overload if jammed.
Low noise.
Easy to clean.
Inexpensive
Cons
Plastic gears aren't durable and can be stripped by the powerful motor.
Grinding mechanism tends to vibrate.
Aluminum parts are prone to corrosion.
Panasonic MK-G20NR-W Meat Grinder
5
This sleek meat grinder from Panasonic features a brushed stainless housing that will look attractive on any kitchen countertop.
It's not just about the looks, though, with a powerful motor and plenty of attachments making this is an indispensable kitchen gadget.
This Panasonic electric meat grinder is another which has been designed to fit in with your home kitchen. A white body with silver trim features an all-metal construction for added durability.
The 180-watt motor of this grinder is ideal for home use and fairly quiet in operation. It will process just over 2 pounds of meat per minute but may need intervals, to stop it from overheating. One tip is to place the metal grinding head and tube in the freezer before grinding, to avoid the meat from "cooking" as you grind.
The grinding cap of this machine is easily removed to begin the process of disassembly for cleaning. It's recommended you handwash all the die-cast metal parts to avoid aluminum oxidation. A stainless steel chopping blade and the grinding discs are more durable and can be put through a dishwasher.
Although it will only grind smaller amounts of meat at any one time, it still has enough capacity to make your own sausages. Three sausage stuffing attachments are included to make small batches of sausages at home.
Manufacturer Specs
16.4 by 9.2 by 7.7 inches.
Weighs 7.3 pounds.
Heavy-duty construction with all metal parts.
180-watt motor.
Circuit breaker to avoid motor burnout.
Stainless steel cutting blade.
Three stainless steel cutting plates.
Sausage attachment included.
Grinds 5 pounds of meat per minute.
One-year limited warranty.
For a stylish looking grinder for your home, you can't go far wrong with the Panasonic MK-G20NR-W.
Its motor is powerful enough for most needs, in a compact appliance. And it's very affordable too, with attachments included for different grinds of meat, and sausage-making equipment to play with.
Pros
Sleek and durable construction.
All metal parts, including the gears.
Grinds quickly and without too much noise.
Circuit breaker to avoid the motor burning out.
Stainless steel blades and grinding discs won't rust.
Easy to clean.
Cons
Only suitable for grinding smaller quantities.
Weaker motor than others, so will not grind bone, which will often get stuck in the blades or auger.
Motor gets hot when over stressed.
Larger metal parts will rust if not thoroughly dried after use.
Weston Pro Series Electric Meat Grinder 10-2201-W, Commercial Grade, 1120 Watts, 1.5 HP
6
It takes a considerable investment to get a good meat grinder from Weston Pro. Not just in cost, but also in counter space needed and the effort to lift it. Weighing nearly 60 pounds, this is one heavyweight beast of a grinder for those serious about their grinding at home.
If you're looking to grind a lot of meat on a regular basis you will love the high-speed operation of this machine. Thanks, to the extra large feeding tube, nearly 3 inches in diameter and powerful 1.5 HP motor, it can grind upward of 14 pounds of meat per minute.
The 1120-watt motor may not be the largest on the market, but it is permanently lubricated and air cooled. Even under heavy use, the motor won't cut out and could easily grind a whole chicken with bones—ideal for those making raw pet food. The offset head can accommodate grinding discs up to size #22 for more power.
The whole design of this grinder has been well-thought-out, with specially engineered steel gears to provide a noise-free operation. The stainless steel body is easy to keep clean and maintain over long periods of time. It's easy to disassemble for cleaning, with all stainless steel blades and grinding discs and a high-quality auger.
Manufacturer Specs
17 x 24.75 x 15.5 inches
Weighs 58 pounds.
Stainless steel body.
Size #22 offset head design.
Permanently lubricated 1.5 HP/1120 watt motor.
Grinds approximately 14 pounds per minute, or 725 pounds per hour.
Reverse function and reset.
Stainless steel grinding knife.
Set of two meat grinding plates.
Three sausage stuffing tubes.
Snack stick funnel and high-speed auger.
Built-in knife sharpener.
Two-year limited manufacturers warranty.
Although you can get larger motors at less expensive prices, power isn't just about the size of the motor. The larger grinding head and wider feed tube of the Weston ensures it can handle much more meat. For commercial use in a small restaurant, or at home if you grind large quantities, this is the ideal electric meat grinder.
It will cost maybe three times more than your average domestic model, but will last you much longer.
Pros
Extremely powerful with a capability of up to 725 pounds of meat per hour.
Can easily grind bones.
Air-cooled motor won't overheat under strenuous use.
Quiet in operation.
Includes a reverse gear, although rarely needed with the powerful motor.
Movable head is easy to manipulate and control.
Large hopper tray and wide feeding tube.
Durable stainless steel construction and all metal parts.
Easy to clean.
Cons
Extremely heavy at 58 pounds.
Comparatively expensive to some on this list.
Only one speed.

Editor's Note
Note: If you like the solid look and durable features of the Weston grinder above, they do offer a smaller model that has many similar features, but is less powerful and more economical: find out more here.
— Mark Jenner
Types of Meat Grinders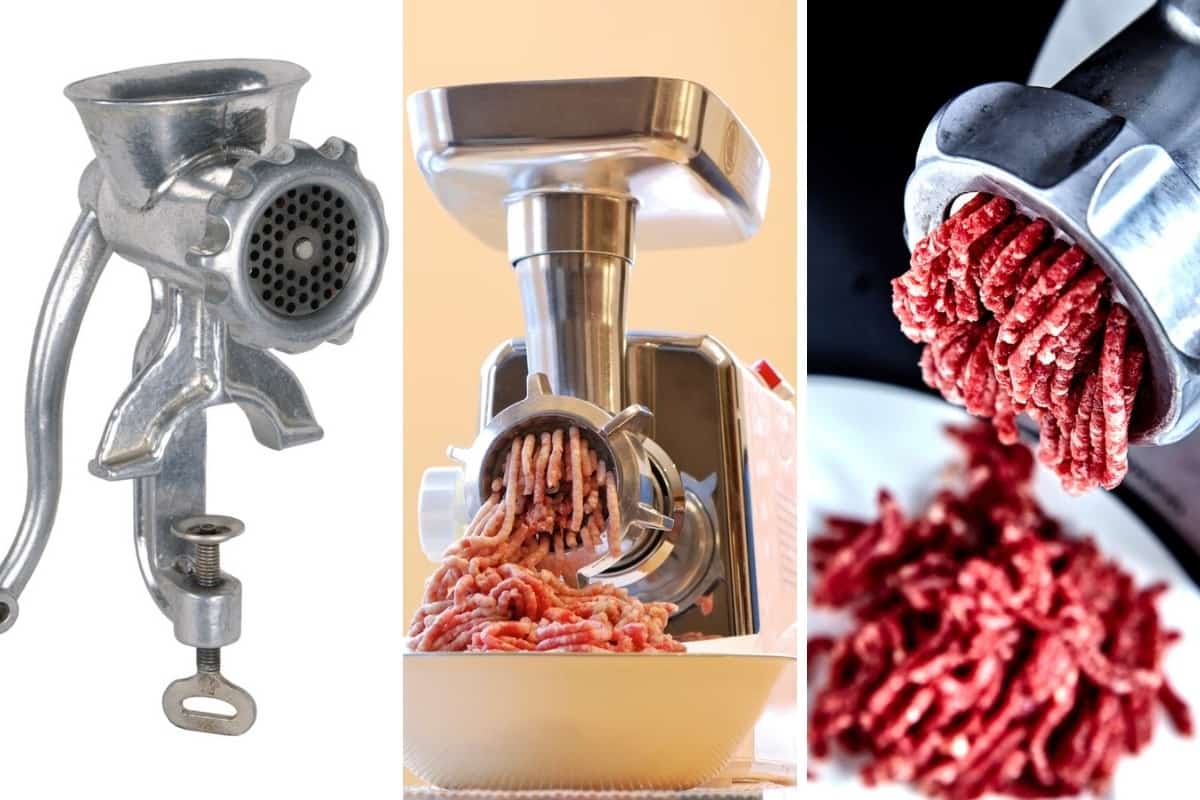 The meat grinder was first invented by a German innovator, known as Karl Drais, in the 19th century.
Other inventions of his also included an early version of the typewriter and one of the earliest forms of mechanical bicycle. Just like the latter two, the humble meat grinder has come a long way since, with many different kinds of grinder now available. Let's take a quick look at the different types.
Manual Meat Grinders
Manual meat grinders are the most basic of grinders and known for their simplicity. Many of the cast iron models resemble those produced by Karl Drais, with the basic design changing very little over the last 200 years.
Attached to a countertop with either clamps or bolts, metal cylinders enclose an auger and cutting blade, operated by a crank handle. Modern designs may use plastic housings with rubber feet or cups to secure them.
A manual meat grinder will require plenty of elbow grease and may not be suitable for the elderly or mobility impaired. They're designed to grind smaller quantities and don't require any power sockets—ideal for use when hunting or camping.
Electric Meat Grinders
When you get tired of all that physically demanding and tiresome manual cranking, an electric meat grinder seems like an obvious upgrade. If you want to grind large amounts of meat quicker and more frequently, an electric model is really the only choice.
Most freestanding grinders feature the same profile and similar functioning parts. A metal meat tray is located at the top of a metal tube, a hopper where meat is stored before being fed into the grinder. A large "screw" is the main workhorse of the grinder, which pushes food towards the blades and grinding discs.
An electric grinder will handle larger quantities of meat and chew through tougher cuts, which manual grinders may not cope with. They are easier to use and much quicker in production, even when stuffing sausages.
Electric models tend to be more expensive, but are more suited to those with arthritis or similar physical limitations.
Kitchen Machine Attachments
If you don't like the idea of another appliance taking up valuable counter space, there are always attachments for existing kitchen machines.
Normally attached to freestanding kitchen mixers, like those made by KitchenAid or Cuisinart, you can sometimes get attachments for food processors too.
Offering all the convenience of electric meat grinders, their strength will depend on the motor of the attached device. They can add versatility to your mixer, allowing you to mix seasonings into the meat before you grind. However, the lack of a reverse gear on the motors of many domestic mixers means they're prone to meat getting stuck in the tube.
Why Grind Meat Yourself?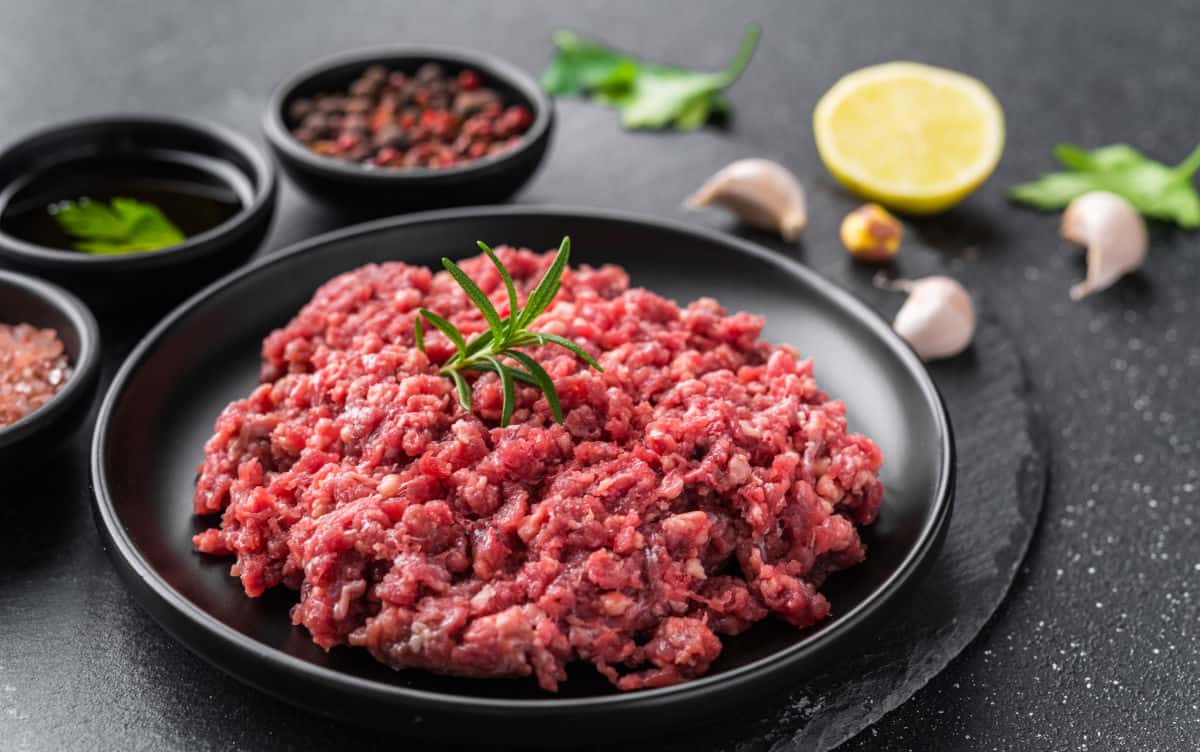 With ground beef making up about 60 percent of all beef sales in the US, it represents the most common cut sold.
Does anybody really grind their own beef at home?
There are many reasons you should and not just beef, but any cut of meat. Let's take a look at why you might want to grind your own.
Quality, Hygiene, and Ingredient Choice
When you buy your ground meats, do you really know what you're getting?
Unless you visit a store where your butcher will grind your choice of cut, you're probably buying it prepackaged. It's very much pot luck what quality you receive, with a recent study finding 20 percent of ground meat tested was mislabeled.
Grinding your own will give you complete control over what goes in, be it beef, pork or venison. There's no chance of unexpected horse meat as a filler. And you can choose from a wider variety of ingredients, even fresh kills from your hunting trips.
The standard of hygiene can also be much higher, with less chance of meat coming into contact with E.coli bacteria than at a factory containing other produce. Also, if you are gluten intolerant, sensitive to nuts or other allergens, you have greater control over the environment where your ground meat is produced.
Cost Saving
Larger backyard cookouts can get quite pricey when you consider the amount of beef you need. Buying a large piece of beef and grinding it yourself will significantly lower costs. You're no longer paying anyone to do the grinding, or all the hidden costs like packaging, transportation and the store markup of the ground meat.
A 2015 article by Quartz referred to the hamburger as the "new steak," as prices increased suddenly and significantly. If you're going to pay steak prices, why not buy your own steak, or lesser cuts, at much lower prices?
It's not just about the price, but also what meat you use. Any trimmings of prime steak that you may have otherwise discarded, or leftover cuts of roasts, could be ground for more money savings.
Complete Control Over Taste
You may assume the ground meat you buy at your local store was ground on the premises, but it will probably have been processed many miles away at a separate factory and can be several days old before even arriving at the store.
Maybe it's been frozen for transportation or had preservatives added to keep it looking bright red for longer?
As soon as ground meat hits the air, oxidation will start to take place, often causing a brownish discoloration. Not only does this affect the food safety but also the flavor. Fresh meat will nearly always taste better, and freshness is essential for some ground products, like poultry or fish.
Grinding your own meat, you can leave it wrapped until needed to avoid overexposure to the air. You can also add seasonings as you grind, for your own distinct flavors, rather than relying on "mystery" seasonings of the store or producer.
Why not mix it up even more by adding extra proteins like venison or pork to your grind, for different taste combinations?
How to Choose the Best Meat Grinder for You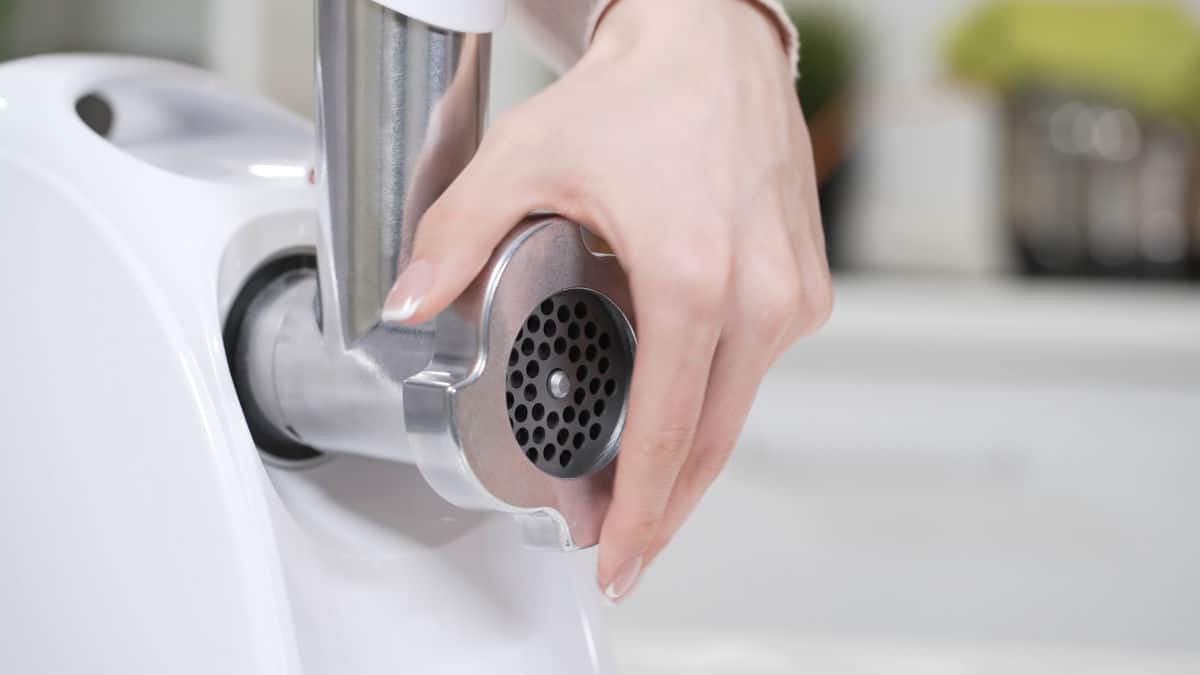 Hopefully we've now convinced you of the benefits of grinding your own meat and the advantages of an electric grinder.
But before you rush out to buy the latest model on offer, let's take a look at the most important factors when choosing the best electric meat grinder.
How Much Meat do You Intend to Grind?
Perhaps the most important questions are how much meat? And how frequently do you intend to grind? Have you chosen an electric grinder because you want to handle larger capacities, or is it due to a mobility issue?
Smaller grinders, typically the sub $100 models, will grind less at any one time. If you are only grinding meats for your family and the occasional get-together, most of the smaller domestic countertops will suffice and be less expensive.
However, if you are catering for larger numbers, or you're a frequent hunter, you will need a more commercial style option. These will generally be more expensive, a lot heavier and have motors that can grind tougher cuts. For larger batches, look for a #12 or #22 size grinding head.
Motor Power and Performance
We briefly mentioned the grinder size above, but what do all these numbers preceded with a # symbol mean? This number refers to the size of the grinder and is determined by measuring the grinding plates used.
The following table shows the industry standard sizes.
| | | | | | |
| --- | --- | --- | --- | --- | --- |
| Grinder Size | 5 | 8 | 12 | 22 | 32 |
| Diameter of Plate | 2 1/8" | 2 1/2" | 2 3/4" | 3 1/4" | 3 7/8" |
Smaller grinders will have a smaller feeder tube with limited capacities. They will also have less power than the larger ones.
The motor power will typically be measured in horsepower or wattage. Tougher cuts of meat can place stress on the motor, and a higher peak performance or wattage will mean a heavier duty grinder. A larger motor will also allow for processing more at higher speeds.
If you're looking for a grinder to make raw pet food, you need to look at a heavy-duty meat grinder only, that can grind through bones too.
Some #12 grinders can grind chicken bones, but you're generally better off going for a #22 or #32 grinder, like those offered by LEM or Weston.
Materials and Durability
The best meat grinders will have stainless steel cutting blades and grinding discs. These are more expensive than carbon steel but are more sturdy. On average, they will stay sharper for almost three times longer and are less likely to rust or corrode.
Ground meat and other ingredients, like vegetables or fruits, can contain a large amount of water. You may need to coat the blades with a thin coating of oil to prevent rusting. An all-metal construction of the housing should be made of a material which is both durable and easy to keep clean.
Less expensive electric meat grinders often use plastic gears, which can easily strip over time.
So try to choose a grinder with all-metal gears and check whether the motor is supplied permanently lubricated. Running a motor for longer periods can create heat and friction, which may damage the gears if unlubricated.
Stability
Many of the larger electric grinders will be heavy enough to add their own stability when in operation. However, smaller domestic models with a plastic or aluminum construction may be much lighter and need securing.
Does the grinder come with non-slip rubber feet or another anchoring method? The last thing you want is the grinder "walking" across your counter-top as you grind your meat.
Some of the more expensive, almost commercial meat grinders will weigh 50 pounds or over. If you're frequently going to grind large quantities, they will probably have a dedicated spot on your counter. This type may be stable, but can be a chore to lift if you do want to store it away.
Ease of Cleaning
As with any food production appliance, the ability to keep it clean is of utmost importance. Can the parts be easily disassembled for cleaning? Is there any other special maintenance needed?
Stainless steel parts will typically be fine to put through a dishwasher for a thorough sanitization, but check the specs first.
When cleaning the outside of the motor, it's important that no water gets inside—electricity and water are never a good mix. Always make sure all parts are dry, and invest in a cover to protect your investment.
Sometimes a motor will be supplied with a permanent lubrication system, but others may need oiling from time to time. Check what type of lubrication it needs and whether you can perform it at home, or if you need a specialized engineer.
Features and Attachments
What extra features does the machine have? Many will now offer a choice of speeds, including a reverse gear. When the auger gets clogged with meat, the reverse gear can help clear it without the need to stop the machine and take it apart.
Is the blade fully covered for safety, and does the grinder feature a quick stop and reset button?
The best electric meat grinders will usually feature some kind of circuit breaker and/or an electric overload cut-out feature. And the hopper tray should have a guard to prevent hands from getting too close to the blades.
Different sized grinding plates will give you more control of the thickness of the grind. Sausage attachments, noodle shapers or kubbe attachments can be useful for the more adventurous home chef. Some may come with a foot pedal or offer it as an optional extra, to add to the ease and comfort of operation.

Editor's Note
A sausage stuffer attachment is great — I have one for my grinder — but they are somewhat slow and meant for only infrequent use. I strongly recommend a dedicated sausage stuffer if you intend to make sausage often, and not let such an attachment play into your decision-making for a grinder.
— Mark Jenner
Cost
The price of electric meat grinders can vary wildly, from around 50 bucks to more heavy-duty models running into hundreds of dollars. Consider how often you're going to use the machine and how large you want it to be. Try to set a budget and stick to it.
Don't always let a higher price put you off the purchase if you have a few more dollars to spare though.
A good quality meat grinder can save you large amounts of money over time. Not having to replace it every year or repair it, as with some low-end models, will save you even more money and time in the long run.
Warranty
It's important with any kitchen appliance that uses electric and moving parts, to consider the warranty offered. There should be sufficient protection against any mechanical faults—it's just an expensive ornament if the motor fails.
Most basic models will feature a one-year warranty, which should cover critical components, like the motor, cutting plates, hopper, and screw.
Heavy-duty grinders will typically include a three or five-year warranty for the more powerful motor. Check if the manufacturer offers any options for extending your warranty.
Conclusion
We hope you've found our guide to the best meat grinders useful. They can add to your versatility in the kitchen and do so much more than just stuff sausages.
We've tried to cover options for all budgets, just don't assume the more expensive ones are always the best. It's not just about the power of the motor, but also consider the features you will make more use of. Is the meat grinder easy to operate, suitable for your countertop, and will it grind the amounts of produce you require?
Don't mince your words (forgive the pun), but if you have any feedback or questions we are waiting to hear from you in the comments below.