If you're shopping for a pellet grill, in this article I discuss and compare two of the brands you're probably hearing a lot about — Traeger Vs Pit Boss.
You'll learn a bit about the history of each brand and what makes them stand out from the field. I'll compare features and quality between the brands overall, then go further in-depth with some top models of pellet grills from each brand.
By the end of this guide, you should have a better idea of which brand is the right one for you, so you can confidently shop for the best pellet grill to suit your particular wants and needs.
Let the learning begin!
Traeger Brand History and Overview
Begun in Oregon, Traeger's first products were heating stoves that burned manufactured wood pellets. From there, someone saw the potential to adapt the concept of slowly burning pellets for use in backyard smoking and grilling.
The first Traeger grill hit the market in 1988. In fact, it was the first pellet grill, period.
For a long time, they held the patent on the concept and a monopoly on the market. Even when other pellet grills arrived on the scene, Traeger was still the undisputed king of the castle. Today, that title is in dispute thanks to much-improved competition, such as from Camp Chef pellet grills.
Conceptually, not much has changed in more than 30 years. But, today's Traeger grills are much more sophisticated, incorporating the latest electronics, Wi-Fi, and more, for an automated, user-friendly experience.
Now based in Salt Lake City, Traeger offers more than 25 grills on their website, everything from a 45-pound portable to a beast you can tow with a trailer hitch. And we can't forget to mention the Lil' Pig, a bright pink, sow-shaped wood pellet grill complete with curly ears, long eyelashes, and a pair of teats. I kid you not.
New for 2019, and the focus of this article, are Traeger's Pro Series, Ironwood Series, and Timberline Series grills. There are six total grills between the three series, with two in each category. We'll come back to these later.
Pit Boss Brand History and Overview
Founded in 1999, Pit Boss is a subsidiary of Dansons, Inc., the brainchild of a guy named Dan and his two sons. Dan — sons.
Pit boss smokers the company began life in Alberta, Canada. You may not think of Canada right away when you think of barbecue, but they do raise some exceptional beef up there on the prairies.
Now based in Phoenix, it's a family-oriented business focussed on quality craftsmanship and grills that last.
Their impressive stable of gear boasts more than 20 pellet grills, including combo pellet & gas grills and vertical pellet smokers.
They also build gas grills, griddles, and smokers; charcoal grills; electric smokers; kamado style ceramic grills; and an insane 3-in-1 monster with a gas grill, a charcoal grill, and an electric smoker on a single cart.
Pit Boss has always strived to be an innovator and to offer something for everyone. That, and to make pellet grilling more affordable for the average consumer, without sacrificing much in terms of quality.
They claim their grills are "Bigger. Hotter. Heavier."
Pit Boss Vs Traeger — Main Differences Between Them
Now that you know something about each company let's see how Pit Boss and Traeger stand up against one another.
Build Quality and Construction
I put this category first because it's so important; how well your pellet grill is built directly connects to how much you'll enjoy it and for how long.
First, trying to figure out information about Pit Boss grills can be a struggle.
While researching one unit on their website, between the main product page and the owner's manual, I got three different numbers for the cooking surface area and two for the hopper capacity for wood pellets.
It's not easy to tell what they're made of, either, but it seems to be 14-gauge steel, sometimes stainless, sometimes not. That's good-quality, heavy steel, and fits with the "Heavier" part of their "Bigger. Hotter. Heavier." motto.
The six Traeger grills covered in this article use a mix of powder-coated steel and stainless steel construction.
The mid-tier grills have double side-walls, and the top-level units have full double-walls for better heat retention.
Of the Pit Boss grills we looked at, only one, a vertical smoker, had double walls.
Fit and finish seem to favor Traeger, overall, with generally more robust design and better features. Some Pit Boss models are significantly better than others, and they lack the consistency of Traeger.
Cooking Space
You aren't lacking for choice when it comes to size with Pit Boss. Even in our small cross-section of their line-up, we've got a vertical smoker with over 1600 square inch cooking surface, a mid-size family grill, and a tiny portable.
The six Traegers offer six different sizes, from the low-end of mid-sized up to a 1300 square inch cooking surface backyard beast.
All the grills here feature multiple levels of racks: your options are 2, 3, or 5. That ramps up the versatility as well as the capacity.
The upper rack on one of the Pit Boss grills reviewed has minimal clearance over the main rack and made reaching the back of the lower grate a pain.
While both manufacturers offer a ton of variety, Pit Boss gets a very slight edge over Traeger, thanks mainly to the vertical smoker and also the pint-sized portable.
Temperature Range
The practical temperature range on all the grills from Traeger and pit Boss in this article are so similar, it makes little difference. Expect low-end numbers around 180F and an upper end near 500F no matter what you pick.
Here's the thing with wood pellet grills, though. They get hot enough for searing, but because they use indirect heat, you can't truly sear, no matter what anyone says. If you get the grates hot enough, you can brand dark lines into the meat. But, that's not the same as true searing, and there's little Maillard reaction.
Pit Boss has overcome this problem with a simple solution.
There's a sliding panel in the center of the heat deflector on most of their models. Opening it reveals a series of slits directly over the fire pot. With the temperature cranked up, flames will shoot up through the slits just like on a charcoal or gas barbecue. Now you can sear and flame broil to your heart's content!
Both Pit Boss and Traeger offer an ultra-low "Smoke" setting. It's not low enough for cold smoking, but it is a great way to add a ton of smoke to cooked food, fish, or for keeping food warm.
In terms of controls, Pit Boss has a serious disadvantage. The easy-to-use temperature knob goes up in 25-degree increments but skips a few places. It goes as follows: 200, 225, 250, 300, 350, 400, 450, 475. Want to cook at 275? Too bad. It may not be a huge issue, but control freaks beware.
By contrast, Traeger controllers step-up in 5-degree increments, allowing precise control over your target temperature.
No clear winner here, though both have pros and cons. It's up to you to decide which means more to you — precision temperature control, or true searing without buying a searing kit or using a skillet.
Hopper Size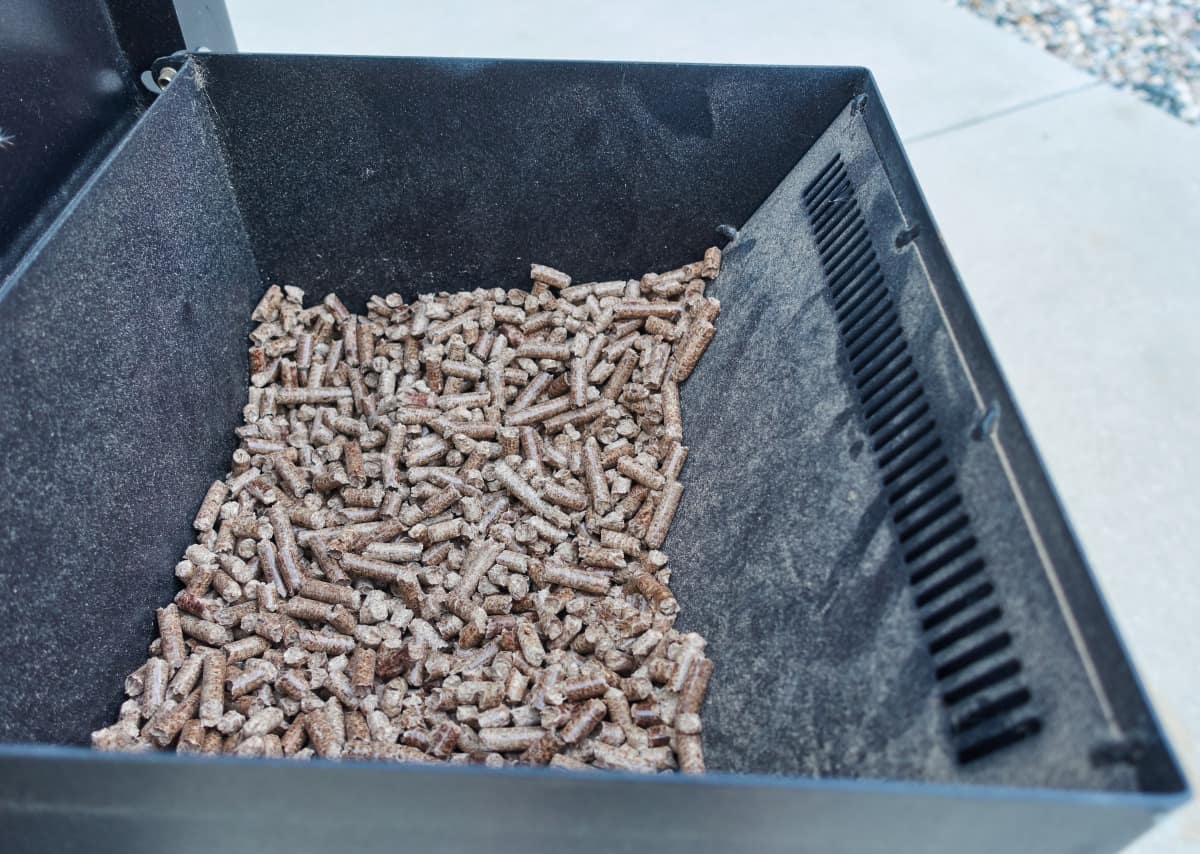 A typical bag of wood pellets is 20 pounds. Therefore, a 20-pound hopper or larger is optimal.
Of the six Traegers featured here, two have 18-pound hoppers, two have 20-pounders, and two have 24s. Filling the 18 or 24 to capacity will leave you with weirdly sized partial bags of pellets. Not ideal.
Looking at our Pit Boss line-up, we've got 20, 31, 5, and 55. The 20 is spot-on, and the 31 is basically a bag and a half. Not too bad.
The fiver sucks, but it's on a portable pellet grill, so we'll excuse it. (I recommend portioning out some pellets into an air-tight container for travel.)
The 55-pounder is verging on excessive, but you could always dump in two full bags and not worry about the extra 15.
Other than the 5 pound hopper, all these should last a full smoking session on any these pellet grills, assuming an average flow rate of about 1 pound per hour at smoking temperatures.
That number fluctuates from model to model and also depending on the outside temperature. Anything from 30 pounds and up is more than enough wood pellets for a full day of smoking.
Advantage: Pit Boss.
Added Features, Bells and Whistles
The perks you get with your Pit Boss grill really depend on which model you buy.
Some feature a truly basic thermostat and digital controller, while others offer extra features like the meat probe ports.
With Traeger, a single port is standard across all six models, and a probe is included. In fact, the entire control unit is exactly the same on each Traeger.
Most Pit Boss grills come standard with a lower storage shelf. Not only is it good for keeping gear and pellets off the ground, but it also increases the stability of the cart.
None of the Traeger grills in this article have a lower shelf. You can buy one for the Timberline 1300 as an accessory if you desire.
Overall, though, the newer Traeger grills are much better built than older models, and more fully-featured.
As mentioned above, all new Traeger models feature the D2 direct drive controller with variable speed fan and auger and built-in Wi-Fire technology. With Wi-Fire, your grill connects to your home Wi-Fi. Using a free app on your phone, you'll have complete control of your smoker from anywhere you can connect to a wireless network.
Both Traeger and Pit Boss offer an array of add-ons, gear, and accessories you can pick up to enhance your grilling experience. Or, just your grilling image, in the case of hats and apparel.
A useful add-on from Traeger is a pellet sensor for the Pro or Ironwood series. It tells you via the app, and it has a built-in light for checking the hopper after dark.
A fitted cover is always a recommended purchase to protect your grill, and there's one for each model, though 3rd party grill covers are typically cheaper and just as good. And they have the requisite assortment of grilling implements, flavor enhancers, and clothing.
Pit Boss also sells covers for its grills, plus insulated blankets for winter grilling. The magnetic hooks, wing rack, and flexible LED light are all great ideas, and there's a massive selection of BBQ tools, clothing and doodads.
Price
The actual dollar figure you pay for your grill isn't the crucial factor here. It's what you get for your money that counts.
The prices vary from model to model, but, overall, Pit Boss has a more budget-friendly line-up than Traeger, with many grills costing much less than $1000.
Having said that, your extra dollars spent on a Traeger get you better construction and electronics.
The Verdict?
Pit Boss delivers great bang for your buck without breaking the bank. If budget is a concern, Pit Boss is a good choice.
But, you'll get everything you've paid for if you invest the extra cash in a Traeger.
This one is close with Pit Boss and Traeger both representing great value for money in our opinion, so it really is up to you.
Top Pit Boss Grills
Here's a brief look at the facts and a few thoughts on some of Pit Boss's most popular grills.
700FB Wood Pellet Grill
1
This is a very basic wood pellet grill, what you might even call an "entry-level" grill.
It's light on features, lacking any meat probe ports, and comes with a stripped-down thermostat. Setting the temperature is easy — you just dial in the preset you want.
There's also a "Smoke" setting that's timer-based rather than temperature-based. Eight timer settings produce a range of low-temperature, high-smoke environments.
Anecdotal evidence suggests you need to play around with this setting a few times to get the hang of it, but that it can be very useful.
The best feature on the 700FB is the sliding panel in the center of the heat deflector. Open it up to allow direct access to the flames below. Now you can sear and flame broil just like on a charcoal or gas grill.
Specs
Primary cooking area: 442 square inches of cooking space
Secondary cooking area: 225 square inches of cooking space
Hopper capacity: 20 lbs. Of wood pellets
Temperature range: 180F to 500F
14-gauge steel construction
Porcelain-coated cast iron grids
LCD
5-year warranty
Pros
Option to flame broil and sear
Bottom storage shelf
Porcelain coated cast iron grates distribute heat better and last longer
Simple user interface
Durable 14-gauge steel construction
Cons
Uneven degree increments on thermostat prevent precise control over 250F
Low clearance under the upper grate
No option to connect meat probe thermometers
Fixed steel wheels will be noisy on pavers
Pit Boss Austin XL Pellet Grill
2
Looks aren't everything — but they do matter!
The Austin XL is a snappy-looking grill featuring matching copper-colored hopper lid, cooking chamber lid, and chimney cap. It also boasts a rugged and sturdy cart with four wheels for easy positioning, including two large roller blade-style wheels for smooth moves.
Attached to the large hopper is a more robust digital controller than Pit Boss offers on the lower-end models.
There are two ports for meat probes built-in, and you get two probes in the box.
It maintains the simple dial for selecting preset temperatures, including the adjustable "Smoke" setting for intense low-temperature smoking.
You also get the sear zone that sets Pit Boss grills apart. Just slide the panel in the middle of the heat deflector for direct grilling over the flames.
Specs
Primary cooking area: 649 square inches of cooking space
Secondary cooking area: square inches of cooking space
Hopper capacity: 31 lbs.
Temperature range: 180F to 500F
14-gauge steel construction
Porcelain-coated cast iron grids
LCD
4-wheeled cart
5-year warranty
Pros
Option to flame broil and sear
Bottom storage shelf
Side shelf for workspace
Cast iron grates
4 wheels, including 2 locking casters and 2 roller blade-style wheels
Cons
Uneven degree increments on thermostat prevent precise control over 250F
There's smoke and heat leakage via the door during use…though this is common to most pellet grills, for efficiency of pellet use it would help to add a gasket to seal it off.
Tailgater Wood Pellet Grill
3
Pellet grilling and smoking on the go? It's possible! If wanting to smoke while tailgating, RVing, or camping are your thing, you'll enjoy having the option to bring this portable grill with you.
The collapsing legs allow it to either stand at full height or nice and short for easy use on the back of a truck. Be warned, though — it's built for portability, but it still weighs close to 90 pounds!
You get most of the features on this little grill that come standard on the big guys from Pit Boss, including the option to connect up to two meat probes to the digital thermostat.
Most importantly, you get the sear zone in the middle of the heat deflector.
You do, however, give up the cast iron grates in favor of steel.
Plus, the hopper is a tiny 5-pounder, so if you're planning a long smoke, be ready with extra pellets.
This unit is best suited to flame broiling steaks and burgers, with the option to add some smoke to chicken wings, a small rack of ribs, or the catch of the day.
Specs
Primary cooking area: 341 sq. In. Of cooking space
Secondary cooking area: n/a
Hopper capacity: 5 lbs.
Temperature range: 180F to 500F
14-gauge steel construction
Porcelain-coated steel grids
LCD
5-year warranty
Pros
Option to flame broil and sear
Cast iron grates
Collapsible legs for easier transport
Cons
Two ports, but only one probe included
No bottom shelf
Tiny hopper
Heavy for a portable
5 Series Vertical Smoker
4
If smoking is your number one priority, this may be your unit of choice. Pit Boss offers something here that Traeger does not — A vertical smoker.
The advantages of this pit boss smoker vertical are many: they don't take up much space, and they offer a lot of vertical space for big birds, hanging sausages, or using all the racks to smoke a you-know-what ton of meat at the same time.
Unlike some dedicated smokers, this one can hit the higher temperatures needed for baking and roasting, making it extremely versatile.
Of course, what they don't do is allow for open-flame cooking or searing. If you already own a grill you like, though, you might prefer a dedicated smoker, anyway.
Specs
Primary cooking area: 1657 sq. In. Of cooking space split over 5 racks
Hopper capacity: 55 lbs.
Temperature range: 150F to 420F
Double-walled cabinet
Porcelain-coated steel grids
LCD
5-year warranty
Pros
Space-saving vertical design
Glass front for keeping an eye on your meat
Huge hopper for extended smoke sessions
Cons
Uneven degree increments on thermostat prevent precise control over 250F
Two ports but only one probe included
Top Traeger Grills
In 2019, Traeger introduced six new grills split into three series of two grills: Pro, Ironwood, and Timberline.
Within each series, there's one larger and one smaller grill, and the features add up (as does the price tag) as you shift from one series to the next.
Let's break it down and see what you get at each level to help you narrow it down to your best bet.
The first two grills are the Pro 575 and Pro 780.
They offer identical controls and Wi-Fi capability as the Ironwood and Timberline, but you sacrifice the adjustable grate system and double-wall insulation.
Both are excellent "entry level" pellet grills with ample square inches of cooking space and great features.
Specs (575 and 780)
Primary cooking area: 418 sq. In. & 570 sq. In.
Secondary cooking area: 154 sq. In. & 210 sq. In.
Hopper capacity: 18 lbs.
Temperature range: 160 °F to 450 °F+
PRO D2 Controller
Single meat probe
Wi-Fire Wi-Fi enabled
Proprietary Traeger app
3-year warranty
Pros
Powder-coated steel construction
Has the cool-looking stovepipe chimney
Cons
Shorter warranty than Pit Boss
Lacks double-wall insulation offered in other two series
Hopper won't hold a full bag of pellets
No lower storage shelf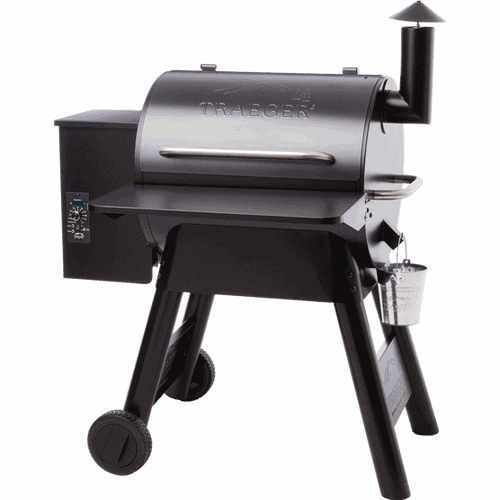 Stepping up to Traeger's mid-tier grills, you'll benefit from a bigger hopper and double side-wall insulation.
The extra wall helps to stabilize the temperature by keeping the heat in and cold weather out. Plus, you'll enjoy extra space and flexibility with the adjustable secondary cooking racks.
Specs (650 and 885)
Primary cooking area: 418 sq. In. & 570 sq. In.
Secondary cooking area: 231 sq. In. & 315 sq. In.
Hopper capacity: 20 lbs.
Temperature range: 160 °F to 450 °F+
Ironwood D2 Controller
Single meat probe
Wi-Fire Wi-Fi enabled
Proprietary Traeger app
3-year warranty
Pros
Powder-coated steel construction
Adjustable secondary racks
Double side-walls for improved heat retention
Cons
Shorter warranty than Pit Boss
Primary cooking surface sizes are exactly the same as the Pro Series units
No bottom storage shelf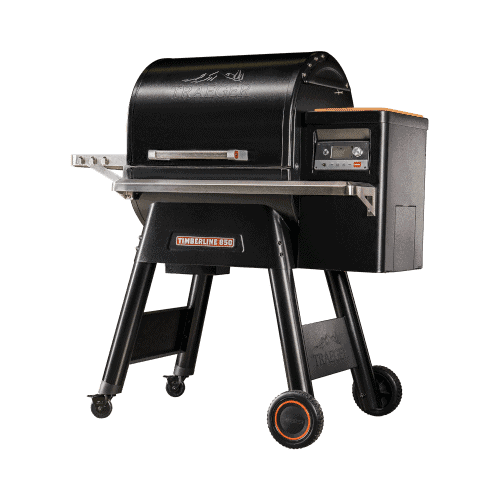 Want the top-of-the-line? Check out these big and beautiful grills and all the high-end features.
They come with full double-wall construction, magnetic cutting board, pellet sensor, stainless steel grates, and a stainless steel front shelf.
Specs (850 and 1300)
Primary cooking area: 352 sq. In. & 544 sq. In.
Secondary cooking area: 308 sq. In. & 476 sq. In.
Tertiary cooking area: 198 sq. In. & 198 sq. In.
Hopper capacity: 24 lbs.
Temperature range: 160 °F to 450 °F+
Timberline D2 Controller
Single meat probe
Wi-Fire Wi-Fi enabled
Proprietary Traeger app
3-year warranty
Pros
Powder-coated steel construction
Two additional adjustable racks
All walls are stainless steel double-sided (not just the side walls) for better heat retention
Huge capacity in the 1300
Cons
Shorter warranty than Pit Boss
Primary cooking surfaces are actually smaller than in the Ironwood grills
No lower storage shelf
Pit Boss vs Traeger — Which Should You Choose?
Is there an overall winner of our Pit Boss vs Traeger showdown?
While the Traegers are generally better grills, Pit Boss has a lot going for them, too. I mean, you have to love the option to sear over real flames on a pellet grill.
So the winner is… up to you!
Based on what you've read here today, you should be able to decide what's right for you and choose your own winner.
Thanks for visiting today for your grilling research. Stick around and use that search bar to discover more reviews, recipes, and helpful tips.
And if you find something you want to share, just paste that link into emails and texts and send them to your friends around the world.
Great barbecue is for everyone, my friends!