In this article, we're comparing two leaders in pellet grills — Recteq vs Traeger.
What does every company in the world have in common? They're all the best. Or so they'd have us believe. Think about it. Who claims to be average or even second-best?
It's all stuff like the industry's leading warranty, the nation's fastest cellular network, best-in-class towing capacity, and so on. If everyone is the best, how are you supposed to choose?
No shortage of "best" claims are made by barbecue and smoker companies, naturally. On its website, Traeger poses the question, "What makes Traeger the best grill?" Not to be outdone, Rec-Tec simply states, "Best. Grills. Ever."
Stick with me to learn a bit about each manufacturer, take a look at their best grills, and what makes them great.
By the end, you'll have a better idea of which brand might be the right one for you.
Rexteq Brand History and Overview
Once Traeger's patent on pellet grill technology expired, several other companies hopped on board. As discussed in our Pit Boss vs Traeger article, one of those is Pit Boss. But another of the most successful is Recteq. Make that Recteq — they always use full caps.
Go big or go home, right?
Recteq was founded by two friends back in 2009 near Augusta, Georgia. Both were long-time grilling enthusiasts who saw ways to improve on the gear they used.
Originally based in a garage, today, Recteq is one of the top players in the pellet grill market.
The focus for Recteq has always been on superior technology and high-quality materials, intending to provide years of easier grilling and smoking.
Their current offering of grills numbers eight units, including a gas wok and two competition-grade smokers. We are so impressed with their range that two of them made it into our guide looking for the best pellet smoker for the money.
Traeger Brand History and Overview
No matter how this comparison shakes out, there's one thing we can't deny: Traeger invented this category. They were first to market with a pellet grill, way back in 1988, and for many years they were the only game in town.
Founded in Mt. Angel, Oregon, the prototype was based on wood pellet burning stoves made for heating.
The idea of using manufactured wood pellets and an automated delivery system to simplify barbecuing and smoking was game-changing.
The basics haven't changed since that first grill over 30 years ago. However, the system is far more complex and reliable now, using modern electronics, Wi-Fi, and more to deliver a robust grilling experience.
Currently, Traeger's line-up includes over 25 grills ranging in size from a 45-pound portable to a "portable" that hooks up to your trailer hitch.
Traeger's main focus now, however, is on six brand-new grills divided into three categories of two grills each:
Pro Series
Ironwood Series
Timberline Series.
These are Traegers "next-gen" grills, and we'll look at each series a little later.
Recteq Vs Traeger — Main Differences Between Them
Now that we know a bit more about each company individually let's look at them head-to-head and see what sets them apart from each other.
Build Quality and Construction
Both Traeger and Recteq build quality grills. You'll find heavy-duty parts, solid welding, and tight fits across the line-ups for both brands.
The difference is in the materials used.
Traeger uses powder-coated steel for the grill itself, stainless steel on the handles, and porcelain for the grates. The mid-tier Ironwood grills feature double side-wall insulation. If you shell out for the high-end series, Timberline, you'll get stainless steel grates and a full double-wall stainless steel interior.
By comparison, Recteq uses stainless steel for every component on their full range, except the heating rod, which is ceramic — and good for 300 years, apparently. (We'll report back on that later.)
The lid has a high-temperature powder coat for a flashier appearance. What's especially impressive is the use of high-quality 304 stainless steel for the grates, fire pot, heat deflector, and drip pan. They may outlast you.
As to which is better, that's ultimately a matter of opinion.
I give a slight edge to stainless steel for its higher resistance to rust. Powder-coated steel is rust-resistant, too, but if the coating starts to chip off, rust may become an issue.
Recteq has the advantage on the inside with the heavy use of 304 stainless steel. Traeger only offers stainless grates on its high-end Timberline series grills.
Cooking Space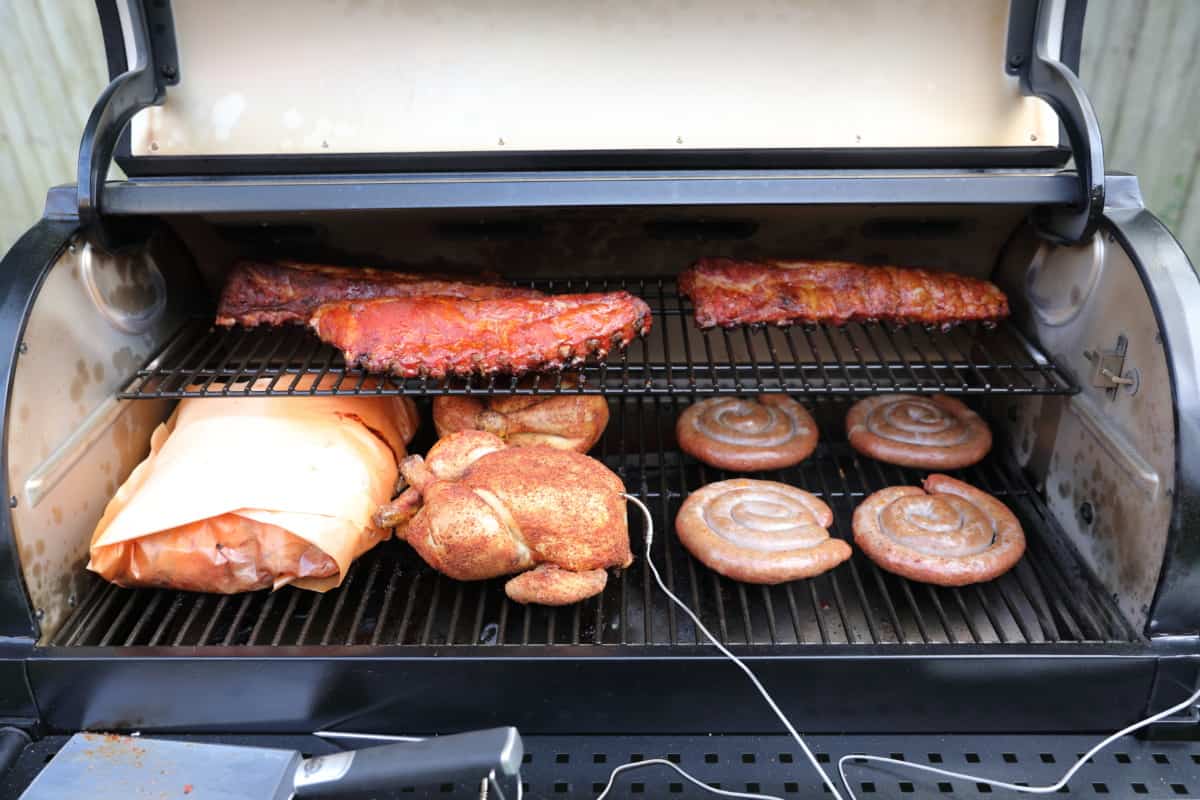 How much space you need under the lid depends on what you cook and for how many people.
For example, if you're a family of 6, or your cut of choice is 15-pound briskets, you'll want a large cooking surface.
The Recteq grills reviewed here offer primary cooking surfaces of 702, 592, and 340 square inches, respectively.
What does that mean in terms of food?
The smallest of the three could take a full-size turkey, or three racks of ribs, or around a dozen burgers. Each grill also comes with a removable second shelf adding about 200 to 300 extra square inches.
Traeger grills use a similar numbering system, with the model number corresponding to the size of the cooking space. The difference is, Traeger's numbers include the extra shelves. Between the six grills, your options are 572, 780, 650, 885, 850, and 1300.
Remember, though, that includes both the primary and secondary grates — and in the case of the Timberline grills, the third grate too.
Even though you have to do some math to figure out the primary cooking surface size for the Traegers (that bugs me a bit), full credit to them for creating a wide range of size options.
Mind you, to get their largest capacity grills, you also have to pay for extra features. With Recteq, the features are consistent across all three sizes.
We'll call this one a draw.
Temperature Range
All three Recteq models in this review have a temperature range of 200F to 500F. You can dial in your target temperature in 5-degree increments. There's also a "FULL" setting that will take you over 500 degrees F.
The Traeger Pro Series units top out at 450F, while the other four can reach 500F. All six units have a minimum temperature setting of 165F.
Now, many sources say searing is not possible on a pellet grill. However, the people that make them say otherwise. What's the truth?
All the Recteq and Traeger grills are capable of producing hot enough temperatures to produce a sear — IF it was direct heat. But, it's not. Wood pellet grills cook using indirect heat. That's how they can smoke and roast for hours without burning anything.
If you watch the demos of guys showing you how they've seared their steaks, you'll realize two things:
First, that it's usually a feeble approximation of a sear.
Second, the guys who get darker marks have only that — there's no sign of any Maillard reaction between the grill marks.
The technique they use for searing on a pellet grill is to crank the temperature up to max, let the grate heat up, and slap on the meat. What you're doing is branding your meat, not searing. You need direct, all-over heat to sear.
If you want to sear on a pellet grill, try putting a skillet on the hot grate and let it absorb a ton of heat. Put your meat on the skillet and let it sizzle!
No clear winner here, though the ultra-low smoke setting on the Traeger units may prove useful.
Hopper Size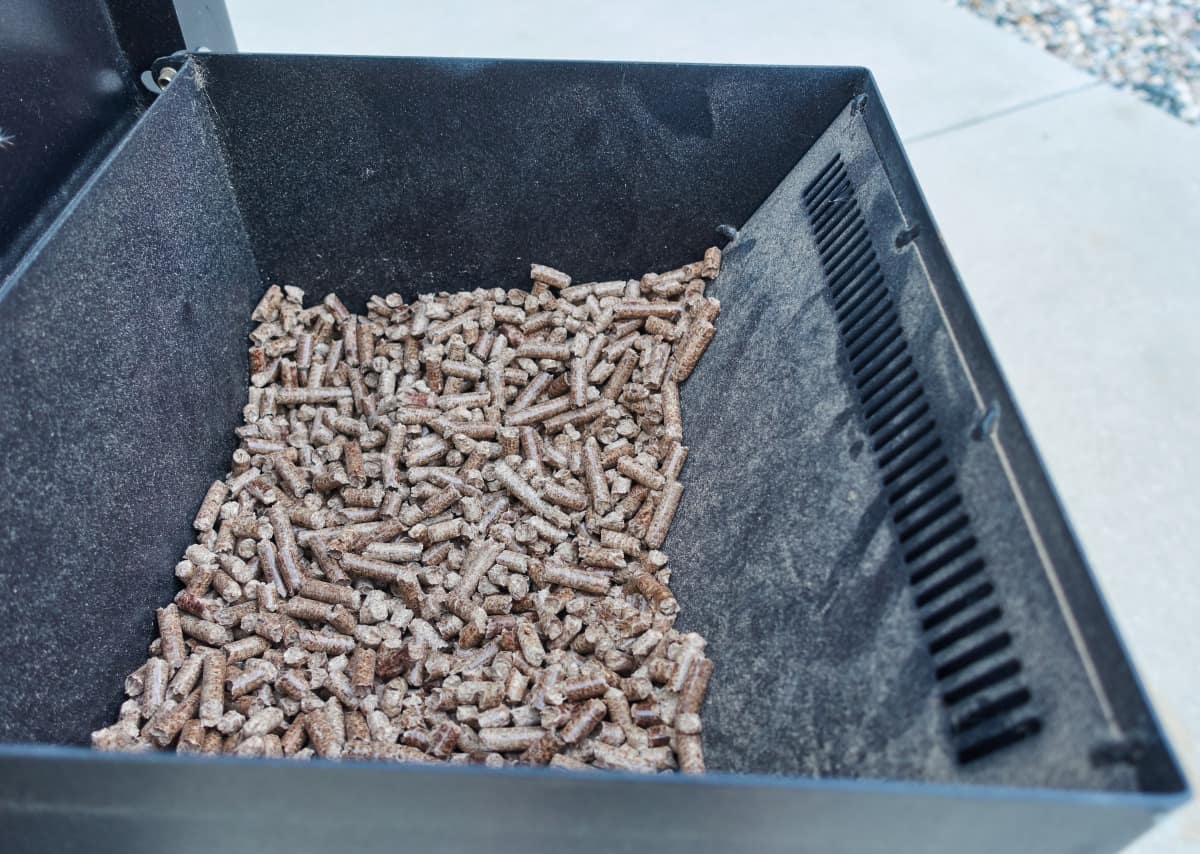 Of those reviewed here, the Traeger grills have hoppers sized at 18, 20, and 24 pounds. The Recteq grills come with 20-, 30-, or 40-pound hoppers, depending on the model.
If you consider the fact pellets come in 20-pound bags, you'll wonder — why would anyone make an 18— or 24-pound hopper? Recteq hoppers use 1, 1 and a half, or 2 bags each. Perfect.
More important is how long a full hopper lasts. Although adding more pellets is easy (lift the hopper lid and pour them in), adding none is easier — especially if you're smoking overnight.
Traeger claims their grills use 1-3 pounds of pellets per hour, depending on the temperature. Recteq gives a moderately confusing figure of "1+/- pound per hour" at 350F. Let's apply the Traeger numbers to both grills for the sake of ease.
An 18-pound hopper will empty itself in 18 hours, in the best-case scenario, at a smoking temperature. At high temperatures, you may get 6 hours. For a 20-pound hopper, it'll be more like 20 hours of smoking and up to 7 hours of grilling.
So, for either brand, your hopper should not need a top-up no matter what you're doing, assuming you started full.
In the end, the edge goes to Recteq, simply because you'll have fewer partially full bags of pellets sitting around.
Added Features, Bells and Whistles
This is an area in which Traeger has really stepped up its game.
The new-for-2019 models are substantially better built than their older models, and come more fully tricked-out with the latest electronics.
All Traeger models feature the new D2 controller, including a variable speed fan and auger, and Wi-Fire technology.
What's that, other than a clever name?
It's the built-in ability to connect via your home Wi-Fi network to an app on your phone for total control of your smoker. It also hooks you up with recipes with step-by-step instructions.
Plus all six grills come with a single meat probe for internal temperature monitoring.
Finally, Traeger grills come with built-in error reporting. So if for some reason your grill doesn't fire up or work properly, quite often the grill itself can tell you what's wrong! Pretty cool.
Recteqs also feature Wi-Fi connectivity and an app for monitoring and adjusting your cook from anywhere you can connect to the internet. The app also includes access to recipes.
They claim their Smart Grill Technology and proprietary algorithm significantly reduce temperature fluctuations.
All Recteq models featured here include two temperature probes.
As to other gear for kitting out your grill, both manufacturers have a selection of goodies you can tack on to your order.
Traeger sells a pellet sensor you can install in the Pro or Ironwood grills that lets you know on the app how full your hopper is. Of course, they offer a fitted cover for each model, and a large assortment of grilling tools, like spatulas, thermometers, smoking shelves, and a nifty magnetic cutting board. They also sell sauces, rubs, pellets, shirts, and hats.
Recteq offers all those bits and pieces, too, including apparel, rubs and sauces, pellets, and tools. They also sell a sear kit to help with that one shortcoming all pellet grills inherently have.
For both the RT-700 and the RT-590, you can add a front folding shelf for extra workspace, and a "competition cart" for added height and stability. A cold-weather cover is available for the RT-700 for you winter grillers.
The coolest add-on from Recteq, though, is the smokebox for the RT-700. This upgrade attaches directly to the side of the grill and looks like a small safe. In fact, it's a cold smoking chamber for things like cheese, fish, sauces, and so on. Cold smoking is a lot of fun, and this is an exciting addition to an already terrific unit.
Price
Let's just say it right off the top. NONE of these grills are what you'd call cheap.
Prices can and do vary, so I'm reluctant to put an actual price here, as it will potentially be incorrect within days or weeks.
However, the current MSRPs of the Recteq grills are between 600 for the entry-level RT-340, up to 1200 dollars for the RT-700.
Turning to Traeger, the six units covered here run from an MSRP from approximately 800 dollars for the Pro Series 575, all the way up to roughly $2000 for the top-end Timberline 1300.
Going to give the nod to Recteq for offering a fully-functioned "entry-level" grill, with two logical step-ups to their top dog.
Not saying Traeger is overpriced, but the bang-for-buck just may be better and more palatable with Recteq.
Top Traeger Grills
Traeger released 6 new grills last year, divided into 3 series: Pro, Ironwood, and Timberline.
Each series features two grills, one larger and one smaller, and the features add up as you climb the ladder from the Pro up to the Timberline grills.
Here's a brief look at each series to help you narrow down what's best for you.
Made up of the Pro 575 and Pro 780, these are the "entry-level" grills of the bunch.
While they share the same controller and Wi-Fi technology as the other two series, you don't get the adjustable grate system or extra insulation for heat retention.
The Pro 575 has 418 primary and 154 secondary square inch cooking surface area, while the Pro 780 has 570 primary and 210 square inches secondary.
The hopper capacity in both is 18lbs. Long enough to last a whole cook, but will leave a little over from a 22 lb bag.
The grills are Wi-Fi enabled, have Traeger's D2 controller, a single thermometer probe for meat, and can be viewed and controlled from the proprietary Traeger app.
They come with a 3-year warranty.
Pros
High-quality powder-coated construction
Has the classic stovepipe chimney
Same size primary cooking surface as Ironwood
Porcelain-coated cast iron grills distribute heat well and are durable
Wi-Fire Wi-Fi enabled wo you can control it from your smartphone, same as the more premium models
Cons
Shorter warranty than REC TEC
Lacks additional insulation offered in the other two series
Hopper too small for a full bag of pellets
No lower storage shelf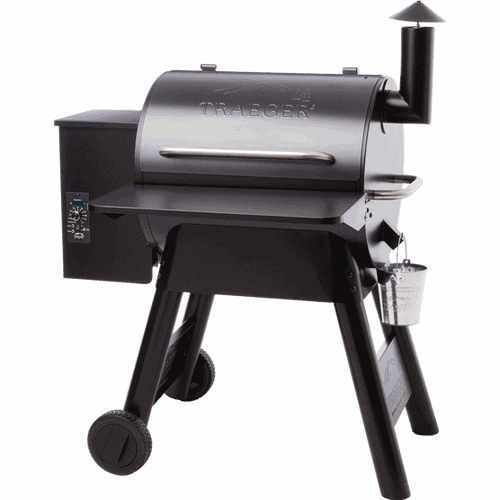 Traeger's mid-tier grills offer the advantages of a slightly larger hopper and double side-wall insulation to help minimize temperature fluctuations.
Although you get the same 418 and 570 sq. In. Cooking area on the primary surface, you get additional space on the secondary cooking racks of 231 and 315 sq. In.
The hopper capacity is 20 lbs, just shy of a full bag, and the temperature range is 160 °F to 450 °F+
There is a single integrated meat probe and the same D2 Controller that is Wi-Fi enabled that you see on the Pro models, with the same Traeger app and a 3-year warranty.
Pros
High-quality powder-coated construction
Adjustable racks
Double side-walls for better heat retention
Cons
Shorter warranty than REC TEC
Primary cooking surfaces are exactly the same as the Pro Series units
No lower storage shelf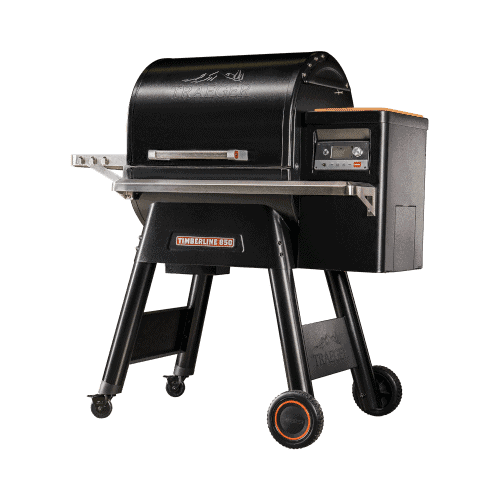 These are the top-end of the new 2019 Traegers. The 1300 is a giant beast in terms of capacity, that's split over 3 racks.
Specs (850 and 1300)
Primary cooking area: 352 sq. In. & 544 sq. In.
Secondary cooking area: 308 sq. In. & 476 sq. In.
Tertiary cooking area: 198 sq. In. & 198 sq. In.
Hopper capacity: 24 lbs.
Temperature range: 160 °F to 450 °F+
Timberline D2 Controller
Single meat probe
Wi-Fire Wi-Fi enabled
Proprietary Traeger app
3-year warranty
Pros
High-quality powder-coated construction
Adjustable racks
Ever wall is stainless steel, double-sided (not just the side walls!) for better heat retention
Huge capacity in the 1300
Cons
Shorter warranty than REC TEC
Primary cooking surfaces are actually smaller than in the Ironwood grills
No lower storage shelf
Top Recteq Grills
Here's a quick overview of three fine grills from Recteq.
Of REC TECs home-sized grills, this is the largest, with 702 sq. In. Of primary cooking space, and 352 sq. In. of secondary.
The entire construction is stainless steel, including the cooking grates, bullhorn handles, and nose ring — I mean towel ring.
It has a huge 40 lbs capacity hopper, so having to refill part way through a cook will never be an issue.
It's stated temperature range is 200 to 500F, good for low n slow smoking, as well as far higher smoke roasting.
With four wheels for easy maneuvering and a large bottom storage shelf, this is a well-designed unit. It looks like it means business, and has a build quality to match.
Wi-Fi enabled, and with a 'Smart Grill Technology' temperature controller, PID controller, and dual meat probes, it's also technologically advanced and doesn't require the addition of an external digital smoker thermometer.
Pros
High-quality stainless steel construction
High-capacity hopper
Long, 6-year warranty
Capacity for huge cuts or cooking for large groups
Cons
Hopper is on the back, which may make access difficult
App is limited in functionality
For more details on this grill, you can check our Recteq RT-700 pellet grill review.
REC TEC's mid-level unit has all the same functions and features as the big guy, but pared down to a more family-sized scale. A family that needs two turkeys cooked at the same time that is!.
It has a primary cooking area of 592 sq. In., with a secondary of 180 sq. In. This is plenty large enough to cook for a large family or medium-sized party.
The hopper capacity is very generous at 30lbs, and will last throughout anything you plan to cook.
As with all grills in REC TECs range, the temperature range is 200 °F to 500 °F+, it has 2 meat probes, the PID and smart grill technology controller, and 4 wheels for easy moving around your yard.
Pros
High-quality stainless steel construction
4 wheels for easy moving
6-year warranty
Versatile mid-sized grill
Cons
Filling the hopper leaves you with a half bag to store
App is limited in functionality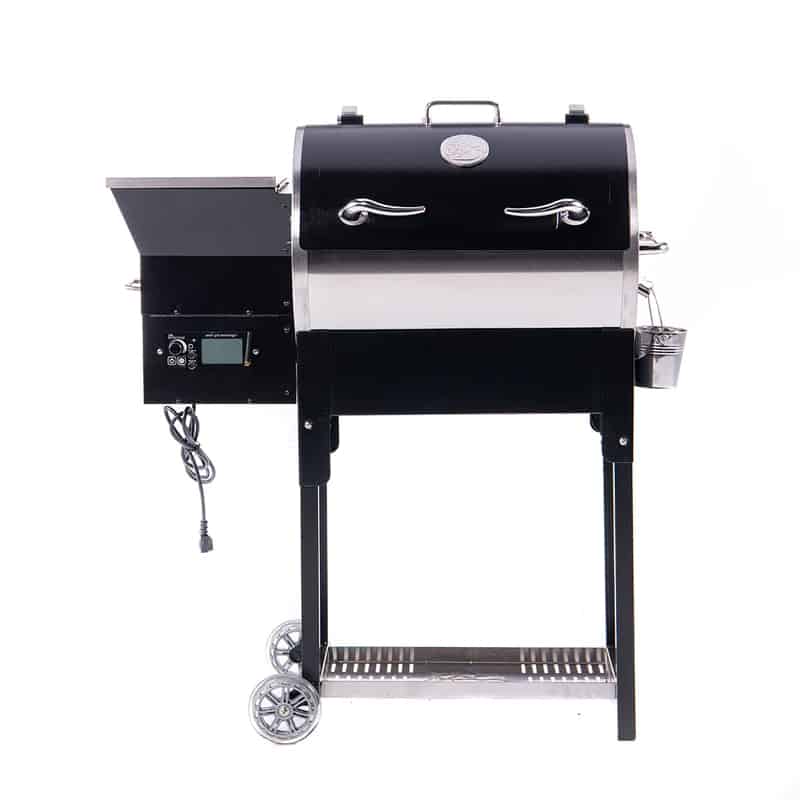 t's small in size, but not in features.
All the things that make the larger REC TECs great are here, including dual meat probes and all-stainless steel construction.
And yes, even the bullhorn handles and towel ring are here, too.
Specs
Primary cooking area: 340 sq. In.
Secondary cooking area: 171 sq. In.
Hopper capacity: 20 lbs.
Temperature range: 200 °F to 500 °F+
Smart Grill Technology temperature controller
Parameter Identification (PID) algorithms
Dual meat probes
Wi-Fi enabled
Proprietary REC TEC Grills app
6-year warranty
Pros
High-quality stainless steel construction
Hopper holds one full bag of pellets
Long warranty
Cons
Only two wheels
App is limited in functionality
Final Thoughts
After all this analysis, do we have a clear winner? Well, only you can decide which pellet grill maker, Recteq or Traeger, is best for you.
Overall, I'd call Recteq the winner, offering the best combination of features, quality, construction, and price.
Not that you can go too far wrong with a Traeger, of course! But, your best value is with the new guy in this head-to-head.
Thanks for choosing this site for your grilling reference. Be sure to check out our other articles, reviews, and recipes to help further your journey to backyard cooking brilliance.
Cheers!