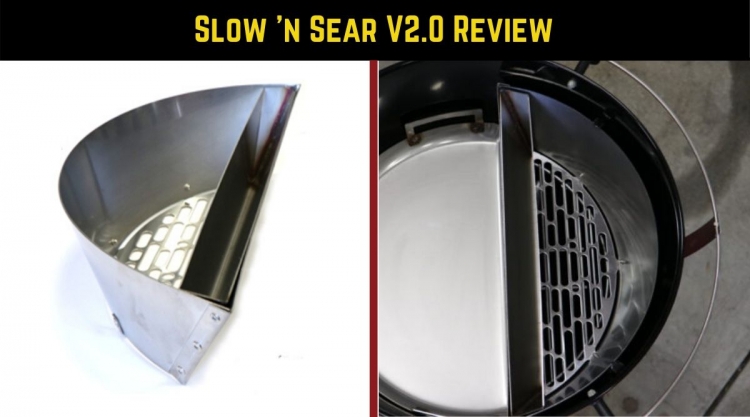 After reading our Slow 'N Sear review, we're pretty sure that for smoking on your kettle BBQ, you'll wonder how you ever got along without this simple, but marvelous add-on.
No matter how much you love a piece of equipment you can still come hard up against its shortcomings on occasion.
You can then choose to:
Ignore it and carry on
Replace it with something "better", or
Modify it, so it does what you want it to do.
If '1' is out of the question, and you don't have the heart (or budget) for '2', that only leaves you one option. Meet the 'Slow 'N Sear Deluxe', a top product that turns your humble kettle grill into a full-blown, easy to manage smoker!
Modifications are a common thing in the barbecue world, despite the fact they often void any warranty that's applicable.
Well here's a mod that will change the way you use your kettle grill without actually changing the kettle itself…or voiding any warranty!
Although you can successfully smoke on a kettle with a charcoal snake and a water pan, it does take some practice to get right, and does have shortcomings. Well here is the solution.
What is the Slow 'N Sear Deluxe?
Essentially, it's half of a charcoal basket ring, with solid side walls, wire mesh bottom and a removable water reservoir that spans the length of the charcoal basket. It is specially designed to fit in a 22" kettle grill (there are other models for other sizes.)
This clever device will not only allow you to smoke effectively in your standard kettle, it's also perfect for creating a 2-zone set up for direct and indirect heat cooking, with a cooler area and a high-heat searing zone.
How Does it Work?
For low n slow smoking
Simply fill the charcoal section with briquettes — it holds a full chimney of 80-100 — and a quart of water to the reservoir, then top the unlit coals with a few lit coals and some smoking wood.
You then place your meat on the side of the grill away from the slow n sear, so it's not at all over the hot coals, and adjust the grill temperature with your vents as you normally would.
The height of the slow n sear, combined with the solid walls, prevents any direct radiant heat from getting to the meat, creating a truly indirect cooking environment that is better than any charcoal snake and water pan configuration.
Finally, the quart of water you add to the slow n sear reservoir serves to regulate the temperature inside the grill, while also keeping the air inside moist, which helps with the smoking process.
For high heat grilling
Light as many coals as you need in a charcoal chimney, from between half to a full load, and when all coals are lit and grayed over, add them to the slow n sear charcoal basket.
You then drop your meat over the briquettes.
The good thing is, you also have an indirect cooking side away from the slow n sear where you can finish off large cuts at a lower temperature and to prevent any burning after a good sear.
To get a clearer picture of how this works, make sure to check out this video:
A Few Words About Adrenaline Barbecue Company
The manufacturers of this product, the Adrenaline Barbecue Company, (ABC) was founded in 2014 by former U.S.A.F. navigator David Parrish and his wife, Catherine.
While adapting to civilian life, David got hooked on barbecuing and eventually realized there was an opportunity to coax a little more use out of basic Weber kettle grills.
Using both his newfound grilling skills and his degree in physics, David developed the Slow 'N Sear.
The company is still run by the pair, and their home base is in Concord, North Carolina.
What Comes Inside the Box?
All that's in the box is the Slow 'N Sear Deluxe itself: a 2-piece unit, with the charcoal basket and a removable water well, all made of welded, 16-gauge 430 stainless steel.
First Impressions
To be honest, it doesn't look like anything special as there really isn't much to it. It's designed to impress with performance rather than appearance.
What is noteworthy is how heavy this little thing is! At 7+ lbs, it's clear this is some serious steel being used here. Expect this sucker to last a long time.
Why do People Choose the Slow 'N Sear Deluxe?
Many people own simple, kettle barbecues such as from Weber. And who can blame them? They're great fun and a backyard tradition.
But, if you get the grilling bug, soon you'll want to upgrade and diversify.
If you don't have the money, space, or desire to own a whole mess of additional grills and smokers, the Slow 'N Sear is an easy and affordable way to open up the world of smoking and extreme searing.
Manufacturer Specs
Dimensions: 4.75" H × 8.5" W × 21" D
Weight: 7.25 lbs.
Material: 16-gauge 430 stainless steel
Capacity: 80-100 briquettes / 1 qt. Water
Key Features of the Slow 'N Sear
Heavy gauge stainless steel — This is a solid and sturdy accessory that should last for years. Such heavy steel is perfect for standing up to extreme temperatures and relatively rough service.
Wedge-shaped water reservoir — The reservoir partially tucks under the charcoal to allow the water to heat evenly from the bottom up. This should release steam at a consistent rate and keep meat moist right through a long smoke. It also acts as a heat shield to keep the temperature down in the indirect zone.
Bottomless charcoal section — As the briquettes and wood chunks burn, the ash will drop into the bottom of your grill. Cleaning the Slow 'N Sear should be easy, since there will be no ashes or partially spent briquettes to remove.
Important Details
Facts and Figures are Great, but How Does it Work? And Does the Manufacturer Stand Behind Its Products? All Will Be Revealed…
Ease of Use
If you already own a kettle grill and are familiar with using charcoal, you'll find this is an extremely easy product to use. Of course, you will need to learn a bit about smoking, especially how to use your vents to control a lower temperature.
Searing at volcanic temperatures also takes a try or two to get used to — you might scorch your first piece of meat! Before long, though, you'll be a Slow 'N Sear wizard.
Cleaning and Maintenance
This aspect of slow 'n sear ownership should be very simple. Wipe it down with warm, soapy water, dry it off, and store it in an enclosed place.
Available Support
There is only one Slow 'N Sear community that I could find, but it has more than 10,700 members — not bad for an accessory!
You can find these fine folks right here: Slow n Sear Facebook group.
ABC maintains Facebook, Twitter, and Instagram accounts, plus there's a forum on their website where the founder himself chimes in often. There's also a newsletter you can subscribe to.
For support, you can certainly try the online forum, or you can call their local number. There's an email address to contact them if you'd rather not incur long-distance charges. (I'm guessing not many of you live in Concord.)
Available Upgrades, Accessories and Attachments
There is currently only a slow n sear deluxe to fit a 22" grill, though it will work perfectly in larger grills also.
There is a 'Drip 'N Griddle pan', which serves two purposes as either a drip pan to place under your meat to catch drippings, or to use a griddle that sits on the standard grates above charcoal, giving a solid cooking surface.
Finally, you can buy the Slow 'N Sear charcoal basket only, without the water reservoir.
Warranty Details
30-day money-back satisfaction guarantee
Quick Tips to Get the Most Out of Your Slow 'N Sear
Use briquettes, not lump charcoal. Although you can use any fuel in the Slow 'n Sear Deluxe, briquettes burn more consistently so are easier to maintain a steady temperature in a kettle.
If you struggle to hit really high temperatures over 400F, make sure all coals added are fully lit, open all vents fully, and make sure nothing — from the basket on the slow to sear, to the vents in the base of your grill — is clogged with ash from a previous cook.
Pros
Fits perfectly in a 22" kettle
Easy to use
Searing zone is crazy hot
Creates a true indirect zone for low n slow smoking — No radiant heat can make it to your food unlike with a charcoal snake.
Adds new life to an old kettle for a moderate price
A good warranty policy: 10 year rust-through coverage (does not cover surface rust); 10-year weld coverage, 3 years for rivets.
Not much can really go wrong with it.
Cons
Cannot be used with many models of grill, only on certain Weber and Napoleon grills.
Should You Buy the Slow 'N Sear Deluxe?
Cooking with the Slow 'N Sear should be a lot of fun, and it's a simple solution for anyone looking for ways to juice some use out of a one-trick-pony kettle grill.
How great would it be to smoke a brisket or a turkey on your kettle and wow your friends and family? Or give that juicy steak a killer sear in a matter of seconds?
Sure, you can set up dual-temperature zones by piling your briquettes on one side of the grill, and you can use a water pan. The SnS is so much easier, though, and you get that unmatchable heat by having the fire right under the grill.
Yes, you can do all this without a special device, but you won't do it with such simplicity, accuracy, and consistency.
If you own a compatible kettle, this is a great accessory to own.
Wrapping up Our Slow N Sear Review
If you love your kettle grill, and you love great smoked meat, you owe it to yourself to try out this nifty accessory. (Yeah, I said "nifty.")
It's perfect for anyone who wants to try some smoking, but maybe doesn't want to jump into buying a dedicated smoker, and isn't ready to replace their kettle with a multi-purpose grill. With a money-back guarantee, you literally have nothing to lose.
If you want to look at it some more, or if you're ready to order yours now, here's a link:
Thanks for checking out our Slow 'N Sear Deluxe review. With any luck, it has inspired you to see your old kettle in a brand-new light.
Got any thoughts on this, or any of our articles? Please do share them with us below, as well as any questions or concerns you've got on your mind. We'll answer them as best we can.
We're glad you could stop by today, and we sin-sear-ly appreciate your support!