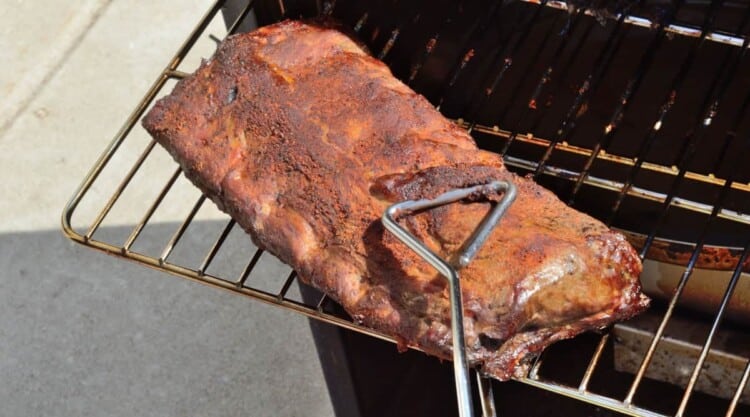 Today, we smoke meat not because we need to preserve it, but because it tastes frickin' amazing. The problem is, it's a fairly complex process that demands a lot of attention from the cook.
A typical charcoal or wood-fired smoker requires constant adjustment of baffles and vents to hold the right temperature. Not everyone has the patience for that.
There are many options for would-be smokers now, including easy to use electric smokers, relative newcomers that are growing in popularity such as advanced pellet grills, and basic but effective propane gas smokers that do a lot of the work for you.
Some come with fancy digital controllers, Bluetooth and Wi-Fi. But not everyone has the money for that. We may have the solution, one we'll discuss in this, our Smoke Hollow electric smoker review.
The Smoke Hollow electric smoker strips smoking down to the basics to make it incredibly simple, and accessible to anyone. So Keep reading to find out if this is the low-cost, low-hassle answer to your smoking prayers.
The Smoke Hollow Electric Smoker in A Nutshell
As an electric smoker, this unit offers one of the easiest ways to get into the world of smoking.
Using real hardwood chips provides smoke flavor, and the electric heating element works automatically without the need for fiddling with baffles or vents, or messy charcoal.
You won't even need a supply of propane or natural gas, just an electrical outlet nearby.
A Few Words About Smoke Hollow
Smoke Hollow has been around since 2005 and is owned by a company called Outdoor Leisure Products.
Based in Missouri, they specialize in budget-friendly gear for the backyard and camping.
Under the Smoke Hollow name, they sell a variety of propane and electric smokers, pellet grills, charcoal grills, portable barbecues, and the occasional grill and smoker combo.
What's in the Box?
Owner's manual
Smoker cabinet
4 legs
2 stainless steel cooking grates
Water pan
Wood chip pan
Plug and temperature control unit
First Impressions
There's no question when you look at the Smoke Hollow 26142E electric smoker, it gives you back-to-basics vibes. There are no frills here: no big chimney, no glass door, and no digital readout. But that's ok! We've chosen this unit to review precisely because it's stripped down and affordable, but still highly functional.
Actually, it looks a lot like an old bank safe, with its flat black paint job and simple, box-like shape. A safe on legs, to be specific. Given the way the legs are splayed out, we're guessing there's no way even the drunkest party guest will manage to knock this smoker over.
The construction appears very simple, and you'll only be required to do a tiny bit of assembly.
The box is welded together and looks sturdy. Inside, you can adjust the position of the two cooking grids to accommodate different size cuts of meat. And though it has a small footprint, you can readily fit an entire turkey inside with plenty of room to spare.
Why do Customers Choose the Smoke Hollow 26142E 26-Inch Electric Smoker?
Smoking meat is a great hobby for anyone looking to go beyond the basics of grilling and into true barbecue.
People choose this smoker because it offers an entry-level price tag and easy operation for anyone just testing the waters, as it were.
Specs
Dimensions (H, W, D): 35.5" × 19" × 16.5"
Weight: 35 pounds
Portability: Semi-permanent location
Fuel type: Electric heating element, wood chips
Cooking area: 1.3 cubic feet
Power: 1500 watts
Preheat required: Yes
Temperature range: 150 °F – 250 °F (65 °C – 121 °C)
Key Features
Cool touch handle
Wrap-around heating element
Welded steel cabinet
Infinitely adjustable thermostat
The Smoke Hollow 26142E 26-inch electric smoker is a basic unit, but it includes some notable features. For instance, the cabinet is made of steel, and it's welded along the seams. This means not only will it trap heat inside (steel sucks at conducting heat), but it will also hold the smoke inside where you need it.
Now, just because most of the heat stays inside, that doesn't mean the exterior won't heat up. The spring-styled handle stays cool to the touch, however, allowing you to check your meat or add wood chips without burning your hand. (It's always best to wear heatproof BBQ gloves when working with a lit smoker or grill, of course.)
On some electric smokers, the element is entirely underneath the chip and water pans. This means that a lot of the heat may be blocked, slowing down your cooking time. On the 26142E, the element wraps entirely around the two pans, allowing more heat to reach the meat, lowering cooking times, and ensuring even heat throughout the smoker.
If you've ever made pancakes on one of those electric griddles, then the temperature controller is going to be very familiar to you. There are just four words on it: off, low, medium, and hot.
Between low and hot, you can set the knob wherever you like. The optimal smoking range will likely be somewhere between medium and hot, and you can make minute adjustments to hit your target temperature with precision.
Ease of Use
Smoke Hollow has gone all out to make this one of the simplest, if not the simplest, smoker to operate on the market. Even if you've never smoked before, you'll find using this smoker incredibly easy.
The wood chip tray makes loading chips a snap, there is just a single vent to deal with, no apps to download, no charcoal to position and light, and no gas to run out.
Cleaning and Maintenance
After each use, remove the two pans and the cooking grids. Wash them in hot, soapy water, rinse, then allow them to air dry.
Smoke Hollow suggests coating the inside the smoker and the grids with a bit of vegetable oil or cooking spray to inhibit rust.
You should also clean off the heating element between uses to remove any food debris or grease that might taint your smoke. Obviously, wait for the element to cool off completely.
If you see any surface rust on the exterior of the smoker, you can brush it off with steel wool and touch up the paint with any high-temperature rated paint. Since the smoker is basic black, it shouldn't be difficult to get a reasonable color match.
Available Support
As you might expect, the first place to go for support with your Smoke Hollow 26142E electric smoker is their website. Under the support tab, you'll find FAQs for general help and smoker-specific topics.
To get in touch with Smoke Hollow, you'll need to fill out an online form and provide all the relevant information. You can choose topics from a drop-down menu, and there's a spot for attaching pictures. Additionally, you can sign up for their newsletter. Replacement parts are also available online.
If you like talking to live people, you can phone a toll-free number in the US, Monday to Friday, 8:30 am until 4:30 pm, Central Time.
As of the time of writing, Smoke Hollow does not have any official social media presence. However, we've poked around the web and found several examples of people posting how happy they were with the level and speed of customer service.
Available Upgrades, Accessories and Attachments
Smoke Hollow does not offer much in the way of accessories, but they do sell the one extra all grillers need to own: a fitted cover.
Because this is an electric smoker, it must be protected from moisture. The best way to do that, short of storing it indoors after every use, is to buy a cover to keep it dry.
Warranty Details
The Smoke Hollow 26142E electric smoker comes with a 1-year warranty against defects in workmanship and materials. It doesn't cover the paint or rust, and you're responsible for shipping charges to have anything looked at by the company.
Register your new smoker at the website to help expedite any warranty claims you may make.
Summary of Pros and Cons
Pros
Virtually mess-free smoking with no charcoal
You won't run out of fuel, neither charcoal or gas
Simple to operate, as easy as using your kitchen oven
Cons
You can't run it in the rain or snow (not that we really want to be out there in that weather, either)
There's no digital readout for temperature
There are no wheels for repositioning — but, fortunately, it's not that heavy
Quick Tips to Get the Best Out of the Smoke Hollow Electric Smoker
Follow this guide to seasoning an electric smoker with cooking oil before the first use as outlined in the owner's manual
Unplug the controller and store it indoors to keep it safe and dry when not in use
Always use the water pan — electric heat can dry out your meat without the added moisture
Use hot water in the pan to avoid lowering the air temperature inside the smoker
Should You Buy the Smoke Hollow 26142E?
After all the articles you've read about smoking and all the smoked meat you've consumed at ribfests, you've decided to take the plunge and try it yourself.
If you're not really sure if smoking is for you, or you're just on a budget, this smoker is the perfect choice for a first foray into smoking without dropping a ton of money and without a steep learning curve.
Should you choose to upgrade down the road, you'll look back fondly on this nifty little smoker for helping you step into a new world of outdoor cooking.
Other Models Might Suit You if
You already own a smoker and want to upgrade to something more high-end
There is no convenient source of electricity where you plan to cook
You plan on smoking in inclement weather
Final Thoughts
Thank you for making it to the end of our Smoke Hollow electric smoker review.
One of the great joys of outdoor cooking is all the different styles of cooking you can try. Smoking is one of our favorites, and it's the source of some of the most delicious cooked meat on the planet: ribs, brisket, butts, shoulders, poultry — they're all incredible served fresh from the smoker.
The Smoke Hollow 26142E lets you experience the joys of smoking the simplest, most accessible way we've seen.
If, after all this, we have somehow failed to answer all your questions about this smoker, we invite you to drop them in the comments section below. We will absolutely answer all your questions.
Thanks for reading and good smoking to you and yours.