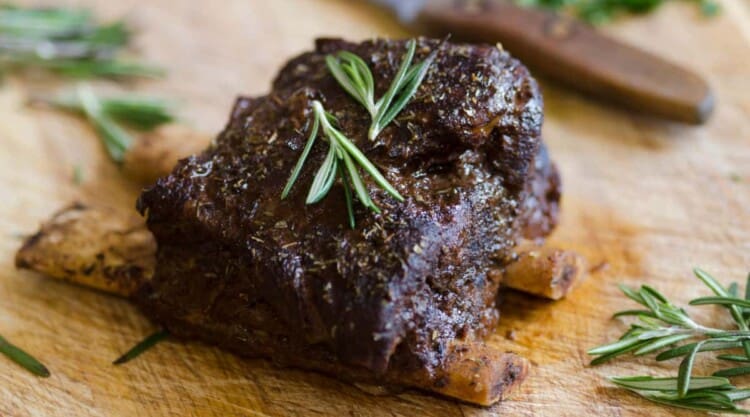 The logical next step after you've got the barbecue bug, and you want to move beyond just grilling is smoking.
Smoked meat is awesomely delicious, and it's a very special thing to serve your own smoked goodies to your friends and family. Smoking is a labor of love, and once you've got the itch, you can't scratch it enough.
There are a lot of good smokers out there to choose from, and there are plenty of mediocre ones, too.
Part of what we do here is research. We look into all kinds of grilling and smoking products, so you don't have to, and to (hopefully) keep you from buying something you later regret.
We've got plenty of general interest articles, but this time around we're getting up-close and personal with a particular unit.
By the end of our Smoke Hollow gas smoker review, you should have a pretty clear idea of whether this unit is right for you, or not. It appears in our guide to the best gas smokers, but we look way more in depth here.
Let's have a look at this intriguing product.
What is the Smoke Hollow 44241G2 Gas Smoker?
In a nutshell, this is a propane-fired, 2-burner, meat smoker.
Wood chunks and chips heated by the burners at the bottom of the smoker release smoke into the upper chamber. Meat in the upper chamber slowly cooks and smokes, taking on some flavors of the smoked wood and chips.
Using a smoker is the best way to cook meat low 'n' slow — smoked brisket being a popular example — and impart that heavenly taste of wood smoke.
A Few Words About Smoke Hollow
Smoke Hollow is a brand of grilling and smoking gear built and distributed by Outdoor Leisure Products, a Missouri-based company founded in 2005.
The Smoke Hollow brand name is on pellet grills, gas grills, charcoal grills and smoker grill combos, as well as both vertical and horizontal smokers. You can buy their stuff online and at many major retailers.
What Comes Inside the Box?
The 44241G2 comes packaged with two wood chip pans, a water pan, and five cooking grids: 2 standard, 2 jerky, 1 rib rack, and 1 sausage hanger.
First Impressions
At first glance, this looks like a sturdy, well-built smoker. Or at least it will be once you put it together (it comes in 36 pieces). Fortunately, the manual has clear, step-by-step instructions with diagrams to help you through the assembly process. There are no tools included, but all you need is a Phillips screwdriver and a wrench or pliers. Expect to be up and running in about 30-45 minutes.
The basic black makes it look like an old-time smoker; there aren't a lot of bells and whistles or frivolous design features. It's not fancy, but it just looks like it's going to do what it's supposed to do, if that makes any sense to you. (Although it also looks like it could be a bank safe.)
It appears to be well-built, and none of the parts seem flimsy or shoddy. The metal is reasonably thick, though the door is thinner, and it's not uncommon for them to arrive with a few minor dings from shipping. That's hard to avoid, especially if you order one for delivery.
So if you can, maybe it's a good idea to get one at a store.
The legs flare out considerably, but that just reassures you that it is not going to tip over if you yank on the door handle, or a sudden gust of wind catches hold of it. I wish there were some way to conceal the LPG tank, but this is a minor concern. Maybe you're handy and can build a nice stand or box?
It's pretty big, and with those splayed legs, it takes up a fair bit of space. Can't deny how cool it would look in the backyard, though.
Why Do People Choose Smoke Hollow Products?
Smoke Hollow products represent excellent value for the money.
There are cheaper smokers, and there are more expensive smokers. Smoke Hollow occupies the middle ground in terms of price and performance. It's a great way to get into the world of smoking at a slightly higher than casual level.
Smoke Hollow 44241G2 Specs
Exterior Dimensions: 60" H × 33" W × 24.5" D
Interior Dimensions: 44" H × 24" W × 16" D
Weight: 100 lbs.
Material: Steel
Fuel Source: LPG
Total Cooking Area: 7 cu. ft.
Number of Burners: 2
BTUs: 2 × 12,000
Key Features of the Smoke Hollow 44241G2
5 chrome-plated cooking grids
There's plenty of shelf space for cooking a lot of meat at once, and the specialty grids are great for accommodating ribs, jerky, and sausages without having to MacGyver together your own rigs.
Porcelain-coated water pan
A water pan has many uses, including adding moisture to your meat, regulating the temperature, and evening out the heat distribution. This durable pan should stand up to repeated usage and will clean up with ease.
2 porcelain-coated wood chip pans with lids
Wood chip pans make it easy to feed your smoker, and having two gives you the option of creating more or less smoke, or blending wood "flavors."
2 independent stainless steel burners
Two is always better than one, right? (Except when it comes to significant others.) While you won't be using two burners to create heat zones as you might on a barbecue, you can choose to use just one burner for very low-temperature smoking.
Push-button ignition
LPG is all about convenience, and it doesn't get much more convenient than pushing a button to start a fire. You'll save a lot of time versus waiting for charcoal to ignite and come up to temperature, which is great, because smoking takes long enough as it is.
Built-in thermometer
Maintaining your temperature is crucial to good smoking, so keep your eye on the dial. Many grillers and smokers invest in their own thermometers, but it's still a good feature to have.
PRO TIP: You should check thermometer's accuracy with a remote probe to be sure it can be trusted before you try smoking for the first time. If you know it's off, you can adjust accordingly.
Spring wire door handle
You may have to open and close either or both doors repeatedly during the smoking process. Oven or BBQ mitts are a great idea, but with the spring wire handles, there's little to no chance you're going to burn yourself if you prefer a bare hand; they simply do not heat up during use.
Separate doors for burner section and smoking section
As mentioned previously, you want to hold a consistent temperature while you're smoking. Opening the door can cause sudden and drastic heat and smoke loss, which can delay or totally throw off your smoking.
Having a separate door for burner and wood chip access allows you to add chips and check your fire without losing heat in the smoking chamber.
Adjustable side vents
Vents are necessary for controlling airflow into the burner box. More air means a hotter flame, and less air means a cooler flame since fire needs oxygen to burn. Having the vents on the sides makes them very easy to access.
Top smoke vent with cap
The smoke has to leave the smoker eventually, and the top is the best place for that to happen. The top vent allows the smoke to pass around all the meat in the smoker before exiting. The top cap will minimize the effects of downdrafts and should keep rain and snow from getting inside, allowing you to grill in the rain.
Important Details
Let's look beyond the specs and get down to the nitty-gritty. What can you expect upon becoming an owner of a Smoke Hollow 44" vertical smoker?
Ease of Use
If you aren't a fan of fussing with charcoal, then you'll like the simplicity of this unit. The push-button ignition fires up the burners with ease. From there, all you have to do is keep your wood trays loaded and adjust the dampers as needed to hold your temperature. Yes, there's a bit of a learning curve there, but at least you still have an open flame for an authentic smoking experience.
With the dedicated rib, jerky, and sausage racks, you should have no trouble smoking a variety of meats. The two-door configuration is excellent for being able to feed your wood supply without losing your temperature in the smoking section.
Cleaning and Maintenance
Lining the wood and water trays with aluminum foil will significantly reduce the amount of maintenance you'll need to perform on these pieces.
As for the inside, all you need to do is wipe off the cooled racks with a damp cloth to remove any residue. The same goes for the interior of the smoker.
You don't have to perform heavy-duty cleaning with chemicals at any time; you don't want to remove the seasoning, or risk causing nasty fumes that will make your meat taste like cleaner.
Available Support
The manufacturer can be reached at a toll-free number Mon-Fri for support, as well as by email. You can mail them a letter, too, though I don't know why you would do that.
Those who have contacted Customer Service have reported mixed results. While many have raved about polite service and speedy replacement of missing or damaged parts, others have found them challenging to get hold of or to get a response.
My suspicion is this is a small company without a lot of "operators standing by to take your call." The fact there's no one answering the phone on the weekend when most of the smoking is going on compounds this problem. My advice is always to go back to where you bought it first if there's a serious issue.
PDF manuals are available online for all their products, and there is a fairly detailed FAQ section, as well.
There is one fairly small Facebook group for Smoky Hollow smoker users, and the manufacturer maintains a page, as well. They also have Twitter and Instagram feeds, but that's more advertising than support.
Available Upgrades, Accessories and Attachments
Warranty Details
1-year limited warranty on all parts
90-day warranty on paint, excluding rust
Does not cover neglect, abuse, or modifications
Does not cover repairs
Summary of Pros and Cons
Pros
Sturdy legs
Different kinds of racks for different meats
Dual burners for better heat control
No glass to get dirty
Good bang for the buck
Cons
Pressure safety valve on the regulator may reduce gas flow, but once you've learned how to avoid that, it shouldn't be a problem
Nowhere to conceal the LPG tank
Quick Tips To Get the Most Out of Your Smoke Hollow 44241G2
Fire up one burner only to keep temperatures low
Use a remote thermometer for accurate temperature readings
Consider adding an oven-type gasket around the door to reduce smoke leakage
Take advantage of the space and smoke big, honkin' slabs of meat
Should You Buy the Smoke Hollow 44241G2?
If you want to start smoking, but you don't want to invest a lot of money, the Smoke Hollow 44" vertical smoker may be right for you.
It won't give you the greatest smoking experience on the planet, but that's ok. It's a good place to start — modest investment and minimal learning curve. We do recommend this smoker for new and casual smokers who plan to take advantage of the large capacity of the unit.
If you want to check it out further, click these links:
Other Models Might Suit You If:
You don't plan to smoke very often
You have limited space in your cooking area
You don't need to smoke large amounts of meat
You can't use LPG tanks at your location
Smoke Hollow 44241G2 Not For You? Here Are Some Great Alternatives
We don't want you to walk away from this article empty-handed, so if the Smoke Hollow 44" vertical smoker doesn't suit your needs, perhaps one of these will:
Smoke Hollow 26142G 26" Propane Gas Smoker
This diminutive vertical smoker works just like the big boys but takes up far less room. If you only plan on smoking for yourself or a small family on occasion, this unit might be more suited to your needs.
Click here to check it out.
Smoke Hollow 3616DEW 36" Digital Electric Smoker
If you have a gas problem rather than a space problem, we've got you covered. This plug 'n' play smoker needs no gas, but still gives a good smoking experience, with plenty of capacity.
All you need to know is here.
Cuisinart COS-244 Vertical 36" Propane Smoker
How about an attractive smoker from a name you know, even if it isn't because of their grilling gear?
It's a bit smaller overall than the Smoke Hollow 44241G2, but still has ample capacity for smoking a good bit of meat. It shares some of the same nice features as the Smoke Hollow unit, including dual doors and stay-cool handles.
If you think it might be worth a look, we'll wait while you take a look over here.
Wrapping Up the Review
And just like that, here we are at the end of our Smoke Hollow gas smoker review. We hope we've provided you with enough information in our Smoke Hollow gas smoker review to decide whether this unit is what you need, or at least if it should be on your short-list.
We believe this is a good product that can provide a lot of enjoyment to someone who wants to try experimenting with smoking his or her own meat, wants to feed the whole gang, but isn't interested in going commercial.
If you want to see this smoker for yourself, or you want to dive in and place an order, here's your link: Smoke hollow gas smoker at Amazon.
However, if you want to shop around some more, we've got several other reviews you can check out, as well as general interest articles on smoking. Feel free to look around.
And if you have anything you want to say to us, we'd love to read your comments and questions, so please do get in touch.
Thanks for spending some time with us, and we hope you're well on your way to smoking up a storm.