Is a new propane grill in your future? We're guessing yes, since you've somehow landed on and are reading this Weber Spirit ii E-310 review.
In this deep dive look at Weber's 3 burner, propane gas grill we let you know about all the features and what they can do for you, pros and cons, what we like, what could be improved, and what to expect when you buy a Weber.
There is a reason people say, "now we're cooking with gas" when things are suddenly going well; gas is efficient, reliable, and always ready when you need it. How many things in life can you say that about?
For those reasons and more, gas has become a popular fuel for outdoor cooking, as well as indoor. First developed in the 1950s, propane grills appeal to those who'd rather focus on something other than charcoal placement and airflow.
By the end of this article, you'll know whether gas grilling, and specifically the Spirit II E-310 is the right grill for you.
Ready for a glimpse of your possible future?
The Weber Spirit II E-310 Propane Grill in a Nutshell
As with most gas barbecues, this is pretty much a straight-up grilling machine. It's best suited to searing and cooking those burgers, dogs, steaks, chicken breasts, and more that we all love.
However, because it features three separate burners, it's possible to set up multizone cooking.
This could mean searing on one very hot section of the grill and then finishing on another, cooler section. Or, you can use convection to roast or slow cook meat for many hours over indirect heat.
With more burners, you have more options. And, it does all this without the need for charcoal, pellets, or wood.
The Weber Spirit ii E-310 also appears highly in our roundup of the best propane gas grills, as well as the NG version in our guide to the best natural gas grills, and our list of the best gas grills to buy under $500. So what do we see in it to give it such praise?
Let's start with a look at the company, Weber, themselves.
A Few Words About Weber
The Weber company was once known as Weber Brothers Metal Works, with its base located in Chicago. Their main product — buoys.
In the 1950s, an employee named George Stephens (who apparently loved barbecuing to a degree most of us will never know) was so fed up with bad experiences with his brazier-style grill he decided to invent a better 'cue.
George cut a buoy in half and used the bottom for a fire pit and the top for a lid. Adding a few holes for airflow kept the charcoal burning, and the cover kept heat circulating. It was a revolution in grilling.
He began selling them on his own, but the demand grew so high that he couldn't keep up. Eventually, he bought out Weber Brothers and was soon mass-producing his kettle grills.
Today, they still make the Original Kettle, as well as an extensive line-up of gas grills, some of the best portable gas grills, an electric grill, smokers, and loads of accessories.
Specs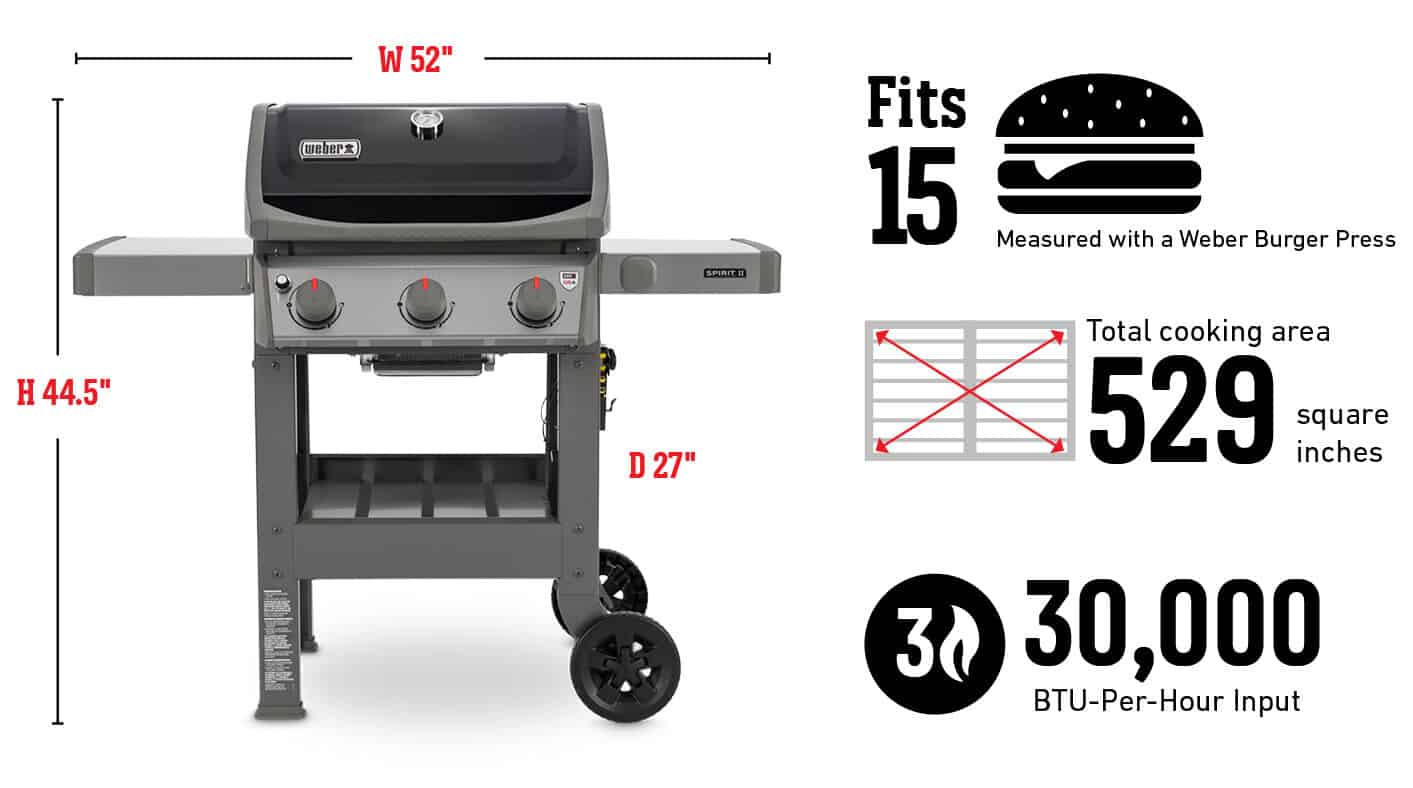 Dimensions (H, W, D): 57" × 52" × 26" (Width is 42" with left shelf folded)
Weight: 114 pounds
Portability: Semi-permanent location
Fuel type: propane
Cooking area: 424 sq. In. primary; 105 sq. In. Warming rack
BTUs: 3 × 10,000
Preheat required: 10-15 minutes on high
What's in the Box?
Everything you need to get up and running, with only a small amount of assemble that takes approximately an hour:
Owner's manual/assembly guide
Firebox including grates, heat deflector, and Flavorizer Bars
Hardware and parts for stand/cart
Control console and igniter
3 burners
LPG tank connection
LPG tank scale
2 wheels
2 side shelves
1 AA battery
First Impressions
Have to say, this is a nice looking grill!
The two-tone gray finish looks sharp beside the gloss-black lid and black wheels. It has a classic gas grill appearance, except for the unusual curves in the legs that lead to the wheels. More than just an aesthetic choice, the curves place the wheels under the propane tank for better balance.
That's just one of the nice-to-have features included on the Spirit II E-310. The lower shelf is not only sturdy, but it's also slatted to prevent water from accumulating.
Cable management clips keep the various wires up and out of harm's way. And the grease management system (aka drip pan) is easily accessed from the front, not hidden around the back like on some models.
Good quality materials are used throughout. If you put it together with care and attention to the instructions, this grill should last for many years.
Why Do Customers Choose the Weber Spirit II E-310 Propane Grill?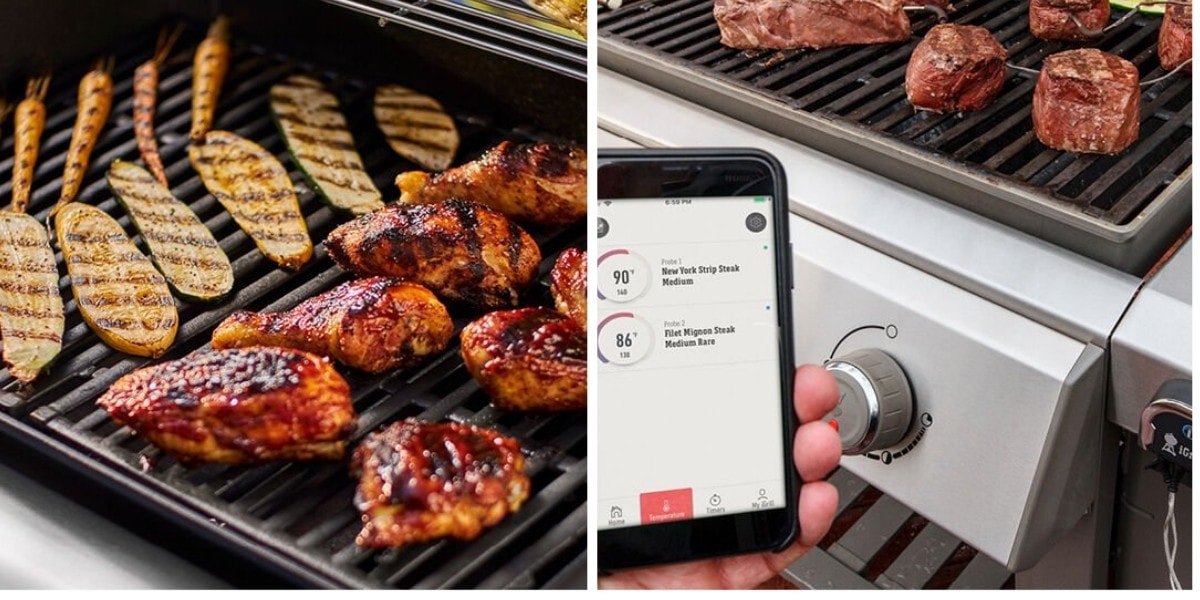 Weber is a respected and well-recognized name in the barbecue world that customers know and trust.
It's a versatile grill that may be a step-up for many newer grillers. In fact, Weber bills it on their website as "your first upgrade."
For anyone looking to get a little more from their grilling experience than a basic barbecue can offer, the Spirit II E-310 is an appealing choice.
Key Features
Push-button electronic igniter
Porcelain-enameled Flavorizer bars
Porcelain-enameled cast-iron grates
2 x side shelves (1 folding)
3 individually controlled burners
Fuel gauge
iGrill 3 compatible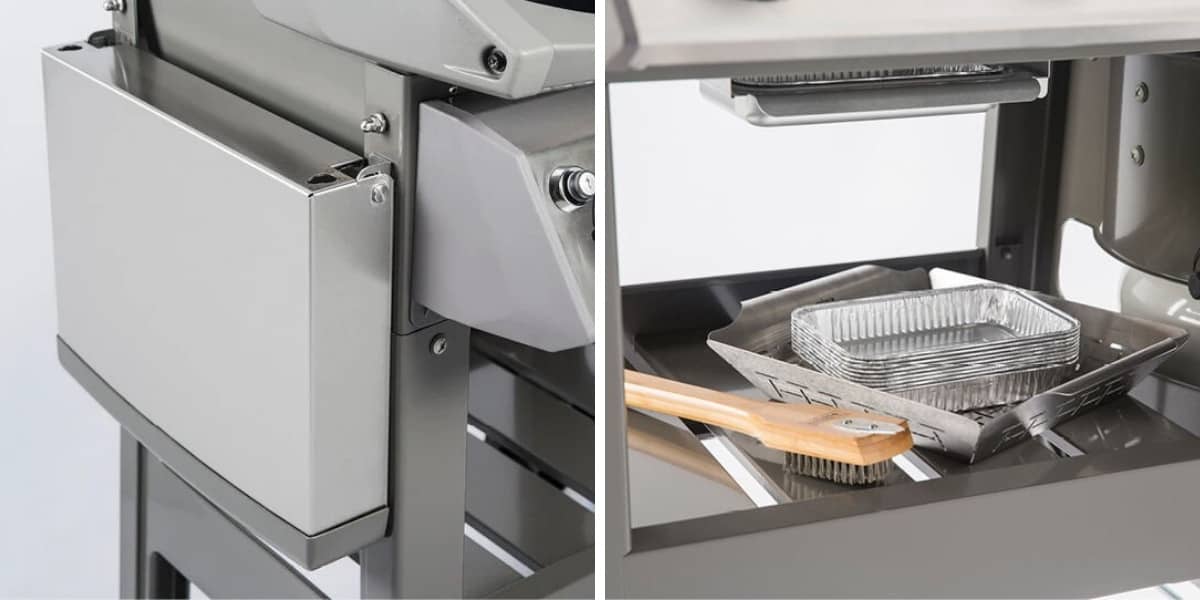 Among the coolest features of this grill are the Flavorizer bars.
A series of five angled sections of porcelain-enameled metal, they run the depth of the firebox between the burners and the grates. They serve two purposes: preventing drippings from clogging the burners, and adding extra flavor.
How?
Grease and juices that fall on the super-hot Flavorizer bars vaporize and rise as flavored smoke and steam, giving your food a richer taste.
Outside the firebox, you'll find the twin side shelves. These are incredibly handy for resting plates and trays, sauces and rubs, and more. Plus, each shelf has tool hooks for keeping your spatula, tongs, and other implements ready when you want them.
From the front console, you can control three individual burners. Having three burners gives you cooking options you don't get on a single-burner grill.
For instance, you can have a high-heat sear zone and a low-heat finishing zone. Or, you can have all the heat coming from one side and none on the other for indirect cooking of large cuts like roasts. Additionally, you could run the two outside burners and leave the middle burner off for gradual but even cooking of food in the center of the grill.
One of the major drawbacks of grilling with propane is the risk of running out of fuel in mid-cook. Weber has you covered; the Spirit II E-310 includes a built-in scale that lets you know how full your tank is. As you use up your propane, the tank gets lighter. A visual indicator on the scale tells you if it's time to switch out your tank.
On the right-hand shelf, you'll see a badge that reads "iGrill3 ready". That means your new grill is compatible with Weber's proprietary thermometer system. A digital thermometer helps you cook to perfection since doneness is measured by temperature, not time. You can read more about it in the Available Upgrades, Accessories, and Attachments section a little further down.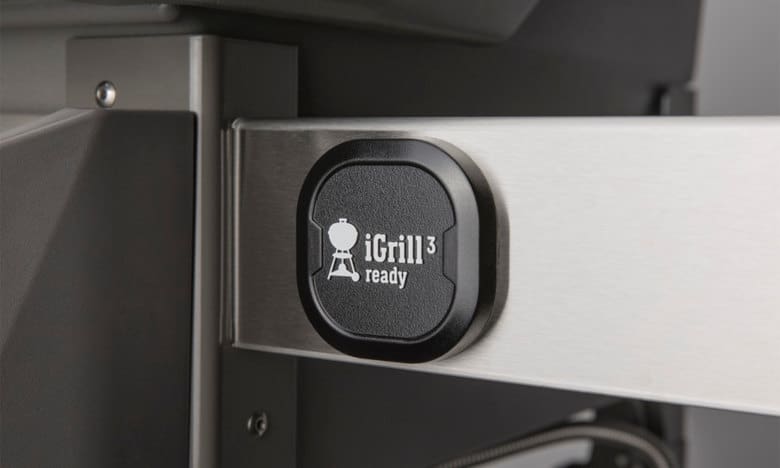 Ease of Use
One of the beauties of cooking with gas is the simplicity: turn on the tank, turn on a burner, and light your fire.
With the Spirit II E-310, it's even easier because the igniter is battery-operated. This feature greatly reduces the time between, "Hey, let's have a barbecue!" and, "Hey, we're ready to eat!"
With no charcoal or wood to worry about, even first-timers will soon get the hang of cooking on this grill.
Cleaning and Maintenance
Grease and carbon build-up over time might make it look like paint is peeling from inside the lid, but there's no paint here. Brush the flakes off and into a pan for disposal (or vacuum them up) before they start falling into your food.
Speaking of pans, make sure to clean out the grease collection pan and replace the drip tray regularly.
You should also clean your grates after each cooking session to keep them from deteriorating. Scrub them with a cleaning brush or paddle. For the Flavorizer Bars, take a gentler approach; remove stuck-on debris with a plastic scraper and only use a stainless steel brush if absolutely necessary. Likewise, use a plastic scraper on the heat deflector and the interior of the cook box.
Burner tubes are another area where food debris collects. Brush food away from the burner holes to keep the flames even. The tubes on the Weber Spirit II E-310 gas grill have screens on their ends to prevent bugs from getting inside, so you won't need to clean them out, but you should brush off the screens occasionally.
For the exterior, use warm, soapy water on plastic, painted, and porcelain-enameled surfaces, and stainless steel cleaner on stainless steel parts.
Available Support
Should your Weber Spirit II E-310 ever give you trouble, support is readily available.
The first place to go is the Weber website. Here you can download the manual and schematics for your grill, and submit a question you'd like answered. You can also email their support team directly. Before asking, though, you should first check the comprehensive FAQ section to see if someone has already answered your question.
Also at the Weber site, you'll find a blog, a "live" support chat box, and links to their social channels: Facebook, Instagram, Twitter, YouTube, and Pinterest.
At the website for Consumer Affairs, an independent, non-government consumer resource organization, Weber has a 4-out-of-5 rating for customer satisfaction based on 230 reviews over the past year.
On the Better Business Bureau site, they have an A+ rating, though a few customers have left poor reviews. Looking through the complaints, however, a clear pattern emerges: angry people who wrecked their own grills through misuse (or stupidity) and don't understand why Weber won't replace parts under warranty. Overall, Weber has a track record of attentive customer support.
If you want to touch base with some of the most ardent Weber fans and learn from their experience, head to The Virtual Weber Bulletin Board, say hi, and browse the forums.
There are numerous Weber fan groups on Facebook you can connect with. You may even find one specific to your home country. Here are links to a couple of the largest groups:
Available Upgrades, Accessories and Attachments
This isn't an upgrade, exactly, but you do have color options on the E-310. Choose from Black, Sapphire, Red, and Ivory to suit your style or outdoor décor.
Weber offers a berserk quantity of accessories you can use, including a rotisserie, specialty racks, lights, cleaning gear, hats and clothing, and even a toy charcoal grill for kids. If you only buy one thing, though, make it a fitted cover to protect your grill from rain, wind, snow, etc. It's the easiest way to prolong the life of your new grill.
You might also want to check out the iGrill3 thermometer system; there's a mounting space custom-made for it on the right shelf. The twin probes monitor the internal temperature of two cuts of meat, with the option to add two more probes.
The base station broadcasts information wirelessly for you to receive on your phone via free app.
Warranty Details
Here's an area where Weber stands out from the crowd. The Spirit II E-310 comes with a 10-year limited warranty against rust through and burn through on all parts. Fading and discoloration are not covered.
Register your new grill at Weber's website, and if there's ever a warranty issue, you can call them toll-free in the US any day of the week from 7a-8p Central Time. Or, you can file a warranty claim via an online form through their website.
Summary of Pros and Cons
Pros
2 oversized wheels for easy repositioning
6 tool hooks to keep you organized and your side shelves clear
Sturdy lower shelf for storage
Tank scale should keep you from running out of propane while cooking
Cons
Lid thermometers are basically useless, so be sure to have a digital thermometer ready, such as the iGrill3 from weber themselves.
Four wheels would make it easier to move around — but, how often do you roll your grill?
If both shelves folded, off-season storage would be even easier
Quick tips to Get the Best Out of the Weber Spirit II E-310 Propane Grill
Keep the burners clean for even heat
Take advantage of the 3-burner set-up for multizone cooking
Try warming buns, sauces, and veg on the upper rack while grilling below
Should You Buy the Weber Spirit II E-310 Propane Grill?
We like Weber grills in general because they've never given us a reason not to.
The Spirit II E-310 comes with enough features to provide an enjoyable grilling experience straight out of the box, plus you can add grilling and smoking accessories if you develop an interest in going beyond basic grilling.
If you're in the market for a simple, but not too simple, gas grill, this is an excellent choice.
Other Models Might Suit You If
You're primarily interested in smoking
You regularly host large groups and need more cooking surface
Final Thoughts
Cooking with propane can be a rewarding experience. The Weber Spirit II E-310 3-burner liquid propane grill offers all the convenience of gas grilling, plus, the Flavorizer bars give you back some flavor advantages seen in charcoal grills.
It's as close to the best of both worlds as you're likely to see. For further info and current prices, follow this link:
Thanks for sticking it out all the way to the end of this Weber Spirit ii E-310 Review! And for choosing us for your grilling info.
Be sure to drop us a line in the comments section below if you have any questions we haven't answered. And, we invite you to join us online to continue the conversation.
All the best off the grill to you!