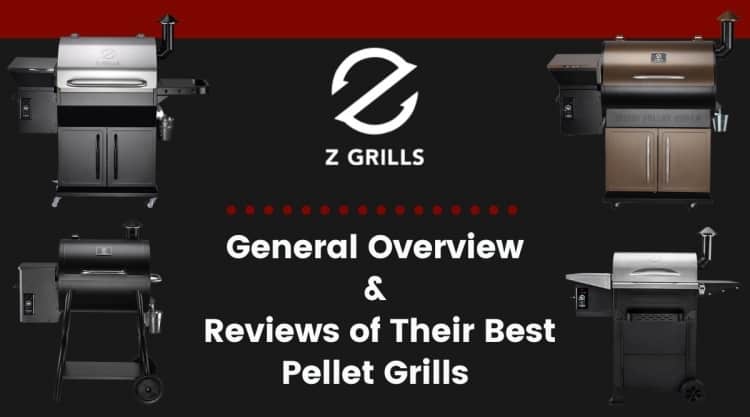 It used to be, if you were thinking about buying a pellet grill, there was only one choice — Traeger. Now, though, the would-be pellet griller has many options.
Choice, of course, is a good thing! But, it also makes it harder to come to a decision. Which pellet grill is right for me?
In this article, we're checking out Z Grills and their lineup of pellet grills. We'll tell you a bit about Z Grills, their history and reputation. And we'll talk a bit about how Z Grills stands up to the competition before reviewing several of their best grills.
So are Z grills up there with the best pellet smokers available today and worthy of your consideration and money?
Let's find out. Keep reading to check out the Z with me!
Z Grills Brand Overview and Reputation
Until 2017, Z Grills was an anonymous player in the pellet grill market, making grills for other manufacturers for about 30 years. Cash raised through crowdfunding enabled them to strike out on their own and start selling pellet grills with a Z Grills badge.
In addition to pellet grills, they also slap that Z Grills logo on various accessories, including a wireless thermometer, heat-resistant gloves, and an assortment of grilling tools and gear.
Z Grills' vision is to make a quality pellet grilling experience affordable for the average Joe (or Joanne). That means the focus on function over frills; there aren't many bells and whistles, but the grills aim to do the job of cooking great food.
They have a substantial community on social media; the official group has nearly 5000 members, and there are several large fan-run groups, including two with over 5000 followers.
Customer reviews are overwhelmingly positive for Z Grills. That's really saying something, too — it's my observation that folks will go way out of their way to complain about stuff online, but many won't lift a finger to say nice things.
Sifting through comments, I've also seen a lot of positive feedback about Z Grills' customer service — Gotta like it when a company cares about you even after they have your money.
Overview of the Z Grills Lineup
Z Grills currently sells pellet grills in four different series: Basic, 600, 700, and 1000.
These numbers reflect how much grill space the grills have in each series, except the basic series which varies somewhat. More on this below.
Here's a quick summary of each series.
Basic Series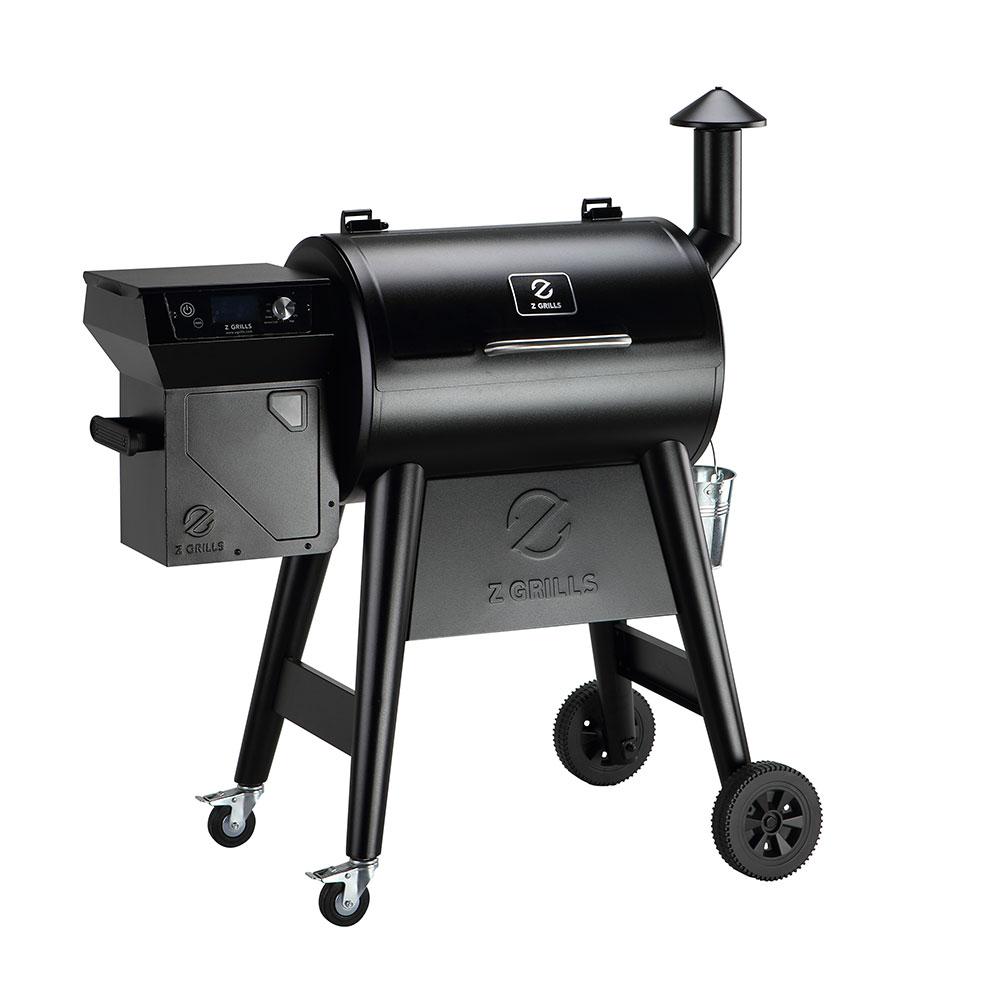 There are seven grills in the Basic Series, including two new models added in 2021.
Basic Series grills have approximately 460 or 560 square inches of total rack space, for the 450 and 550 models respectively. These are smaller capacity than the 600, 700 and 1000 Series grills, and come with entry-level price tags.
Basic series grills offer minimal features, though you'll find welcome bonuses like side lower shelves on some models, and a new PID controller on the new for 2021 models.
600 Series
There is a total of six grills in the 600 series lineup at time of writing, including four new releases made back in 2021.
All the grills in this series have either 572 or 573 square inches of total cooking surface area, and I assume they rounded this number up to the nearest 50 to come up with the naming convention, making them the 600 series.
Compared to the 'basic' series, they have a higher capacity, larger hopper, and a few features to help with the overall cooking process.
700 Series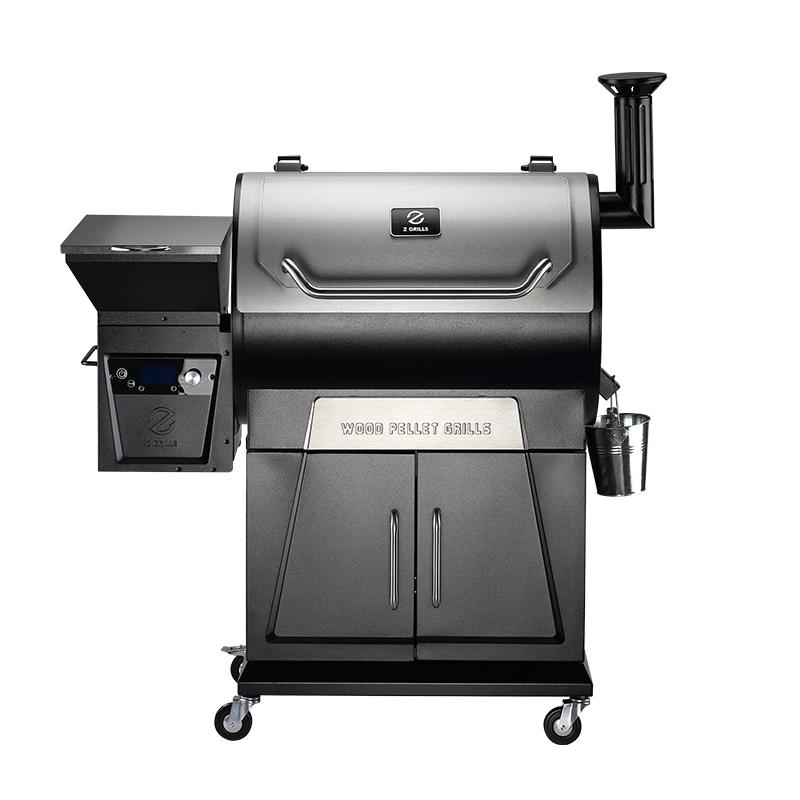 This grouping includes eight grills at the time of writing, four with an enclosed cart, two on open legs with a bottom shelf, and two on open legs without a shelf. Total cooking surface area is very close to 700 square inches in this series, hence (I assume) the name.
It appears that there's additional color options and 'special offers' in 3 different styles, making it seem like there are more 700 Series grills than there really are.
These grills are larger than the 600 Series models, with more grilling space and bigger hoppers. Functionally, they're about the same but with most having integrated meat probes, so you will pay a bit more.
1000 Series
There are four grills in this, the largest and most expensive series, offering a total of just over 1,000 square inches of total cooking surface.
One version in two colors features an enclosed cart and four wheels. The other has an open cart, but with a more rugged design than found in the Basic and 700 Series.
These are the largest Z Grills models, featuring three levels of cooking grates. The guts, including thermostat and auger, are the same on all Z Grills 1000 series models.
How do Z Grills Smokers Compare to Competitors?
Comparing different pellet grill companies can be like comparing apples to oranges and throwing in bananas for good measure. But, we can still take a look and draw some conclusions.
Z Grills is about on par with most other players in terms of selection, featuring several different sizes to suit your personal preferences.
Cooking surface configuration is also right in the mix. Z Grills actually offers more variety than some when you factor in the 3-level cooking available in the 1000 Series grills.
The deceptively plain-looking thermostat may not impress from the outside, but the programming was recently upgraded. Using a Proportional-Integral-Derivative (PID) control algorithm, thermostat does a fine job of adhering to the preset temperature, as good as the best in the biz. I won't claim to understand PID technology, but here's a link to an article by someone who does: PID theory explained.
Looking at features, Z Grills are comparatively stripped down when viewed next to most of the competition. You won't find large LCD screens, programmable cooking, or Wi-Fi connectivity. The temperature range is slightly narrower than on many other pellet grills we've seen, so cold smoking may not be an option.
That's ok, though, because Z Grills never claimed to be "that" grill, loaded with bells & whistles, and their prices reflect that approach. Their highest-priced models are sometimes half the price or even several times less expensive than top models from Traeger or Rec Teq.
The 3-year warranty is in keeping with most of the non-premium brands on the market.
It's all about value with Z Grills, and they deliver on that. Despite the low prices relative to the competition, they offer well-built grills featuring a recently upgraded digital thermostat for better temperature control.
Many Z Grills boast stainless steel components, and they all come with a 3-year warranty, which is pretty much the standard in the market.
Z Grills Pellet Grill Reviews
We've selected four grills from Z Grills' lineup, including two from the Basic Series and one each from the 700 and 1000 Series. Ready for some honest reviews?
Why mess around when you can start at the top? This is Z Grills' biggest, baddest pellet grill. If you plan on smoking frequently, your search may already be over.
With a 20-pound hopper, you can dump in a whole bag of your favorite pellets and smoke all day. And, you can smoke anything you can think of, taking advantage of the three grill levels.
You could cover all 1060 square inches with smaller cuts or ribs laid flat. Remove the middle rack for extra height clearance on the main grate, and you still have 686 square inches to work with. Or, take out both the upper racks for huge briskets, shoulders, or even an entire small hog.
The temperature range spans from 180 °F to 450 °F, allowing for everything from smoking low and slow to roasting, baking, and old-fashioned grilling. Anecdotally, we've heard of people having difficulty keeping the low-end below 200 °F, which could make smoking fish a challenge. Our suggestion: if you want to smoke salmon, for example, this is the time to try the upper rack.
Whatever temperature you do choose (with the easy-to-use dial), know that Z Grills' newly upgraded PID algorithm does a great job keeping you there. Steady temperatures are key to successful extended cook sessions, so we're happy Z Grills addressed what had been our only serious concern with their grills previously.
Of course, the worst part about grilling is the cleanup. Fortunately, Z Grills has done what they can to help you out. A grease management system directs all those dripping down an angled surface below the grate and ultimately out into a small bucket hanging under the side shelf. It's an easy matter to pick it up and dump it out.
For ash, which you will get some of despite how completely pellets burn, it's even easier. Simply turn the grill around and slide out the collection tray for disposal. Those four castors at the bottom make this process a breeze.
The standout feature of the Z Grills 1000E is the enclosed cabinet. I live somewhere with highly variable weather, so I love the option to store stuff under the grill with the doors shut to keep out the rain and snow. Combine the cabinet with a grill cover, and you can keep your gear dry and safe year-round.
This is Z Grills' most expensive model. But, given the size, upgraded tech, stainless steel components, and versatile cooking area, the value is phenomenal.
Specs
Primary cooking area: 431 sq. In.
Secondary cooking area: 374 sq. In.
Tertiary cooking area: 255 sq. In.
Hopper capacity: 20 lbs.
Temperature range: 180 °F to 450 °F
3-year warranty
Pros
User-friendly digital controller with 25 °F increments
4 wheels for easy repositioning
Stainless steel construction
Front and side shelves for prep, hanging tools, and a handle for rolling the cart around
Enclosed cabinet for weather-resistant storage
Cons
No easy way to empty the hopper
Lacks Wi-Fi, something many manufacturers include on their top models
Z Grills 700D4E — Flagship Model
2
It would be easy to label the 700D4E as the "little brother" to the 1000E based on the total square inch cooking surface. But, doing that, you miss an important detail — the primary cooking surface is 73 square inches larger on the 700D4E than on the 1000E. That means you're laying out more burgers, more steaks, more whatever, when you're straight grilling.
You also get an ample 190 square inches on the upper rack for warming, toasting buns, or increasing your smoking capacity. And with a 20-pound hopper, you can smoke to your heart's content.
The 700D4E comes equipped with Z Grills new PID controller. It's also built with a double walled construction for increased heat retention and stability. So with this grill, just dial in your desired temperature, and it will accurately sit there for the duration of the cook.
You can rely on the built-in temperature probes and advanced PID algorithms to stick closely to the target, while displaying your pit and food temps on the basic but highly visible blue digital display clearly shows your target pit temperature.
The 700D4E has an enclosed cabinet for storing your pellets and tools between cooks. This is a premium feature you'll love since you'll always have the things you need right on hand.
There is also a hopper release system that allows you to easily empty out the pellets, so you can put them back into storage or swap flavors between cooks.
With four lockable wheels, it's easy to move the 700D4E — no more lifting one end to roll your grill around.
While the 700D4E lacks the handy ash clean-out drawer found on the 1000 Series, it does have the same grease management system and a stainless steel lid.
Overall, this is a great-looking pellet grill with some desirable attributes you rarely find on a budget-conscious cooker.
Specs
Primary cooking area: 504 sq. In.
Secondary cooking area: 193 sq. In.
Hopper capacity: 20 lbs.
Temperature range: 180 °F to 450 °F
3-year warranty
Pros
Accurate and simple to use PID controller
Hopper clean out system
4 locking wheels for convenient maneuvering
Stainless steel components
Cabinet for storage of tools and pellets
Primary cooking area is larger than on the 1000E
Cons
No ash clean-out system
Wi-Fi would have been nice on what Z Grills describes as their flagship model.
Z Grills 600D3E Portable Pellet Grill
3
Let's clear up any potential misunderstanding right away — this is NOT what I'd consider a proper portable pellet grill. It doesn't fold down in any way, it's almost 4' long, and it weighs over 80 pounds.
However, it does have a cart reinforced with panels for extra sturdiness when in transport, and it has the smallest hopper of any Z Grills pellet grill, at just 8 pounds. You could, with help, lift it into a pickup truck or RV to take to the cottage or campground. To my mind, though, the Z Grills 600D3E is better suited for small families or casual backyard chefs.
The smaller hopper is plenty for casual grilling and the odd smoke session, especially for smaller cuts. If you want to do a whole turkey or massive brisket, this is not the pellet smoker for you. Z Grills says you could do five rib racks or four chickens in the 600D3E.
Actually, for a grill with just a 332-square inch main grate, that's impressive! How is that possible? Easy — the upper rack isn't a lot smaller; at 240 square inches, it's bigger than any other Basic or 700 Series grill.
Smoking, however, isn't what this pellet grill is best at. For my money, it's ideal for straight grilling, thanks to the direct flame searing zone. Built into the grease management tray, there's a fan-like aperture you can open, exposing the fire pot below. In the open position, it creates a small sear zone for cooking at up to 750 °F.
That's an awesome feature; most pellet grills, while they can cook a steak, cannot give you those drool-inducing sear marks and the enhanced flavor that comes along with them.
Of course, you can still smoke food, just like on any other Z Grills model. The 600D3E has their standard PID-enhanced controller for accurate temperatures.
So, don't buy this grill thinking you'll be packing it up in the trunk for picnics. Do buy it for quality grilling with some smoking as a bonus.
Specs
Primary cooking area: 333 sq. In.
Secondary cooking area: 240 sq. In.
Hopper capacity: 8 lbs.
Temperature range: 180 °F to 450 °F
3-year warranty
Pros
Simple digital controller with 25 °F increments
1 pair of heavy-duty wheels for taking on pavers and pea gravel
Side shelf with tool hooks and a bottle opener for prep and refreshment
Direct-flame searing zone for the best steaks and fast burgers
Surprisingly large upper rack
Semi-enclosed lower storage shelf
Cons
Not a true portable pellet grill
Grease bucket is directly above the storage shelf
Z Grills PIONEER 450B Pellet Grill
4
As part of the Basic Series, the Z Grills PIONEER 450B offers low-frills pellet grilling for a very attractive price…but while still having some desirable features not found in grills costing twice as much, to help you in your cooking.
Here's what you get: Z Grills' reliable PID controller, the grease management system, a hopper large enough to smoke food overnight, and a hopper cleanout system, so you can empty and store unused pellets, or change flavors between cooks.
And there's plenty of room inside the classic, barrel-shaped cook box for that brisket you've been dreaming of — if you take out the upper rack.
While there is no cupboard for storage, shelves to work on, or even a storage shelf, you can hold lighter items on the pellet hopper lid such as cooking utensils, sauces, rubs or any other 'not too heavy' gear you don't want in your hand.
The PIONEER 450B has the smallest footprint of anything in the Z Grills stable. Despite the decently sized 423 square inch main grate, it's only 40" long. This makes it a great option for anyone without much yard, patio, or deck space.
We love this grill as an introduction to pellet grills for small families or anyone with space limitations. Like all Z Grills, it's pretty much set-it-and-forget-it operation, and it's not the least bit intimidating. It won't win any beauty contests, but it will cook some tasty food.
Specs
Primary cooking area: 331 sq. In.
Secondary cooking area: 128 sq. In.
Hopper capacity: 15 lbs.
Temperature range: 180 °F to 450 °F
3-year warranty
Pros
PID controller for accurately holding temperatures
Hopper cleanout system to change pellet flavors easily
One of the easiest Z Grills to assemble
Compact, patio-friendly size
Cons
15-pound hopper can't hold a full 20-pound bag of pellets
No workspace
How to Choose the Right Z Grills Model for You
What features and specs should you look for in a new grill? Here are factors to consider helping you choose the right Z Grill for your life.
Size and Cooking Area
How many people you plan to cook for and what kind of food you like are key considerations. A small family may not need a huge cooking surface unless you entertain frequently and need to fill the grate with chops, dogs, or burgers.
Think about what you might like to smoke, too. For example, if you've got picnic shoulders on the brain, be sure you pick a grill with ample width and height.
Look at where you plan to park your pellet grill, too. You need clearance from the walls and room to move around a hot grill safely. (Don't forget, a pellet grill needs access to electricity, too!)
Build Quality, Looks and Appearance
Are you the type who likes to show off your grill? In that case, aesthetics matter. Check out the variety of cart styles and lid colors Z Grills offers and picture them in your yard — and your Instagram feed!
The build quality doesn't change much between Z Grills' models. A few feature very basic tubular carts, and most of the Basic Series have steel lids instead of stainless steel. An upgrade of a few bucks might give you more confidence your grill will last.
Hopper Capacity
Z Grills offers hoppers in several sizes. The best size for you depends on what you're cooking. For simple grilling, baking, and even roasting, any size will do. For long smokes, you'll want at least 10 pounds; you may want more for huge cuts and all-day smoke sessions.
Technology and Feature Differences Between Models
All Z Grills use the same two digital controllers, so little worries there. Go for an original model with the older controller if you want to save a few dollars and best possible accuracy isn't top of your wish list. Go for a newer 2021 model if a PID controller and higher accuracy is your wish. (I would definitely go for the PID controller myself!)
However, features do vary; do you prefer an enclosed cart? How about the ash clean-out system, exclusive to the 1000 Series? Or the hopper cleanout system that allows you to swap pellet flavors between cooks, in which case you need a 2021 model? Or the direct flame searing zone exclusive to the 600D3E?
These little variances could make all the difference to you, so choose wisely.
Price and Value
Only you know what your budget is. Think carefully, though; as I said earlier, you may not have to spend much more to get an upgraded experience you'll love for longer.
When it comes to value, though, you just can't go wrong with Z Grills, no matter your pick.
Final Thoughts
And that's Z Grills in a nutshell! They aren't flashy, they aren't cutting edge — but they are damn good grills with nearly unbeatable bang for your buck. Which one appealed most to you?
And hey, if you buy a pellet grill, you are going to need some fuel. So please do check out our guide to the most popular smoking wood pellets before stocking up!
Thanks for giving us the chance to guide you through this important decision. We want you to love your pellet grill; by now, you know everything you need to pick the best Z Grill for your lifestyle.
Check us out for tips, tricks, and techniques to get the most out of your new pellet grill. Keep on smokin'!