In this comprehensive review of the best grill mats, we'll not only tell you what they are and how they're used, but also how to tell a good one from a not-so-good one.
Our detailed buyer's guide will help you along, but not before we hit you with our top seven choices, found during our search for the best grill mats.
We've made sure to cover suitable mats for all sizes and shapes of grill, including round! They're worth a look, because the best outdoor griddles cost a pretty penny, and these mats can work just as well for a tiny fraction of the cost.
Ready to feel (but not see) the burn?
At a Glance: The Best Grill Mats Discussed in our Guide
Note: Clicking the above links will take you to further information, current prices and customer reviews on Amazon.
Our Top 7 Choices for Best Grill Mat in 2023
We do the comparison shopping, so you don't have to! Read up on our seven favorites, including specs, and why we think you'll love them!
The large size makes it great for a variety of grills — you may even get two mats out of a single sheet.
It's extra thick, which should translate into a long life, and makes it a great candidate for lining the bottom of your oven. But, if it doesn't last, the enormous warranty ought to take care of you.
Specs
25 inches x 17 inches
0.39 mm thick
7-year warranty
600 °F peak temperature, 500 °F recommended
Pros
Large enough to fit even the biggest grills
Great long-term warranty
Cons
Extra thickness will mean longer heat-up times
Advertised as PFOA-free — but so are all PTFE products (not really a con, but annoying marketing spiel.)
Chef Caron Non-stick BBQ Grill Mats
2
For many grills, this mat will fit like a glove and may not need any trimming.
It nearly hits the sweet spot for thickness, so should provide evenly distributed heat at recommended grilling temperatures.
There's a lot of bombast in the promotional copy, and "claims" that every grill mat can make, but this is still an excellent quality product that we are happy to recommend.
Besides, with a warranty like this, you really can't lose, can you?
Specs
13 inches x 16.9 inches
0.2 mm thick
Lifetime warranty
500 °F max. temp.
Pros
May fit without being cut
Multiple layers of PTFE
100% satisfaction, money-back guarantee
Cons
A bit thinner than some, so stick with lower temperatures
Again, it's promoted as PFOA-free — A carcinogenic bi-product of PTFE production that does not remain in the product
Grillaholics Heavy-Duty BBQ Grill Mats — Set of 3
3
While we don't know how thick the Grillaholics Grill Mats are, they claim to have done their research before putting it into production.
We're willing to trust this reputable brand and give their mats our blessing!
We love getting three of something we like in one package, of course, and we always like a lifetime warranty.
This is a safe bet for any grill.
Specs
15.75 inches × 13 inches
Lifetime warranty
500 °F max temperature rating
Pros
May not need to be trimmed to fit
3 in a pack means you can cut to fit multiple pans, grills, etc.
Cons
Not actually sure how thick it is
Not even going to go through this PFOA thing again
Grillaholics Round Grill Mat — Set of 2
4
If you were expecting to literally have to fit a square peg into a round hole, here is your solution!
Put your scissors away, kettle grill owners. This is the absolutely ideal mat for you. As we've already said, we know, trust, and like Grillaholics, so we're confident these are good quality mats that you'll enjoy cooking on.
Specs
15-inch diameter
Lifetime warranty
500 °F max temperature rating
Pros
The perfect solution for round grills
You get 2 in the package — swap them out as needed
As seen on Rachel Ray!
Cons
Again, we don't know how thick it is
If you don't have a 15" circular grill, you'll have to trim it anyway
Baker Boutique Copper Grill Mats — Set of 3
5
Although these mats are not pure copper, none are! And we're not convinced that copper is more than a gimmick, anyway.
They're good-looking mats, and we always like getting more than just one for our money.
Made from 100% PFOA-Free materials and premium PTFE-Fiberglass coating, BPA FREE, these are good quality and safe.
Specs
15.7 inches x 13 inches
Weight 5.6 Ounces
Heat resistant to 500 °F
60-day money-back guarantee
Pros
A good size
Made from safe materials
They look great
You get 3 in a pack
Cons
A little thinner than we prefer
Kitchen + Home BBQ Grill Mats — Set of 2
6
There's nothing wrong with being basic! These simple black mats appear sturdy enough to do the job.
While we aren't crazy about not having a warranty, at the price you can pick it up for, we aren't going to lose much sleep over it.
If you're planning on only using your grill mats occasionally for veggies, fish, or things of that nature, the return on your minimal investment should be more than adequate.
Specs
15.75 inches × 13 inches
Rated up to 500 °F
Thicker than "most mats"
Pros
About the right size for many average-size grills and ovens
One of the least expensive on the market as of time of writing — and you get two
Cons
Manufacturer says not to cut them
No implied warranty
What is a Grill Mat?
A grill mat is a thin, reusable piece of material that goes on your grill, giving a flat surface, with no holes or gaps.
It keeps food off the grates, prevents anything from falling through and creates a barrier between the flames and your meal.
What are Grill Mats Made from?
What do Corvettes, small boats, and grill mats have in common? They're all made of fiberglass.
The lightweight material is both flexible and durable when it's rolled out into thin sheets. However, you can't cook on fiberglass. Every mat is coated in at least one layer of a slick material known as PTFE.
What is PTFE? Glad you asked!
In long form, it's polytetrafluoroethylene, a synthetic resin discovered by accident by a DuPont employee in 1938.
Basically, all non-stick coatings are made of this stuff, including the famous Teflon. It's non-flammable, nonreactive, and doesn't get wet.
What are They Used for?
Grill mats have several purposes including keeping the fire away from your food, preventing food from sticking to the grill, preserving sauces and spices, and providing a flat surface for cooking food that can't go on a grill.
Juicy meat that loses fluid while it's cooking is at risk of burning. That fluid can cause flare-ups when it reaches an open flame. If the lid is closed, you may not even realize that your burger is in the middle of a hellish firestorm and rapidly turning into lump charcoal.
Meat cooking on a grill mat is not only protected from flare-ups, but it also cooks in its own juices. Amazingly, you'll still get grill marks through the mat. Of course, you can always toss your meat straight on the grill for a few seconds to really make them stand out.
Want to Cook More than Just Meat?
There are no holes to fall through, so a grill mat is perfect for grilling loose vegetables (no skewer required for onions, asparagus, beans, and more), or making breakfast foods like pancakes or eggs. Essentially, the grill mat takes the place of a skillet or frying pan.
As an added bonus, the surface is non-stick, so you can also do delicate meats like fish or chicken without worrying about tearing them apart with a spatula or using non-stick sprays or oils. Plus, you can use both sides of the mat for grilling, thereby extending its service life.
If you like to go for picnics, or camping, and you use public barbecues, a grill mat is a must-have. Probably the only time those grates get "cleaned" is when it rains. Rather than risk your food to whatever residue is left behind, slap down a grill mat and keep your meal protected!
Want yet another reason to own a grill mat? If you ever find yourself in mixed company, and you're grilling halal, a clean mat will keep the halal meat away from the used grill and other meats.
How to Properly Use a Grill Mat
Although they are highly user-friendly, there are a few things you should know about using a grill mat.
Safe Operating Temperature
As discussed in our article, are grill mats safe, once PTFE gets over 570 °F it starts to break down. The fumes released as the PTFE deteriorates can cause illness to humans.
Accordingly, the FDA has determined that the maximum safe temperature for us is 500 °F as set out in Regulation (EC) No.1935/2004 and Regulation (EC) No. 2023/2006.
Honestly, there's no reason to have the temperature up that high with a grill mat, anyway. It's better to use it down in the 300 °F-400 °F range. If you like, set up dual temperature zones; sear your meat on the hot side and then transfer to the cooler, mat side to finish cooking.
Using Utensils
Just like when you're using a non-stick frying pan, you should never use metal utensils on your grill mat.
Yes, that sucks if you went out and bought some badass barbecue tools. But, you want the mat to last, right? Choose silicone-tipped tongs and spatulas to avoid damaging your mats.
How to Clean a Grill Mat
Always wash a new mat with warm, soapy water before first use. After you've used it, you can handwash it with mild soap and a cloth.
You could also try putting it on the top rack of your dishwasher if you've got room. If you have one of those third racks right at the top for flat things, that's ideal.
What you should never do is clean your grill mat with anything abrasive, including gritty soaps, or scrubbing brushes. Doing that will damage the non-stick coating and shorten the life of your grill mat.
Buyers Guide to Grill Mats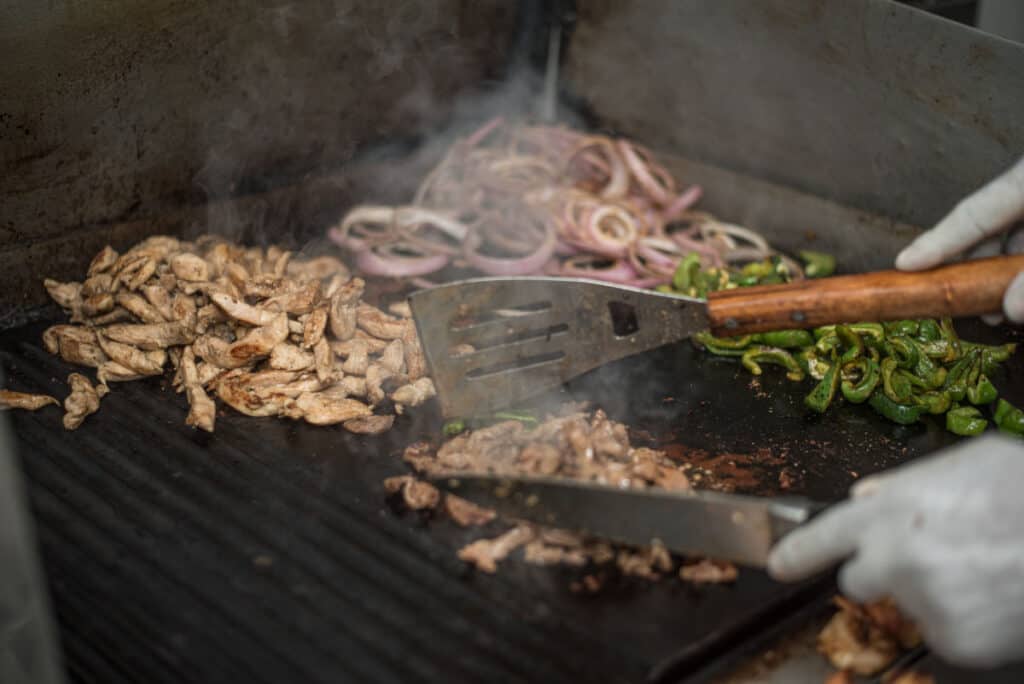 As promised, here are some of the criteria we looked for, and some tips for you as you make your choice.
Size
File under: size matters.
If the mat doesn't fit your grill, you'll end up with juices hitting the flames and maybe even losing your less secure items down into the bottom of the barbecue. (I'm looking at you, fried eggs.)
So, too small is definitely out. Too big is ok because you can cut it down to size.
My first mat was large enough that when I cut it to fit my grill, I was left with a strip just the right size to fit my upper warming rack. (I'd like to say that was on purpose, but…)
If you have a circular grill, don't try to fit a square peg into your round hole. Circular grill mats are available.
Temperature Capacity
Look for a maximum temperature rating of 500 °F. Anything above this is unsafe for PTFE-coated grill mats anyway. Anything lower indicates an inferior product.
Don't settle when it comes to grill mats — they aren't that expensive, so do yourself a favor and get the good stuff.
Thickness
Grill mats come in different thicknesses, and you can feel the difference, even if you can't really see it.
Thinner mats will get hot too fast and burn through. Thicker mats won't heat evenly. Therefore, your food won't cook evenly.
So what's the sweet spot?
Optimal thickness is approximately 0.25 mm, but anything within a few 1/100ths of a mm will be fine. At that thickness, it'll heat nice and evenly, still give you those grill marks, and give you a lot of life out of your grill mat.
Double-Coated PTFE
The PTFE coating is the most important, and most expensive part of a grill mat.
While a double-coating will increase the price, it also increases the effectiveness and life expectancy. This is one of the clear marks of a quality mat.
Other Uses for Your BBQ Grill Mats
Here are some other great ways to get your money's worth from your grill mat between barbecues:
Line cookie sheets for non-stick baking
Use them in the oven to catch drips and simplify clean up
Cut to fit inside a food dehydrator
Cooking on the stove? Protect your burners with a grill mat
Trim to fit inside baking pans, muffin tins, and more
Stand by Your Mat
If you've made it all the way to this point in the article without ordering a grill mat, you've got better self-control than I!
The return on your minimal to moderate investment is so amazing that buying one really is a no-brainer. Everyone should have a grill mat as part of his or her barbecue tool kit.
Did we answer all your questions on the best grill mats today? If not, make sure you hit us up, so we can answer them for you. We also love to hear your comments, your tips, and your best grilling stories. Drop a comment below.
Stay tuned for more grill tips, tricks, and reviews you can use!
Happy grilling!