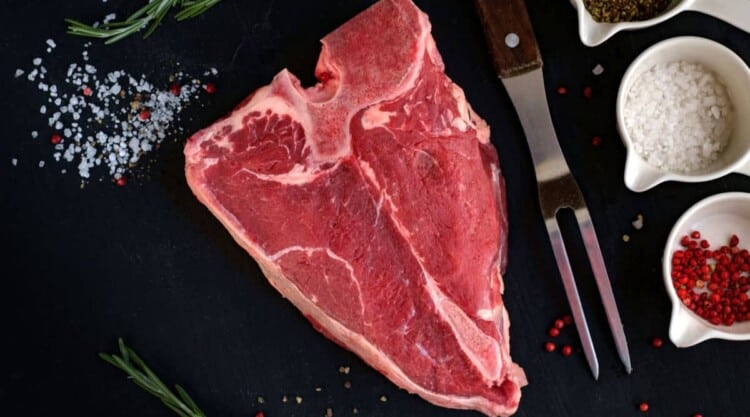 If you're hungry to find out what the fuss is about when it comes to the Porterhouse steak, look no further.
Our in-depth guide will show you what a porterhouse steak is, where it comes from, and how you can get your hands on one. As well as our detailed instructions on how to cook the Porterhouse to perfection when you do.
We've all pondered the dilemma of what came first, the chicken or the egg. But have you ever thought about what arrived first, the T-Bone or the Porterhouse?
These two steaks are titans of the meat lover's kingdom and are pretty much the same steak. So, what's the answer? And what is a Porterhouse steak?
Well, to be honest, we don't know who came first. But one thing we can say for sure is that the Porterhouse can always be a T-bone, but a T-bone can never be a Porterhouse.
The Porterhouse paper is ready, so pay attention.
What is Porterhouse Steak?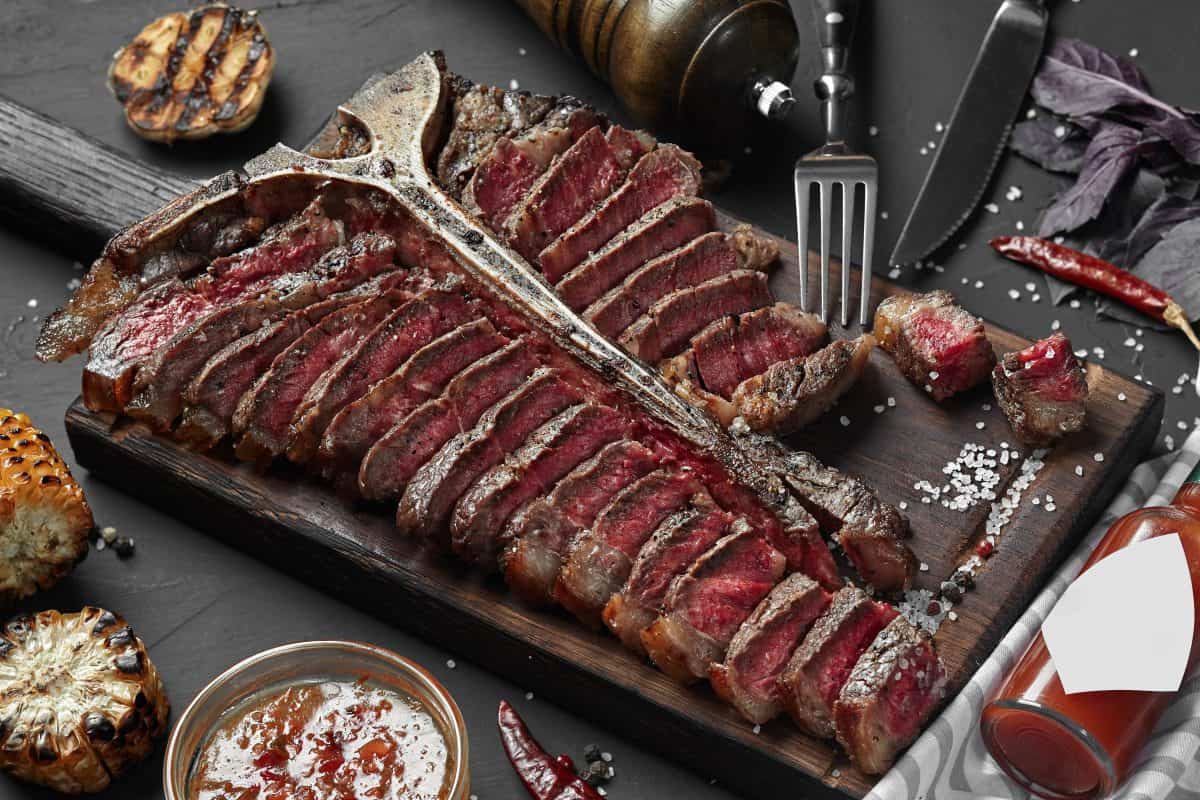 The Porterhouse is one of the most popular grilling steaks in the world, and is essentially a large T-bone, and it is the larger Tenderloin portion that differentiates it from the T-bone.
If you aren't familiar with either, they are made up of two quality steaks left on the bone to form one big, impressive-looking cut. It combines both the Tenderloin steak and a Strip steak with the instantly recognizable T-bone in the center.
The difference with the Porterhouse is that the Tenderloin part needs to meet specific criteria to earn the name, the Tenderloin must measure at least 1.25" at its thickest part, that's width, not depth.
So, you could have a 1" thick Porterhouse as long as the Tenderloin is at least 1.25" in width. Make sense? Thought so.
Where Does Porterhouse Steak Come from on the Cow?
Carved from the larger Tenderloin portion, the Porterhouse is located in the short loin section of the loin primal.
The loin primal is home to some of the most tender cuts of steak, such as the Tenderloin, Strip Steak, and T-Bone.
Butchered from where the Tenderloin meets the short loin, this cut enjoys being a tale of two halves.
From one side of the top loin bone comes the Strip steak (New York or Kansas City, they're both excellent). With a massive piece of Fillet on the other.
Other Names for the Porterhouse Steak
The origins of the name are somewhat unknown. With some saying the name gives reference to the old Porter houses. So-called because they served Porter ale, alongside T-bones that were referred to by the name of the establishment.
Another is that Zachariah B. Porter, who was the proprietor of Porter's hotel Cambridge, Massachusetts, named the cut after himself to add exclusivity to his menu.
Whichever story you like, the result is the same; this steak is a crowd-pleaser. Here are some other names it might go by when you're on the hunt for it:
King Steak: So-called because it rules on flavor, texture, and size.
T-bone: A confusing one, technically correct, as a Porterhouse is a larger T-bone just with more Fillet attached.
Flavor, Texture, Fat Content and Tenderness
The Porterhouse gives you the best of both worlds on the flavor front. With mild-tasting tenderness of the Fillet pitched against well-marbled buttery Strip steak.
Overall, it's not heavily marbled, and it does not have a fat cap, so it is not overly fatty. But it offers enough marbling to make it the right side of flavorful.
Typical Uses
As a world-renowned steakhouse star, the Porterhouse is usually enjoyed in restaurants, and isn't used for anything else other than a standalone steak.
Nutritional Values
Nutrition
Amount (Based on 3 oz Serving)
% Daily Value (based
on 2000 calories/day)

Calories
180
9%
Saturated Fat
3.4 g
18%
Sodium
55 mg
2.75%
Protein
24 g
48%
Iron
2.7 mg
15%
Zinc
3.9 mg
35%
Buying Porterhouse Steak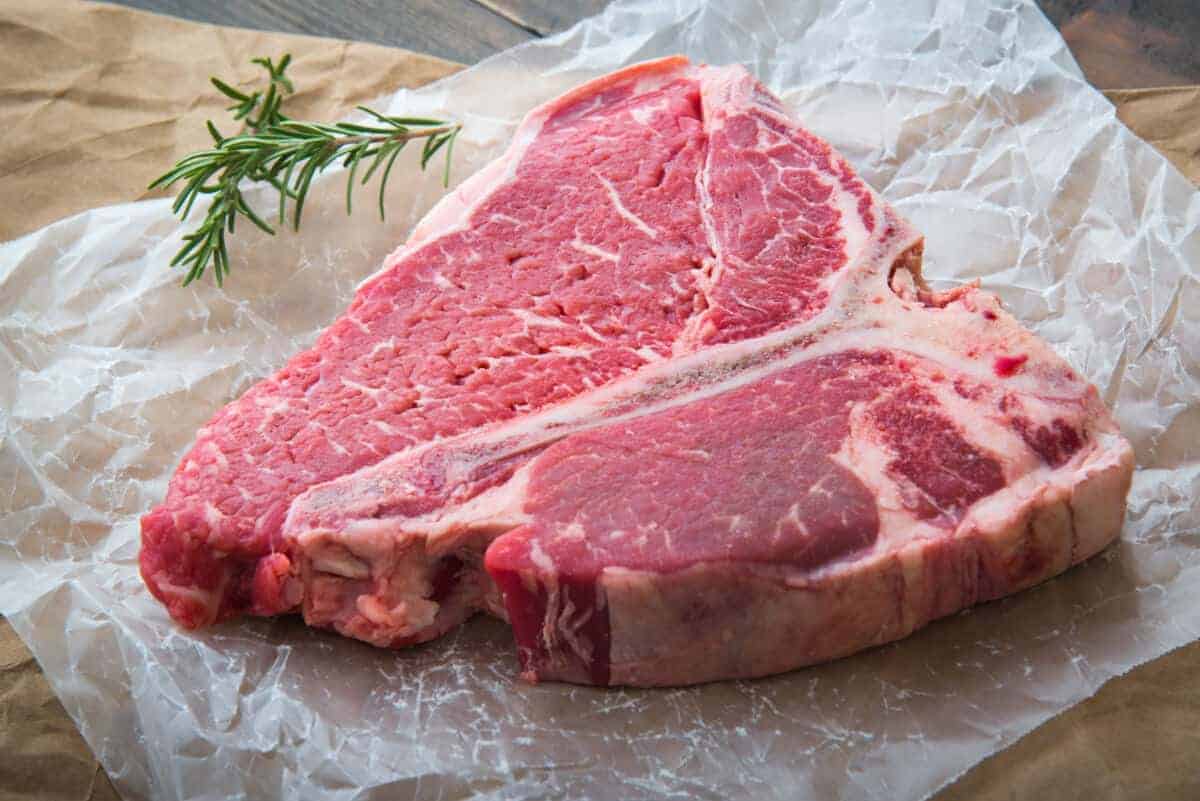 It is readily available from butchers to high-end supermarkets and many online meat sites.
Being at the higher end of the beef price range, it is not commonly sold in budget supermarkets. Most places that do stock it will offer it in various weights and grades.
Where to Buy Porterhouse Steak Online
Online food shopping is a doddle, and it means no jostling for your position at the grocery store.
You just sit back, browse the online offers, and make your order. Then, as if by magic, it appears on your porch a few days later, ready for you to enjoy.
Here are two online outlets that sell some of the best Porterhouse steaks available:
Snake River Farms
Snake river farms have five different grades of porterhouse steak at various price points and up to a massive 32oz in size!
The grades available include American Wagyu Black Grade, American Wagyu Gold grade, American Kurobuta, and USDA prime dry-aged.
Check Price on Snake River Farms
Crowd Cow
Crowd Cow sells three different cuts of porterhouse steak, including a 45-day dry-aged variety, for those who like unmatched tenderness, with a signature nutty, almost cheesy kind of dry-aged flavor.
These steaks come in at an average size of 1lb per steak.
Average Price
Due to its high quality, two steaks in one combo, and the weight that it carries, the Porterhouse is a premium cut that comes with a premium price.
At the time of writing, the cost per-pound varies from $35 to $60 per lb. Across online outlets.
Portion Size: How Much Porterhouse Steak Per Person?
Any Porterhouse will feed two people comfortably. Even at the lower end of the weight spectrum, you will be looking at a steak that weighs anything from 24-40 oz.
So, if you're sharing it, you will get a minimum of 10-20 oz. Of meat per person. And when coupled with sides and sauces, it's a feast in anyone's books.
How to Prepare it for Grilling or Smoking
From a good butcher, it will already be trimmed and ready to place straight on the grill.
The only prep needed will be to take it out of the fridge and bring it down to room temperature and season it to taste.
How to Cook It on a Grill or Smoker
The Porterhouse should be cooked at super high heat on an open grill. With that being said, it is a big, expensive piece of meat, so it needs care and attention.
The best way to achieve this is to use a multi-zone method. Once the grill is up and running follow our simple guide for one of the best Porterhouse steaks you will ever taste:
Remove the steaks from the fridge at least an hour before you want to cook them. They are thick and will need that time to get to room temp.
Make sure your grill grate is clean. Give it a good brush to remove old food debris and then lubricate it with a folded paper towel dipped in oil.
Season with plenty of salt and pepper. This adds flavor and helps ensure a great crust.
Now place on the grill at the hottest end and sear for approximately 2 ½ minutes. You're aiming for a deep brown color, with a small amount of black char to the edges.
Next, move the steak to the center zone, turning it through 90 degrees to achieve that eye candy crisscross effect. Cook for a further 2 ½ minutes or until you see beads of blood and juice forming on top of the meat.
Now flip and return to the hot zone. Cook for 2 ½ minutes and return to the center zone again, with the twist, to get the grill marks we want. If you get flare-ups, move the meat to the safety zone until the flames die down.
TIP For extra thick steak, you can turn it on end and place it in the center zone to finish them up and reach temperature. This prevents burning them, and the T-bone will channel heat through the center of the steak to keep it cooking evenly.
Check the temp, taking care not to touch the bone as this will give you a false temp reading. The general rule of thumb is that rare is around 120-125f, medium-rare is 125-135f, medium is 135f-145f, and anything above is ruined (!)
Remember: As discussed in more depth in our guide on how long to grill different steaks, the steaks rise another 5 degrees once removed from the grill.
Take a rest: Both you and the steak. Don't rush into cutting it straight from the grill, tent it in foil (with a knob of butter if you wish). Allowing it to rest for 3 to 5 minutes before serving gives the juices time to settle, which means you get a juicier, tender meal.
Serve and devour.
Three Best Porterhouse Steak Recipes from Around the Web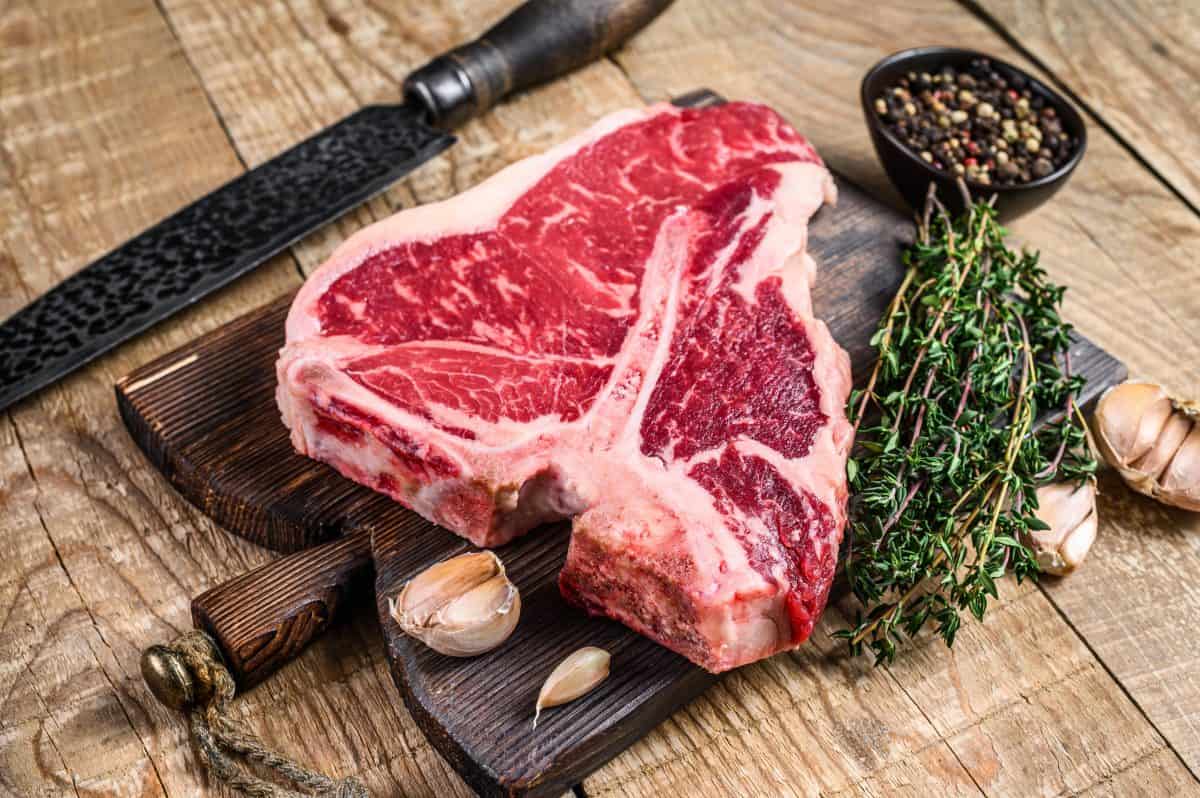 Now that you know how amazing this steak sounds, here are a few recipes for you to get your teeth into:
Serious Eats Slow Smoked Porterhouse
If you find grilling steaks high and dry somewhat hit-and-miss, try this recipe. Perfectly timed and controlled, it results in melt-in-your-mouth, perfectly seared steaks that never fail to impress.
Click here for full recipe and instructions.
Great British Chefs Porterhouse Steak with Beer Sauce
This recipe takes a tasty Porterhouse and pairs it with a deep, meaty bone marrow sauce that has a gloriously rich texture.
Sure to delight the toughest of critics, follow this link for the secret to this porterhouse steak and beer sauce.
Fuss Free Cooking Porterhouse with Garlic-Soy Sauce
Fancy a steak with a kickin' crust? This is the recipe for you. The secret is in the prep of the marinade and allowing it to soak into the meat before you sear it to perfection.
Click here for the full recipe.
Conclusion
The Porterhouse steak is essentially a supersized T-bone, but that doesn't take anything away from it as a standout steak. It has a little of everything, with different flavors, textures, and cuts rolled around one bone.
But be warned you will find yourself in a red meat nirvana-style trance for a few hours after while your body digests it. So, if you choose to take on this mighty meaty feast, be sure to allow a few hours rest to enjoy it and recover.
Let us know what you think of the Porterhouse and our favorite recipes. Did you devour it, or did it kick your ass and leave you with steak sandwiches for breakfast, lunch, and dinner the following day? Hit us up below and let us know.