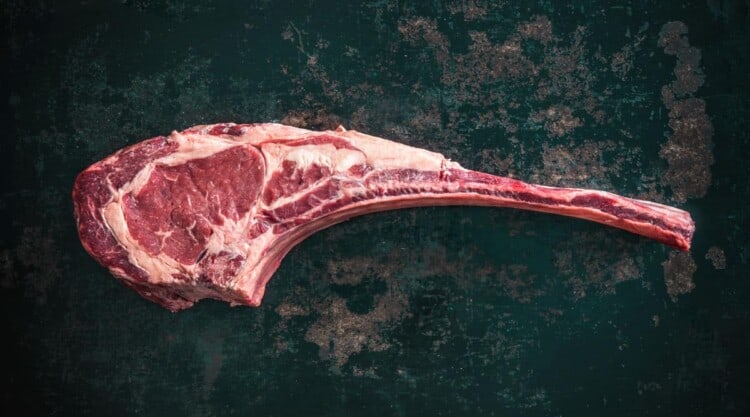 A tomahawk steak is the cut that, when I close my eyes, I imagine Fred Flintstone eating!
It is one of the best looking, and some would say, the best tasting steak of all-time. But is it really all that?
In this guide, we are going to take a look at the tomahawk steak in all its glory. We'll discuss what it is, where it comes from, how this affects its taste and texture, how to grill it to perfection, and lastly, 3 of our favorite recipes.
Let's jump straight in and find out all there is to know about this badass steak!
What is a Tomahawk Steak?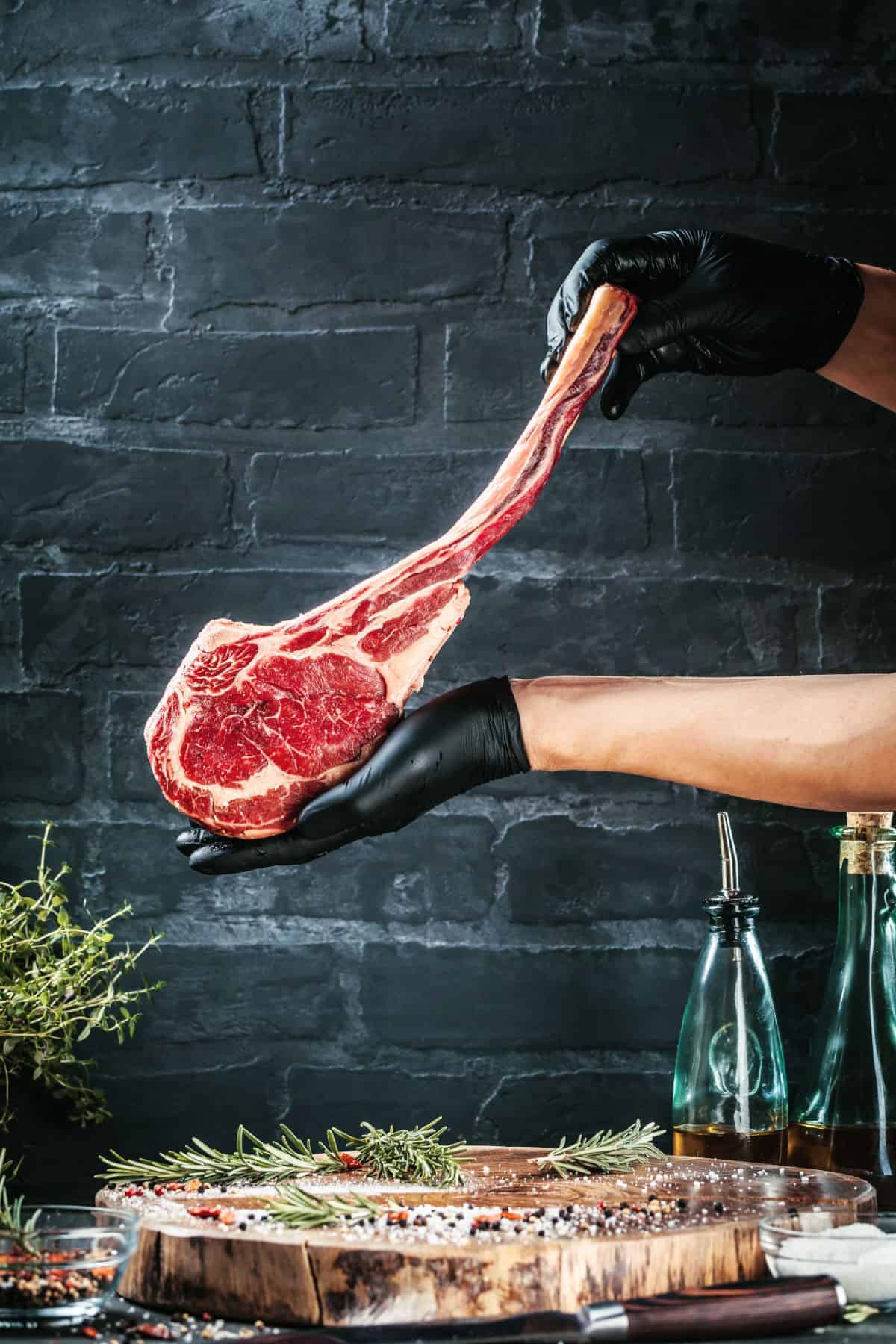 It's an impressively large steak that is kept on the rib, and is big enough to feed two people. It is named as such because of the long bone (a long rib bone) making it resemble the tomahawk axe.
It is quite an expensive cut, and until recently not easy to come by, so unless you're a grill aficionado, you'd be forgiven if you haven't tried one. But it really is one of the most impressive looking and best steaks for grilling.
Here's a short video of Malcom Reed, from HowToBBQRight discussing and grilling a tomahawk steak:
Similar in taste to a prime rib roast, the tomahawk finds himself among the big boys and the steak kings, and by the time you've read this guide, I guarantee that you'll be drooling for a bit of the tomahawk cave-man action.
Where Does Tomahawk Steak Come from on the Cow?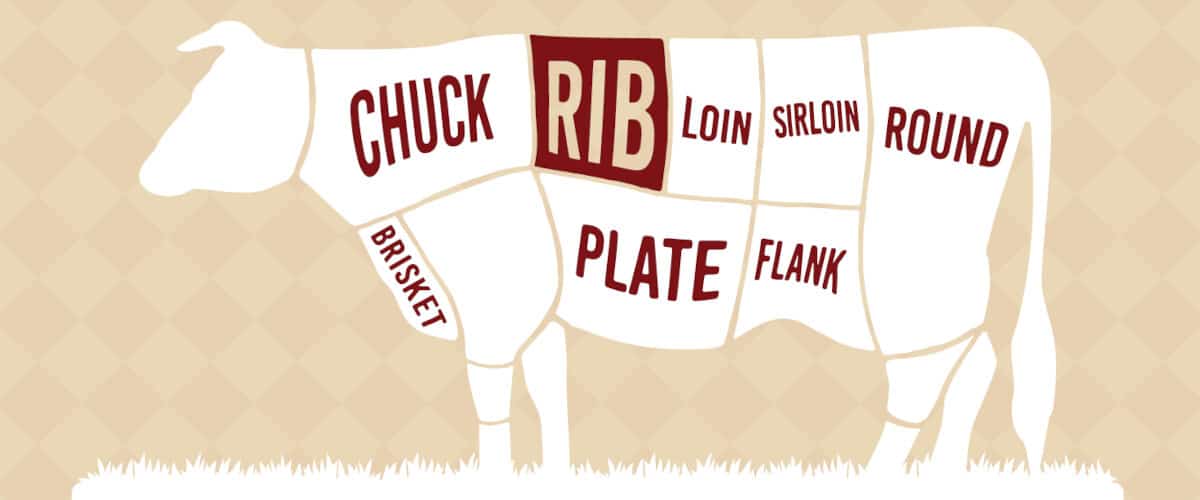 The tomahawk steak comes from the rib primal, situated under the front section of the backbone on the cow.
The primary muscle is the longissimus dorsi (rib eye), It will also include the spinalis muscle (rib crown) and the complexus.
It is a 'bone-in steak, the rib is left in situ, but with a full French-trimmed rib bone attached, leaving it beautifully distinctive and presented with no meat or fat on the bone.
It also means it is easy to grab hold of cave-man style so that you can slap it on the grill, but from personal experience, it also means the dog can easily swipe it off the grill too (I have still not forgiven him!), so watch out for Fido and his costly taste!
The tomahawk is essentially a bone-in ribeye steak that is cut with at least 5 inches of rib bone attached. For this reason, it gets a bit of flack in that you are essentially paying much extra for the bone, which you can't eat.
But…you should probably try it at least once to impress your guests and get a photo for the 'gram!
Check out our guide to all cuts of beef if you'd like to know where many more cuts come from and how to use them.
Other Names for the Tomahawk Steak
This particular cut earned its name as it closely resembles the shape of a tomahawk axe.
If you're not sure what that is, then here is a video of Jason Mamoa enjoying a few drinks and throwing tomahawk axes around. And if you do know what it is, then just watch it anyway for a bit of fun!
This ultimate meat lollipop, like many other steaks, also goes by a few other names:
Rib steak — this steak comes from the rib primal and has a rib bone attached, so naturally, it will be called this by some.
Cowboy steak — when the majority of the bone has been removed, with the smallest of handle (rib) left, then it's called a cowboy steak.
While I doubt you'll ever come across a butcher that doesn't know what a tomahawk is, and if you do, you really should find a new one (!), the industry ID is 1103B (IMPS/NAMPS).
Flavor, Texture, Fat Content and Tenderness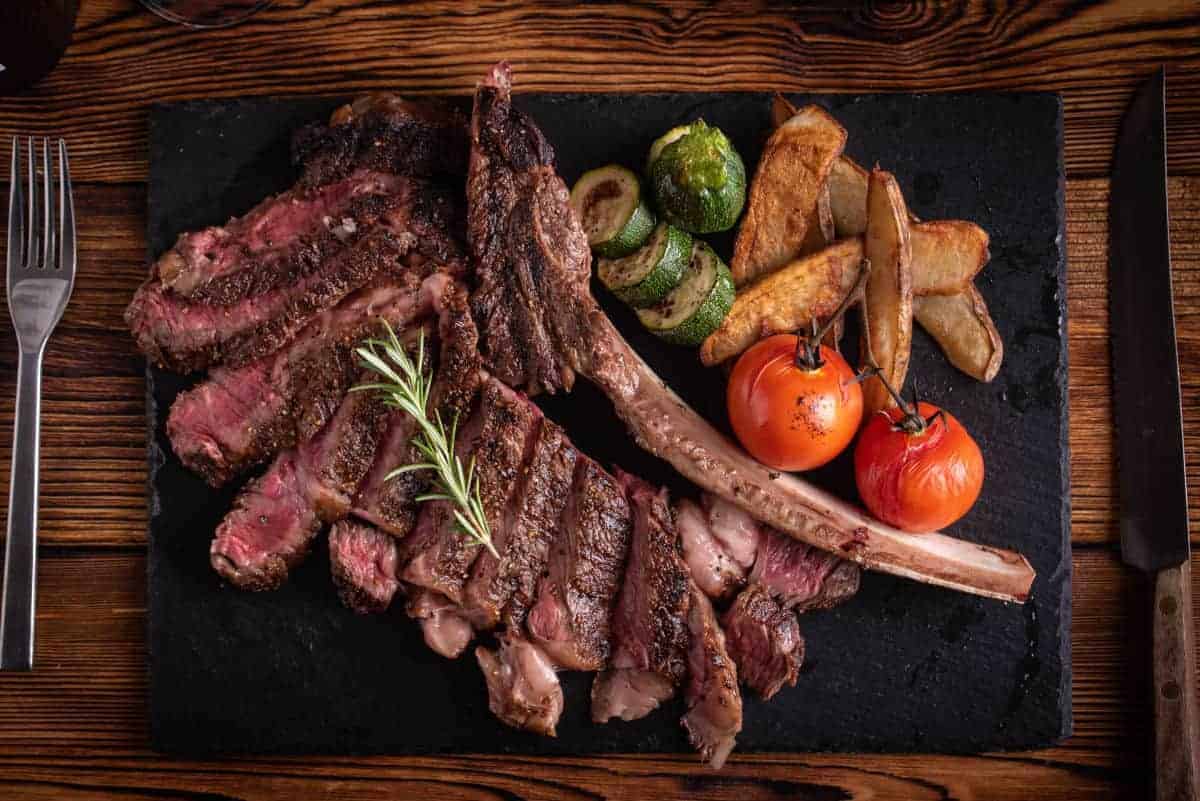 The rib primal is known for producing rich and flavorful steaks thanks to the incredible marbling that runs throughout the muscles. When cooked correctly, it is also tender, with a melt in your mouth texture.
The tomahawk steak is trimmed of the majority of the outside fat to ensure that it looks good and ready to go. It does not have a fat cap, but its amazing marbling ensures this isn't needed!
The huge bone also adds to the flavor, with its juices released into the meat itself. Rich, buttery, and downright dirty, this badass steak offers the ultimate beefy taste!
If you're mad for bone-in steaks with big beefy flavor, like the porterhouse or the T-bone steak, then you'll love this big boy just as much, if not more!
Typical Uses
It's really only used as a standalone steak, to provide a dramatic presentation that will make the most indulgent of people question whether they can handle it.
Please don't waste this guy on fajita meat or anything else — only a pure and simple steak recipe is needed here.
Nutritional Values
Nutrition
Total Amount (Based on 3 oz Serving)
% Daily Value (based
on 2000 calories/day)

Calories
190
10%
Saturated Fat
4 g
20%
Protein
23 g
46%
Iron
2.2 mg
10%
Zinc
5 mg
35%
Buying Tomahawk Steak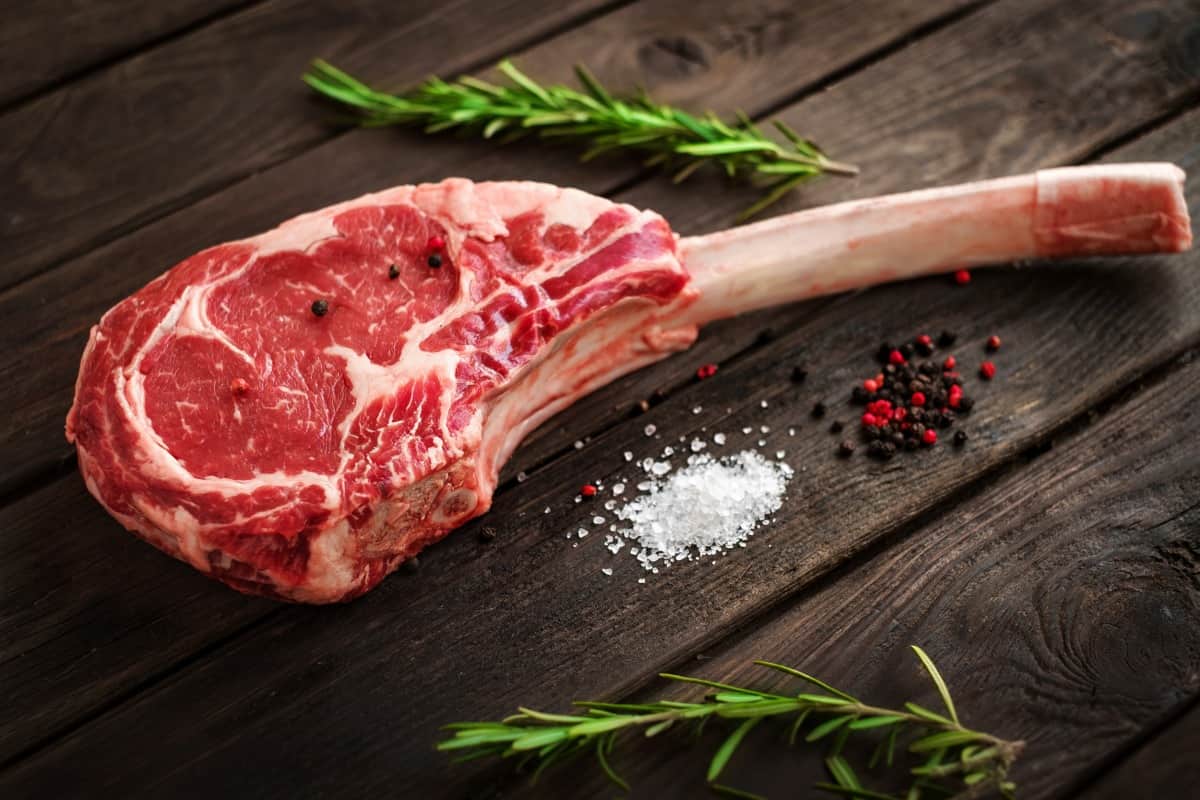 This bad boy is usually only available in butchers and boutique meat shops, simply because of the size and price. And it's a bit more upmarket and flamboyant compared to a simple sirloin.
Some butchers may just offer the bone-in ribeye steak, again because of the price, so you might have to put your order in a few days before you want to collect the tomahawk. And this is where a great relationship with your local butcher comes into play.
Where to Buy Tomahawk Steak Online
To save from an adventure, lugging one around and placing it into your pickup truck, ordering a tomahawk steak online is simple and so much easier!
From the comfort of your own home, you can sit back, relax, and look at the tomahawk temptations from a variety of online outlets, and choose the one that you want.
Delivered straight to your door on the day of your grill session, the best things in life are simple, and online meat markets are definitely one of them.
Here are a few of our favorite meat outlets that offer this cut:
Snake River Farms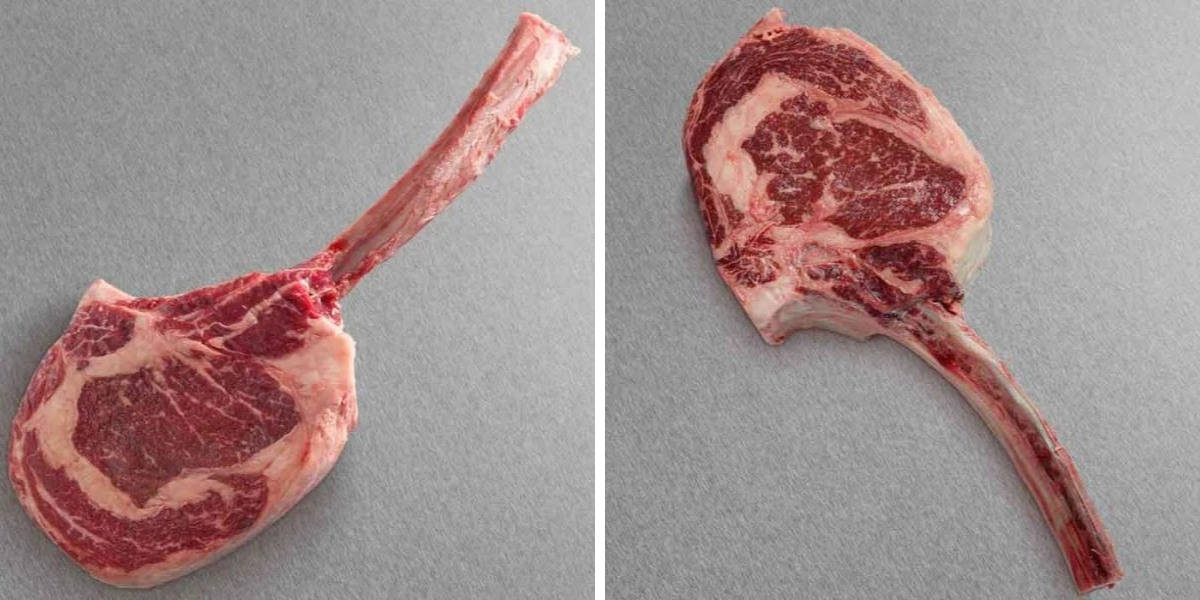 Snake River Farm sells two types of tomahawk steak:
American Wagyu Black grade, with an average weight of 2.75 pounds — With a level of marbling even higher than USDA prime.
American Wagyu Gold grade, with an average weight of 2.5 pounds — Their top-of-the-line grade of beef, with more marbling than even their black label range.
Both steaks are thick enough to accommodate the entire bone, making them 2 inches thick or more.
Check Price on Snake River Farms
Porter Road
Porter roads tomahawk steaks are 2-inch thick, weigh between 2.5 and 3 lbs, and shipped fresh, not frozen.
Well-marbled and full of flavor, the bones are French-dressed (cleaned), and the meat is tied with butcher twine, so they are ready for easy grilling and will be sure to impress.
Crowd Cow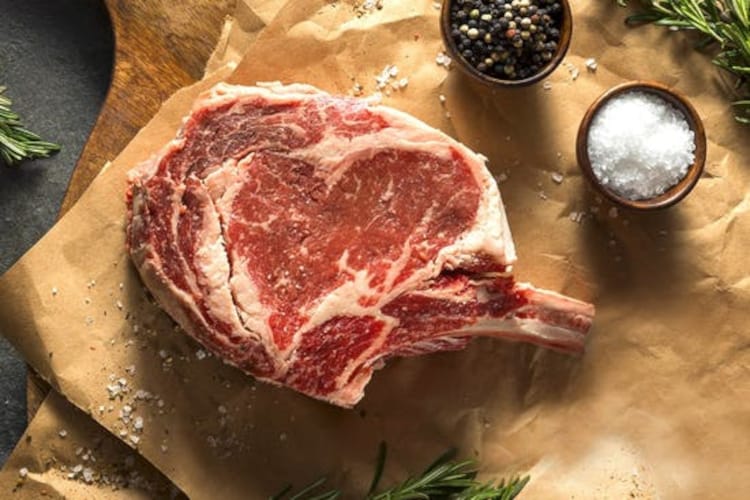 These antibiotic and hormone-free tomahawk steaks from Crowd Cow come in at a hunger-busting 1 lb 6 oz.
Having a shorter bone than most tomahawk steaks are known for, you could call these cowboy steaks. But the exquisite marbling, depth of flavor, and visual appeal still remain.
Average Price
At the time of writing, it costs between $50 and $80 depending on size, quality, and outlet.
This is undoubtedly a high price compared to most other steaks, with some saying it is absolutely worth the price, and others say you are simply paying for an Instagrammable photo opportunity.
But as I said, you have to try it at least once!
Portion Size: How Much Tomahawk Steak Per Person?
This is the biggest single steak of them all, so this one is definitely a sharer.
We suggest that 2 people share this one, with a simple side, but these 2 people best have a big appetite!
The tomahawk typically comes 2 inches thick and weighs approximately 40oz. Remember that this weight also includes the big bone, so you're looking at around 12 to 15oz of meat per person once cooked.
How to Prepare Tomahawk Steak for Grilling or Smoking
We're going to prep this showstopper for the grill. However, this cut also does well in the smoker, and by drilling holes into the end of the rib you can hang them in a smoker, meaning more space for more tomahawks.
If you have ordered this guy online, and it's been delivered frozen, then place it into the fridge for 2 to 3 days before you're ready to eat it.
Once ready, pat it dry with a paper towel, and season it generously with salt and a little of pepper.
To keep this guy's best flavor only season right before you slap it on the grill.
How to Cook Tomahawk Steak on a Grill or Smoker
Because it's so big we need to slowly warm him up rather than sear it straight off, because the edges will char, and the inside will be raw. So here I will suggest using the reverse sear technique.
I also suggest investing in a good instant-read thermometer if you've not already got one, to make sure it's cooked to the doneness level you want — and not a degree more!
Here are our grilling instructions:
Remove the steaks from the fridge and bring to room temperature, this will take around 1 to 2 hours, and then pat dry and add your seasoning.
Light your coals in your chimney, and once they're at temperature and ashy, slide them to one end of the grill leaving the other side empty of coals. Place your tomahawk on the grate above the empty side of the grill.
Flip every 5 minutes or so, including onto the sides, still ensuring it's on the empty side of the grill away from the direct heat source.
After 15 minutes, use your thermometer and check the inside, and once the inside has reached 115f to 120f pull it off and cover it in foil, leaving it to rest for around 15 minutes.
Now to get searing, so bring more heat to your grill by adding more coals to your chimney, and once ready put them into the grill above the original coals. Let the grate heat up for 3 to 5 minutes, and once hot, place your tomahawk directly above the coals.
Sear each side for one minute each, including the sides, and then pull it off. A medium-rare finish will be 130f to 135f inside, so adjust accordingly to your taste.
Serve straight away and enjoy!
Did you know as a massive time saver you can also cook frozen steaks on the grill? And for a more detailed look at the times involved, we also have a more in depth look at steak grilling times, that discuss how size, shape and the different cuts affect how long it takes.
Three Best Tomahawk Steak Recipes from Around the Web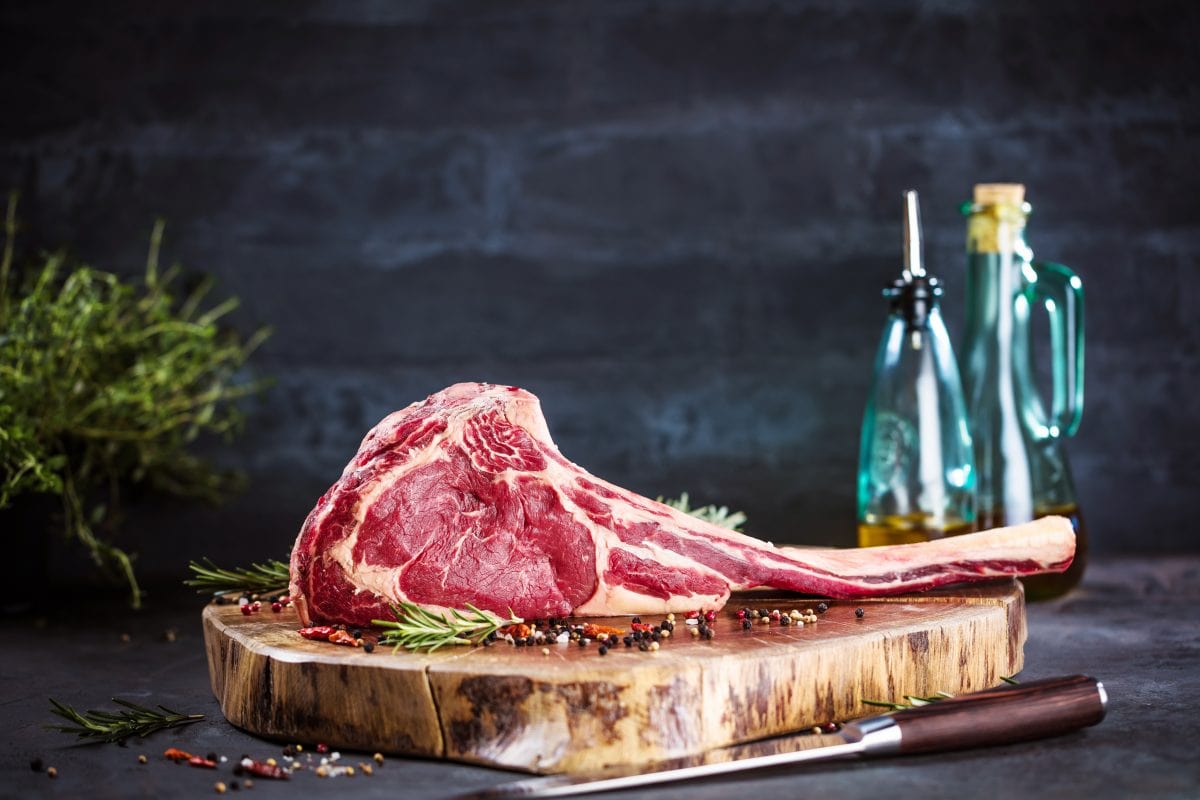 Here are 3 of our favorite tomahawk recipes from around the web, that you can try at home:
Tomahawk Steak With Grilled Brussels Sprouts and Sweet Potatoes.
This was the winning recipe for one of the Master Chef's finalists, so you know it's bound to impress your guests.
Seasoned with salt, pepper and soy sauce, then laid upon a bed of grilled vegetables and silky sweet potato, this hits the spot for sure!
Head here to see the award-winning recipe.
Barbecued Tomahawk Steak With Garlic Bread, Grilled Tomatoes and Tarragon Salsa Verde.
This recipe adds a Mediterranean kick, with blistered cherry tomatoes drenched in a salty salsa made with capers, anchovies, and herbs.
Once that is done, simply slap it on garlic bread, and you've got the best bruschetta ever.
Click here to say buongiorno to this recipe.
Smoked Tomahawk Steak With Sweet and Sour Glaze.
In this recipe, hickory wood chips are used to smoke the meat to perfection, which is then glazed in honey and sherry vinegar for a sweet tangy hit.
Combine this guy with anything that takes your fancy, such as fries and veggies, or egg noodles to complete the Asian combination.
Follow this to find this smoking recipe.
Conclusion
The tomahawk is the behemoth of the steak world, and only the bravest should tackle him alone!
Because producing one in your back garden will impress your guests, increase your grill-cred and get a lot of likes on the gram, it is a cut to save for those special occasions, either for a romantic steak-sharing date or family get together.
Remember, be sure to watch over this prized cut when grilling, not only so that you grill it to perfection, but to prevent pesky pets from making a grab.
Let us know in the comments below just how much you love this steak, whether you think it is worth the cost, and how you get on with our favorite recipes.