In this article we recommend and review some of the most popular and best instant-read thermometers on the market today.
We also cover what it is you should look for when choosing one, dig a little deeper to explain exactly why we think you NEED one, before ending with some best practices to care for your unit to make sure it lasts years, and you get your moneys worth.
The number one thing I tell everyone who wants to up their barbecue and grilling game is that they need to own a quality instant read thermometer.
With the price of beef continuously going up, you don't want to be overcooking and ruining your prime grade ribeye, and you don't want to be under cooking that chicken breast, either.
Anyway, the number one benefit of owning an instant read thermometer is the complete removal of any guesswork. All food will be cooked to safe temperatures throughout, and also perfectly to your chosen level of doneness. Consistently good results can only be achieved by being able to measure the internal temperature of your food precisely.
By the way, we also have an article on how to use instant-read thermometers that you should check out after buying.
But for now, let's crack on…
At a Glance: The Best Instant Read Thermometers Discussed in our Guide
Note: Clicking the above links will take you to further information, current prices and customer reviews on Amazon.
Best Instant Read Thermometer Reviews
These are, in our opinion, 5 of the best, most feature packed, durable and good value for money instant read meat thermometers on the market today.
There's sure to be one to suit your needs in this list, regardless of your specific budgets and requirements.
1
Lavatools Javelin Pro Duo
♔ Top Pick
This is an excellent thermometer at an affordable price.
If you've never used a thermometer before, and you're unsure if you want to shell out big bucks for one, this is a great choice.
The manufacturers' website boasts great accuracy at ± 0.9 °F. You're not going to have to worry about overcooking your steaks or serving undercooked poultry with this unit.
In addition to being super accurate, the Javelin Pro is able to read the temperature of food in as little as 2 – 3 seconds. Great if you're looking to check your steaks quickly, and you don't want to let too much heat escape your grill.
With a wide temperature range of -40 °F to ~482 °F (-40 °C to ~250 °C) there is very little this unit can't be used for in the kitchen, let alone grilling. If you use a deep fryer, and you need to know the temp of your oil, this thermometer can handle this task as well.
While the manufacturer doesn't claim that the unit is waterproof, they do state it is "splash resistant."
All signs point to a quality thermometer that will last you a few years of regular use. And with a 3-year limited manufacturer's' warranty, you have the comfort of knowing the company is standing behind their product.
One of our favorite features is the "Intelligent Stabilization Alert + Temperature Hold" — in other words, the unit will beep to let you know it has completed accurate readings of the temp of the meat.
There is also a backlit display that will automatically notice when it's too dark to read the unit and turn itself on. There's a magnet built-into the unit, so it's easier to store. Auto shut off if left open to conserve battery life, as well as a large auto rotating display, meaning you can use this unit with either your left or right hand with ease.
Finally, it can display temperatures in either Fahrenheit or Celsius.
Out of all the meat thermometers we looked at, we feel this one comes with the best mix of features at a great price.
Pros
The simplistic design.
Fast and accurate.
No confusing display.
Automatically turns on/off.
Auto backlit display.
A breeze to operate, requiring nothing from you but the ability to read numbers.
Great price point.
3-year warranty.
Cons
It's larger than some others
The hinge can be stiff to open — You're going to need both hands to use this thermometer which isn't a big problem, so long as you have somewhere safe to lay down your beer first.
If you're looking for an accurate, superfast thermometer, with lots of added features at a reasonable price, this is the unit for you.
If you're looking for a rugged unit that's going to be built to last the rest of your days, or if you're looking for a unit that is a little more basic, you may want to keep looking. But all in all, this is a great thermometer at a low budget.
For more in depth look at this thermometer, please check out our hands-on Lavatools Javelin Pro Duo review.
2
Mister Chefer Instant Read Thermometer
♔ Budget Pick
Despite its peculiar name, the Mister Chefer thermometer is another low-priced option that comes with some nice extras. It has all the necessary functions you would need in an instant-read thermometer.
The Mister Chefer is accurate to ±1 °F, which is very respectable.
With an average reading time of 3 – 4 seconds it's not the quickest of thermometers, but it's still fast enough not to be a hindrance to effective regular use. You won't be all day waiting to find out how much longer your pork shoulder needs to cook for while your heat is escaping the grill.
Much like many of thermometers on this list, the Mister Chefer has a wide temperature range from -58℉ to 572℉, meaning you can do a lot more than cook on the grill or smoker with this thing. It also has selectable temperature display at the push of a button, to choose between Fahrenheit or Celsius.
With a simple auto-on/off feature, this thermometer couldn't be easier to use. Simply open the probe, and the unit turns on and is ready to use. When finished, close the probe, and it turns itself off.
This unit comes with a handy button-activated backlit display. Perhaps not as nice as an automatic one, but still a very nice feature. It also has a button to 'hold' the temperature for easier reading even after the probe has been pulled from the food.
You're able to calibrate this unit yourself to ensure its accuracy over time which is a nice feature, and additionally it has a built-in magnet and hoop for easy storage.
With its low price point, you tend not to expect a lot from a meat thermometer with as many features as the Mister Chefer, but it does come with a lifetime warranty, and a 100% money-back guarantee from the manufacturer who also claim the unit is waterproof.
Pros
Not best in class, but easily accurate and fast enough for use.
Backlit display.
Auto on/off.
VERY budget friendly.
Lifetime warranty.
Cons
It would be easier to use if the display rotated.
With its current design, it would be difficult to use if you are left-handed.
Basically, if you don't have a large budget, but you want an accurate and quick thermometer, this is the unit for you.
You simply couldn't have a list of great digital thermometers and not bring up the amazing Thermoworks Thermapen MK4.
This unit is considered by many to be the Gold Standard when it comes to the best instant-read thermometers and the unit that is arguably most copied on the market.
This model is the most accurate one on our list, coming in at ±0.7 °F of the exact temperature. The MK4 is also one of the fastest meat thermometers on our list, with a rate of 2 – 3 seconds reading time. With this bad boy, you'll be able to quickly and accurately tell the temp of your steaks and chops in no time.
With one of the most extensive ranges in this list, the MK4 has a temperature range of -58.0 to 572.0 °F. This means you'll be able to use it for many other things outside of grilling and barbecue.
As mentioned, this model is the gold standard of the instant-read thermometers market. One of the main reasons for that distinction is because it is very rugged and durable.
Hard resin plastic on the outside, and with a design that is waterproof, you need not worry about longevity with this model. If dropped, onto the floor or into water, this unit survives.
The Thermapen MK4 features a rotating display, so no matter which hand you hold it with, or how you tilt it, you can still clearly read the temp.
It turns on when the probe is opened and automatically turns off when closed. Also, If you forget to close the probe, it will automatically turn off after a few minutes, and turn back on when you pick it up. This is a great feature that extends the average battery life to the fullest.
Finally, the back lit display will automatically turn on when it senses it's in a low light environment, and there are buttons in the battery compartment that allow you to change between degrees C and degrees F.
Here's a video overview of the most important features in action:
The Thermapen MK4 is incredibly simple to use. Just open the probe, and it turns on. Insert the probe into your food, read the temp within 2 seconds, close it to turn off. Even if you forget to close the probe, it'll still turn itself off to save battery.
Pros
Incredibly fast and accurate readings.
The rugged build and waterproofing ensures a long life.
Auto-backlit screen when it detects dark.
Rotating screen, for easy reading if right or left-handed, or if the unit is upside down.
Auto-turn off to conserve battery, that turns back on when you pick it up.
2-year warranty for peace of mind.
Cons
While it is hard to find ANY fault with this unit, the heavy price tag compared to some on this list make it a bit hard to swallow for many.
If you're looking for the hands down, best instant-read thermometer on the market right now, and you do not care what it costs, then this is the unit for you.
If you're shopping on a budget, or if you simply do not need some of the extra features we've spoken of, then you should consider a cheaper model.
But hey, there are reasons that the Thermapen is the model you see on every episode of BBQ Pitmasters and every Food Network show.
4
ThermoPro TP620 Instant Read Meat Thermometer
Recommended
This is a high-end thermometer with many convenient features, and after my testing proved to be fast with high accuracy.
ThermoPro has made a reputation for itself, creating quality thermometers to fit every niche. The TP620, formerly marketed as the TP19X, takes aim at the premium instant-read market, boasting impressive statistics and well-thought-out design.
Looking at the manufacturer's specs, the TP620 has a range of -58 °F to ~572 °F (-50 °C to ~300 °C), which is pretty typical for this type of thermometer. More importantly, ThermoPro reports an accuracy of ±0.9 °F/0.5 °C, which is at least as good as, if not better, than the majority of instant-read thermometers.
The other key data point to consider is the response time. How "instant" is it? Readings happen in about 1 to 3 seconds. That's comparable to the best on the market and faster than most lower-cost models.
Appearance-wise, the TP620 is boxier than some models, including its close cousin,  the TP19. But, with the slip-resistant handle, you're unlikely to lose your grip.
There's just one button on the front face of thermometer: a LOCK button that holds the displayed temperature for 5 seconds. That means you can stick the probe into your food, take a reading, press LOCK, and pull it away from the heat to view the results away from the heat safely.
So, how does it turn on? Unfolding the 4.5" stainless steel probe from the antimicrobial-coated, waterproof base automatically turns on the display. Fold it back to the closed position to turn it off again. Don't worry, though — if you forget, it goes into sleep mode after 90 seconds of inactivity. Any movement wakes the screen up again.
Inside the battery compartment (it runs on a single AAA for up to 3000 hours), you'll find a recalibration button should you ever find your TP620 has lost its accuracy. Additionally, there's a small button on the back to switch from Fahrenheit to Celsius.
Pros
Auto on/off when probe is unfolded/folded
Digital display flips when up/down orientation changes
Large, bright, always-on readout
IP65 waterproof housing for rainy days and washing
Sleep mode conserves battery life
Built-in magnet and hook for storage
Cons
Probe folds out to 180 degrees, not 270 degrees, which would make it fully ambidextrous
It's time to ditch the AAA; for this price, I'd like to see a rechargeable lithium battery
One of the pricier models of this type of thermometer
The ThermoPro TP620 is up with the category leaders for speed and accuracy. Combine these factors with the list of convenience features, and you'll see it's worth the extra money for anyone serious about barbecue.
For more details, read our hands-on review of the ThermoPro TP620.
5
Lavatools PT12 Javelin Digital Instant-Read Meat Thermometer
Recommended
The little brother to the Lavatools Javelin Pro thermometer discussed above, this unit is basically the bare-bones equivalent with fewer features.
Just like the Pro model above, the PT12 is accurate to within ±0.9 °F, and can read the internal temperature of meat in 3 – 4 seconds, just a tiny bit longer than the Pro. This makes it a very capable thermometer.
Just like the Pro, this model can read temperatures between -40 °F to 482 °F. So if you're looking to use this unit to grill, barbecue, make candy or brew beer, it will get the job done.
Built with the same quality as its big brother, this unit also offers a splash-proof design.
But this is where the PT12 falls down when compared to the Pro:
The PT12 doesn't offer nearly as many features, it's a bare-bones unit offering just a built-in magnet and an auto-off function when you open and close the probe.
But as a basic unit, it's easy to operate with nothing that can possibly confuse. Simply open the probe and the unit turns on. However, it doesn't have a rotating or backlit display.
Pros
Accurate and fast reading.
Simple operation.
Great bang for your buck with.
Cons
We wish the PT12 had a backlit display for nighttime grilling because when smoking a large cut like a brisket or pork shoulder, it's inevitable you'll sometimes be grilling in the dark.
A rotating display would make it easier to read.
If you're shopping on a budget, looking for a bare-bones unit that is still fast and more than capable, or you're simply looking for a second meat thermometer to have as a back-up, this is the unit for you.
If you want all the features that come standard in the Pro version above, then you should buy that model and not be disappointed.
6
Taylor Precision Products Splash-Proof Dual Infrared/Thermocouple Thermometer
Recommended
This unit is an interesting piece of kit that differs to most on this list. It is a dual function thermometer, able to both read the internal temp of meat by a probe, and also read surface temperatures thanks to the included infrared thermometer.
In other words, you will be able to read the temperature of surfaces without touching them using infrared light, making sure it's hot enough before you start searing meat, or put your pizza onto a stone.
The accuracy of this unit varies depending on the temperature: below 14 °F – ±2 °F; 14 °F to 149 °F ±1 °F; Above 149 °F ±1% of the temperature being read.
With what has to be one of the fastest reading times I've ever seen, both the infrared and thermocouple thermometers can read within 1 second.
Again, the temperature range varies. The infrared temperature ranges from -67° to 482 °F. While thermocouple temperature ranges from -67 °F to 626 °F.
This model has three LED lights on the face of thermometer to let you know if the temperature you're reading is either food safe for hot or cold holding, or if it's somewhere in the middle.
There's also a hold setting, to freeze the last read temp, and an auto shut-off to save battery.
This unit requires a bit more work to operate, but once you understand how it works, you shouldn't have any issues.
To measure the internal temp of the meat, open the probe, press the green "Probe" button, and it will automatically measure your temp.
To measure the surface temp, hold the infrared lens a couple of inches away from the surface you want to measure. Press the red "Scan" button, and a white light becomes visible to show it's reading the temperature.
Taylor is a trusted brand name that has been manufacturing thermometers for over 150 years. Like most of their products, this meat thermometer is a high-quality construction, built to last.
Pros
The fact you can measure both internal and surface temperatures.
VERY fast reading.
Interesting features, not seen on some others.
From a known, trusted and proven brand
Cons
The lack of a back lit screen is a bit of a let-down for a thermometer that has so many forward-thinking options.
It would also be nice if the screen were bigger and easier to read.
A bit harder to use than others, but still very simple (nobody will struggle with it.)
If you're looking for a thermometer you can use to measure both the internal and surface temp, this unit offers excellent value.
If you already own an infrared thermometer, it wouldn't be necessary to purchase a thermometer like this that offers both.
This is a great thermometer for the money. It is essentially like you're getting two for the price of one, and should be a consideration for anybody that cooks in wood fired ovens / pizza ovens.
7
Surround Point Talking Instant Read Thermometer
Recommended
The Surround Point Talking Thermometer is a nice thermometer at a lower price point. It does have a neat feature where it will actually speak out the temperature reading, so is good for those who are visually impaired.
The probe has a wide temperature range of -58℉ to 572℉, with an accuracy of ±1 °F, so you can take your temperature reading with confidence.
And like most all thermometers we're looking at, it has a fast reading time of approx. 4 seconds.
As previously mentioned, this unit has the unique feature of being able to tell you out loud the temperature reading automatically. This is great if you're trying to read temp in an awkward spot and can't actually see the temperature reading.
There is a simple on/off button, and another button to choose between displaying temps in Fahrenheit or Celsius.
In addition, the unit has a backlit display (also push button) and automatically shuts itself off if left alone.
By no means is this thermometer difficult to use, but there are some buttons on it that you'll need to operate to use it effectively.
Essentially if you want to use the backlight or have thermometer tell you aloud what the temperature is, you will need to press the clearly labeled buttons.
This unit is one of the cheaper ones on our list, so I feel obliged to warn that you frequently get what you pay for in these scenarios. It should also be noted that the unit is not waterproof.
Pros
The low price point
The neat feature where you can hear the temp at the push of a button
Backlit display (though push-button, not auto-sensing.)
Cons
it would be nice if the display could have rotated.
Nice if the unit was at the very least splash proof.
On top of being a great choice for someone on a budget, this thermometer would be great for someone visually impaired who will benefit from being told the temperature reading audibly.
If you wouldn't either benefit or enjoy hearing the temperature read out, then this probably isn't the model for you.
Also, if you're looking for a quality thermometer with more bells and whistles like a rotating display or being splash proof, this may not be the unit for you.
In short, this is a great budget option and would probably make a nice back-up thermometer for some.
The Thermopop is another thermometer made by Thermoworks, the people that make the Thermapen, and while it's still a great little thermometer, there are some stark differences between the two.
Right out of the gate, the Thermopop is nowhere near as accurate as the Thermapen. The Thermopop is accurate to within ±2.0 °F from -4 °F to 248 °F and ±4.0 °F thereafter.
Also, the Thermopop is just a little slower than the Thermapen and can read temps in 3 – 4 seconds.
Like most all thermometers in this list, and exactly like the Thermapen, the Thermopop has a wide temperature range of -58 °F to 572 °F.
Even with its small size, the unit is packed with features. It has a large rotating backlit display, is splash proof, and because of the round design and the rotating display, this unit can be turned on and used by either the right or left hand with ease.
Like all Thermoworks products, the Thermopop is a high-quality device designed for constant use in commercial kitchens.
There are nine colors to choose from, and it's such a simple unit, it couldn't be much easier to use. Put your probe into the food, and read the temp.
Pros
Definitely the best value in terms of getting a quality thermometer for the price.
We also like the ease of use and the rotating display.
Cons
While this unit is great and packed with features, we would really like if it was a little more accurate.
This unit is designed for constant use in a commercial kitchen, but is also great for someone who wants a quality thermometer for home use, while not wanting to spend a lot of money.
If you need to have a super accurate thermometer, or you want a large thermometer you can hold onto for an extended period of time, you may want to consider the Thermapen.
Regardless of what unit you go with, you're going to have a quality tool to add to your grilling arsenal.
Video: Instant Read Thermometer Overview
In the following video, the good people at Reviewed.com help us understand the basics of why you would want an instant-read thermometer for meat, and what to look for when purchasing one.
They also speak of the highlights of some of the units we're going to review later in the article.
Let's discuss things in more depth…
The Benefits of an Instant-Read Thermometer
For such a basic tool, there is little in my arsenal of cooking gadgets that outperform my instant-read thermometers when it comes to being essential.
It has easily improved my cooking skills more than any other tool by allowing my cooking to be more accurate and consistent.
With an instant-read thermometer, there is no more cutting open steaks or chicken to check if it is either safe to eat, or done to my liking. Regardless of what the recipe may tell you, the food is not cooked in five minutes, the food is cooked when it reaches the right internal temperature.
In short, an instant-read digital thermometer will quickly inform you what is going on inside your food, so you don't ever have to guess and will rarely if ever get it wrong. No more serving undercooked unsafe to eat meat, or overcooked, dry boot leather.
Who Needs One?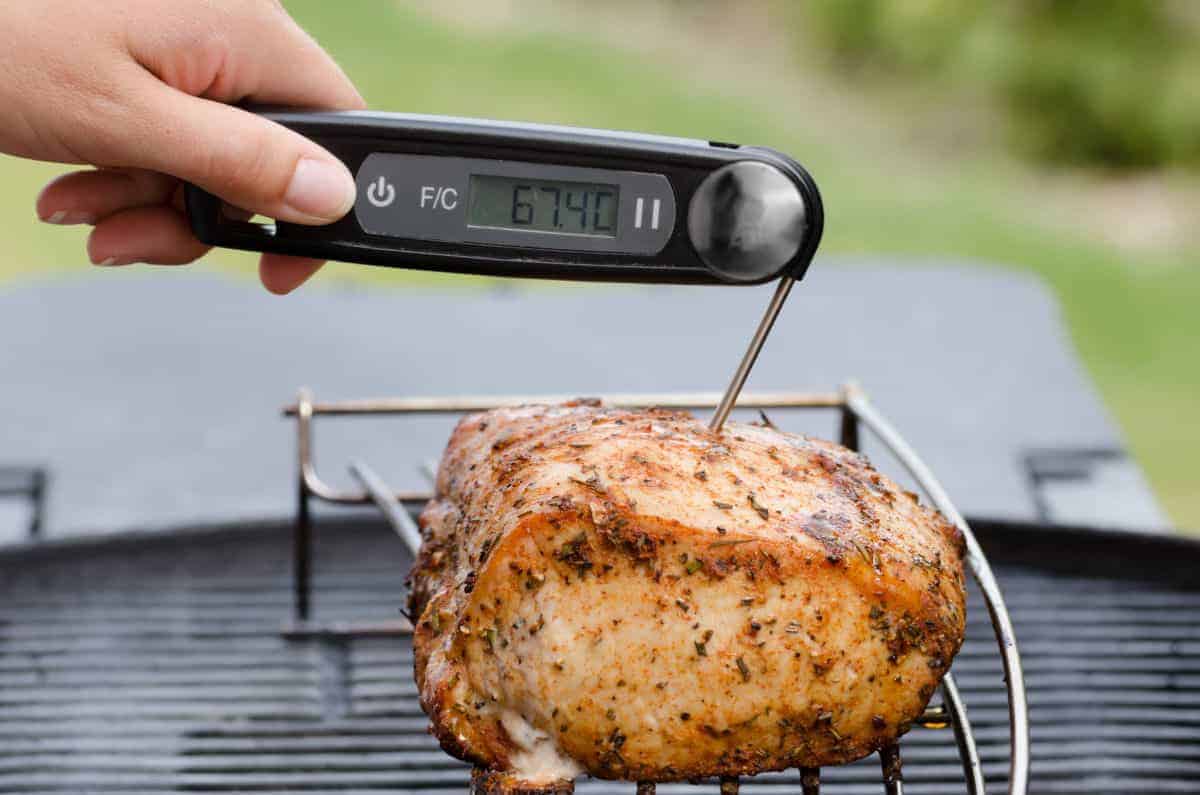 It is my firm opinion that anyone who cooks meat needs an instant-read thermometer to take accurate temperature readings. That is inclusive of both grill masters and master cooks who never venture outside.
Sure, there's always that one guy who comes to the cookout, watches you grilling steaks, and gives lots of unsolicited advice. He swears by "this neat trick my Uncle taught me," and proceeds to demonstrate how different parts of his hand mimic the doneness of the steak.
Don't even get me started on this one!
Listen, this is plain false. The fact of the matter is a chubbier cook is going to have a fleshier hand than a skinnier cook. Their hands are not going to feel the same. Which brings me to my point: unless you use a quality thermometer you are guessing the internal temp of the meat.
If you're cooking steaks to order, or you are serving meat that has to reach a specific temperature to be safe, like chicken breast or a turkey burger, you don't want to be guessing if it's done, do you?
For the health and safety of the people eating, you need to be sure. And the only way is to read temperatures with a thermometer. Buy one, they aren't just for the grill, they are a kitchen thermometer too!
Digital vs. Analog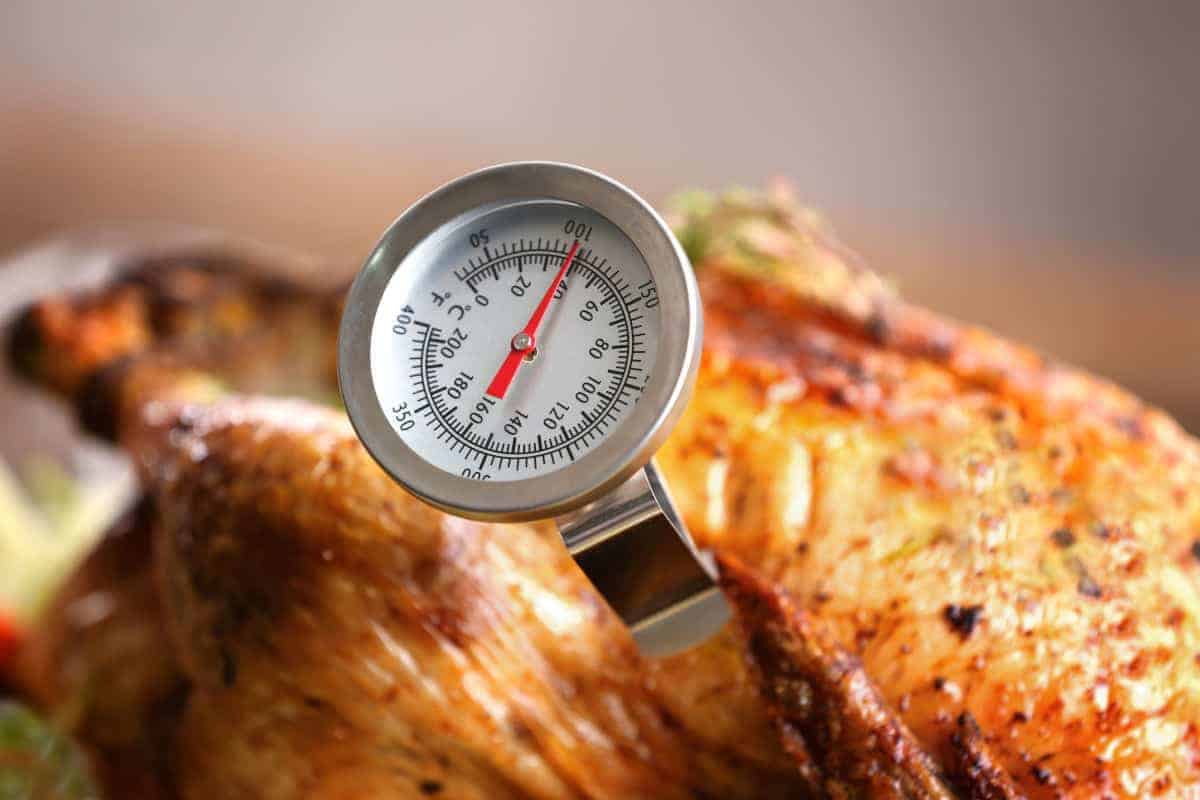 Thanks to digital thermometers it's now easier than ever to know the internal temperature of the meat.
Before digital thermometers, there were only analog thermometers. Basically a probe with a dial thermometer at the end. And while they got the job done, they are no match to even the most basic of digital thermometers.
Even the best and most expensive analog thermometers take far, far longer to sense and settle into a proper reading and display it, when compared to their digital counterparts.
On top of this, anything but the most expensive analog thermometers aren't known for being nearly as accurate as modern digital models, and don't offer much more than an estimated temperature range.
These Might Also Interest You…
What to Look for When Buying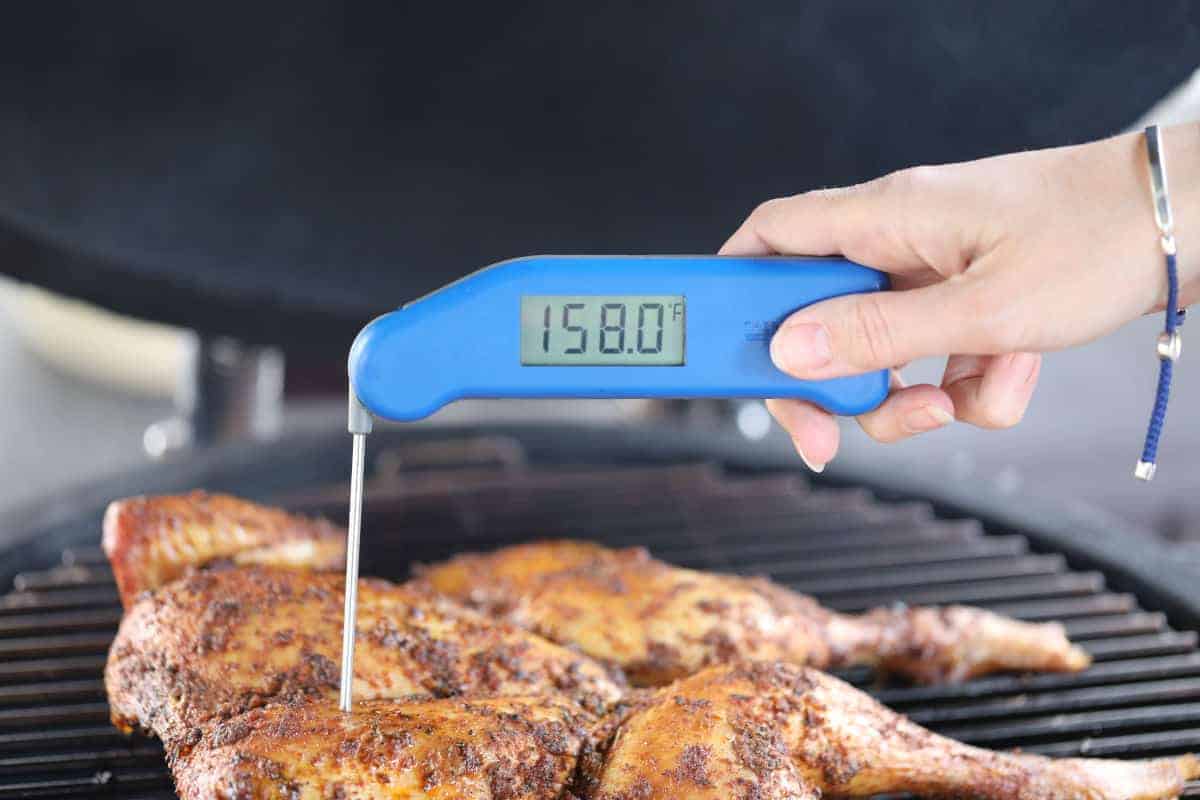 With so many models on the market, it can be a challenge to know what exactly to look for when you go shopping for a digital thermometer.
Before you go out and purchase the first unit you come across, here's a quick rundown of the types of considerations you should keep in mind when shopping.
Accuracy
Before all else, you want a thermometer that's accurate, and can either be calibrated by yourself, or comes with a guarantee of accuracy and can be calibrated by the manufacturer in the rare event it needs performing.
Accuracy is the single most important thing! It's no good to you if it fools you into thinking your steak is medium rare when it's the wrong side of rare or well done.
Speed of Reading
While not as important as accuracy, you want to be able to read your temperature and move on quickly.
The longer you're standing with the lid to your grill open, the more heat is escaping, the more any charcoal or wood fire then fluctuate once the lid is closed again, and the less consistent your cook. Not to mention slower.
Temperature Range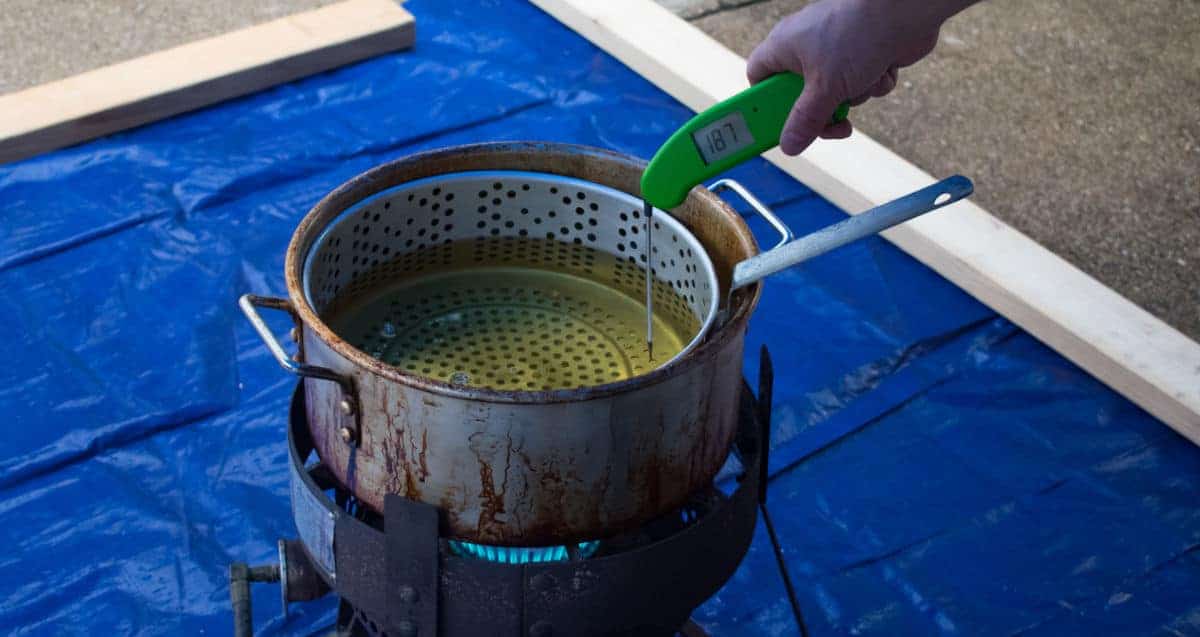 How high and low do you want to be able to read with your thermometer?
Obviously, if you're going to be cooking steaks, you need to be able to read at least 145 °F, but if you're cooking brisket or pork shoulder, you'll want to be able to read to 205 °F.
If you want to use your thermometer to help you make candy, you're going to want to be able to read even higher temps.
So make sure you buy a thermometer that will be able to measure all the temperatures you ever plan to test with it.
Features
Just like all modern accessories and gadgets, there are some great features available that can take a thermometer from merely good to truly great.
Most thermometers can go from Celsius to Fahrenheit with the push of a button. Many have backlit displays which make cooking outside at night easier, and some backlit displays are automatic, turning on their own when the light levels fall.
Some models have displays that auto-rotate to make it easier to read from every angle. Some display temperatures in tenths of a degree for super accuracy. And some are waterproof which means you don't have to worry about getting them wet.
Decide which features really matter to you, but be aware that with every desirable feature you add, you generally speaking have to pay extra.
Ease of Use
The last — but still important — thing to consider is how easy it is to use.
When you're in a hurry with a hoard of hungry family members waiting for dinner, or you're juggling three grills, four types of meat, six sides and more, you don't want to be fumbling with your thermometer. You want to be able to easily turn it on, use it, and put it away without any fuss.
How to Use an Instant Read Thermometer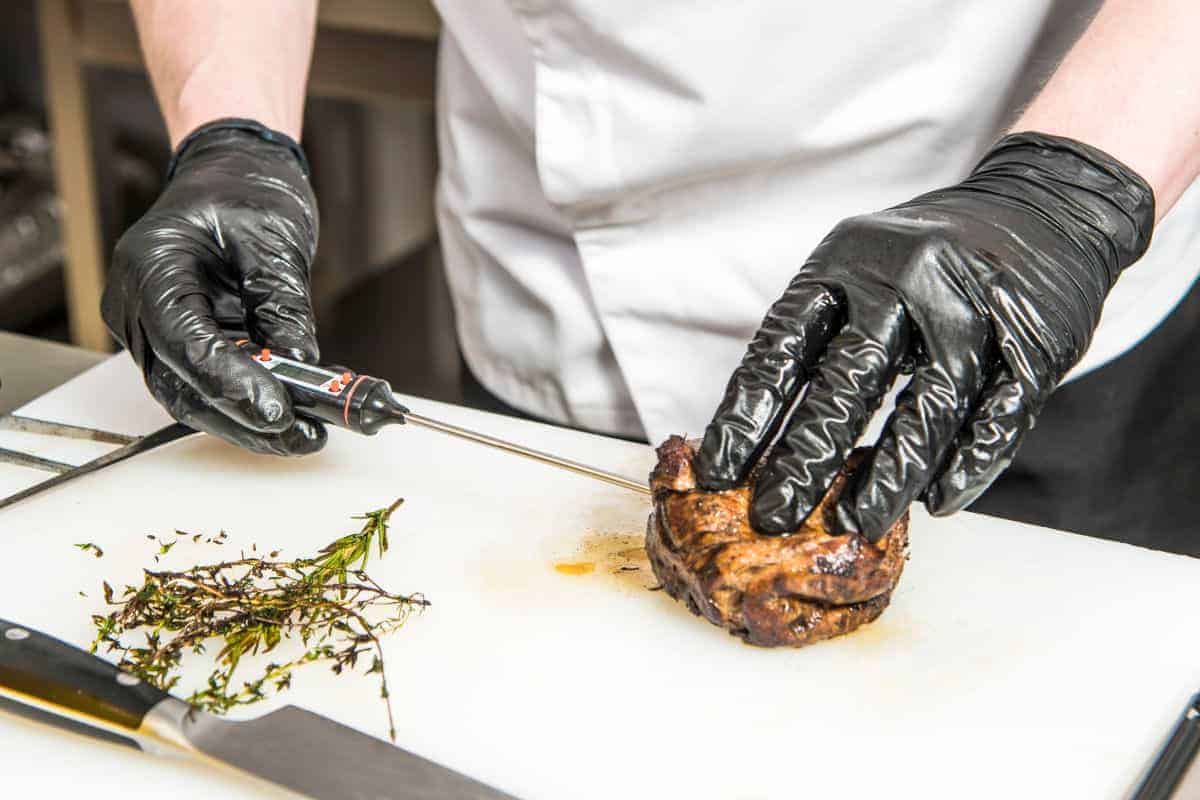 OK, so we've gone over what to look for in an instant-read thermometer, and reviewed some of the most popular models on the market, but how the heck do you use it?
According to Christine Gallary, a graduate of Le Cordon Bleu and writer for Cook's Illustrated, using a thermometer is undoubtedly not complicated, but there are some things to keep in mind.
No matter the type of meat you're attempting to measure the temperature of, you should always place thermometer into the thickest part of the meat and keep the probe away from the bone.
If you're trying to read the temp of a skinny piece of meat like a hamburger or thin pork chop, turn the meat sideways and place the probe in lengthwise. It's easier to make sure you hit the center and get an accurate reading this way.
Lastly, you need to give your thermometer time to measure the temp so give it 4 or 5 seconds to finish reading the temperature.
How to Calibrate Your Thermometer
Not all thermometers can be calibrated without being returned to the manufacturer, but if you can, it would be a worthwhile practice to occasionally calibrate them to ensure if they're always operating in tip-top shape.
Every thermometer will have a different process to calibrate them (if possible at all). You may have to simply push a button when thermometer has reached a certain temp, or you may have a small dial to turn. Consult your thermometer's owner's manual for more information.
You can check your thermometers calibration in one of two ways: you can insert it into boiling water and make sure it reads 212 °F, or you can place it in a bowl of ice water and make sure it reads 32 °F.
Care and Maintenance
For a thermometer to last years — or a lifetime — you must know how to care for and protect your investment. We'll start with cleaning it.
Some thermometers are waterproof, and others are not, so you will need to be careful when cleaning.
You may only be able to simply clean the tip of the probe with a damp cloth so not to damage the unit. But regardless of thermometer type, you should clean the probe after every use for hygiene reasons. You do not want to introduce germs and bacteria into your food when taking a reading.
So, thoroughly clean your thermometer probe with soapy water after every use, but be mindful of the fact you should not get the body wet as it may malfunction.
Next, don't leave your thermometer outside for long periods of time. If it gets either too cold in winter, or too hot if left in direct sunlight, it can easily damage the internal electronics.
Make sure the unit is turned off when stored away and be on the lookout for weak batteries. Once the batteries start to wear down, don't hesitate to replace them with fresh ones because old batteries leak acid that damages the internals.
Conclusion
The Thermoworks Thermapen MK4 takes the top spot in our list of instant-read thermometers. With a high-quality build, super-fast and accurate temperature readings, and long list of features, it simply can't be beaten.
Coming in a close second is the Lavatools Javelin Pro, which is almost as good and has a lot of the same features as the Thermapen, but for approximately half the price.
What do you think? Did we miss any major thermometers on the market that should be included in this guide?
Please leave us a comment below to let us know your thoughts.
Happy grilling!