Are you shopping for a digital instant-read thermometer? Keep reading for a complete review of the ThermoPro TP620, including specs, features, and a hands-on performance review.
We live in an era in which we demand instant results from just about everything.
Meals get delivered from any restaurant we want in minutes. Computers run at blazing speeds. Online orders arrive the very next day or even the same day, sometimes in 2 hours or less. It's insane.
I saw a comedian proposing Amazon Now, a new service that sends you things before you ask for them. I'll bet it's in development already, right next to Bezos' outer space fulfillment center.
Naturally, we barbecuers are not immune to this trend. Look at thermometers. It used to be that you'd have to wait ungodly lengths of time to get a reading. We're talking 15 seconds or longer here!
Today, though, the best thermometers give accurate readings in 3 seconds or less. That's more like it!
All kidding aside, fast thermometers are extremely practical. For one thing, they keep you from needing to hold your hand over a hot grill. And, they reduce time spent with the lid open, losing your ambient heat. Plus, every second counts when you're grilling a steak for mere minutes, aiming for the perfect medium-rare.
To help you find the best digital instant-read thermometer for your grilling needs, I present my hands-on review of the ThermoPro TP620.
ThermoPro makes a range of quality thermometers, so I have high hopes for this one. Will I be left disappointed? Or will it join the ranks of my go-to grilling gadgets?
The answers are below.
General Overview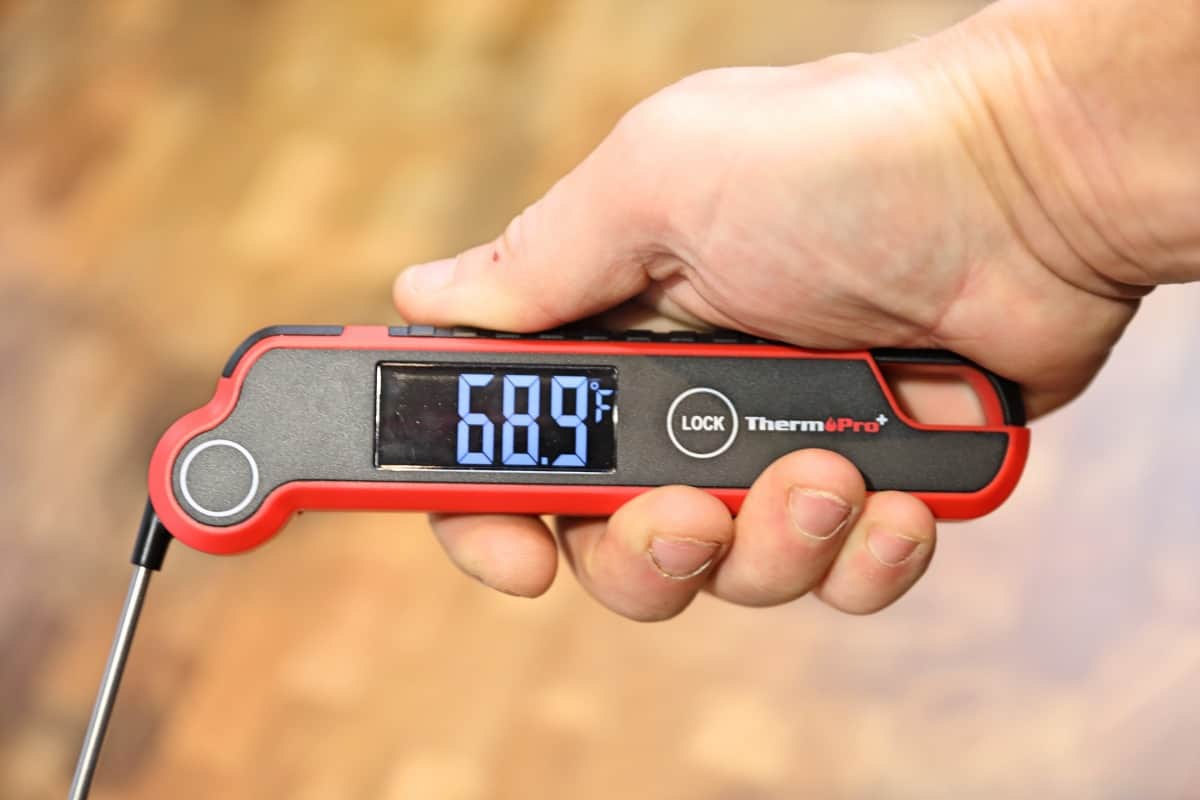 The ThermoPro TP620 is a digital instant-read thermometer designed for fast, accurate measurement of food temperature.
Unlike your more typical leave-in probe smoker thermometers, it's meant for quick, on-the-fly readings. It's useful for food that doesn't lend itself to being wired up to a base unit, for moving quickly between multiple food items, and for verifying what your leave-in thermometer is telling you.
The TP620 is a battery-operated unit with a digital display and a thermocouple sensor for highly precise readings in just seconds.
ThermoPro previously marketed the TP620 as the TP19X. I don't know why they did this, but I suspect it was more clear to differentiate it from the TP19.
ThermoPro TP620 Instant Read Meat Thermometer with Thermocouple Sensor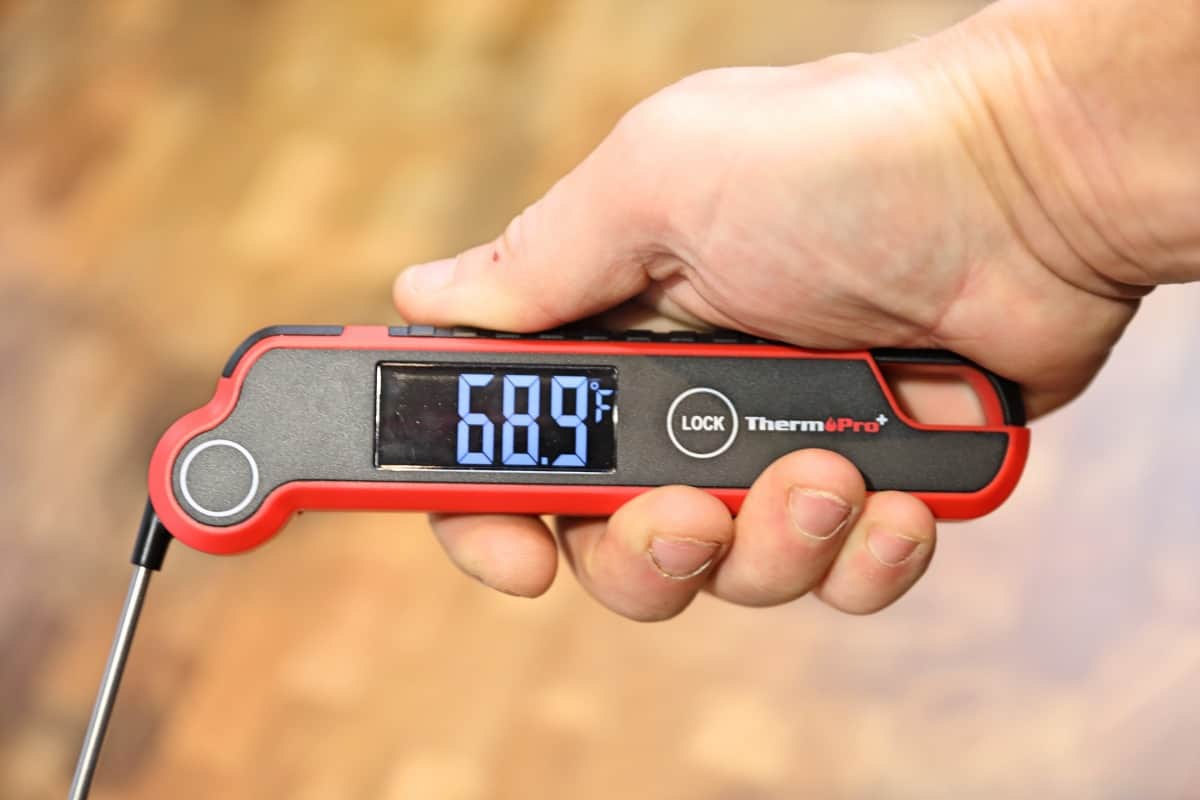 Fast and accurate, ambidextrous, backlit, instant-read meat thermometer, with motion-sensing screen orientation.
Note: At the time of writing, I've been only been able to find the Thermopro TP620 available for sale on Amazon. I will update links when other vendors take on the product.
What's in the Box?
Crack open the cardboard, and you'll find 1 AAA battery, a small screwdriver to open the battery compartment, your owner's manual, and the TP620 thermometer.
Not a lot, but precisely all you need.
Features and Manufacturers Specifications
The scientists and engineers at ThermoPro list a temperature range of -58 °F to ~572 °F (-50 °C to ~300 °C).
Accuracy is reportedly ±0.9 °F/0.5 °C.
We're more concerned with accuracy than the range, of course, and this stat is on par with most of the better instant-read thermometers on the market, as you will soon see in my iced water and boiling water tests below.
It comes from the factory pre-calibrated, but if you find it's off a bit, there is a recalibration button inside the battery compartment.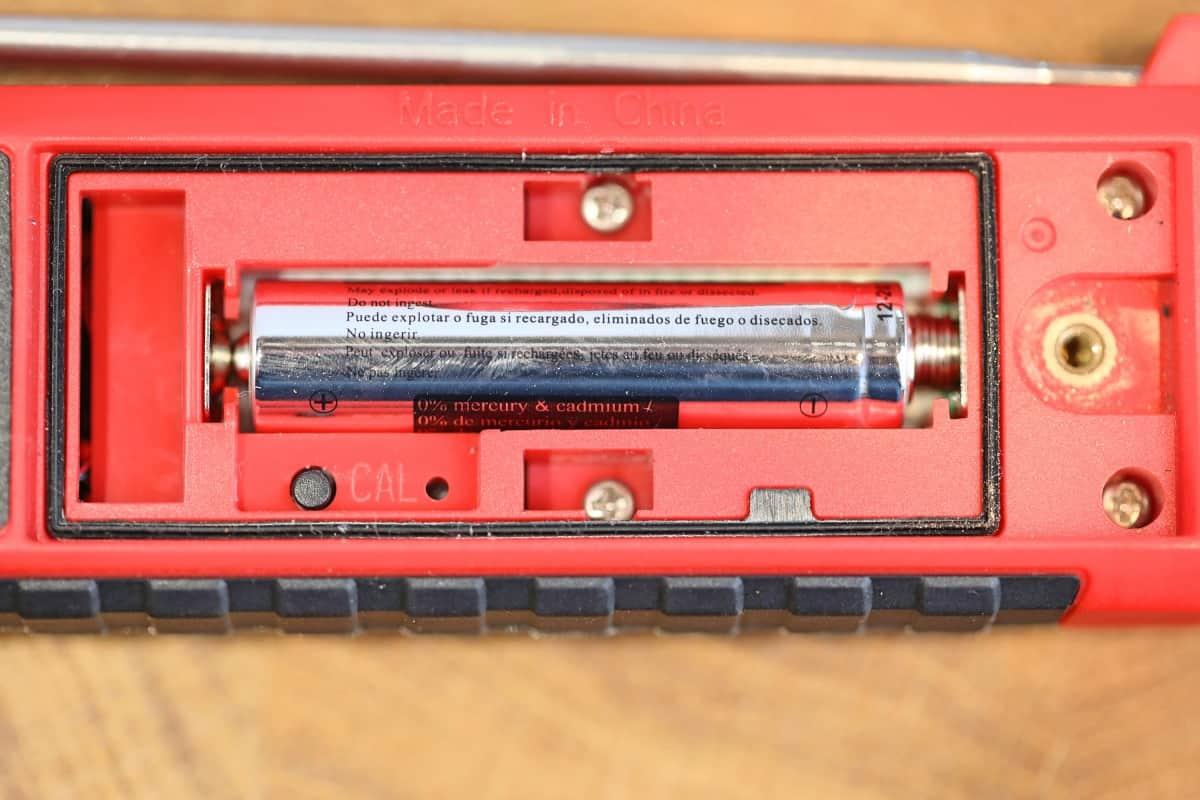 Speed is also essential for this type of thermometer to be useful. Response time is given as 1–3 seconds; again, this figure is in line with the competition. Further down, I'll test the accuracy and speed myself and let you know how my results compare to Thermapen's.
Although I wouldn't describe the TP620 as ergonomic, it does feature a slip-resistant grip, which is excellent for use with greasy hands.
Once you've got a handle on it, flip out the 4.5" stainless steel probe, and thermometer automatically powers on.
You'll know it's on because the 2-inch LCD screen lights up. The display features .75" characters, and they're very bright. There's no squinting required, no matter the time of day.
You left-handers will appreciate the auto-rotating display; flip thermometer over, and the display flips, too, so it's always right-side up, no matter the orientation.
Folding the probe back into the closed position shuts the unit off automatically. There's also a power-saving feature should you forget to power down; after 90 seconds of inactivity, the ThermoPro TP620 goes to sleep. And, like a human baby, it wakes up again the second you move it.
There's a single button on the display side of thermometer labeled LOCK.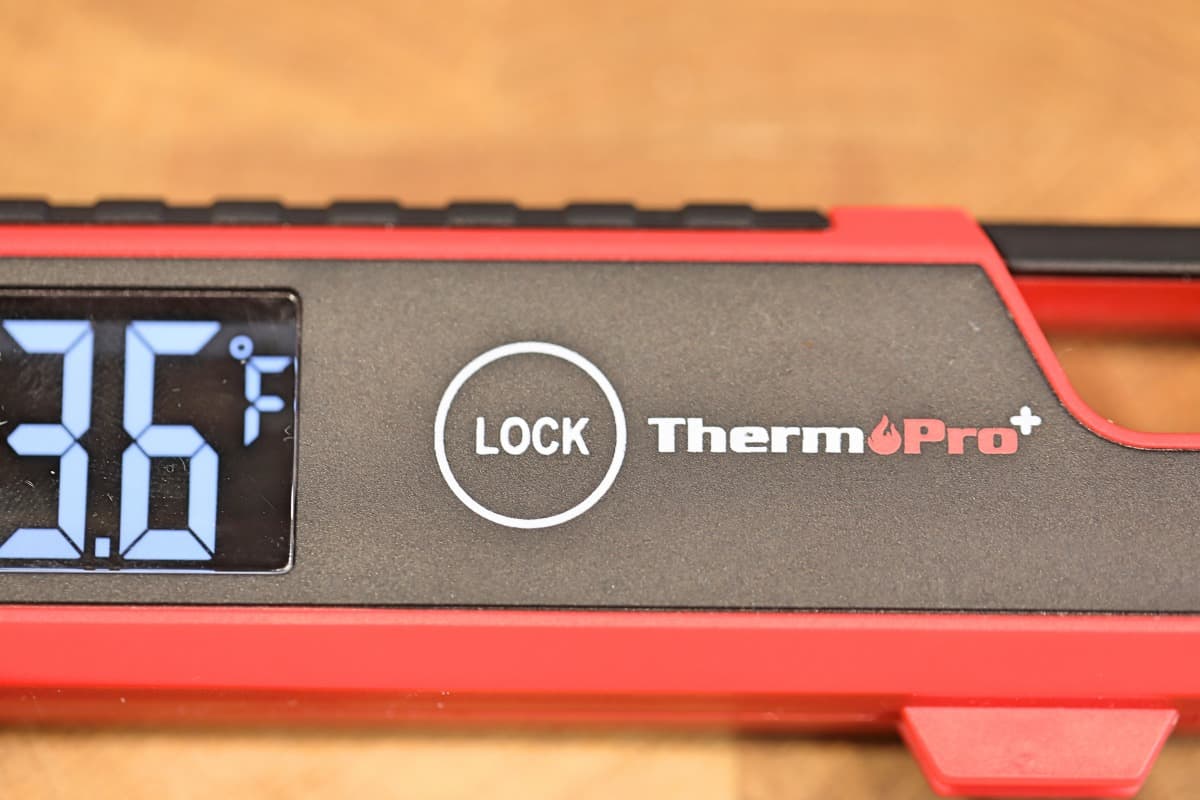 Pressing this button locks the display at the current temperature for 5 seconds. There's a very small button (too small to press accidentally) to switch between Fahrenheit and Celsius on the back.
Another important — and most welcome — feature is the waterproof housing. It's rated at IP65, which means you can rinse it off under a tap, and it will survive getting caught in the rain. You cannot, however, completely submerge the TP620, nor should it go in the dishwasher.
Finally, when not in use, the probe tip is held tightly closed by a little plastic clip, with the sharp probe tip safely covered.
This is handy as it ensures no accidents when fishing around for thermometer if kept in a drawer. The sharp tip is safely housed away.
Ease of Use
You couldn't ask for a thermometer to be any easier to use.
There is no ON/OFF switch, you simply open the probe, and it turns on automatically. It turns itself off when you close the probe.
The probe is nice and long, with a thin tip that easy to insert into meat for taking temperatures. The probe has 180 degrees of rotation.
Taking temperatures is fast, and the display provides large, highly visible readings.
Clean-up is a breeze, too, thanks to the IP65 waterproof housing.
Speed and Accuracy
In the first instance, I used the TP620 to take the temperature of a lamb shoulder I was smoking, to pull as part of a Moroccan style sharing platter.
I have a collection of different instant-read thermometers, and I like to compare any new thermometers to the ones I know are highly accurate, the Thermapen 3 and Thermapen One, specifically.
I also like to do the iced water and boiling water tests to see what a thermometer reads and how accurate it is. I can also take note of its speed during these tests. The results are below.
Speed of Reading
I can confirm ThermoPro's claims of the readings taking just 1 to 3 seconds. It went from a cool room temp, to a 198 F reading of my lamb leg in less than 2 seconds. And then a reading of 32 F for iced water again in just a couple of seconds.
It is very quick to take and settle on a reading of the temperature, which is important when taking measurements of quick grilling items like steaks or chops.
Ice Water Test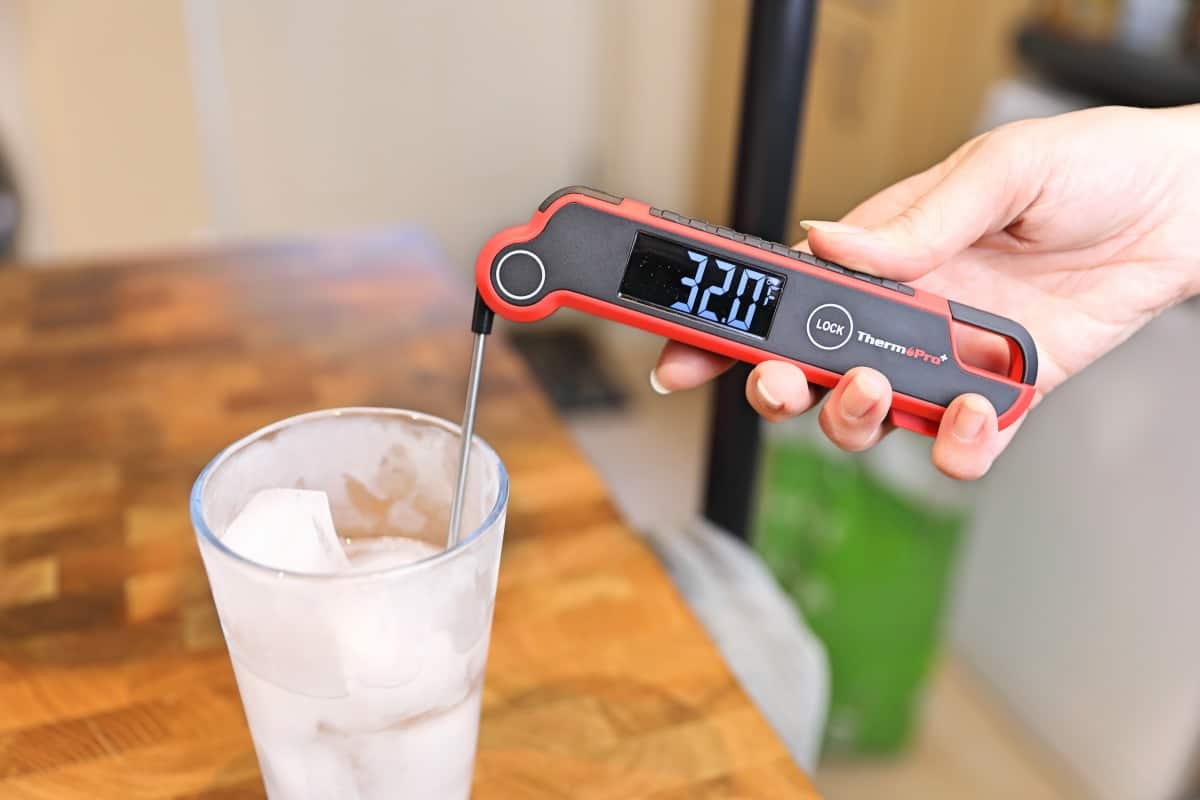 For the iced water test, I filled a glass with ice and then some water to fill the gaps between the ice. I then put this into the freezer until the water is almost but not completely frozen. Just liquid enough to insert the probe.
Iced water is 32 degrees Fahrenheit. As you can see, the TP620 measured this spot on, so it is accurate as this end of the temperature scale.
Boiling Water Test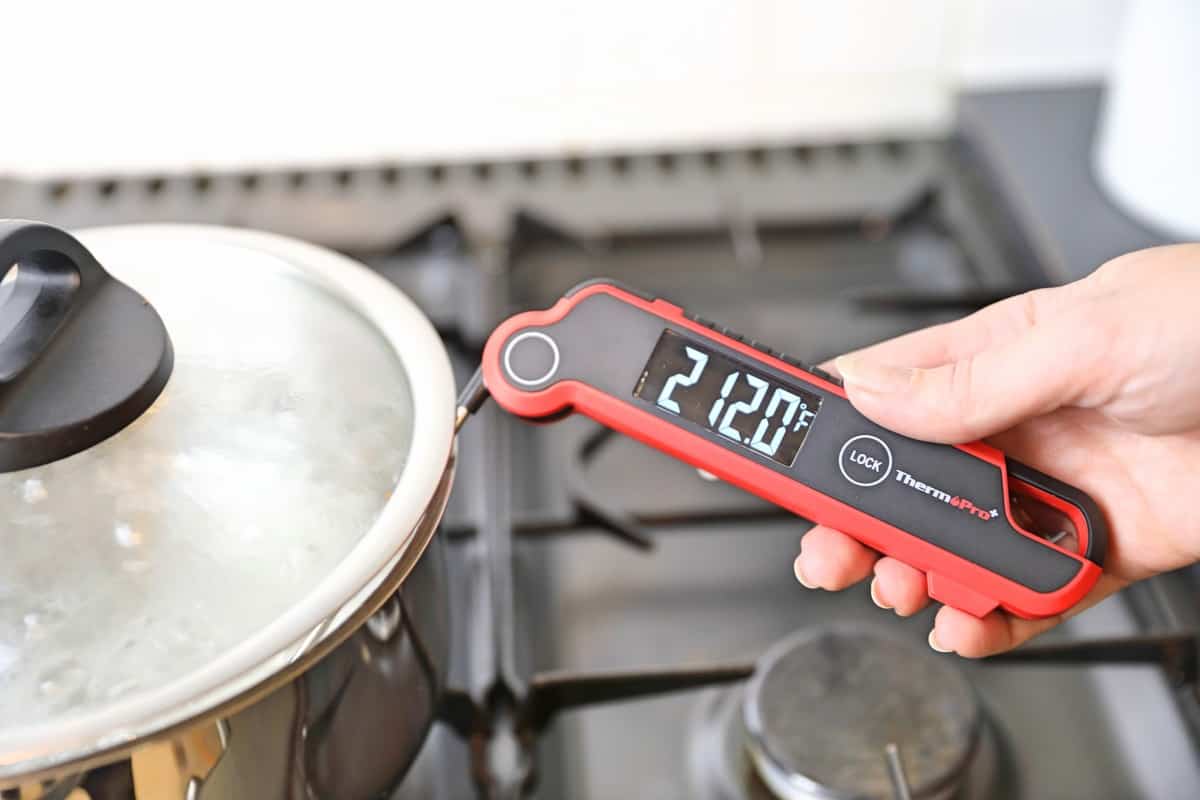 I simply boil a pan of water on the hob until it is slowly rolling for the boiling water test.
I place a lid on the pan and put thermometer probe down into the water under the lid, taking care not to touch the bottom of the pan, which can be hotter due to the flames underneath.
The temperature of boiling water is 212 degrees Fahrenheit at sea level but changes depending on your height above sea level, lowering as you get higher.
I live at approximately 150 feet above sea level, so the effect is almost non-existent and can be ignored.
As you can see in the photo above, the Thermopro TP620 measured the boiling water at precisely 212 degrees Fahrenheit, so it is also accurate at this end of the scale.
Overall, this thermometer is fast and accurate. I'm impressed with and very happy with its performance.
ThermoPro TP620 Instant Read Meat Thermometer with Thermocouple Sensor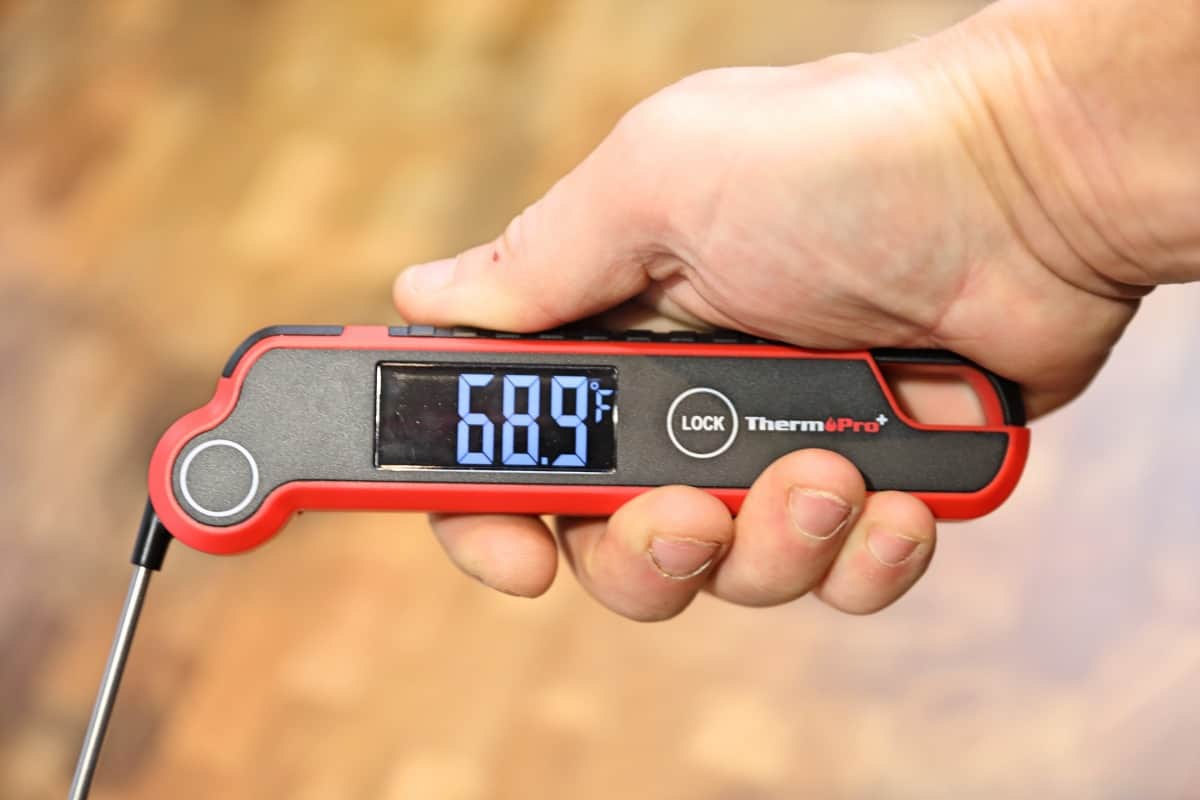 Fast and accurate, ambidextrous, backlit, instant-read meat thermometer, with motion-sensing screen orientation.
Design and Build Quality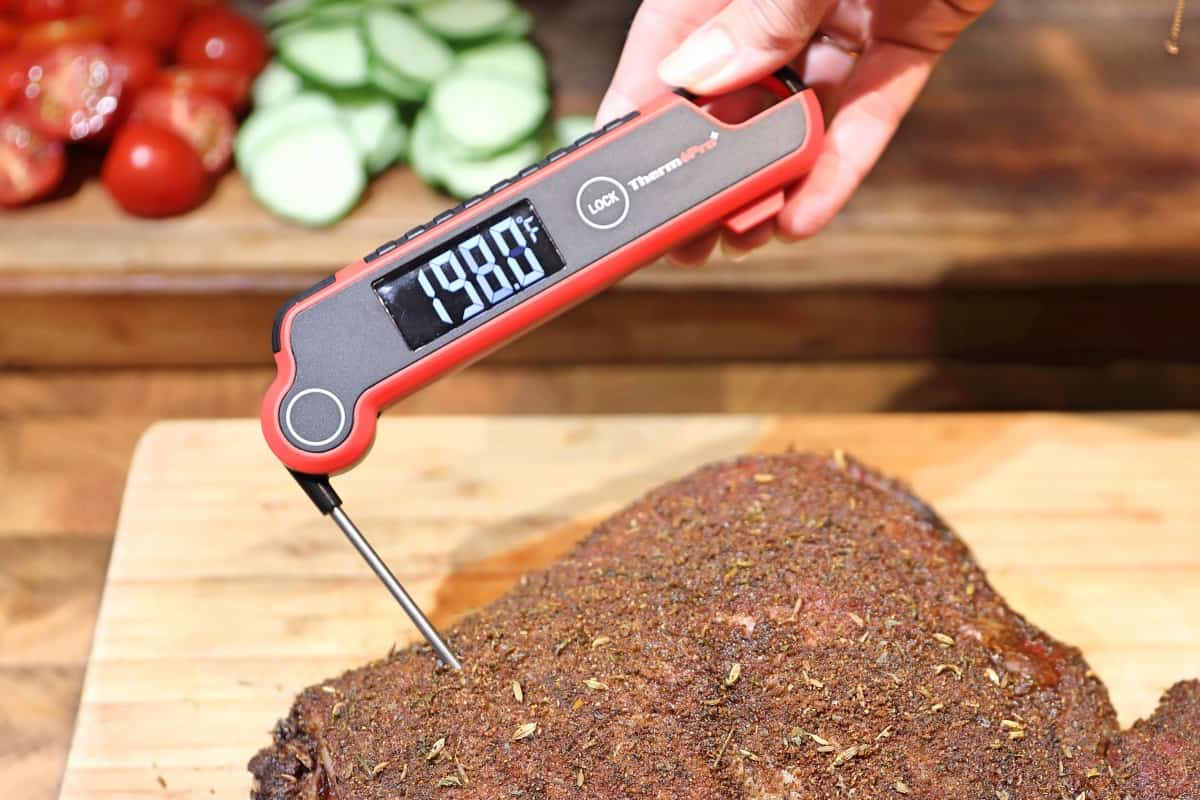 As I said earlier, the ThermoPro TP620 isn't exactly palm-shaped; unlike the TP19, from which the TP620 is derived, it's decidedly boxy. That's ok, though — it's not like you're holding on to it for hours at a time.
It's chunky enough to feel substantial, but even small hands will be able to get a grip on it. And honestly it feels natural to hold, with the rubberized grip on the top feeling nicely…well, grippy.
It looks pretty smart in the red and black finish, with the ThermoPro logo subtly displayed; it's a welcome departure from huge, often ugly, logos found splashed across the front of many BBQ accessories.
Speaking of splashing, the waterproof housing is certainly welcome. Some ThermoPro thermometers, including the TP19, feature a rubber seal where the top and bottom pieces of the housing connect. This is absent on the TP620. That doesn't necessarily mean it's not as good at keeping out water, but it's something to keep an eye on as time goes by.
There's a large hook hole at the back of the unit that's handy for hanging up your TP620 when it's not in use.
Even more useful, though, is the built-in magnet in the handle. In a world of stainless steel, it makes sense to slap this up wherever it's most convenient. If you happen to have stainless side shelves on your grill, you'll like being able to put thermometer down and not worry about knocking it to the ground.
And, even in a post-pandemic world (which I have to assume is coming), the antimicrobial coating on the body of the TP620 will be very welcome. I can't stress enough how important it is to handle raw meat safely and how easy it is to slip up. Having one less surface to worry about is fantastic. (Having said that, always thoroughly clean your BBQ tools after each use!)
Warranty and Support
ThermoPro provides a 1-year warranty on the TP620, and that's pretty standard for small gadgets like this.
However, if you register your product immediately after purchase, the warranty coverage extends to 3 years. Got to like that!
What's really great is, if you meet the requirements, ThermoPro will send out a replacement unit — you don't even need to send the defective unit back. Now that's a company that has faith in its products.
Should you change your mind about your purchase, you can return it for a full refund within 30 days.
At the time of writing, the TP620 was pretty much the only product on the ThermoPro website without a "setup" video. Having watched a couple, though, they're little more than ads for the devices. Just read the manual, and you'll be fine. (Which you can download from the site should you lose or damage yours.)
There's an FAQ section on the site, but it's all about shipping and returns rather than the products. Still, this is not a complicated device, so you're unlikely to require major troubleshooting assistance. However, there's a Tips section that could prove useful if you're stuck.
You can call ThermoPro during the week or even send a text (North America only) for direct assistance.
Finally, there's a contact form you can fill out for help, including a space to upload photos of the problem.
Final Verdict
Before I get to my ultimate thoughts on whether you should buy the ThermoPro TP620 or not, here's a summary of the pros and cons as I see them.
Pros
Capable, fast, and reliable
Automatically turns on and off when probe is unfolded/folded
Rotating screen for visibility in left or right orientations (ambidextrous.)
Screen is large, bright, and easy-to-read
Waterproof housing makes it easy to clean
Sleep mode to preserve battery life (up to 3000 hours on a single AAA) with motion-sensitive wake-up
Built-in magnet for convenient storage and adhering to stainless steel BBQ shelves
Cons
If the probe rotated 270 degrees instead of 180, it would be even better for left-handed people.
It's 2023 — where's the built-in rechargeable battery?
Do You Get Value for Your Money?
There's no question the ThermoPro TP620 is on the upper end of the pricing scale for this type of thermometer. But, you've always got to look at value rather than cost; what do I get for my money?
Well, for my money, I got a superior quality thermometer that's fast, accurate, and very easy-to-use. For the casual, occasional griller, you might not see the value, and there are plenty of lower-cost thermometers that can do the job, though perhaps not as adeptly. If grilling is a serious hobby, however, you'll consider this money well spent.
Do We Recommend the Thermopro TP620 Instant Read Meat Thermometer?
I've given my ThermoPro TP620 a thorough inspection, put it through its paces, and reviewed the results.
I own or have owned many instant-read thermometers, and I consider this one well worth owning. So that's a "yes." I do recommend the ThermoPro TP620 for anyone who is or is looking to be more than a casual barbecuer.
ThermoPro TP620 Instant Read Meat Thermometer with Thermocouple Sensor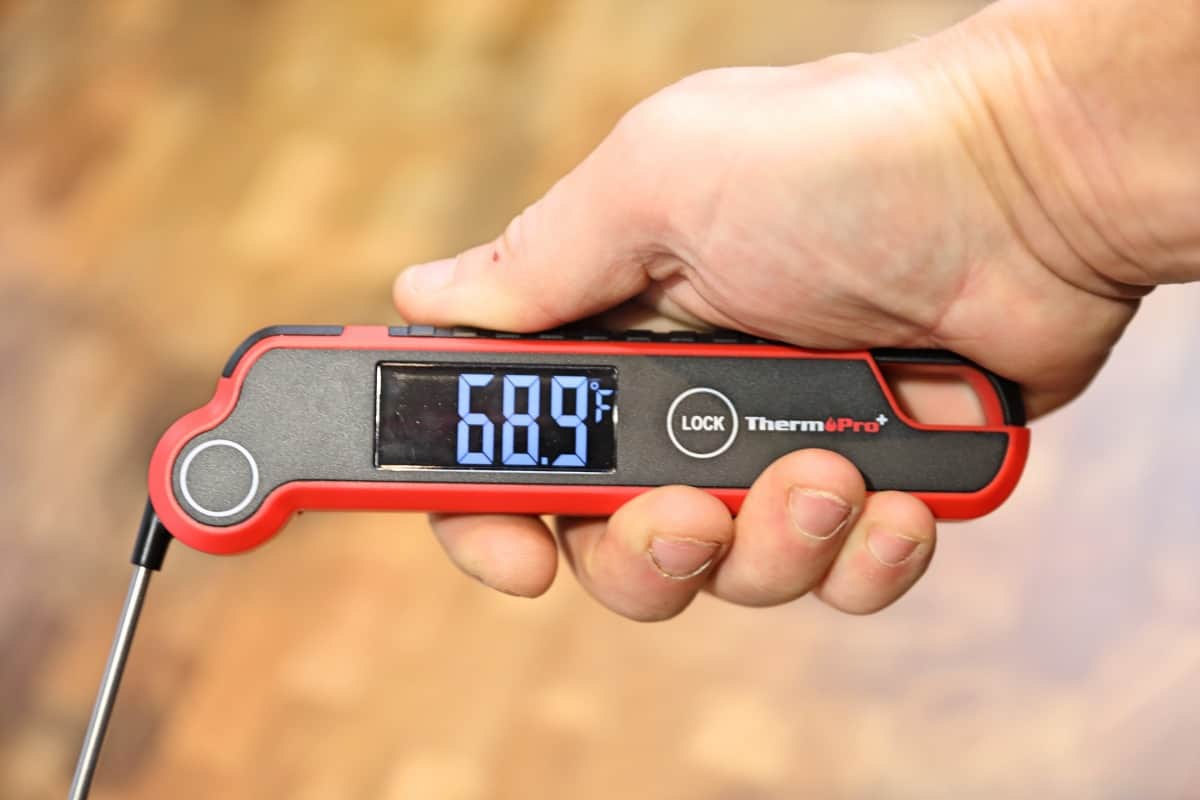 Fast and accurate, ambidextrous, backlit, instant-read meat thermometer, with motion-sensing screen orientation.
Final Thoughts
Shopping for a digital instant-read thermometer isn't an easy job. There are options beyond counting, and it isn't easy to figure out the best choice for you.
Buying a ThermoPro is never a bad decision (I've done it more than once!), and the TP620, in particular, comes loaded with convenient and practical features and superior performance.
If, after reading this review, you're not convinced this is the instant-read thermometer for you, don't give up! Have a look at our other thermometer reviews; I have no doubt the right one for your specific needs is in there.
Thanks for reading, and don't forget to follow us on Facebook, Instagram, Twitter, and Pinterest (or just pick your favorites) to keep up with the latest articles, reviews, and tested recipes.
Cheers!