In this article, we're going to look at the best smoker thermometers available on the market today. We own, have used, and still use today many of the recommendations below, so we know what we're talking about, have hands on experience with these products, and are recommending only the best.
Barbecue and grilling without a thermometer is nothing but a guessing game and one you are going to get wrong time and time again, potentially ruining your food, and serving meat dangerously under, or wastefully overcooked.
For consistently good results, you need to be able to monitor and see at a glance both the internal temperature of the meat you are cooking to know when it's done, and that of your smoker or grill, to know what temperature you are cooking at.
Many people rely on their smokers built-in thermometer, but they are often woefully inaccurate, and they record temperatures many inches above where the food is placed, which can often be 30 F or more different.
And of course, a built-in thermometer can tell you nothing about the internal temperature of your meat.
Before we get into the reviews, here's a summary of the top-rated smoker and grill thermometers we're going to compare and review.
At a Glance: Our Top Picks for Best Smoker and Grilling Thermometers
We know, we know… shut up and take my money! But not so fast — there's a bunch of information you need first to choose the right one for you.
First, we'll take an in-depth look at 9 of the very best smoker thermometers on the market, share our number one choice and tell you why we awarded it top pick.
After this, you can read on to learn why you really do need a digital thermometer, the different types to choose from, features to look for, and how to set yours up.
Reviews of Our Recommended Smoker Thermometers
We've classified our picks as best overall, runner-up, best budget pick for those who love a bargain, a truly wireless 'no wires in sight' model great for rotisserie, an instant read thermometer, and a few also-rans.
For each, we have a review, specs, and some simple pros and cons.
OK, let's dive in and get these smoker and grilling thermometers reviewed.
Wireless capability: Wi-Fi and Bluetooth.
After having owned and used more than 30 thermometers over the years, there was a time when the original Fireboard thermometer was my favorite. That was until the Fireboard 2 came along!
In summary, I basically have zero complaints with this thermometer and can only praise its build quality, functionality, and performance.
There are three models of Fireboard 2, the Basic Fireboard 2 version, the Fireboard 2 Pro, and the Fireboard 2 Drive.
I chose the Fireboard 2 Drive because it's not only an excellent thermometer, but with the addition of a blower an accurate and reliable temperature controller too.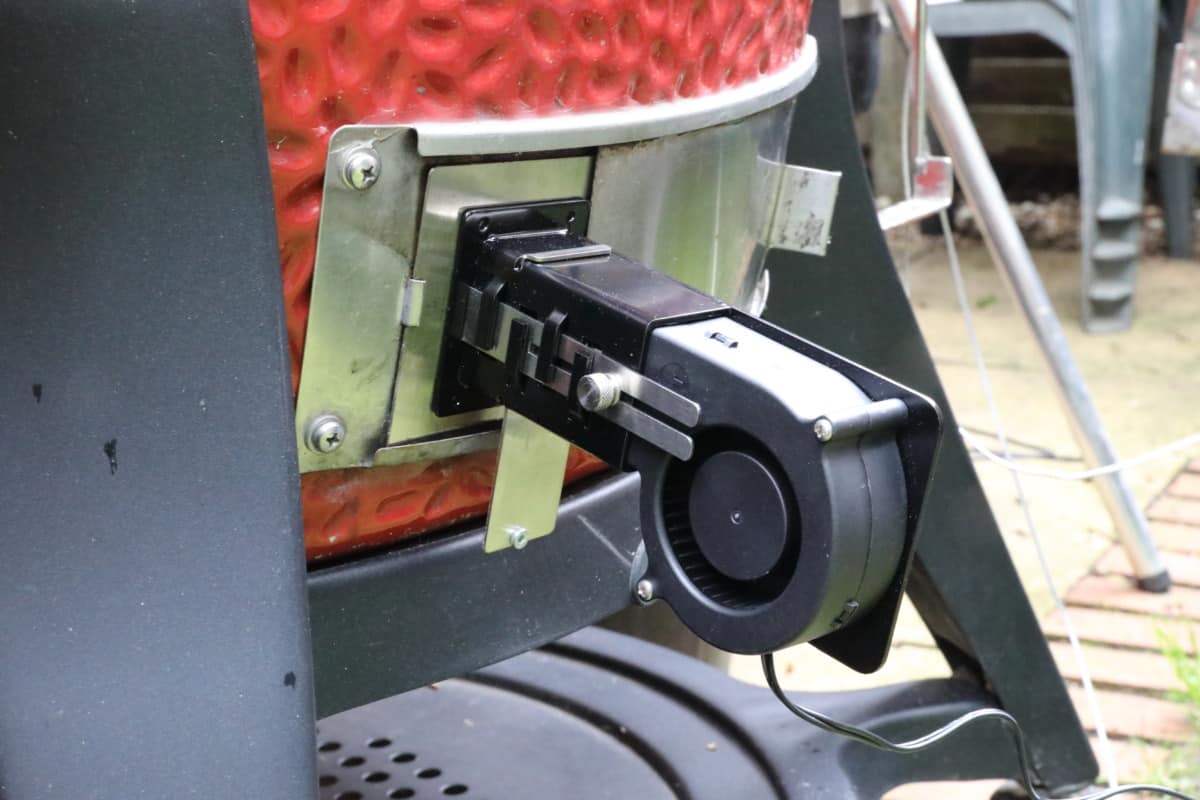 The Fireboard 2 Drive is kind of pricy, but if you take your smoking game seriously, you should at least consider this fantastic bit of kit. Let's take a look at its specs and features.
The Fireboard 2 supports up to 6 probes, which may seem overkill to some people. But I love that you can expand to 6 probes if you desire…and I certainly did because I cook up multiple meats at once for large parties.
The probes can either be the faster response time thermistor type (best for BBQ!) or RTD probes for extreme temperature environments of -58 °F to 715 °F. It ships with two thermistor type food probes and a pit probe.
The controller can measure from -94 °F to 752 °F (-70 °C to 400 °C), which is a moot point as the probes can only work up to 572 °F (300°C) with the included probes or up to 716 °F (380 °C) with the optional RTD probes.
The accuracy advertised is an impressive ±0.7 °F (±0.4 °C), but when I tested with boiling water and iced water. I found it to be more accurate than that!
My boiling water test showed 211.8 °F to 212.3 °F: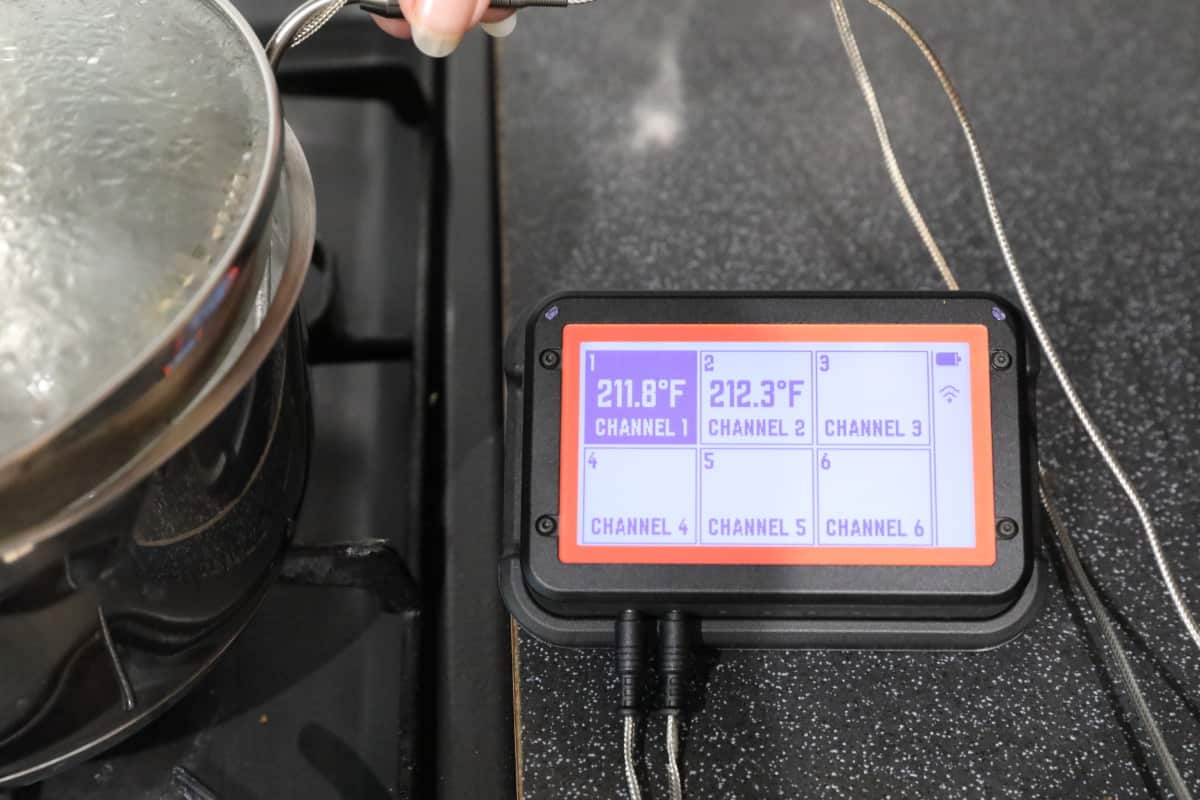 My iced water showed 32.1 °F to 32.3 °F: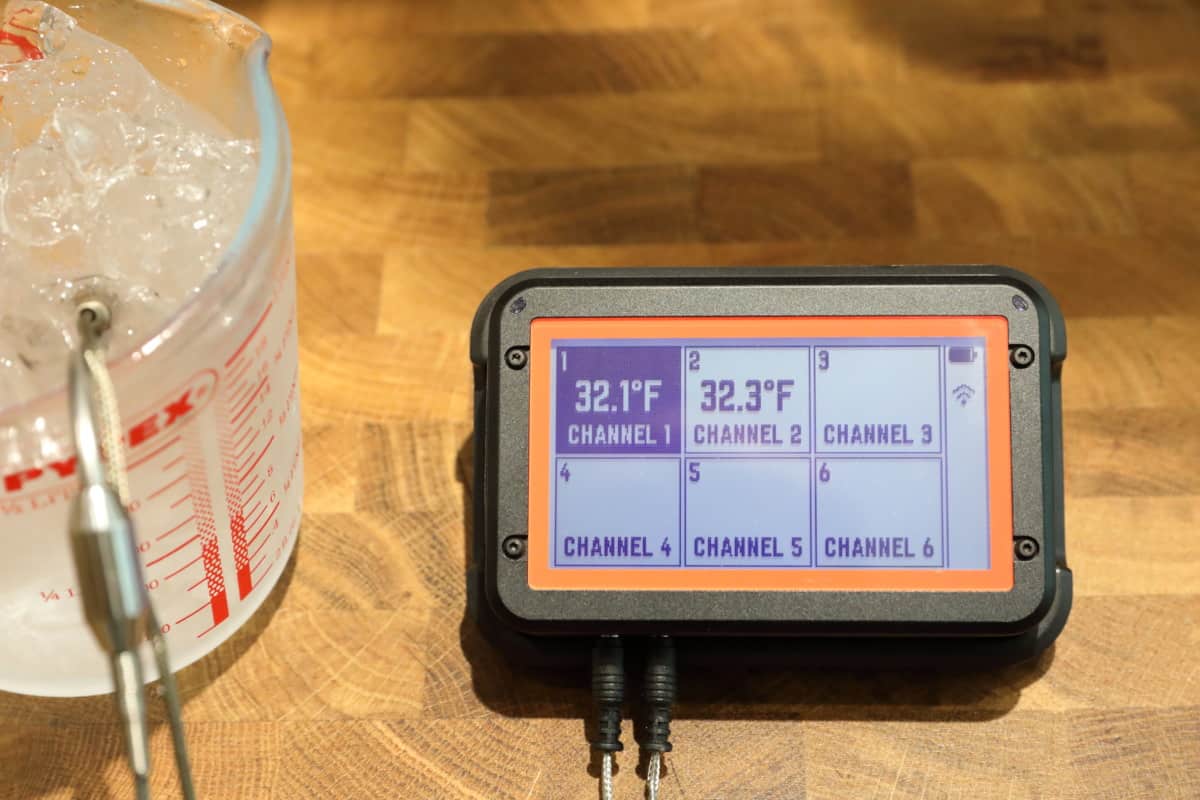 So temperature accuracy-wise, this is data you can rely on.
The unit is rechargeable and can last for 30 hours on a single charge. And you can use it while plugged in for longer durations.
For monitoring, you have a large 256 x 128 pixels, 3.3" x 1.75" display that shows you all the info you could possibly want right at the unit, in large, easy-to-read letters, numbers, and graphs, on a well-lit screen. And it's weather-resistant, too, so a little rain or splash of beer won't harm it.
You can also use an excellent smartphone app for monitoring via Bluetooth up to 100 feet away, or anywhere in the world once you have set up the Fireboard with a Wi-Fi connection.
The app is well thought out and designed, intuitive to use, and unlike most smartphone apps in the BBQ world, it does not suffer connection issues. I'm so thankful for this, having been highly frustrated with other manufacturer's smartphone app offerings.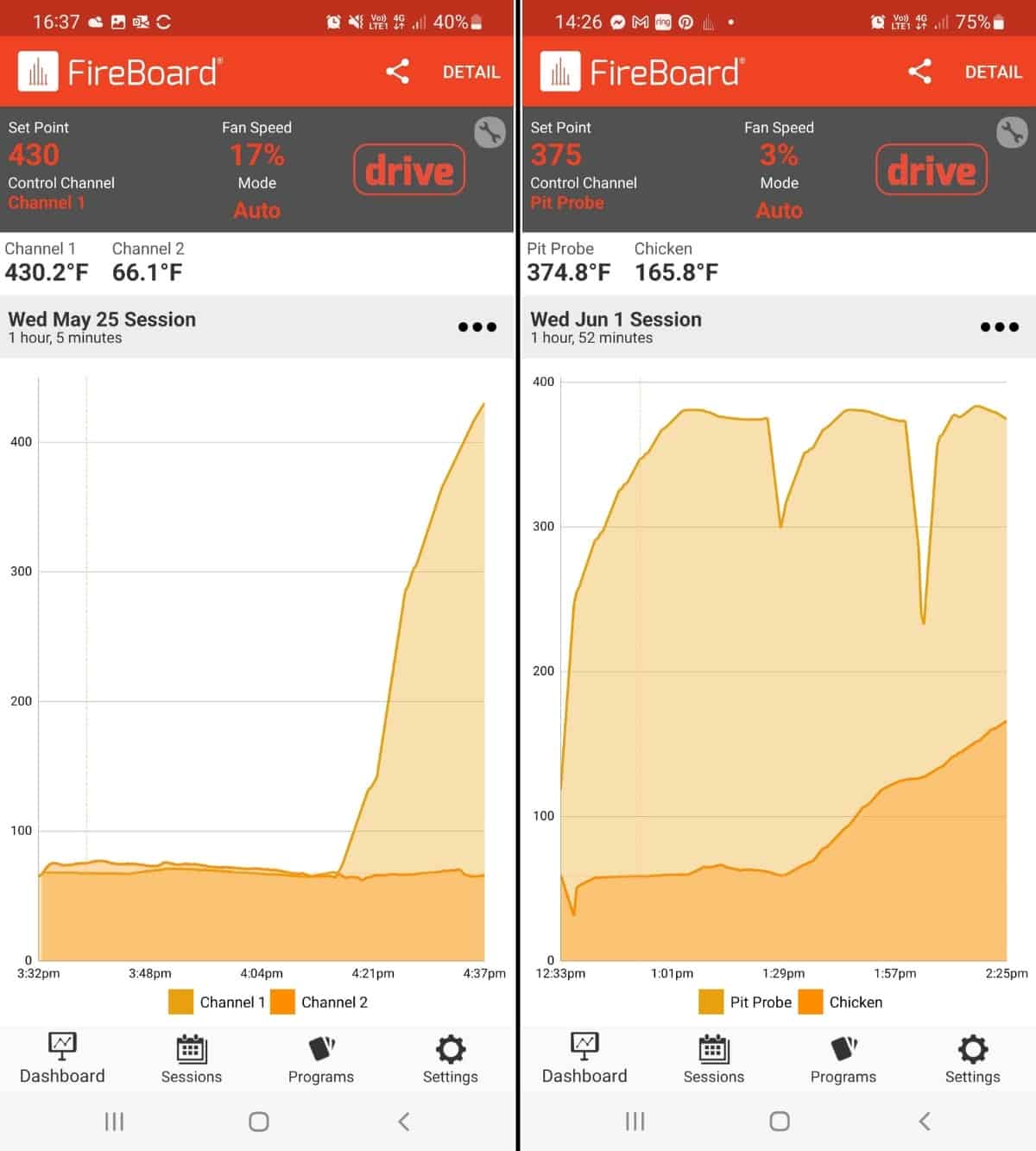 Via the app, you can set channel names and multiple temperature alarms for each. And you can choose to receive notifications via text, e-mail, or the app with tailored parameters for high and low temperatures and how long they must be exceeded before triggering.
Finally, you get a 1 year manufacturer's warranty for peace of mind.
Pros
In my opinion, the best smoker thermometer available today.
Beautifully designed, professional piece of kit.
Support for up to 6 probes.
Wide temperature range, fast response time, and incredibly accurate.
Large easy-to-read display, in all lighting conditions.
Auto-rotating display
Wi-Fi and Bluetooth connectivity, so you have options and fail over.
The smartphone is well-designed, intuitive, and reliable.
An optional Drive Blower fan can be added to control charcoal smokers.
Rechargeable battery gives up to 30 hours run time.
Partial control via Amazon and Google smart speakers.
Cons
One of the most expensive thermometers out there (But worth every cent for me!)
Buttons have no labels, so there's a little learning curve.
No audible alarms on the controller, you must use the smartphone app to get any alarms.
No stand included. It's a rectangular controller that sits up nicely anyway, and they do sell a stand separately. I just feel that for the price, it would be nice to have it included.
If you are serious about your BBQ and want the best of the best regarding reliable kit, then you should consider the Fireboard 2.
And if charcoal smokers are your thing, add the Drive blower for accurate, hands-off control. I use this thermometer and controller myself all the time. I can't praise it more than that!
Please check out our Fireboard 2 Drive review and testing results for a more in-depth look.
Thermoworks Signals BBQ Alarm Thermometer
2
After years of owning and using Thermoworks products, I've come to expect nothing short of excellence from any product that comes from this brand. The Thermoworks Signals certainly lives up to this expectation.
I often tout the Signals as possibly the best thermometer for commercial and competition cooks, and it could have been my number one pick. Still, there's just something about the looks, and the superior smartphone app, of the Fireboard that appeals slightly more to me.
The Thermoworks Signals is an accurate, reliable, professional-grade piece of equipment that is equally good for the amateur or backyard pitmaster who loves quality equipment.
Yes, it is pricy, and there are valid arguments for it being more than the weekend warrior needs at home, but on the other hand, you get what you pay for, and it just might be what you want and need.
The Signals comes with 4 probes — With color-coded probe rings for identification — 3 for food and one to monitor the temperature of your pit.
The temperature range of the unit is a respectable 58 °F – 572 °F (-50 °C – 300 °C), and the advertised accuracy of the probes is:
±1.8 °F (±1.0 °C) from -4 to 248 °F (-20 to 120 °C)
±3.6 °F (±2.0 °C) from -58 to -4 °F / 248 to 392°F (-50 to -20 °C / 120 to 200 °C)
±5.4 °F (±3.0 °C) from 392 to 572 °F (200 to 300 °C)
I did my standard iced water and boiling water tests to test the accuracy. The boiling water test showed between 211.8 °F to 212.2 °F:
The iced water test showed between 31.9 °F to 32.0 °F:
The tests showed an accuracy way better than they even advertise themselves, so it's data you can rely on!
The controller is wedge-shaped for stability, ruggedly built, robust and solid, with molded seals for a splashproof waterproof rating of IP66. No other base or stand is needed with this design.
The controller has a large and easy-to-read, 1.88" x 3.97" screen, showing the current temperature of all 4 probes, their high and low settings, and any alarms set. You can name each channel if you wish.
The unit is powered by a built-in rechargeable battery, charged via USB (power adapter supplied), and gives a run time of up to 16 hours on a single charge. You can also use it plugged in.
Wireless connectivity includes Bluetooth with a range of up to 95 feet line-of-sight and Wi-Fi connectivity so you can monitor your cook anywhere in the world you have an internet connection.
I'm happy to say the newer and current smartphone app is a significant improvement over the original. I set up an account, and after an initial firmware update was up and running in no time. All info is there to see, and you can see historical data and graphs of cooks, which is useful and more pleasurable to see than you might think.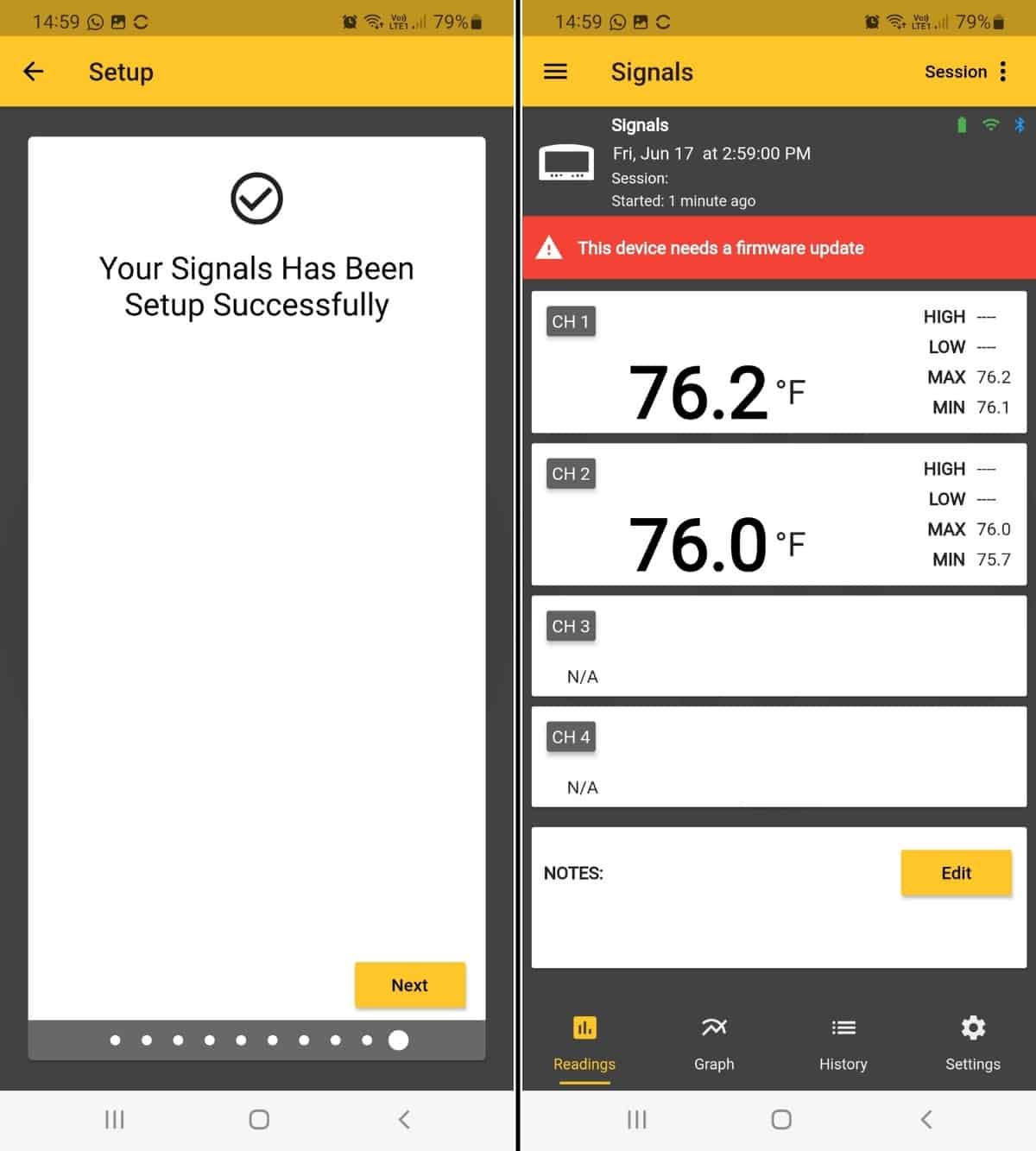 High and low temperature alarms can be seen at both the base unit and on your smartphone, so you'll never miss important events during your cook.
Finally, You can also add a Billows Automatic Temperature controller blower to the signals, for controlling the temperature on charcoal or wood-burning BBQs.
Of course, I purchased and tested this. Although not necessary, it works brilliantly well, is nice to have, and it's good that this upgrade is available if you desire.
Pros
The most rugged and durable build quality of any thermometer we've seen, including water-resistant and commercial-grade probes.
Incredibly easy to use.
Highly accurate and dependable.
3 meat and 1 pit probe supplied as standard.
Wi-Fi and Bluetooth connectivity options allow you to monitor and control your smartphone via an app.
The base is fully functional, so you get all data and functionality without having to use your smartphone and app.
Clearly marked and easy-to-use buttons.
Alarms and cooking programs are easy to set and use, with clear notifications.
Optional Billows blower can add BBQ Temperature controller functionality.
Choose from 9 different colors to suit your grill or garden décor.
Cons
High price — But a premium product, and worth every cent.
The smartphone app is a bit cluttered compared to others, with links to Thermoworks store, help center, support, blog, and featured recipes.
Overall, the combination of ruggedness, large and clear display full of essential data, easy to use buttons, accuracy and reliability, plus Bluetooth and Wi-Fi connectivity make this thermometer an absolute gem of a product, and one every backyard cook should consider.
It's pricy, but anybody wanting to level up their BBQ game with equipment to match will get their money's worth out of the investment.
If you want an even deeper look at this thermometer, please see our Thermoworks Signals review and test results.
Thermopro TP826 Wireless Digital Meat Thermometer
3
Wireless capability: 500 feet, Wireless RF
Like the majority of products from Thermopro, the TP826 is a ruggedly constructed black and orange two-piece thermometer, with a transmitter and receiver and an RF wireless connection between the two.
The TP826 supports up to two probes and is supplied with a pair of ThermoPro's standard NTC sensor probes, each 8 inches long with a 49-inch wire ending in a 3.5mm plug. Each can be used to monitor either food or your pit temperature.
The temperature range is advertised as 14 °F to 572 °F (-10 °C to 300 °C), with an accuracy of ±1.8 °F (±1.0 °C) from 14 to 212 °F (-10 to 100 °C), otherwise ±2%.
In my iced water test, it measured 35 °F, which is 3 °F out from true and not as good as advertised:
However, for boiling water it measured 212 °F on both probes, absolutely dead-on accurate and shows it can be relied on at higher temps, which is where all our cooking is done, to be fair.
The Thermopro TP826 has a refresh rate of 4 seconds on both the transmitter and receiver, and temperature readings seem to settle in two refreshes or less, so a max of 8 seconds.
The transmitter is a simple piece of kit with two buttons; a simple on/off button, and a button to select Fahrenheit or Celsius. It also has an easy to read in any lighting conditions, backlit black-on-orange display that shows the temperature of the two attached probes simultaneously.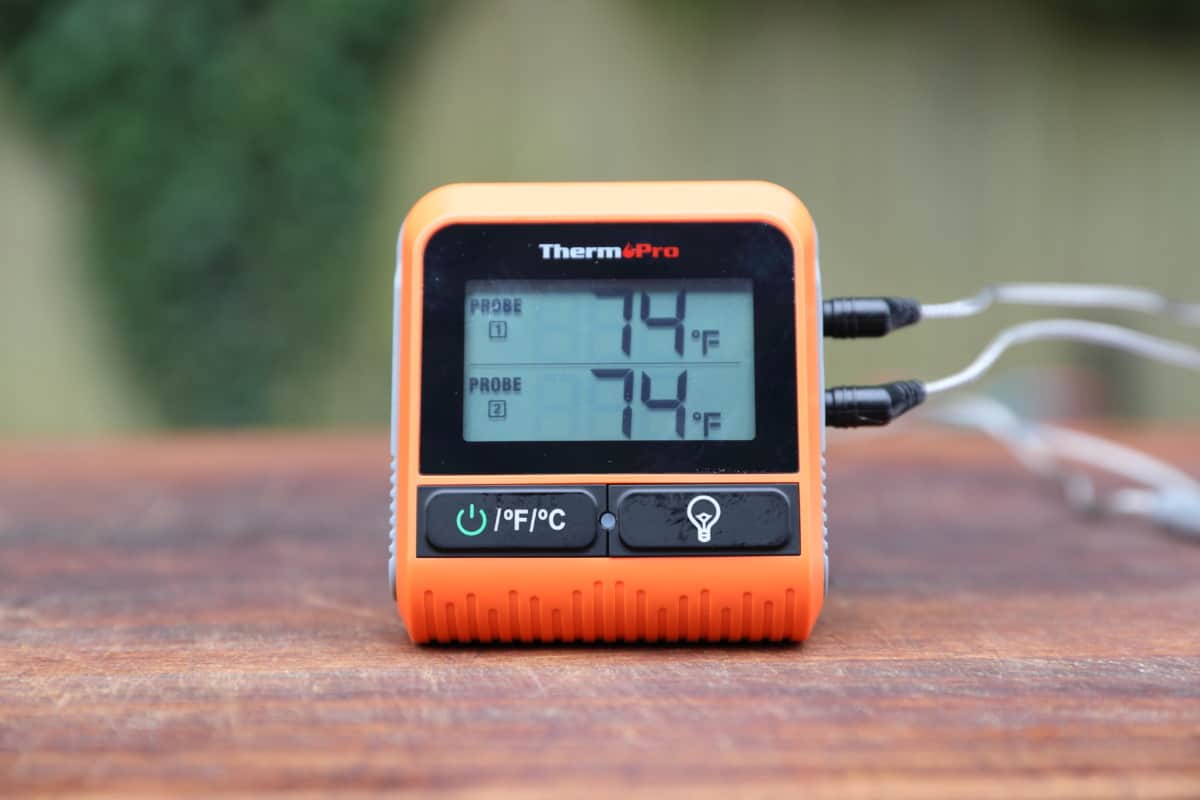 The receiver is a large display with three distinct zones showing two probe zones and a timer in the bottom 20% of the screen.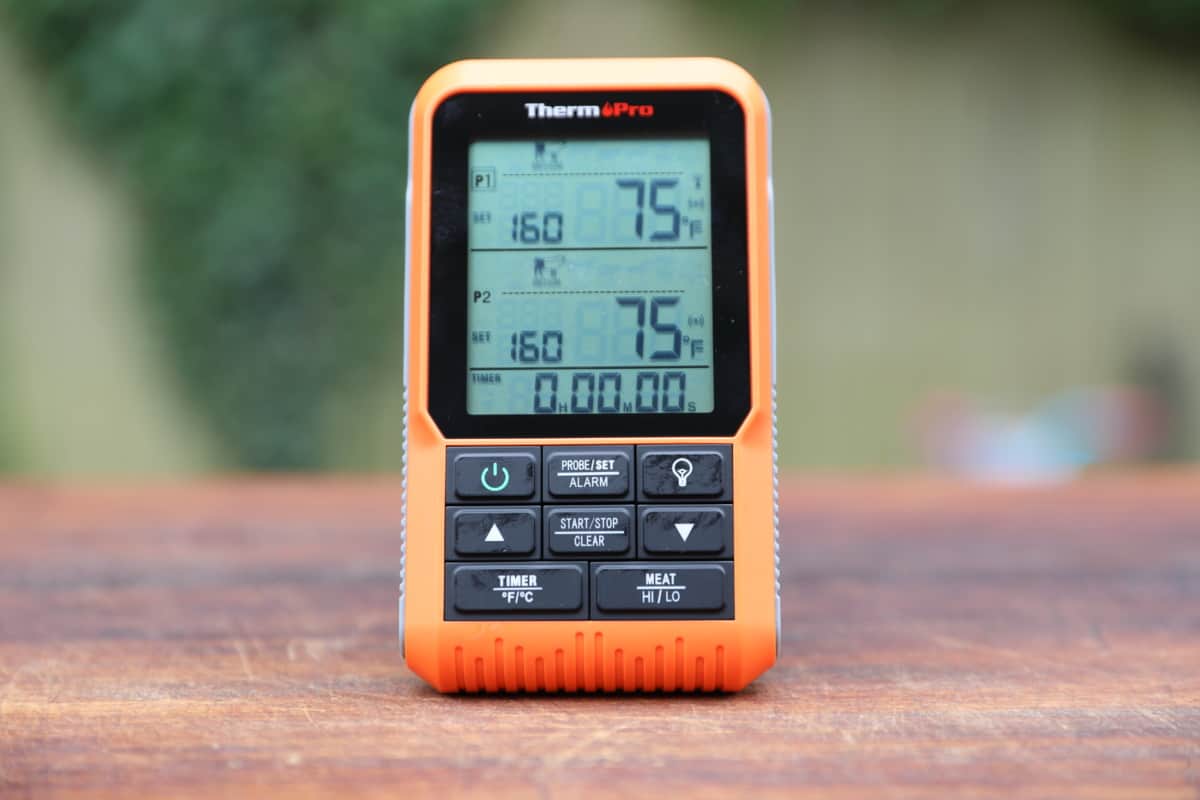 The probe zones show the set temperature, the measured temperature, an icon for the meat it's set for, and the target doneness level.
The transmitter shows all necessary data simultaneously in an easy-to-read fashion, and we love how it looks.
The timer can be count-up or count-down. We rarely advise to cook to time (always cook to internal temp and feel!), but it's a nice extra not seen on many competing models and will sometimes come in handy.
There are preset alarms for FDA-guideline temperatures for chicken, fish, pork, and lamb, plus rare, medium, and rare beef. And you can also set HI and LO alarms for any temperature from a low of 32 °F to a high of 572 °F, and alarms are both audible and visible, so you will always catch them!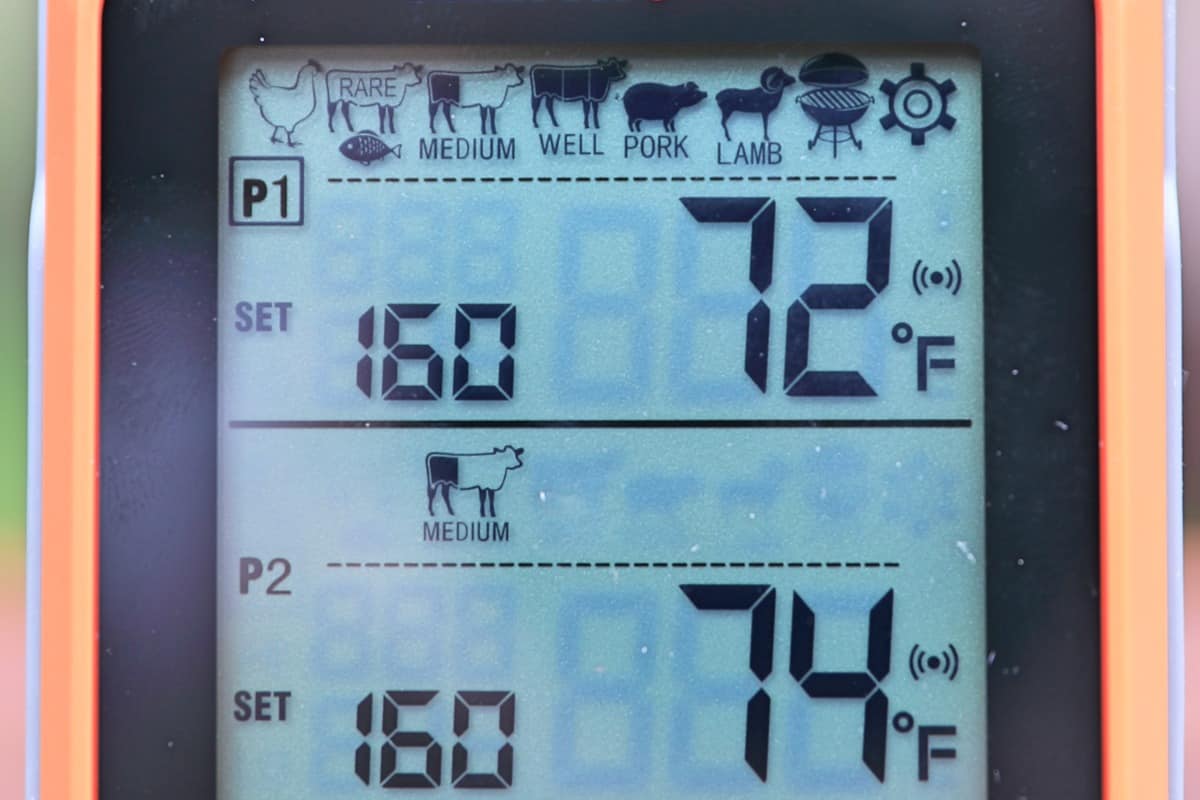 Finally, both the transmitter and receiver have grip-enhancing ribbed edges, are powered by two AAA batteries each, have folding stands that contain hooks for hanging, and are splashproof but not waterproof.
Pros
Budget-friendly pricing
The receiver shows all necessary information simultaneously, not hidden away on screens found via button pushes.
500 feet line of sight range between transmitter and receiver.
Large, bright, easy-to-read screens
Simple to use interface and buttons
Preset temps and alarms for all popular cuts and doneness levels.
Either probe can be used for food or pit monitoring.
Variety of standing and mounting options.
Cons
Accuracy is not the best at the low end (but highly accurate at cooking and doneness temps.)
The receiver is large, and not 'pocket friendly' like a smartphone is.
It cannot be extended beyond two probes.
The Thermopro TP826 is hard to beat at this price. Better thermometers exist, but the TP826 definitely hits that sweet spot of balancing ease-of-use, functionality, extra features, and an easy-to-swallow price tag.
We have a Thermopro TP826 testing and review article with way more detail if you wish to dig into the product further.
Meater Plus Wireless Smoker Thermometer
4
The weakest part of any system is where you're most likely to have a failure. With smoker thermometers, that part is often the cables from the probes to the receivers.
What if you could eliminate that part entirely?
Also, if you rotisserie cook and want to monitor the internal temperature of your meat as it cooks, with a wire from the probe to the controller you're out of luck. The wire will roll up and tangle. It's unusable, so you have to stop the motor to periodically take a temp reading.
So if you like cool gadgets — or often use a rotisserie — or even if you know you're the sort who doesn't always put things away carefully, how about a genuinely wireless meat thermometer for smoking, with not a single wire in sight?
Well, the Meater+ truly wireless Bluetooth thermometer just might be the model for you.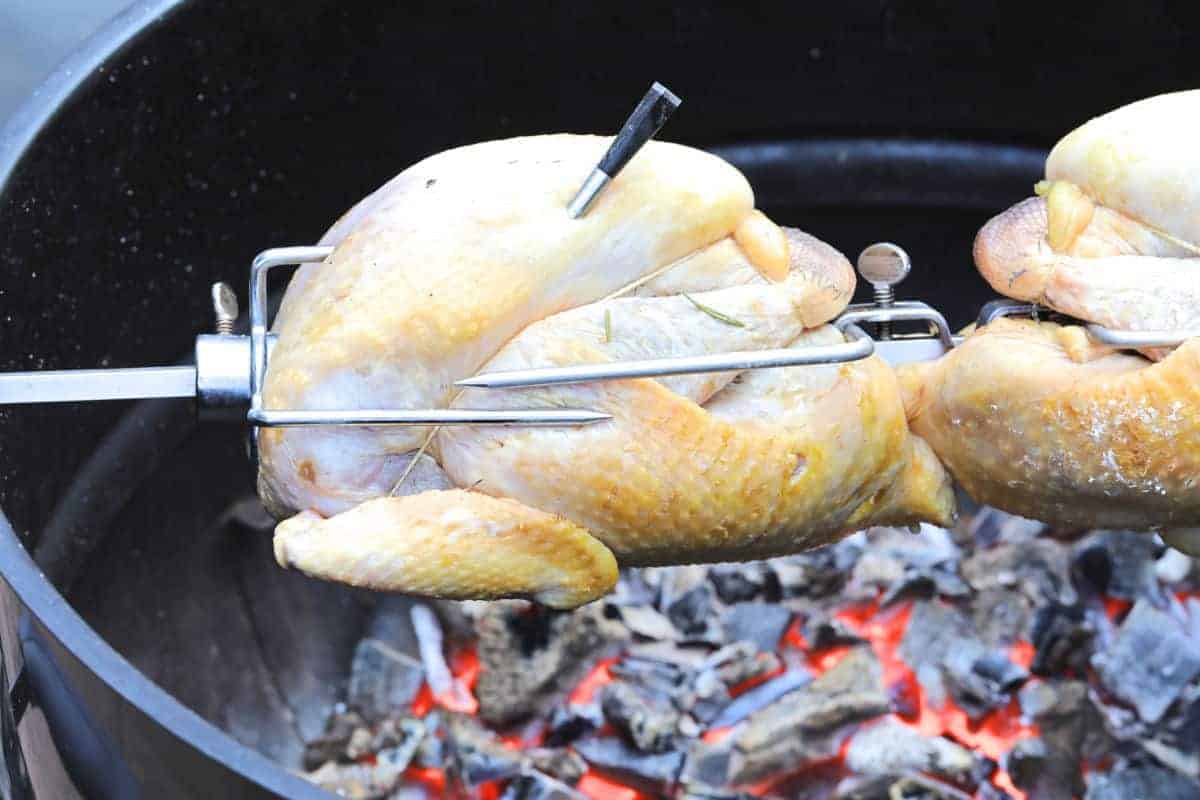 Manufacturer's Specs
Number of probes: 1 (monitors grate and food temp. simultaneously)
Temperature range: up to 527 °F (275 °C) ambient / up to 212 °F (100 °C) internal
Cable length: N/A
Power: 1 AAA battery in the block/charger
Remote range: 165 feet (Bluetooth), Wi-Fi range will vary
Display size: How big is your phone?
Warranty: 1-year
For wireless that's actually 100% wireless, there is no other choice. This is the only genuinely wireless smoker thermometer on the market (at the time of writing anyway) and is why it topped my best wireless meat thermometer roundup.
With the Meater+ there is no worrying about threading wires through holes, no setting up two separate probes, no positioning the transmitter and figuring out how to carry the receiver.
The Meater+ eliminates many of the minor hassles that all its competitors have in common.
How does This Work Exactly?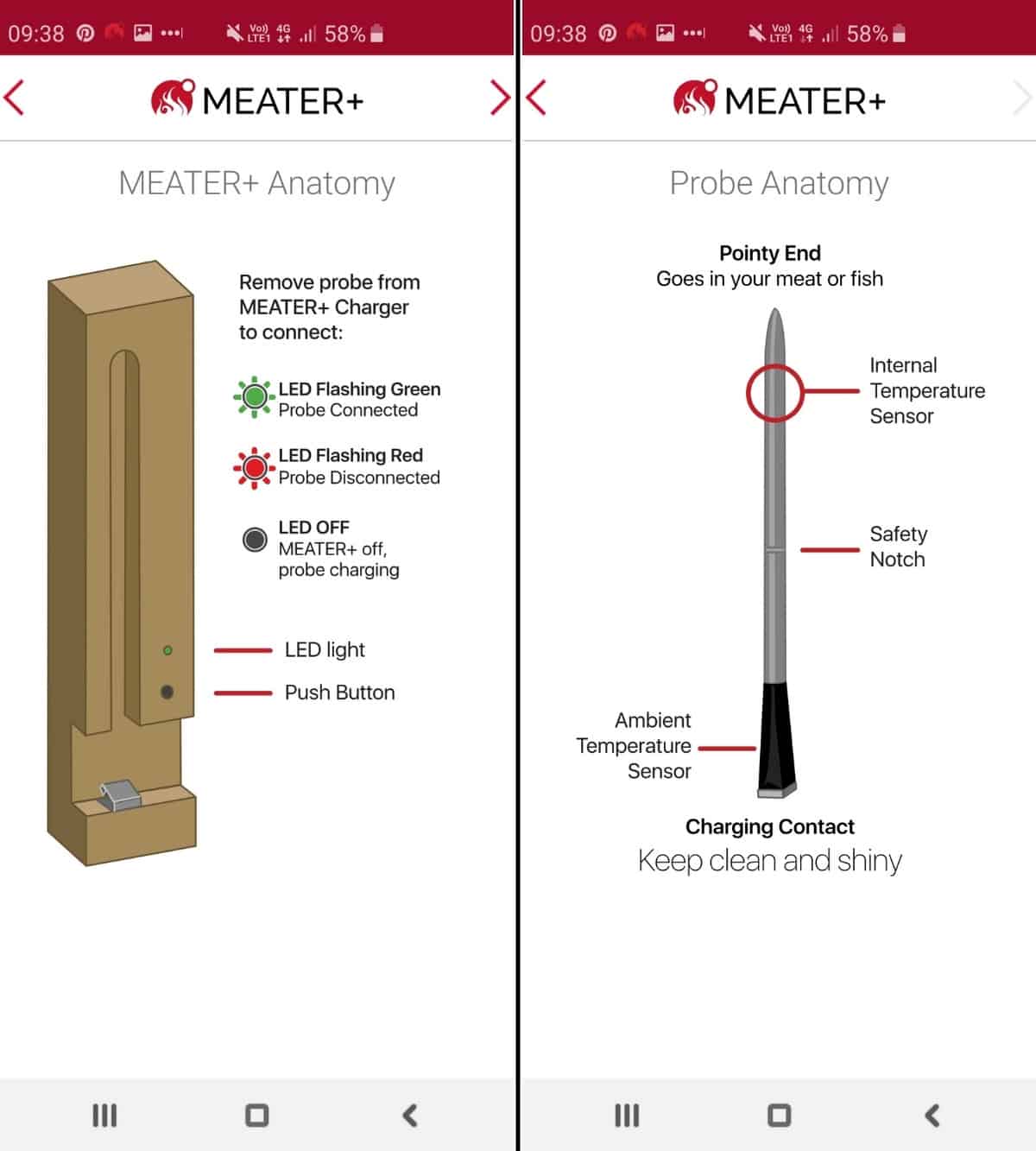 There are two sensors in the Meater+ probe, one at each end.
The sharp end is inserted into the meat you are cooking and takes the internal temperature of the meat, the black end left sticking out also has a sensor that makes a reading of your smoker or grill, so you know how hot you are cooking.
The probe sends this data via Bluetooth to the wooden block, which then works as a repeater to send this info via long-range Bluetooth — up top 165 feet — to be displayed on an app on your smartphone.
It's tough to beat it for appearance, too. It looks like a stylus for a tablet, and the recharger/signal repeater seems like it's been carved from a block of wood. If you appreciate good looks, you're going to love this thermometer.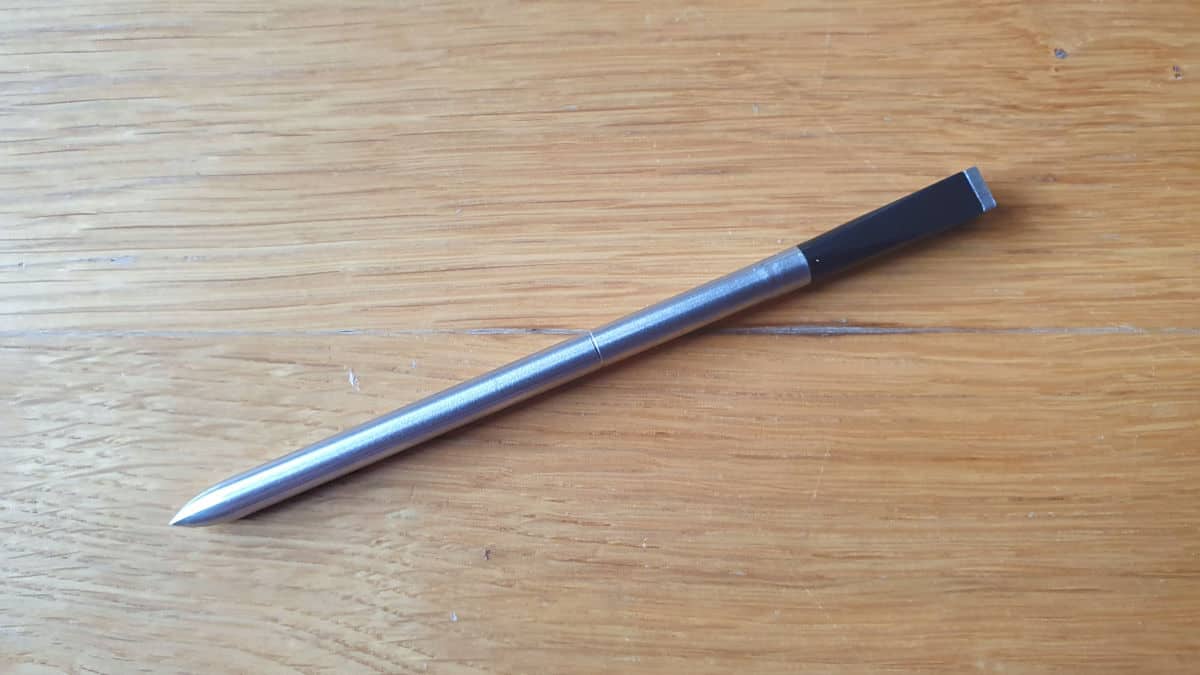 The Meater app is easy-to-use and can walk you through your cook, setting up temps for different doneness levels of many different cuts of meat with a few intuitive setting changes.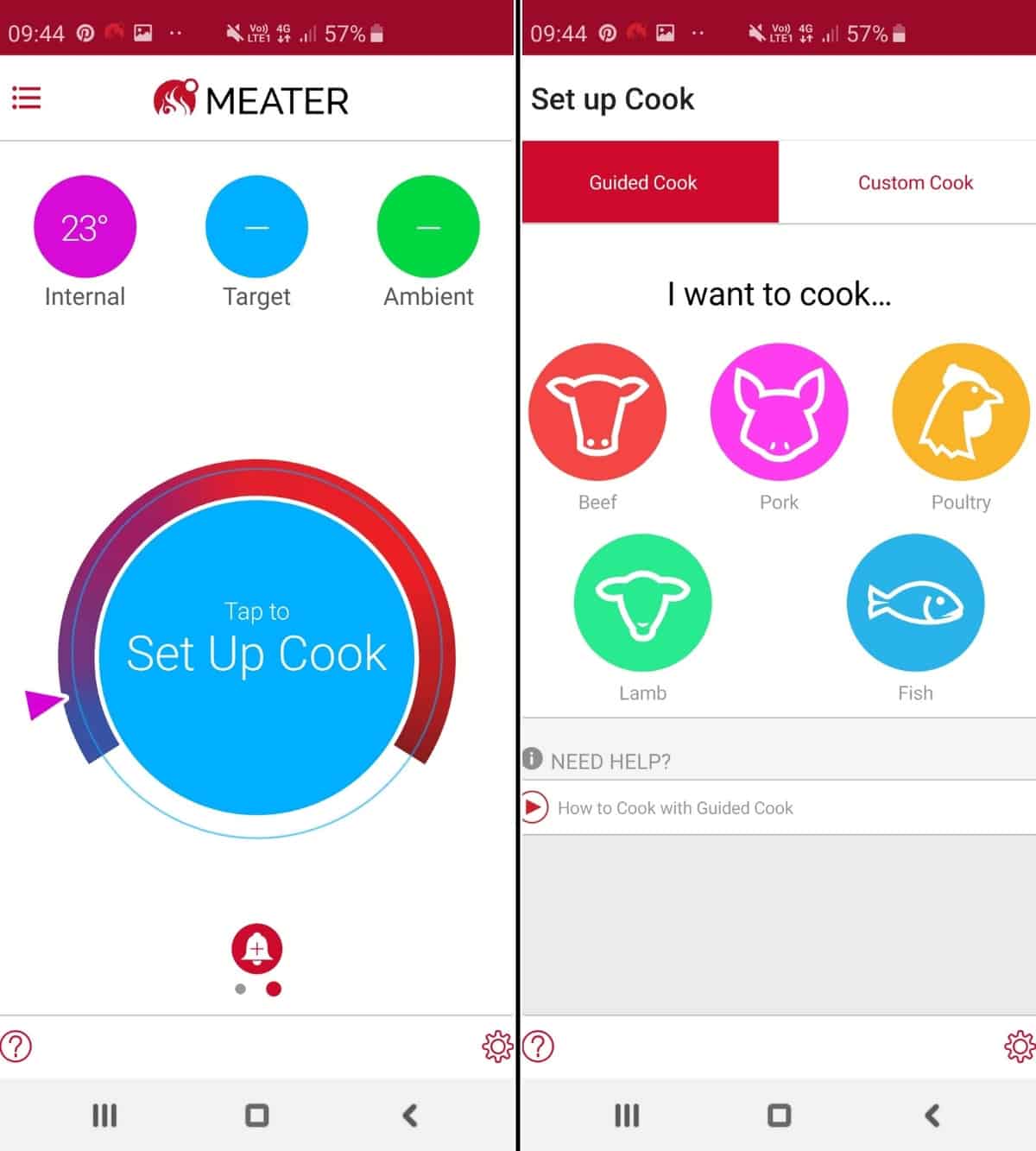 And after the first few minutes of cooking, it intelligently works out how long your cook will take before it's finished, and works out variable 'carryover cooking' times, so you take your meat off early, and it comes up to temp while resting, avoiding overcooked meat.
If you're more advanced, it's customizable to give you alerts and notifications for the temperature or time of your choice, too. It also saves info from previous cooks.
Of course, you can ignore guided cooks, and simply insert and connect to the thermometer to monitor things manually (the image below right.)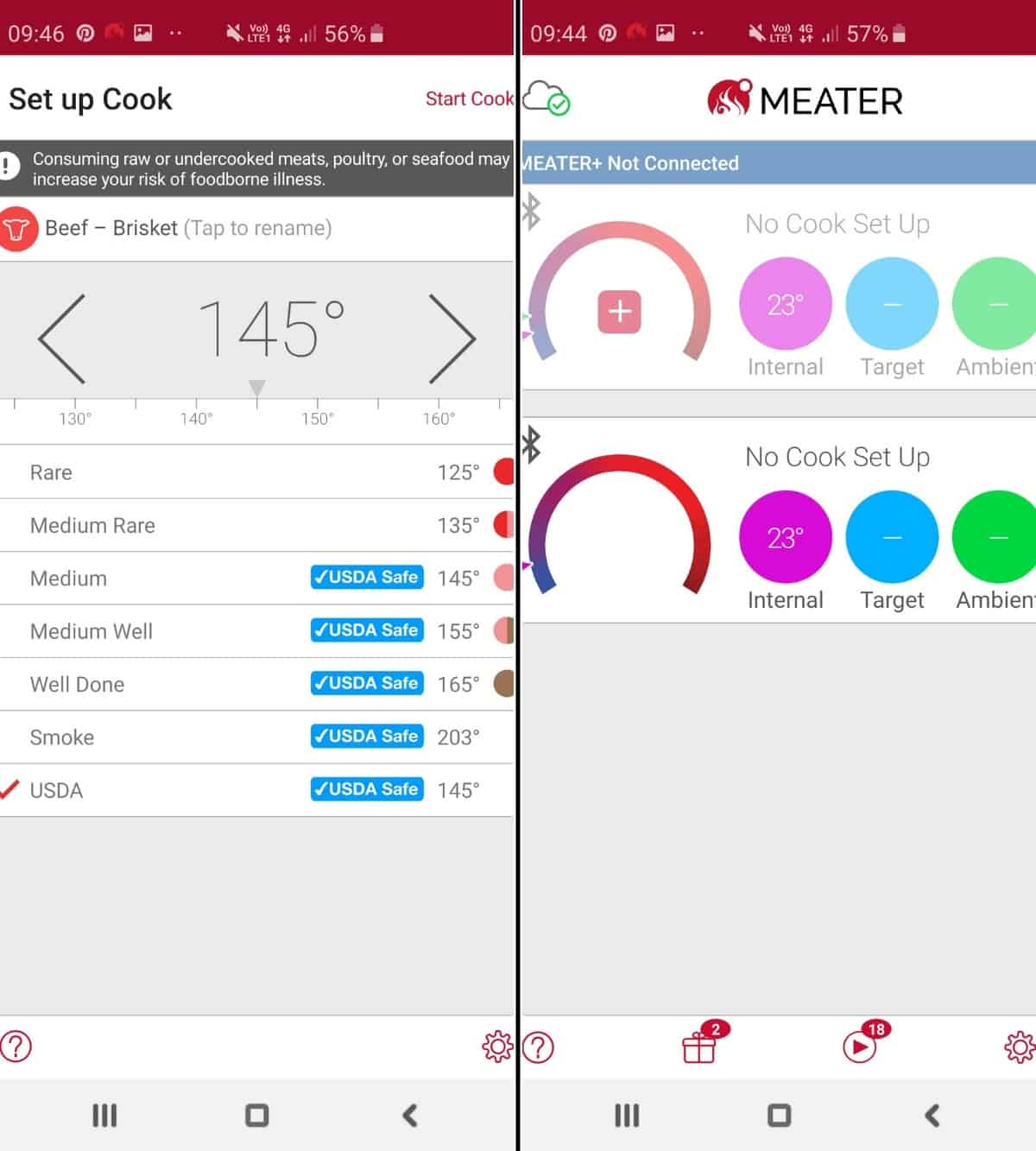 I have 2 of these units and have used them for over a year. I have one little gripe with their use, which means it's not a great all-around smoker thermometer for all use cases — or at least you have to use it intelligently.
When you insert thermometer into cold meat straight from the fridge, the black end only protrudes a small amount. This means it is somewhat trapped within a cold bubble of air that surrounds the chilled meat.
So initially, you get a measurement of a cold meat surface and NOT a measure of the ambient air temp. This can lead to you panicking and trying to raise the smoker temperature by opening vents due to a false reading.
As the cook progresses, the surface of the meat warms, this issue soon goes away. But it is something you need to be aware of, plan for. And does mean the Meater isn't suitable for short cooks.
Pros
True Wireless — No wires to worry about at all
Intelligent smartphone app display — All information is displayed on your phone, and the Meater estimates cooking time well and makes decisions for you to take the meat off early for carryover cooking.
Presets for doneness — Walks you through the cook with presets for different meat types
Long battery life
One of only very few thermometers you can use with rotisserie
Cons
Single probe — Only keeps tabs on one cut at a time
Short-range — Smaller range than others on this list, but still plenty far enough
Non-replaceable probe battery — Though it's rated for 1000+ cycles
Incorrect smoker temps at the start of cook — (please see above for details.)
This is an excellent and practical bit of gear that's well worth the investment to help you achieve great meat smoking results every time. It's pretty sweet for showing off to your grilling and smoking buddies, too. And if you rotisserie cook — as I do — then it's a no-brainer, there is no other choice, and it's highly recommended.
Have a look at my in-depth review of the Meater range if you're not convinced the Meater+ isn't just a gimmick.
Grilleye Max 8-Probe Smoker and Grill Thermometer
5
Wireless capability: Wi-Fi only.
Two things set the Grilleye Max apart from pretty much all other thermometers: The way it looks — it's certainly a unique design! — and the fact it can take up to 8 probes. Let's start with the probes…
Yes, it can take up to 8 probes! The most we've seen on any thermometer. And each probe can be used to monitor either a food item or the temperature of your BBQ, so it's incredibly versatile.
This means if you are hoping to smoke ribs, a brisket, a pork butt, and a chicken simultaneously across 4 BBQs, you can do so and monitor it all with this single thermometer. And you can set separate high and low temps and alarm notifications for each. That is impressive!
You do only get two probes in the box, so you would have to purchase extra separately, and you will also likely need wire extenders to reach multiple smokers. But the option is there.
Grilleye also supply some of the best cable tidy's we've seen to date.
Now, how about the looks?
It's a round, tubular device, a 360-degree rotating body housed in a magnetic bracket that can be stood on any solid surface or stuck to something metal. Convenient, and we found it works well, keeping the unit stable and easy to see.
It's also drop-resistant, though there is no waterproofing, which is a shame because the weather can sometimes catch you unaware and take a turn for the worse.
The display is a bright white text on a very dark blue background, or maybe 'off black' is a better description? Either way, it's different to all other thermometers, and is very easy to see in all conditions, day or night.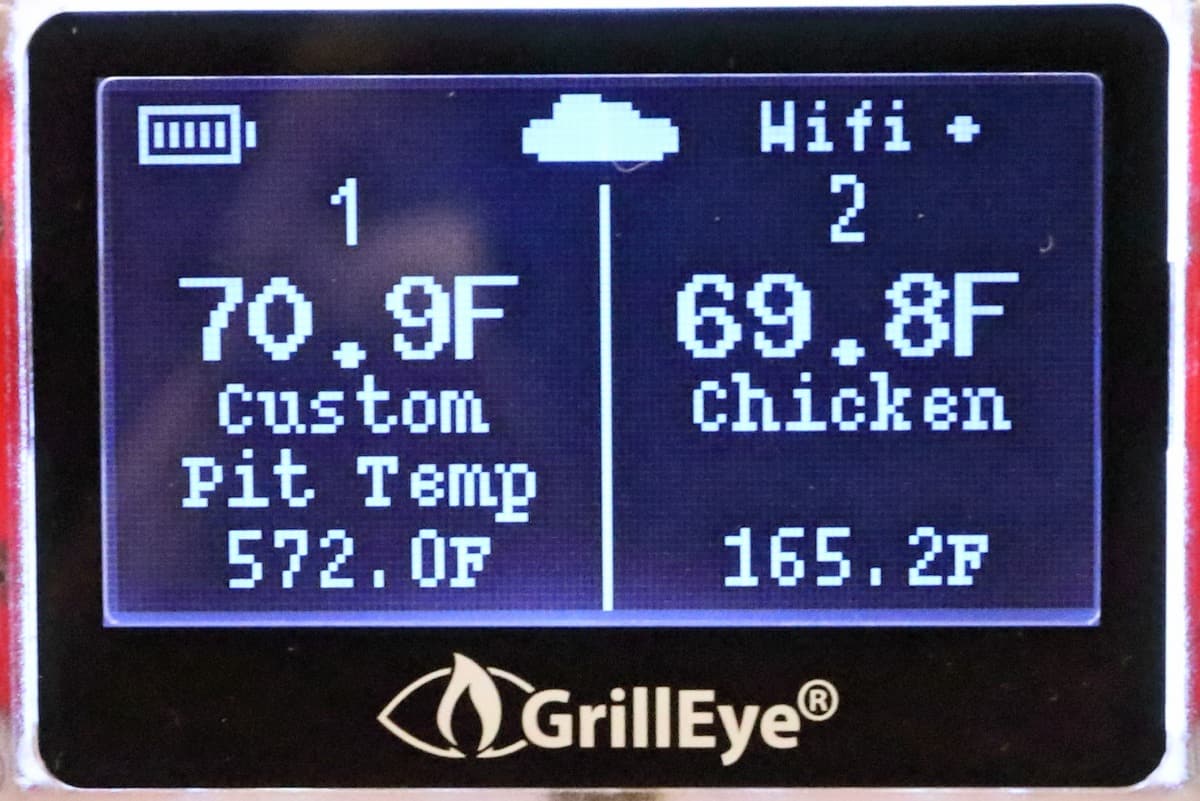 The Grilleye Max looks like no other thermometer we've seen and, in our opinion, is striking and desirable. It definitely wins in the design department if compared to your typical rectangular box thermometers.
One downside of this thermometer is that although the base does temperature info, that is all it does. To set up the device and tweak any settings, you MUST use the smartphone app. But don't worry, it's a good one and works well.
Let's take a closer look at the specs.
Manufacturers Specs
Number of Probes:2 included, supports up to 8; interchangeable for meat or ambient temperature readings
Accuracy:±0.18 °F (±0.1 °C)
Temperature Range:-40 to 572 °F (-40 to 300 °C)
Max Temperature Use:572 °F
Food Probe Length:7"
Cable Length:24"
Power:2500 mAh Li-Ion (USB to USB-C cord and 12V AC adaptor plug included)
Battery Life: Up to 48 hours (with screen-saving mode engaged)
Wireless Connectivity: Wi-Fi enabled (802.11b/g/n — 2.4GHz)
Display size: 44″ × 31.3″
Warranty:1-year
As always, I tested the accuracy of this thermometer with boiling water and iced water tests.
It measured 212.4 F for boiling water: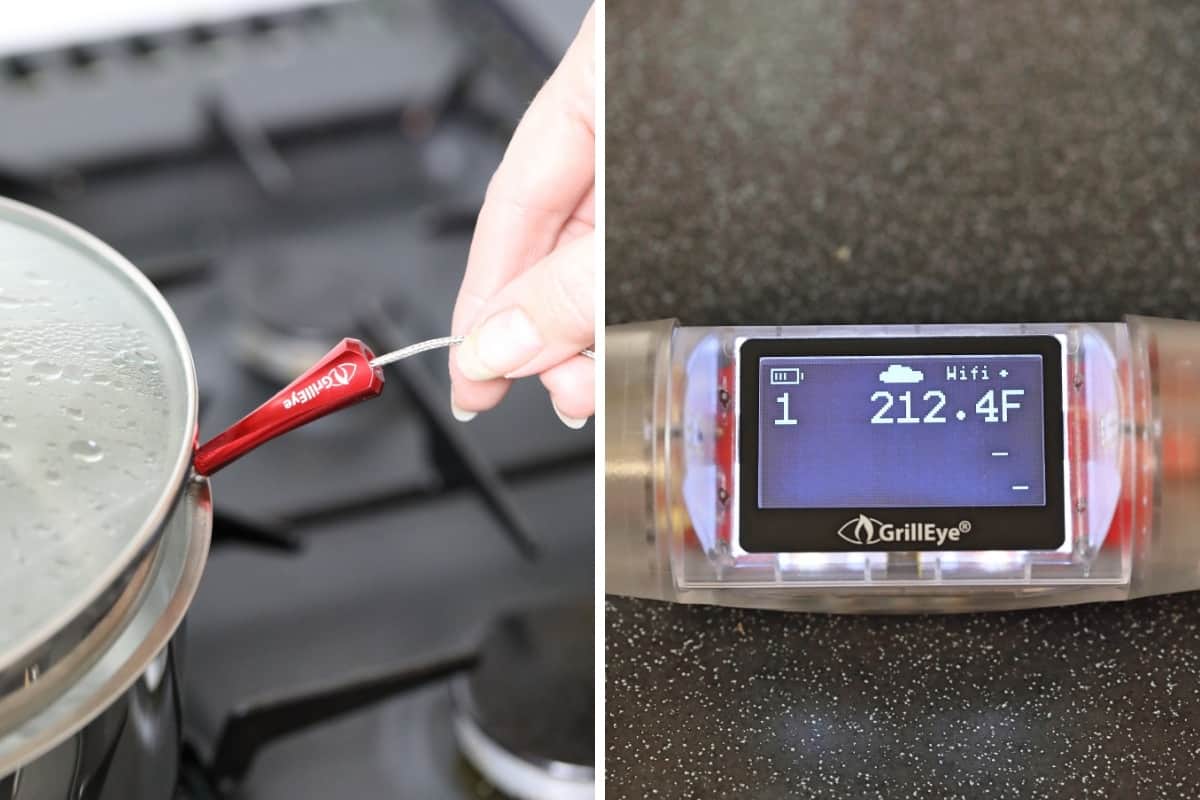 It measured 31.8 F for iced water:
Close enough, and can certainly be relied upon.
I found the Grilleye Hyperion smartphone app easy to use and appreciated the walkthrough onboarding section that shows you how to use the app and thermometer. A nice touch and very useful to be guided in such a way, removing all guesswork and getting you up and running quickly.
The Grilleye Max has many programmable alarms and notifications that are easy to set up, visual, and audible. I found it impossible to miss any significant event, such as a high or too low temp, or when my food hit my preset doneness level.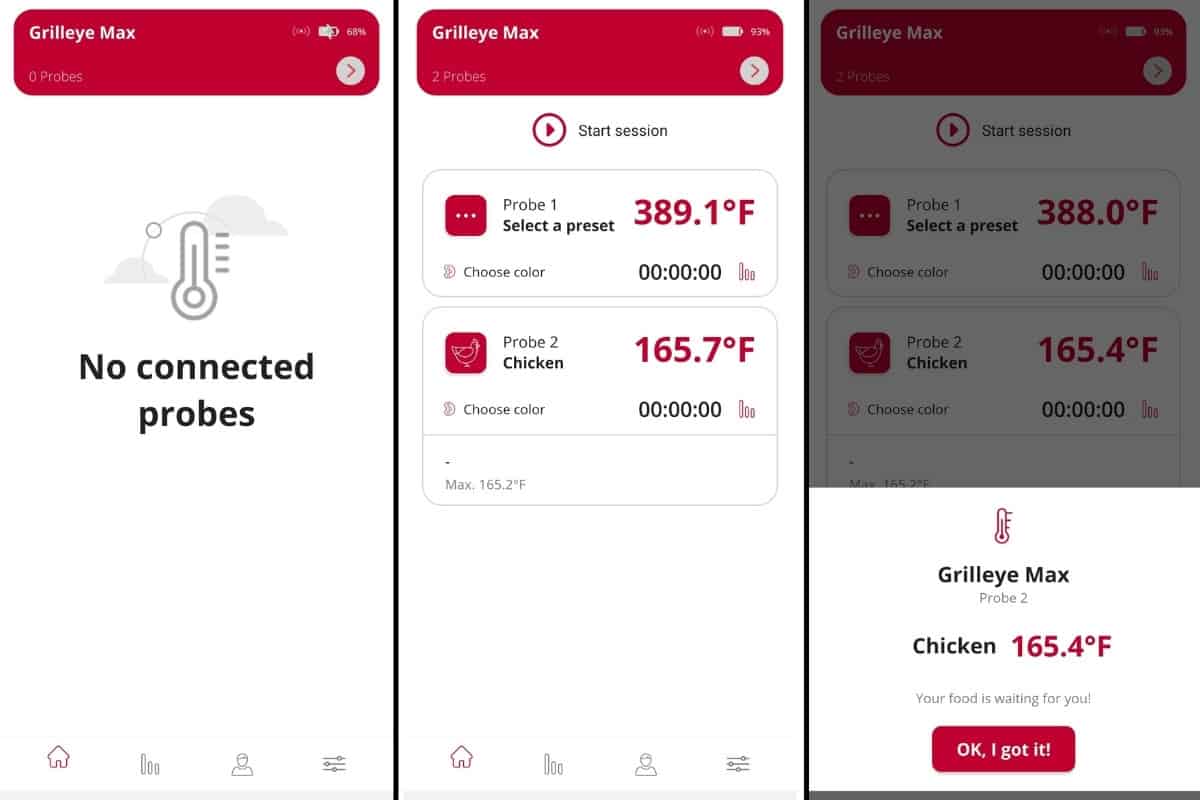 In summary, for people who like to cook a lot at once, the Grilleye Max can make a lot of sense.
Pros
First of all, up to 8 probes is impressive and not seen elsewhere.
Reliably fast and accurate
Unique design will appeal to many
360 Degree rotating stand with a magnetic base is versatile and handy
The smartphone app is easy to use and even walks you through setup step by step. Very good indeed.
Cons
Bluetooth would have been nice in case you lose your Wi-Fi connection
No control from the base; you MUST use the smartphone app
Not splashproof or water resistant.
You can check out more details and see this thermometer in use in our dedicated, more in-depth, hands-on review of the Grilleye Max.
Thermoworks Thermapen One
6
Some say that only the best will do. Most of them have lots of money. Regular folk will tell you that other things will do almost as well. But, sometimes, it's worth the splurge to be able to say, "Yeah, but this does it better."
One such splurge could be the Thermapen One, which may be the finest digital instant-read thermometer currently available. It's not that it does things other thermometers in this category don't; it's just that it does them all so incredibly well.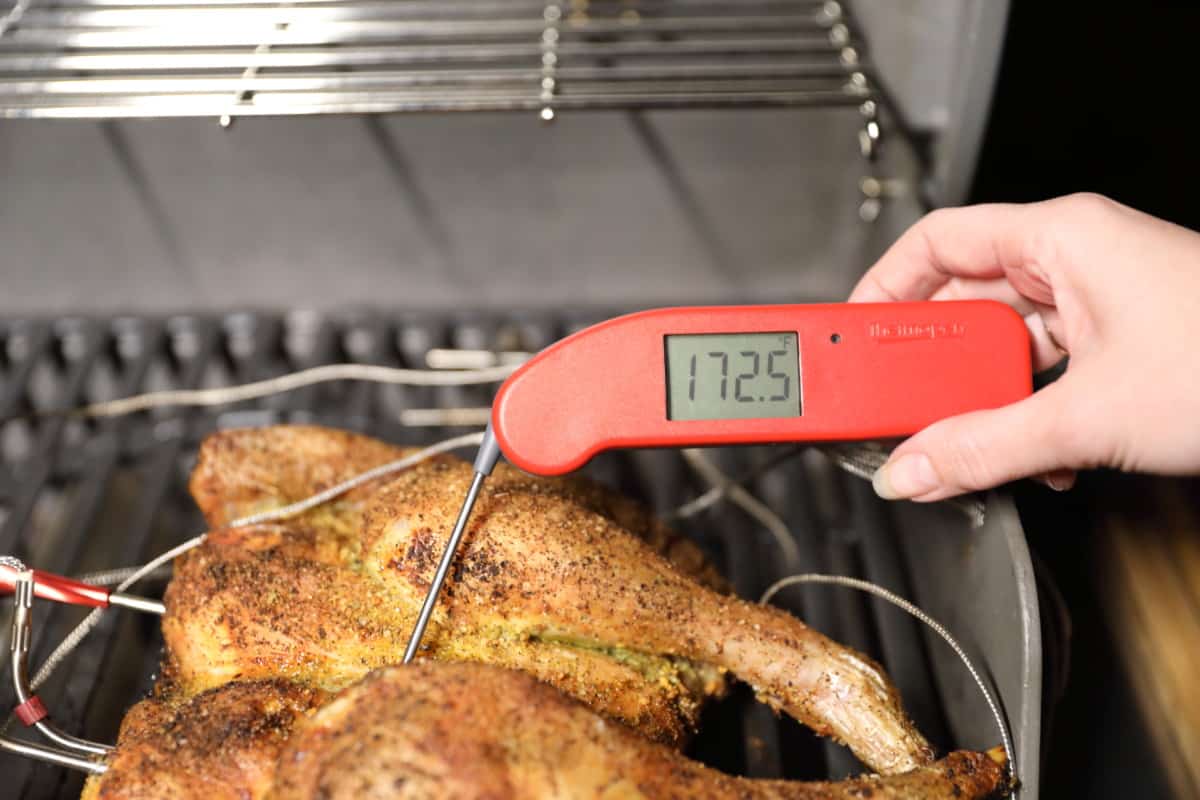 For starters, there's the speed. This thing is like lightning, honestly. You'll get your final reading in about 1 second flat. And you'll get that over and over again, even as you move from one piece of meat to another. That means less time holding your hand over a hot grill, and you won't have to worry about shooting past your target while you're waiting for the reading to finalize.
Then there's the accuracy. The K thermocouple sensor is accurate to within ±0.5 °F (±0.3 °C), so you can be certain you've nailed that medium rare or the chicken is ready to come off the grate.
In a boiling water test it measured 212.1 °F: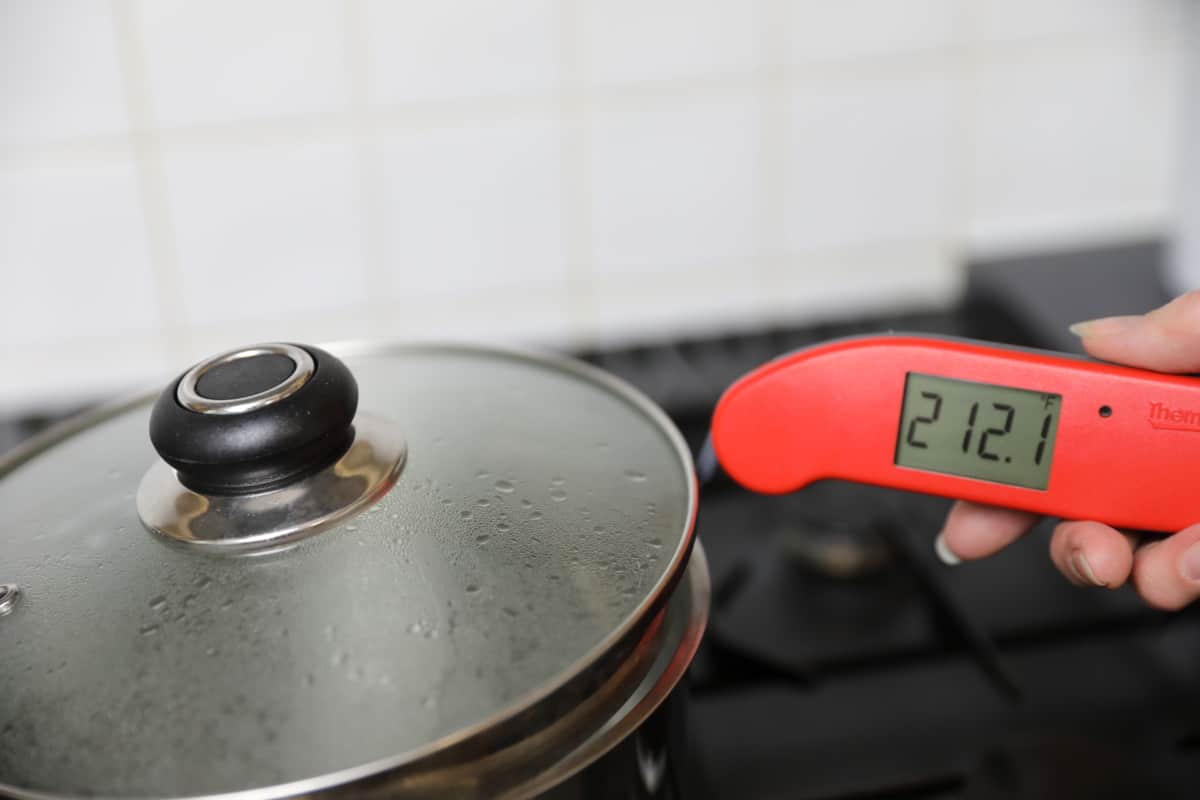 In an iced water test it measured 31.9 °F :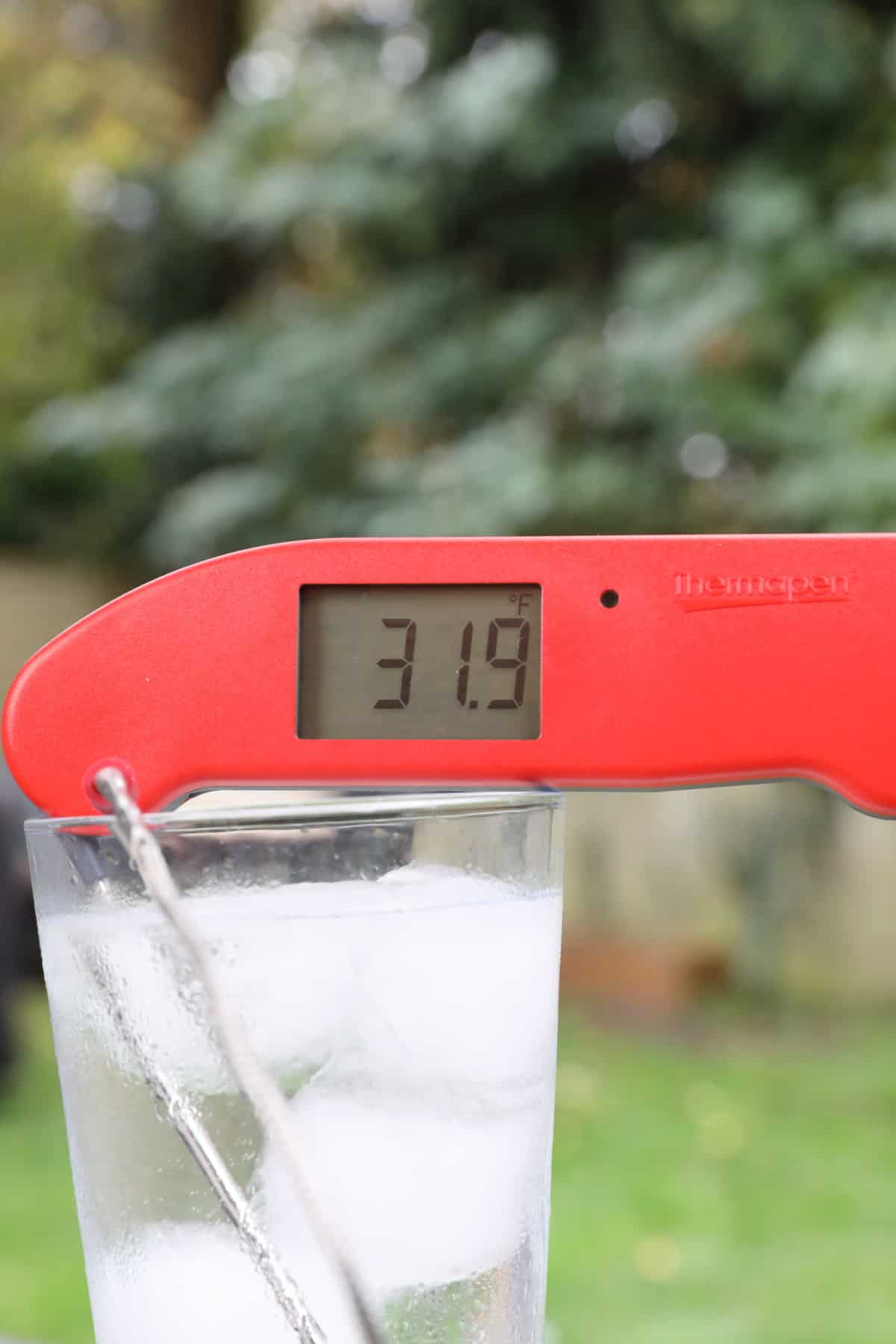 These are incredibly accurate figures, and shows just how dependable this device is.
And we can't forget the rotating display. While some thermometers will flip the readout on the LCD 180 degrees if you turn them over (say to go from a right- to a left-handed position), this one has four positions, so the numbers are always oriented correctly for you to read.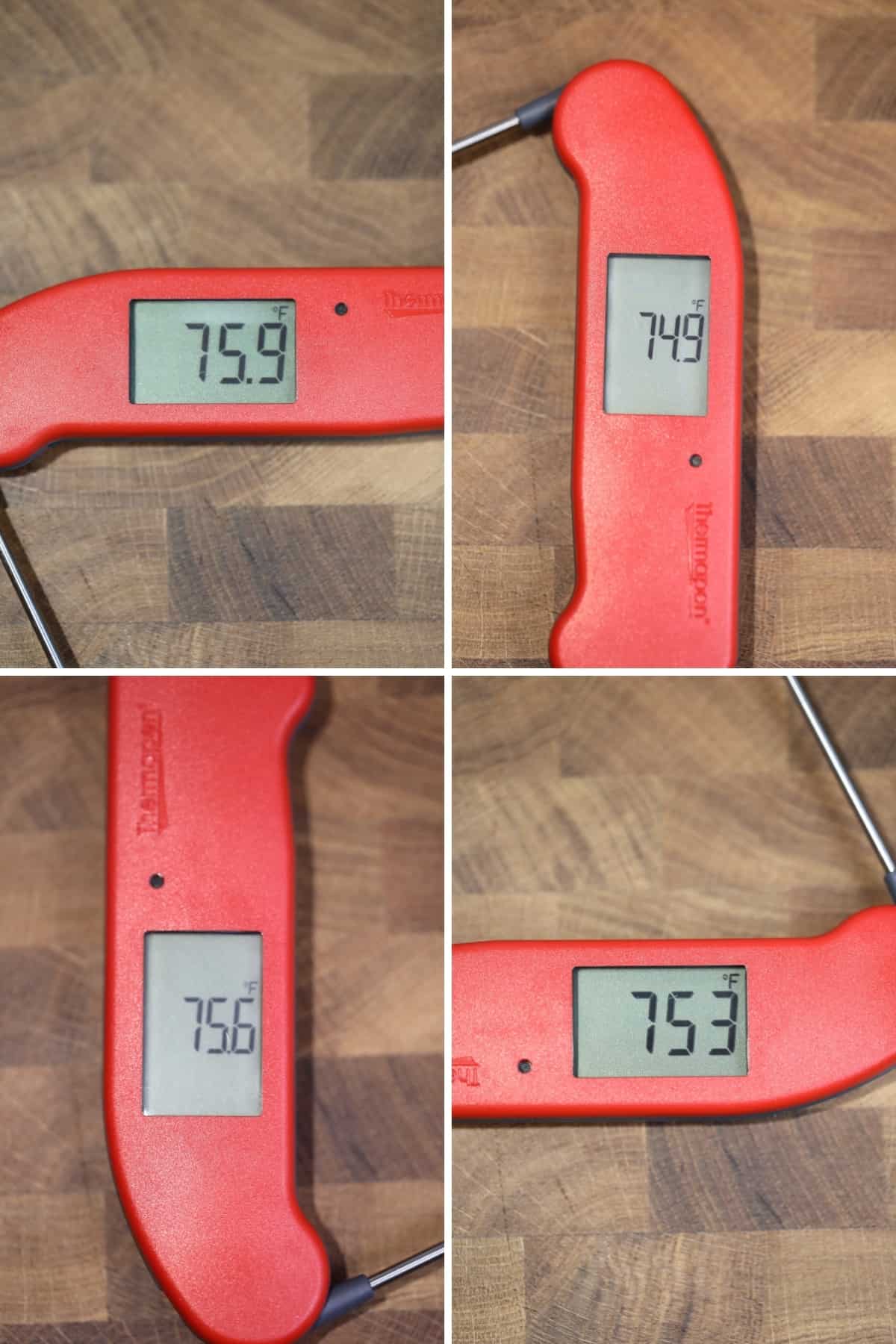 Other convenience features include auto-shutoff mode, motion-sensitive power-up, and a backlight for the LCD that comes on when needed, thanks to a built-in light sensor.
Pros
Blazing fast speed of one second read time
Incredibly accurate and supplied with calibration certificate
360-degree screen rotation based on the orientation
The intelligent backlight turns on as needed, making it easy to read in all lighting conditions
Blazing-fast speed
IP67 waterproofing makes it washable and safe for the rain
Nice size and weight, feels good to grip in the hand
5-year manufacturers warranty
Cons
Expensive (but worth every cent for me!)
Settings are hard to access in the battery compartment, but you only ever do it once
The Thermapen One outperforms all other instant-read thermometers we've ever owned or tested. It is the fastest, and the most accurate. It is ruggedly built, ambidextrous, and a joy to use. At the price, it's not for everyone, but if you want the best, then it's highly recommended.
You can check out our Thermoworks Thermapen One test results and review for a deeper look at this excellent product.
OK, so you've seen our top picks, plus our best-of-the-best-at-any-cost and budget-friendly selections. Here are a few other worthy contenders for the best grilling thermometer for you to think about further, any one of which will do the job well.
Thermoworks Smoke 2-Channel Alarm Thermometer
7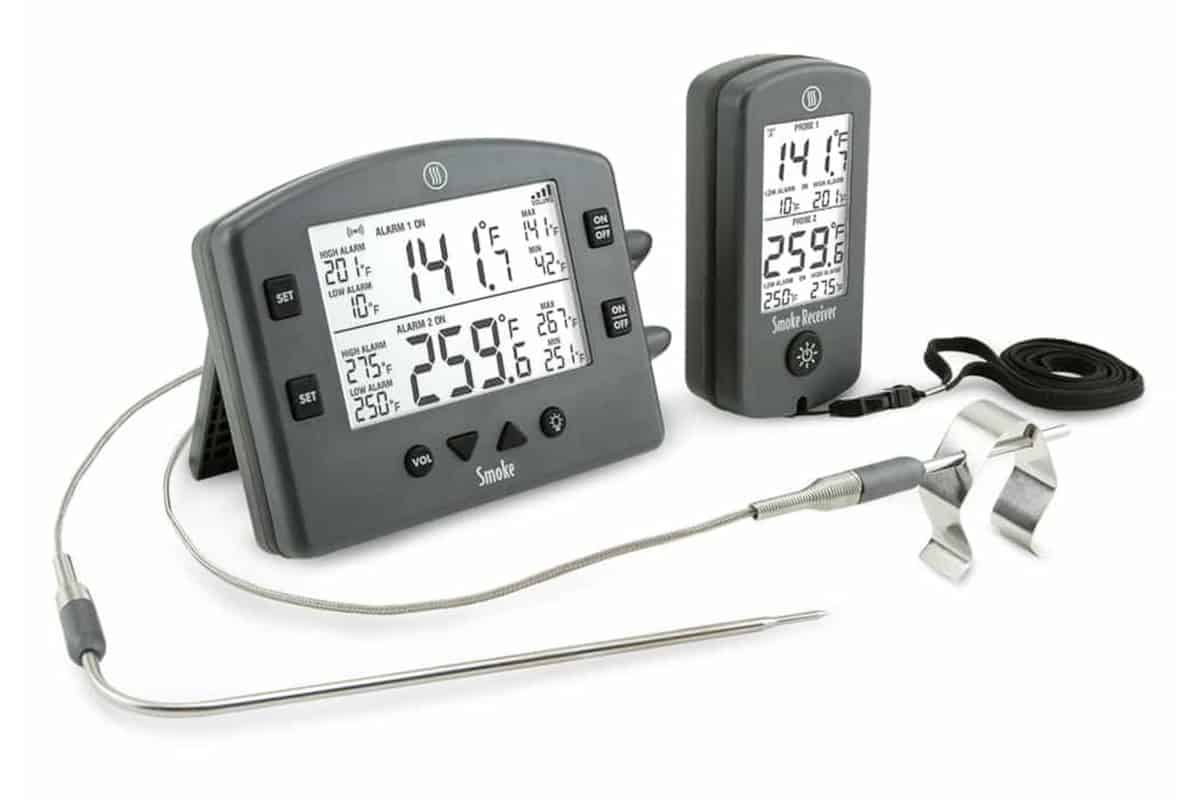 Thermoworks are best known for their (arguably) industry-standard Thermapen instant-read thermometers.
Widely respected for making well-thought-out, quality products aimed at professionals, Thermoworks say themselves about the 'Smoke':
"Designed for competition BBQ teams and professional chefs, Smoke outlasts and outperforms every competitor. Not a cheaply-made housewares product, Smoke features a rugged housing with molded-in seals for splash proof protection."
The Thermoworks comes in a little pricier than many of the picks above, and it's for this reason alone that the Thermoworks was not our budget pick.
Because it's made for and marketed toward professionals, it's maybe a bit overkill for the weekend warrior as it were.
Carry on reading for the low down on specs, features and performance.
Manufacturer's Specs
Number of probes: 2
Accuracy: +/- 1.8F (1.0 °C)
Temperature range: -58 °F – 572 °F (-50 °C – 300 °C)
Max temperature use: 700 °F (370 °C)
Probe length: 6 inches
Cable length: 47 inches
Power: 2 AA batteries per unit
Remote range: 300 feet
Display size: 2.15" × 1.3" receiver / 2" × 2.95" transmitter
Warranty: 2-years
We may have indulged in a little hyperbole in the intro to the ThermoWorks Smoke. But, the truth is this is a well-designed, information-heavy unit.
For a start, it's one of a few you'll find that gives the complete range of information on the transmitter and the receiver. It's almost like the receiver is a bonus and not the reason to buy it.
It's actually nice not to have to look at the remote unit to get the full picture. If you're right beside the smoker, doesn't that make more sense than digging in your pocket?
Speaking of which, the remote has a nifty lanyard, allowing you to hang it conveniently around your neck. Not stylish, but very practical.
But speaking of style: The transmitter and receiver are very well-built and designed. They are rugged, sealed, and splash proof to IP65, and even the probes are commercial grade and a cut above the rest!
Owners of all digital smoker thermometers complain about probes becoming faulty over time, it's par for the course. But I'm yet to see a single failure with Thermoworks Smoke probes!
By the way, just did the math, and apparently, the batteries will last through 75 days of continuous usage. Nice to know you won't run out of juice during an extended smoke!
Pros
Info at Both Ends — Complete easy-to-read display on both the base unit and the remote
Lanyard — for wearing the remote included
Comes in 9 colors — Match your apron and gloves!
Built to last — Splash-proof housing and industry topping quality, commercial-grade probes
Cons
Only 2 probes — With just two probes, you can only monitor one cut
Price — Costs a little more than most on this list. But it's not overpriced, it is great quality and value.
So, what you've got here is a competition-grade digital smoker thermometer. You can even sync multiple remotes to the base, so an entire team can keep track of cooks at once. But, even if you're not on a team, you can still get a lot of value out of this unit.
ThermoPro TP20 Dual Probe Wireless Meat Thermometer
8
So your situation is this: you're not new to barbecue, but you are pretty new to smoking.
You want to make brisket like an expert pitmaster, and you know hitting and holding your temperature is crucial to success.
You're ready to invest in the right equipment, but you're practical — you need something you can work with now, but not feel like you've outgrown it once you've nailed your technique.
Buy it once, and forever love your ThermoPro TP20.
Manufacturer's Specs
Number of probes: 2
Accuracy: +/- 1.8F (1C)
Temperature range: 32–572 °F (0 °C – 300 °C)
Maximum temperature: 716 °F (380 °C)
Probe length: 6.5 inches
Cable length: 40 inches
Power: 2 AAA batteries per unit
Remote range: 300 feet
Display size: 1.6 × 1.9 inches
Warranty: 1-year (register product for 3 year coverage)
ThermoPro has nailed the perfect combination of reliability, durability, and great features at a great price, earning it my pick as the best overall smoker thermometer.
Much as we love to memorize doneness temperatures (no seriously – quiz us!), we know not everyone feels this way. Being able to press a single, clearly marked button to set the right target temp for your meat selection and desired doneness to pre-programmed USDA specs, makes this a dream and easy-to-use.
The digital back lit display is easy-to-read, you get a countdown and count-up timer, and you can even switch between Fahrenheit and Celsius. All this at a price point we think is reasonable.
And, we can't overlook the probe replacement guarantee — if yours fails (it does happen, especially when, despite being warned, people dunk them in water) just call them up, and they'll send you a new one free of charge. We have total respect for a company that's there for its customers.
Pros
Wireless remote — Frees you up to walk away
Long cables — Provide more placement options
Rubber case — Protects against drops and bangs
Self-supporting kickstand — For easy placement of transmitter
Presets for different types of meat — So you can set alarms for different levels, removing any guesswork and any chance of overcooking
Cons
Two probes max — Can't connect additional probes
Large receiver — Great for reading, but fairly large for carrying around
If you'd like more information on our pick for the best meat thermometer for grilling and BBQ, you can check out my more in-depth and hands on Thermopro TP20 review.
Wireless capability: 150 feet, Bluetooth only.
I've included the Inkbird IBT-4XS because it is incredibly popular. I own one myself, occasionally use it, and can see the appeal. The biggest draw for others seems to be its longevity. It's reliable, works well…and importantly, just seems to never (OK, very rarely) break!
The Inkbird IBT-4XS is a 4-channel, Bluetooth-enabled thermometer with an accompanying smartphone app.
It comes in 3 bundle options:
Unit with 2 probes
Unit with 4 probes
Unit with 4 probes and a protective case
The probes are dual-purpose and can be used to monitor either the food you are cooking or your ambient smoker and grill temperatures.
Let's take a quick look at the specs:
Manufacturer Specs
Temperature range: 0~300 °C /32~572 °F
Temperature accuracy: ±1 °C / ±2 °F
Wireless range: 50 meters / 150ft
Alarms: over-temperature alarm; range alarm; time count-down alarm
Display: LED screen & app
Probe capacity: up to 4 probes
Battery: rechargeable 1000mAh lithium battery
Dimension body: 83 × 83 × 28 mm (3.3 × 3.3 × 1.0 inch)
Sensor length: 150 cm / 4.9ft
Net weight: 380 g
In my tests, I found it measured 214 °F for boiling water:
And it measured 34 °F for iced water: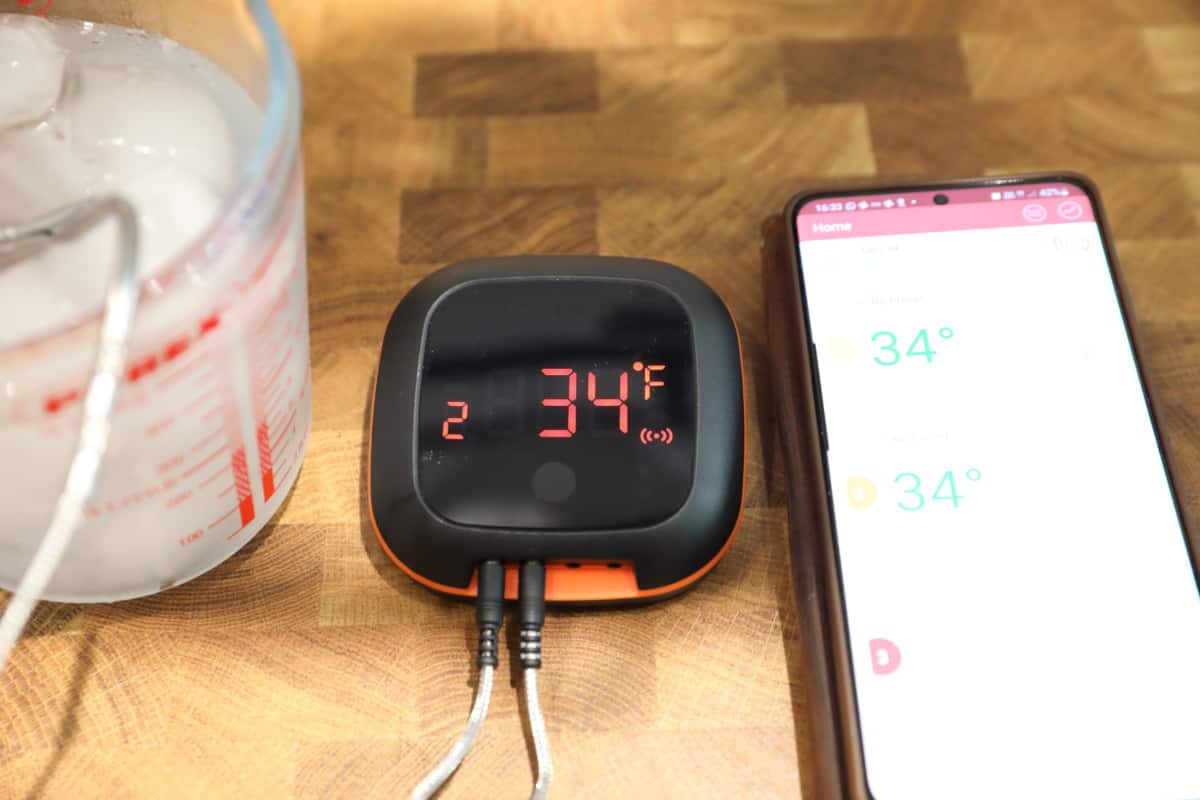 Certainly not the most accurate thermometer in this list, but also easily good enough for most purposes.
The main unit is a simple square design, soft-edged for durability and otherwise plastic. It looks well built and has proven to last well.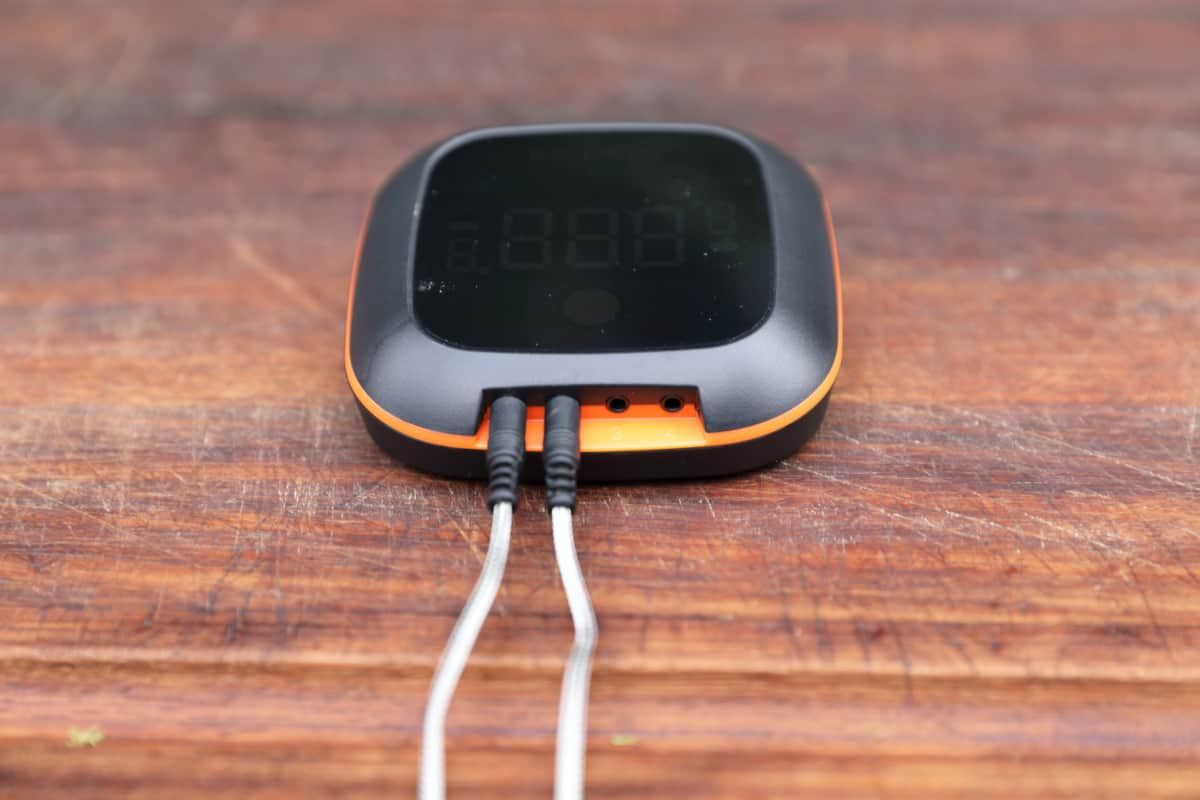 There is a large LCD screen with big red numbers on a black background that is easy to read. It is a lightweight unit with a magnetic backing strip for you to stick it to any metal surface, though it is only rated to 180 °F, so do not melt it on the side of your grill!
It has a built-in 1000mAh lithium battery that charges in 2 hours to provide up to 60 hours of continuous use. And do note that it cannot be used while charging!
Four probes are useful for cooking up to 3 meats at once and monitoring your pit temp.
BBQ GO Mobile App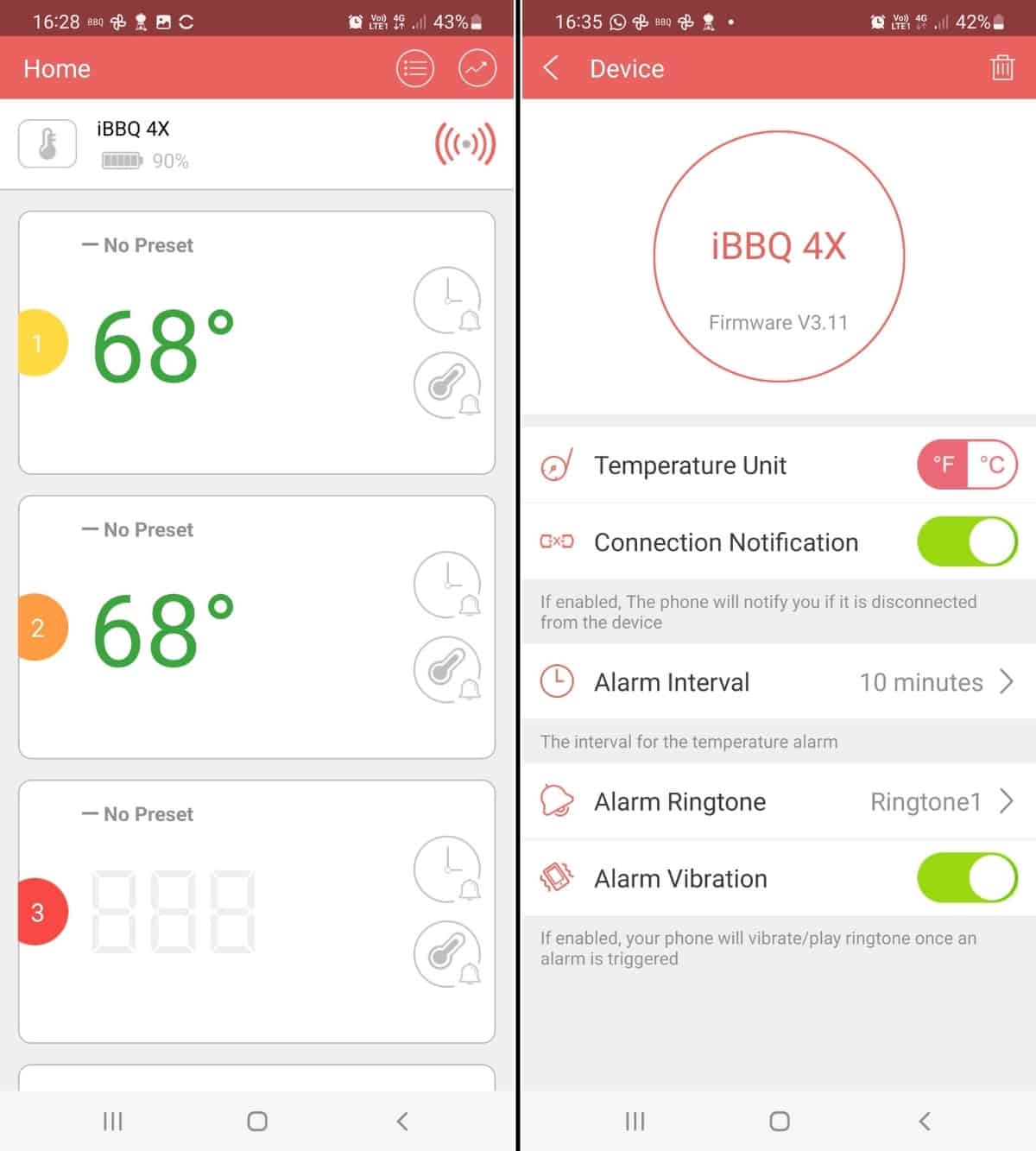 The app looks familiar, and I think it is the same app a few other manufacturers use, badged up and branded for Inkbird. It's well thought out and easy to use, connect, configure, read, and set up your cooks.
There are sections in the app for probe configuration, graphs, alarms, and more. Presets cover 11 meat types and cooks, all with a set temperature and an alarm that the app triggers that you simply cannot miss.
Pros
Easy setup
USB charging and super long battery life
4 probe capacity makes it versatile and capable
Accurate temperature reading and wide range
Durable and long-lasting.
In summary, the Inkbird IBT-4XS is great value for money. It does what it's supposed to do and does it well. And previous owners state it lasts and lasts, so is worthy of recommendation. There are better, more capable thermometers out there, but if you don't want to break the bank to get them, consider this Inkbird.
For a deeper look at this thermometer in use, check out our Inkbird IBT-4XS in-depth, hands-on review.
Why do You Need a Thermometer for Your Smoker?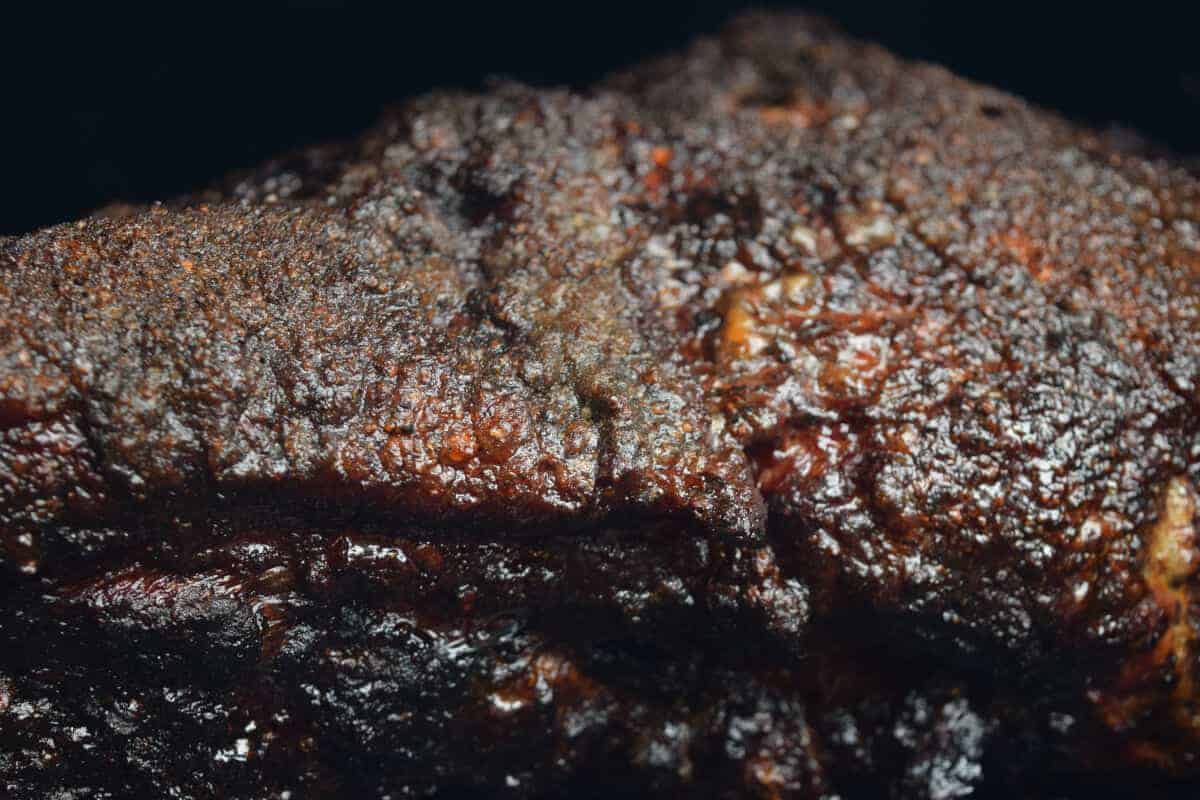 Ask any chef or any pitmaster, and they'll tell you that cooking is part art, and part science.
The artistry comes in presentation, and even in making the creative choices behind selecting what to cook, how to cook it, and how to flavor it. The science? That's pretty much all about hitting and holding the right temperatures and cooking for the right amount of time.
A scientist doesn't measure anything by eye, and neither should you at the BBQ smoker. To get accurate temperature readings, you need a thermometer.
There are two key temperatures a serious pitmaster needs to know: the smoker, and that of the meat.
Why do you want to know these things? Knowing the temperature inside the grill at the grate height tells you that you have the right heat level for whatever style of cooking you're doing. Since we're talking about smokers, that is (usually) going to be somewhere between 225 °F and 250 °F (107 °C and 121 °C).
Of course, knowing the temperature of the meat tells you if it's safe to eat yet, and what level of doneness it's at. You don't want to trust your all-day brisket to your eyes, do you? Or your health, and that of your family, either.
By keeping tabs on these two variables throughout the cook, you will significantly increase your odds of coming away with delicious meat.
Your Smokers Built-in Thermometer is all but Useless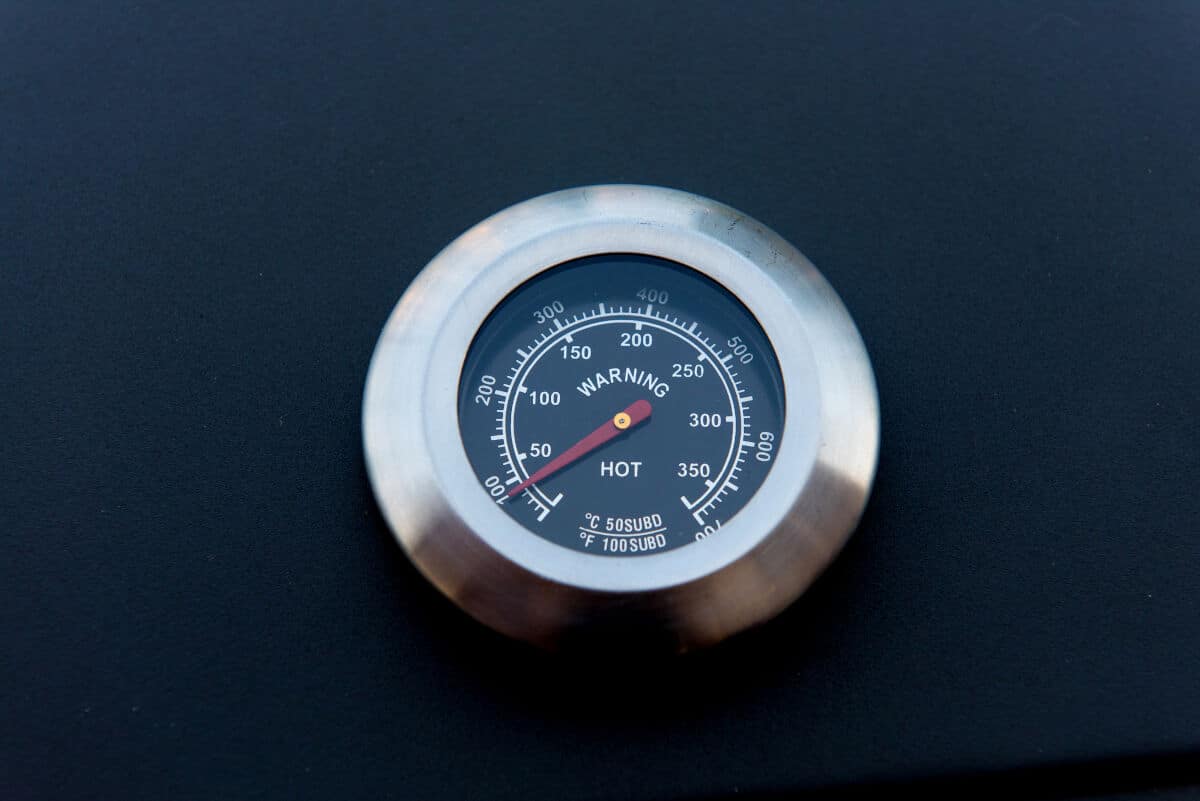 Yes, the lid thermometer is nice to have, but really only as an indicator whether the grill or smoker is hot or not. They tend to be wildly inaccurate.
But, let's say you happen to have an abnormally accurate lid thermometer. Wouldn't that be enough? Not a chance.
The lid thermometer shows temperature precisely where it says it is — up in the lid, or the dome. That's way above the grate, meaning it's also way above the heat source.
The difference in temperatures between the grate and the top of the lid can be as much as 50 °F (28 °C). That's huge. Since the food is where the grate is, and not up in the lid, obviously the lid temperature is of no value.
Types of Digital Smoker Thermometers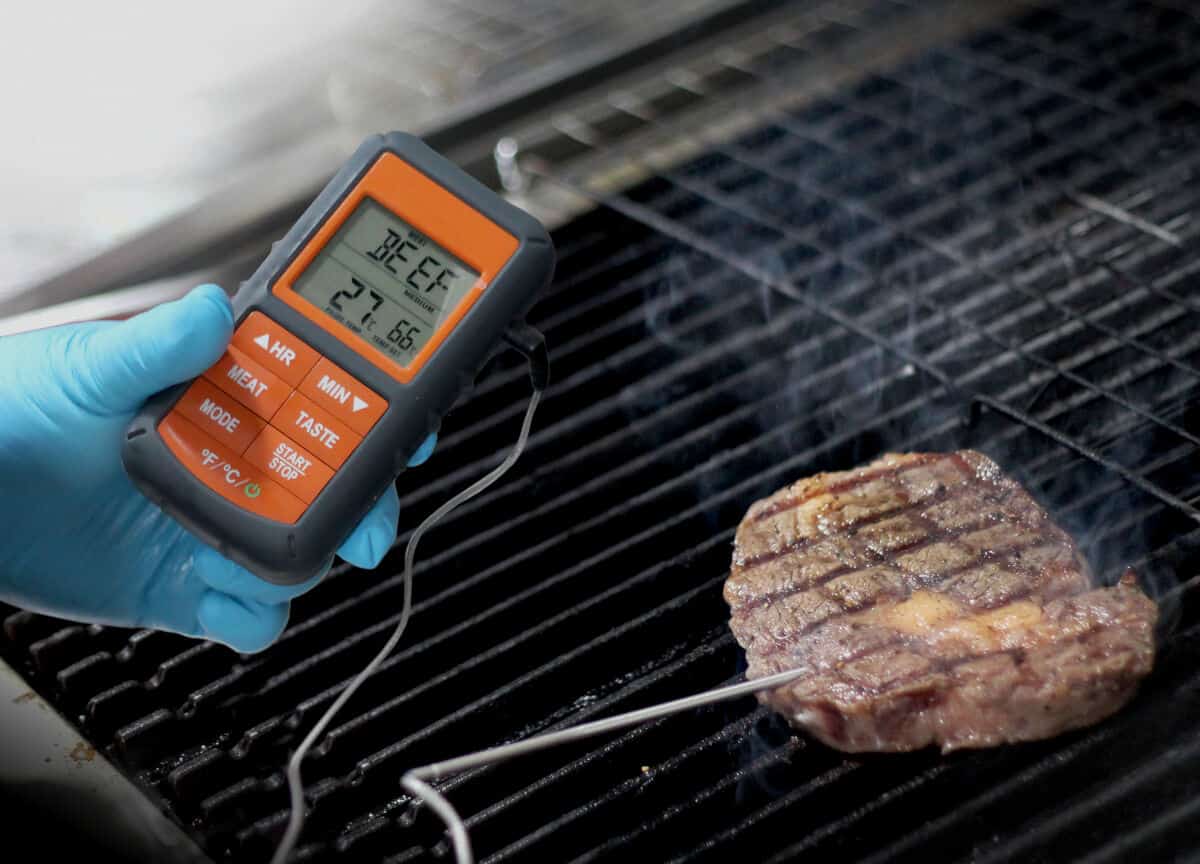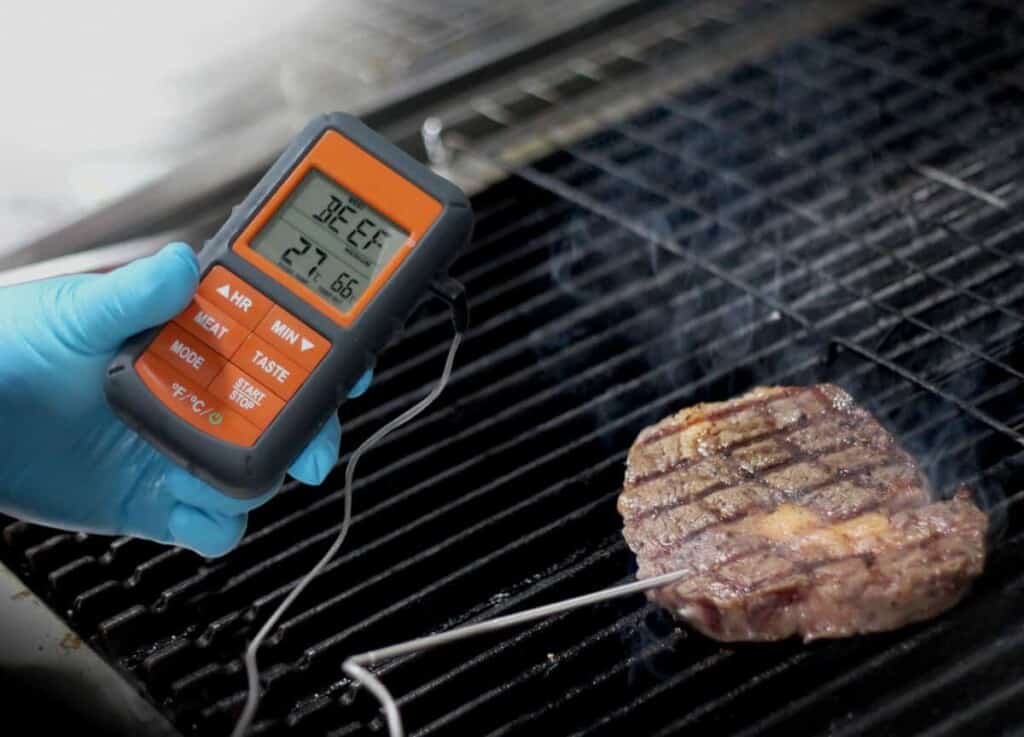 As with all gadgets and gear, there are many options to sift through. Here's the breakdown of the major categories you'll be choosing from.
Single Probe – Simply put, it's a thermometer with just one sensor probe. This means you'll have to decide between grate and meat temperature.
What you could do is use it to read the grate temperature until you hit your target and then shift it to the meat to monitor doneness. However, the price difference between dual and single probe thermometers is so small, there really is no reason to buy a single probe model.
Dual Probe (or More) — These have two probes and sensors, allowing you to read the temperature at grate level and inside the meat simultaneously. This makes a lot of sense.
But why stop there? You can also buy digital grill thermometers with 4 meat probes, or even 6. With so many probes, you'll be able to monitor the temperature at multiple levels of your cooker, and lots of different meats.
If there's any drawback to multi-probe thermometers, it's just that there are a lot of wires to manage. If you already hate the back of your home theater set up, you might not care to deal with so many plugs and leads.
Infrared Thermometers — This type of thermometer enables you to read the surface temperature of anything in your barbecue without making contact. They aren't 'leave in' devices, but they are fantastic for quickly getting a reading of your grate, or particularly flat top griddles or a pizza stone.
What they can't do is read the internal temperature of your meat and let you know if you're done cooking or not. You could use one in conjunction with a single probe thermometer to monitor both the meat and the grate? You can see some great examples in our detailed guide to the best infrared thermometers.
Wired or Wireless – It seems like there's a wireless option for everything, including wireless smoker thermometers. You can opt for a wired unit, whereby you have to be present to check on the situation of your cook. However, with a wireless thermometer, you can monitor the temperature of the smoker and the meat remotely, typically on your smartphone.
Both types of units do the same thing, and if you plan on sticking close to your smoker anyway, you might be fine with a wired thermometer. For longer cooks, or for busy hosts who are entertaining, the freedom to walk away makes a wireless receiver on your thermometer a great choice.
We Recommend Wireless Digital Dual Probe Thermometers at Minimum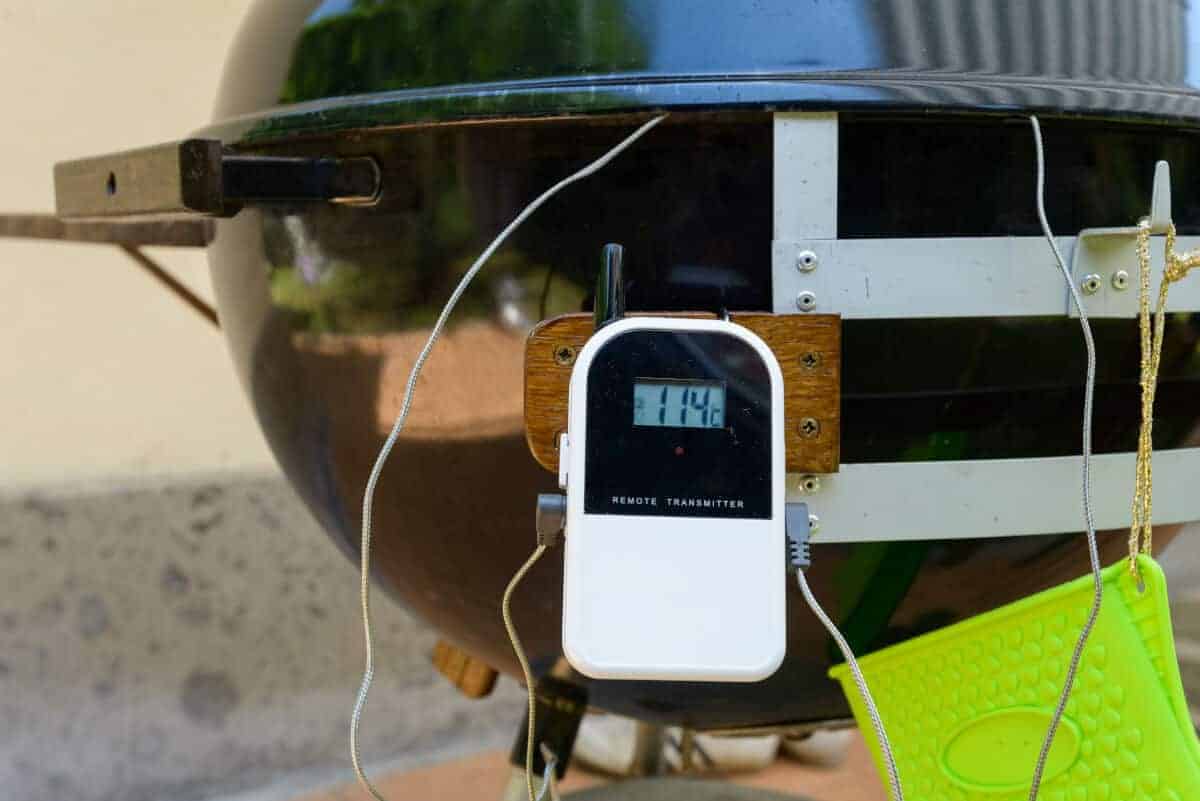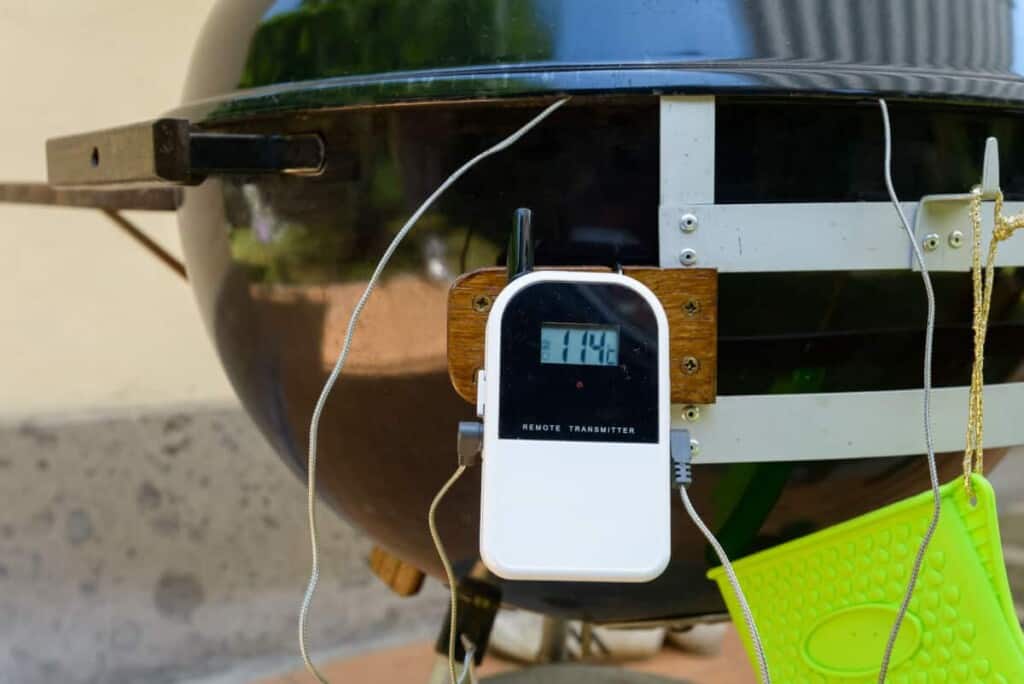 We recommend wireless – because there's no reason in this day and age why you should have to be tethered to your grill!
Wouldn't you rather chill in front of your TV with the game on than stand outside either sweating or freezing? On a nice day, you could be mingling with guests, or taking a dip in the pool. Cut the wires, and enjoy the freedom to live your life while dinner cooks.
We recommend digital – because we're deep into the 21st century! Seriously, though, analog thermometers cannot compete with digital when it comes to speed and accuracy. And, frankly, price doesn't make much of a difference — digital technology isn't a premium option anymore, it's the norm. In fact, hyper accurate temperature reading analog thermometers are available, but they're also hyper-expensive!
This isn't like buying a fancy analog watch; no one is going to be impressed with the fine craftsmanship and Swiss movement. Just get the digital.
We recommend dual probe — for the sheer convenience. It's like plug-and-play: once your grate is up to temp, just plug a probe into your meat (or meats, if you have more than two probes), close the lid, and walk away.
Using multiple probes means you'll be opening the lid a lot less often to check on things, or to switch the probe from the grate to the meat. That means faster, more effective smoking sessions because every time you lift the lid you lose heat and smoke. We firmly believe that the extra money spent on a multi-probe thermometer will pay off. How many probes you get is entirely up to you.
How to Choose the Right Thermometer for You
Let's review some of the criteria we considered in making our choices above. You can use this to help you make the best selection for your needs.
Number of Probes
We've already established that it's best to have at least two probes. How many you have beyond that will depend on your particular needs. If you reserve your smoker for pork shoulders and briskets, then two probes might be all you need — one for the grate and one for the single cut of meat you're cooking.
However, if you plan on loading up with thick steaks, multiple racks of ribs or a couple of chickens, you'll want to monitor each item individually. If this sounds like you, or like that might be an option you want to have, choose a thermometer with 4 or more probes.
Accuracy
The difference of just a few degrees can mean the difference between smoked to perfection and overdone. Accuracy is critical when it comes to digital smoker thermometers. Don't let a bargain price tempt you (hey, we love deals, too!) away from what you really need.
Speed
The ability to deliver real-time information is essential in a thermometer. If your unit is always playing catch-up, you're not getting the real picture of what's happening inside your meat. Also, if you're not using a leave-in thermometer (which we highly recommend), you need to get a reading as fast as possible to minimize time spent with the lid open.
Durability
Your average thermometer for outdoor cooking will be handled a lot. Think about it; unpack before every use, repack after every use, probes in, probes out, exposure to heat and the elements, and so on. As with any outdoor gear, durability is a key consideration. Features to look for include braided cables to flex without kinking and a rubber cover to protect sensitive electronics from the inevitable bumps and bangs.
Functionality and Features
There are a ton of features available across the range of digital smoker thermometers. But, that doesn't mean you need ALL of them! Some nice-to-haves are a countdown timer (a count-up timer could be handy, too), magnetic backing to hold it in place, a backlit LCD for late night sessions, and a kickstand for resting on a table.
Think about how, when, and where you plan to use your thermometer, and then decide what features you really need. Don't pay for something that sounds cool, but you never use. Not that any of us have ever done that before!
All you really need is a dependable, accurate thermometer that keeps tabs on your meat and the ambient temperature in the scale of your choice — which is probably degrees Fahrenheit, even if you use metric normally.
Wireless Capability
It's great to know the temperature inside your smoker without opening the lid. But, it's even better to know it without the need to be present!
We think wireless units are the very best choice as they allow you to wander around and deal with other things. Honestly, would you rather sit in front of your smoker, staring at a tiny LCD screen for hours or be sat in front of your massive television watching a movie or a game, while monitoring your cook from a receiver unit, or even better an app on your smartphone?
It's the 21st century. Cut the cord.
Ease of Use
Regardless of the amazing technology built-into these units, taking a temperature shouldn't be rocket science and require a degree in engineering.
We love shiny things and bells and whistles as much as the next person, but we also love things that are simple to operate.
Look for clearly marked buttons and large displays as a good first indicator that a thermometer won't have a steep learning curve.
Price
We each have our own budget and notion of what is and what is not "expensive." You can easily spend close to $200 on a thermometer, and you can just as easily spend under ten bucks. The choice is yours, and we're not going to judge.
What we are going to do is tell you to look at this purchase as an investment, and part of what it takes to smoke great meat. It's also important to understand that the features and durability that make a smoker thermometer worth owning don't generally come on models at the low-end of the price spectrum.
While you might think dropping upwards of $50 seems like a lot for a thermometer, remember that it's going to help you cook delicious meat for years. Would you rather save a few bucks now, or save that expensive brisket from overcooking later?
Manufacturer's Warranty
Even the best-built products can develop problems. That's when you want to know that the manufacturer has your back.
A company that truly believes in and stands behind its workmanship will back that up with a solid warranty. Anything less than a one-year warranty should make you wary.
Best Set up for a Smoker Thermometer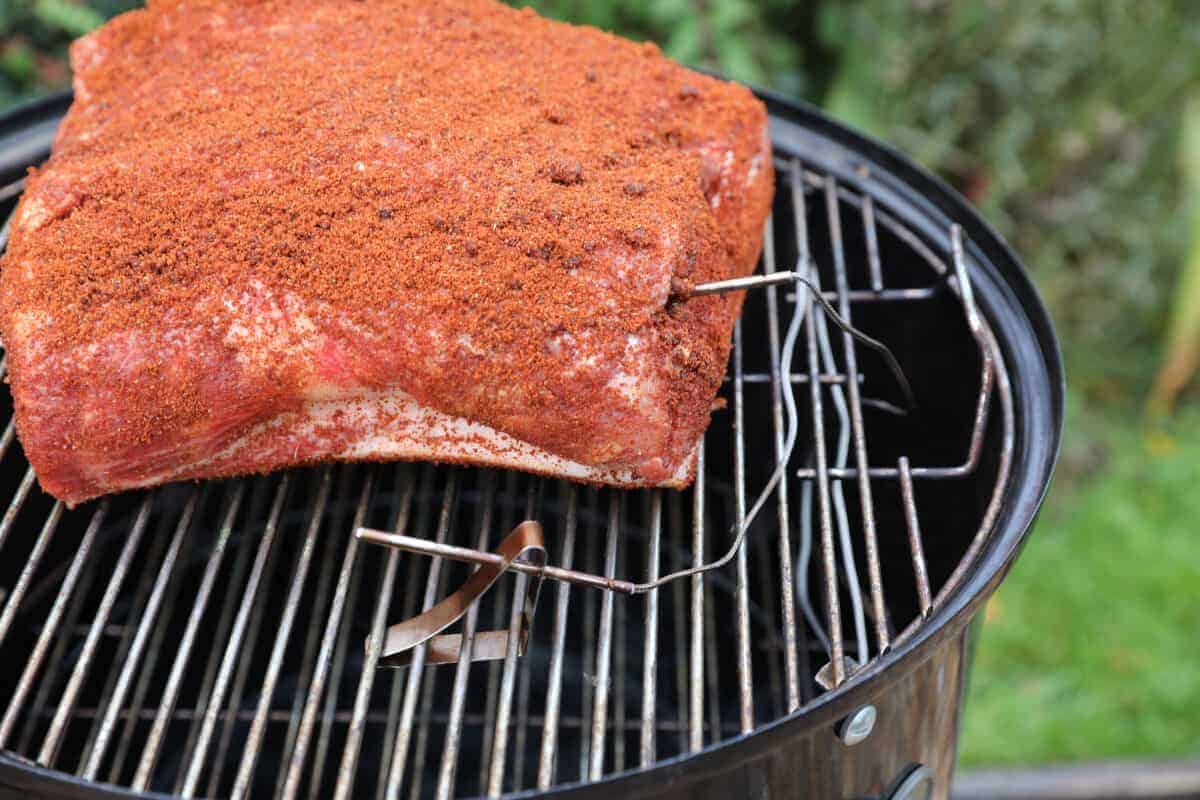 Once you've purchased your thermometer, put your batteries in, and have your probes wired up, you're faced with an important question: where does it go?
If you've taken our advice and gone with a multiple probe unit, obviously 1 or more will be inserted into the meat you're cooking.
The remaining probe is for keeping tabs on the grate temperature. The best spot for this is about an inch or two above the grate. Why? Even in that short a distance there's a drop-off in temperature. An elevation of one or two inches approximates the center of the meat you're cooking. Know the temperature here, and you'll have a reasonable idea what at what heat level the meat is cooking.
Many thermometers come with a clip that holds the probe at about this height. But, if yours didn't come with one you can always rely on some aluminum foil. (It's like duct tape for grillers!) Wad a bunch of foil into a ball and shove the probe through the center. Position the ball on your grate, then you're good to go!
It's also important to position the probe optimally relative to the meat. Meat taken from the fridge and placed on the grill will cool the air in its immediate vicinity. If your probe is in this cool zone, you'll get a falsely low reading (as discussed above, an issue the Meater+ suffers from.)
So, keep the probe at least two inches away from the meat to get an accurate reading.
Now you can insert your other probe or probes into your meat. Insert them directly into the center of the meat. This is where it will take the longest to get up to temperature.
If the meat has bone in it, make sure the probe isn't making contact. The bones won't heat up as much as the surrounding meat and this will throw off your readings, and can lead to overcooked food.
Where do the Wires Go?
Most smokers and grills have a few small holes drilled in them to allow thermometer wires to run through from the grate and the meat out to the main body of thermometer. Always use them!
Running the wires under the lid means the lid will be resting on them. The wires are very thin, and crushing them with the lid may cause permanent kinks, weaken the wires, and ultimately reduce their lifespan.
Thermometer Probe Care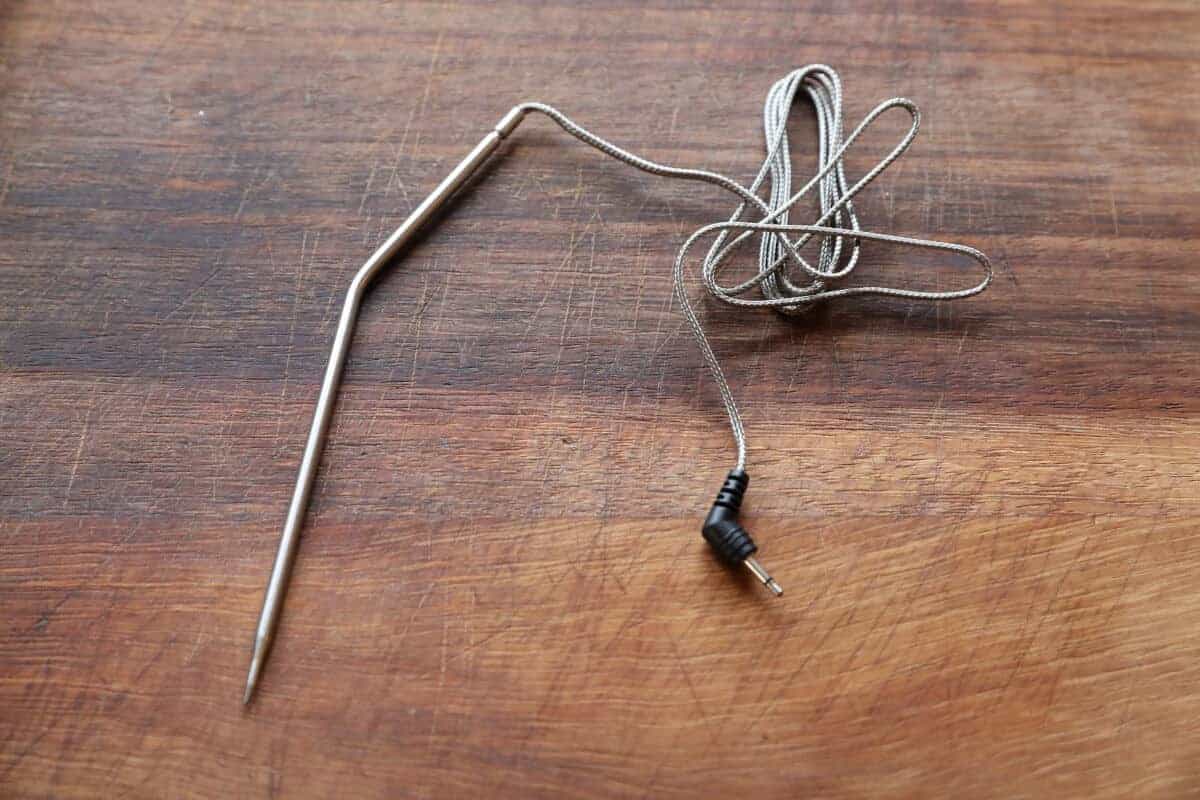 The trick to getting the longest life and most effective service out of any tool or gadget is really no trick at all. Just use it the right way and take good care of it.
Most functional issues people have with thermometers stem from a lack of proper care. Here is a list of dos and don't to help you get the most out of your digital smoker thermometer.
DO
Use the clip (or foil) to affix the probe to the grate; placing the probe right on the grate will gradually cause damage
Completely shut down the power after every time you use it to conserve your batteries
Wipe off the probes with a wet cloth and hot water with mild dish soap after every use
Put the probes away carefully and avoid tangling or tightly bending the wires
RTFM!!!
DON'T
Exceed the manufacturer's temperature rating (which shouldn't be an issue for low 'n' slow — most thermometers, including all in our review, are good to at least 700 °F (371 °C))
Allow the LCD to sit in direct sunlight for a long time
Use your thermometer in the rain
Leave it outdoors between smoking/grilling sessions
Put the probe completely underwater when you're washing it
Try to wash the probes/wires in the dishwasher — they are not waterproof
Put your wires and probes away wet or dirty
A Note on Temperature Accuracy
Many manufacturers provide the accuracy of their product. Good grilling thermometers give accurate temperature readings to +/- 2.0 F or less. That might seem like a lot, but it's not a huge deal unless you require scientific accuracy.
The degree of accuracy given generally applies to temperatures from right around the freezing mark up to around 250 F, which is as hot as you want to get if you're smoking. Once you get past that point, accuracy decreases significantly.
That's totally fine, however. Your meat will never come close to that internal temp, and a couple degrees difference in your smoker will be way more accurate still than your kitchen oven!
A Note on Receiver Range
Most of these units boast of a signal range of up to 300 feet, and sometimes more. That's fantastic, and no doubt they actually achieved those numbers in tests. In an open field.
However, obstacles (like walls, for example) will reduce the effective range. In most cases, though, you should have no trouble going inside to get a drink, watch TV, or use the facilities.
Another Smokin' Article Comes to a Close
We hear you asking yourself, "How have I ever smoked anything properly without a digital smoker thermometer?" Honestly, there's a good chance you haven't.
The ability to know with precision what's happening inside your grill or smoker is one of the fundamental requirements for smoking delicious meat. In fact, we think a great thermometer is essential gear for all smokers and grillers.
Did you make your choice? Tell us what you picked and why! More questions? Fire away — we're always ready and willing to answer your questions, whether they're specific to an article or about smoking or grilling in general. We also love to hear your comments and your epic tales of grilling glory.
Thanks for swinging by today, and we'll see you again soon.