This review covers my hands-on experience with the GrillEye Max Digital Barbecue thermometer, including unboxing, set up, and testing.
GrillEye is a European company (based in Greece) that manufactures three different grilling/smoking thermometers. The Max is their newest product and their most advanced to date.
I confess I didn't know a lot about GrillEye going into this review. But, I was pleasantly surprised when they offered to send me their latest thermometer in exchange for my honest opinions about it.
Being a total sucker for new gear and a guy who likes to support hard-working people in the barbecue industry, I took them up on their offer.
Let's be clear right up front — while GrillEye sent me a free product, no one is paying me for my opinions, and I am always honest when I give my reviews.
With that in mind, let's dive right in!
First, I'll give you an overview of the GrillEye Max, including what makes it unique, its pros and its cons. Plus, I hooked mine up in the backyard to test its performance, and I'll share the results in the words below.
By the end, you'll know if this thermometer belongs in your arsenal of grilling gadgets. And if you decide it isn't, then do make sure to check out our lineup of the best Wi-Fi meat thermometers, where for the record, this thermometer does appear!
GrillEye Max GE0006 General Overview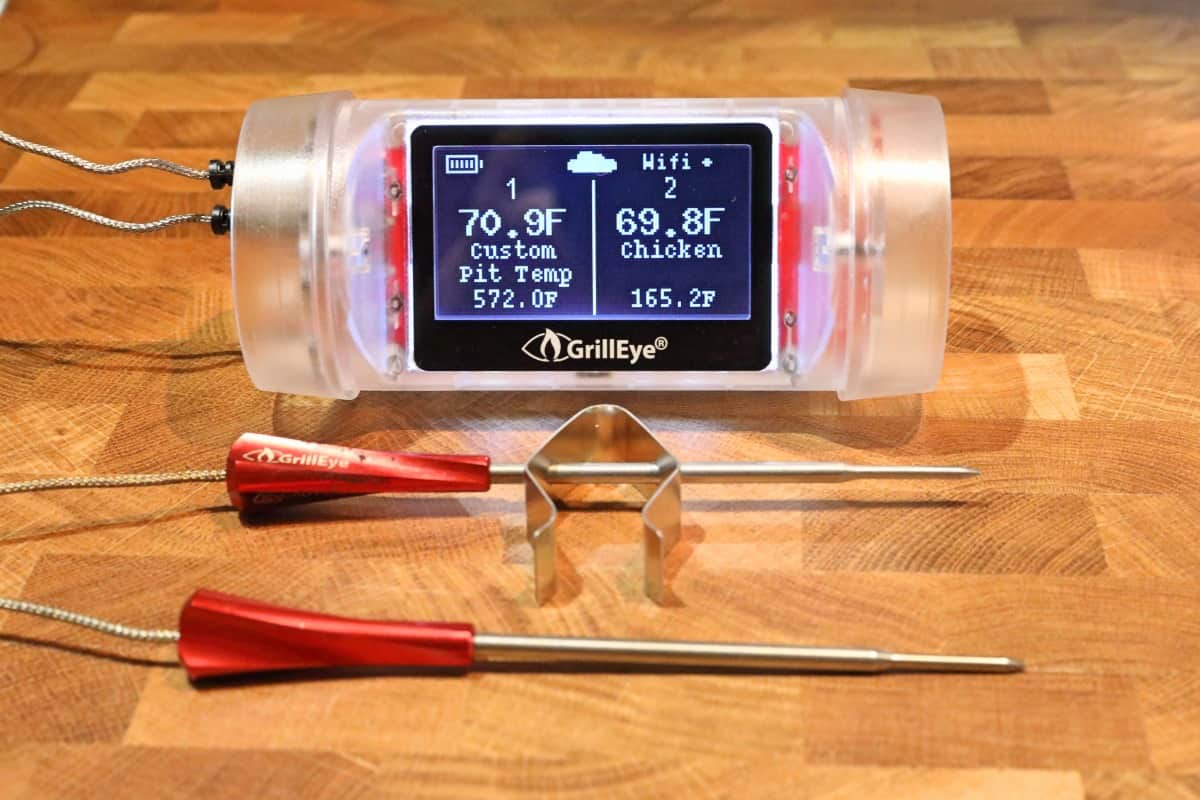 The GrillEye Max is an eight-channel thermometer capable of monitoring any combination of pit temperatures and food you care to think up. For example, you could easily keep tabs on two different barbecues simultaneously with three cuts in each.
A built-in display provides data for each probe, but all functionality is controlled from the free app via Wi-Fi — you cannot use the GrillEye Max without a Wi-Fi network (802.11b/g/n — 2.4GHz) and a smart device with Bluetooth v4.2 capability.
You can set up all the parameters for your cooking session from the app, including presets for various meats and doneness levels, custom timers, and exportable data. Anyone sick of being asked "when will it be ready?" will appreciate the "time to ready" estimates.
According to their website, the ultimate goal of GrillEye is "unattended perfection."
What We Like
The unique design makes the GrillEye Max stand out from the crowd. The ability to stick it anywhere a magnet will adhere and pivot the body 360 degrees makes it highly versatile — and keeps it out of the way.
Monitoring up to eight probes at the same time is basically unheard of in such an affordable unit. This one unit can replace two or three digital alarm thermometers if I'm cooking up a storm.
The heart of the GrillEye Max experience is the Hyperion App. Thankfully, it's easy to set up and intuitive to use with an uncluttered interface.
What Could Be Improved
It's no skin off my nose, but it would be nice if the app worked with Bluetooth alone; Bluetooth capability is required to use the GrillEye Max, but only for setup. After that, it's all Wi-Fi, all the time. If your Wi-Fi is down, you're SOL.
You cannot make any changes from the base unit; you can only keep an eye on the temperatures displayed. Overall, I don't mind using the app for everything. But, I'm human, and I do occasionally misplace my phone. On those oh-so-rare occasions (a bit of sarcasm there), it would be nice for the base to have some kind of interactive functionality.
Finally, I find the lack of any kind of water resistance a major drawback for an outdoor device. It rains where I live, and the weather doesn't care if I'm smoking ribs at the time.
GrillEye Max GE0006 Smart Thermometer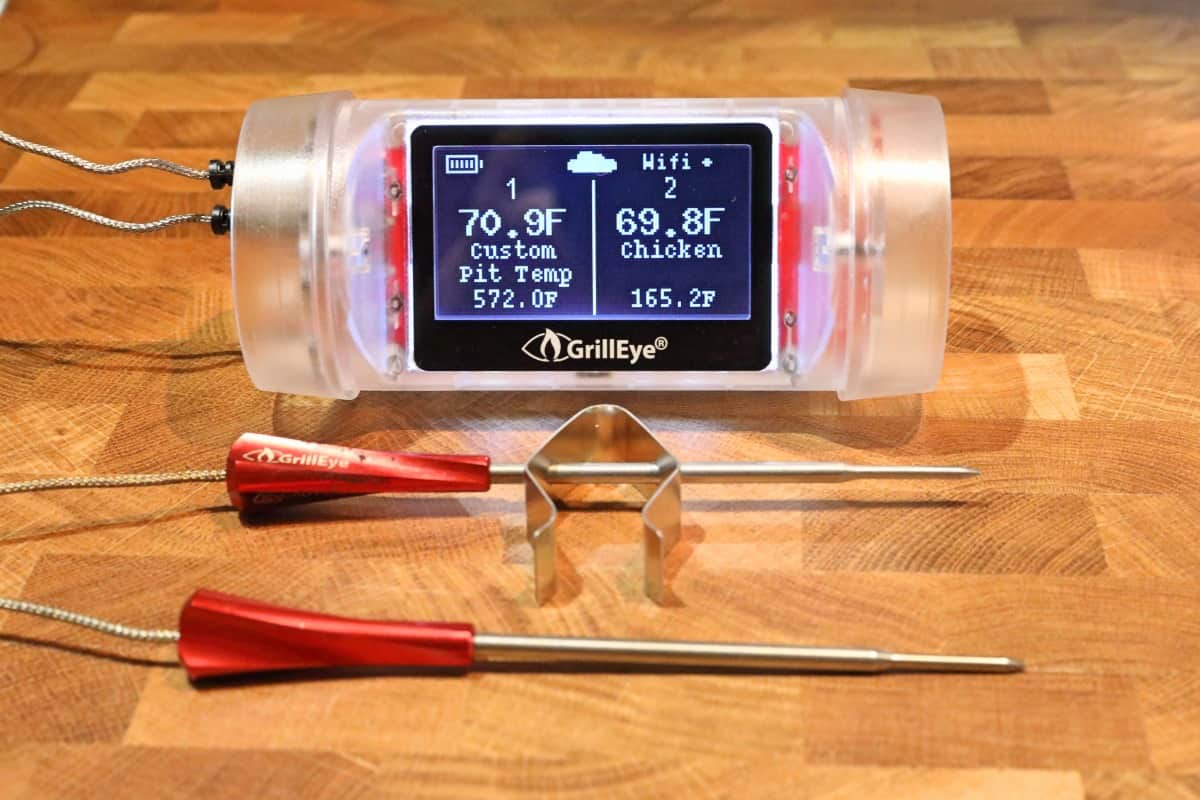 An 8-probe, wireless digital thermometer for remotely monitoring smokers and grills. Connect to the thermometer via Wi-Fi, set alarms and be notified when your food is ready, wherever you are in the world with an internet connection.
What's in the Box?
Inside the oddly shaped box, you'll find two GrillEye Iris temperature probes and a cable wrap for each, two clips for using either probe for ambient temperature measurement, a USB-C charging cable, a microfiber cloth for wiping off the screen, a simple user manual, and the GrillEye Max thermometer itself.
Or more succinctly, from the manufacturer's website itself:
1x GrillEye Max, instant & ultra-precise smart thermometer
2x GrillEye Iris, instant & ultra-precise meat and ambient temperature probes
2x Probe wraps
2x Clips for ambient temperature readings
1x Quick user manual
1x USB Type-C cable for charging
1x Microfiber cloth for cleaning the device
Grilleye Max: Key Features and Manufacturer Specs
Wireless Range: Dependent on your home router and Wi-Fi strength. If you have a Wi-Fi signal, then it's anywhere worldwide.
Number of Probes: 2 included; supports up to 8
Temp Range: -40 to 572 °F (-40 to 300 °C)
Accuracy: ±0.18 °F (±0.1 °C)
Battery Life: Up to 48 hours (with screen-saving mode engaged)
First Impressions
It's really unlike any other smoker or grilling thermometer I've ever seen, at least in terms of appearance.
The barrel-shaped body is unique, and I like how it pivots, so you can see the screen no matter where you have it sitting or mounted.
The semi-clear housing is kinda cool, and you can see all the inner workings; it reminds me a bit of the clear version of the Nintendo Game Boy Advance from back in the day. (Dating myself, I know!)
I love how the probes slip into the cable wraps, and then I can wind the cables up for easy storage. It's a clever bit of engineering and should prolong the life of the probes and the cables.
Right out of the box, I'm not so sure about the screen size. It seems a bit small, but I won't pass my final judgment until I've powered it up and given a test.
Design and Build Quality
Is the GrillEye Max's beauty more than skin deep? Here's my analysis of the critical components.
Durability
Don't let the semi-transparent case fool you; this is a durable bit of gear made for the rough and tumble world of outdoor cooking.
For its size of just 5.11" long and 2.36" in diameter, the GrillEye Max is reasonably hefty, weighing in at just over half a pound. (That's heavier than a Big Mac, FYI.)
It's made of drop-resistant plastic, so if it happens to take a tumble off the table or side shelf, you should be fine.
Screen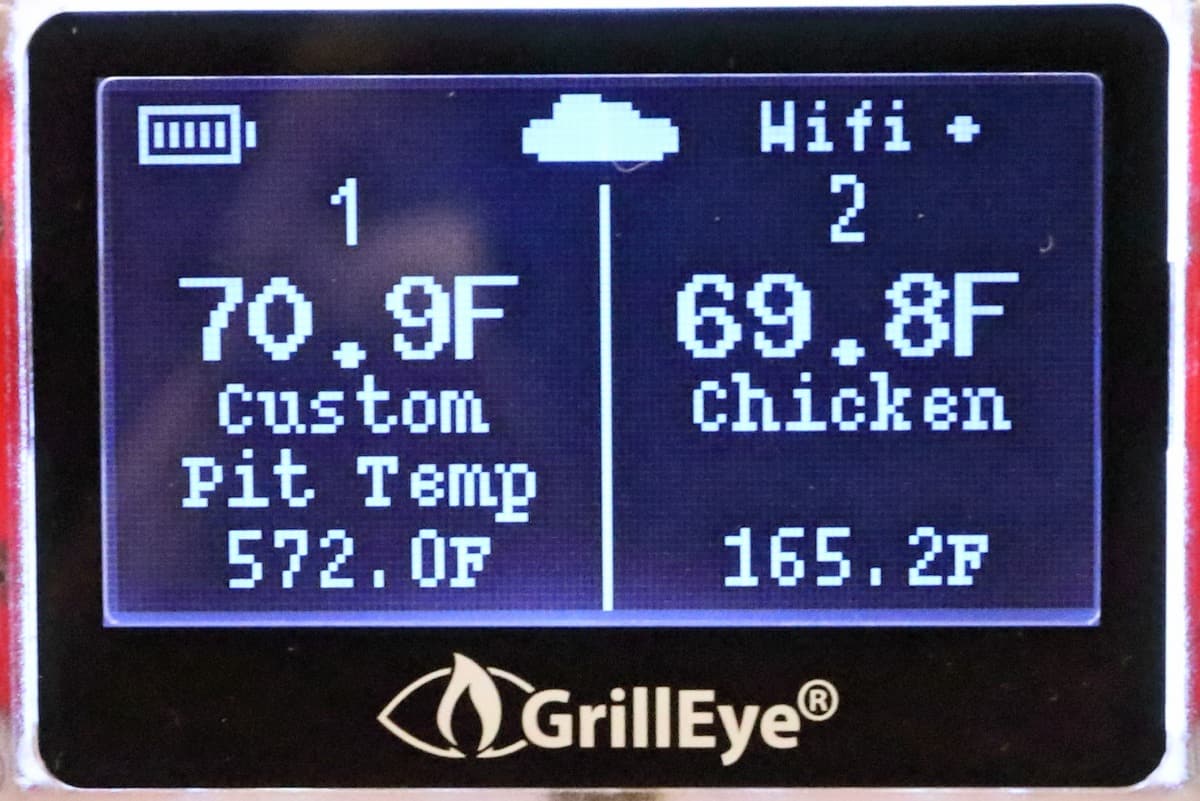 The GrillEye Max's screen won't win any awards for its graphics; my earlier comparison to the Game Boy Advance isn't limited to the housing! But, that's ok — we just need it to display the relevant information, which it does well.
With probes plugged in, you'll see each probe numbered, the current temperature, the name you've assigned it in the app (either custom or preset), and the target temperature.
As you add probes, the screen automatically divides to display the information from each one. It gets crowded in a hurry, and you'll end up checking your app more often than not once you get beyond three or four probes.
Thanks to the high-contrast display and the backlight feature, it's easy to see the GrillEye Max screen by day or night.
Probes
The GrillEye Iris Probes are specifically made to work with the Max. So if you order extras, don't accidentally purchase the original GrillEye Probes.
GrillEye claims they are certified by the National Institute of Standards and Technology to deliver laboratory-grade accuracy.
The probe section is 3.7" long, and the grip adds 1.89". It's a straight probe, but the grip has a twisted design to make it easier to hang onto during insertion and removal.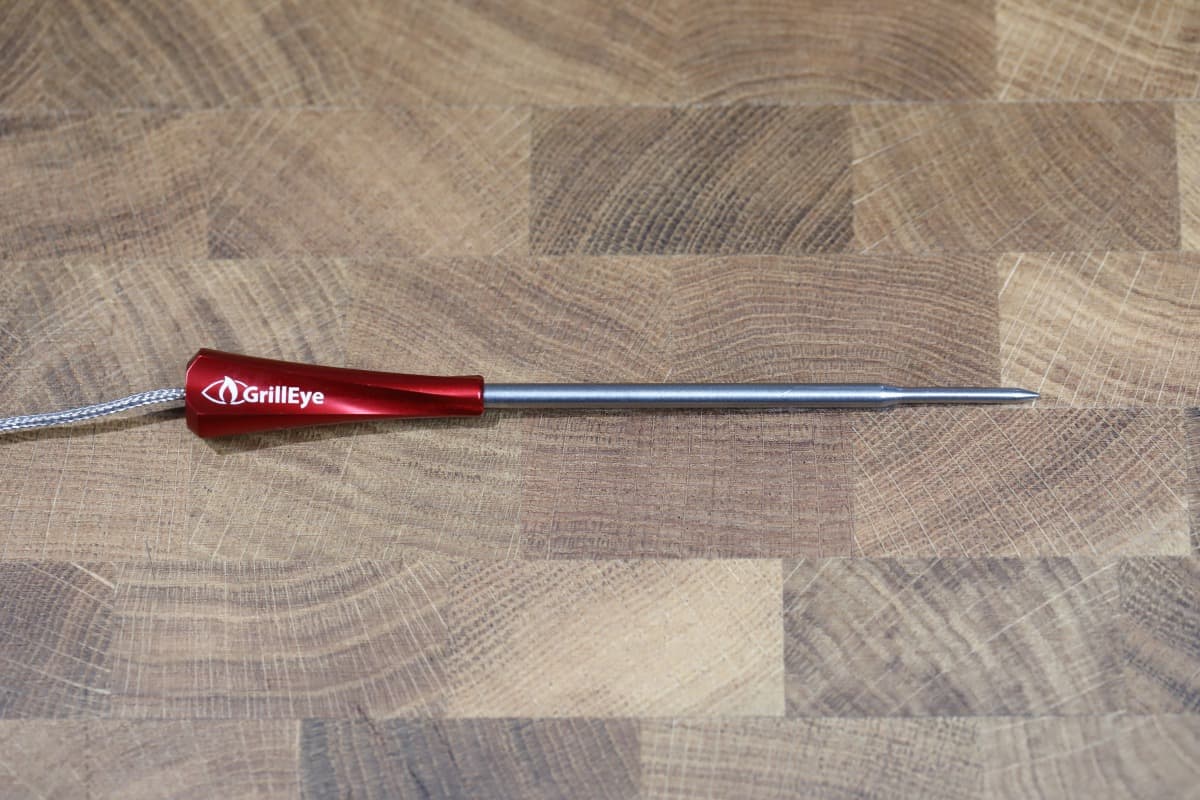 Iris Probes work for both food and ambient temperature readings. Unfortunately, there's no information about the material used, but they are FDA certified for use with food.
Each probe features a 47.24" cable, which should be plenty long enough for most situations. If it's not, you can buy 39.76" wire extenders to make up the difference.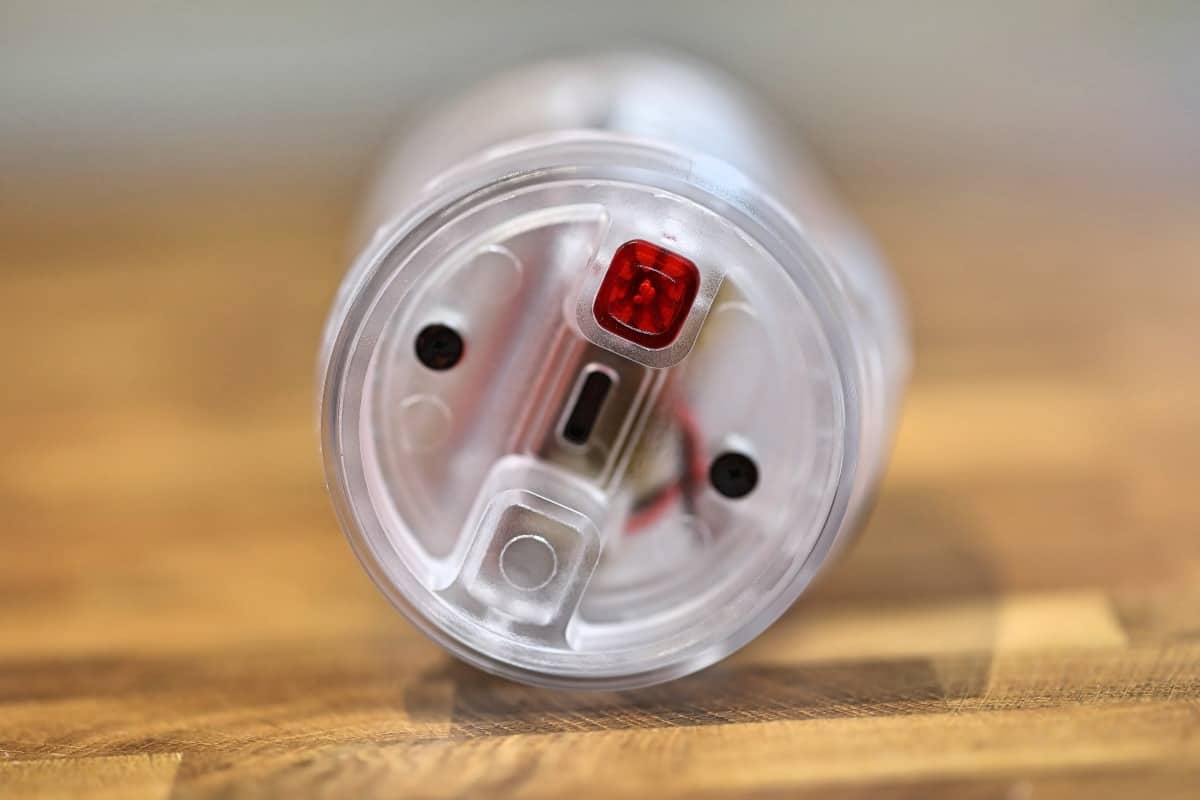 I'm sorry, did I say "buttons" as in plural? Yeah, no — there's just one button on the GrillEye Max: the power button.
They call it a "multi-function button." Sure, I guess. It does turn the device on AND off. And when the display dims after inactivity to save battery, pressing it turns on the backlight. Oh, and you can hold it in to reset the base unit. That's four functions.
But besides turning it on and plugging in the probes, all your interactions with the base unit will be through the smartphone app.
Stand
There's no built-in stand on the GrillEye Max, nor do they sell one as an add-on. There is, however, a powerful magnet on the back that is part of a flat base, so that you can affix it to any convenient metal surface. Once mounted, the body rotates freely, allowing you to angle the screen up or down as needed.
Of course, if you don't have a handy spot to stick it, the magnetic base is also (almost) flat, so you can place it on a level surface somewhere nearby. As it has a flattened bottom, it should stay where you put it. And the central unit pivots, so you can change the display angle to your preference.
Just be careful not to bump it, though, or it might just roll away!
Weatherproofing
Frankly, there is none.
The owner's manual is quite explicit in pointing out that the housing is neither waterproof nor even water-resistant. So, while it's perfectly safe to use in very hot (up to 122 °F (50 °C)) or cold conditions, you can't let it get wet.
Not an ideal situation for a prolonged smoking session, so you may want to rig something up to keep it protected if the forecast calls for rain.
The manual shows a prototype for a waterproof case, but said case is not available for purchase as of the time of writing.
Setup and Connectivity
You can't use the GrillEye Max without a smart device and a wireless connection. Let's quickly walk through the setup process, which I have to say was made incredibly easy with step-by-step on screen instructions.
Start by downloading the GrillEye Hyperion app to your iOS or Android device.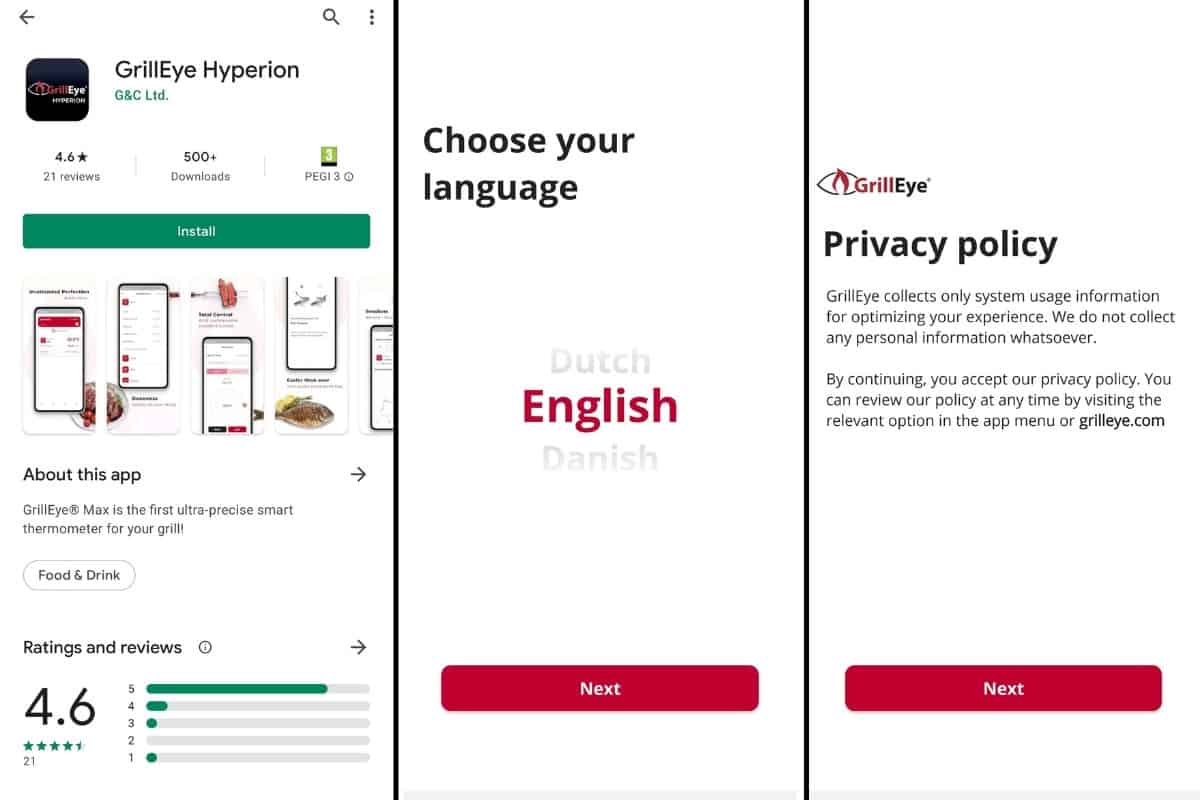 There are three GrillEye apps at the time of writing; Hyperion is the only one that works with the Max. You will then be asked to choose your language, and view the privacy policy.
Turning on your GrillEye Max activates pairing mode. Be sure to enable Bluetooth on your device to connect with the Max; if you haven't already, the app will ask permission to do it for you. It will scan for nearby GrillEye devices. Select the one that matches the code displayed on the base unit's screen.
Next, the app will help you connect the Max to your Wi-Fi network and the GrillEye Cloud, followed by a firmware update if needed.
Next, it takes you on a guided walk through a stripped down version of a user manual, showing the essential features, where to find them, and how they work.
You can dismiss this and tell it not to show it ever again, but it will still be findable in the menu if you should ever need a refresher on how to use the app and thermometer.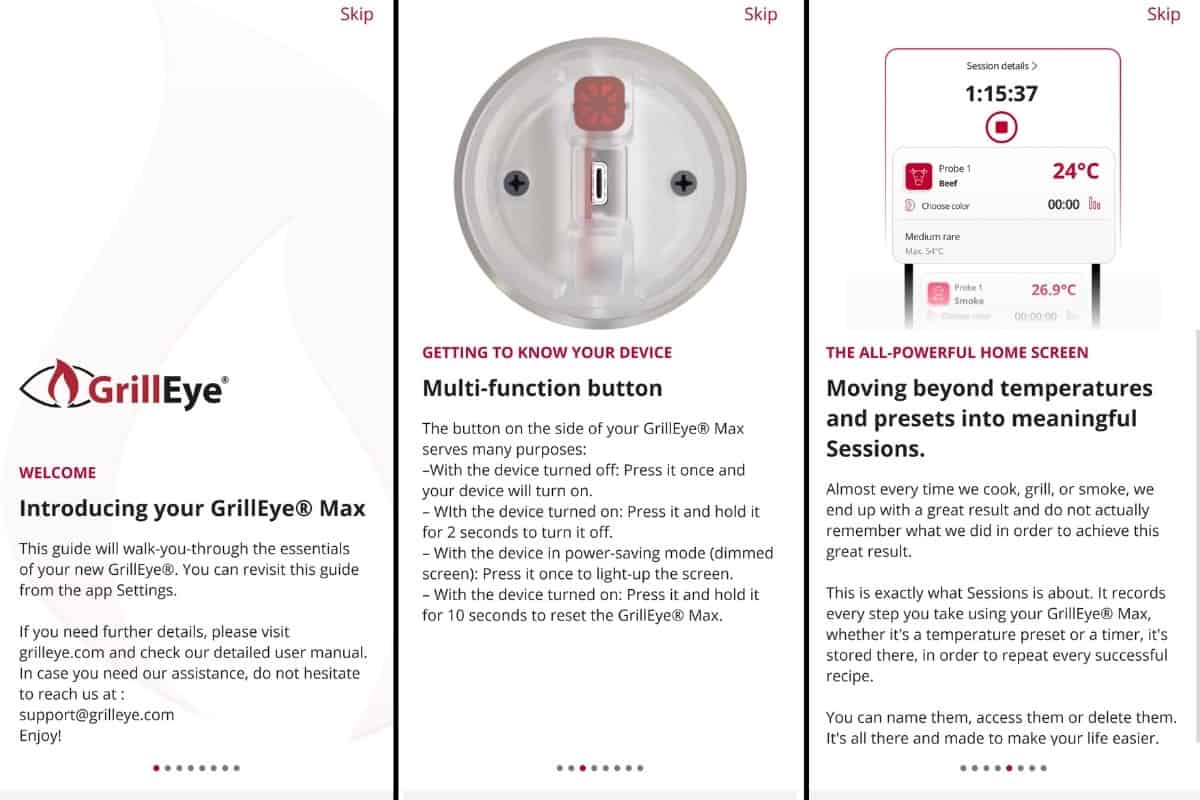 That's it!
From here on in, you won't need to touch the base unit often; all settings are completed through the app. You can set custom temperatures and alarms or select from presets for different types of meat and doneness levels. We will discuss more below, in the usage section.
GrillEye Max GE0006 Smart Thermometer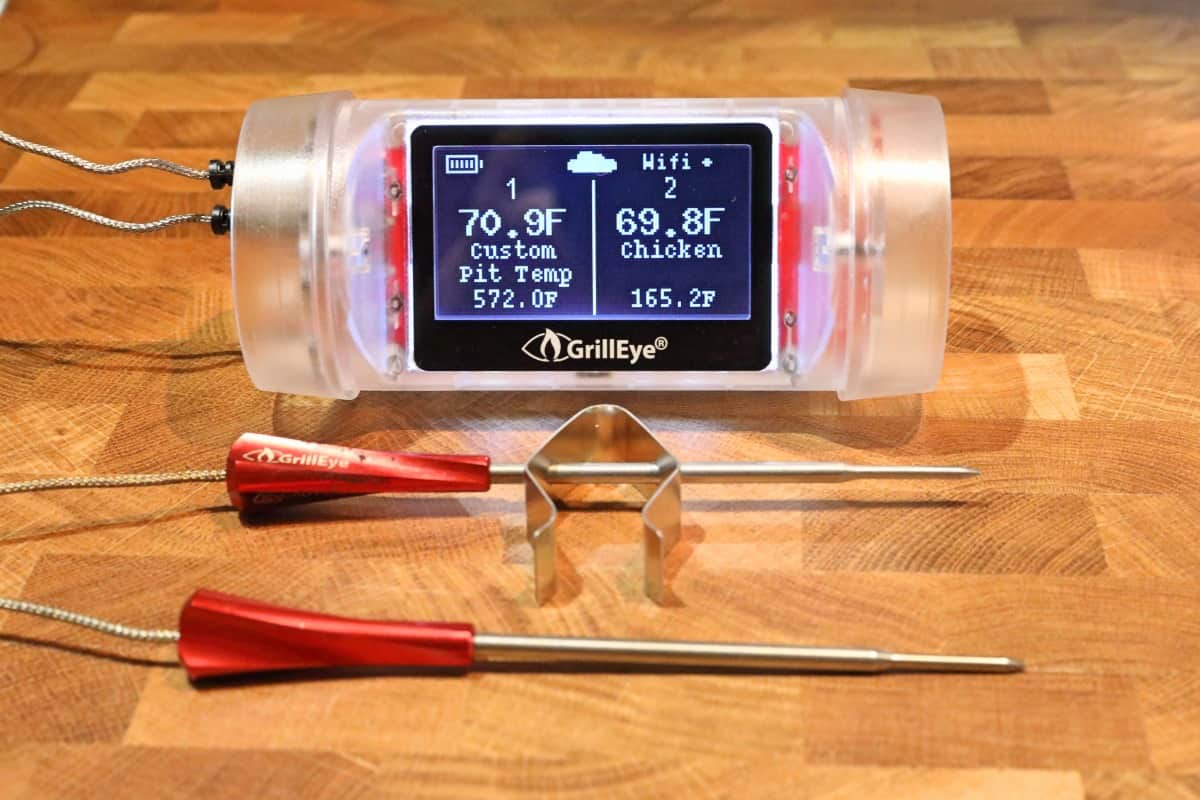 An 8-probe, wireless digital thermometer for remotely monitoring smokers and grills. Connect to the thermometer via Wi-Fi, set alarms and be notified when your food is ready, wherever you are in the world with an internet connection.
Speed and Accuracy
Sure, it looks cool. But, can the GrillEye Max deliver the spot-on temperature readings needed to be more than just eye candy? And in what time frame? Let's put it to the test.
Speed
To test the speed, I let a thermometer probe come up to room temperature, then dropped it into near-boiling water and timed how long it took to settle. I then removed it and timed how long it took to come back to room temperature.
It took about 4 seconds to come up to near the boiling point of water and about 5 seconds to come back to room temperature.
This is expected because the temperature probe holds residual heat and either conducts and absorbs heat or releases it to cool down.
I then tested moving the probe between water that was about 150F and water that was 200F. The readings took approximately 2 to 3 seconds.
This is plenty fast enough for such a thermometer, and to be honest, you cannot expect any better. Only instant-read thermometers (such as the Thermopro TP620) will be faster, but you cannot leave this in your pit or your food while cooking.
So for speed is up to standard, and this is an easy pass.
Boiling Water Test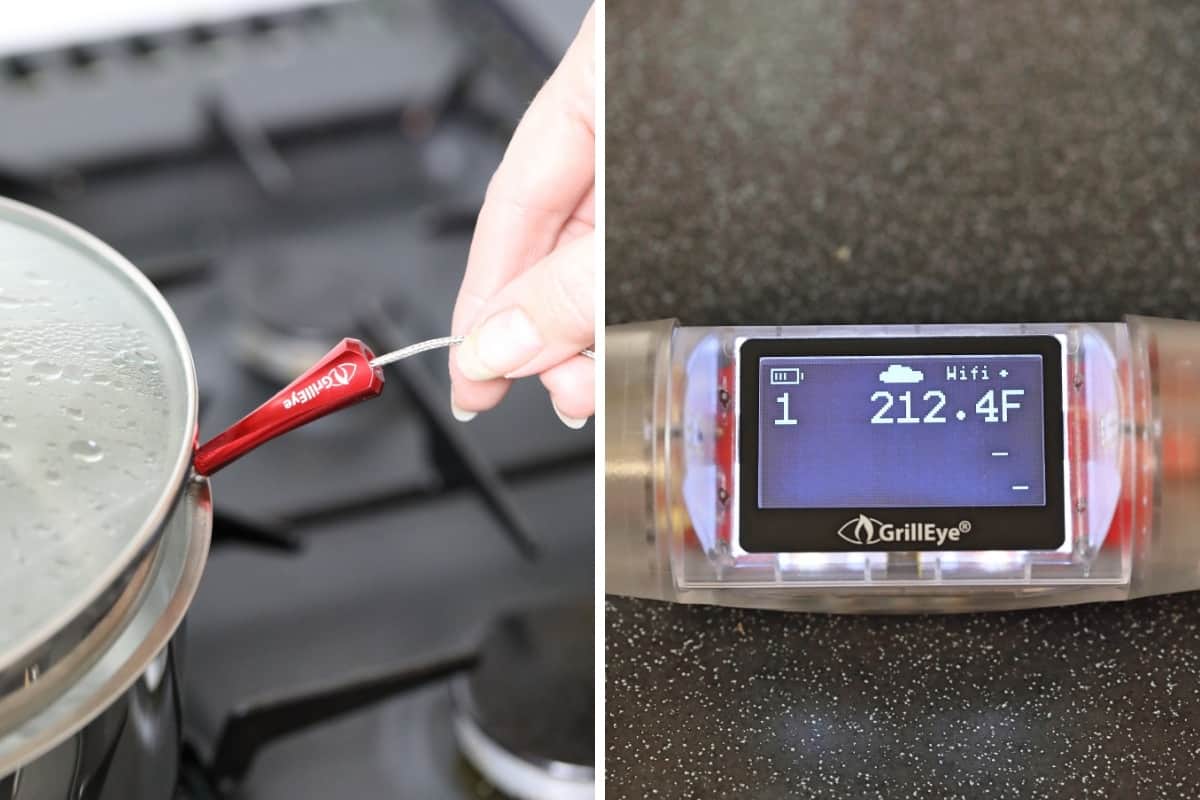 I fill a pan almost to the rim for the boiling water test and get it to a slow rolling boil.
I insert thermometer probe with a lid on the pan and then allow the reading to settle.
Boiling water is 212 degrees Fahrenheit for me, as I am only 150 feet above sea level.
As seen in the photos above, the Grilleye Max read 212.4 F, which is incredibly close and a great result, showing its accuracy in this test.
Ice Water Test
The iced water test involves filling a large glass with ice and then with water until almost full.
Then, to make sure the water is as close to freezing as possible, I place the glass into a freezer until it is nearly frozen solid, but I can still push in a thermometer probe.
Water freezes at 32 degrees Fahrenheit. The water in the glass will be very, very close to this temperature, though as it is still liquid should be fractionally above.
As you can see in the images above, the Grilleye Max measured iced water at 31.8 F. This is very close, more than good enough, and shows thermometer's accuracy during the test.
Overall, the Grilleye Max is fast and accurate. I'm impressed with it, happy with its accuracy, and would be happy to rely on it when trying to perfect my grilling and smoking temperatures.
The Grilleye Max in Use
Here's a quick synopsis of how things turned out when I used the Grilleye Max to monitor a cook of a spatchcock chicken I grilled on my Weber Genesis II.
I did the grilling at night because it gets dark where I live early this time of year, and this was a simple mid-week dinner for the family that I timed for our regular evening meal, so the lighting and focus of these photos could be better. My apologies in advance.
Base Unit and Display
There isn't much to say about the base unit and display, honestly. Once you've turned it on and plugged in the probes, you don't touch it again until you're done.
The odd time I checked the built-in display, I found it clear, though a bit small, but easy-to-read. Though I'm much more likely just to pull out my phone and check that, instead, especially if I'm monitoring more than one or two cuts of meat. It's also easy-to-read at night due to the backlit screen (you need to quickly press the single button to turn on the backlight as it turns off after a few seconds to save battery.)
So, as a receptacle for temperature probes and a quick temperature check without looking at your phone, the base unit worked just fine. Oh, and connecting to my phone and my Wi-Fi couldn't have been any easier, so full marks there.
Probes
The probes are very easy-to-use.
They have a sharp end that is easy to insert into the meat, and the twisted grip provides just that, a good grip to be able to hold and manipulate the probe.
The wires are of a good length and seem pretty standard and comparable to other thermometers.
All in all, there's not a lot to say. The probes are decent enough…though I do have to say they LOOK stunning and have more visual appeal than almost any other probes I've seen.
The Grilleye Hyperion App
As of right now, as I write this, there aren't many reviews available for the Hyperion app, so I don't know how well it works on average. However, I found it easy-to-use, and I appreciated the "Onboarding" section for an overview of the key features.
The app has a comprehensive array of presets based on USDA guidelines for cooking beef to your doneness preference, lamb, veal, chicken, pork, and more. It's also easy to create your own preset temperature or a custom setting, including temperature and name.
If you're new to grilling and smoking, you'll appreciate the many tips, including the best place to insert probes for different kinds of meat.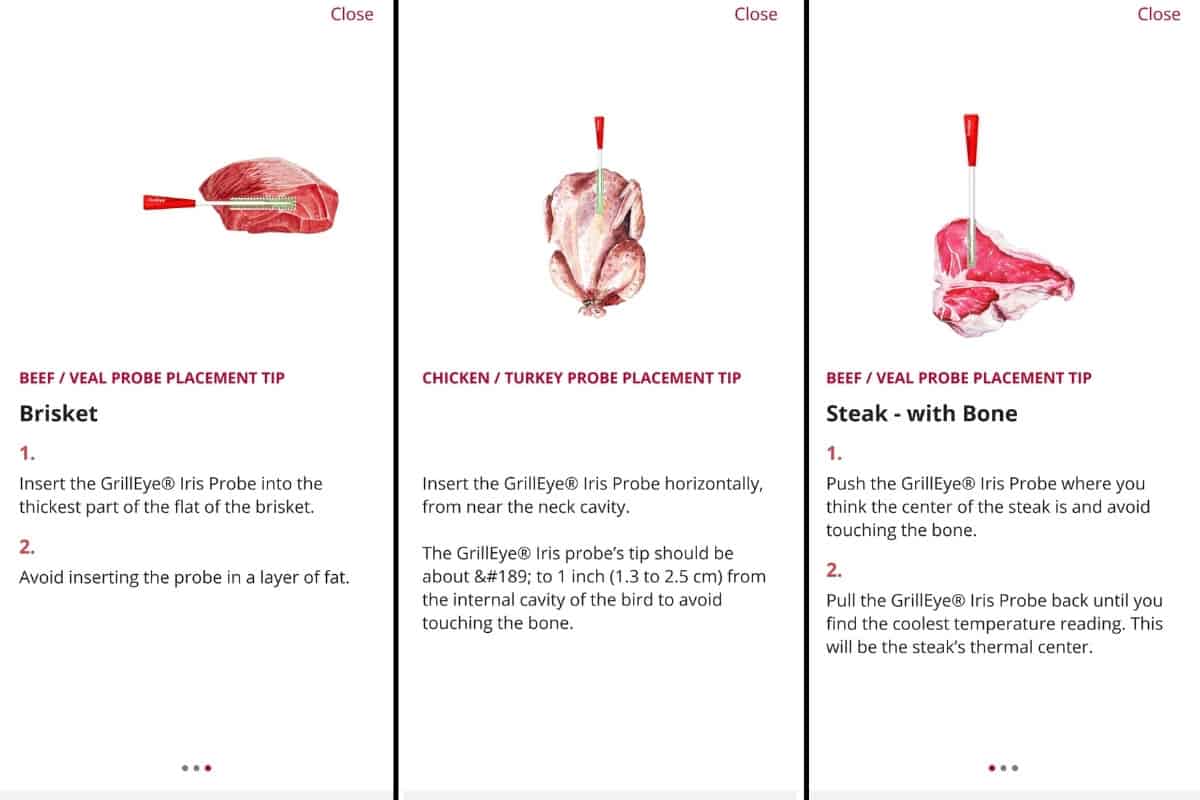 Each time you use the GrillEye Max, it saves your cooking data in the cloud; they call these "Sessions," and you can access them anytime.
So, let's say you smoked the perfect brisket on your birthday. Go into your Sessions, name it "Birthday Brisket," and the next time you think, "Oh wow, remember that amazing brisket I made on my birthday? I'd love to have that again!" you can pull up the data for reference.
Alarms and Notifications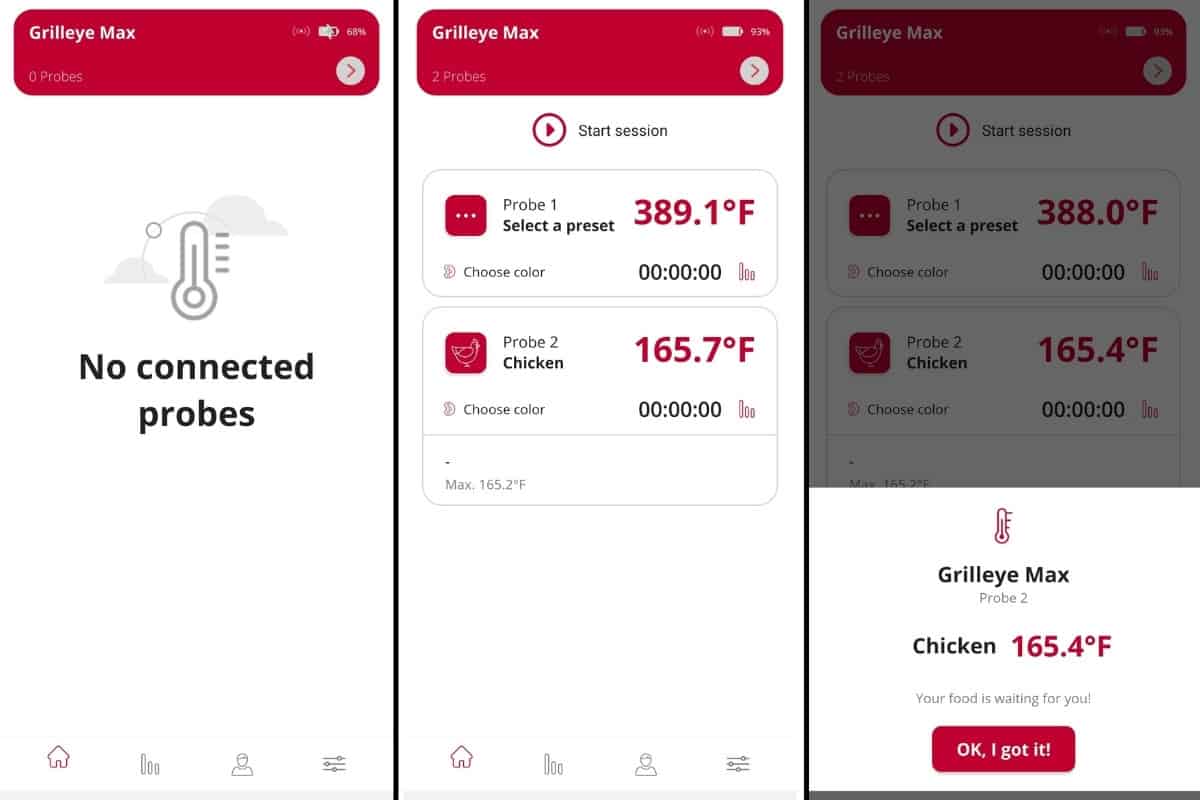 One of the main reasons to use a device like this is to not miss critical events, like reaching the target temperature or applying your mop sauce.
The GrillEye Max allows for all kinds of alarms, visual and audible, including for preset cooking temperatures and customizable "early" alarms to alert you to almost finished meat, super important to prevent carryover cooking from blowing you past the doneness level you wanted.
You can also set timers; we always cook to temperature, but a timer is helpful for just having a peek if you're impatient or if you know you want to flip or add seasoning or sauce at a particular time.
I found the alarms simple to set, and I like that it's easy to turn off the audible alarm for an overnight session.
Overall, thermometer and app were highly intuitive and easy-to-use, with almost no learning curve. The thermometer is effective, and did what it says it can do, and did it well.
Who is this Thermometer for?
Not often, will even the most dedicated pitmasters need to monitor this many sources. I love to smoke and roast and grill for a crowd, but it's not often I need this much data.
It's a quality piece of gear, for sure, but not many will take full advantage of its capabilities. To my mind, the GrillEye Max is best suited to competition chefs, commercial applications, and those of us who, from time to time, will light up two or more cookers at the same time to create a feast of meat.
Casual backyard cooks — or even serious ones who only smoke or roast an item or two at a time — will likely never take full advantage of the one thing that sets this thermometer apart from the competition — the facility for 8 probes!
If that sounds like you, you're better off spending less money on a unit with fewer probe ports.
Final Verdict: Should You Buy the Grilleye Max?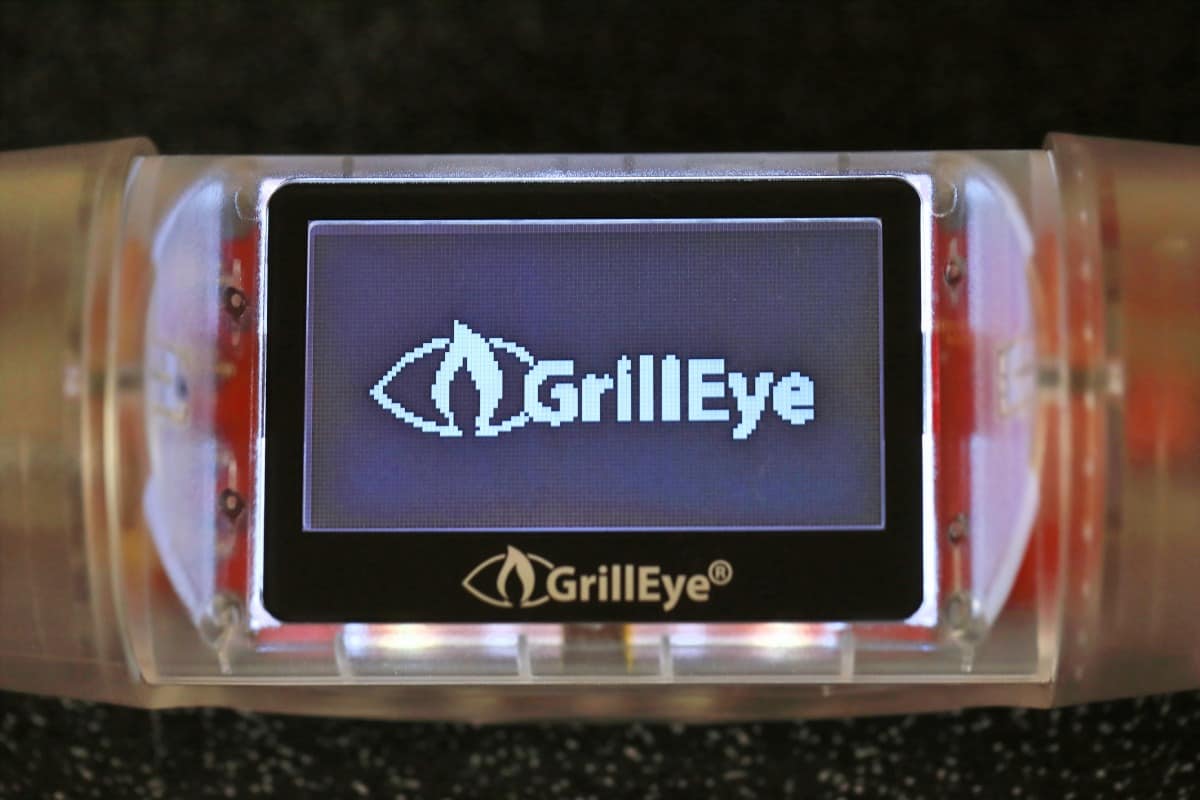 There's a lot to like about the GrillEye Max, from the outside-the-box design to the over-the-top eight probe ports. It's as accurate as the best thermometers out there, and I found the Hyperion App easy-to-use.
None of that answers the question, though: is it worth the money? To that, I say, it depends.
If you're confident you will regularly need up to eight probes to track multiple cookers or a whole mess of meat, then yes, you will get an excellent return on your investment. To paraphrase The Lord of the Rings, the GrillEye Max could be your one digital smoker thermometer to rule them all.
If that's not you, there are cheaper options with fewer ports that are just as good.
It's not that the Grilleye Max doesn't do an excellent job as a thermometer — it's totally up to snuff in that regard. But it's overkill to pay for eight port functionality for all but the most hardcore pitmasters and has just enough cons to outweigh the pros for anyone else.
Pros
Sufficiently fast and accurate. You can rely on this thermometer
Possibility for up to eight probes is impressive!
Unique design makes it stand out from the crowd
360 Degree rotating stand with magnetic base is versatile and handy
The smartphone app is easy to use, effective and intuitive
Cons
If the app worked with Bluetooth it would be nice (there's not always a Wi-Fi connection.)
No control from the unit itself, you must use the app
No water resistance
GrillEye Max GE0006 Smart Thermometer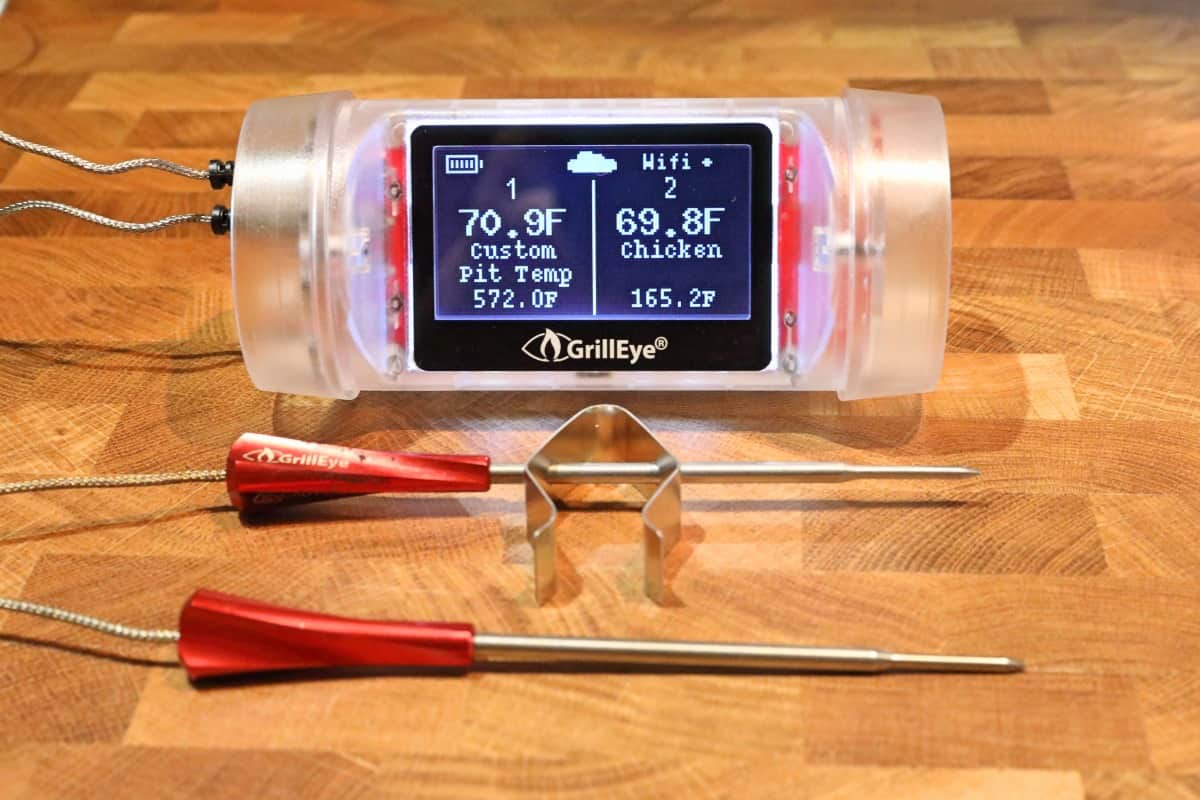 An 8-probe, wireless digital thermometer for remotely monitoring smokers and grills. Connect to the thermometer via Wi-Fi, set alarms and be notified when your food is ready, wherever you are in the world with an internet connection.
Conclusion
Did you decide the GrillEye Max is right for you? Then I'd love to hear about your experience with it! Drop me a note or leave a comment on Facebook to tell me what you thought.
If this doesn't sound like the digital smoker thermometer you need, I invite you to check out our other thermometer reviews, so we can hook you up with the best gear for your needs.
Thanks for checking us out today and making us part of your learning journey. Cheers, all!