There are some people out there who think all grills are created equal, and that all you need is a fire and a cooking surface to get the job done. I happen to agree with the second part, but not the first!
Maybe you know that person (or perhaps it's you) who's turned an old car rim and a grate or the drum of a washing machine into a barbecue?
Well, I suppose it's true that you can get the job done with the most basic equipment. But, if you genuinely value the experience of grilling AND you like food that tastes delicious, you'll want something a little better.
Today we're checking out a sleek, high-end gas grill in our Weber Genesis ii e-310 Review.
The Weber Genesis II E-310 Outdoor Gas Grill promises a superior grilling experience compared to many of its competitors.
Is there really such thing as a "premium" propane grill? What's this GS4 Grilling System Weber wants us to buy into?
All these questions and more are about to be answered. And for the record I personally bought, own, and regularly use this grill. And I love it.
Weber Genesis II E-310 Gas Grill in A Nutshell
Weber Genesis II E-310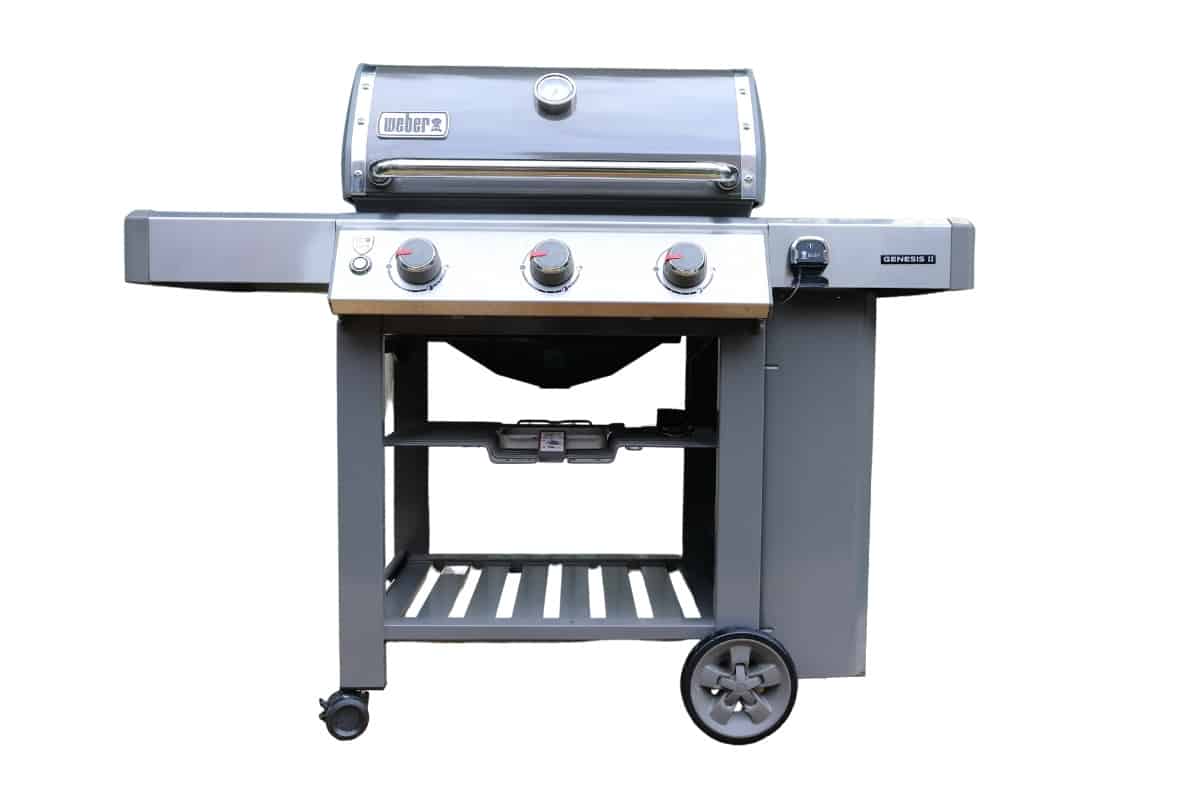 A high-performance 3-burner gas grill from the market leader, Weber. The Genesis II E-310 GBS is built to last, is iGrill 3 ready, has a GBS grate to accept many cooking accessories, and is a joy to use while producing quality food.
With this grill, Weber has taken all the features people love about gas grills and 'premiumized' them.
As with all propane and natural gas grills, convenience and ease-of-use are the main selling points of the Genesis II E-310, including instant-on burners, even heat, and virtually mess-free cooking.
But, this grill does all that with high-end parts, engineering, and construction. This means you get precision control over your 'cue and elevated performance.
It's ideally suited to grillers who love to cook all the barbecue favorites like steaks, burgers, chops, and more to absolute perfection. Plus, with three burners, you can set up multi zone cooking for roasts, whole poultry, and other large cuts.
A Few Words About Weber
It all started with a buoy. An employee of the Weber Brothers Metal Works named George Stephens was trying to build a better backyard barbecue than the shallow brazier-style grills that were common back in the early 1950s.
If you need a break already, you can watch a video about the history of Weber here:
In a nutshell, George happened upon the idea of cutting a buoy, the main product of Weber Brothers, in half. The bottom became the firebox, and the top the lid.
It worked like a charm, and soon all his friends and family wanted one. Then he started selling them commercially. Eventually, George would buy out Weber Brothers and turn it into one of the best-known barbecue companies in the world.
What's in the Box?
Owner's manual/assembly guide
Firebox including grates, heat deflector, and Flavorizer Bars
Hardware and parts for stand/cart
Control console and igniter
3 burners
LPG tank connection
LPG tank scale
2 wheels, 2 locking casters
2 side shelves
1 AA battery
First Impressions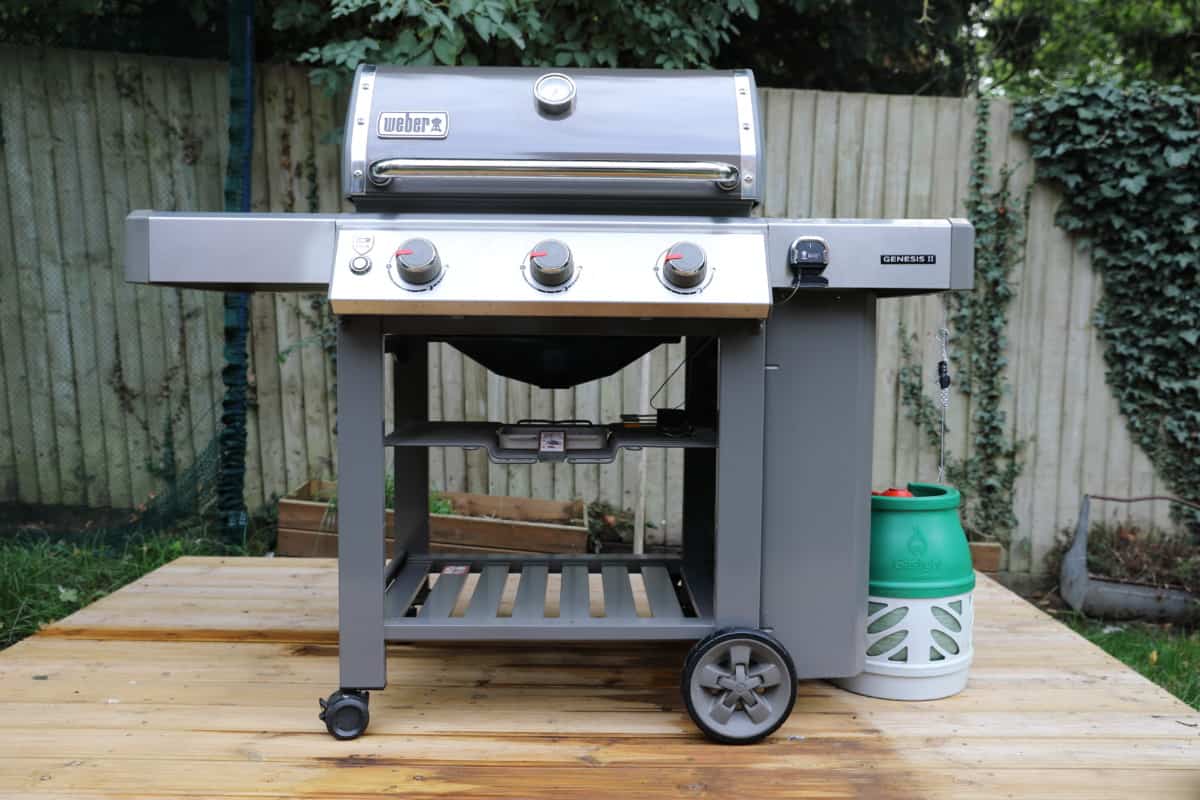 The two-tone gray exterior with that enameled black lid definitely looks the part of a premium grill. It has a clean appearance, without a lot of flash. If it could talk, it would say, "Well, hello there," where many grills are saying, "Wazzup!" The bottom line — it looks like a barbecue for a serious griller.
Weber added shields to partially conceal your 20-pound LPG tank on the right side, and that also helps the aesthetics. Have you ever seen a good-looking propane tank?
Wisely, the large, durable wheels are located on this side, too, for extra support and ease of maneuvering. And, with two swiveling casters at the opposite end, you can reposition the Genesis II E-310 with ease.
Since the grill rests on an open cart, it doesn't feel overly bulky. But, there's lots of storage space between the slatted lower shelf and the wire shelf that holds the grease drip pan.
I'm liking the look of the twin stainless steel side shelves, too as it feels like something from a professional kitchen. Weber has used high-quality materials throughout like porcelain-enameled cast iron, and stainless steel.
Why do Customers Choose the Weber Genesis II E-310 Gas Grill?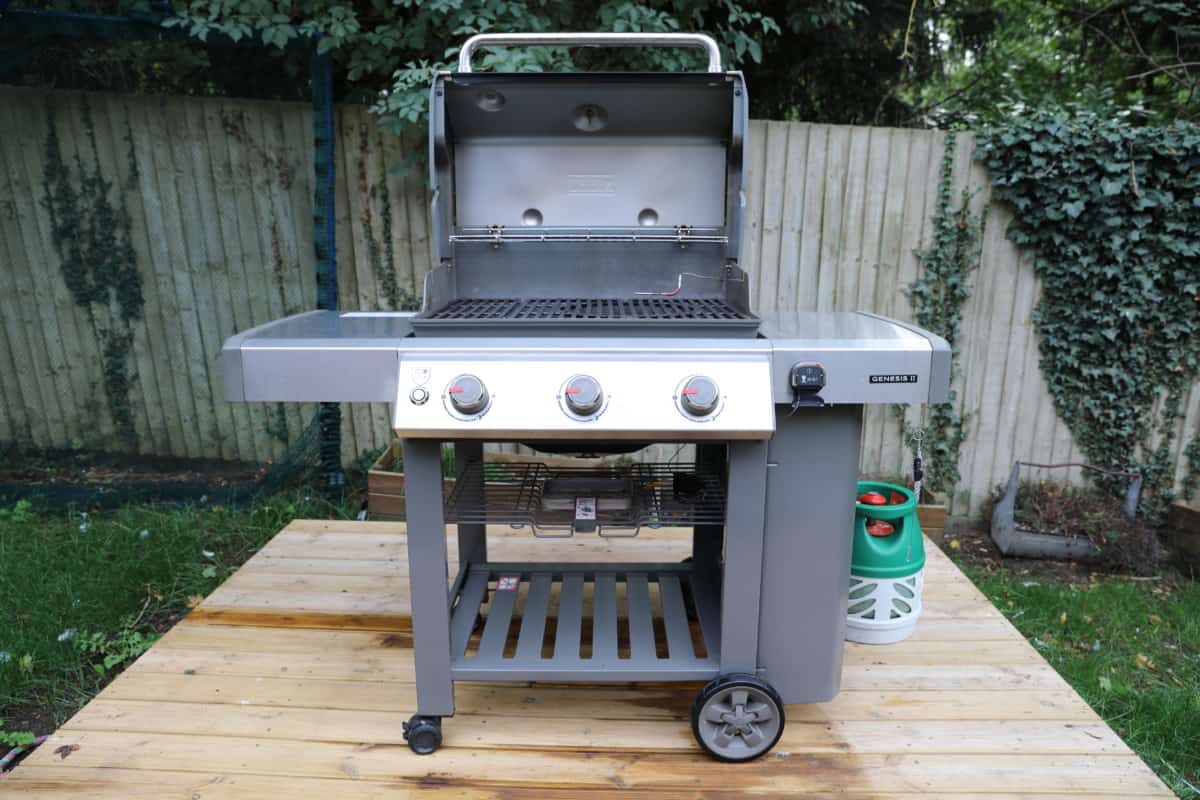 Weber is a name known throughout the barbecue world from novices to pitmasters. But there's more than just name recognition — there's trust in the brand that keeps people buying Webers over and over.
The Genesis II E-310 is an upgrade from your average gas grill and tops our list of the best propane grills roundup. It's an ideal replacement grill or step-up for someone looking to expand their grilling options.
Manufacturers Specs
Dimensions (H, W, D): 47" x 59" x 29"
Weight: 150 pounds
Portability: Semi-permanent location
Fuel type: propane
Cooking area: 513 sq. In. primary; 156 sq. In. Warming rack
BTUs: 3 × 13,000 = 39,000
Preheat required: 10-15 minutes on high
Key Features
GS4 Grilling System
Push-button electronic igniter
Stainless steel Flavorizer bars
Porcelain-enameled cast iron grates
2 x stainless steel side shelves
3 individually controlled burners
Fuel gauge
iGrill 3 compatible
If you've ever lit a gas barbecue with a match, you know how great a push-button ignition system is. This is the safest way to light a grill and the fastest. Plus, each burner ignites independently, with infinite adjustments between "on" and "full," giving you total control over your heat distribution.
While we're on the subject of gas, the worst thing about using propane is running out mid-cook. With the built-in fuel gauge, you'll always know how much is left in the tank.
High-quality porcelain-enameled cast-iron grates are not only easy to clean, but they're also highly durable, and they spread heat evenly. This means less temperature variation across your cooking surface, meaning you can cook all over with consistent results.
Down in the cook box, the Flavorizer bars are doing their thing, turning drippings into delicious, flavor-enhancing smoke, taking you beyond regular gas grilling.
One point we are always stressing is the importance of owning a good digital probe thermometer. Why? Because meat cooks to temperature, not to time.
Weber sells its own line of thermometers, the current iteration being the iGrill 3. The Genesis II E-310 is iGrill 3-ready, featuring a mounting point for the app-driven, multi-probe thermometer.
And what about that GS4 Grilling System? Well, that's the umbrella term Weber uses for the 4 central components of this grill: the Infinity Ignition, High-Performance Burners, Flavorizer Bars, and Grease Management System.
You can also optionally purchase this grill — as I did — with the GBS grate system.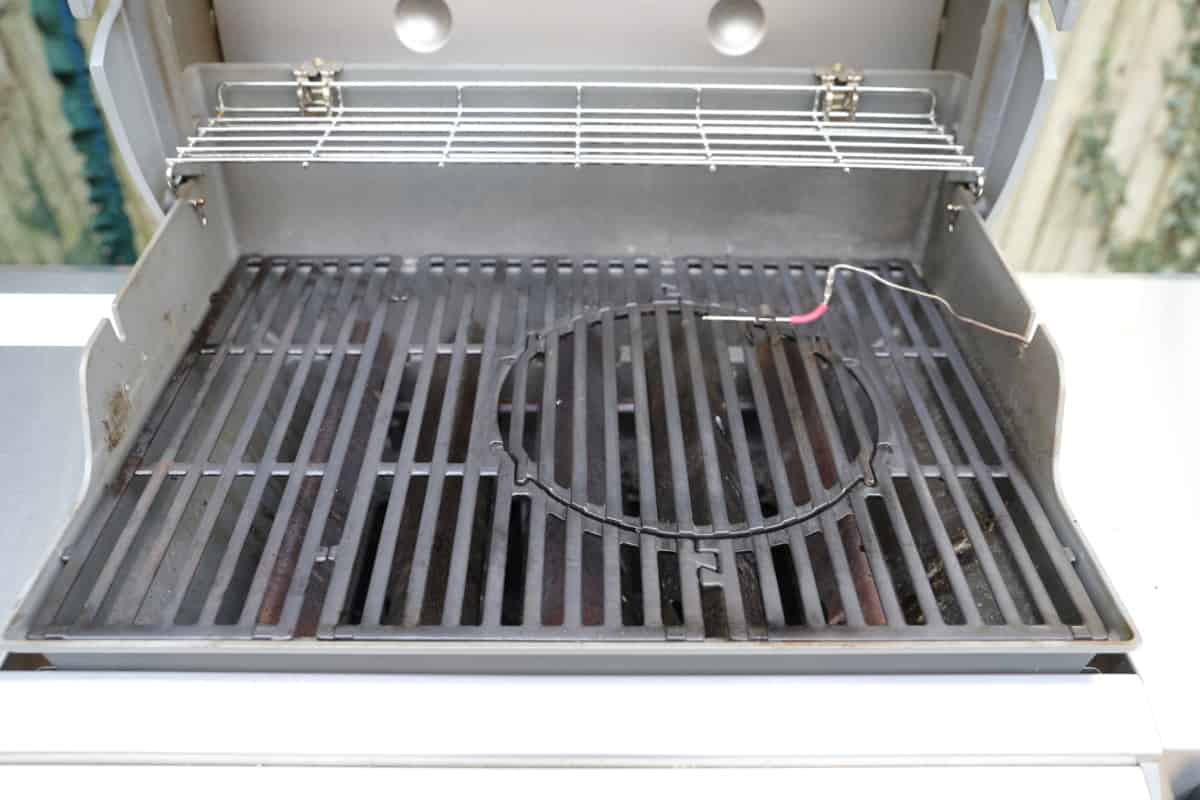 The GBS grate system allows you to remove an almost centrally positioned circle section of grate, so you can insert things such as a wok, paella pan, chicken roaster, Dutch oven, and many more excellent accessories.
All these parts are high-end, featuring superior construction and functionality. They aren't individually groundbreaking, but together they provide a noticeable step-up from your average gas grill, and even from lower-cost Weber barbecues.
Ease of Use
Like most gas grills, the Genesis II E-310 scores big in this category.
Push the ignition button to light up your burners. Wait a few minutes for heat to build up. Cook your food. It's really that easy!
No charcoal, no lava rocks, no wood, not even electricity to worry about. However, it's a versatile grill, so you won't outgrow its simplicity down the road. You'll just appreciate it more as you learn.
As you can see in the photos in the carousel above, I also manage to smoke roast with this grill. I bought a small wood chip box that sits nicely under the grates, load it with wood chips, and can add a nice smoky flavor to foods, such as with this spatchcock chicken.
The size and ease of use make this grill highly versatile.
Cleaning and Maintenance
Part of your regular maintenance routine will be emptying the grease pan. The open cart makes it easy to access this pan, and if there's any build-up, just remove it with a plastic scraper. If you're used to the empty soup tin hanging under the firebox, this will seem revolutionary.
Grease also helps to muck up the inside the lid; greasy vapors and smoke collect there and carbonize, hanging like black stalactites in a cave. Actually, it looks more like peeling paint. Just knock off these flakes and scoop or vacuum them up to prevent them from getting onto your food. While you're at it, use a plastic scraper to clean out the cook box.
Cooking grates will need cleaning after each use; your best bet is to scrape them while they're still warm after cooking, and then anything left over will burn off during preheat.
Use a stainless steel brush or a wooden barbecue paddle, you'll find some good options in our best grill cleaning tools roundup.
Food also collects on the Flavorizer bars, heat deflectors, and burner tubes, so you'll need to gently scrape or brush them clean, too, for optimal performance and minimal flare-ups.
By the way, Weber has installed bug screens over the ends of the burner tubes to prevent unwanted guests from taking up residence. Brush these clean now and then to keep air flowing.
Use stainless steel cleaner on any appropriate spots on the exterior (such as the shelves) to keep them looking their best. Warm, soapy water is your best bet for plastic and enameled parts.
Available Support
As with a certain insurance agency, you're in good hands if your Weber Genesis II E-310 gives you trouble.
If you're a DIY problem-solver, head to their website and download the manual and schematics for a start. If that doesn't help, review the FAQ section to see if someone else had, and solved a similar problem.
Since you're at the website anyway, why not try the live chat box and see if they can help you? Finally, you can send an email or use the online form to submit your question.
Enjoy getting social with brands and their fans? Pick your favorite social channel and follow Weber on your phone — they're on Facebook, Instagram, Twitter, YouTube, and Pinterest.
Weber has a deservedly good reputation for backing up their products (10-year warranty — hello!) and offering support to their customers. With 230 reviews on the Consumer Affairs website, they've got a 4-out-of-5 rating.
Over on the Better Business Bureau site, they're rated A+, and the few negative reviews are mainly from complainers who could probably never be made happy, anyway.
With a legion of fans out there, you've got plenty of unofficial ways to engage with other Weber owners. First and foremost is The Virtual Weber Bulletin Board. Check it out for enough threads to keep you reading for months.
If you're a Facebook user, there are several groups you can join to talk all things Weber including:
Available Upgrades, Accessories, and Attachments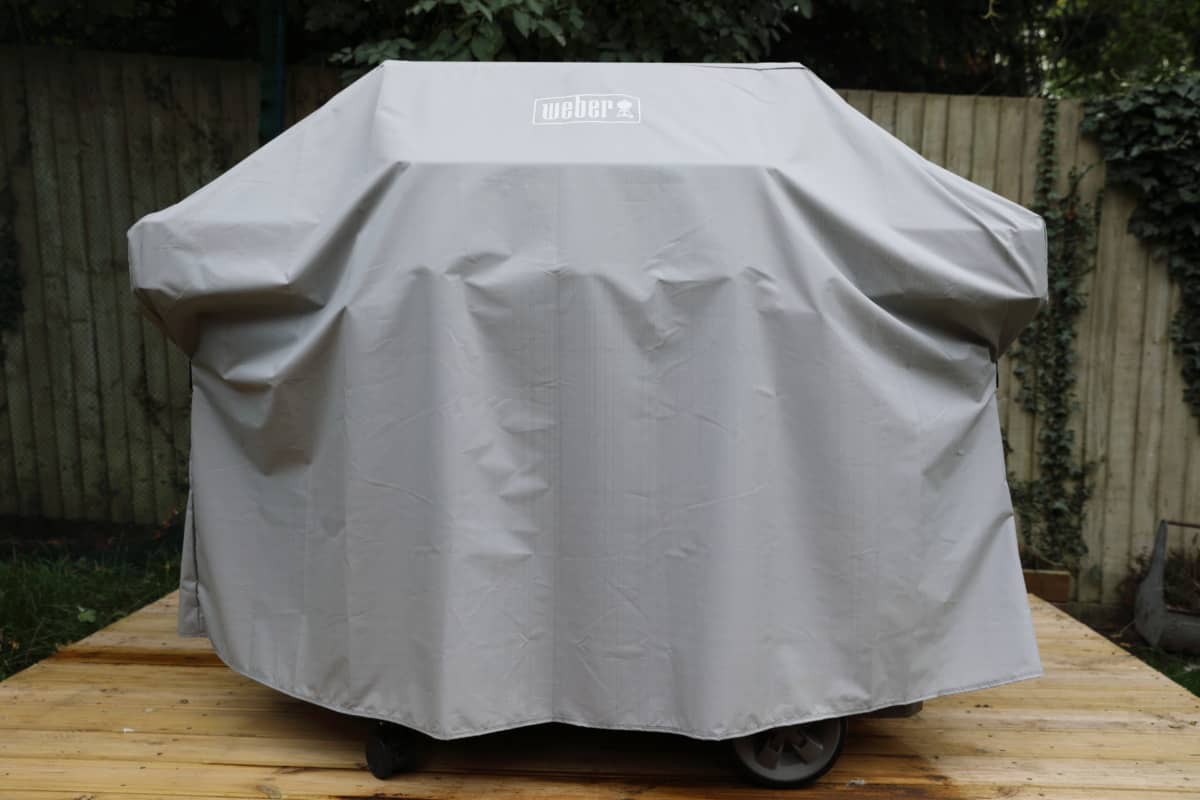 The Genesis II E-310 offers numerous opportunities to upgrade and enhance your grill. Which of these you'll really need will vary depending on how you like to grill.
For example, if you like roasts and other large cuts, investing in the iGrill 3 digital thermometer makes total sense.
Do you like whole chicken? Maybe the optional electric rotisserie has your name on it.
If steaks and chops worthy of Instagram are your thing, you'll want the sear grill, with the sought-after diamond pattern built-in for no-fail grill marks.
There's even a griddle that's perfect for eggs, pancakes, bacon, and more. They also offer an array of pans, baskets, and racks.
Even if you buy nothing else, however, make sure to pick up a Weber Genesis cover to protect your grill (as seen in my photo above). A properly fitted barbecue cover will help you keep your grill in tip-top shape for years by shielding it from rain and snow.
Warranty Details
The warranty couldn't be any simpler: you get ten years coverage on all parts, excluding normal wear and tear, fading, and discoloration. So that's covering manufacturer and material defects, rust-through, and burn-through. For a decade!
Your best bet is to register your new grill with Weber online. Should there ever be a problem, give them a toll-free call seven days a week, send an email, or use their online form to launch a warranty claim.
Summary of Pros and Cons
Pros
Premium feel and build quality throughout
Large enough to create different heat zones, and even to use a smoker box for some smoke roasting
Ugly propane tank mostly hidden
Grease management system that actually works
Easy to move with 4 wheels
Even heat from front to back
Flavorizer bars make everything taste better
Cons
Storage would be easier with fold-down shelves
Upper warming rack is shallow compared to some other grills, but could still hold a half-dozen burgers or 3-4 open buns
Quick Tips to Get the Best Out of the Weber Genesis II E-310
Take advantage of the many optional grill inserts to expand your cooking options
Keep those high-performance burner tubes clean to maintain your grilling advantage
Gas grills get very hot — leave room on your grate (about ¼ of the total surface area) to move food in a hurry to avoid burning
Should You Buy the Weber Genesis II E-310 Gas Grill?
Weber Genesis II E-310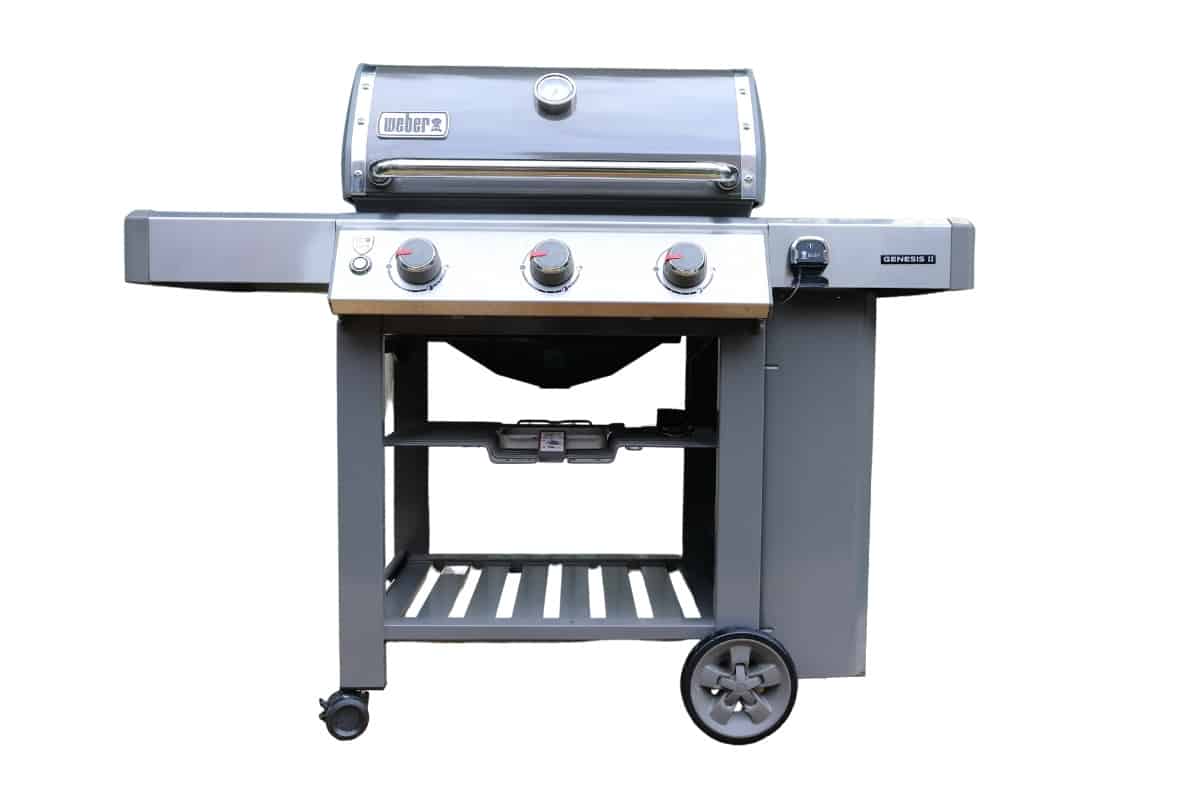 A high-performance 3-burner gas grill from the market leader, Weber. The Genesis II E-310 GBS is built to last, is iGrill 3 ready, has a GBS grate to accept many cooking accessories, and is a joy to use while producing quality food.
If you think gas grilling no longer has anything to offer, and you're considering giving it up, you may want to think again. This grill performs beautifully and provides the precision control and versatility you need to think beyond the basics.
As an upgrade from a starter grill, or an alternative to a full-on outdoor kitchen, this is a terrific choice.
Other Models Might Suit You if
You need more cooking surface area for big crowds
You'd prefer a fully-portable propane experience
Final Thoughts
In terms of both looks and performance, the Weber Genesis II E-310 gas grill packs a punch. Plus, it's easy-to-use for beginners and offers room for growth.
We're very impressed with this well-thought-out grill that goes beyond the basics without blowing the budget.
If we haven't answered all your questions in our Weber Genesis ii e-310 review, be sure to get in touch via the comment section below, or hit us up via email. We'll always do our best to answer! Plus, we love hearing your grilling stories and experiences.
Thanks for reading, and all the best off the grill to you.