This article is the result of our search for the best camping grill.
We take a detailed look at the top models available today, before discussing what you should look for when buying — and what to avoid — so you know how to look for a quality product fit for purpose.
One of the greatest joys of camping has got to be the cooking. You get a break from the same old flavors of home, and your taste buds have a chance to savor something different. To get the best out of such meals, you will want a grill capable of performing well and producing great food, because not all small grills can.
While many people use the terms camping grill and camping stove interchangeably, these outdoor kitchen appliances are entirely different.
A camping stove requires the use of some form of cookware such a pan or pot to cook your food in. Stoves come in handy when you want to prepare food that can't be placed directly onto a flame. Think bacon, scrambled eggs, pancakes, or beans.
With a camping grill, food is placed on a griddle or grate, and it's cooked by the flames. You can grill veggies, steak and hot dogs over the fire.
Just so we're clear, this article reviews camping grill, not stoves.
Let's begin…
At a Glance: Our Recommendations for Best Camping Grill
Best Gas Camping Grills:
Best Charcoal Camping Grills:
Best Wood Burning Camping Grills:
Best Dual Fuel Firepit and Grill for Camping:
Note: Clicking the above links will take you to further information, current prices and customer reviews on Amazon, and other select retailers.
Camping Grill Reviews
Picking the first grill you come across means it is highly unlikely it's the best one for your or your camping group's specific needs.
You will need to ascertain what type of fuel source you're most comfortable with. Are you looking for the authentic flavor that comes with charcoal or wood-burning grills? Or are you looking for the clean cooking that is more associated with gas?
We've separated this section into three parts, and will be sampling some of the best camping grills under gas, charcoal, and wood-burning fuel sources for you.
For each fuel source, we'll recommend several grills that we believe are the best models suitable for camping.
Best Gas Camping Grills
As most gas camping grills rely on propane as their fuel source, we've concentrated on this type in our review.
Propane is clean, efficient, and takes less time to start up compared to charcoal or wood-burning grills. So you'll spend less time cooking and more time enjoying the great outdoors.
Let's dive into what we consider to be some of the very best gas camping grills on the market.
Napoleon TravelQ Pro 285
1
I'm more of a charcoal lover and mostly take a charcoal grill with me camping, but when I do opt for a gas grill, of the many I own, the Napoleon TravelQ Pro 285 is the one I choose to use.
It could be argued that this grill is large for a camping grill, but it depends on what you want from your grill. If you want versatility, the ability to high heat sear, grill with direct heat, and roast or smoke items with indirect heat, then you need something a little larger. This grill fits the bill perfectly.
The Napoleon TravelQ Pro 285 provides 285 square inches of cooking surface under a high domed lid. This will allow you to cook 6 decently sized steaks or a medium-sized chicken that fits nicely under the lid.
The lid and body are made from cast aluminum and the grates are from porcelain-enameled cast iron. Together these provide high heat retention and distribution for more stable cooking temperatures and more evenly cooked food.
The premium build materials add quite some weight, making this grill 36 pounds in total. This is somewhat high for a camping grill but still manageable. And if you appreciate versatility and good performance from your camping grill, then you do need something a little higher quality than your typical lightweight, thin-material grills and wiry stainless steel grates.
This grill has dual gas burners allowing you to set up for two-zone cooking, so you can cook foods at different direct heat temperatures or use one burner only for some indirect heat roasting. And there's plenty of room between the burners and grates for a small smoke tube to add some smoky flavors to your roasts.
I have used this grill often. It is easy to use, high-quality, produces wonderful food, and gives you options for how you wish to cook, with complete control over your heat zones and cooking temperatures.
Pros
Solid build quality, will last a long time making it value for money
Cast aluminum body and cast iron grates aid heat retention and even distribution for better performance
Two burners for separate heat zones and better temperature control
Lid height sufficient for roasting small to medium chickens and roasts
Room under the grate for a smoker tube
Cons
Heavy for a portable grill
Costs more than many other options on this list
Overall, this is a superb quality grill, highly capable, and will last a long time due to the high quality of materials used. I highly recommend this grill.
Please check out our Napoleon TravelQ Pro 285 review for further details.
Despite being billed as 'portable,' many portable BBQs can be large, heavy, and a pain to lug around. Even with handles, it can still be a chore. Well, Weber has an engineering marvel that deals with this pain point.
First impressions are that the Weber Traveler is like any grill that comes on a stand. But this is no ordinary standard, it's an important piece of what sets this grill apart.
When folded, the Weber Traveler is easy to tow along behind you on its large, rugged wheels. And it's so easy you can do it with one hand, despite weighing nearly 60 pounds.
And when you want to unfold and use the grill, simply rest the handle on the ground, place your foot on it, grab the lever beneath the handle, and lift. The scissor-style stand then unfolds and locks into place, ready for you to cook.
To reverse this process and fold the grill down for transport, simply place your foot in the same place, release the locking lever, and it slowly folds down for travel. It works incredibly well and is pretty cool to watch.
So stand aside, how is this grill? We found it highly competent and worthy of the Weber Name.
Sadly, it only has one burner, so you can't set up two-zone cooking. This makes it an out-and-out grill for high-heat grilling of burgers, sausages, steaks, vegetables, and the like. You cannot do any low and slow roasting.
But the single burner puts out 13,000 BTUs and is powerful enough to create a delicious sear and grill marks.
The grill itself is made from porcelain-enameled steel, which should last a lifetime, and the burner is stainless steel, hence corrosion resistant and will last for many years too.
The cooking grate is porcelain-enameled, just as Weber uses in their full-sized grills. The cast-iron grate is good for heat retention and even heat distribution, making it a pleasure to cook on.
Finally, it has a reasonable size side table on which you can place a cutting board or sauces and rubs while you cook, and some tool hooks for your spatula and tongs.
Pros
Big 320 sq. in. grate
Amazing folding stand; one-handed set up is possible
Side shelf and tool hooks
Convenient grease management system
Cons
Not enough clearance under the lid for anything taller than a thick steak
Only a single burner
This grill is a great buy for those of you who hate carrying your grill around. It rolls well on its large wheels and requires little strength to move about, fold, or unfold. And it performs well and produces good food.
Check out our Weber Traveler testing and review for a more detailed look at this grill.
Coleman Roadtrip LXE Portable Gas Grill
3
This versatile grill, that also features in our roundup of the best portable gas grills on the market, is perfect for camping trips.
It offers you plenty of cooking space with two independent and adjustable burners for different heat zones. Running from a standard 16.4-ounce propane gas cylinder, it offers you 20,000 BTUs of heat and is suitable for feeding three to four people well.
Measuring 47 inches by 34 inches by 19 inches for a 285 square inch cooking surface, and weighing 47 pounds, it's large enough to cook for a crowd, while its handy wheels and folding legs keep it off the ground and make it small and light enough to be portable.
It also comes with dual sliding side tables, with plenty of room to work on. It also conveniently comes with a removable tray to catch any grease drippings for easy clean up.
The manufacturers have made it more versatile by building sturdy cast iron grates that can be interchanged with other cook tops such as a full griddle, half griddle, and half stove grate, to enhance your overall cooking experience.
All in all, Coleman did not compromise on building materials, so you can definitely expect durability from this model, and it's backed up by a limited 3-year warranty.
Another amazing feature of this model is that it folds down into a compact design which will fit into your car with no trouble at all.
It comes in a range of colors, from black to green, blue, purple, maroon, red, orange, and silver, and the comprehensive assembly instructions mean you'll be cooking in no time.
Pros
Instant start button.
Compact size when folded.
Folding legs.
Large cooking area with extra space on the side trays.
PerfectFlow pressure system that provides consistent heat even in extreme conditions.
Cons
The hood is shallow, so you won't be able to roast fowl or large cuts of meat.
The carry handle does not extend.
No thermometer.
If you're looking for a gas grill that offers tons of space while remaining compact when not in use, then this might be the model for you. The Coleman RoadTrip LXE is designed with convenience in mind, giving you more time to enjoy the outdoors.
Cuisinart CGG-180T Petit Gourmet Portable Tabletop Gas Grill
4
When it comes to a compact and easy-to-carry grill, the Cuisinart CGG 180 is definitely a strong contender in this list.
It's easy to set up, move, clean, and store. You can literally take it anywhere—right from the beach to your favorite campsite, then to tailgating parties and picnics.
Measuring 16.5 × 16 × 13 inches, it offers 145 square inches of cooking space. Enough to cook a meal for 2, or burgers and sausages for 6.
This grill is designed to heat up very fast. Its 5,500 BTU stainless steel burner doesn't waste heat or gas, and is a durable material built to last.
It has a drip tray to catch run-offs and grease to avoid flare-ups and for easy clean up, as well as a lid latch and carry handle, to keep it closed and easy to carry during transport.
The folding tables base is a nice touch, raising it for use to prevent it burning any surface it's placed on, while keeping it portable for it's intended use as a grill on the road.
Available in three colors—red, black, and stainless steel — You can also choose a model to suit your particular tastes.
Pros
Easy to clean.
Compact and lightweight—making it a breeze to carry.
Can be easily set up anywhere.
Can be set up as a tabletop as well as a free-standing grill.
Cons
Some users have complained about the plastic handle melting.
This table-top gas grill product is perfect for a camper looking for a grill that's easy to carry and set up. The folding legs make it even smaller for storing and traveling.
Weber Q1200 Liquid Propane Grill
5
Coming from a family of well-performing grills, the award-winning, porcelain-enameled Weber Q1200 definitely holds its own.
It measures 16.5 × 40.9 × 24.6 inches high, weighs only 30 pounds, and provides 189 sq. In. Of cooking space with its porcelain-enameled cast-iron cooking grates and cast aluminum lid and body.
Fueled by 14.1 or 16.4-ounce propane cylinders, it heats up effortlessly with the simple push of a button and, more importantly, grills your food evenly.
It comes with a single 8,500 BTU burner with a control valve that allows you to adjust the flame with ease.
The temperature gauge is built-in giving you greater temperature control.
With the Q1200, you also get two folding side work tables, perfect for holding your spices and sauces, or for a little extra space to work from.
Its heavy-duty construction means it will be awhile before you have to go shopping for a replacement. The flip-side though, is that this very sturdy construction makes it quite heavy. You may find it hard to cover long distances on foot with this bad boy in tow as it doesn't have any wheels.
Pros
Durable and easy to clean.
Built-in thermometer
Can grill huge chunks of meat or poultry.
Side tables are sturdy.
Comes in a range of colors.
Can comfortably cook food for two or three people.
2-year warranty, with 5-year on some on the parts.
Cons
It is quite heavy for such a small product.
Single burner only, so cannot create different temperature zones.
No legs to raise it off the ground.
It has a sleek, sexy look, with great temperature control and an excellent build. It cleans up real nice and would be a perfect addition to your camping experience.
Masterbuilt Propane Tabletop Grill
6
The Masterbuilt 205 is a great choice for BBQ enthusiasts and campers who need an on-the-go type of grill. The stainless steel construction makes it not only easy to clean but durable as well. You don't have to worry about rust if stored for some time.
A great selling point with this product is its portability. It's locking latch keeps the lid shut, while the legs fold in. This allows you to carry it like a suitcase.
The U-shaped 10,000 BTU burner provides even distribution of heat to the 205 square inch cooking surface to ensure your hot dogs and burgers are well cooked.
As far as capacity is concerned, you can easily fit six to eight burgers on it in one go, or if cooking steaks can comfortably allow you to serve up to four people.
The warming rack offers the perfect finish for nearly done burgers or if you want to slow cook your peppers. It's designed to keep your food warm for extended periods of time.
There is also a built-in temperature gauge, so you know the temperature you're cooking at, important for getting things right, especially following a recipe.
So grab this grill anytime you want to go camping, picnicking, tailgating, boating, or hanging out in your backyard.
Pros
Easy to clean.
Rust-free body.
Foldable legs that can be set up anywhere.
Chrome-plated warming rack.
Cons
Even at low cooking heat, the body tends to get very hot.
The igniter sometimes requires a couple of tries before it lights a flame.
Looking for an on-the-go grill that's ideal for camping, picnics, and impromptu cookouts? This is one product you should definitely consider.
Best Charcoal Grills for Camping
There is a reason why charcoal lovers adore these grills. It's in the challenge that comes with lighting up these babies, controlling the heat through fire management, and of course the authentic flavor.
Charcoal brings out a distinct and incredible flavor in food that simply can't be achieved with gas grills.
Let's look at some of the best charcoal camping grills in 2023.
Weber Go-Anywhere Charcoal Grill
1
This Weber product also topped our roundup of the best portable charcoal grills. It is a super cool rectangular shaped charcoal grill that can go anywhere, literally.
It's packable shape and compact size means you can store it with ease when you're not using it. Additionally, the plated steel foldable legs pivot to lock the lid in place during travel, with a handy carrying handle on top. This ensures that you can carry it around securely.
Measuring just 12.2 inches by 21 inches by 14.5 inches and weighing only 14.5 pounds, it may seem small, but it offers a respectable 160 sq. In. Cooking surface, enough to cook a good 6 burgers or up to 4 decent sized steaks.
The grill's ventilation system consists of two vents on the top and two vents on the sides. These allow you a very workable and decent way to adjust the temperature while you're grilling. And when you're done and need to extinguish the coals, simply close these vents and the lid.
The size of the grill and the number of vents also allow you to cook food indirectly, or to do some low n slow smoking quite successfully. I personally own one, and love this fact more than anything.
This product is relatively heavy for its compact size which speaks of its quality and good materials used, backed up a Weber 10-year warranty.
With grates made from nickel-coated steel and a porcelain-enameled steel body and lid, it is easy to clean and durable too.
Pros
Durable
Highly portable and a great shape for packing.
Has a good cooking surface despite its size.
Allows indirect cooking (roasting instead of grilling.)
Great for small gatherings.
Delivers great results.
Cons
The legs are a bit thin and weedy, though functional.
Weber quality ensures this grill delivers excellent results for anyone looking for the traditional charcoal flavor in their food. For a more in depth take on this wonderful grill, please see my Weber Go-Anywhere charcoal grill review.
The PKGO is a high build-quality, professional grill with a feature not seen in any other grill; You can remove the lid and use that as a second grill, turning one grill into two!
Coming complete with a Flipkit stand, you remove the lid, turn it upside down, rest it on the stand, insert a charcoal grate and cooking grate into the lid, and you now have two hibachi-style, open grills to work with, doubling your cooking capacity. Amazing!
The PKGO build materials are second to none and will ensure this grill lasts a lifetime. The body and lid are made from cast aluminum, while the grates are cast iron. It makes this grill a hefty 39.5 lbs. in weight, somewhat taking away from its portability, but this is unavoidable if using such high-quality materials.
The cooking grates are 12 x 17 inches, offering 200 square inches of cooking surface area, which you can double with the Flipkit and using the lid as a grill.
With the lid on, the PKGO is a highly versatile grill, with a total of four vents — two each on top and at the bottom — so you can set up two-zone cooking, high heat sear direct, or slowly roast indirect, and have complete control of airflow and hence temperature and the flow of heat and smoke through the grill.
Set your charcoal to one side, then you can use the vents to force airflow in from under your hot coals, up and across your food, and out of a vent on the other side. This convection-style indirect heat cooking allows you to roast as you would in your kitchen oven, and you can add wood chunks or chips for some genuine low and slow smoking. You can also add a water pan to keep what you're cooking moist and tender.
The PKGO also has an access door through which you can feed a thermometer probe for remote monitoring of your food as it cooks (thermometer must be purchased separately.)
There are two locking latches on the lid to keep everything firmly and safely in place inside when you are traveling.
Pros
Durable cast aluminum and cast iron materials will last for many years
You can remove the lid to double up as a second grill, increasing your grilling capacity
Four vents allow complete control over air and heat flow, for different cooking options
Impressive 20-year warranty on lid and bowl
PK Grills donate to No Kid Hungry, helping feed children across the US
Cons
The lid is quite shallow, so can't fit in whole chickens sadly.
This grill can sear, smoke, roast, and more, while also allowing you to double up your grilling capacity by becoming two grills from one. It's a versatile grill made from top-tier materials and is highly recommended.
Lodge Sportsmans Pro Cast Iron Grill
3
Are you into rugged-looking wonders? Then the Lodge Sportsman's Pro hibachi style grill may be the perfect addition to your outdoor equipment. Made purely from cast iron, it is incredibly durable and can last for decades if you take good care of it.
The cast-iron construction also means it possesses superior heat retention capabilities that will see you save on fuel. While the grill can't handle too much at a time, it will leave the perfect sear on all your meats.
This product is all about direct heat, so small quantities of quick-cooking foods will work best. It's ideal for grilling burgers, steak, and pieces of chicken, and can serve up to four people.
It has a removable grill grate that allows you to rearrange or add coals easily, and a removable slide-out ash drawer that doubles as a lower air vent, allowing you to control heat and airflow, while healping you to easily remove ashes after cooking.
At 33 pounds, it is quite heavy, but takes up only a small amount of storage space. You should be able to fit it in your car or camper without any trouble.
The 19.3 inches by 9.7 inches by 7.5 inches size offers up a 16.75 inch x 9 inch cooking area, and compared to the original Lodge Sportsman grill, is now rectangular, not oval, and does not have the Lodge logo in the center interfering with your cooking.
Cleanliness and care are of utmost importance, though. Cast iron doesn't handle moisture or weather elements well, and it's also prone to rust. Be sure to clean it up thoroughly after using it, then add some seasoning, and store it in a dry place.
Pros
Easy to assemble.
Pre-seasoned.
Good heat regulation.
Cons
Requires extra care to prevent rusting.
No lid.
The Lodge Sportsman's Pro is an efficient charcoal burning grill that has been designed to last for many years. It is perfect for outdoor lovers looking for that authentic taste in their food, and has also taken first place in our search for the best hibachi grills.
Best Wood Burning Camping Grill
Just like their charcoal burning counterparts, wood burning camping grills bring out a rich, smoky flavor in every meal. They are also hotter than gas, and you can regulate the heat to suit your cooking needs.
Let's look at some of the best wood burning camping grills available.
Biolite CampStove 2+ Complete Cook Kit
1
This grill seamlessly combines bygone years with tomorrow. The wood burning aspect connects you to the days when campers relied solely on firewood.
A USB light provides additional illumination when you're cooking your meals in the dark. Furthermore, the grill's device charging capabilities allow you to keep your mobile devices charged and connected with the world.
The grill is fuel efficient and uses natural fuels such as branches, twigs, and wood. Once the fire is lit, it starts to heat a thermoelectric generator, which then converts this heat to electric power, which is stored in the attached power bank.
As electricity is generated, it powers a small fan which in turn feeds into the furnace producing near-smokeless fire. It also generates more heat—and the hotter the grill, the faster your food will cook.
The Biolite BaseCamp 2+ Stove comes with a 9.5 x 12 x 3.5 in grill grate which allows you to cook plenty of food at a time. You can have up to four burgers cooking on this grill at the same time. You can also use it for boiling a pot, or the included coffee pot, which also doubles as a holder for the whole stove to be packed away in.
With an ultra-thin stainless steel body, this grill is light at just 5 lbs, while still having durability written all over it.
Pros
Stainless steel construction makes it light yet durable.
Can charge electrical devices from electricity generated while burning wood.
USB lighting offers illumination as you cook.
The smart dashboard allows you to control the power.
Cons
requires constant attention, filling with wood and ensuring the fire keeps going
This product boasts a sturdy structure, a heat-monitoring dashboard, smart design, and a fancy USB lighting system among other fun features. It is an excellent option for a camper looking for a combination of new and old.
Cook-Air EP-3620BK Wood Fired Portable Grill
2
A portable powerhouse, it can reach temperatures of 1100 degrees within just five minutes of being lit. Its advanced technology allows you to grill your food on high heat within a short time.
Start the grill by using the fire starter sticks or a wad of paper and a piece of wood. Once the fire is lit, turn the fan to one, and after a minute or so, crank it up to three.
By this time the wood is fully ignited, you can turn the fan to five, attaining temperatures of well above 700 degrees Fahrenheit. The more wood you place into it, the hotter it gets.
This model has a round stainless steel cooking grate that can hold six to eight burgers, four steaks, or eight to ten chicken drumsticks. It is ideal for a small group of friends or family.
Environmentally conscious BBQ enthusiasts will be happy to know that this grill burns 99.6 percent of its gases. It is quite the ecologically friendly product!
Pros
Lights up very fast.
Lightweight and portable.
Environmentally friendly.
Cons
Susceptible to rust.
Some users have mentioned that the fan stops working after some time.
This product is perfect for campers and grill lovers keen on enjoying the outdoors more than spending their time cooking.
This Should Also Interest You…
Dual Fuel Fire Pit And Grill – The BioLite Firepit+
BioLite Firepit+ Smokeless Combination Fire Pit and Grill With Bluetooth Control
1
The classic campfire just got an upgrade, thanks to BioLite's new & improved FirePit+. This portable fire pit and grill seeks to be a game-changer for outdoor living, especially for those who venture beyond the backyard.
The BioLite FirePit+ can burn either wood or charcoal and features a battery-powered blower fan with 51 airjets, Bluetooth connectivity, and the ability to function as either a fire pit or a small grill.
Measuring 27 inches long by 13 inches wide and almost 16 inches tall, the FirePit+ weighs just under 20 pounds. Equipped with a pair of handles and four folding and locking legs, it's designed for life on the go, offering an all-in-one solution for campfires and grilling.
At the heart of the system is the power pack. Mounting at one end of the burn chamber, this combo unit houses a rechargeable 12,800 mAh battery and a built-in fan. The fan blows air through tubes in the burn chamber, where 51 airjets direct it towards the fire to aid ignition and keep it burning for hours. You can choose from four speeds, selectable either on the unit itself or via a Bluetooth-connected app on your phone.
The forced air helps burn wood so efficiently that there is next to no smoke from the fire. Say goodbye to hacking and coughing in a cloud of smoke! Plus, you won't end up with partially burnt, mostly charred chunks of wood.
Three sides of the unit are almost entirely made of "X-Ray Mesh" for enhanced visibility. Even in the daylight, you can see through the perforated, enamel-coated metal. And at night, it's like the fire is floating in mid-air about 6 inches off the ground.
BioLite includes a 304 stainless steel grilling rack with the FirePit+ so you can cook on it, too. Simply raise the fuel grate to the upper setting and fill it with charcoal. Light it up — with assistance from the airjets — place the grill on top, and start barbecuing.
They have also included a couple of cool features that really help with control and versatility in cooking:
The fire grate can be raised and lowered between two different levels, meaning you can move the charcoal closer and further away from your food for higher and lower heat.
Secondly, the cooking grate can be slid off to the side, so you can move food away from any flare-ups, or lightly toast buns or keep already cooked food warm away from the direct heat of the flames. Or to give easy access to replenish charcoal, or drop wood chips in for added flavor.
BioLite also sell a skillet and a lid that fits the FirePit+ for even more cooking options, such as lightly smoke roasting food, or cooking eggs, pancakes, or smash burgers.
Pros
Dual fuel, can burn either firewood or charcoal
Makes a beautiful fire pit and an effective small charcoal grill
You can recharge your smartphone or other USB charged devices from the power pack
Highly efficient burning gives virtually smoke-free fire and minimal waste of fuel
Highly portable and easy to store thanks to handles and folding legs
Charcoal grate can be raised and lowered for higher and lower heat
Charcoal grate can be slid out – partially or wholly – away from the charcoal in case of flare ups, or for lower heat warming
Cons
App isn't really that useful, given you can only adjust the fan speed, but can do it manually from the power bank. However, it's a nice to have and I like it
On full power, the fan can be a bit noisy
There's no option to run it on a 12v connection or AC power
The BioLite FirePit+ offers a convenient solution for campers and picnickers for campfires and outdoor cooking. Even in the backyard, it makes a lovely alternative to standard fire pits with a fraction of the footprint. We highly recommend this fun and innovative bit of outdoor gear.
Want to learn more? Read our in-depth, hands-on review here: BioLite Firepit+ Review.
What to Look for When Shortlisting Options
Camping grills come in many shapes and sizes, and their fuel sources are just as varied. Some use charcoal, while others use gas. You will also find some that use wood or electricity. It really boils down to safety and your personal preference.
That said, there are other qualities you should look for when shopping for the best camping grill on the market. We have listed a few of these to keep in mind before making a purchase.
Compactness, Ease of Packing Away, and Transportation Features
Any camper will know how valuable space is. The smaller grills that are well-loved by backpackers are fairly compact and will fit into a small space. However, these may not be practical for a family or a large group of friends who are camping together.
That said, the best camping grill should still fold up easily and fit into a relatively small space. The squarish types may work better if you need to secure them to roof racks or slide them into your trunk.
Additionally, look for a product that is easy-to-use and safe to maneuver. You don't want to waste your time spending hours trying to figure out how it works—setting it up or folding it down. By then, your guests will probably have gone to find the nearest fast food drive-thru!
Size
The size you choose should be dictated by the number of campers typically on your team.
A family of four will not have the same needs as a group of ten friends hanging out. Think about keeping a pack of happy, full campers and how much food you'll need to fit on your grill at any one time.
While you may not want a supersized camping grill, a small model will greatly inconvenience a large group of hungry people.
Temperature Control
Your campers may not mind lightly charred food, but burned or raw food is not something they'll thank you for. If you're considering a gas grill, make sure if there are dials to control the temperature with ease. Otherwise, it might be an idea to purchase a thermometer separately.
Charcoal lovers should look for a product that has vents both on top and at the bottom to facilitate the free flow of air, but that you can control.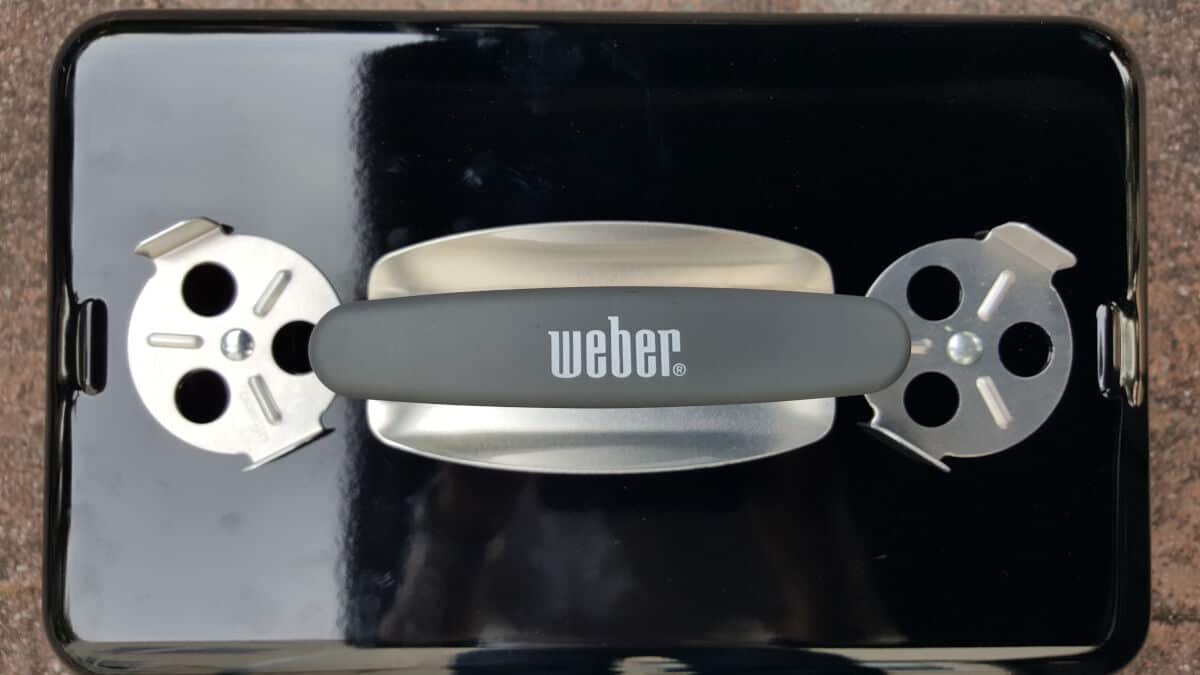 The more the air flows easily through the grill, the higher the temperature gets, and the more you restrict the airflow, the lower the temperature gets.
In other words, top and bottom vents are your temperature controls on a charcoal grill, so you want to make sure your choice of product has them!
Design and Features
The overall design will also play a key role in how well you'll cook. Think about the features you would like to have in a grill.
For example, some designs have a snug-fitting lid which allows you to roast, or smoke low n slow, as well as grill.
You can find grills that fold down into a neatly rolled luggage-style apparatus, which can be convenient, and space-saving too. Perhaps you're looking for an easy-to-clean model or one made from specific materials like stainless steel, brass, cast aluminum, or cast iron.
There are camping grills that have side tables to facilitate easy food preparation. Others have legs that help keep the fire and heat above the ground. You can also find camping grills that allow you the option of baking or frying your foods.
It boils down to what extras you are looking for, while also being realistic of what can be achieved in a small portable unit.
Quality of Construction and Durability
Don't cut corners when it comes to the quality of construction, regardless of size. Your camping grill may very well be exposed to harsh conditions—be it weather or fire. Therefore, just because you're looking for a small, portable grill doesn't mean you should compromise on quality and opt for something that will only last 3 camping trips.
Check the surfaces and working areas for sharp or 'unfinished' edges. These can easily cut you or snag on clothing.
To know how stable the grill is, gently push against it from all angles to see how it withstands slight knocks.
Cast iron is durable, but it's also bulky and heavy, and it can easily rust. Aluminum, on the other hand, is lightweight, easy to ferry around, but may burn out.
Look for a grill whose build can withstand excessive heat and last longer than just one season.
Accessories or Bonuses
We all like extras. Sometimes manufacturers will throw in some fun, useful accessories or bonuses. While they may not come with accessories such as BBQ utensils or tools, you never know what you might find out there, so it's worth shopping around.
Something we like—we've seen some grills on the market that come with their own carrying bags. This makes it easy to transport. A bonus could be an extended warranty, or a free recipe book, for example.
For Gas Grills Specifically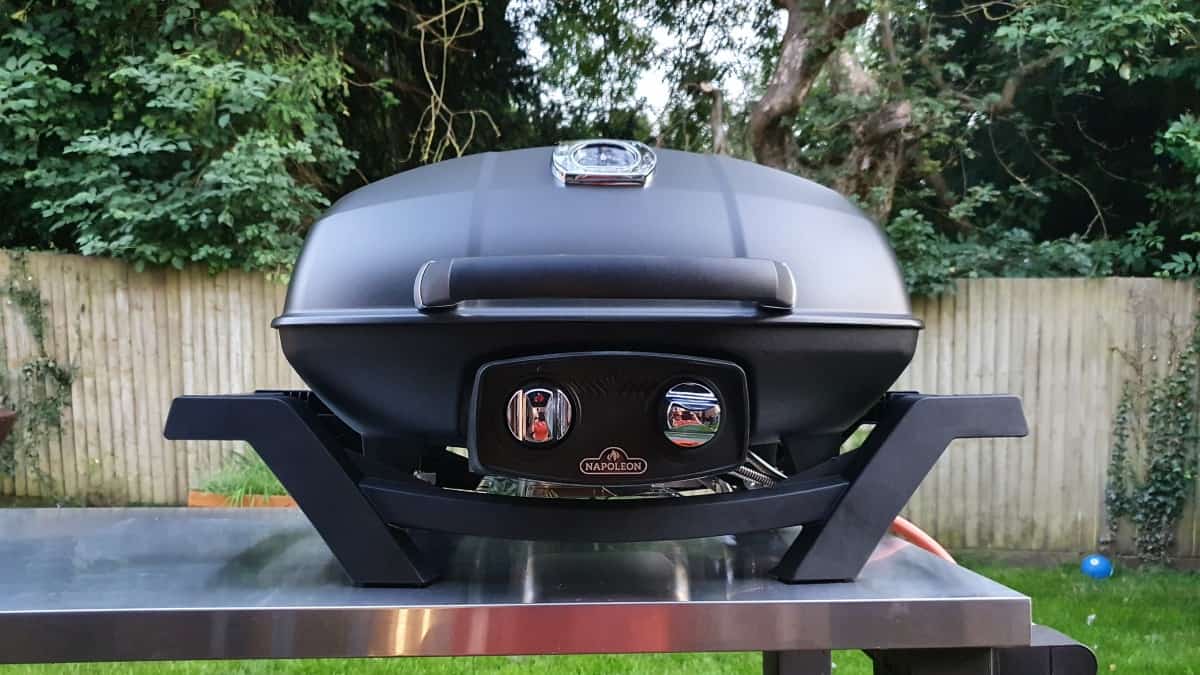 Essentially, gas comes in two forms—natural gas and liquid petroleum gas (LPG). Natural gas comes from an underground source and is piped into your home's main gas supply. Because of this, they cannot be portable and aren't made for camping. (Though if you're interested, you can check out our guide to the best natural gas grills here.)
LPG is filtered, treated, and packed into portable cylinders.
Camping grills, being portable, will use one of two types of LPG: butane or propane. The cylinders for these are, generally, not interchangeable, with most using propane gas.
If you're in the market for a gas grill in particular, look out for the following:
BTUs
BTUs stands for British thermal units, and these are used to ascertain the amount of heat a grill can produce.
Naturally, most people want to reach for models that have a higher number of BTU. Why? Well, you'd think that the higher the number, the hotter the grill will get, cooking your food more quickly or thoroughly.
But this is not necessarily true.
Unfortunately, manufacturers are known to oversell on BTUs. They will usually do this by bundling all the burner output ratings to make it look like a more impressive number.
It's recommended that you look for 80 to 100 BTUs per square inch of cooking area. By comparing usable cooking space to BTUs, you'll have a much clearer idea of how much heat your grill is capable of producing.
Remember—cooking surface here does not include side burners, rotisserie burners, warming trays, and the like.
Grills with high BTUs should be made of high-quality materials. Otherwise, you will lose a lot of that heat. Besides, models with more BTUs burn fuel faster, meaning you will be spending more.
Number of Burners
A grill with more burners allows you to cook different food items at different heat levels at the same time. You could be searing a juicy steak over high heat on one burner, while roasting peppers over low heat on another part of the grill.
Many full sized grills come with two or three burners, but you can also find some with four, or even six. Some also have side burners, which are great for warming up food, while others may come with a rotisserie.
So, how many burners do you want? Well, we're talking about a camping grill here, so overall size would be my main concern, rather than number of burners.
Most portable gas grills have only the one burner. This is because of size constraints. You will see some people state you need 2 burners at an absolute minimum, and three would be even better for temperature control and to be able to do 'indirect heat cooking and roasting!' But then the grill would be so large, it could hardly be considered suitable for camping. So in my opinion, you're going to have to accept a single burner, or 2 at most. Either is fine.
Ignition
Today's grills usually come with spark ignitions. Some run on a battery, while others use a push button or a dial to start up. It's important for you to look for one with a lighting system that's easy to start up.
While you're at it, look at the manual ignition operation and how it works too. You may need to use it if and when the starter fails or becomes worn out.
Conclusion
Finding the best camping grill for you will undoubtedly take a bit of work, especially with so many brands and variations available, with many of them quality meaning there's just so many to choose from.
You will first need to decide what your needs and preferences are before picking the right grill for you, and we hope our look at top models above has helped you in some way.
Out of all the above, we do have 2 favorites—the ones that we feel that top the list. Drum roll, please…
The winner for best camping gas grill for us is the Coleman Road Trip LXE portable propane grill. It outperforms other grills, with its durable construction, and easy-to-clean and light-up features. Let's also not forget its ability to accommodate large chunks of meat.
And the winner for best camping charcoal grill is the weber go anywhere. It's the one that I, Mark, personally own and use…and I really cannot fault it.
If you have anything to add, any questions or feedback, please do drop us a message below. We'd love to hear from, you and we'll answer every comment.
Happy camping!