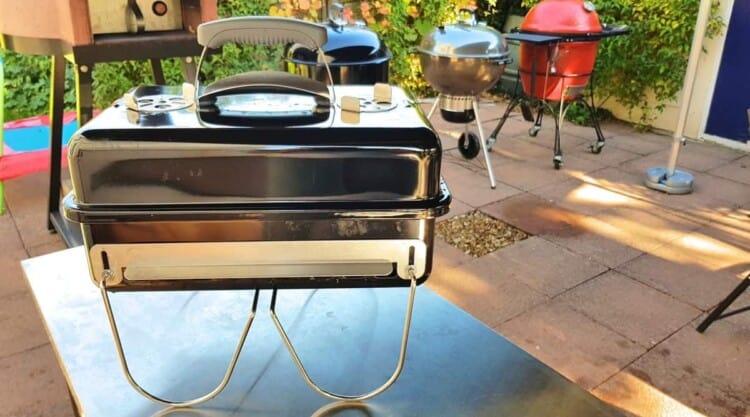 In this article, we're going to take a deep dive look at the best tabletop grills on the market today.
You know those pictures you see in ads of epic backyard kitchens? The kind that makes most people's indoor kitchens look sad? If you have such a space, congratulations — and please invite us over for dinner sometime!
Some folks, however, have a very small space available for grilling. Perhaps you have a small patio or balcony? Or, maybe you only cook for one or two people and don't need a large grill? Perhaps you travel a lot and spend time camping or RVing.
All these are excellent reasons to own a tabletop grill.
If you think a tabletop grill belongs in your future, keep reading to learn what to look for and what to avoid before you buy. Plus, we'll tell you where you shouldn't use one.
But first, let's start with tabletop grill reviews, looking at the best ones in various categories, from gas fueled to charcoal, indoor and outdoor, and from premium to budget models.
At a Glance: The Best Tabletop Grills Discussed in our Guide
Reviews of our Tabletop Grill Recommendations
Here are the best of the best, top tabletop grills available in 2023.
Napoleon TravelQ Pro 285
1
I own many portable grills, and this is the one I choose most often when I want to do some simple, quick and easy grilling if I want to avoid the hassle and mess of using charcoal.
The Napoleon Pro Travel Q 285 is large for a tabletop grill with 285 square inches of cooking space under its high domed lid, but this is one of the reasons I love it so much!
Typically tabletop grills are so small that it severely limits what they are capable of, but not this grill. You can get a good amount of food on this gas grill, as many as 6 steaks, or due to the high lid even small roasts or a medium chicken.
This grill has a cast aluminum body and lid, and porcelain-enameled cast iron grates. Highly durable materials that push the weight up to a surprising 36 pounds but ensure even heat distribution, good heat retention, and will last a very long time.
36 pounds might seem heavy for a portable tabletop grill, but if you appreciate good performance, you must have good materials in your grill. Far better to have thick, durable build quality than thin materials and wiry stainless steel grates that most tabletop grills typically have.
I love the fact the Napoleon Pro 285 has dual gas burners. This allows you to set up dual heat zones for cooking food items at different temperatures, or to have a searing zone and a keep-warm zone. It also allows you to do true indirect convection heat roasting like in your home oven. This versatility allows you to do more than just out and grill, but roast and smoke too!
Did I just mention smoking? Yes, because there is plenty of room between the burners and grates to add a small smoke tube so you can add smoky flavor when roasting in a two-zone setup.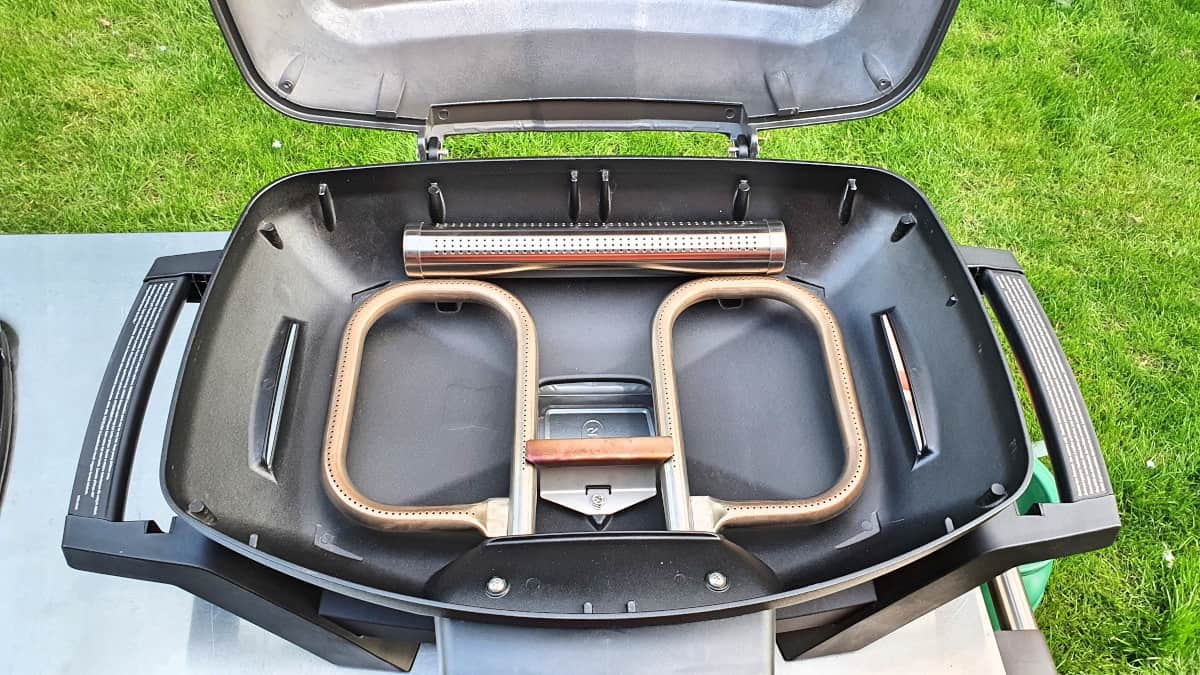 Pros
Solid build quality, will last a long time making it value for money
Cast aluminum body and cast iron grates aid heat retention and even distribution for better performance
Two burners for separate heat zones and better temperature control
Lid height sufficient for roasting small to medium chickens and roasts
Room under the grate for a smoker tube
Cons
Heavy for a portable grill
Costs more than many other options on this list
This is a versatile grill with superb build quality, capable of producing great food. It will also stand the test of time, so it offers excellent value, despite its relatively higher price tag. Highly recommended.
Head over to our in depth Napoleon TravelQ Pro 285 review for further details.
Weber Q2000 Liquid Propane Grill
2
Weber is one of, if not THE most well known BBQ brand in the world, and they have a respected reputation for quality.
Weber manufactures a wide variety of grills, from a kamado like charcoal grill to full-size gas grills, electric and, of course, tabletop gas models. In this last category, the Q2200 is the top of the line model that Weber offer and the one we feel stands out as the best tabletop grill, while also topping our list as the highest rated in our portable gas grill reviews.
The Weber Q2200 has a single stainless steel burner that circles the bottom of the grill. This burner is rated at 12,000 BTU and is powered by your standard 16.4 or 14.1 oz liquid propane, disposable cylinders.
There is an electronic ignition, and an analog dial for controlling gas flow that provides infinitely variable heat control.
The generous 280 square inch cooking surface consists of a cast iron grate that divides into sections, with Weber claiming cooking capacity of up to 10 strip steaks simultaneously.
With any tabletop grill, stability is super important. The Weber Q2200 has some very solid Nylon legs that keep center of gravity low, and chances of being knocked over pretty much zero.
As an option for the ultimate in stability, Weber does also have a standalone table, and a standalone cart you can purchase…though maybe this defeats the purpose of buying a tabletop grill? I don't know.
On the subject of quality accessories, Weber does have in their product range a full-faced, porcelain-enameled cast-iron griddle for the Q2000 range. This enables you to use the grill for breakfast eggs or pancakes. This is a great feature, as most grills or either standard bar type grills, or a full face griddle, not both!
The body and lid of this grill is made from cast Aluminum, which has excellent heat retention properties and is also highly rust-resistant.
This grill comes in at 43 lbs, which is a little on the large size and maybe pushing the boundaries of a tabletop grill, but it is manageable, and the side tables fold in under the grill for portability and storage.
Specifications and Important Features
Main burner: 12,000 BTU
Dimensions — lid closed and tables out: 14.5″ H × 51.4″ W × 19.5″ D
Cooking area: 280 sq. Inches
Fuel type: Liquid propane
Weight: 42 lbs
1x Stainless steel burner
2x Folding side tables
1x AAA battery-powered electronic ignition
Porcelain-enameled, cast-iron cooking grates
Cast aluminum lid and body
Glass-reinforced nylon frame
Removable catch pan
Infinite control analog burner valve for heat control
Pros
Exceptional build quality
Large — for a tabletop grill — 280 sq. In. Cooking surface
Added prep space with the side tables
Optional full-face griddle adds versatility
Stable base
Cons
One burner only is a disappointment, as it means only one heat zone is possible.
Perhaps a bit pricey for a tabletop — but you get what you pay for! This will last many, many years.
While this grill is somewhat large and Weber does make smaller tabletops, the grilling space it provides is one of its most desirable features. Ever had to cook for 10 people, doing only 3 or 4 at a time? Not with this grill!
If you will only ever cook for one to four people, maybe this grill is overkill, and one of the smaller models in this list is better suited. But if you're big into camping or tailgating, you'll love the extra cooking capacity this tabletop grill offers.
So this grill is recommended for those who want top build quality, versatility, and high cooking power they can set on a table when they're away from home. Highly recommended.
Weber Go-Anywhere Charcoal Grill
3
If you want the freedom to grill wherever you may roam, and don't feel the need for unnecessary extras, you need a lightweight model that's sturdy and reliable. And if you want the authentic taste of charcoal grilling when you cook on the grill, our next pick is the product for you.
This compact, back-to-basics 'Go-Anywhere' grill from Weber has everything for grab-and-go outdoor cooking in one convenient package and is our top pick for the best tabletop charcoal grill, while also appearing as top pick in our search for the best portable charcoal grills.
This is a folding grill, where the plated steel legs swivel up around the lid, locking the lid in place and making this grill rectangular shaped for easy packing for transport or storage.
During use, the legs swivel down under the grill and latch together, forming a stable base on which to place on a tabletop.
On top of the grill is a glass-reinforced nylon handle with a heat shield, making it easy to carry, or for removing the lid without burns during use.
It weighs just 15 lbs, measures 12.2" L × 21" W × 14.5" H, and has a middling (for this list) 160 square inches of cooking capacity by way of a plated steel grate. This is large enough to cook 4x large steaks or 8 pieces of chicken.
The good thing is, it's just large enough and an excellent shape to be able to set up two heat zones, and you can even just about roast in it while adding a chunk of wood for a touch of smoke flavor!
This grill is porcelain enamel coated inside and out, which offers good rust protection as well as reflecting heat back into the grill.
Functionally, it's like large charcoal grills, with two lower vents, one per side, and two 3-hole vents, one per side on the lid. These vents control airflow, oxygen levels and hence heat inside the grill. Closing all vents also smothers and puts out unused coals, ready to use for next time.
There is no ash pan, but it's small and light enough to turn upside down to empty spent coals and ashes.
This grill is not designed to feed large crowds but is easily good enough to cook a whole meal for 2 or 3 people, or burgers and sausages for a small group.
I personally own this grill and use it myself all the time when camping or on a short staycation.
Specifications and Important Features
Build Material: Porcelain-enameled steel box and lid, plated steel grate and legs
Overall dimensions: 12. 2" L × 21" W × 14.5" H
Cooking area: 160 sq. In.
Fuel type: Charcoal
Weight: 15 lbs
Nylon handle with heat deflector
Aluminum dampers for airflow and heat control
Plated steel cooking grate
Heavy-gauge steel charcoal grate
Porcelain-enameled lid and base
Pivoting, locking plated-steel legs
10-year no rust through/burn through warranty on lid and box; 5 years on plastic; 2-years on everything else
Pros
Boasts many features as the full-size barbecues that have made Weber famous
Excellent build and quality features make it a pleasure to use
Top and bottom dampers provide excellent temperature control
Possible top cook at lower temperatures for roasting, even short smoking sessions
Folds compact for storage or transport
Cons
No ash pan for easy cleanup, (though is light enough to turn upside down to dump ashes.)
The cooking grate is a little too close to the coals, so can be easy to generate too high a heat
A lid thermometer may have been a nice addition
The Weber Go-Anywhere is a well-made, well-designed, highly effective little tabletop charcoal grill. It's an excellent product if you want to enjoy the authentic taste of classic charcoal grilling in a compact format.
This grill is a winner. It's not for big cookouts or feeding large crowds, in fact, some grills on this list are a full 80% larger when it comes to cooking capacity! But for a simple, efficient grill for 1 to 4 people, it's highly recommended, and so easy to take on your travels.
For more details and hands-on testing results, please see our Weber go-Anywhere charcoal grill review.
Blackstone 22 Inch Tabletop Griddle Outdoor Grill
4
OK, if we're going to pick bones, this is a griddle, not a grill. And this is supposed to be an article on tabletop grills, right? I hear you, but please, hear me out!
Griddles are a fantastic cooking tool for tabletop use while camping, tailgating, or road tripping with your RV.
Because a griddle has a solid surface, unlike your traditional grills with grates, it opens up a whole new world of cooking possibilities.
You can fry eggs, make breakfast pancakes, grill onions and chopped veg, delicate fish, small prawn and more that would typically fall through standard grates. You can learn about this type of cooker in our guide to the best outdoor griddles.
The Blackstone 22″ Tabletop Griddle has a cooking surface measuring 22″ × 15″, giving a full 330 inches of cooking space. This is enough room for 12 hamburgers, or 30 hot dogs, or 16 eggs.
Better still, fuelled by a standard disposable propane gas canister, the hot plate is heated by 2x electric ignition, independently controlled H-shaped burners that distribute an even heat across the surface, and so enable you to have two completely different heat zones. And each burner can output 12,000 BTUs each, so this thing can get CRAZY hot.
With this griddle you could slowly sweat off some veggies at a lower heat on one side while searing a steak much higher on the other. Or gently fry eggs and caramelize onions on one side, while searing burgers crazy hot on the other.
Another good thing about a solid surface is it removes the chances of flare-ups, something that you always seem to be fighting with fatty foods on smaller grills because it's hard to leave enough room for a cool zone with no flames underneath.
Other notable features include gas control knobs that are easy to tweak for different temperatures, a channel to funnel fats and grease away into a cup at the rear, and non-slip rubber feet.
Specifications and Important Features
Build Material: Cold-Rolled Steel Griddle Top
Overall dimensions: 22.5 × 19 × 9 inches
Cooking area: 330 sq. In.
Fuel type: Propane gas
No. Of burners: 2x adjustable H shaped burners, 12,000 BTUs each for a total of 24,000 BTUs
Weight: 32 pounds
Integrated grease management system
Adjustable height, non-slip rubber feet for stability
Uses a 1 lb. Propane Bottle. Accessory kit available separately to attach to large propane tank
Fits 12 hamburgers, or 30 hot dogs, or 16 eggs.
Pros
Powerful, dual 12,000 BTU H-shaped burners give even heat distribution, good control, ability to set up two different heat zones and can reach screaming hot searing temps.
Very large capacity for a tabletop grill, so great for feeding a crowd.
Grease management system to drain fats away from foods into a cup for easy cleaning.
Excellent build quality. Should last for years if the griddle is kept seasoned.
Cons
No lid, (am I stating the obvious?) so it's open to the elements and temperature fluctuations would be at the mercy of the wind.
No thought went into design features for transport. There are no handles or clear way of carrying it, except to let it cool and carry in your arms to the car.
If you want to fry eggs or pancake for breakfast if you're out and about, you have one of two choices: Either buy a griddle insert to use with an existing grill, or buy a dedicated griddle such as this one.
If you choose option B, then you really cannot go wrong with the Blackstone 22″ griddle. It's well-built, well-featured, and does what it's made to do incredibly well. We highly recommend it.
Hamilton Beach Electric Searing Grill
5
If the weather's not playing ball, you still want to grill but have no outdoor cover, then an indoor tabletop grill is your only option.
And that's where this Hamilton Beach indoor tabletop grill comes in.
With 150 square inches of cooking space, this grill provides is easily enough to cook a full meal for 2, or steak, burgers or hot dogs for 4 to 6.
It has a top temperature of 450 degrees, enough to sear off steaks, achieving a great, flavorful Maillard crust while also being adjustable to cook foods at far lower temperatures too.
It comes with a that presses down on cooking foods and helps to seal in some heat, but it doesn't actually provide any heat itself, it does not cook from above like a sandwich press, for example, even though it looks as though it does or should. So you do have to turn foods mid-cook.
On the right side of the grill are some red and green light indicators that let you know when it's switched on, and when it's come up to cooking temperature.
The removable cooking grid leaves lovely grill marks on food, while allowing grease and drippings to fall through into an extra-large drip tray for easy removal.
One of the best features of this indoor grill is the ease with which you can clean it. The hood, drip tray, and cooking grate are all easily removable and dishwasher safe. This is great because when things are easy to clean, you are more likely to make more use of them.
Specifications and Important Features
Overall dimensions: 6.81 H × 16.73 W × 12.4 D inches
Cooking area: 118 square inches.
Fuel type: Electric, 1200 watts
Weight: 8.14 lbs
Temperature range: 200 to 450 °F
Cooking grate drains away fats into a large drip tray for healthier meals and easy cleaning
Removable, nonstick cooking plate that's dishwasher safe
Removable hood & drip tray that are dishwasher safe
Indicator lights for power, and when grill has reached cooking temp
Pros
Good temperature range for low temp cooking and high heat searing.
Indicator lights for temp remove the guesswork
Easy cleaning with dishwasher safe components
Cons
Well, it's grilling indoors! Get outside! (ok, just kidding with this one, haha.)
Short power cord at only 25 inches limits where you can place it.
There really isn't much to NOT like. It's a simple bit of kit, designed well and capable for the task at hand.
So it turns out there's more than just George Foreman grills for indoor grilling? Who'd have thought it, eh? Ok, I kid. I did consider those models, but for out-and-out indoor grilling, the Hamilton beach products are a league above.
With a good temperature range offering different styles of cooking, plenty of space to cook complete meals for 2, or steaks or burgers for 6, and very easy cleaning and maintenance, this is a great little unit you should get plenty of use from.
Giantex Propane Tabletop Gas Grill Stainless Steel Two-Burner
6
If you're a serious griller, you might think no tabletop grill can possibly take the place of a full-size barbecue. But, if one could, and if you could even take it with you to the cottage, the lake, or the park, wouldn't that be tempting?
Well, we have a serious contender for you that combines the best of both worlds, with the Giantex two-burner, 20,000 BTU tabletop grill, one of the biggest grills on this list.
The biggest draw of this grill, is its electronic ignition, independently controllable two-burners at 10,000 BTU each, enabling you to reach high heat quickly, and offering the ability to create two different heat zones — an authentic full-sized grill cooking experience in a tabletop model.
The dual burner set up, combined with a generous 266 square inches of cooking space makes this grill genuinely versatile and able to comfortably cook for a group of 8 or so people.
Made from 430 stainless steel, and with a removable drip tray, clean up is easy after your cook.
And despite its size and build materials, the whole unit only weighs in at 26 lbs. Yes, it's not the lightest grill on this list, but it still definitely qualifies as tabletop, with fold up legs and locking latches for the lid, making it easy to transport or store in its cube-like, packed away state.
Final features worthy of note are a built-in lid thermometer for monitoring grill temps, and a gas hose longer than most in the tabletop category, at a useful 40 inches in length, giving more options for placement of the grill and its gas supply.
Specifications and Important Features
Build Material: 430 stainless steel
Overall dimensions: 22" × 18" × 15" (L × W × H)
Cooking area: 5" × 13", or 266 sq. In.
No. Of burners: 2x independently controllable
BTU's Per Burner: 10,000, for 20,000 total.
Net weight: 26 lbs,
Gas type: Universal LPG
4x folding legs, for easy set up and take down for transport
Concealed, easy access drip tray for ease of cleaning
Locking latches on the lid — again, useful for transportation
Built-in thermometer for temperature monitoring
Pros
Two independently controlled, 10k BTU burners provide versatility and power
266 sq. In. Cooking capacity allows cooking for medium-sized crowds
Square design, folding legs, and locking lid means easy transportation
Stainless steel construction and removable drip tray makes for easy cleaning
Let's face it: This thing looks good, which is nice
Cons
Some users complain about a lack of fine control with the gas controls, resulting in too high temperatures.
The grill grates are a tad too close to the burners, which takes some getting used to when searing, to avoid burning.
The stainless steel could be thicker. I know it's supposed to be a lightweight tabletop offering, but it would make it feel more 'premium' and long-lasting.
We really like this medium-sized grill because it nicely straddles the line between tabletop and full-size grilling. By combining the key features of both categories, the Giantex will make grilling a pleasure both home and away.
It's large enough to feed a crowd but has features explicitly added for storage and transport. It's a perfect little grill for camping, tailgating, and more. We'd have given it top spot in our list if it wasn't for the Weber reputation and proven build quality and durability.
Give this one some serious thought, especially if you're thinking about a one-size-fits-all grilling solution, or if you want a big grill experience on your small patio.
Cusinart CGG-180T Portable Propane Gas Grill
7
If your idea of a picnic always includes hot food, then you need a grill that's easy to transport, carry, and set up. This one is probably the easiest in this list.
In fact, for anyone for whom small size and portability are the two most important considerations in a tabletop grill, this is one that's really worth looking at.
When the legs are folded, and the locking lid latched close, it has a suitcase feel with a large carry handle, and at just 13.5 lbs, it couldn't be easier to carry.
The Cuisinart Petite Gourmet lives up to its name at only 18.6 × 17.6 × 11.8inches, with 145 square inches cooking surface area. So it's only really suited to cooking for up to 4 people.
Cuisinart says it can cook up to 8 burgers, but I feel they must be small burgers, and I would say only 4 to 6. Therefore, to cook four burgers or steaks, and maybe some ears of corn as a side is its true potential.
The burner is 5,500 BTUs, made from stainless steel, and though not powerful, it is sufficient for the job.
As a tabletop grill, the legs are wide, keep center of gravity low, and the grill stable. Usefully, the legs are telescopic, so you can increase this unit to about waist height without a table if needed.
Designed to run from small disposable gas canisters, there is also a kit available that allows it to connect to larger canisters also.
Specifications and Important Features
Build Material: stainless steel lid and box
Overall dimensions: 18.6 × 17.6 × 11.8 inches
Cooking area: 145 sq. In.
No. Of burners: 1 burner, 5,500 BTUs
Net weight: 13.5 lbs,
Fuel type: Propane (16 oz. Or 14.1 oz. Canister)
Porcelain-enamel coated cooking grate
Aluminum, telescopic legs
Gas control knob has a built-in ignition
Easy clean removable drip tray
Tabletop or freestanding configuration due to telescopic legs
3-year limited warranty on defects
Also comes in black or stainless
Pros
Tabletop grills don't get much more manageable than this! It's light, the legs fold up, and the lid locks shut.
With the large handle, you can carry it around like a briefcase and set it up in seconds.
Perfect size to grill for 1 to 4 people
Can be set on a table, or legs extended for freestanding use
Cons
It really is very small, but as long as you know you won't be cooking for the whole football team, you'll be fine.
A temperature gauge would have been helpful for the odd time you'll be cooking with the lid closed.
The telescopic legs could be higher, only extending to 29 inches, which is quite low.
Anyone who loves to tailgate, picnic, camp, etc., will fall in love with the Cuisinart CGG-180T tabletop gas grill. It's just about the most convenient grill for travel we've seen.
We think it's best suited to solo adventurers, couples, and very small families. Not recommended for backyard BBQ bashes, or crowds at a campsite, but absolutely perfect for road trips and balcony life.
Masterbuilt Propane Tabletop Grill
8
This tabletop propane gas grill from Masterbuilt has many features making it suitable for a grill on the go, to use camping, tailgating, or on standby in your RV.
Made from long-lasting stainless steel for rust-resistance and durability, with a lockable lid, folding legs, and large carry handle, it's designers certainly had the outdoors and portability in mind.
Fuelled by 1lb disposable propane gas cylinders, it has a single U-shaped, 10,000 BTU stainless steel burner heating 205 square inches of primary cooking space, sufficient to cook up to 4 steaks or 8 burgers. This is a powerful burner for such a small model and will allow you to reach very high searing temperatures.
It also has a 100 square inch warming rack. In combination with the primary grilling surface, this allows you to cook items on the main grate, while slowly warming rolls, or slowly cooking vegetables on a lower heat away from the main grate.
Unfortunately, having only one burner does mean you cannot create different heat zones on the primary cooking surface, but that's not a huge issue as long as you know this going in.
Other standout features are it's wide but foldable legs, making the center of gravity low and resulting in a very stable grill, a lid thermometer to know the temperature you are cooking at, and an easy access removable stainless steel drip tray that collects grease and drippings from your food.
The drip tray being removable, along with the whole unit being made of stainless steel, means cleaning and maintenance of this little grill is an easy task.
Specifications and Important Features
Build Material: Stainless steel
Overall dimensions: 27″ L × 17″ W × 12″ H
Cooking area: 205 sq. In. primary and 100 sq. In. Warming rack.
Fuel type: Propane gas
No. Of burners: 1x U-shaped, 10,000 BTU stainless steel burner
Weight: 21.1 lbs
Removable stainless steel drip tray
Locking lid
Folding stainless steel legs
Built-in lid thermometer
Pros
Durable and rust-resistant stainless steel build materials
Good sized primary cooking surface, and rare on tabletop grill is the addition of a secondary cooking space, a 100 sq in warming rack
Locking lid, folding legs, and large front handle make for easy transport
Cons
Single burner means no opportunity to create different heat zones on the primary grilling surface
I'm a sucker for stainless steel, I just think it looks clean, professional…and all classy, shiny and nice! Haha.
But beyond that, this is a well-built, nice sized, easy-to-use, well-featured tabletop grill from a well-known and trusted brand that will enable you to cook for a small family, that has design features made for portability.
It's certainly worthy of consideration.
Not all Tabletop Grills are Created Equal
While tabletop grills are incredibly convenient, they can't be used just anywhere. Many of them get very hot (that's kind of the point, right?), making them unsafe for use on certain surfaces.
Metal, like on a tailgate, is totally fine. Generally speaking, you're safe on most wood surfaces, like picnic tables, too, although even there it's best to put something underneath the grill, if only to catch any grease drips.
What you should never do is use a tabletop grill on a plastic table, unless the table was designed for grilling. You run the risk of melting the surface of the table, thus ruining it, plus you're releasing toxic chemicals into the air. If you're grilling on a picnic table, don't have a tablecloth underneath.
If you really don't have a good spot to use your tabletop grill, there are specially made tables you can buy just for the job. They're lightweight, easy to move around, and offer convenient workspaces. Here are three of the best we've seen:
What to Look for When You're Buying a Tabletop Grill
If you plan on shopping on your own, here are some things to look for when you're buying a tabletop grill.
Fuel Type
The most basic question you have to ask yourself is what you want your fuel source to be — charcoal or propane. Both types have pros and cons. Just ask yourself which type makes more sense for you and how you plan on using your tabletop grill.
Both require carrying fuel with you if you're going mobile, but once you use charcoal, it's gone. Propane tanks, not so much. On the other hand, if you're mostly at home and not needing to lug gear around, propane fires up more quickly.
The choice is yours, and there's no wrong answer — just make sure to pick the solution that's most right for you.
Folding Legs
While not 100% necessary, if you plan on taking your grill camping, tailgating, or picnicking, folding legs make packing a lot easier. Those few extra inches can make a big difference if you're short on space.
Even if they don't fold, make sure the legs provide sufficient clearance to keep the hot exterior of the grill away from whatever surface it's resting on.
Note: We also have a guide dedicated to the best camping grills you may want to check out.
Weight
Again, this is only a relevant factor if you mean to take your tabletop grill on the road, boat, or trail. There's no point in buying something for portability, then it be too heavy to carry comfortably. We can't tell you what's too heavy, of course. Only you know what you can comfortably carry.
If you plan on leaving it at home, also consider where you plan to use it. A 40-pound grill on a rickety old table is a very bad combination.
Carrying Handles
A good tabletop grill should have a handle — or handles — to make it easy to carry. For short moves, a pair of side handles will do. For real portability, though, we favor a top handle, either lunchbox or briefcase style.
Make sure those handles are solidly attached! Flimsy welds or tiny screws could lead to an accident.
Locking Lid
You don't want ash or other debris strewn about your vehicle or pack, so look for a lid you can lock shut during transit.
That's What Little Grills are Made of
The grills may be little, but there's a lot of information to sift through before you make a decision. What we can promise you, though, is you'll have a lot of fun with your tabletop grill! The freedom to grill when you want, and where you want is so worth the investment. Just remember to season your new grill before you first cook food on it
Don't be the only one having fun, though! Hook your friends and family up, so we can help with their search for the best tabletop grill, by sharing the link. Group outings are so much better with multiple grills.
And please feel free to send us your questions, tips, gripes, comments — whatever you've got! We're always happy to hear from our readers and will answer every comment.
Thanks for joining us today, and hopefully we'll see you again soon!
Happy grilling!