In this article, we're going to take a deep dive look into the world of the best portable charcoal grills.
We are a pack-it-and-go society. Books, toys, music, computing devices, games — it's all about packing along the things that make life fun.
And from tailgating to bypassing gnarly public grills, there are so many good things about being able to carry along your own grill that you really should consider getting a nice portable one.
Below, we're going to help you in your search for the right travel charcoal grill, to suit your specific needs and budget.
We'll consider the desired features of the most suitable models, then take a close look at the components, pros, cons, and experience of previous owners, so you can make the most informed buying decision when it comes to getting your own.
By the article's end, we expect you'll be fully outfitted to get your grill for the road.
At a Glance: The Best Portable Charcoal Grills Discussed in our Guide
Note: Clicking the above links will take you to further information, current prices, and customer reviews on Amazon and other select retailers.
Reviews of Our Portable Charcoal Grill Recommendations
After extensively looking for the best portable charcoal grill ourselves, these are in our opinion, the top 10 choices on the market as of today.
We're sure you'll find the perfect one for your needs within the mini-reviews posted below.
Weber Go Anywhere Charcoal Grill
1
Foldability comes to mind when thinking portable. Better to collapse than take apart. The Go Anywhere grill makes fold-and-go a reality, featuring plated steel legs which swivel out and up to secure the lid.
And this grill's wire legs may not seem sturdy, but they are more than sufficient. I have used this grill I would guess about 50 times since 2017, and never once had an accident with it toppling over during use.
And the legs fold up to make a nice and easily packable rectangular shape that fits in with other items in your trunk or roof box, unlike other grills that are round, spherical, and aren't so easy to pack.
Also available separately is a decent, Weber own brand carry bag that makes carrying this grill a breeze. I purchased and use this all the time.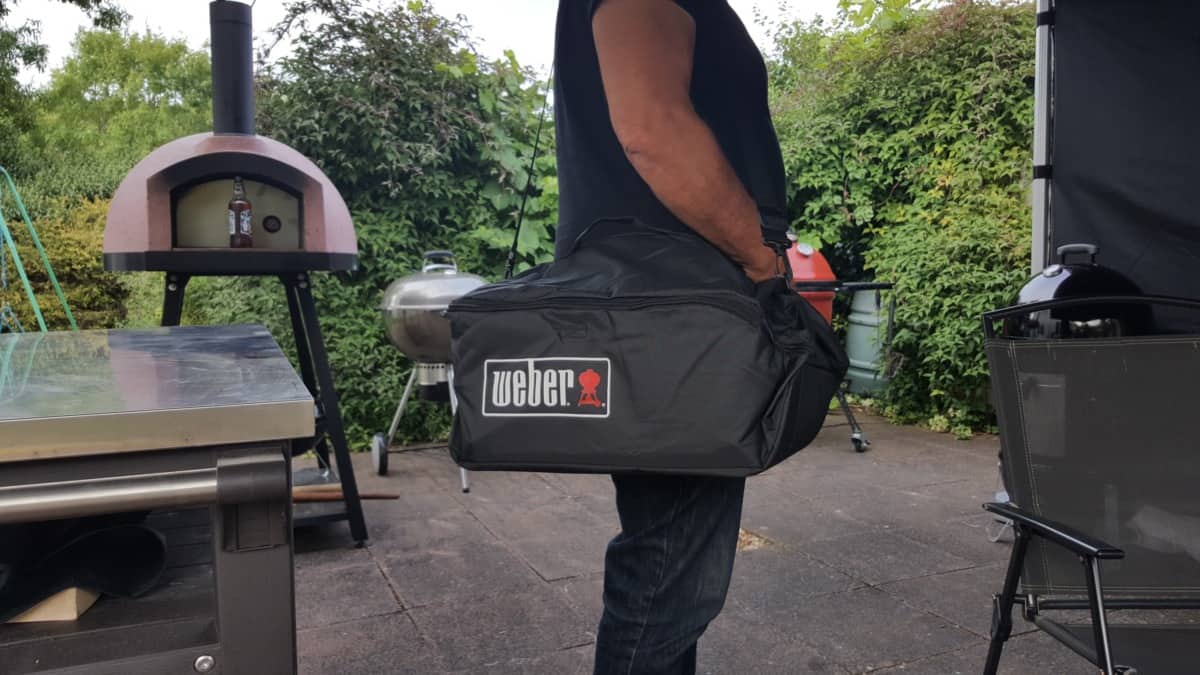 However, a glass-reinforced nylon handle on the lid provides a cool grip for transport so the bag isn't strictly necessary.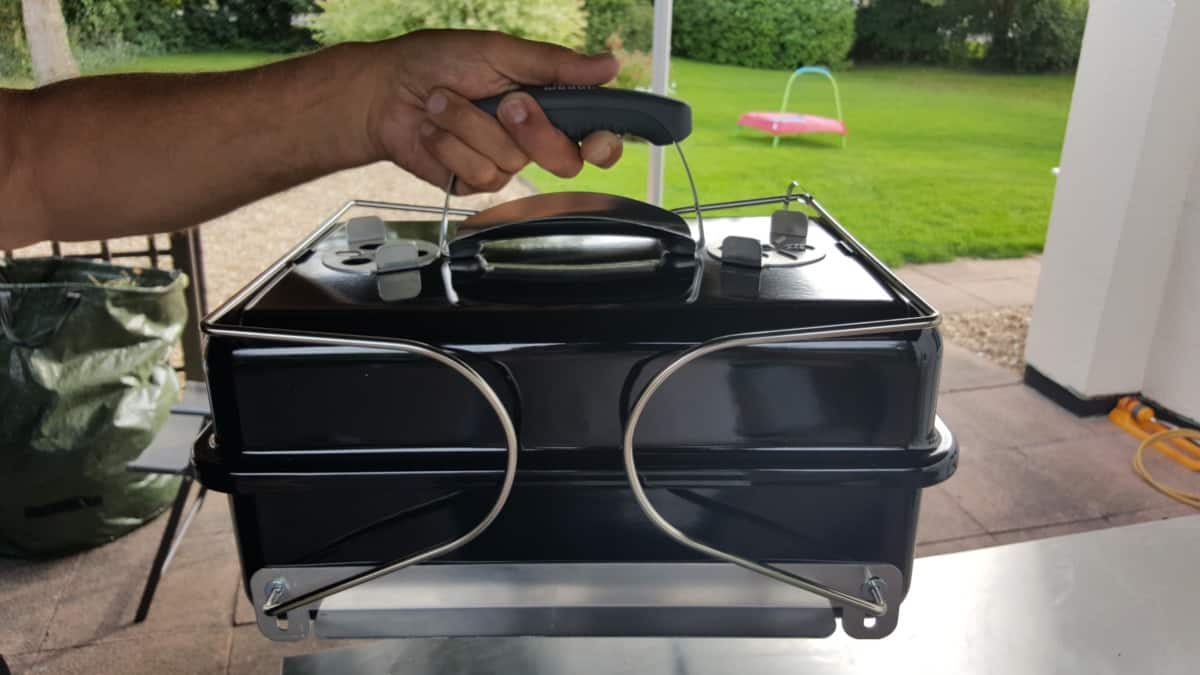 It weighs just under 15 pounds and measures 12.2 × 21 × 14.5 inches, about a breadbox's size.
The lid features two 3-hole vent dampers close enough to cut off the air completely, smothering coals, and saving them for future grilling sessions.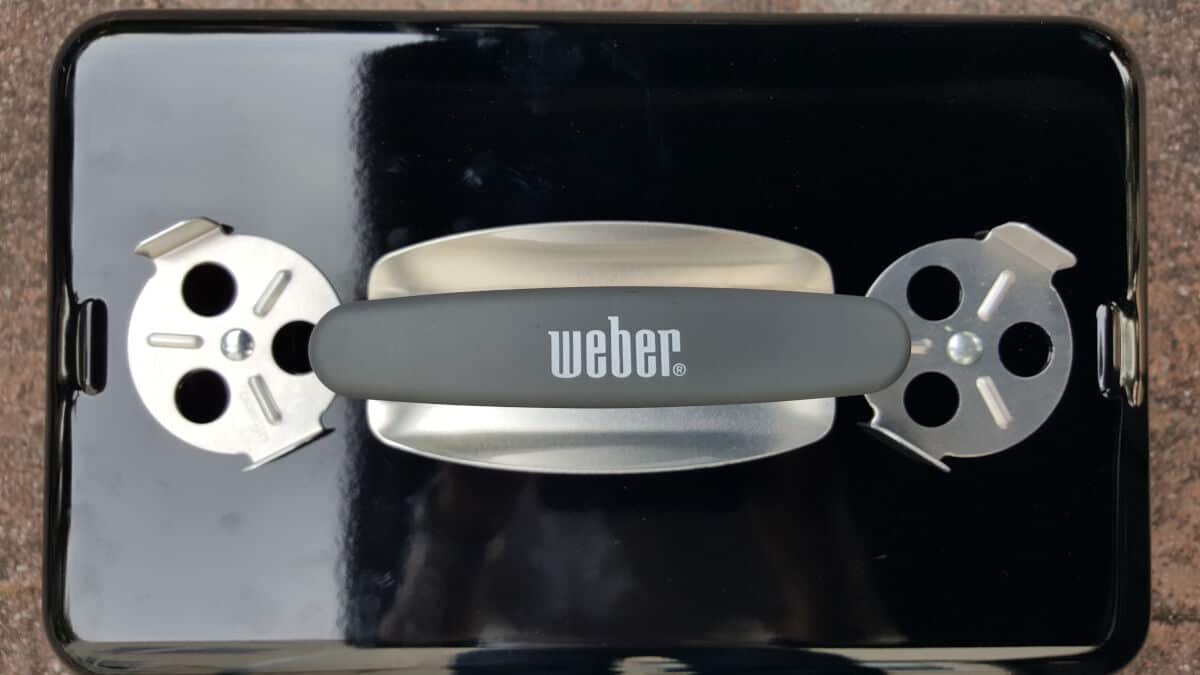 And there are lower vents on each side of the grill that you can raise and lower, giving you complete control over the temperature you wish to grill at, by restricting or raising the airflow inside the grill, or to fan or choke the flames.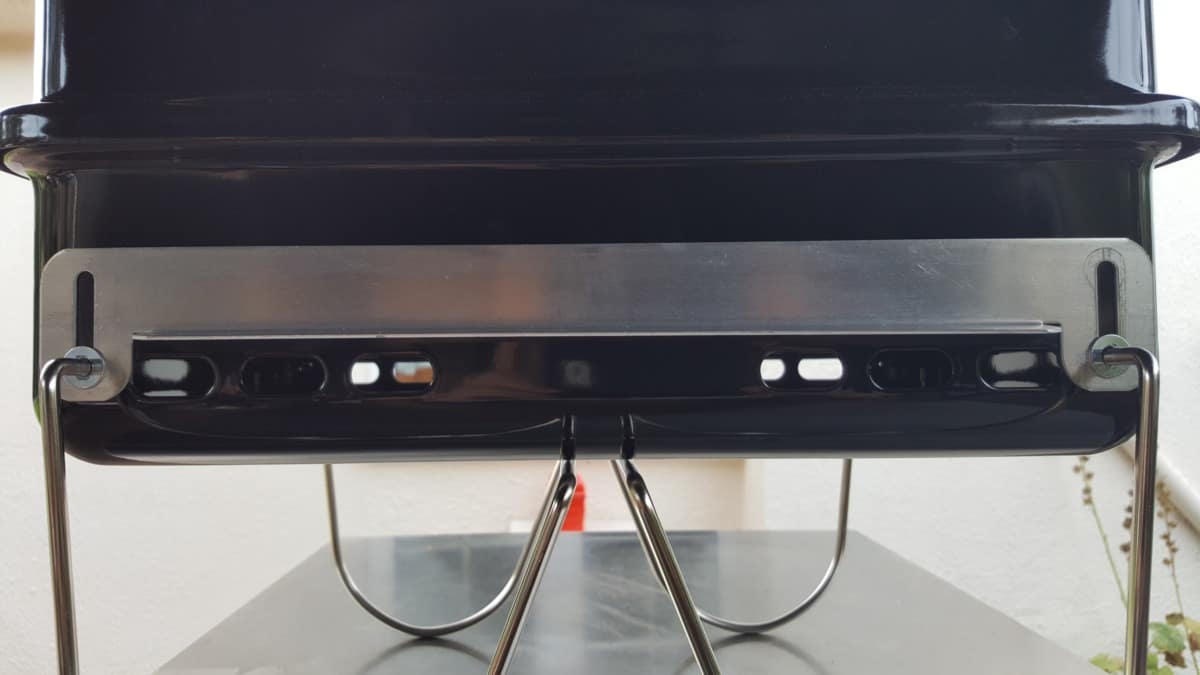 But these top upper and lower vents allow you to do more than just control your grilling heat, or snuff out the fire to save and re-use coals: They also allow you to smoke small food items, low and slow!
I successfully oak smoked two camembert cheeses for a delicious mid day meal while camping, as you can see in the image below.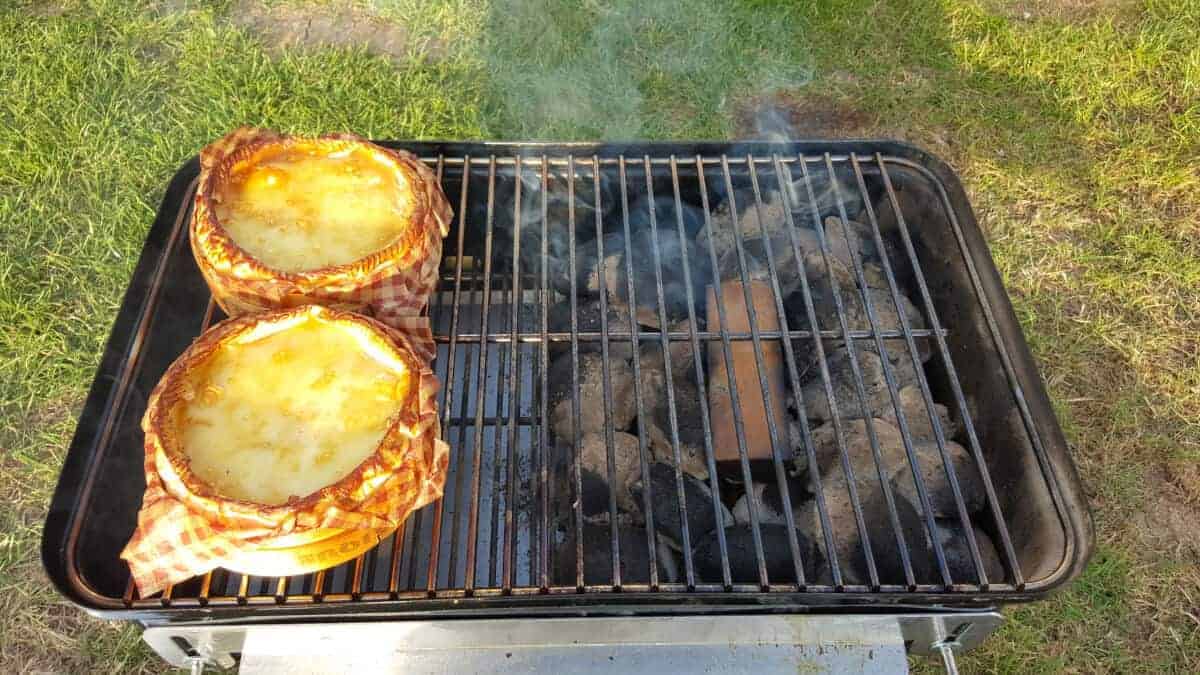 The grill is coated inside and out with porcelain enamel to protect it from rust and wear. The enamel also helps with heat management by reflecting radiating heat back to the food.
An ash pan is not included, but the unit is small and light enough to turn it over and dump the ashes out simply. Less than 3 inches separate the charcoal grate and cooking grate, making it hard to place a pan to catch drippings.
A simple remedy is to line the grill's bottom with heavy-duty foil for a quick clean-up of ash and grease.
The cooking grate is a 160-square inch plated steel grate: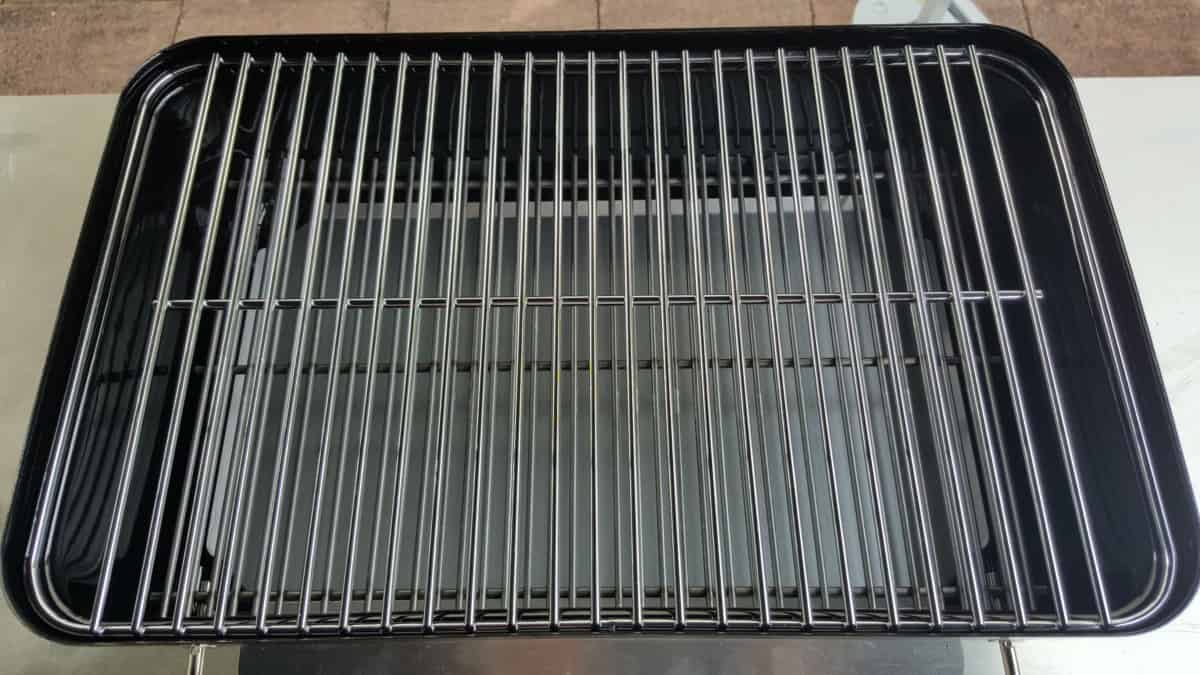 This allows cooking two large Porterhouse steaks or 6 to 8 pieces of chicken at one time.
The legs do a good job of raising this grill off the surface you are cooking on, but I would still advise against placing it on anything combustible, just to be safe, because I find the bottom does get mightily hot during use!
If I have one gripe with this grill, it's that the bottom vents get incredibly hot, and are sometimes hard to move about as they stick a little when the grill is hot. You really do need some high heat BBQ gloves to make temperature tweaks, but when wearing gloves I find they are easy enough to adjust (and you can use your tongs if short on gloves!)
Other than this though, I own this BBQ and have done since about late 2017. It is still going strong, and I still use it regularly because it's just so good.
For the price, this grill is fantastic, highly effective, easy to cook on, can grill and smoke, will last for years, is as portable as they come, and it's easily my top pick as best portable charcoal grill.
Pros
Folds compactly for easy storage and travel
Is just about large enough for true two-zone grilling
Dual upper and lower vents, plus this grills size and shape, allow you to do some small scale low and slow smoking
Can control heat very well with practice, for low and slow smoking, right up to high heat searing.
Easy to set up and use
Holds and diffuses heat well
Fantastic price!
Cons
Can get hot underneath despite the raised legs, so cannot set on combustible surfaces (i.e. plastic tables!)
Most owners are highly enthusiastic about this grill, me being one of them. If you are true portability, while being able to quickly cook a lot of food in a little space, while having the versatility to smoke on the go, this is the small portable charcoal grill for you.
For more details, please see our Weber go Anywhere charcoal grill review.
Everdure Cube Portable Charcoal Grill
2
If you love clever design AND grilled food away from home, do not skip this review. This could be one of the best picnic grills we've seen — and one of the most stylish.
It's called a "cube," but technically, it's not. It stands 9.1" tall with a 16.7" x 13.7" base, so not even close to a cube. But I suppose "rectangular cuboid" lacks marketing appeal. Oh, and let me do the math for you: the chrome wire grill rack is 115 square inches.
The Everdure Cube was designed with easy portability and convenience in mind. Made of lightweight steel and weighing under 20 pounds, it's easy to bring along for a picnic or down to the beach; no wondering whether it's worth lugging to wherever you're going.
Inside, a porcelain-enameled firebox allows for easy clean-up after a cookout. It's grilling at its most basic, with a small wire grate providing enough space for a few burgers, some hot dogs, or a couple of steaks.
The selling point for the Cube is how neatly the whole package comes together.
A shallow storage tray stacks over the top of the grilling area, suitable for food with an ice pack or for plates and cutlery, and a bamboo serving board fits on top of that, doubling as a lid. All three components latch together for toting about.
Thoughtful features include a pair of stay-cool handles for safe maneuvering and a built-in heat shield at the bottom. That means you can place your Cube anywhere you like without worrying about causing heat damage or starting a fire.
Despite the small size, users report good results, with one fellow grilling steaks on a skillet that happened to fit in the square opening.
Novice grillers enjoyed using this simple BBQ, finding it easy to grill uncomplicated food and even toast a few marshmallows casually.
A couple of drawbacks include difficulty putting out the charcoal readily without a lid to shut, and the grill bars are spaced too widely for some skinny morsels of food.
Pros
Convenient kit includes grill, storage bin, and serving tray, all latched together
Several stylish color options
Weighs just under 19 pounds
Built-in heat protection; use it anywhere
Cons
Minimal cooking surface limits how much you can cook at a time
No lid; only suited to quick grilling over high heat
It won't replace your home BBQ, and hardcore grillers may find it lacking. But, for casual bites for a couple of people or a tasty option for cold sandwiches in a picnic basket or beach bag, the Everdure Cube offers a stylish solution that's easy to enjoy.
Weber Smokey Joe Charcoal Barbecue
3
Being a Weber, durability is expected; one owner 'lamented' they 'only' had theirs for 18 years, haha. Anyhow, for peace of mind, it carries a 10-year limited warranty.
The lid has a glass-reinforced nylon handle and a single large 4-hole aluminum vent. The vent being there for temperature control, something I find simple and intuitive to use, and reminiscent of the vent you find on the larger Weber kettles.
The 14½-inch diameter triple nickel-plated grate can easily cook three steaks or six burgers at one time, so the grill space is sufficiently large to cook for multiple people.
Also known as Weber Smokey Joe Gold, the 40020 weighs 9.8 pounds and measures 9 x 15.5 x 15.5 inches. Unlike its near-twin Smokey Joe Silver, it lacks a bottom damper which doubles as an ash catcher. But on the other hand, having the dampers up on the sides eliminates the problem found in the Silver of ash clogging the dampers.
Inside and out, the grill and lid are coated with porcelain enamel to prevent rust and encourage heat distribution. Weber provides cooking tips and recipes in a 31-page owner's guide.
Personally, as noted in my Weber Smokey Joe review, I've found the models with the vent at the bottom — rather than the side — do a better job of roasting and smoking, so I would recommend buying a Gold rather than the Silver I bought.
In my own use of this grill, I have found it can be slow to light, so I recommend using the Weber mini charcoal chimney along with this grill, for fast lighting and reaching cooking temps quicker.
Pros
Easy assembly
Side and lid vents improve heat control
Heat resistant handle on the lid
Easy to clean
Cons
Truthfully couldn't find any
It was enough for most reviewers to say what a great grill this is, and they're glad to have it. That speaks volumes.
It's easy to carry, cooks well, has a removable lid, a generous cooking space, and (at time of writing) comes with a recipe book.
When you write reviews, it's easy to fall back on cliches like, "I've never seen anything like this!" However, this unique grill truly is unlike any other BBQ I know. Before we get to what sets this portable charcoal grill apart, though, let's review some of the other key features.
It's made from cast aluminum, which is very sturdy and will last a lifetime. Still, it weighs 39.5 pounds, so it's not exactly lightweight, but it's still acceptable for a portable grill.
The cooking grate measures 12×17 inches, but it's not rectangular, so it comes in at less than 200 square inches. It's a cast iron grate, so expect durability and excellent heat distribution.
You can also expect authentic two-zone cooking, despite the small size. The PKGO features four vents — two at the top and two at the bottom — so you can set your coals to one side, and with vent control get true two-zone cooking and even do some low and slow smoking.
By setting your charcoal to one side of the barbecue and forcing the air to flow in from beneath the coals and out on the opposite side through the lid, you'll create a swirl of heat in the center and excellent smoke exposure. Add a small water pan for low & slow on the go! There's even an access door for threading through a meat probe.
For traveling, use the twin latches, one to each side, to lock the lid in place for safety.
Now, here's the part where the PKGO really stands out. What would you say if I told you you could double your grilling space?
Remove the lid from the grill's body, invert it, and rest it in the included Flipkit stand. Place the second charcoal grate in the bottom of the lid and add your coals, then insert the second cast iron cooking surface at the top of the lid, and now you're ready to cook!
Just like that, you now have two hibachi-style grills.
Owners report the PK Grills PKGO is excellent for slow cooking, an area in which many portables fall short. It also did not disappoint for hot and fast grilling of steaks, burgers, and more.
One user pointed out a feature we didn't see anywhere from the manufacturer: both grates are reversible, with one side sitting about an inch higher than the other. That means you can move your food a little closer or a little further away from the heat as desired. We love this feature for finding a few extra degrees for the perfect sear.
Pros
Comes with everything needed to convert the lid to a second grill
Durable cast aluminum construction
Impressive 20-year warranty on lid and bowl
Four vents for more versatility, including two-zone grilling and smoking
PK Grills donate to No Kid Hungry, helping feed children across the US
Cons
The single handle is a bit awkward for carrying, and it's pretty heavy for a small grill
While this may not be the perfect picnic grill, given the weight, there's a lot to love about the PK Grills PKGO. It would be exceptional for extended camping trips, an RV, cottage, boat, or even a small backyard.
Grilling, smoking, slow cooking — it's tough to find a more versatile portable grill. And the option to double your grill space puts it over the top. This grill is worth every penny.
You know how there are always exceptions to the rules? The KJ13RH is the exception to the rule which says a good portable grill should be easy to carry.
But Kamado Joe rolled out their Joe Jr, especially for tailgating and other away-from-home grilling adventures, despite it weighing 75 pounds.
Since its rollout years ago, grill-to-go enthusiasts aren't daunted by the weight; Joe Jr's red is often seen at outdoor events. And it is much lighter than its 208-pound big brother, the Joe Classic; so in comparison, yes, it is portable.
It sports built-in handles on the stand which make it easy for two — or one really strong person who likes to show off — to carry. Perhaps wheels would be a nice addition though?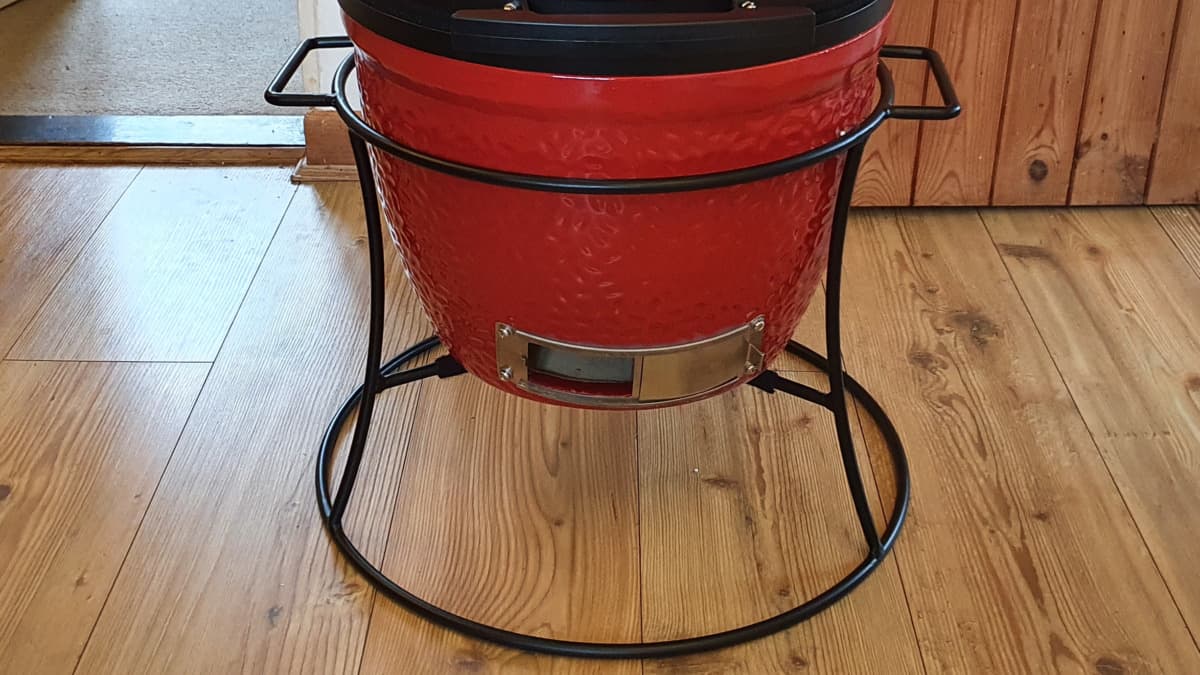 The ceramic and steel materials are solid; all ceramic parts have a lifetime warranty. Yeah, I have to say it — that's huge!
Thick walls lock in moisture and heat, enhancing flavor and making high temperatures and lots of charcoal unnecessary. The ceramic heat deflector plate makes cooking with indirect heat easy and facilitates smoking on a portable charcoal BBQ.
Junior is promoted as self-cleaning, important because an improperly stored grill can become moldy or mildewy. The 30- to 40-minute process runs the grill at 600° F with the bottom vent closed for the last half of time. Plates and grate are also cleaned of unwanted residue during this process.
Joe Jr. measures 16w x 22h x 20.75d and stands 22" high, is given a 5-inch lift by the cast iron stand which also adds four inches to the 16" width.
The cooking surface is a generous 148.5 square inches, sufficient for 7 burgers, 2 chickens, or even one pork butt!
The Joe Junior comes accessorized with an ash tool, grate gripper for removing hot grates, and a heat deflector insert for indirect heat grilling, or low and slow smoking.
Personally, I find this grill extremely versatile, being able to grill, smoke, bake, and roast, all on the same unit. It is a joy to cook on, produces wonderfully flavorful and moist food, and truly does give a full sized kamado grilling experience on a smaller grill.
Not just grilling, but smoking is easy and effective on this great little unit. The first step is to add some wood chunks into the charcoal, as seen in the image below: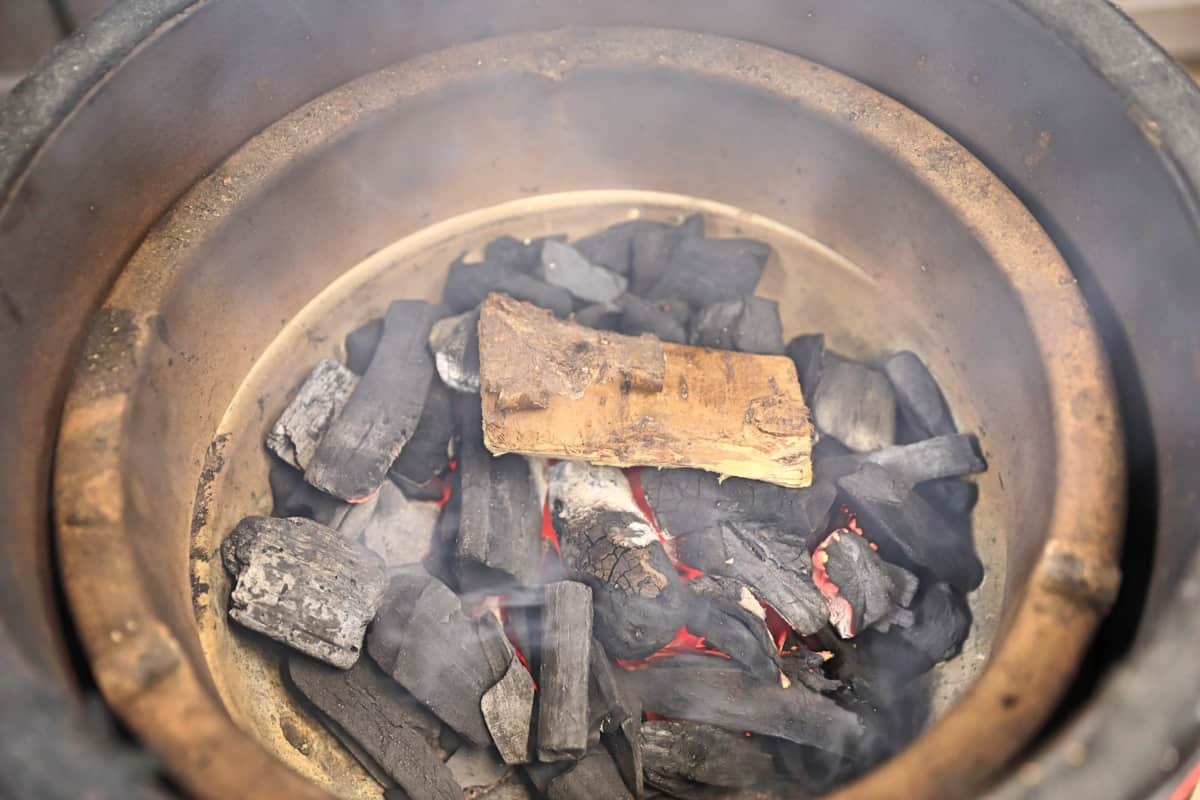 Then simply insert the supplied heat deflector, control the cooking temperature with the top and bottom vents to be anywhere between 225 and 275 °F, and load up your food to be smoked.
You can see in the image below that I was able to smoke 3.5 racks of ribs inside of a rib rack on the Joe Jr (the extra half was something I had laying around in my freezer.)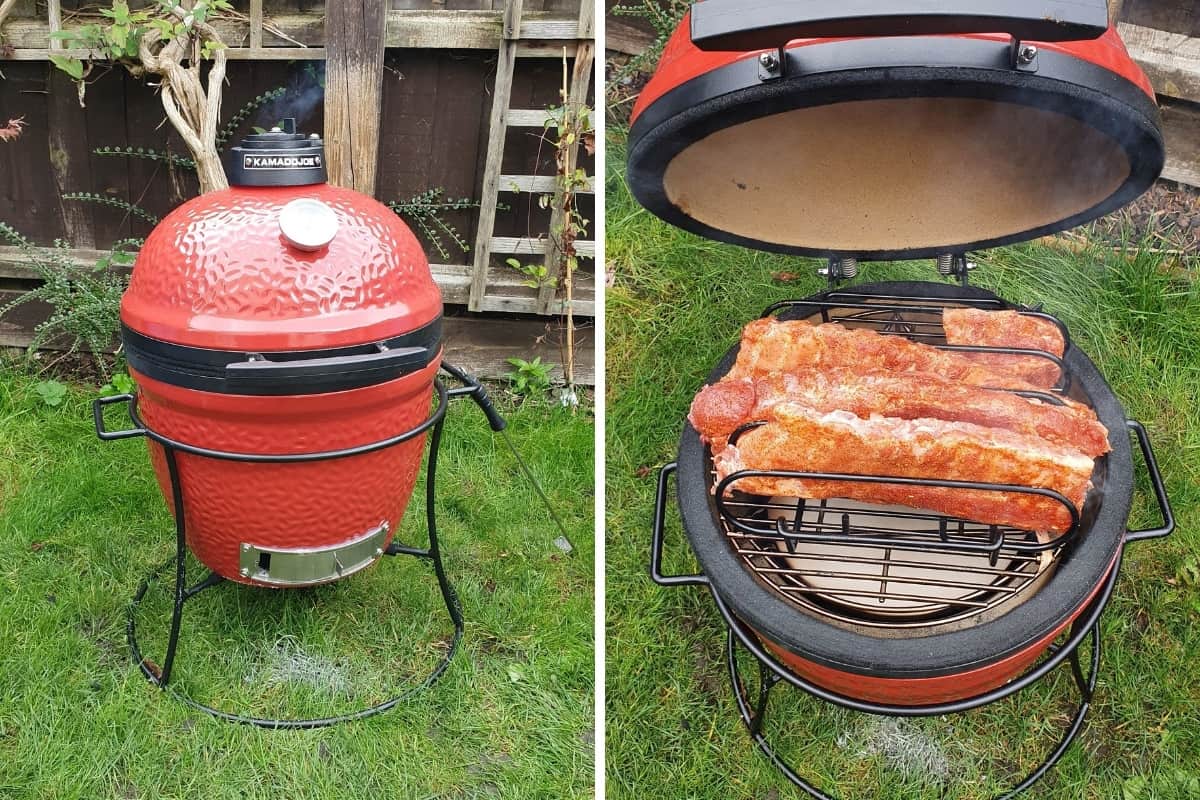 And because of the thick ceramic walls and unrivalled heat retention, I'm always surprised how little charcoal it uses for a cook. This saves money over time, when compared to almost any other portable charcoal grill.
Pros
Wide temperature range (225 – 750 °F)
Built-in thermometer
304 stainless steel hinged cooking grate will last a long time, and allows adding wood and charcoal without removing the grate and food
Incredibly versatile! It grills, smokes, sears, and bakes effectively
Deflector plate insert simplifies indirect grilling
Beautiful red ceramic finish
Cons
It's heavy for a portable.
It's not exactly cheap.
The consistent complaint of Joe Jr is its weight. Sure it's hefty. But no one goes to a tailgate party to be alone. Recruit a buddy, haul Joe Jr to the next game, and enjoy kamado style grilling on the go.
Learn more about this neat little grill in my Kamado Joe Jr review, written after a few weeks of use and getting to know it well.
Quick Grill Medium: Original Folding Charcoal BBQ Grill
6
Just how small can a barbecue be? Well, some folding charcoal grills can be compact enough to pack along on a motorcycle or kayak trip, get lost in a Jeep, and have the potential to get overlooked on a shelf full of notebooks. This is one such product.
This medium-sized Quick Grill comes in a nylon bag, folded into a compact 13.5 × 7.25 × 2.25 inches, no bigger than a notebook. Unfolding — it's too simple to call it assembling — five pieces to its 13 × 13 × 8.5 operational size takes 30 seconds or less.
Made of premium food grade stainless steel, this unit weighs 4.8 pounds, the lightest of our reviewed products.
But light and compact, in this case, is not the same as thin and cheap. It may not hold up a cast iron pan but does fine with something like a Dutch oven — which can be used to carry it to the grilling destination.
It looks more like an inverted colander, but there's functionality in this shape — the funnel-shaped design along with the reflective metal intensifies heat output.
Quick Grill's 144 square inch cooking surface can handle at one go 12 hot dogs, 4 or 5 burgers, four chicken breasts, or two big ribeye steaks. It's also handy for heating water.
User Experience
One owner was able to cook two steaks followed by six burgers without needing to add charcoal.
Many fixes have been used to address the sliding grate problem, from pocket pliers to vise-grips to metal spring paper clips.
One owner found it fun to use and greatly admired the origami-like folded quality of the grill. Another tosses it into their backpack when heading to the park.
Pros
Folds down compactly
Ridiculously light and compact
Roomy storage bag can accommodate grill tools, plates, and other necessities
Dishwasher safe
Retains heat well
Cons
Burns hot; requiring close attention when working around it
Unsecured grate easily slides when turning food
Quick Grill can stay in the car, ever ready for a road trip or impromptu grilled lunch for two.
The problematic sliding grate is easy to fix with a couple of clips. If very light and portable is what you seek, give this a closer look as it truly is a remarkably compact travel charcoal grill.
Lodge Sportsmans Pro Cast Iron Grill
7
No frills, simple pleasures can be refreshing. There are so many variables with grills, it's kind of nice to step back to the basics and simply grill or sear at high temperatures. If you don't have time or patience for smoking and just want a fast and hot grilling experience, consider the Lodge Sportsman's Pro Cast Iron Grill.
The Sportsman's Pro grill is made of solid cast iron, weighs 33.25 pounds and measures 19.3 L x 9.69 W x 7.56 H in inches. Often described as a cast iron hibachi grill, this product has a lot of fans.
The cast iron grate is as durable as they come, absorbs heat and distributes it well.
A draft door on the front serves to offer temperature control, and to provide access to the charcoal bed for stirring or adding more fuel.
Moisture combined with ash creates lye, a corrosive chemical used for several things including soap making. When lye interacts with cast iron, the result is rust. To avoid this outcome, the Sportsman's Pro needs to be cleaned and oiled after each use. Rust can form quickly, so this grill may not be suited to areas prone to a lot of wet weather.
The 19.4 by 9 inch cooking grate allows for quick and even cooking of a lot of food at once. Although pre-seasoned, Lodge recommends the use of a cooking spray anyways.
Foods can be placed right up to the edge. It can accommodate eight quarter-pound burgers or 4 to 5 strip steaks at one time. And compared to Lodges previous Sportsman model, the ample cooking space isn't interrupted by a 2-inch logo medallion in the middle anymore, which means all foods will be  able to achieve those cherished grill marks.
This model is sturdy enough to hold a cast iron pot or other cookware. It's deep enough to hold 45-60 charcoal pieces. While some may consider using so much charcoal at one time wasteful, the large supply allows extended cooking.
Lodge listened to its customers' complaints and updated the design of the previous grates with slight ridges on the front and back edges to keep hot dogs from rolling off. Side handles have been made larger with a wire handle that hooks to them, making it easier to move the unit.
The Sportman's Pro takes a good 45 minutes to get up to speed, but will then hold heat long enough for the preparation of many meals. It also makes a nice fire pit. This truly is one the best portable Hibachi-style charcoal grills, and will last a lifetime making it value for money.
User Experience
One owner happily says this is the perfect grill for achieving the authentic flavor of a yakitori restaurant (Japanese for "grilled chicken", pieces of chicken or meat and vegetables are skewered and cooked over charcoal)
To help keep heat dissipating from the grill onto the surface it stands on, one owner placed ceramic tile under each foot. Another owner puts the hot grill on paving stones to keep it from damaging the truck lining. Placing it on a metal sheet has also helped.
Pros
Manages heat well
Sturdy, durable and built to last
Fuel efficient by holding heat in its thick cast iron walls for longer than most grills
Hibachi style grilling for those who love Japanese style BBQ
Cons
Slow to heat
Body can get VERY hot
Non-adjustable grate height
No lid to suffocate charcoal or protect food from the weather
Nice basic Hibachi-style grilling is what this model offers. It's a solid weight but one that is also compact and stores well. If you're looking for simple high heat grilling, consider the Lodge Sportsman Pro.
BioLite FirePit+ Fire Pit and Charcoal Grill Combo
8
The traditional campfire has been given a modern makeover owing to BioLite's new and enhanced FirePit Plus. This portable fire pit and grill aspires to be a game-changer for outdoor life, particularly for individuals who wander beyond the confines of their own garden.
The BioLite FirePit+ can burn either wood or charcoal, and it comes equipped with a battery-powered blower fan with 51 airjets that continually fan the fire for a cleaner, less smoky burn and higher heat.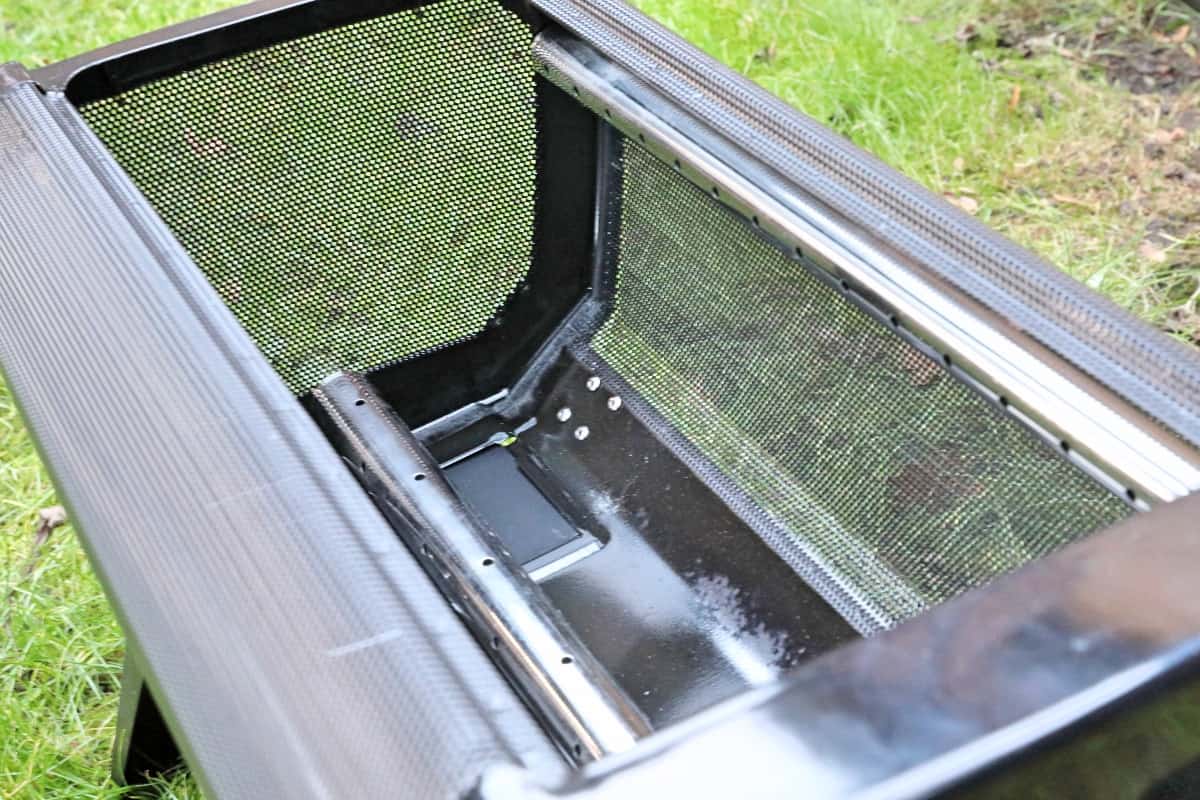 The blower also comes with Bluetooth connectivity, so you can turn the fire up and down from your smartphone.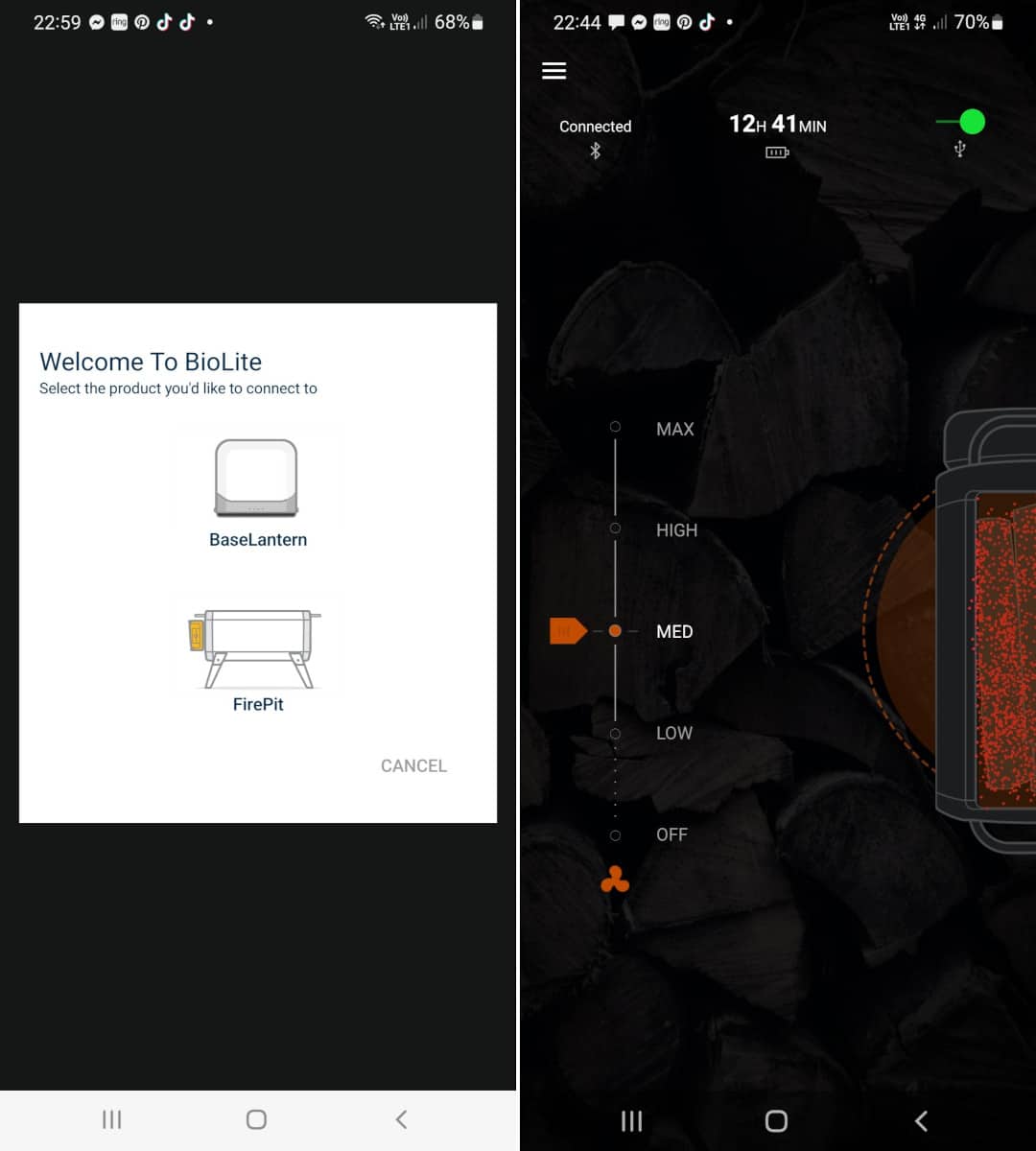 Of course, it's not just about the firepit capacity, the Biolite also doubles as a highly effective small grill.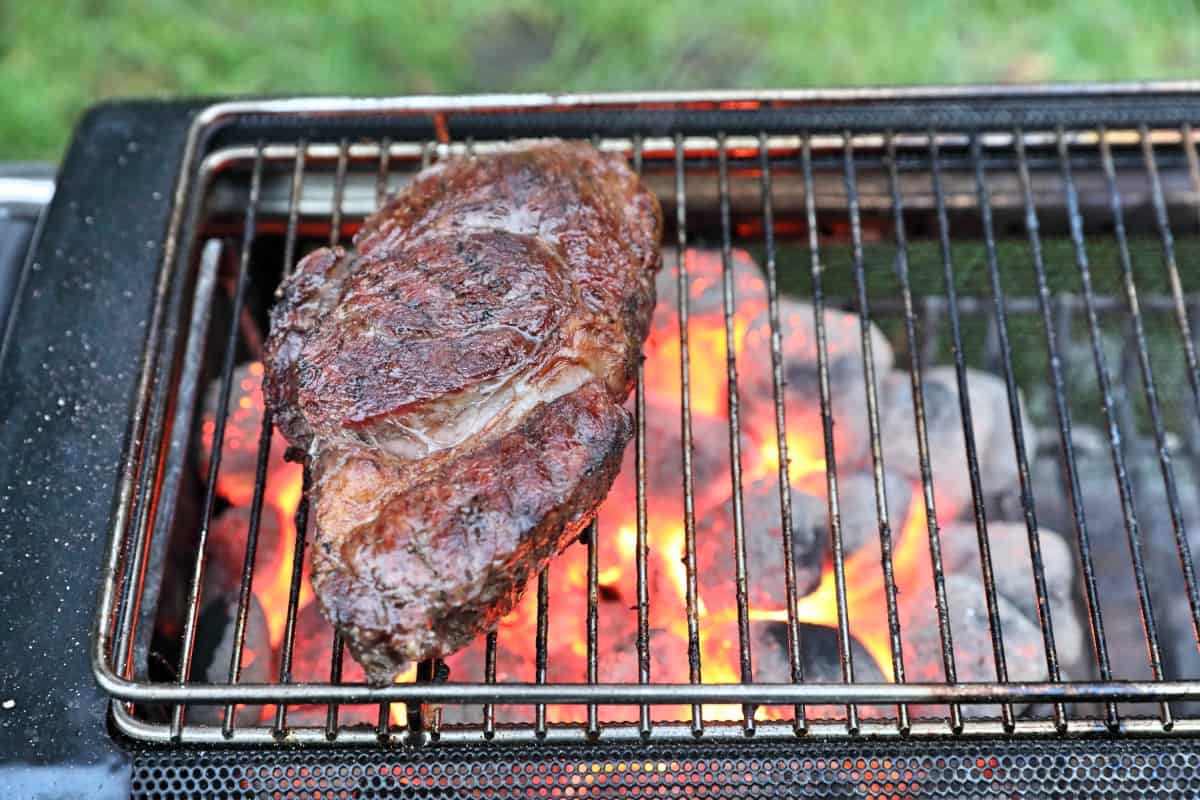 The FirePit+ is a generously sized 27 inches long, 13 inches broad, and over 16 inches tall, yet it weighs a little under 20 pounds despite its large size. It's built for living on the go, with a set of handles and four folding and locking legs that make it a convenient option for campfires and cooking on the road.
The power pack is at the core of the entire system. This combination device, which is mounted at one end of the burn chamber, has a rechargeable 12,800 mAh battery and a built-in fan.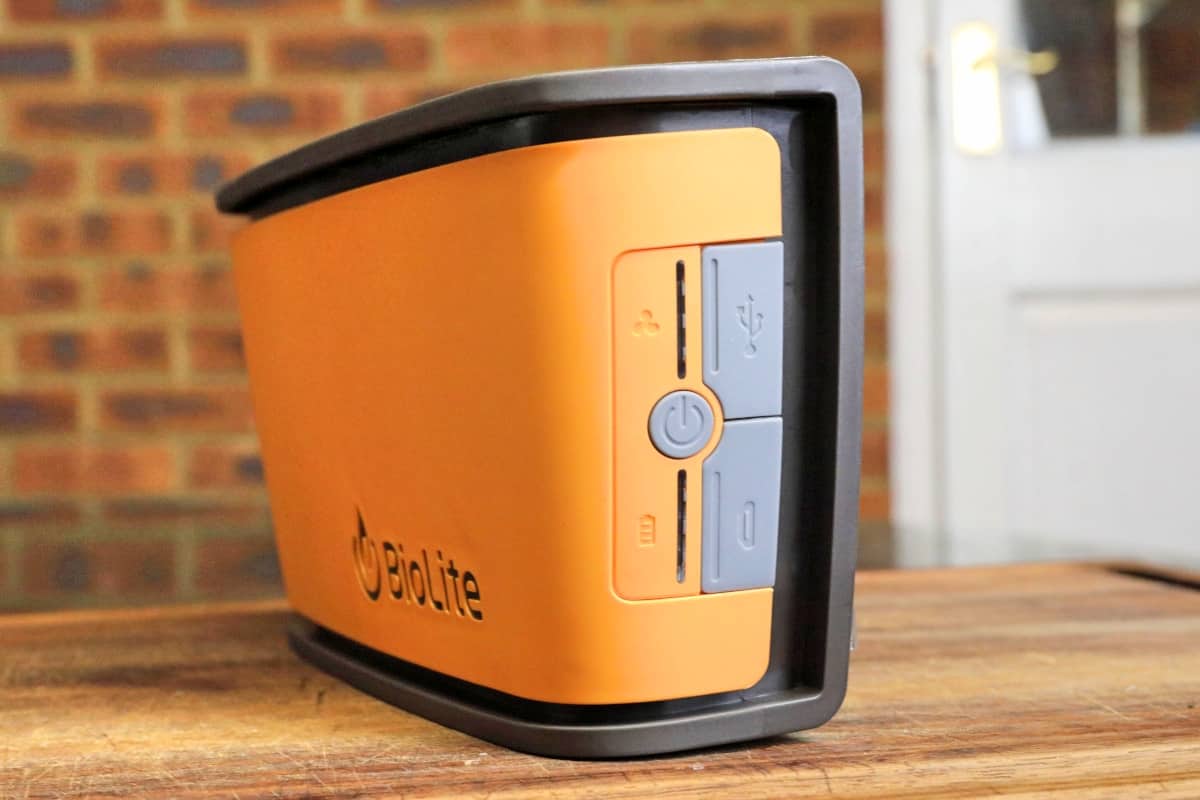 Air is pumped through tubes in the burn chamber using the fan, and 51 airjets direct it towards the flames, aiding with ignition and allowing it to burn cleanly for hours. You may choose from four different speeds, which you can set directly on the machine or via a Bluetooth-connected app on your smartphone.
The forced air from the fan and airjets helps the wood burn more efficiently, igniting small particulates that normally form smoke, resulting in almost no smoke from the fire. So no more trying to sit upwind, or coughing through clouds of smoke while warming by the fire!
Additionally, you will not end up with only partially burnt wood or charcoal, because the constant fanning keeps the flames going until all fuel is used.
In order to improve visibility of the fire from all angles, three sides of the unit are almost completely constructed of "X-Ray Mesh", allowing you to see the fire inside. Even in broad daylight, you can see right through the perforated, enamel-coated metal surface, and the mesh also allows heat to radiate out from the firepit in all directions.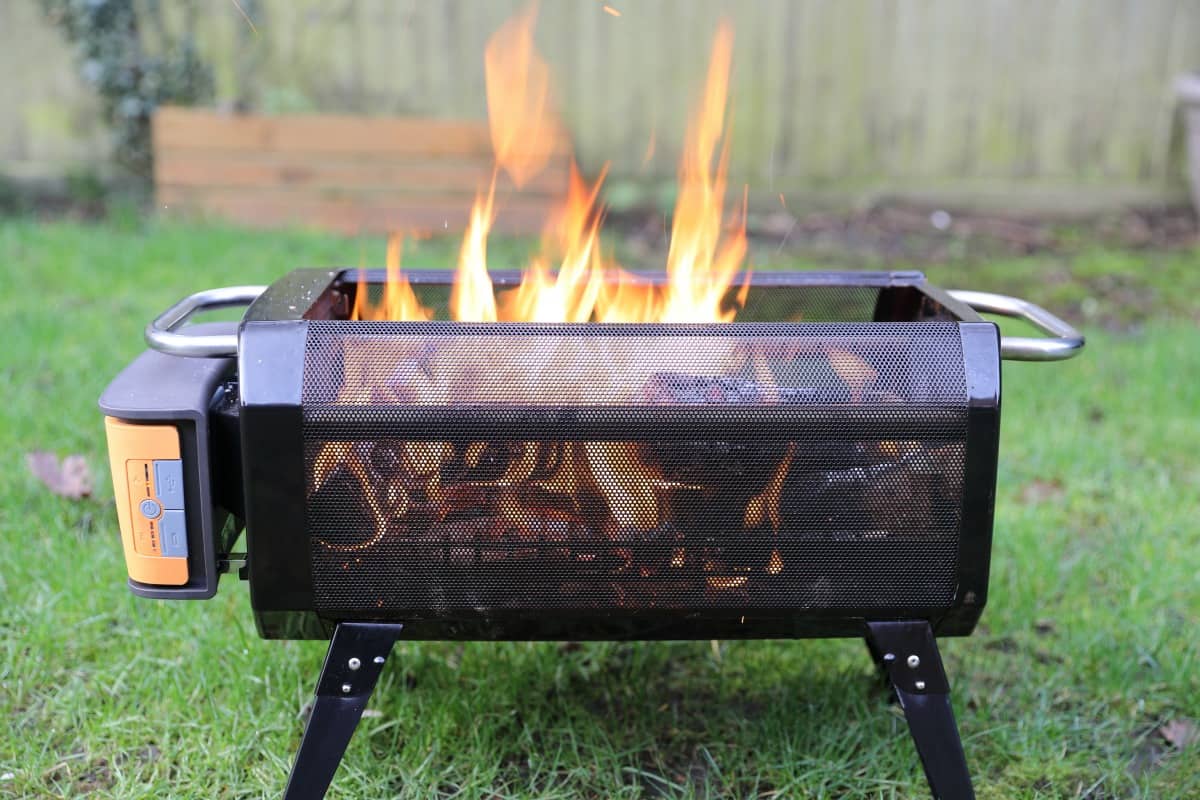 And at night, it appears as if the fire is floating in mid-air, a few inches above the surface of the earth.
BioLite provides a 304 stainless steel grilling rack with the FirePit+, allowing you to use it for grilling up delicious snacks. Simply lift the fuel grate to its highest position and load it with charcoal. Light it up — with the help of the airjets — then set the grill on top and get to cooking. They also sell an additional griddle and grill lid, designed to accommodate the FirePit+ and offer more versatility to your cooking.
Grilling on the FirePit+ is akin to hibachi grilling. The optional lid accessory does allow smoke roasting, but where this grill shines is for hot and fast grilling, and super hot searing helped with the forced air system creating incredibly high heat if desired.
BioLite also incorporated a few nice features that assist with control and versatility in grilling.
First, the fire grate can be lifted and lowered between two levels, allowing you to bring the charcoal closer or further away from your meal for a level of heat control.
Second, the cooking grate may be pushed to the side to shift food away from any flare-ups, gently toast buns, or keep previously cooked food warm away from the direct heat of the flames.
BioLite also sells a skillet and a vented lid that suit the FirePit+ for even more cooking choices, such as softly smoking food, frying small and delicate items that may fall through the grates, or breakfast eggs and pancakes.
The BioLite FirePit+ is a convenient option for campers and picnickers who wish to enjoy campfires and cooking in the great outdoors. But it can also be used in the backyard, being a perfect alternative to typical fire pits because it takes up a fraction of the space. We highly recommend this exciting and one-of-a-kind piece of outdoor equipment.
Pros
Mesh sides provide an all around view of the fire from every angle
Heat can be felt in all directions
Forced air causes an efficient burn, reducing waste and unburned wood or charcoal
The 'smoke less' feature certainly smokes less than traditional fires and is a great feature.
The cooking grate, ability to burn charcoal, different grate levels, and variable forced air make it a good grill with which you vary the cooking temperature greatly.
Being able to turn the fire and heat up or down from a smartphone app works well, and brings firepits into the modern era.
A USB charging port for your smart devices will come in handy when travelling.
Cons
The fan is quite noisy at full power, but you typically run it lower anyway once the fire is lit.
Battery powered only. It would be nice to plug into AC if you forgot to charge the battery.
Interested in learning more? You can read our in-depth, hands-on evaluation of the product here: BioLite FirePit+ hands-on review.
Meadow Creek BBQ26 Chicken Cooker
9
If you can't get enough barbecued chicken, you'll love this cooker – it's one of the few you'll see that's dedicated to the cause of grilling birds to perfection.
What makes the BBQ26 unique is the rotating "sandwich" grate. It's really two 16"x24" 304 stainless steel wire grates lashed together along one length. With the grate open, you position your chicken on the lower rack, then close the top and lock them together. That chicken is going nowhere.
The charcoal (feel free to add some wood for extra smoke flavor) is positioned well below the grate, so the food is never exposed to direct heat. While the chicken cooks, you can flip the grate over; it pivots on a center rod, kind of like a spit, but it only goes 180 degrees. You can cook your chicken evenly and perfectly by flipping back and forth.
Of course, you can cook more than just chicken. Anything you can squeeze between the grates is fair game — just remember that you're cooking over "indirect" heat, not searing over the flames. Sausages, ribs, kebabs, and vegetables would be excellent choices for the sandwich grate.
OK, but what about burgers, steaks, and stuff like that? No problem! An adjustable pan allows you to raise the charcoal just below the grate for direct-heat cooking. Hook the upper half of the sandwich grate to the lid and cook on the lower section, just like on a typical charcoal grill.
Now, this is where things get a little tricky. The Meadow Creek BBQ26 does not come with the lid as standard equipment. Nor does it come with a regular flat grate. Or the charcoal pan. These are all options, available at an extra cost. So, if you want to use it like a "normal" BBQ, you'll need to add at least two of these. We suggest buying the charcoal pan and the hinged lid.
Built in Pennsylvania by Amish craftsmen, the BBQ26 is exceptionally well-made. The steel is heavy-duty 13-gauge, and it's flawlessly welded. Expect to own this grill for a very, very long time.
Not having to flip your chicken with a spatula eliminates the tendency for the chicken to stick like a son-of-a-gun to the grate. Even a child could easily rotate the chicken thanks to the perfect balance and stay-cool handle. (A supervised child, we hope!)
We haven't come across a single negative word about the quality of results cooking on a Meadow Creek BBQ26. However, several have suggested upgrading to the BBQ26S, which includes the hinged lid, adjustable charcoal pan, and legs with 5" casters. Whichever model you go with, the chicken has been described as "mind-blowing."
Pros
Awesome for tailgating
With all the pieces, it's highly versatile.
Can cook up to 15 pounds of chicken pieces at a time
Flipping food was never easier
Very well made; thick steel and Amish craftsmanship
Cons
Requires numerous add-ons to get the full benefit
Weighs 60 pounds, making it challenging to carry without help
You need to LOVE chicken
If wings are your thing, or any other part of the chicken, the Meadow Creek BBQ 26 will exceed your expectation; this is an exceptional chicken griller. Splurge for the add-ons, and you'll want to use it for everything.
Old Smokey Charcoal Grill #22
10
If you like 'local son makes good' stories, and a bit of nostalgia is your thing (this grill remains pretty much unchanged for over 75 years!), then you're going to like this grill.
Old Smokey is made in the USA by Burkhead Manufacturing and was primarily sold in the South until the advent of Amazon and other online marketplaces.
The 22 stands for the width; there are also 18 and 14-inch models. The 22 measures 22.5 x 22.5 x 13 inches and weighs a hefty 19 pounds.
Made of aluminized steel and featuring chrome hardware, wooden handles, and aluminum grates, and legs, the OS22 can be put together with just a screwdriver in 15 minutes.
As far as looks go, it sort of looks like two washtubs clasped together with metal strips for legs. But looks aren't everything, and some may find its clunky appearance appealing.
The barrel design holds heat and smoke around food, enhancing the flavor. The tall design also means the grate sits high above the fire, reducing burn risk, and making this one of the few grills in the list on which it's possible to roast beer-can chicken and grill turkeys.
Because of its ability to hold heat and moisture, the OS22 also does well as a smoker.
User Experience
It works well for grilling and smoking using the indirect method.
Although the single grill is not adjustable, some owners bring the fire closer to the grate by stacking the charcoal high or putting a brick or two under the charcoal pan.
One owner notes that the grill's low center of gravity makes it safe and easier to use on windy days.
Another likes to prepare two meals at a time to save on charcoal use. They can cook two hams or shoulders, four Boston butts, or six chickens.
Pros
Inexpensive
Light and easy to transport
Well-designed top and bottom vents
Made from aluminized steel, which lasts a long, long time, so is great value for money
Made in the USA
Cons
Not space efficient
Temperature gauge not included
Not much on looks but delivers on the important thing — well grilled or smoked foods.
If you're looking for a grill that travels well and is easy enough to use daily, consider this classic Old Smokey.
Buying Guide — What to Look for In a Portable Charcoal Grill
Check out the video below by Weber for its Go Anywhere Grill, one of the models featured in our product roundup.
Although promoting their product, the featured points should be considered when shopping for a portable grill.
To truly be satisfied with your purchase, you know it's not enough to grab something because it's inexpensive and/or has a brand name you've heard about. Consider what will work best for your needs among the following criteria:
Size
A 300-square inch cooking surface is considered the maximum for a portable grill. This is sufficient for preparing food for up to 4 people at one time.
The grill's overall size should be considered, based on how many serving portions you'll need — A cozy twosome or a generous party of friends and family.
But also, let's not forget, we're looking at PORTABLE grills. So we don't want a huge 600 square inch cooking surface grill. That's just not portable, it's a full-size grill.
Compactness and Ease of Packing Away
Obviously, we want a portable grill to be small and compact, otherwise we'd have gone for a full sized charcoal grill (Such as the ones in our best charcoal grill guide!)
Does it fold down and is easy to pack? Does it require removing legs or handles?
Because we want to travel with it, we want it to be easy to pack up and move around. We want it to be portable. So It shouldn't require lengthy assembly / disassembly each time we use it or pack it away.
The more compact it is, the better it can travel in car trunks, canoes, backpacks or RVs. It shouldn't take up a lot of storage space.
Is it Easy to Clean?
Some feel a round design is easier to clean than a rectangular one, but the depth of the charcoal bin, the weight of the grill, and the presence of charcoal or ash drawers can also make a difference when it comes to cleaning.
Design and Features
Dampers, vents, drawers for charcoal, and trays for grease can distinguish one grill from another. Just because it's a smaller, portable grill, doesn't mean it should be void of the features you need to be able to cook decently.
Vents or dampers are a must, because only with vents allowing you to control airflow can you dial into different cooking temperatures. Without vents, you are limited to screaming hot grilling only.
Want to cook large pieces of meat or chicken slowly? Maybe do the odd bit of smoking? Then you MUST have vents or dampers.
For detailed advice on using vents and how to control temps, check out my guide on how to use a charcoal grill.
The sturdiness of legs and handles (top and sides) can also impact where it can be used and how easy it is to carry and move around.
If the legs are flimsy then it may fall over, not only ruining the food you're cooking, but can also be a potential fire hazard. Similarly, you want a sturdy carrying handle, because it's a portable grill. You don't want to drop and cause damage if you need to move it.
Durability
Solidly built but not a solid weight is ideal. A portable grill doesn't have to mean a disposable, tin-foil, weakly made and limited use one.
Generally made of cast iron or steel, the grade of material and what it takes to maintain it (cleaning, seasoning, and storage) can spell a long— or short-term relationship with your grill.
Cooking Grates
How well they stand up to weight — can it hold a Dutch oven or another cooking pan?
The material can vary from stainless steel, to plain cast iron or porcelain enameled to delicately coated aluminum.
How well the grates rest on the grill, allow the addition of charcoal, hold food, and clean up are things to consider. Another important consideration is whether they can be height adjusted, especially during the cooking process.
A Snug Fitting Lid
When cooking indirect, or even smoking on your grill, a tight-fitting lid is essential.
If the lid doesn't fit snug, then it's impossible to control airflow, and it's airflow you control with the vents to set the temperature inside the grill. So you really want a tight-fitting lid to be able to take advantage of different cooking temperatures.
Also, when not in use and being transported, having the ability to lock the lid in place is a real benefit. It makes traveling with the grill so much easier and allows you to store some items inside the cooking chamber, such as fuel, charcoal chimney, and grilling tools.
Ease of Storage
How much space will it take up when not in use? Will it fit on a shelf, in a closet, or garage cabinet?
Also, square or rectangular ones — when packed away and handles and legs are out the way — are easier to pack and travel with in roof boxes, trunks or backpacks, than round ones which do not pack quite so well with other things you need to pack (boxes, cases, etc.)
Accessories or Bonuses
Some manufacturers make available covers, tables or tools at an extra cost, but the generous ones will provide carry bags or recipe/tip books free of charge (or at least, hidden in the cost.)
Many grilling accessories, such as tools, charcoal chimney, heat-resistant BBQ gloves and more are generic and can be used with any grill. But do look for tables and covers specifically designed for the grill you're considering if you wish to have such things, as 3rd party ones aren't always as well suited.
Conclusion
Of the nine grills we've reviewed, most miss the portability test of weight. Most enthusiasts don't mind hauling a grill over 20 pounds, but there are some great choices for those who like to travel light.
And here is where your personal needs come into play.
Are you looking for something to toss in the kayak or haul on a motorcycle? Will you be cooking for a few or many? Is there limited space for storage, like an RV or small apartment? Are you looking to simply grill? Or would you like to smoke foods as well?
We like the serious folding ability of the Quick Grill — imagine storing it on the shelf next to your barbecue cookbook! Its stainless-steel body can hold up to a lot of wear, is easy to clean, and carry. It looks kind of cool, too.
There's a lot to like about Kamado Joe Jr, with its ceramic body that can deliver everything from a fast grill to a low-and-slow smoke. It takes a while to come up to cooking temperature so if you're aiming to serve at a certain time, you'll have to factor in the preheat time. And it has a generous cooking surface.
All in all, for durability, ease of use and clean-up, compactness, and spacious cooking area, while we're tempted by the brilliant green and sturdy base of the Cuisinart CCG-100, our favorite grill of this lot is the Weber Go Anywhere, and it takes spot as our pick for the best portable charcoal grill.
Now that you've had a chance to consider all things portable, hopefully you'll be ready to choose from the grills in our roundup review or use what you've learned to go exploring further.
Enjoy your' grilling on the go' experience!