The best grilling accessories can make whatever task at hand easier. Some are essential, while others are just fun to show off.
They can be found anywhere from the dollar store to high-end specialty e-stores. Cost doesn't always translate to quality, so do your research and buy what most suits you.
In this article on the best bbq and grilling accessories, we look at the must-haves, the nice-to-haves, and the I-just-want-to-have type gadgets related to outdoor cooking.
Below we list a whole range of grilling gadgets and tools, explaining how each functions, how they benefit the grilling experience and then feature a top-seller as an example in each category.
As a side note, if you ended up here looking for a gift for the pitmaster in your life, as well as the items below being good choices we also have guides to the best BBQ and grilling cookbooks, a roundup of the best BBQ gift basket ideas, and a guide to the best gifts for BBQ lovers.
OK, let's get back on track…
The Essential, Best Grilling Accessories that All Should Own
We start off this guide with the essential accessories for grilling and bbq. The tools that every pitmaster should own, because grilling without them is either impossible, dangerous, or simply harder than it needs to be.
No matter your grill or smoker of choice, whether a gas grill, charcoal grill, pellet smoker or offset, you need to have some flavor of the following tools in your arsenal.
Grilling Tools (Spatula, Tongs, Grill brush)
Food has to be turned and transferred. Grills must be cleaned of burned protein and sauce bits. For these tasks, You're going to need grill tools. Sure, you could use a large fork for the turning but only if you like risking singed fingers.
If you didn't get a set of bbq tools with your new grill, some manufacturers will offer discounts. Kits can be very basic or extended to things like corn holders and bottle openers.
There are spatulas, tongs, and grill brushes specifically designed for use on grills. These tools should be sturdier than regular kitchen utensils and provide a measure of protection from the heat of the grill.
Grill brushes are any easy way to remove baked-on crud from the grill grate. But care should be taken with these tools.
There are a number of good grill sets including the Cuisinart 'CGS-7014 13-piece bamboo tool set' by Cuisinart, a stainless steel 14-piece kit conveniently stored in an aluminum case.
Owners speak enthusiastically of the overall quality and functionality. Pieces include a spatula with a bottle opener, corn holders, fork, tongs, and a silicone basting brush.
Grilling tools are one of the foundations of grilling. More than a necessity, than a grilling accessory; the more you grill, the more use you may find for skewers and injectors. Start with the basics and then add on as needed.
Basting Brush/Sauce Mop
On the grill or in the smoker, the longer something cooks, the drier it becomes. There are two essential tools to prevent dry-out, the basting brush, and the sauce mop.
Brushes resemble thin paint brushes, only with longer handles. Silicon has become the material of preference for the business end of the brush, eliminating the problem of stray fibers typical of fibrous brushes. It's easy to clean and decontaminate and is highly heat tolerant.
A good brush allows you to add moisture after the meat forms its crust. Owners of the Heavy-duty BBQ Basting Brush by HQY love its stainless-steel frame with silicone bristles. Should the bristles fall out due to heavy-handed use, replacements are available from the manufacturer.
For large cuts of meat especially in a smoker, you'll need something to cover more ground faster. Enter the sauce mop, which is a bunch of strings attached to a long wooden handle.
The good ones have replaceable heads, and you can clean the removable mop head easily in the washing machine or dishwasher.
The handle allows an easy reach to the back of the smoker or grill without danger of burns, cutting down on the amount of time the lid has to be open. The Basting Mop with Replacement Head, 18 Inch Handle with Machine Washable Heads by GrillHogs says it's designed specifically for the pro griller. But the novice shouldn't find it too hard to use. It's a mop.
Instant Read Thermometer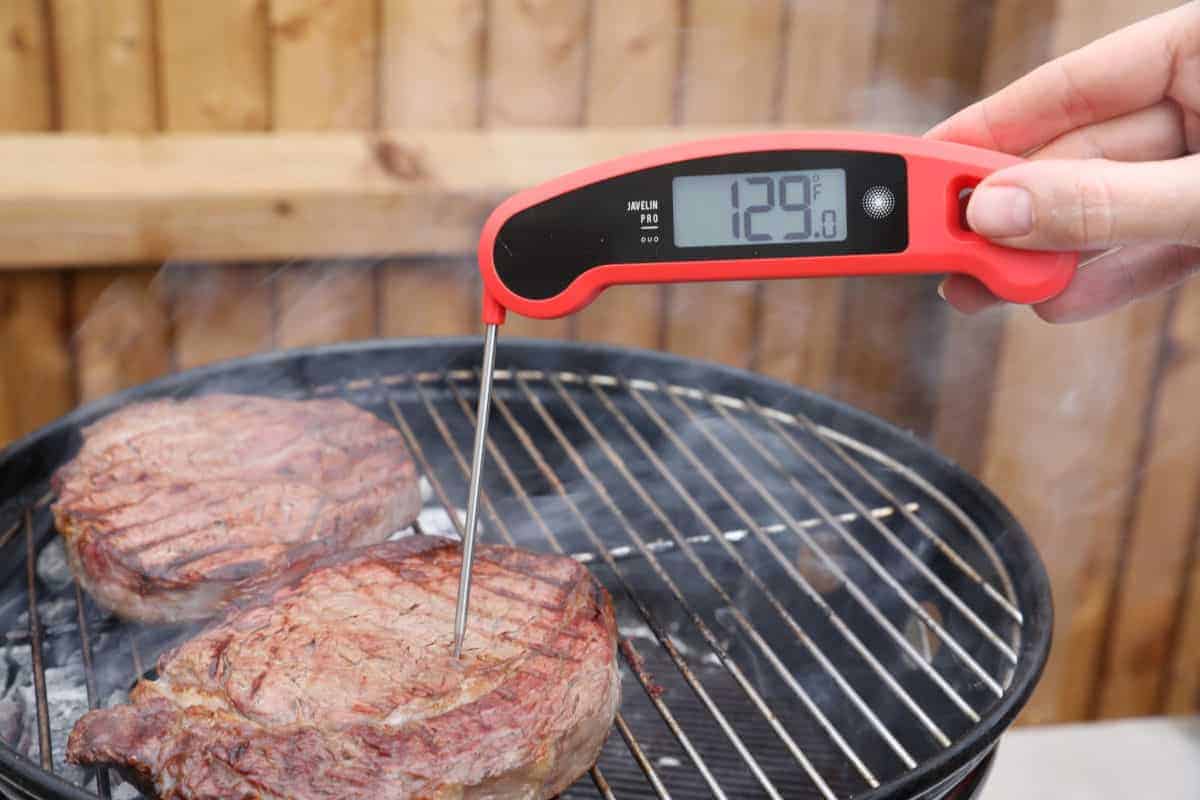 We've spoken at length on this site about the necessity of owning an instant read thermometer.
To recap, instant-read thermometers have a probe you can insert into the center of meat on your grill, and then very quickly, in 3s or less, show you the internal temperature of your meat on an easy to read digital display.
An instant read meat thermometer is an essential grill accessory, to ensure you never serve food until it's reached the safe temperature for eating as described by the USDA. They can also prevent you overcooking food by removing the guesswork.
They replace the highly subjective 'hot hand test,' or pressing for firmness, or trying to rely on timings alone, with dead-accurate temperature readings.
We choose to use the Lavatools Javelin Pro Duo range of instant-read thermometers ourselves. They have a super fast 1-3 second reading time, high accuracy to ±0.9°F, are ambi-dexterous and have a back lit display, all at a great price.
You cannot safely grill without an instant-read meat thermometer, so do your homework, get the one best suited to your needs, and enjoy safe grilling.
Natural Lighters/Firestarters
Firestarters are one of the ways for you to stop buying lighter fluid. They can be used to start a fire in the grill, fireplace, or campfire. Usually small and compact, they also travel well, and they store indefinitely if kept dry (they may make an excellent addition to an emergency supplies backpack).
One multipurpose natural lighter is Natural Sure-Fire Starters by Walden Backyards, made with a combination of cardboard, newspaper with soy ink, natural soy, and food-grade paraffin wax.
Some users report they have a piney scent, while some say they're unscented. They catch quickly, even in damp (seaside/rainy/winter) conditions, and burn at least 15 minutes – more than ample time to get the charcoal going.
For a simple, fast-acting route to a hot bed of charcoal, try a natural firestarter.
Not Absolutely Necessary But Nice-to-Have BBQ Accessories
You can successfully grill without the following items, but boy do they make the exercise easier and hence more enjoyable, so we do recommend to have them.
Charcoal Chimney Starter
How fast can you get a grill going? A lot more quickly than usual with a chimney starter! In fact, just 15-20 minutes in clock time.
They look like metal pitchers with a row of vertical holes around the bottom edge and Instead of filling with your favorite beverage, you load it with charcoal briquettes for your grill. New users of charcoal chimneys are surprised to learn that lighter-fluid flavor is not authentic grill flavor.
The shape of the chimney is designed to draw heated air up through the briquettes, causing an even burn throughout.
Our recommended chimney starter, the 7146 Weber rapidfire chimney starter is made from aluminized steel and features a cone-shaped bottom to compact the fire starting area, and a thermoplastic handle for ease of handling when the coals are burning hot.
At 7½"x 7½" x 12", it can hold enough charcoal to run a 22-inch kettle grill. Besides its large capacity, owners like the secondary handle which steadies the unit when emptying out the briquettes, the speed at which the briquettes go grey, and the total absence of lighter fluid.
While the instructions keep things simple with a match applied to (news)paper, some users get creative and set their chimney over a propane burner for 30 seconds. The result is the same, very hot briquettes in a fraction of the time when compared to laying them out on the grill and fussing with lighter fluid. However, our preferred method of lighting is one to two natural firelighters.
If you're ready to get your grill on without the flavor of chemicals, follow the lead of competition winners and get your grill going with a charcoal chimney.
Heat-Resistant Gloves
There are times you need to handle your food in a more direct way than with a pair of tongs, a fork, or a spatula, times when you need some special purpose grilling gloves.
Heat-resistant grill gloves can be used to remove roasts from smokers or kebabs from grills. They can be made of heavy-duty suede with a cotton lining or silicone which prevents the burn-through common with cloth oven mitts. The silicone is also thinner, which allows a better 'feel' for your hands, and better grip on the food.
You can also use such gloves with item from the oven, for handling cast iron skillets, or on the grill or smoker.
One favorite is the Grill Heat Aid heat resistant BBQ gloves. Owners love its one-size-fits-all comfort, secure grip, and flexibility.
Safety considerations must be made in advance when working around high heat. A good pair of heat resistant grill gloves is one of the best bbq accessories you will ever buy, and will protect one of your most critical tools for grilling – your hands. And that pricey roast is less likely to end up getting dropped and rolling along the patio into the grass.
Kebab Skewers
No products found.
Next to throwing meat on a fire, threading a few pieces on a stick to hold over a fire is one of the most fundamentally basic cooking methods, making kebab skewers one of the most popular grill accessories.
Skewered kebabs (roast meats) go back to ancient times, with mutton or lamb being the most common meat of choice at that time.
Nowadays, a kebab can be made up of any combination of various meats, vegetables, seafood, or fish.
Traditionally-made wooden skewers are still available but so are stainless steel skewers with or without wood handles. Skewer length can range from a 7-inch appetizer size to 14-inch meal-on-a-stick size. Choose according to what you plan to grill.
The skewers can be flat-bladed (looking remarkably like stilettos) or thin rods. The latter can give kebabs a bad name, causing some but not all of the food to turn while other pieces resist, resulting in an uneven grilling. It's one reason we like the long and flat Blue Donuts 24 Pack Kabob Skewers for Grilling and BBQ..
Made of stainless steel, this set of 24 12-inch skewers keep foods from spinning when being turned.
Smaller morsels of meat naturally cook faster, and kebabs are a great way to get meat and veg cooked and onto serving plates much sooner than cooking them separately. You could almost do without a plate. But that might look a little too uncouth.
Some things are timeless. There's no end to what combinations can be grilled or smoked on a skewer. Get a set or two and see how creative you can be!
Fish/Vegetable Grilling Basket
Spaces in a grate make it difficult to keep small foods from falling through to the coals, and sometimes skewered food is a pain to hold together.
Grill mats are one option for creating a larger cooking space but lack edges to keep foods from rolling off the grill.
A good grill basket is the perfect solution, making it easier to get small items on and off the grate with the minimum of trouble, and they can even make skewers unnecessary.
Some models like the stainless-steel grilling basket by AIGMM lock in the food.
The entire thing can be lifted and turned by a heat-resistant handle. Owners of these models appreciate how more of the food is exposed to the fire, imparting more of the flavor of the grill.
Other models are merely rectangular or square trays with straight or angled sides. If you've ever wondered if it's possible to do stir-fry on the grill, you can with the Stainless Steel Vegetable Grill Basket by Grillux. This model has pencil-eraser sized holes which allow in the heat and smoke while keeping all your meats and vegs in.
Baskets are excellent tools for those who like a little veg with their 'cue. They are versatile enough to accommodate a range of foods and cooking techniques. If you want to explore more cooking methods on the grill, get a grill basket. They truly are one of the best grilling accessories available if you wish to cook small items on your grill.
Meat Shredding Claws
When you need to lift a heavy roast or shred some pork, one grilling tool can do both exceptionally well, and better than any other: Meat Claws.
The claws are a little less than 2 inches and are sharp enough to require some thoughtful storage. These being a newer model, they are made of sturdy BPA-free nylon which washes up well in the sink or dishwasher, and are available as a set with either a smoke box, grill set, thermometer etc.
The claws aren't just for shredding, they can be used to lift heavy birds and cuts of meat. One owner even used theirs to hold a watermelon steady for slicing!
There are several uses to which these claws can be applied; they're ergonomically friendly, and the hand grip accommodates most hands. If you're a pulled pork-maestro, this is a necessary tool to have in your grill/smoke kit.
Rib Rack
Space-conscious grillers know a rib rack is an excellent tool for maximizing space. Four racks of ribs can take up the lion's share of grate space, lying flat. The rack cuts the space-hogging down by about two-thirds. Visually it's a meat-eater's delight, seeing several rib rows stacked alongside chicken or chops.
Typically made of stainless steel or other metal, but there are racks like the Nonstick Rib Rack by Sorbus which is made of porcelain coated steel. They are dishwasher safe, are long-lived, and have handles for carrying.
The 11" x 10" x 3" Sorbus model holds four racks at a time and can be used in a variety of grill models or the oven for low-n-slow smoking or grilling. You will have to halve large racks of ribs, while short racks may fall through the rack, so you'll have to consider the gap between the racks when sizing your favorite ribs.
One user found their fried veal cutlets stayed crisper when put in the Sorbus to keep warm. Others find it works well with chicken and other meats, providing a little bark even in the oven.
If you're fond of ribs off the grill or out of the smoker, you'll want a rib rack. Buy more than one and take many pictures of your rib army lined up in formation on your favorite grill.
Remote Digital Thermometer
While an instant-read thermometer works great for measuring the internal temperature of meat while you're standing at the grill, the lid must be up, you have to be there physically, and you must also check regularly, to know when your food is done.
Rather than having to open your grill or smoker to check temps continually, a convenient way to monitor is with a digital thermometer – one that works remotely – meaning you can stay in your comfy seat entertaining guests and occasionally check on your grill.
A set includes two devices, the thermometer, which has probes attached for inserting into the food and monitoring your grill temp, plus a remote receiver, which displays the temperatures of your food and grill while in range of the wireless.
Our chosen model, the TP20 Wireless Remote Digital Meat Thermometer with Dual Probe by ThermoPro lets you set a timer according to the desired level of doneness and provides a countdown clock.
The two probes can be used together or separately and measure temperatures ranging from 32°F to 572°F. It also features an alarm if the temperature falls below or rises above a temperature set by you.
If you're tired of guessing and running back and forth to the grill, get a remote digital thermometer. You'll never serve under- or overcooked food again.
Products for When You Really Just Want to Show Off
Looftlighter
When you work hard to create something, naturally you'll want to put your name on it.
According to its Facebook page, the Looftlighter came into existence when one grilling aficionado, theater director Richard Looft, had had enough of lighter fluid-seasoned chicken. He developed a forced hot air tool which rapidly (read 30 seconds) ignites charcoal without the need for charcoal chimneys or a chemical accelerant.
The airstream delivers heat at a whopping 1,265°F, which translates to a steady, hot fire within seconds.
Enclosed in a safety casing, the unit – which looks like a short lightsaber on a cord or a curling iron – cools down quickly after use. It comes with a 10' cord which plugs into a standard 110-230 Volt outlet and a stand which has a bottle opener on one end.
The Looftlighter can be used in fireplaces or anywhere you need to start a fire. It can be used to rekindle coals; never again risk a flame-up from dousing coals with lighter fluid.
It is a favorite of grill enthusiasts, especially Green Egg, Kamado Joe and other ceramic owners. In fact, it should top the list of grill accessories for any charcoal fuelled grill owner.
The only caveat is from an owner who warns about sparks flying up from the charcoal – something to be watchful of in arid environments.
A great many feel it's a must-have; their greatest regret is in not buying one sooner. For a more detailed look at this handy tool, you can check out my looftlighter review. Or for more info and current prices, please click here:
Click Here to Learn More at BBQGuys.com
Burger Press
If you like to make your own burgers, but still want them to be neat and even like the frozen boxed stuff, you're going to need a burger press.
These range from a simple 2-piece set to a hinged plate with a serious handle.
Create plain or stuffed burgers in seconds – as fast as you can scoop, drop, and press. This is a huge time-saver whether preparing for a large event or making meals ahead for the freezer.
You can adjust many presses to different thicknesses, and some can adjust from full-size burger to bite-sized slider.
Burger-sized wax paper made to keep patties from sticking and mushing together are sold with the press but you can also purchase these separately.
We like the 3-in-1 Stuffed Burger Press Kit by PBKay. It's solid, non-stick finish churns out burgers quickly and efficiently. And we like its lifetime guarantee.
Presses come in various weights, depending on the material used – metal, heavy plastic, or nonstick. Some plastic models tout their BPA-free status but are silent on BPB or BPC content– never mind.
The unhinged sets are dishwasher safe; contrary to what the manufacturer says, some owners of hinged sets say they don't have to take them apart to clean, but this sounds like a good shortcut to food poisoning, so follow the recommendations when cleaning!
Of course, some can slap out 2 or 3 neat patties by hand in the time it takes to load, press, and release one patty from a press. But unless you're a super-handed person, you might like to try a burger press.
Cedar Grilling Planks
Liquid smoke and wood chips aren't the only way to get great smoky flavor on the grill or even in the oven. An ancient technique modernized, cuts of wood become the cooking surface. Traditionally cedar, but oak, hickory, cherry and other woods can also be used. It works well with fish, chicken, and vegetables but you can also cook meats this way.
The idea is to scorch the bottom of a well-soaked piece of wood and allow the resulting smoke to flow up and around whatever is on the plank.
Plank grilling works best as an indirect cooking method; too much heat and your plank and food are likely to go up in the wrong kind of smoke.
The standard 7"x13" rectangle is large enough to accommodate a filet of salmon. Other sizes and shapes are available to match the food being prepared.
They can be used on gas or charcoal grills, or even in the oven.
Purchased in multi-packs, like the Grilling Planks by Western Cedar, you can reuse them multiple times. How many times depending largely upon the amount of heat to which they're subjected and how charred they become.
Try out a plank and see if you get the deep, woodsy flavor without the extra sodium or calories of seasoning about which so many rave. It could become your new favorite way to grill.
Himalayan Salt Block
Another alternative to cooking on metal surfaces is a salt block cut from the pristine Himalayas.
A salt block imparts crispness and a tastier saltiness to food that cooks upon it when compared to grates, flat top griddles, soapstone or any other surface.
A lot has been said about the health benefits of Himalayan salt in its various forms, from granules to lamps to slabs for the feet (whole body detox).
We haven't seen anything to suggest that any of the 84 minerals transfer during cooking to the food, but neither can we say they don't. At any rate, the slab makes a great presentation piece on the table.
Because it is a natural product, the color can range from light tan to rose or even orange, almost always with interesting striations running throughout it.
Some, such as our recommended 8 x 12" CC7167 Himalayan Salt Plate & Holder Set by Charcoal Companion, come with a coated steel frame for easy transport, and a recipe book.
The slab is reusable, though in time it will simply melt away. Then you start over.
Grillbot
If you enjoy having a little robot vacuum your floor, you just might love one to clean your grill grates. If a little machine can relieve you of one of grilling's least favorite aspects, would you go for it?
The Grillbot weighs nearly 6 pounds and measures 13.5 x 5.5 x 11.5 inches. Pressing the start button sets stainless steel brushes to methodically work their way across the grate, scrubbing as it goes.
It's available in four colors – black, red, blue, and orange – and is powered by a rechargeable lithium battery. Replacement brushes and a storage case can be purchased separately or as part of a kit.
A 2014 Consumer Reports review wasn't too keen on it; unless there have been some upgrades since then, it probably still sounds like a deranged squirrel is crashing about under the closed lid of your grill. It's designed to work under a closed lid; otherwise, there's nothing to keep it from going off the edge.
If you're undeterred, You can use Grillbot on any type of grill which can be stone cold or as warm as 250° degrees.
Consumer reports liked the cleaning job but felt it was comparable to a manual bbq grill brush powered by elbow grease. If you'd rather save yours for something else, invest in a Grillbot.
Owners of the Grillbot seem to be divided between adoration and exasperation; perhaps you'll join the happy-I-bought-it crowd? It does look pretty cool!
What are Your Favorite Tools?
What are your recommendations for the best grilling accessories, tools and gadgets?
Are there things you find essential, or perhaps just so darn helpful that everybody should have one to make their lives easier? Or maybe you know of a gadget that is just so desirable – even if not really needed – that it just blows your mind and you had to have it?
Please let us know of any such tools in the comments below, and the best ones we shall add to the article!