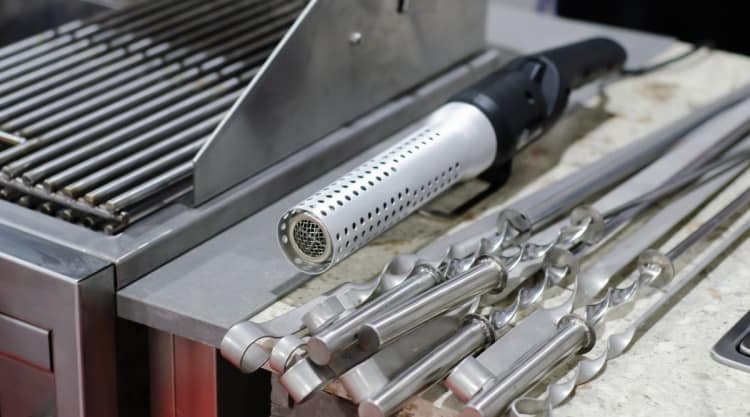 The best grilling accessories can make whatever task at hand easier. Some are essential, while others are just fun to show off.
They can be found anywhere from the dollar store to high-end specialty e-stores. Cost doesn't always translate to quality, so do your research and buy what most suits you.
In this article on the best BBQ and grilling accessories, we look at the must-haves, the nice-to-haves, and the I-just-want-to-have type gadgets related to outdoor cooking.
Below we list a whole range of grilling gadgets and tools, explaining how each functions, how they benefit the grilling and smoking experience, and then feature a top-seller as an example in each category.
As a side note, if you ended up here looking for a gift for the pitmaster in your life, as well as the items below being good choices we also have guides to the best BBQ and grilling cookbooks, a roundup of the best BBQ gift basket ideas, and a guide to the best gifts for BBQ lovers.
OK, let's get back on track…
The Essential, Best Grilling Accessories that All Should Own
We start off this guide with the essential accessories for grilling and BBQ. The tools that every pitmaster should own, because grilling without them is either impossible, dangerous, or simply harder than it needs to be.
No matter your grill or smoker of choice, whether a gas grill, charcoal grill, pellet smoker or offset, you need to have some flavor of the following tools in your arsenal.
Not Absolutely Necessary But Nice-to-Have BBQ Accessories
You can successfully grill without the following items, but boy do they make the exercise easier and hence more enjoyable, so we do recommend having them.
Products for When You Really Just Want to Show Off
What are Your Favorite Tools?
What are your recommendations for the best grilling accessories, tools and gadgets?
Are there things you find essential, or perhaps just so darn helpful that everybody should have one to make their lives easier? Or maybe you know of a gadget that is just so desirable — even if not really needed — that it just blows your mind, and you had to have it?
Please let us know of any such tools in the comments below, and the best ones we shall add to the article!