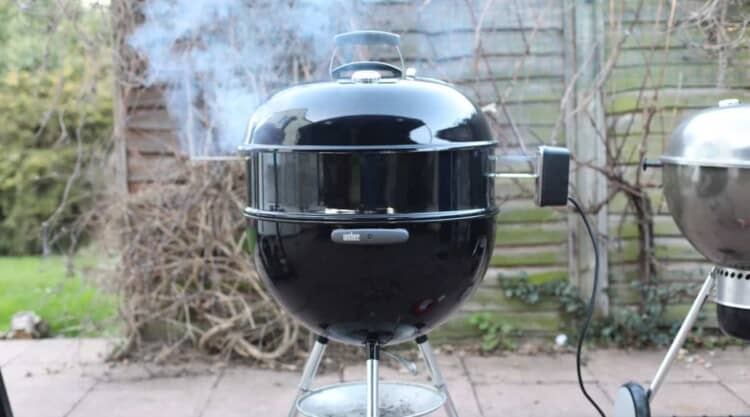 In this Weber Original kettle grill review, we look at the roots of home barbecue, and if they are worth getting back to?
For the 21st century griller, there is a dizzying array of barbecues available. Natural gas BBQs, propane grills, charcoal, pellet, and kamado grills — and the list goes on. Where do you even begin?
Well, how about at the beginning with the first mainstream commercial BBQ brought into the world?
The classic kettle-style charcoal grill is the granddaddy of backyard barbecues. In fact, you might be tempted to break out a nice pair of loafers and light up a pipe standing in front of one.
But, if we ignore all the romance and nostalgia, is it worth owning one, or is a more "modern" barbecue a better choice?
That's just one of the questions I'll answer in this review of the OG of Weber grills.
Overview of the Weber Original Kettle 22 Inch Charcoal Grill
One look at this grill, and you know you're dealing with a classic. This is a straight-up charcoal grill that would be right at home in a Norman Rockwell painting.
As with all charcoal grills, your briquettes or lumps rest near the bottom of the bowl on a grate that keeps them off the base of the pit to allow airflow.
Up higher, food cooks on the food grate, and you top it all off with the dome-shaped lid to trap the heat and smoke.
Temperature is controlled with vents at the bottom of the bowl, and one up top on the lid.
The Original Kettle is a practical barbecue for straight-up grilling — searing and finishing steaks, chops, fish, veggies, and more. Plus, its generous size and ample room under the lid make it easy to roast large items over a longer period.
Although it's not a purpose-built smoker, it is certainly possible to do some smoking on your charcoal grill with the help of the charcoal snake method and some good temp control via the vents.
It's a fairly large grill with lots of primary cooking space. Grilling for a large family or a crowd of guests is no problem. We love this grill, and it always appears highly in our roundup of the best charcoal grills available.
Summary of Pros and Cons
Pros
Can grill, sear smoke, and roast once you truly learn this grill
Classic design and shape that is proven to cook well, and is loved by all
Quality materials and construction
Ample grate space to cook large meals or for many people
Easy cleaning due to the ash removal system and ash catcher
Lid hook is good for keeping the hot lid off the floor
Budget-friendly
Cons
Thermometer placement could be better thought out and on the side of the vent
The wheels are small and not high quality
A small shelf between the legs would be useful
What's in the Box?
Owner's manual and assembly guide
Lid
Bowl
Cooking grate
Charcoal grate
Nylon lid handle
Nylon bowl handle
Ash catcher
Ash cleanout mechanism
One leg
Lower shelf
2 wheels and assembly
Hardware
Features and Manufacturer's Specifications
The Weber 22-Inch Original Kettle charcoal grill is, as the name explains, a charcoal-fired grill. It's a basic grill, as most charcoal barbecues are — no side burners, shelves, infrared, glowing temperature knobs, etc. It's just you, the charcoal, and the food.
Up top, you'll find a single vent offset from the center of the lid to help you control the out-flow of smoke. Right at the peak of the dome is a nylon handle with a heat shield to keep you from burning yourself when you lift the lid.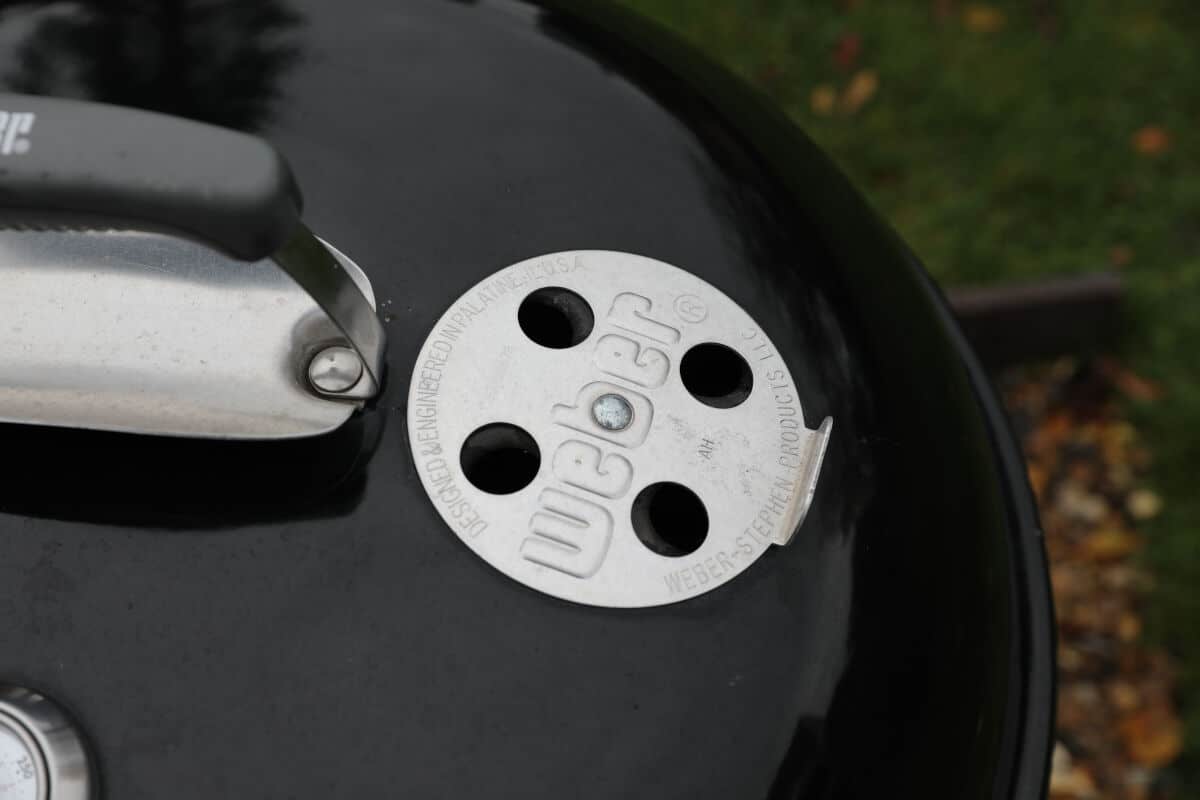 And, what's under the lid?
First, you'll find ample space on the steel cooking great for a whole lotta food. You could readily cook half-a-dozen steaks at once or enough burgers to feed a baseball team, including the relief pitchers.
Down below is the steel charcoal grate upon which you place your fuel.
It's a relatively large grill, which means it's a versatile grill. You can arrange your coals for two-zone cooking, roasting, searing — anything you like! That's the advantage of size.
What it's not ideal for is smoking.
Let me qualify that statement; you can absolutely smoke meat in this grill, but it is a bit of a chore.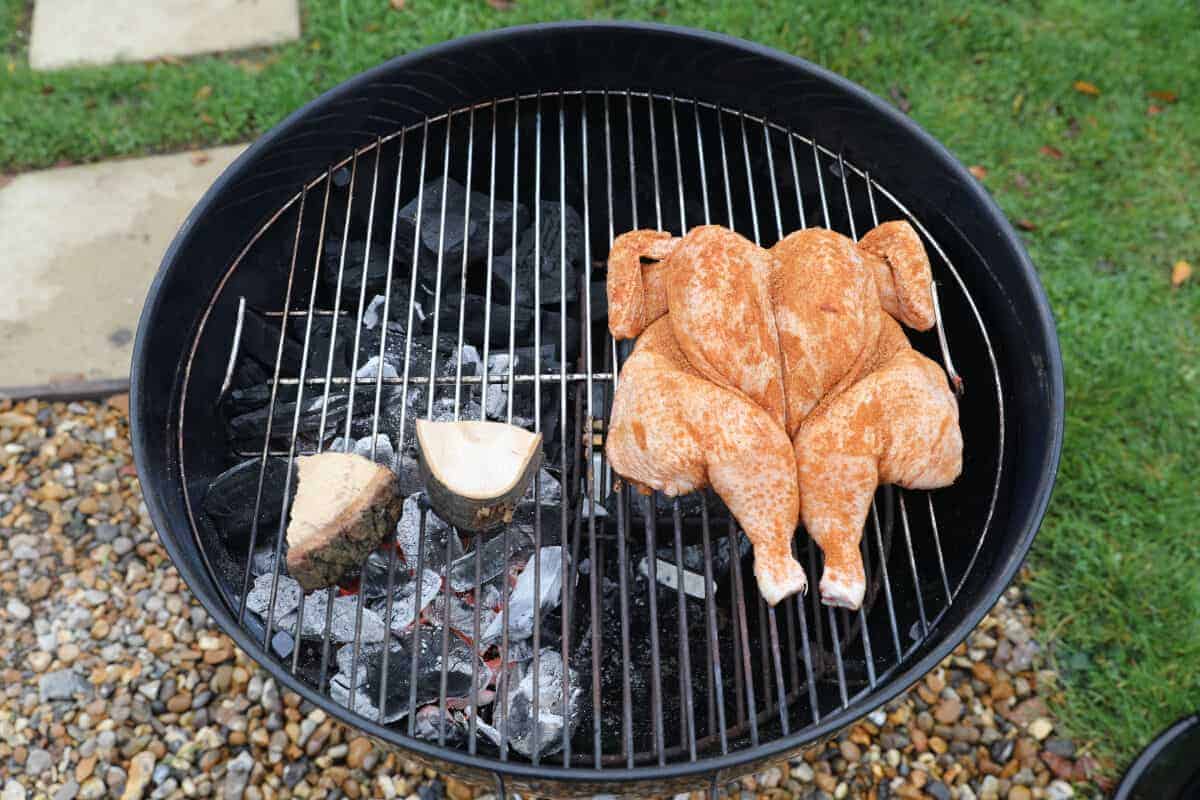 For starters, the bottom vent/ash dump isn't really set up for precision control. And, even if you do manage to get your temperature where you want it, the one-piece cooking grate makes it virtually impossible to add more charcoal or wood. (If you plan to smoke, you'll want to purchase a hinged grate separately.)
One feature you also don't get with the Original Kettle is a thermometer in the lid.
But, that's not a bad thing, in my estimation. Lid thermometers are seldom accurate, and they tell you the temperature at the top of the dome when you really need to know what's going on at the grate.
Buy a wireless digital meat thermometer, you'll be much happier over the long run.
Specs
Dimensions (H, W, D): 39.5" x 22.5" x 25"
Cooking area: 363 sq. In.
Plated steel cooking grate
Heavy-gauge steel charcoal grill
Porcelain-enameled lid and bowl
Aluminum dampers
Aluminum ash catcher
Ease of Use
The Weber Original Kettle is no more difficult to use than any other charcoal grill. In fact, it's probably easier than most, given how roomy it is.
It's easy to load with charcoal, plenty of room to create different heat zones, and there's plenty of room for food on the grill. (Weber says 13 burgers; I say more like 10, but I cook a big burger.)
Heat control is relatively easy with both top and bottom vents. There's a learning curve, of course, when it comes to controlling heat on a charcoal grill, but once learned, it's plain sailing from there.
Assembly isn't too complicated, but you will need a few tools, including a hammer, a Philips screwdriver, and a wrench.
Still, you'll have it up and running in no time, especially if you follow guide to using a charcoal grill that's a complete A to Z that will help you master this form of cooking.
Maintenance and Cleaning
Clean the cooking grate as you would any other grate — use a good grill cleaning tool to remove food debris (when it's still warm), but don't use anything metal. You may want to occasionally wash it with warm water and perhaps a mild soap. Similarly, you'll probably have to scrape stuff off the lower charcoal grate, though possibly not after each use.
What you will have to do after each use is remove unused charcoal and ash that falls to the bottom.
Some of the ash will fall through to the ash catcher a few inches below the bowl. For the rest, Weber has equipped the Original Kettle with its "One-touch" ash removal system. It's a rotating group of three blades you turn with a handle projecting from near the bottom of the bowl.
Turning the blades pushes the ash into three holes and down into the catcher. Just go heavy with it, turning back and forth, scraping and grinding the spent coals and ashes into pieces that fall into the catcher. It works well!
When it comes to cleaning the lid and bowl, burning charcoal and cooking food will cause carbon to accumulate on them. This is normal, and if you've used charcoal before, you've seen it; it looks like peeling paint.
Just scrape this off gently on occasion to keep it out of your food.
Design and Build Quality
From an aesthetic standpoint, it's hard not to like this classic-looking grill. It has changed very little since the actual original Weber… and why should it? Just to look at it is to conjure up memories of family cookouts and good times — even if you've never owned one.
There are many appealing, well-thought-out features, despite it being a basic grill.
The lower shelf is nicely integrated into the simple stand/wheel assembly: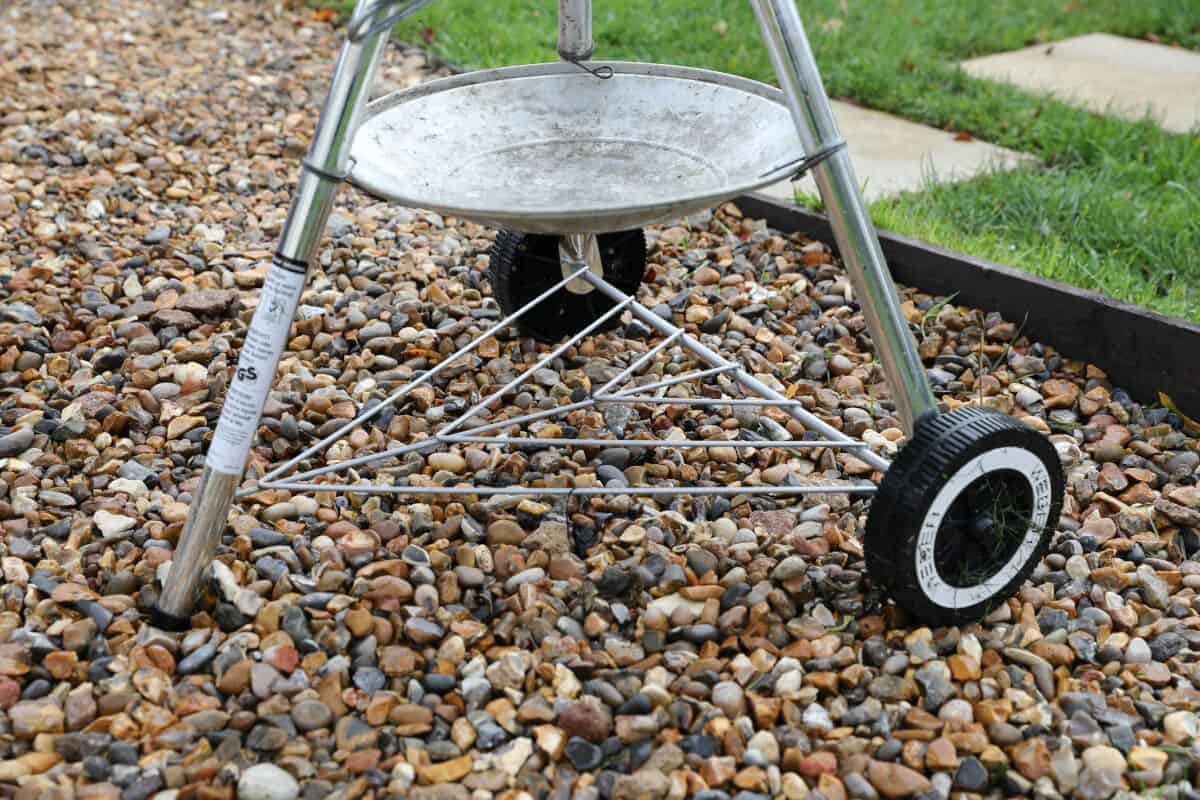 Weber has used good materials in the construction of this grill, and while not what we'd call "heavy-duty," it is durable porcelain-enameled steel stands the test of time, and in the many Facebook groups dedicated to weber products, many people show off their 30 year+ old kettles. Incredible!
There's a hook inside the lid for hanging on the bowl which helps prevent damage to it, and a special handle just for rolling the grill around.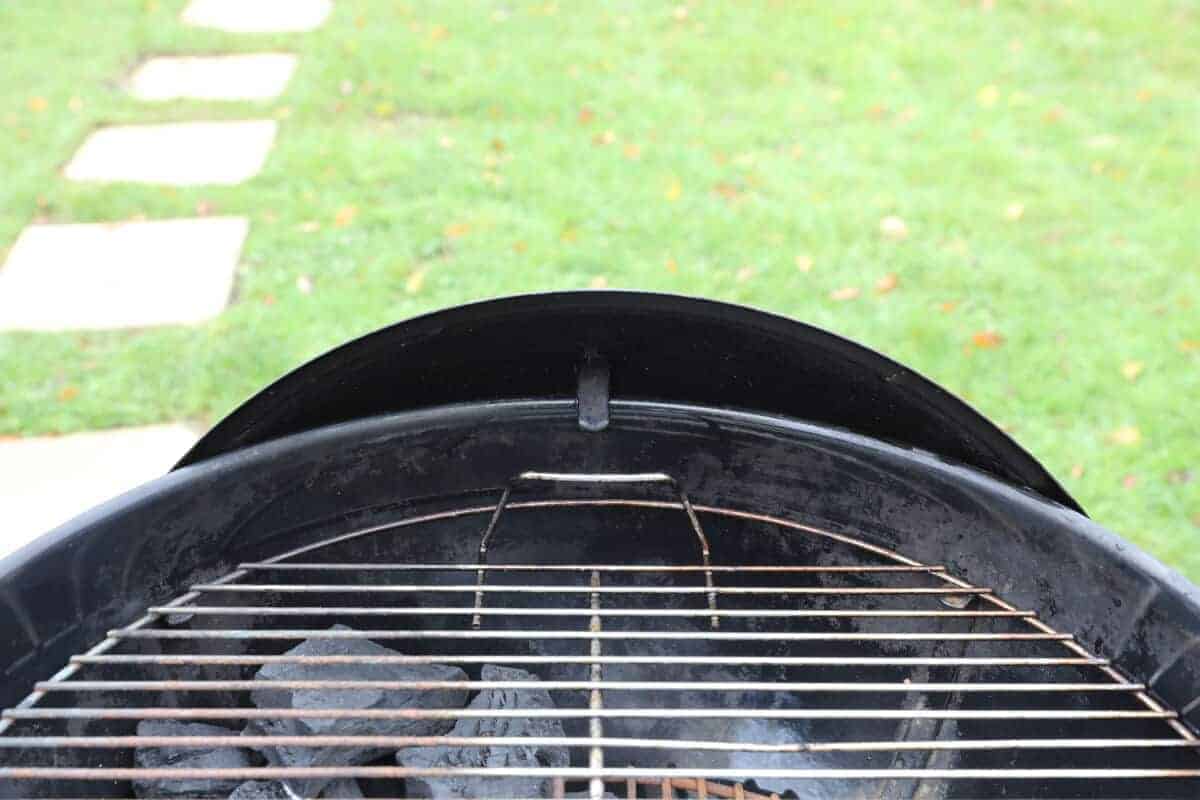 Overall, it's well-designed, well-built, and deserving of the Weber name.
Warranty and Support
Weber has a lot of confidence in its products, and they back it up with an exceptional warranty.
The bowl and lid are protected against burn-through and rust-through for 10 years. The one-touch cleaning system comes with a 5-year warranty, also covering burn-through and rust-through, plus you get 5 years on the plastic bits, not including fading or discoloring. Everything else gets a 2-year warranty.
If you need any kind of help with your Weber Original Kettle (or any Weber grill), the first place to go is the official website.
There you can search for help with your particular issue and browse an extensive assortment of FAQs and videos. Plus, you can download a copy of the grill's owner manual and schematics — very handy to have on your phone sometimes!
There's also a form you can fill out, accessible via the "Leave us a message" button.
Just about every part can be ordered if you've broken or lost something, and you can send an email to ask just about anything. If you're the type that likes to talk to actual people, give the toll-free number a ring. They answer the phones 7 days a week between 7 am and 8 pm Central Time.
Don't forget to download the Weber app for lots of helpful info, subscribe to the newsletter and follow them on Pinterest, YouTube, Facebook, and Instagram.
Whew! Weber really, really, wants to be your friend.
Final Verdict
Will it be a yay or a nay for this time-tested charcoal grill, and why? Here's where it gets real.
What We Like
Cooking with charcoal is a pleasure, and this is one of the purest expressions of the craft. Other than a couple of convenience features, this is just straight-up grilling.
And, yes, I totally love those few features; not having to hand-scoop the ash is a blessing, and the lid hook will save you from dents and scratches. Plus, the size-to-weight ratio is fabulous; there's a lot of grate space, but it's light enough to move it around to wherever I feel like grilling.
Additionally, I can cook just about anything I like thanks to the ample diameter (22 inches, obviously) and the bulbous dome. Roast shoulder, whole chicken, or a small turkey? No problem.
I've used the charcoal snake to smoke on my kettle many times. It's a fun rewarding experience, though to be perfectly honest I now never smoke on this grill because I tend to always smoke on my Kamado Joes. However, you can smoke on it, and many people do very often.
What Could Be Improved
Because of the kettle-shape design, there's no practical way to include a secondary cooking surface for cooking delicate items, warming buns, etc.
I prefer the weber, coated cast-iron grates to the plated steel grates the Original Kettle comes with, but there are worse things, and the plated steel still cooks relatively well.
Finally, the lack of a side shelf is unfortunate. If a rounded barbecue like a BGE can have one, surely this could, too? At least you get a small shelf down in the legs, but I'd love a handy spot to rest my sauces, rubs, tools, thermometer transmitter, drink, and so on.
Will I Get Value for My Money?
If the Weber Original Kettle were a gas grill, at this price, we'd say, "buyer beware — surely it's just too cheap to be good, right?"
But, that's the beauty of charcoal; you can get a lot for a little because they're so simple.
That doesn't mean all charcoal grills are created equal, however. This is a superior grill to most on the market — it's built to function and to last, and it's worth every penny.
Is this a Recommended Product?
Heck, yeah it is!
There's nothing quite like the simple pleasure of cooking over charcoal on a nice grill like this. If you've never cooked with charcoal before, the Original Kettle is an excellent grill for discovering this style of barbecue.
And, if you already know charcoal, but you're looking for a better experience than what you've got now, you can't go wrong with a Weber.
Thank you for making it to then end of this Weber Original Kettle review. If you have any questions, or any words of advice to give others concerning the original kettle, please do drop them in the comments section below, I'll be sure to answer every comment.
Happy grilling!