Here's my hands-on review of the Napoleon 22" Pro Charcoal Kettle Grill, including unboxing and assembly, a complete test, and my honest assessment of quality and value.
It's not quite Coke vs. Pepsi or David vs. Goliath, but there's definitely a rivalry between Weber and Napoleon, at least in the minds of consumers.
Weber is world-famous for inventing the kettle charcoal grill back in the 1950s. Napoleon didn't start making grills until the 1980s, though they have a longer history in metalworking and home heating.
Fast-forward to today, both are giants in the BBQ industry, with Napoleon fast making up ground on the perennial leader.
Now, I'm doing my part to determine who's the top dog in kettle grilling.
I've bought a Napoleon 22" Pro Charcoal Kettle Grill to see how it performs. Together, we'll walk through the unboxing and assembly and fire it up for a test cook. Then, I'll share my thoughts on the experience, highlight some pros and cons, and give my honest opinion on whether it's worth the money.
By the end of this review, you'll know if the Napoleon 22" Pro Charcoal Kettle Grill deserves to hold court in your backyard.
Let's start with a quick overview.
First Impressions
Napoleon Grills PRO22K-LEG-2 Charcoal Kettle Grill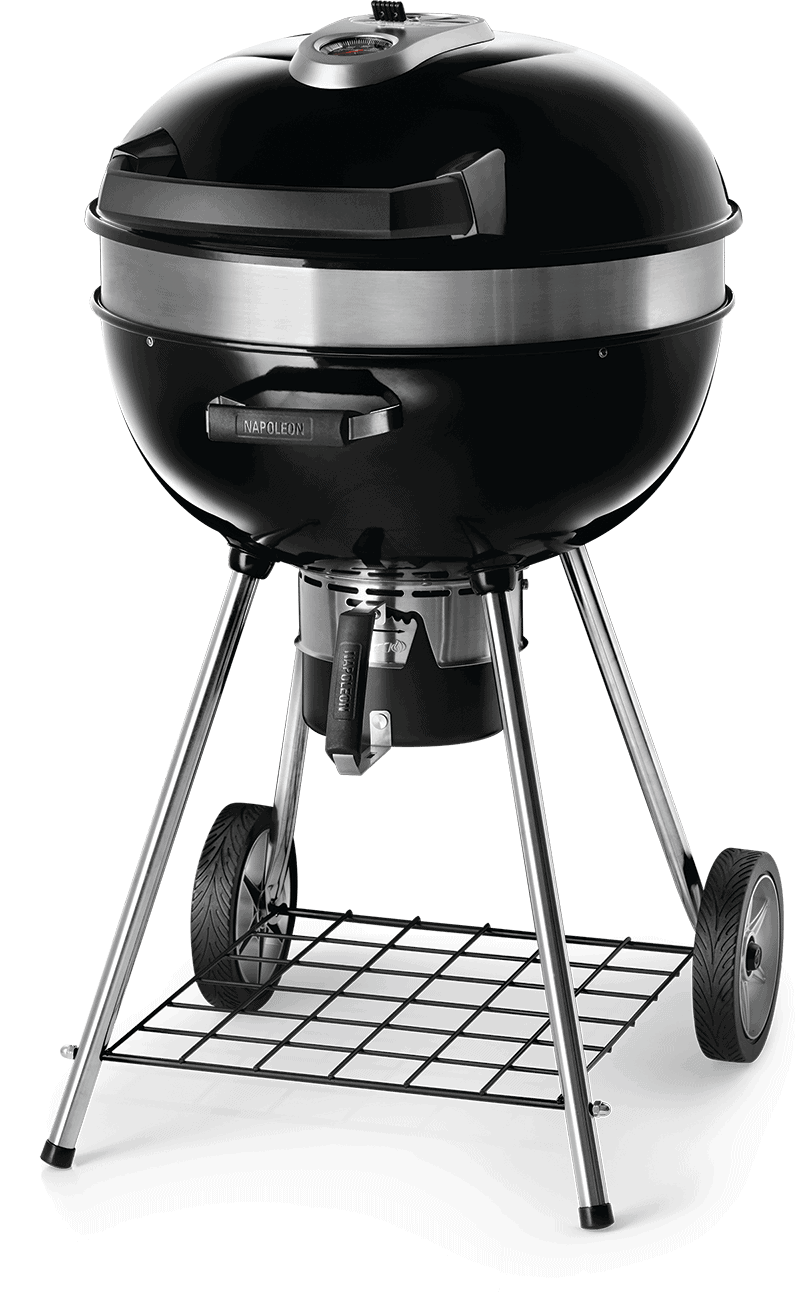 A high build quality, professional charcoal kettle grill with an easy access hinged lid, offset to keep your hands away from the heat; porcelain coated cast iron cooking grids with Napoleon's iconic WAVE shape and distinctive grill marks; three cooking heights for better temperature control; improved air control system for even more accuracy; stainless heat diffuser for even heat distribution throughout the cooking chamber; easy clean up with a large ash catcher and enameled steel body which also ensures this grill will last many years.
Well, it's a kettle grill. At first blush, it looks like a dozen other grills that you might see lined up at the local home improvement store. But, wait a minute…
What's up with that wide strap of stainless steel wrapping around the equator of the grill like some kind of wrestling belt? Not only is it intriguing, but it also adds some flash to the basic black kettle. In addition, the upper vent and thermometer combo and the lid handle all look sleek and modern, further contributing to the stylish good looks of the 22" Pro.
I'm very happy about the four-legged integrated stand versus the tripod some companies offer. It inspires much more confidence regarding stability, especially in combination with the wire grid shelf locking them all in place.
Construction is about what you'd expect — porcelain enameled steel bowl and lid, super shiny and easy to wipe clean. The hinged lid fits snugly, if not completely air-tight, and the overall fit-and-finish is top-notch.
Under the lid is the cast iron cooking grid, and it's a rugged son-of-a-gun. This might be the best grate I've seen on a charcoal kettle grill. Other high-quality stainless steel components include the heat diffuser and ash catch/bottom vent assembly.
Summary of Pros and Cons
Pros
Highest build quality of any kettle style grill I've ever owned
Adjustable height grate makes it easy to change temperatures when grilling
Hinged sections on grate make it easy to add more charocla, or smoking wood, when required
The offset hinged lid is well thought out. No more damaging the lid by placing it on the ground, and no burned arm hair when opening or closing
Heat diffuser helps charcoal burn more evenly and efficiently
Cast iron wave grates are great for searing, and their shape helps to prevent smaller food items falling through
Ash catcher is large, and helps make clean up easy
Cons
Lack of tool hooks to hold your spatula and tongs
Wave grates aren't as easy to clean as standard grates
Overview and Core Features
Like any charcoal kettle, the 22" Pro is built to maximize heat circulation throughout the rounded interior. It's a bit like a convection oven, but without the fan; heat moves naturally up and around the cooking chamber for even cooking all around your meat.
The first key feature you need to know about is the stainless belt I discussed earlier. This belt adds height to the kettle. Why? So you can position the cooking grid at one of three heights. It's a game-changer for charcoal grilling.
At the highest position, your food is at the maximum distance from the heat source. This is ideal for low 'n' slow cooking, including smoking and roasting, or grilling delicate items like veg or fish.
Drop it to the bottom, and now you're cooking just above the coals. Here, you'll achieve the highest possible temperatures, making it the position of choice for putting a killer sear on your steaks and chops.
The middle position covers everything else, such as burgers, chicken, and other BBQ staples.
Now, let's talk about the heat diffuser.
When you unpack your new grill, you'll find what looks a bit like an old-school hubcap in the box. This stainless steel dome is perforated with large holes around its circumference, and it rests directly on the charcoal grate, smack dab in the middle.
When you add your charcoal, you mound it right up and over the diffuser, as well as out onto the grate. The holes allow air to more easily and evenly flow into your charcoal pile, allowing them to burn more efficiently. Additionally, it reflects heat upwards and outwards, so you aren't wasting heat in the bottom of the grill. The results should be a faster, more even cook and fewer partially burnt charcoal pieces.
Staying with the cooking experience, let's zoom in on the cooking grid. It's a three-piece grate featuring two hinged sections.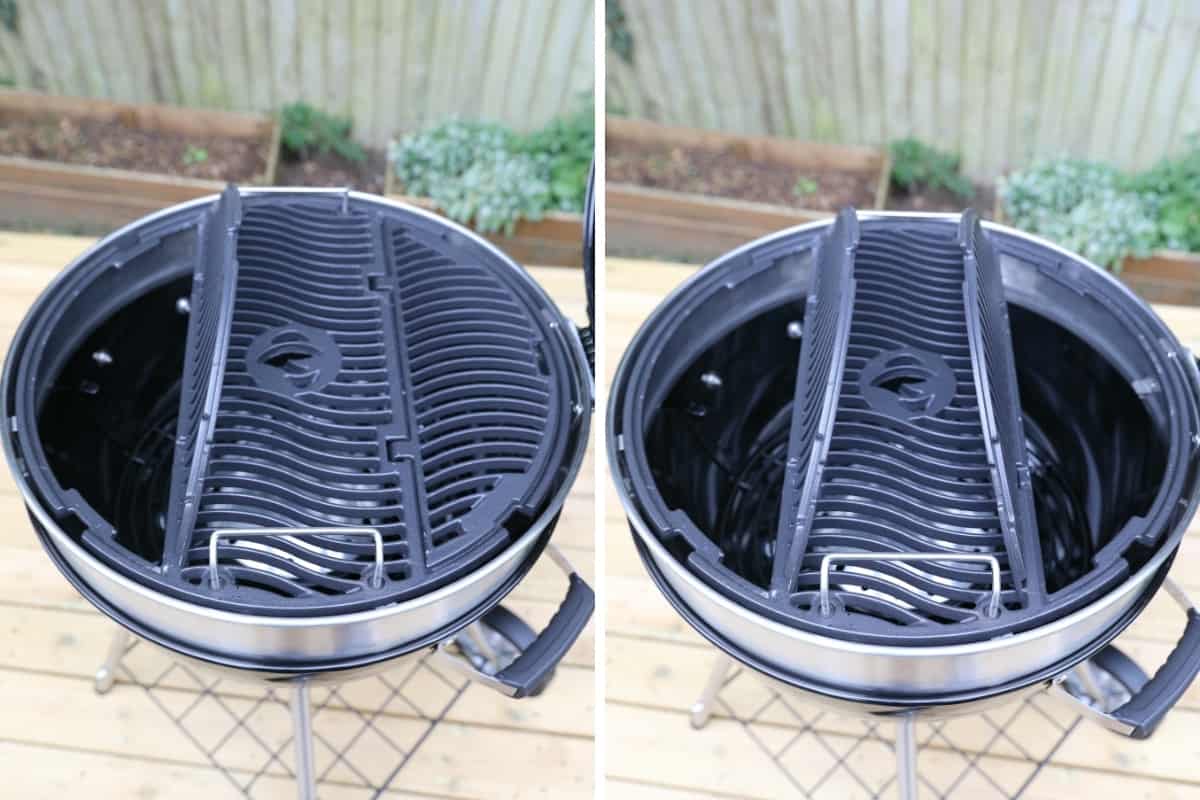 The purpose of these fold-up sections is to provide access to the charcoal below during a cook. Simply flip it back (with tongs, not your fingers!), and you can toss in more charcoal or smoking wood without disturbing your food.
Also, they aren't fixed in place, so you can divide the grid completely for easier cleaning.
The final key feature I want to cover is, appropriately, the lid. Many kettle grills use a lift-off lid that fully detaches from the bowl. The better versions provide a hook somewhere to hang the lid while you tend to your food, but many leave you searching for a safe place to set the hot metal dome.
Napoleon did away with the problem by adding a hinge, so the lid folds back much like we see on gas grills and offset smokers.
No more searching for a burn-proof place to set the lid or holding it like a shield while you flip your food.
Even better, the hinge is offset; instead of lifting straight back, it goes off to the side at a bit of an angle. The advantage here is that your hand doesn't have to cross the airspace of the cooking grate, so you won't risk singeing your arm when you peek under the lid.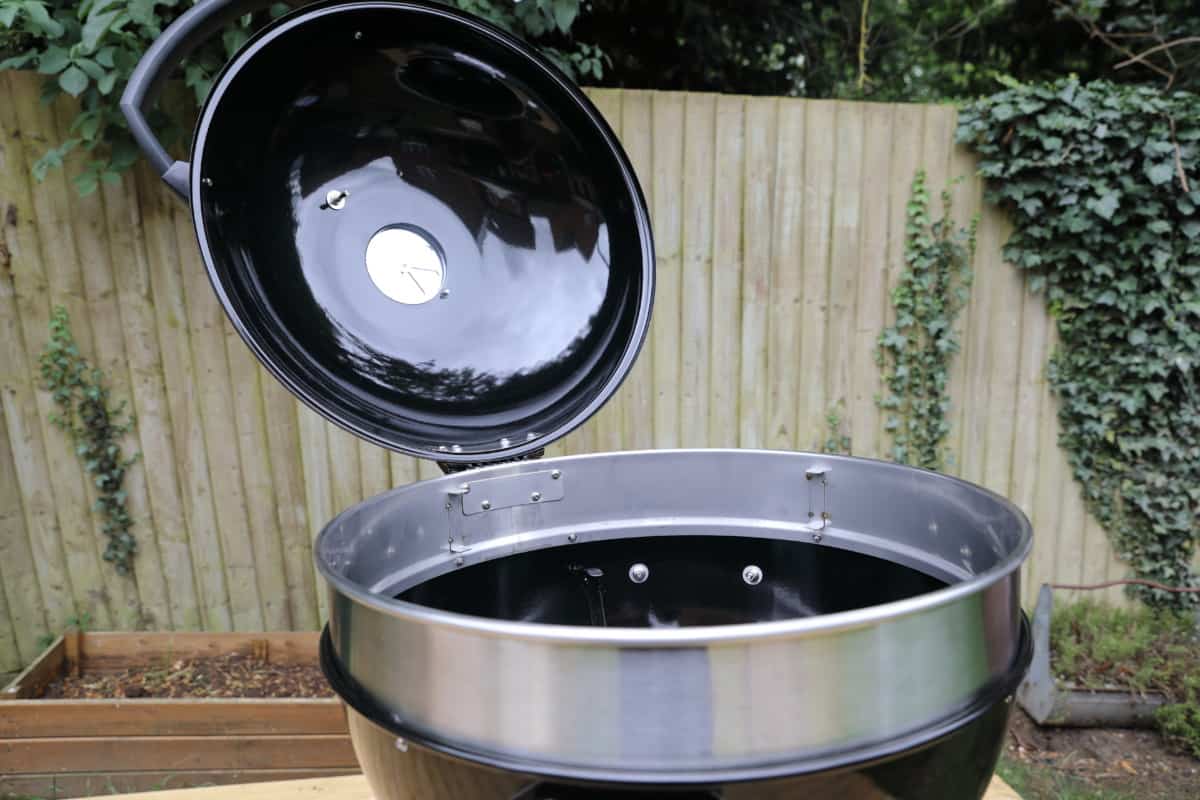 Manufacturer Specs
Primary cooking area: 365 square inches
Dimensions: 40"H x 23"W x 28.5"D (63.25"H with lid open)
Weight: 62 pounds
Build materials: porcelain-coated cast iron cooking grates, stainless steel diffuser, heavy-gauge steel charcoal grate, enameled steel lid, and bowl
Who is this Grill Best Suited to?
Honestly, anyone who appreciates the simple pleasures and incredible flavors of charcoal grilling will benefit from owning this grill.
Its versatility opens up so many possibilities for extending your repertoire past sear-and-serve cooking. Beginners and more experienced charcoal grillers looking to up their game will love the Napoleon 22" Pro Charcoal Kettle.
Now, some folks'll choose to never go beyond the basics of speed-grilling steaks, burgers, sausages, and the other usual suspects won't take full advantage of the multi-position cooking grid. If this is you, then this grill's price means you'd be better off with something simpler and cheaper.
Still, wouldn't you rather have more options than fewer? And something that will likely last for decades?
Napoleon Grills PRO22K-LEG-2 Charcoal Kettle Grill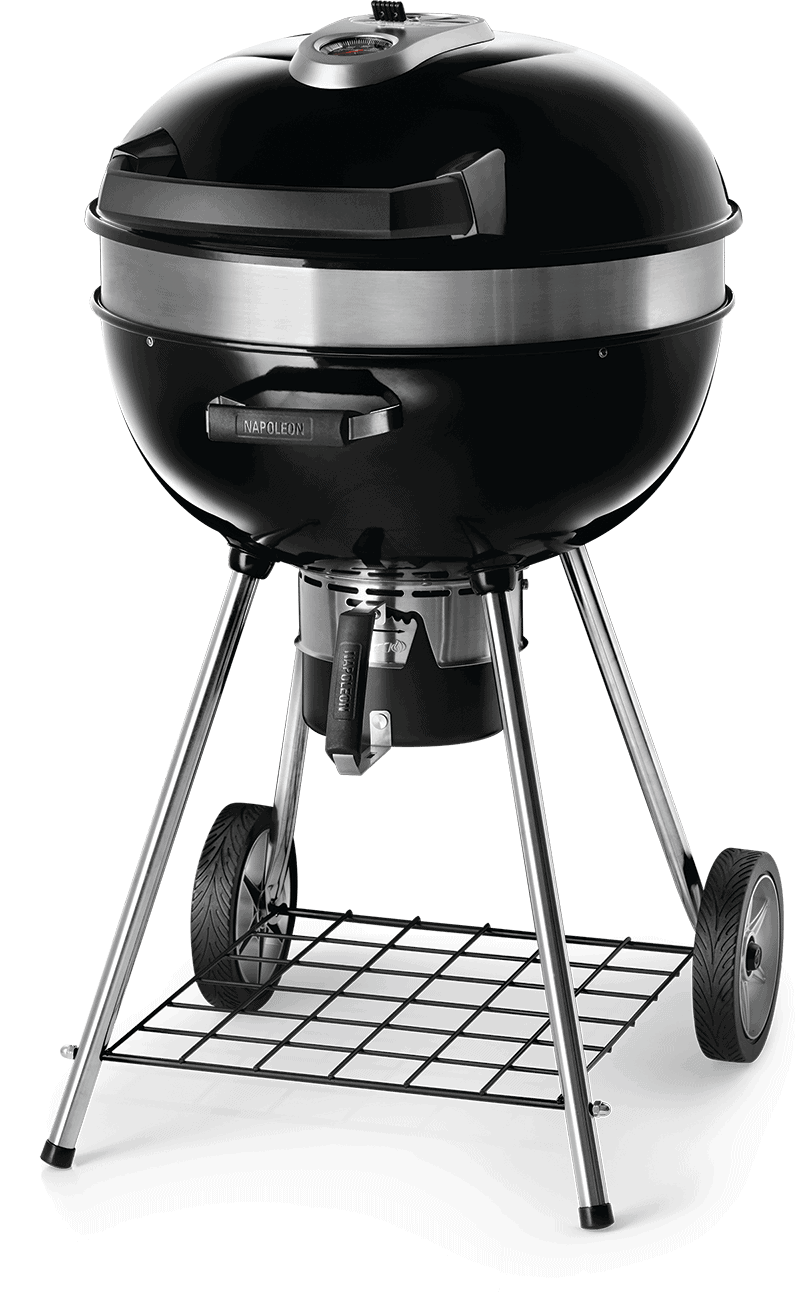 A high build quality, professional charcoal kettle grill with an easy access hinged lid, offset to keep your hands away from the heat; porcelain coated cast iron cooking grids with Napoleon's iconic WAVE shape and distinctive grill marks; three cooking heights for better temperature control; improved air control system for even more accuracy; stainless heat diffuser for even heat distribution throughout the cooking chamber; easy clean up with a large ash catcher and enameled steel body which also ensures this grill will last many years.
Unboxing and Assembly
Let the fun begin! Let's unpack this grill and get it together. Is an engineering degree required? Let's find out.
What's Included
Owner's manual
Kettle bowl and lid
Stainless steel heat diffuser
Ash catcher
Legs, wheels, and lower shelf
Cooking grid
Charcoal grate
Ease of Assembly
Overall, it wasn't difficult to put together. Many parts, like the charcoal grate and the cooking grid, simply drop into place.
Assembling the stand was a little fiddly, but nothing too stressful. The legs, in particular, were moderately awkward. There are some screws to align as you attach the lower vent ring and the spring hinge, and those require some patience to get them in just right.
Expect to spend 30–45 minutes assembling your new Napoleon Pro 22" Charcoal Kettle.
Overall Design and Build Quality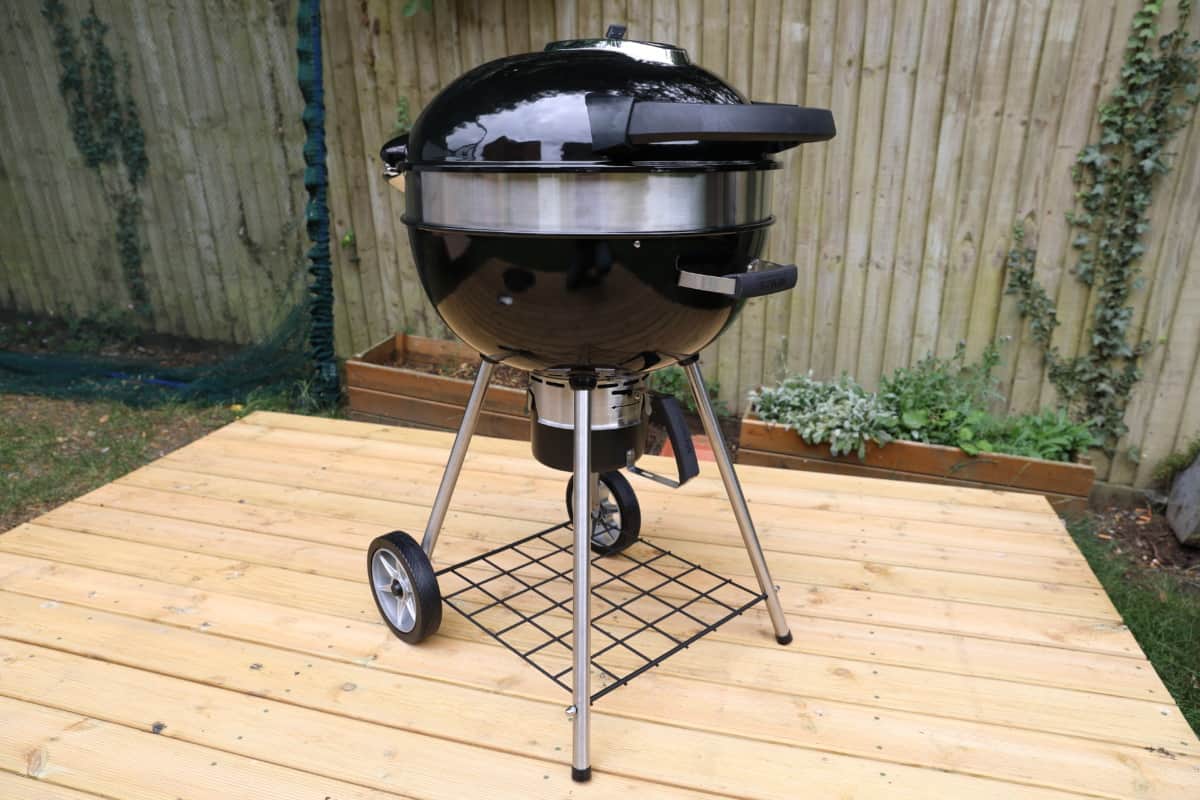 The kettle has long been established as an ideal shape for a charcoal grill. Napoleon has taken it up several notches with the addition of all the amazing features we've covered.
They must have had some intense brainstorming sessions when they designed this one because it delivers all the things missing from most other kettles. That includes the most practical lid on the market and a lower storage shelf that actually has enough room to store stuff.
And you just can't beat the 3-position cooking grid. Not only does it open up your cooking choices, but it's also incredibly easy to raise and lower the grate. Just grip the two handles, spin until the notches on the grate line up with the interior support tabs, and lower it to your desired position. Rotate it a bit, and now it's resting on the tabs. Piece of cake!
The build quality is great, as you'd expect of Napoleon, the pride of Canadian grilling. Aside from the previously mentioned finicky screws for the hinge and legs, the whole barbecue is as solid as you'll find in the kettle market.
The enameled steel lid and bowl are made from heavy gauge steel. They aren't especially thick, but that's usually the case with kettles.
I'm highly impressed with the hinged cast iron cooking grid. It's thick and heavy, coated for durability and ease of cleaning, and I like the WAVE pattern, a signature of Napoleon grills.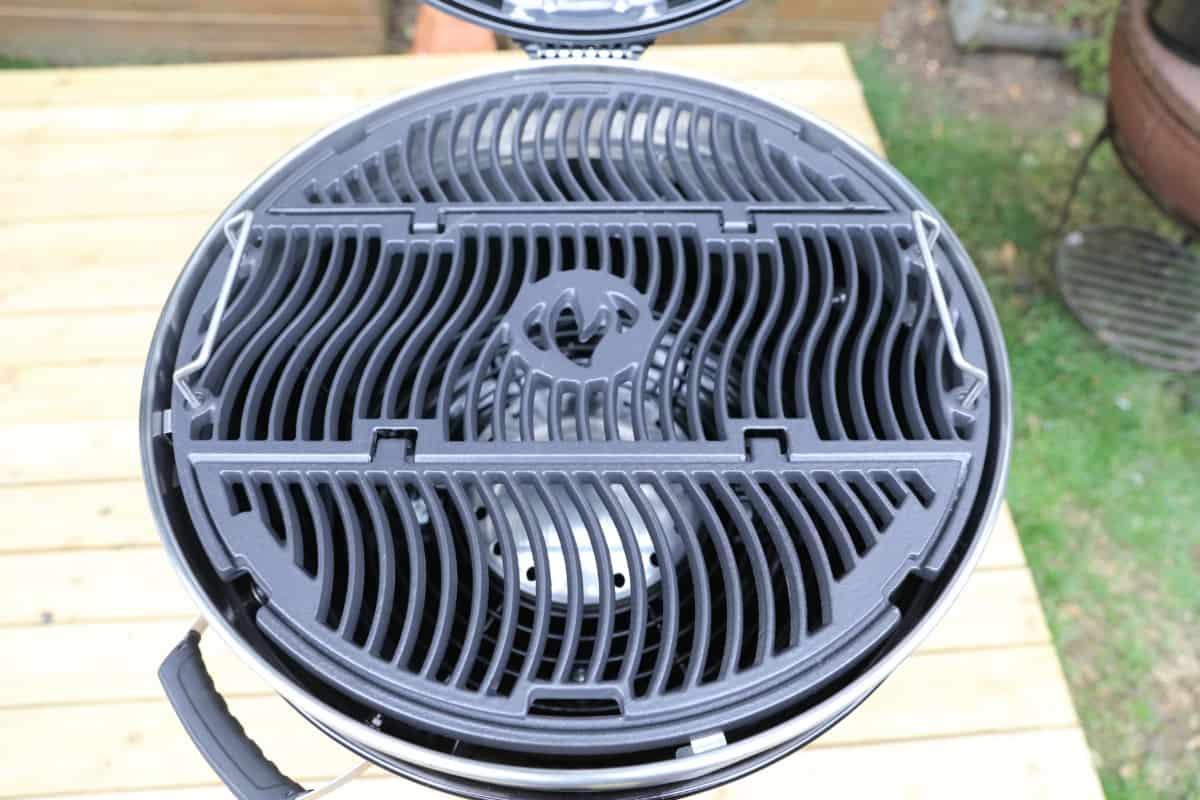 Not only do they increase surface area contact with your food, but they also prevent stuff like asparagus from slipping through into the charcoal, and you won't get your sausages or wieners stuck in a rut.
Unfortunately, as is typical with kettle grills, the wheels are cheap plastic. You can argue that kettle grills are very light, easy to move around — I can lift and move them on my own — so they don't need big, durable, rubber wheels. But for me, I'd have liked to have seen better.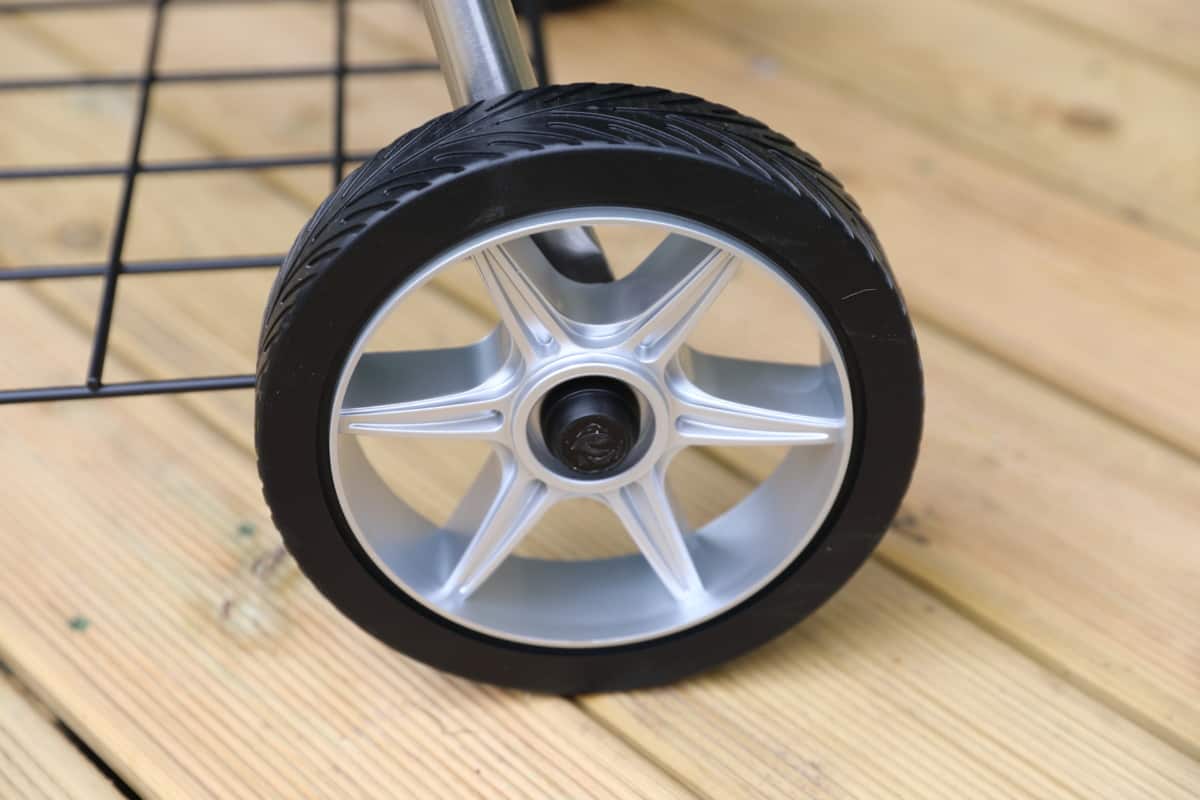 The Napoleon 22" Pro in Use
It's all just words on a page until you light up the charcoal. Time to see what this grill can do.
Ease of Operation
Of all the charcoal grills I currently or have owned, the Napoleon 22" Pro Charcoal Kettle is among the very easiest and most satisfying to operate.
Once lit and loaded, the charcoal burns easily and efficiently, thanks to the heat diffuser insert. I found the vents simple to operate, and I can make minute adjustments to fine-tune my temperature. (More on that in the next section.)
I just love the hinged lid. It makes it possible to quickly peek inside for a visual assessment, move or flip my food, and then close it up with minimal fuss. So much better than lifting the lid off, hanging it, or setting it aside, and then reversing the process.
And the versatile grid makes it easy to adjust for different cooking styles and to add wood and charcoal mid-cook.
Temperature Control
Temperature control is achieved through the combined use of the top and bottom vents to reduce or increase airflow.
The top vent, right at the peak of the lid, is infinitely adjustable for precise control. The handle is a bit small, but it's easy to move.
The bottom vent is adjusted with the large handle attached to the ash catcher. There are five preset notches to move between, and a handy arrow with little icons to show you which way to turn to either raise or lower the temperature.
There is a learning curve to using a kettle grill. You need to play with it a bit, to learn what vent settings lead to what cooking temperatures. But once you do, this grill is easy to control and holds a steady temperature well.
And there is of course a built in lid thermometer! I mean, every grill has them these days, right?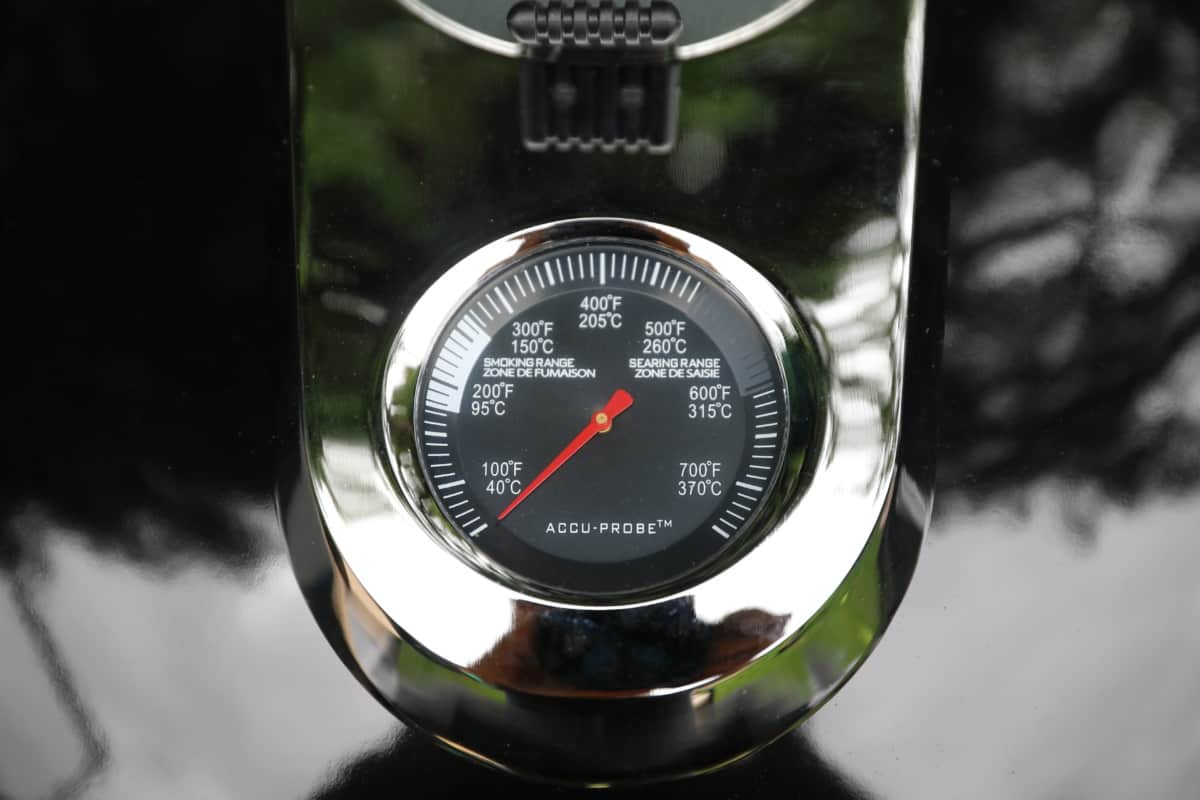 This thermometer is a reasonable, rough guide estimate of what's going on in inside the grill. But as always, I recommend the use of a digital grill thermometer to take temps closer to grate level, and more accurately than this lid thermometer will give. It's 'good enough', but a digital thermometer you can manually place will yield far better results.
Grilling and Smoking Performance
The Napoleon PRO22K-LEG-2 is nothing short of excellent at grilling, and a real joy and simple to use.
I have grilled everything from steaks to lamb chops, chicken pieces to whole chickens, peach slices to plantain, and many other things besides. I have always been able to control temperature with ease, though this does come after my extensive experience of using many other types of kettle grills, such as Weber's for example.
When it comes to smoking, I have successfully smoked both pork tenderloins (as seen in the images above), and a couple of beef roasting joints. For this I have used both the charcoal snake method, and at other times used the charcoal baskets and vent control to keep the temperature down.
Smoking on the Napoleon isn't as easy as it is on dedicated smoker BBQs, but it is possible and even relatively easy once you get the mechanics down. It takes practice and experience, same as it does smoking on any kettle style grill, but once you get it the Napoleon does very well.
I would class the Napoleon PRO22K-LEG-2 as a 'swiss army knife of outdoor cooking', much as I would Weber kettle grills. You can smoke, roast, grill, bake and more on it with the right techniques and good temperature control. But you may well want to venture onto something a little easier to control and with more grate space if you get serious with your BBQ smoking. However, for out and grilling it is fantastic and I cannot recommend it highly enough.
Ease of Maintenance and Cleaning
Napoleon WAVE grates are not my favorite things to clean. The curves make those wooden scrapers impossible to use, and I don't love the scrunched metal brushes. A stiff nylon brush is the best bet. Having said that, the coating is effective at minimizing residue.
The various stainless steel parts are easy to wipe clean, as are the enameled lid and bowl. Of course, I always recommend a cover to protect any grill stored outdoors, but I like to wipe it down with a damp rag to keep it shiny and new-looking.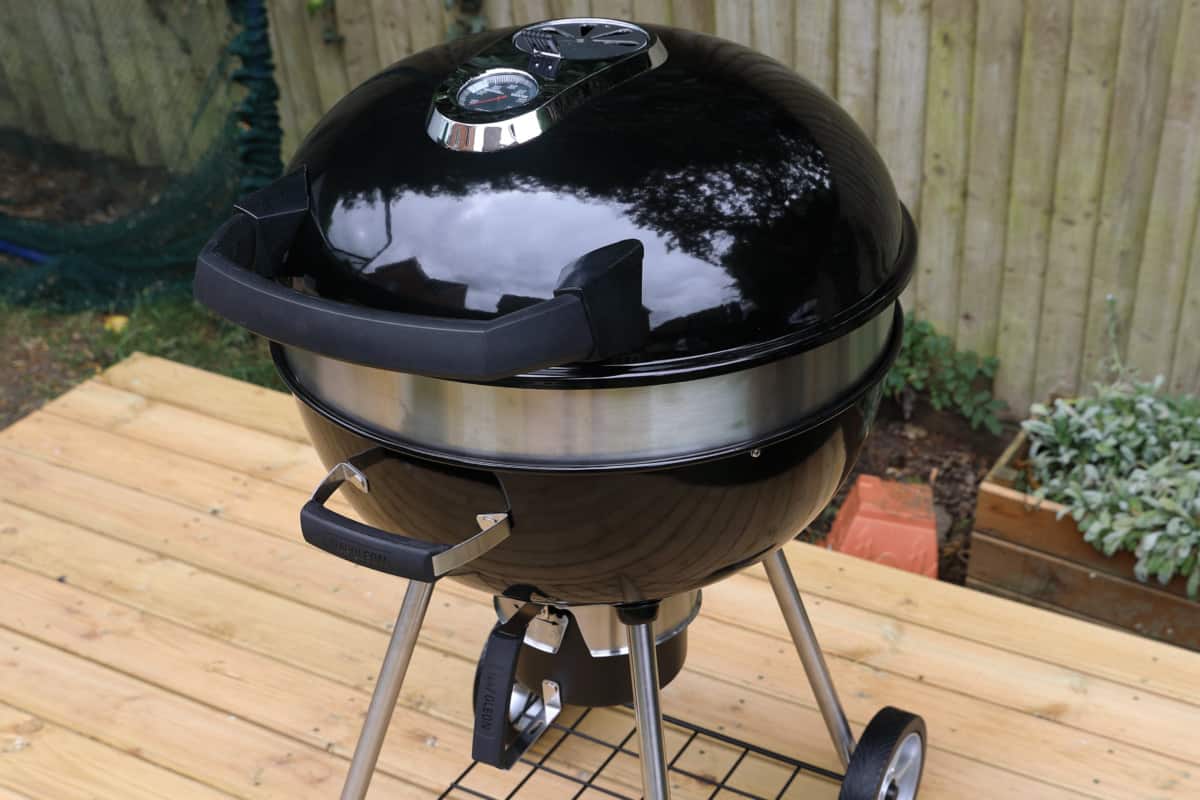 Thanks to the internal curvature, most of the ash and debris ends up in the large ash catcher at the bottom. It's like having an ashcan attached to the grill at all times. Just turn the handle all the way to the right (this is the same handle used to open or close the bottom vent in fixed increments), and the can slides down and out for easy disposal.
Fuel Consumption
I speculated earlier that the diffuser would help my charcoal burn more efficiently and leave me with fewer wasted coals. This seems to be the case. Compared to other kettle grills I own, this Napoleon results in fewer unburned coals.
Regarding fuel consumption, it's on par with Weber kettles or almost any kettle I've ever owned and used.
Kettle grills are much the same, tend to be the same size, have similar top and bottom vents and airflow, and are only made of medium thickness materials, so they aren't super insulated. This results in pretty much all kettle grills having very similar charcoal fuel consumption figures. So I wouldn't let this factor into buying decision.
Available Accessories
For all the goodies they give you, of course, Napoleon kept a few things in reserve that you might want to add on. (Actually, they have a massive catalog of add-ons and branded accessories. These are ones I'd consider must-haves.)
First and foremost, to customize your charcoal layout options, grab a pair of charcoal baskets. They'll hold your coals right where you want them for easy set-up of 2-zone grilling. I bought these right away.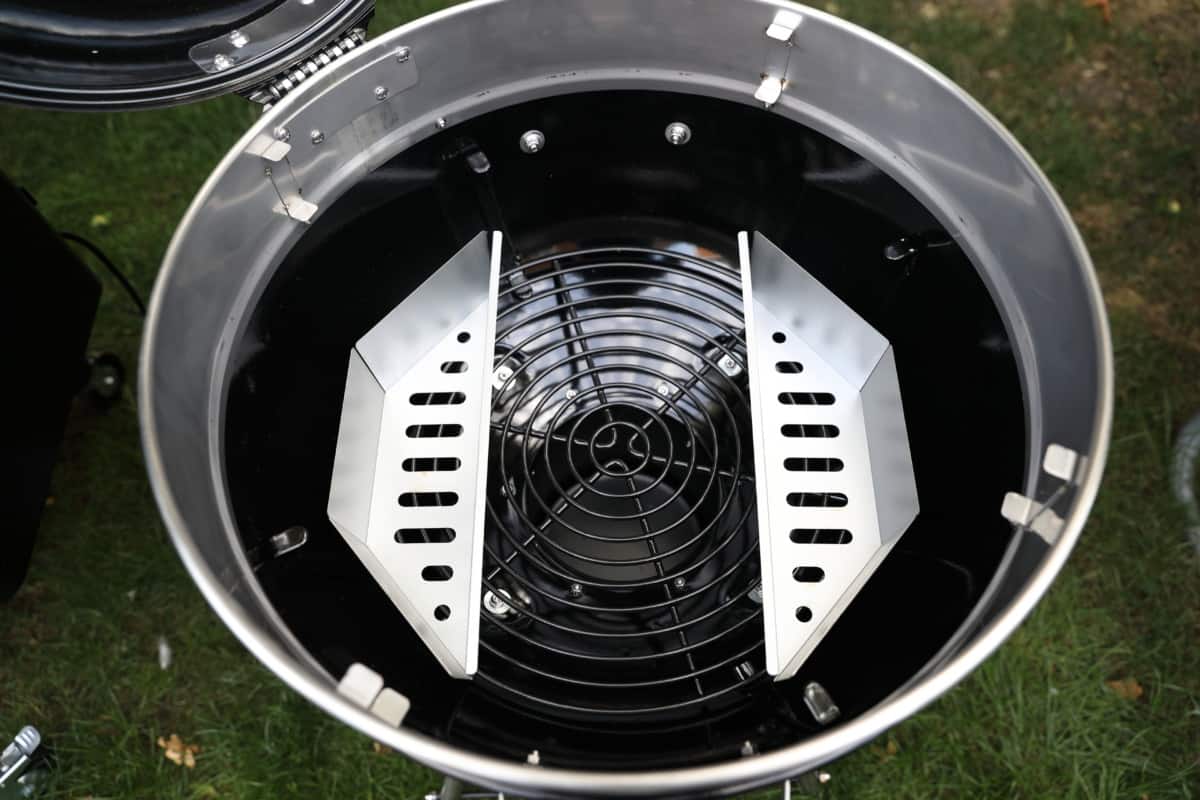 Secondly, you'll want a cover. Ensure you get the version for the LEG model of the 22" Pro Charcoal Kettle and not the version with a cart. The cover fully covers the grill except for the wheels and the two feet. There's a band of mesh about three-quarters of the way up for ventilation.
For optional accessories, you might also want the stainless steel wire warming rack for toasty buns and holding cooked food until you're ready to serve.
Lastly, the tool hook bracket will be a no-brainer for some, especially given the low cost. Made of stainless steel, it hangs from the rim of the bowl and provides three hooks for your tools. I didn't purchase this as I have so many other options for hanging tools, but it's a nice thing to have.
Napoleon Company Overview, Support and Warranty
Napoleon is an award-winning Canadian company that's become an international sensation with a reputation for innovation and quality.
Now over 40 years old, their diverse array of products covers gas, electric, and wood fireplaces, home heating and air conditioning, outdoor heating, and all manner of grills — electric, gas, and charcoal. The grill line-up runs the gamut from outdoor kitchens priced in multiple thousand dollars to a portable kettle for well under a hundred bucks.
Online support includes assembly videos for every 'cue they offer and an array of maintenance videos, too. There are answers to many of the questions you might have in the searchable FAQ section. You're also welcome to phone Customer Solutions toll-free for assistance.
Napoleon is known for offering one of the longest warranties in the industry. The 22" Pro Charcoal comes with 10-year coverage on the lid and bowl, 5 years on the air control system and the cooking grids, and 2 years on everything else. Should you need to initiate a warranty claim, you can start that with the online form.
If you like being social with your brands, you'll find Napoleon on Facebook, Twitter, Instagram, YouTube, Linkedin, and Pinterest. Not surprisingly, there are lots of fan-run Napoleon groups on social media, and these are great places to turn for help.
Final Verdict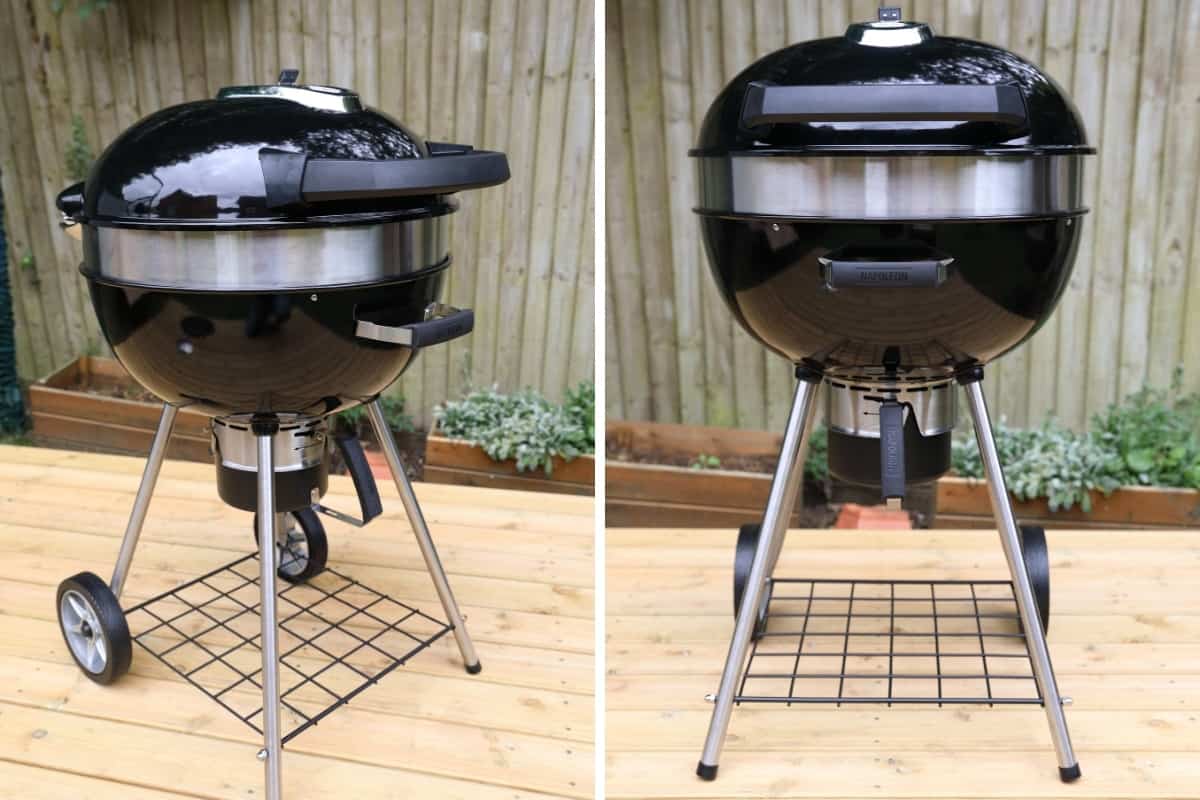 Now that we've given it a thorough going over, here's a summary of the pros and cons and our recommendation. Does the Napoleon 22" Pro Charcoal Kettle Grill deserve a spot in your backyard?
What We Like
The adjustable grate makes it tempting to use the Napoleon 22" Pro every time I go out to grill since I know I can cook practically anything on it. And it's so easy to reposition! I love the hinged sections, too, for tossing in some wood without needing to shuffle my food around.
Speaking of hinges, I'm a huge fan of the offset-hinged lid. This makes life so much simpler and safer. Unfortunately, if you want a hinged lid on a Weber kettle grill, you have to buy and install a third-party kit.
I wasn't too sure about the UFO-shaped heat diffuser at first. But, based on my experience, it really does seem to work as advertised, helping my charcoal burn evenly and efficiently.
What Could Be Improved
My only gripe about this grill is the lack of tool hooks. Yes, you can buy them as an add-on from the accessories shop. But why couldn't they come standard or be integrated into the handle, like they are on the Weber Mastertouch and Premium kettles?
Is The Napoleon PRO22K-LEG-2 Value for Money?
Although it is relatively expensive, considering all the innovative features packed into this kettle and how well it performs, I'm surprised it isn't more expensive.
I consider this great value and am very pleased with my purchase.
Do We Recommend the Napoleon 22" Pro Charcoal Kettle Grill?
Yes! This is my new favorite charcoal grill and my top recommendation.
I love cooking on mine, and I plan to use it a lot. It's suitable for charcoal newbies and pros alike, thanks to the ease of operation, array of features, and unmatched versatility.
Napoleon Grills PRO22K-LEG-2 Charcoal Kettle Grill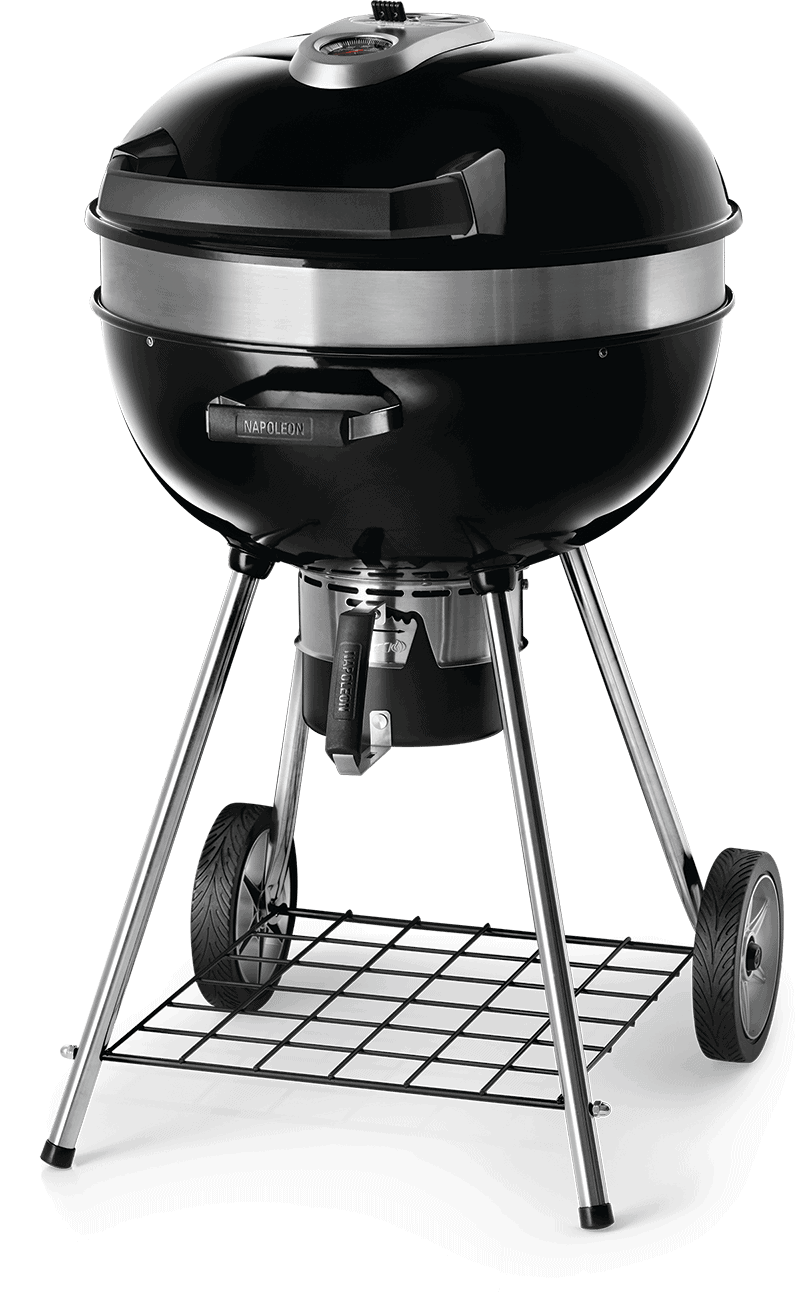 A high build quality, professional charcoal kettle grill with an easy access hinged lid, offset to keep your hands away from the heat; porcelain coated cast iron cooking grids with Napoleon's iconic WAVE shape and distinctive grill marks; three cooking heights for better temperature control; improved air control system for even more accuracy; stainless heat diffuser for even heat distribution throughout the cooking chamber; easy clean up with a large ash catcher and enameled steel body which also ensures this grill will last many years.
In Conclusion
The bottom line on the Napoleon 22" Pro Charcoal Kettle is: it's thoughtfully designed by people who get grilling. Honestly, it's like they made a list of everything annoying about kettle grilling and then eliminated them one by one. Well done, Napoleon. In this reviewer's opinion, you've snatched the crown off Weber's head.
If you have any comments or questions about this review, drop me a line through the comment form below.
Thanks for reading, and feel free to share the link with all your grilling friends.