In this article we embark on a deep dive look for the best charcoal grill, taking into account the mix of features, pros and cons, and price, to find what we consider the top models to suit different people and needs.
We walk you through our hand-selected top picks for best overall charcoal grills in a few categories, then go over the specific things you should have in mind when shopping for a charcoal grill.
We'll then take a quick look at why we have a long-time love affair with charcoal grilling despite the fact there are easier and quicker ways to cook.
In short, we've done the legwork for you, so sit back, relax, and read on!
Reviews of Our Charcoal Grill Recommendations
There aren't many of us who can resist the lure of a charcoal grill, the incredible aromas, and the knockout flavors it produces. There's something primal about cooking with fire in this way, even when it takes a little time. Or perhaps because it takes time.
With charcoal grills, it's about process, and it's the art, skill, and technique involved as much as the delicious results that keep us coming back for more.
So for your ultimate grilling pleasure, here is our shortlist compiled after years of grilling and weeks of research, looking for the best charcoal grills in different categories.
What to Consider When Buying a Charcoal Grill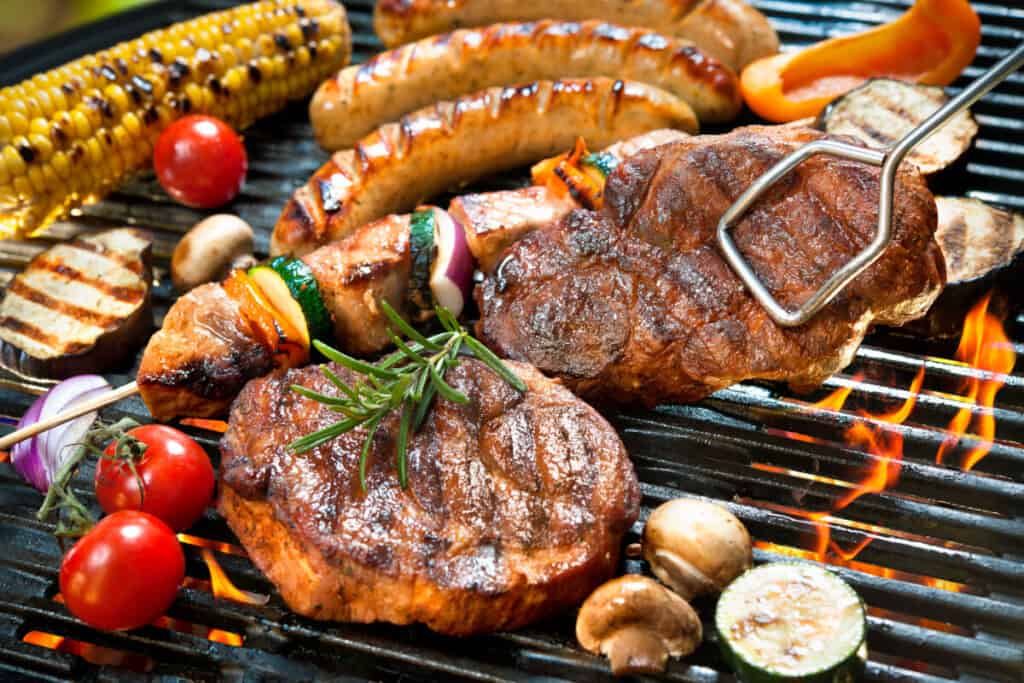 So let's talk about what to look for in a good charcoal grill that's going to stand up to repeated blasts of intense heat over the years.
Here is a comprehensive checklist of all the features and considerations you should keep in mind as you shop around for the best charcoal grill.
Build Quality
The materials used, and how they stand up to heavy use and intense heat will determine the quality of a charcoal grill. Thick materials like cast aluminum, cast iron or heavy ceramic grills are pro-choices for a top-of-the-line grill.
Not looking for high-end at a high price? Porcelain-coated and chrome-plated will do the job for less, but these thinner materials will not necessarily stand up to intensive use over time.
Size and Cooking Area
Who or how many are you grilling for?
Think about how much cooking space you need on the grill and also how much space you have to store and operate a grill.
If you but too small, you might occasionally struggle to feed large numbers. But if you buy too big unnecessarily, you will use more fuel unnecessarily.
Temperature Control and Stability
If you're already a pro at taming the flame, great. You can handle quirks and inconsistencies with temperature. But for many, assurance that the grill will respond to your touch and maintain steady heat when necessary is a huge bonus.
The design of some grills will give you more assistance with this than others. And many models feature a built-in thermometer.
Overall Ease of Use
The best charcoal grills have vents that open easily, grill racks that sit steadily, hoods that hang conveniently on the side — It's the small stuff that can make the difference between a smooth and pleasant grilling experience, and frustration or even burnt fingers!
So make sure to look for a grill that's known for its thoughtful design and ease of use.
Ease of Cleaning and Maintenance
Nobody likes this job, so while it's rarely top-of-mind when you're grill-shopping, it's important to think about how easily the grill can be taken apart, cleaned and maintained.
If this is important to you, look for good-sized ash pans and handy levers to work back and forth that will empty ash from the grill body.
Durability
Again, think about your own use.
If you grill infrequently, a mid-range to budget choice may work for you because the cheaper building materials will not be constantly tested.
If however, you grill regularly, go for tough build materials — cast iron and heavy-gauge steel — and Fort-Knox durability.
Warranty
This is your insurance on your purchase — don't skimp!
A solid 10-year warranty will back up heavy usage, providing you with easy replacement parts should they wear out.
Check out also what other owners say about Customer Service.
Current Owners Opinions
This is pretty much where I start with any purchase, from dish soap to dishwasher, the first thing I need to know is what everyone else thinks about it!
Unbiased and honest, most reviewers can really help you sift through your buying options to make the right choice for you. Plus, online forums and social media communities are great places to share opinions, questions, recipes, and tips.
Cost
With a range from $50 to $2,000+, there's going to be a charcoal grill out there that fits your budget. But do set a budget, otherwise creep sets in, you desire the slightly better one, and then the next one up is only fractionally more expensive, and before you know it…
We've all been there.
How often you plan to grill and what features and level of durability you require will drive your decision and the price point, but do set a budget, and stick to it.
Accessories and Additional Features
Dampers, vents, drawers for charcoal, cover, side tables, temperature probe holes, ash catchers and more are the bells and whistles of charcoal grills. There are tons of grilling accessories available. Some you won't need, some you won't want to live without.
Think about your own habits. Hate mess? Get an ash catcher. A little OCD about temperature? Be sure if there's a temperature probe hole. Like everything at hand? Pick a model with a built-in side table. Let's look at some of the accessories we at FoodFireFriends recommend for charcoal grilling before you go.
Charcoal Grilling Tools and Accessories You'll Also Need
When you cook with charcoal grills, there are some essential accessories you're going to need. Items to make the cooking experience easier, more enjoyable and safer.
Check out some of the recommended equipment below before you go!
A Way to Light Your Charcoal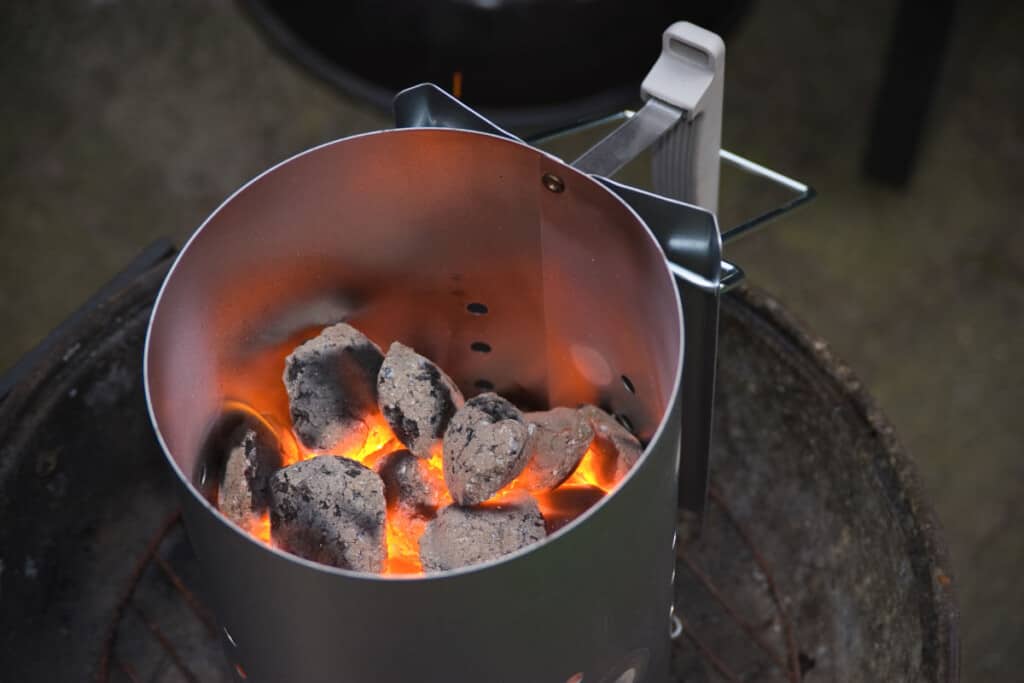 Unlike with gas grills, there's no push-button starter for a charcoal grill. You need to get the coals lit yourself. And whether using lump charcoal or briquettes, a charcoal chimney starter is the tool of choice for getting a charcoal fire going quickly and easily.
You simply ball up some newspaper or place a firelighter or two under a full chimney of coal, then light it.
Within 15 minutes or so, you will have glowing red coals, ready to be poured into your grill for cooking over. Simple, effective and a huge time saver.
Heat-Resistant Gloves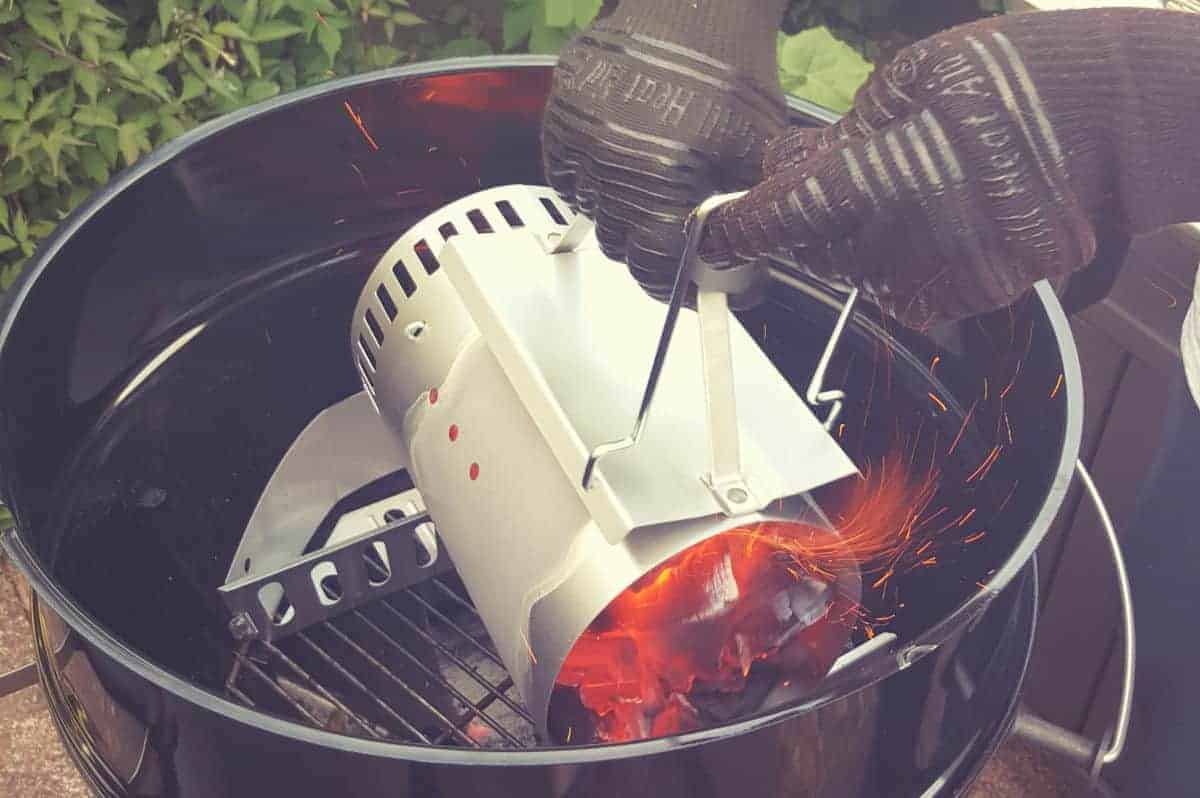 You always have to be conscious of hot surfaces with any type of grill, but there is even more handling of hot stuff when using a charcoal grill.
There's the handling of the chimney full of hot coals to get started. You may need to move the grates around to top up with more charcoal mid-cook. The lid and fire chamber can get very hot, and your hand is very close to the flames when adding, turning or removing food. It can be easy to get burned.
Therefore, it's highly recommended getting yourself a pair of heat-resistant grilling gloves. Always think safety first! A pair of suitable grilling gloves is essential.
Grilling Tools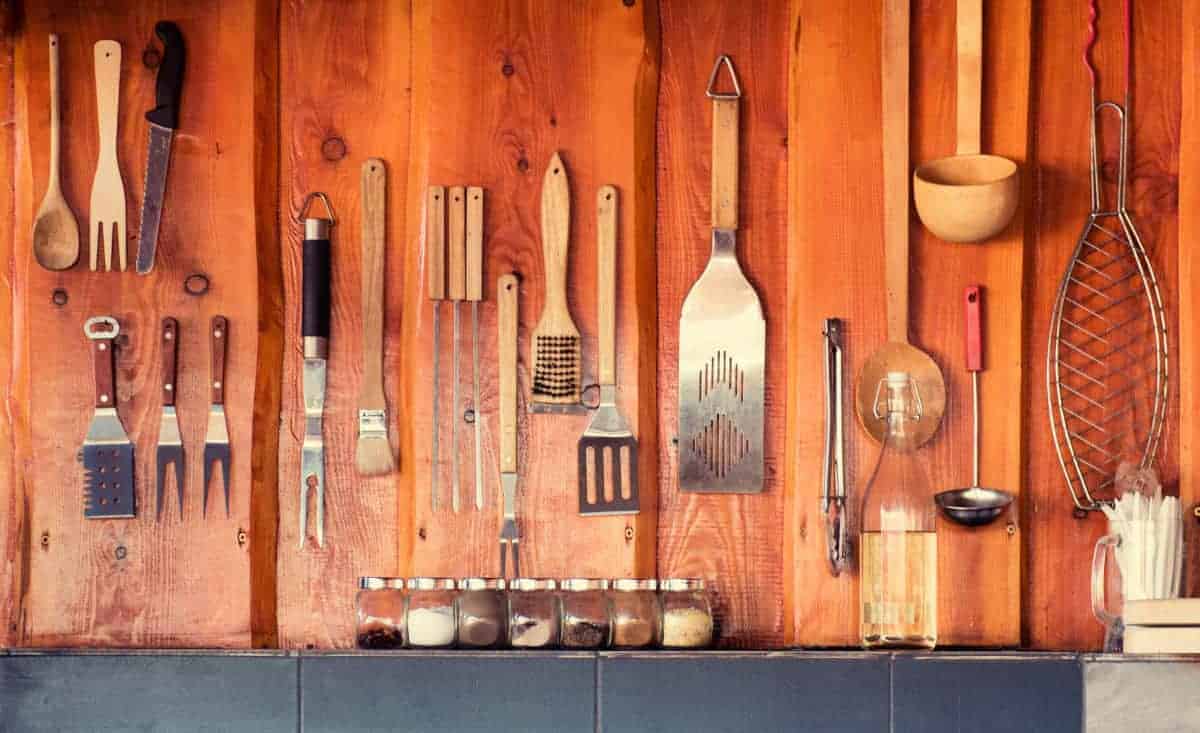 Whatever you're cooking, you need to be able to add, turn over and reposition, and finally remove items from the grill. To do this, you need, at minimum, a good spatula and some BBQ tongs.
It can make sense to buy individual BBQ tools, though there are some fantastic grilling tool sets available too. However you choose to buy them, they are essential.
Thermometers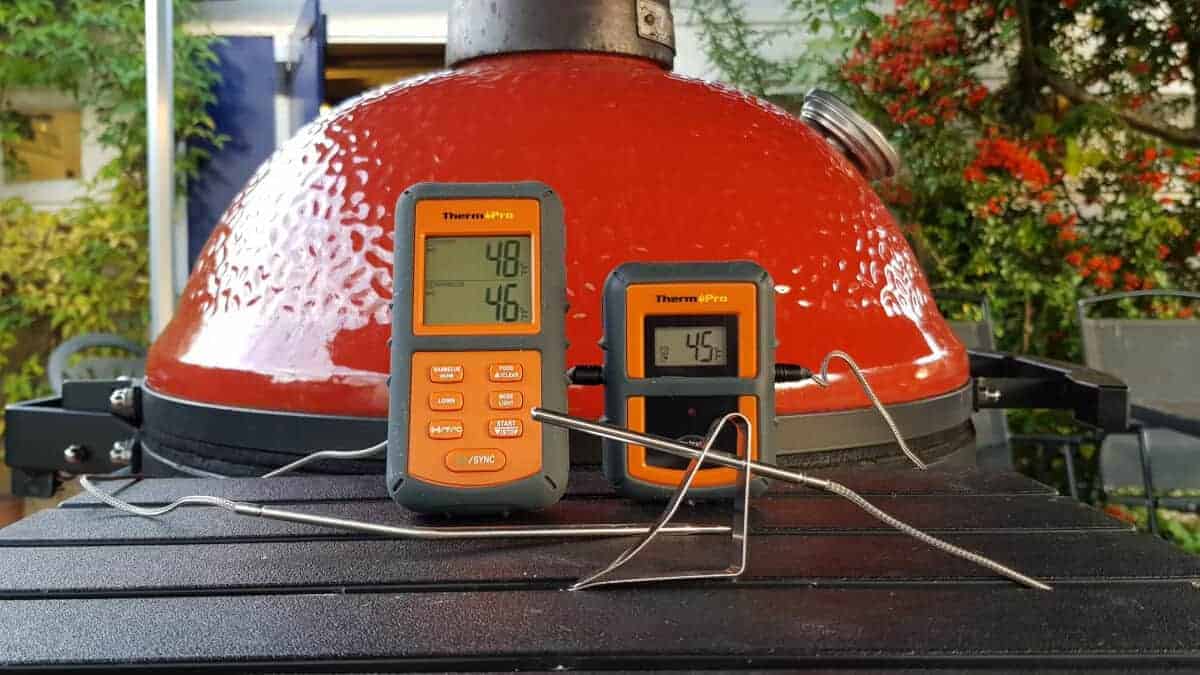 You will hear me repeatedly say throughout this site that we cook to temperature and feel, not to time. And the only way to know the temperature of your food is to use an instant-read thermometer. If you don't yet have one, check out our instant read thermometer reviews.
But that's not all. The inside your charcoal grill can be at any temperature between 200 and 750 degrees Fahrenheit! To follow a recipe correctly and to get the best results, you need to be able to control the temperatures in your grill, and this means also knowing them.
The built-in lid thermometers are almost always sub-par and not to be relied on. Therefore, you want to get yourself a good dual probe smoker and grill thermometer.
With this one unit, you can monitor the temperature of your grill and the internal temperature of your food. Indispensable and one of the best tools to own if you want to master the grill.
A Good Grill Brush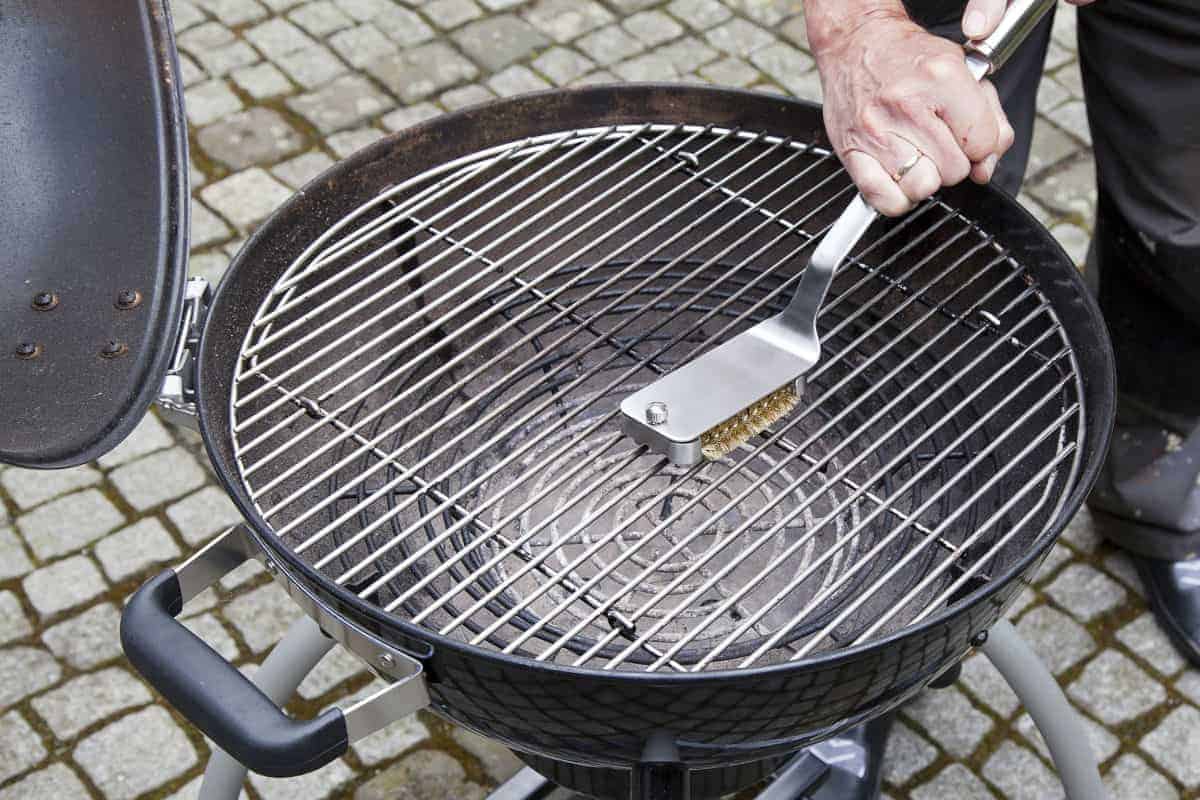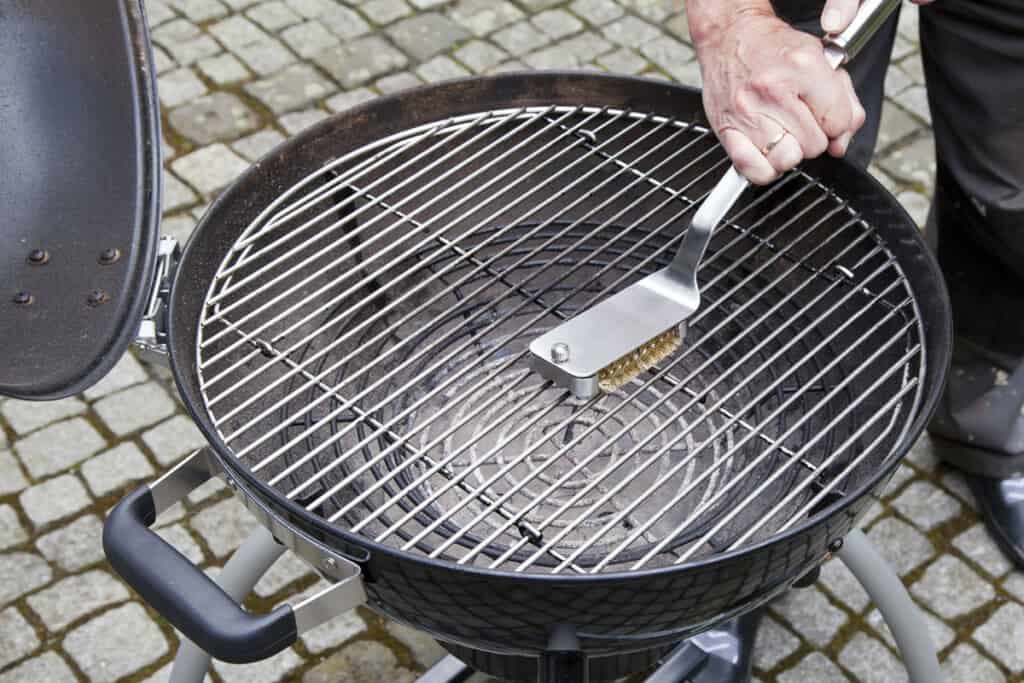 Finally, regardless of the types of grills you own, you will need to clean down your grates after cooking. The best item for this is a good grill brush.
Aim for a bristle free version, as I'm sure we've all heard the horror stories by now of people who have consumed a wire bristle from a grill brush? It can be wise to avoid bristles altogether, to take away that worry.
If you buy a wired brush though, make sure to inspect your grates thoroughly after every single cleaning, to make sure if there are no wires that have come loose, stuck to the grates, and could make their way into food.
Inspecting takes seconds, not doing so could last a lifetime!
To help, we review some in our guide to the best grill brushes.
Final Thoughts
Intense smoky flavor. Screaming hot grates. Absolute control over the elements of fire and air. These are the things we all love about charcoal grilling. And you can see that there are many ways to enjoy this with a dazzling selection of different models, sizes and specs.
We hope in this post we've helped outline some of the pros and cons of charcoal grilling and if you've decided now to get a charcoal grill (woohoo!), we trust our round-up of the best charcoal grills out there today has made clear some of the differences between different models, both in construction, performance and price. Your next step should be to check out our ultimate guide on how to cook on a charcoal grill.
Let us know what you ended up choosing. How did it work out for you? We'd love to hear about your experience, and we're always appreciative when you share our post with the wider grilling community! Thanks, for stopping by.
Happy Grilling!