In this article we embark on a deep dive look for the best charcoal grill, taking into account the mix of features, pros and cons, and price, to find what we consider the top models to suit different people.
After many years of cooking on a range of charcoal grills myself, as well as many hours spent researching current market offerings, I say that the Weber Original Kettle Premium is the best charcoal grill for most people.
For those who want a more fully featured premium model, or perhaps a more budget friendly pick, or even a portable charcoal grill, read on to see what we recommend as the best in each category.
There's not many of us who can resist the lure of a charcoal grill, the incredible aromas, and the knockout flavors it produces. There's something primal about cooking with fire in this way, even when it takes a little time. Or perhaps especially because it takes time.
With charcoal grills, it's all about process, and it's the art, skill and technique involved as much as the delicious results that keep us coming back for more.
So OK, we all love charcoal grills. But are they all the same? There's nothing techy or complicated about a straight-up charcoal grill, after all.
But you may be interested in learning that one grill is not the same as the next. And as with all things, there is a whole spectrum of prices, options, and features to choose from.
In this post we'll first walk you through our hand-selected top picks for best overall charcoal grills in a few categories, then go carefully over the specific things you should have in mind when shopping for a charcoal grill.
We'll then take a quick look at why we have a long-time love affair with charcoal grilling despite the fact there are easier and quicker ways to cook.
In short, we've done the legwork for you, so sit back, relax and read on!
At a Glance: Our Top 9 Picks for Best Charcoal Grill
Note: Clicking the above links will take you to further information, current prices and customer reviews on Amazon.
Top Charcoal Grill Reviews
Best Overall – Weber Original Kettle Premium
It's a crime to go through life without ever having owned a Weber Original Kettle. This all-American backyard icon boasts simplicity of design (think: easy-to-assemble), reliability and consistently scores big with users on a delicious end product. Yup, it grills up a great burger and then some!
Thanks to this grill's excellent temperature control, it can even be used as a smoker.
And the famous spherical shape allows for unparalleled heat convection, which is why the design hasn't changed much in all these years!
There's something about the Weber Original's sleek classic black design which is comfortingly timeless, and the premium upgrade adds features that improve its ease of use and enjoyment when cooking on it.
Right out of the box, it seems like a pretty basic grill design, but you know it's stood the test of time precisely because it does the job, and does it incredibly well.
Here's What's in the Box
Weber original kettle premium charcoal grill, porcelain-enameled steel bowl with 363 square inches of cooking area
22"diameter plated-steel cooking grate – Hinged for easy top up of charcoal without having to remove the grate.
Heavy-gauge steel charcoal fuel grate
Porcelain-enameled lid with glass-reinforced nylon handles and heat shield
Aluminum, high capacity removable ash catcher
Aluminized-steel One-Touch Cleaning System
2 durable, all-weather wheels
Angled lid hook inside grill lid – for hanging the lid and avoiding having it on the ground
10-Year Limited Warranty
What We Like
Great versatility…there's not much you can't do on this grill from cooking with high direct or low indirect heat and smoking.
I love that the hinged cooking grate allows you access to the coals (adjust, add more, etc) without having to remove the entire grate or the food.
Easy to clean. Once the grill is cool, simply work the One-Touch Cleaning lever back and forth to shake ash into the ash catcher, and you can use left-over coals for next time.
Excellent airflow and temperature control with lid vents, allowing you to adjust the heat up and down as needed. When done, just close the vents to kill the fire, and this will also stop remaining coals from continued burning so you can use them for your next cook.
What We Don't Like
The 3-legged design (one fixed, two on wheels) can be a little unsteady if you need to move the grill on an uneven surface like bumpy stones or grass. Be sure to do this carefully and when empty or at least with no hot coals inside and no kids nearby!
The thermometer is on the opposite side of the lid to the vents, so when doing indirect cooking, the thermometer is measuring the hot side over the coals, not what's over the meat. (Use a good digital thermometer to overcome this.)
This Grill is for You if
You like to take it outdoors regularly, you cook for a family or gathering of friends, you enjoy the tradition and reliability of this gold standard in the grilling world, and you're not looking for bells and whistles.
Two wheels make the Weber kettle easily movable around the yard too which I like because sometimes I'm looking to get out of the wind or the sun, and this allows me to move it wherever I need it.
With the Weber, you're doing charcoal grilling in its pure form. No ignition buttons. No multi-level grill racks.
As I said earlier, if you're new to charcoal grilling, it can take a little while to understand how to light and maintain a good charcoal fire. So if you need to be up and running perfectly first day, this may not be the grill for you. If you're happy to take a little time to learn and enjoy the process, you've got it right here in the Weber Kettle.
Another Model May Be Better for You if
You need to feed a really big crowd, or you want to smoke big pieces. You may find the 22" grate can't keep up with heavy demand.
A 22" kettle gives you 363 square inches of cooking area which should comfortably handle around 15 burgers at a time. If you need more, go bigger on your purchase.
Another consideration is that if you're a techy kind of person and enjoy the latest grilling gadgets and gizmos such as adjustable grill racks, built-in timers, one-touch gas ignition, you may prefer a higher-end model with built-in extras.
Summing up
Overall, this little black beauty comes highly recommended and is in our mind the best charcoal grill for a mix of price and performance. It may be your first foray into grill ownership, or it may be one of many in your grilling arsenal, or perhaps after many years of gas grilling you've returned to this classic as to an old and trusted friend?
Whatever your reason, you will not regret this purchase as it surely is one of the very best charcoal grills. We have a few more details in our Weber Original Kettle review, or to find more info with current pricing and delivery options, click here.
My Personal Favorite – Kamado Joe Classic III
With its dazzling cherry-red body and sleek black wings, the KJ Classic III brings to mind an 'Angry Bird' or a Mustang Fighter Plane! But it's purpose is much more appealing… ground-breaking design innovation and a thick-walled ceramic shell give this baby grilling AND smoking mastery like you've never seen before!
You may already be a BGE fan (join the thousands) and be wondering how that cornerstone of grilling could possibly be improved?
Well, Kamado Joe has combined innovation and craftsmanship to take ceramic grill design to a new level.
With features like the Airlift Hinge for effortless opening and closing, the 'Divide and Conquer Flexible Cooking System' that gives you unparalleled versatility to cook with different grate configurations, and the 'Kontrol Tower Top Vent' for maximum control and precision when managing temperature.
And new in the version 3 is the Harvard science engineered, hyperbolic smoke chamber insert called the 'slo-roller.'
This accessory is designed to perfect the circulation of heat and smoke more evenly throughout the cooking chamber, eliminating hot spots and making sure all food is equally exposed to heat and smoke, cooking more evenly and absorbing those lush smoky flavors. You can click here to learn more about the slo-roller, it's an incredible addition to what was already a fantastic piece of kit.
I personally own the Kamado Joe classic version 1, and the Kamado Joe 'Big Joe' version 3. They are my favorite grills by far. The version 3 is simply fantastic to cook with, producing amazing food and being real fun and easy to use.
I'm recommending the 'Classic' 18″ version 3 here, and not the far larger Big Joe 24″ version 3 like I have, because they are all but the same except for size. And to be perfectly honest, the big Joe would be too big and overkill for most people…not to mention also far more costly to buy!
The classic is the one to go with most people, it can easily cook for a good sized crowd.
Here's What's in the Box
Premium 18″ ceramic grill with heavy-duty, galvanized rolling cart with 2x locking wheels
Thick-walled, heat-resistant ceramic shell
3-level 'divide and conquer' flexible cooking system.
304 stainless steel charcoal basket – makes shaking out ashes and re-using unused fuel simple!
2x 304 stainless steel cooking grates
Air lift hinge – that makes the lid almost weightless when opening and closing
Kontrol tower top vent for easy temperature control and that keeps rain out of the top vent
AMP firebox (multi-sectional, so can expand and contract without ever cracking)
Harvard designed 'Slo-Roller' hyperbolic insert for more even cooking.
2x half moon deflector plates (for indirect cooking setups)
Patented slide-out ash drawer
Built-in thermometer
Folding , powder coated aluminum side shelves (improved from the version 1 and 2s HDPE materials!)
Wire mesh, fibreglass gaskets top and bottom
Stainless steel latch – seals the lid by providing pressure to the gaskets
Grill gripper and ash tool
What We Like
Where do I start! This is an out and charcoal grill, but also an out and out smoker! Pretty much the swiss army knife of charcoal cookers, you can grill, smoke, bake and roast…there's little you cannot do on this unit.
I have to confess to a certain gluttonous love of upgrades and extras. I love the grills I own but can't help keeping a greedy watch on whatever clever new stuff is coming down the pipeline. Well, Kamado Joe has plenty, and they've definitely produced a Mercedes Benz with the Classic III.
The Divide and Conquer multi-level grate system is a feature I think would be hard to grill without once you've had the luxury of it. Flexible and versatile, it really helps you control exactly what foods are receiving different levels of heat.
I love the Airlift Hinge because I nearly always have something else in my hands and to be able to lift that otherwise heavy lid with one finger and have it stay in any position, well, it just about defies physics! It would certainly make the business of grilling a whole lot easier.
I love too the stainless-steel latch and wire mesh fiberglass gasket because these are the things that ensure a dead tight seal, so when I'm smoking I know all that goodness is staying under the hood and not escaping, as well as keeping temperatures locked down.
Finally, the SLo-Roller really does remove hot spots and seems to give a better, deeper, more rounded and consistent smoky flavor to foods. Definitely an upgrade and helps to achieve consistency during cooks.
What We Don't Like
This is a heavy unit at 288 lbs! We actually like this, because it shows quality in material used, thermal mass and translates to temperature stability. However, it's not one you're going to wheel lightly around your yard. Once it's in, it's in. So just think about where you want it before you bring it home!
Well, it would be great if it cost less, sure, but this is definitely an example of you get what you pay for. This grill will pay you back big time with many years of awesome grilling!
This Grill is for You if
You like to go big! This is the one that'll take your grilling game to the next level and leave your grilling pals in the dust. But it's not just about bragging rights.
The KJ Classic III is the one that will appeal to serious grillers who appreciate the elegance of innovation and who love the latest upgrades such as the Airlift Hinge which reduces the dome lid weight by some 95%! And the rust-proof, weather-proof Kontrol Tower Top Vent which holds the air flow setting – which is how you control temps – precisely throughout dome opening and closing, while keeping the rain out.
It's also a top choice if you like to grill different foods at the same time because of the ingenious flexibility of its Divide and Conquer multi-level grate and heat-deflection system.
Another Model Might Be Better for You if
You're more of a weekend warrior when it comes to grilling, and you don't necessarily need a top-of-the-line grill with, let's face it, a price to match.
If your grilling habits are more straightforward and you're not juggling multiple foods at the same time, the KJ Classic II may simply be too much grill for you.
Summing up
How much do I love it? Well, I actually own the original KJ classic version 1, I love it loads, but I also own the Big Joe version 3, which is my most used grill and smoker. I will be upgrading my classic to the version 3 in the future…I'm just waiting for permission from 'the boss' (my wife) to spend more money on my obsession!
In my opinion, if you're looking for a truly remarkable piece of heavy-duty engineering with top quality materials and building excellence, you've found it in the Kamado Joe Classic III. Without doubt, it is one of the best charcoal grills for sale on the market today, one that has just as fine a pedigree for smoking as it does for grilling.
This is a design ahead of the others, and a lot of thought has gone into clever ways to beat the goblins of grilling (cracked fireboxes, peeling paint, rusting bolts). The Kamado Joe Classic III rises gracefully above it all and delivers on every front. Find it here and get started!
Best High End – Weber Performer Deluxe
All that stuff I said about charcoal grills being tricky to light, maintain, control, clean up? Forget it!
The Weber Performance charcoal grill is charcoal grilling at its easy-peasy best! There are so many built-in convenience features on this grill that I'm kind of surprised there isn't a button that marinates and flips the meat for you too!
Right out of the box, you can see this is not basic, but is a very feature filled modern charcoal grill.
The grill body is there, but it's nestled in an array of extras that do all the work for you, from a handy charcoal storage bin to a unique Touch-N-Go electronic coal ignition button (and I thought I'd seen it all!) to a removable LCD timer.
With this truly premium, top of the line charcoal grill, you can almost just sit back and let it happen!
Here's What's in the Box
22-inch diameter porcelain-enameled bowl and lid
hinged cooking grates
heavy-gauge steel charcoal grate
side table with removable LCD timer and utensil storage
charcoal storage bin
removable ash catcher pan
a wire bottom shelf for extra storage
10-year limited Warranty
What We Like
The handy painted metal (not plastic) side table that's attached. It's super-convenient for doing a quick foil wrap, lifting burgers on to plates, storing basting stuff at hand and other essential grill details.
Very easy to clean. The One-Touch cleaning system makes clean-up a breeze, and the ash pan is large enough to catch all the cook debris so you can dispose of it with minimal mess.
The hinged cooking grates, and central removable section make filling up with charcoal or adding flavor wood for smoke a cinch.
The built-in thermometer, adjustable dampers, easy-to-read LCD timer and charcoal storage all make for an ultra-easy grill experience.
But the Touch-N-Go gas ignition…totally new to me…really won my heart. Sure, I take pride in lighting and maintaining my coals just the way I like it; but one and done? Gotta love that!
What We Don't Like
A hook on the domed lid (standard with many charcoal grills) would be nice. Not included with this model.
Markings on the bottom vent slider to help you know how open it is would also have been a good
This grill is not very portable…it's made for the backyard and there it will stay!
This Grill is for You if
You love ease and convenience and a little gadgetry too! And why not?
If you have a bunch of people to feed, you should be enjoying the crowd, not worrying where the bag of charcoal is, fussing with coal-lighting, or panicking that you forgot to set a timer.
The Weber Performance makes the grilling experience seamless and effortless, and who doesn't like that?
This grill is also a good choice for the person who is not 100% confident about getting the coal-lighting, temperature and cook time just right.
The Weber Performance's built-in features act like a kind of safety net to smooth over these trickier aspects of grilling.
Another Model Might Be Better for You if
If you're a purist, a do-it-from-scratch the "real" way kind of person, the Weber Performance may not be for you.
This grill gives excellent performance and scores high in heat control and cooking, but it undeniably has bells and whistles that will not necessarily suit the dyed-in-the-wool pit-master who wants absolute control when it comes to taming the flame.
Summing up
You are home safe with Weber. Of the many grills they offer, you cannot go wrong. Their quality and durability is second to none. So it comes down to details, and if you like details, this grill has them in spades and could just be the one for you. Check here for where to find this product and pricing information.
Best Portable – Weber Go Anywhere
Think beach…camping…tailgate. You need a great grill that's able to crank out for a crowd, but which is also reasonably small and light. Enter the Weber Go Anywhere.
This one came out top in our research when looking for the best portable charcoal grills because it boasts features every bit as good as the big boys such as porcelain-enameled coating, adjustable dampers and a very respectable 160 sq inches of cooking space.
All this at just 14 pounds means you can "Go Anywhere" with it…carrying it with just one hand. It's the grill I own and use myself for when I'm camping and short staycations.
What's in the Box
Well, not a whole lot to say here. The grill comes assembled as seen in the picture above. No bolts, No nuts. Just unpack and go!
What We Like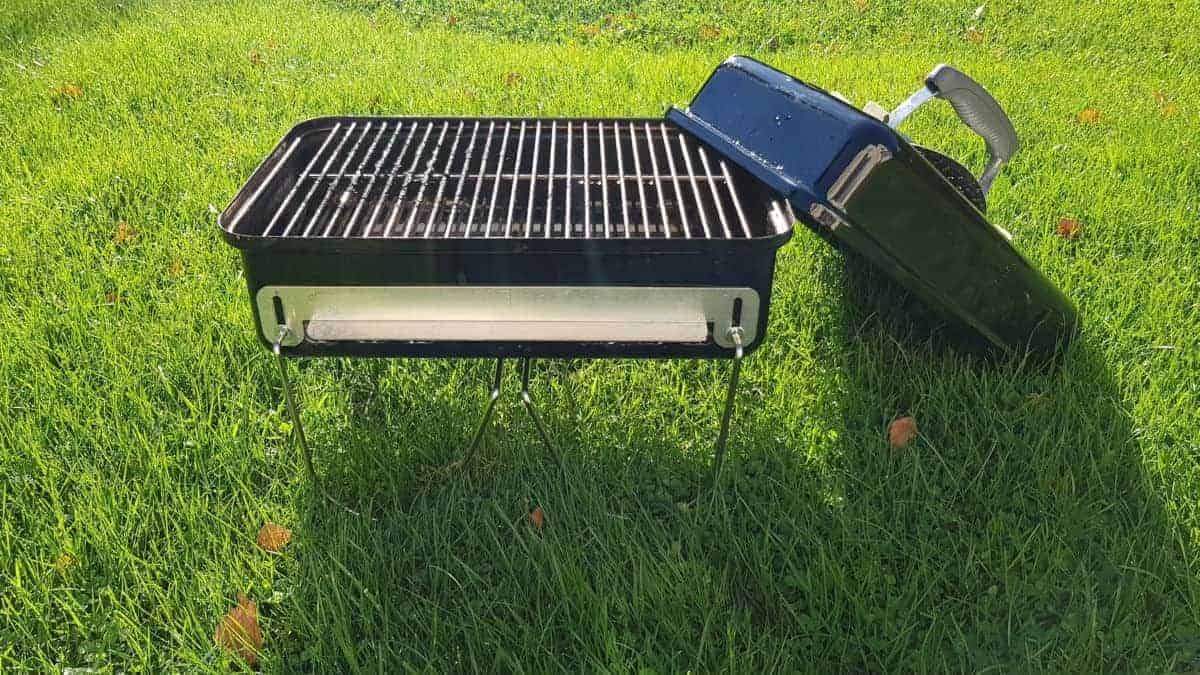 Love the efficiency of this model. Pivoting legs double as the lid lock so that when you are carrying it, all is safely secured with no rattle or falling apart.
Handles stay cool during cooking.
Two dampers to enable you to control heat and cook time.
The built-in lid hangers are super-useful if there's wind because you can rest the lid on the side to create a wind barrier.
The porcelain-enameled coating prevents rusting and fading keeping your game looking good!
Because of its size, it is a budget choice when it comes to charcoal usage too, which is nice.
Oh, and the no-assembly is pretty sweet too!
What We Don't Like
A little unstable on its thin legs. Be sure to place away from children or folks throwing a ball!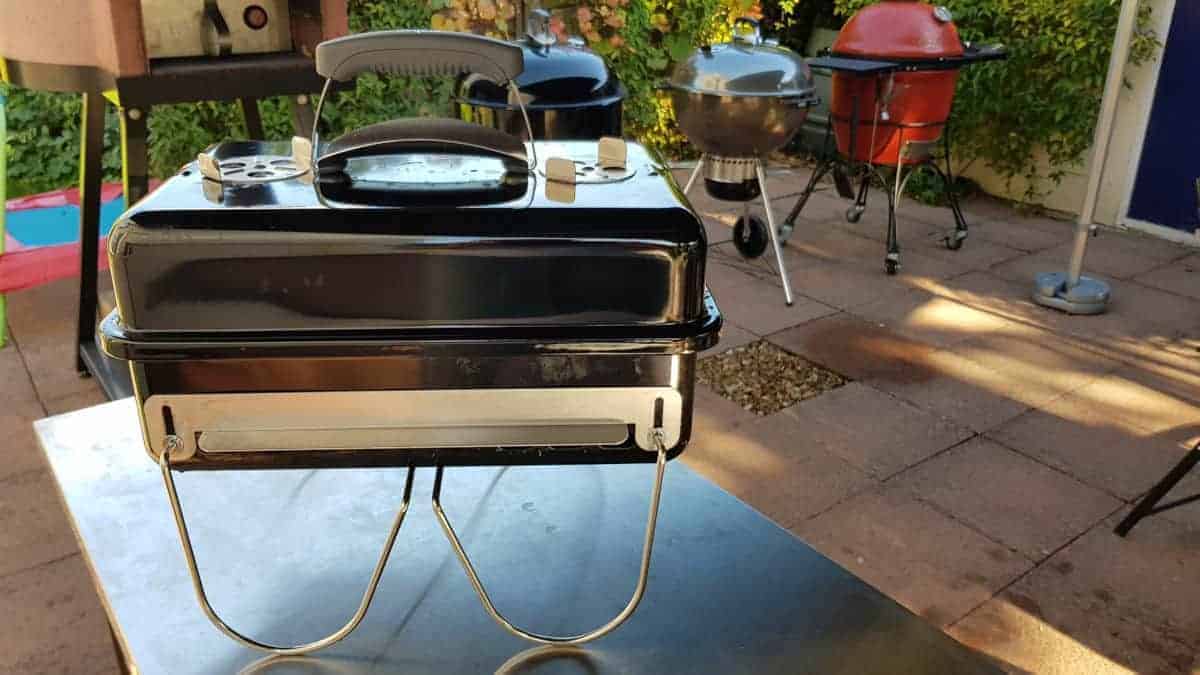 No ash pan for post-cook disposal. Some have tried lining the grill with foil for easy clean-up.
Because of its size and the smaller amount of coals used, it takes a little longer for coals to heat up.
This Grill is for You if
You like to take it on the road, or if you live in a small apartment with minimal space for storage and outdoor grilling.
With the Weber Go Anywhere, you get all the quality construction and support of this renowned manufacturer, but in a clever, compact and manageable size. Plated-steel legs that flip up to lock the lid closed and 3 handles to grab and go makes this the perfect grill for tossing in the back of your car.
It also has an impressive cook area that can handle four sizeable steaks at a time, so you aren't overly compromising on space.
Another Model Might Be Better for You if
You need to cook for a large crowd even when you're out and about. You really need to think about size here, and what your grilling needs are. This grill does a lovely job cooking for 2 to 4 at a time, but after that, you're looking at a second wave of grilling, or a bigger grill.
Summing up
At this price point, this grill is a winner. It's not your mega cookout grill, but it is simple, efficient and so so easy to take with you when you travel.
If you're not looking for upgrades and fancy-schmancy, and you are looking for portable, compact and the top-notch grill quality expected from Weber, you've found it in the Go Anywhere.
Here's where you can get more information and order it for your next road trip!
A Few Other Noteworthy Contenders
The Original Pk Grill & Smoker
This heavy-duty big boy weighs in at a whopping 45 lbs. Not a grill for the faint-hearted. And with its cool retro design, it pleases the eye right out of the box.
Simple but sturdy, the cast aluminum construction promises "the best airflow control, heat retention and temperature control of any full-size charcoal grill" (Consumers Digest 2017) High praise for sure!
Even the hinges are cast aluminum meaning there's nothing to break or rust. In fact, aluminum is renowned for being inherently rust-proof, so out of all the charcoal BBQs in this guide, this one will probably suffer the least with the ravages of time and being out in the elements season after season. It could last a lifetime (Disclaimer: Not guaranteed to! :p )
The PK Grill & Smoker has four vents which enables easy switching from high heat searing to low and slow barbecue. And I especially love that the body simply lifts right off the cart making it portable too. Read more about the PK here.
Best Hibachi Style – Lodge Sportsman
This rugged little worker is tough for its size. 100% all cast iron construction means it will keep trucking on for you, year after year.
The cooking grate comes naturally pre-seasoned (AKA non-stick) with no chemicals, and features a flip-down door to access the charcoal, a draft door to regulate heat and two adjustable cooking heights.
The hibachi design makes it perfect for tossing in the car before heading to the tailgate or the beach. This grill comes highly recommended in many peoples lists of charcoal grill reviews, particularly those for camping and tailgating, and is our number one pick in our best hibachi grills guide.
It doesn't have a lid, but there is a carrying handle and a built-in shelf for resting utensils.
Its fuel efficiency is excellent because of its superior heat retention, but since there is no lid or dampers to kill the fire, you would have to scoop out hot coals into a metal bin after cooking if you wanted to save them.
Plus, like all cast iron, it loves a little pampering between uses…a light oiling to maintain the seasoning goes a long way. Click here for more info on this little dynamo.
Dyna-Glo Dual Zone Premium Charcoal Grill
I was skeptical about this grill at first. Dyna-Glo? Sounds a bit like those luminous lite sticks my kid's love! But hold up there because this grill has some really interesting and pretty unique features.
It's set up with two chambers ("charcoal basket adjustment tray systems") with steel cranks that allow you to raise and lower the charcoal heat source according to your needs. Ok, that's a first for me! 2 doors access the 2 charcoal chambers. Folks, this is 2-zone grilling at its very easiest!
Don't want 2-zone? Simply remove the steel firebox divider to create one huge cooking surface. And I mean huge, we're talking 816 square inches of cooking space / grilling area. That's 30 burgers. Wow!
Construction is a solid combination of porcelain-enameled cast iron and stainless steel and the Dyna-Glo has a ton of very cool and convenient extras such as a double-wall liner in the lid, stainless steel smoke stack with adjustable flu cap, side shelves, cook thermometer, huge ash pan, storage basket and even a built-in bottle opener. What more could you ask from your grill?!
Check out more details about this industry behemoth with all the trimmings here.
Char-Griller 1515 Pro
This grill has a very pleasing classic shape and despite a generous 250 square inch cooking surface, will work well for small gardens and patios or other places where space is a premium.
Dimensions are just 31 x 21 x 44 inches but with heavy steel construction and cast-iron cooking grates, don't be thinking this little guy is a light-weight. The Char-Griller 1515 can easily handle a tri-tip or whole roast chicken.
Clean-up is made easy with a removable ash pan and storage is a cinch with a nice-looking wooden side shelf. This grill may be a small package, but it's got the looks and performance of some of the big players in the field. Here's where you can find pricing and more info on this grill.
Char-Broil Tru-Infrared Kettleman
Our final pick brings us full circle back to the classic black 3-legged kettle. This is a you-get-what-you-see nice sturdy grill. No bells and whistles, just a dependable workhorse that, thanks to its rust-resistant, porcelain-coated cooking grate, will give you years of great grilling.
While a simple construction, this grill has some great features. The patented Char-Broil TRU-Infrared cooking system allows more even cooking with greater temperature control, using infrared technology. The Infrared heat helps prevent hot and cold spots on the cooking surface and enables faster cooking less charcoal, and fewer flare-ups too.
I also like that the domed lid is hinged, unlike most kettle grills. With one hand, you can raise it, enjoy a little protection from any wind on your cooking, and replace it again. Also, and again unlike most kettle grills, the cooking grate is adjustable allowing you to raise and lower it to control heat.
The Kettleman boasts a very nice 360 square inches of cooking surface with a "no fall-through" grate and 360° air inlets which results in more even cooking. This is a medium-size very sound grill that will suit many seeking quality, reliability and performance. For further information, click here.
What's so Great About Charcoal Grills?
The truth is, switching on the gas or electric grill is a whole lot easier, right? But anyone who's sampled the products of different types of grills will for sure agree that the purer, deeper, earthier and more authentic fire-grilled flavor of food cooked on charcoal beats everything else hands down.
The dry, white-hot heat of charcoal sears meat fast, creating a crackly, caramelized exterior, lush pink tender meat and a smokier flavor than can be reached with gas or electric grills.
This is mostly because you can achieve higher cooking temperatures with charcoal. Charcoal is pure carbon, and it burns crazy hot.
Also, when your meat heats up, it releases drippings – full of delicious fats, oils, proteins, and sugars that hit the screaming hot coals, combust, vaporize and rise to coat and be absorbed right back in the meat. Yes, it's a kind of magic, and it's what gives charcoal grilled meat the incredible flavors that make us crazy for more.
Charcoal grills are generally less expensive than gas models too and are highly portable. Many are easy to toss in the back of the car and take to the game or the beach.
Are There any Downsides?
Learning Curve
From setting up to venting, lighting to cooking, there's a decent amount to learn on how to use a charcoal grill before you even think about striking that first match. And learning the steps is just the beginning.
Grilling with charcoal is not a fix-it-and-forget-it. There's the mastery of the flame, the heat, and the smoke, and learning all this takes time.
Of course, these are the very things that die-hard charcoal grillers, those who would cut off their right arm before turning on a gas grill, will say makes charcoal grilling sublime and unquestionably superior to other forms of grilling.
Fire Management
Unlike that big propane tank that can go strong and steady for weeks under your gas grill, charcoal is made from small pieces of combustible material. It burns. It expires. It needs arranging, adjusting and replenishing.
And even as you're moving coals around, adding more, adjusting the spread, you need to be maintaining the correct temperature and conditions for cooking. No, it's not as easy as pie, that's for sure.
Patience Required
I confess. I love both gas and charcoal grilling. If time's short and hungry kids are snapping at my heels, then clicking on the gas grill and throwing burgers on to the table in minutes is the ticket.
But if I have a good long lazy afternoon ahead of me, a rack of ribs at hand and a beer in hand, I'm going to fire up the charcoal grill and enjoy every lush, long, smoky minute of it.
Before you decide to go charcoal, I recommend taking a moment to think about your own habits, routines and free time.
If you're kinda chill, happy to noodle a couple of hours away at the grill in the afternoon with a big tasty payoff, charcoal could be for you. If you're the kind of person who's always running a mile-a-minute and speed and convenience is numero uno with you, then gas grills could work better for you.
Dealing With Charcoal is Messy and Dirty
There's no way around this one. It just is. Which is why you've gotta love the process and the flavor. Handling charcoal is dirty. Ash is messy and dusty. And clean up takes some time.
Besides making killer barbecue though, that dirty left-over charcoal has its advantages. Read here how you can give your garden a boost by using leftover charcoal and ash on plants.
In the end, it's a trade-off. If you genuinely seek and revere, as I do, that deep slow-cooked dark and smoky goodness that is the result of charcoal grilling, then the mess and clean-up is no biggie. If this is something you really feel you want to avoid, then maybe a gas grill is a better investment? To help you decide, you can check out more details in our charcoal vs gas grill comparison guide.
What to Consider When Buying
Still reading? OK, so you're in. Awesome. I promise you won't regret it! So let's talk about what to look for in a good charcoal grill that's going to stand up to repeated blasts of intense heat over the years.
Here is a comprehensive checklist of all the features and considerations you should keep in mind as you shop around for the best charcoal grill.
But keep on reading after, because we've also done the research and compiled a great short-list of the best grills out there, at price points to suit every wallet.
Build Quality
The materials used, and how they stand up to heavy use and intense heat will determine the quality of a charcoal grill. Thick materials like cast aluminum, cast iron or heavy ceramic grills are pro-choices for a top-of-the-line grill.
Not looking for high end at a high price? Porcelain-coated and chrome-plated will do the job for less, but these thinner materials will not necessarily stand up to intensive use over time.
Size and Cooking Area
Who or how many are you grilling for?
Think about how much space you need on the grill for cooking and also how much space you have to store and operate a grill.
If you but too small, you might occasionally struggle to feed large numbers. But if you buy too big unnecessarily, you will use more fuel unnecessarily.
Temperature Control and Stability
If you're already a pro at taming the flame, great. You can handle quirks and inconsistencies with temperature. But for many, assurance that the grill will respond to your touch and maintain steady heat when necessary is a huge bonus.
The design of some grills will give you more assistance with this than others. And many models feature a built-in thermometer.
Overall Ease of Use
Vents that open easily, grill racks that sit steadily, hoods that hang conveniently on the side – It's the small stuff that can make the difference between a smooth and pleasant grilling experience, and frustration or even burnt fingers!
So make sure to look for a grill that's known for its thoughtful design and ease of use.
Ease of Cleaning and Maintenance
Nobody likes this job, so while it's rarely top-of-mind when you're grill-shopping, it's important to think about how easily the grill can be taken apart, cleaned and maintained.
If this is important to you, look for good-sized ash pans and handy levers to work back and forth that will empty ash from the grill body.
Durability
Again, think about your own use.
If you grill infrequently, a mid-range to budget choice may work for you because the cheaper building materials will not be constantly tested.
If however, you grill regularly, go for tough build materials – cast iron and heavy-gauge steel – and Fort-Knox durability.
Warranty and Customer Service
This is your insurance on your purchase – don't skimp!
A solid 10-year warranty will back up heavy usage, providing you with easy replacement parts should they wear out. Check out also what other owners say about Customer Service.
A helpful, easy-to-reach person at the end of a toll-free number or an email smooths over any issues or questions you may have with your product. Bad service will leave you ready to smash your grill tools over someone's head! Hey, we've all been there.
Current Owners Opinions
This is pretty much where I start with any purchase, from dish soap to dishwasher, the first thing I need to know is what everyone else thinks about it!
Unbiased and honest, most reviewers can really help you sift through your buying options to make the right choice for you. Plus, online forums and social media communities are great places to share opinions, questions, recipes, and tips.
Cost
With a range from $50 to $2,000+, there's going to be a charcoal grill out there that fits your budget. But do set a budget, otherwise creep sets in, you desire the slightly better one, and then the next one up is only fractionally more expensive, and before you know it…
We've all been there.
How often you plan to grill and what features and level of durability you require will drive your decision and the price point, but do set a budget, and stick to it.
Accessories and Additional Features
Dampers, vents, drawers for charcoal, cover, side tables, temperature probe holes, ash catchers and more are the bells and whistles of charcoal grills. There are tons of grilling accessories available. Some you won't need, some you won't want to live without.
Think about your own habits. Hate mess? Get an ash catcher. A little OCD about temperature? Be sure there's a temperature probe hole. Like everything at hand? Pick a model with a built-in side table. Let's look at some of the accessories we at FoodFireFriends recommend for charcoal grilling before you go.
Charcoal Grilling Tools and Accessories You'll Also Need
When you cook with charcoal grills, there are some essential accessories you're going to need. Items to make the cooking experience easier, more enjoyable and safer.
Check out some of the recommended equipment below before you go!
A Way to Light Your Charcoal
Unlike with gas grills, there's no push-button starter for a charcoal grill. You need to get the coals lit yourself. And whether using lump charcoal or briquettes, a charcoal chimney starter is the tool of choice for getting a charcoal fire going quickly and easily.
You simply ball up some newspaper or place a firelighter or two under a full chimney of coal, then light it.
Within 15 minutes or so, you will have glowing red coals, ready to be poured into your grill for cooking over. Simple, effective and a huge time saver.
Heat-Resistant Gloves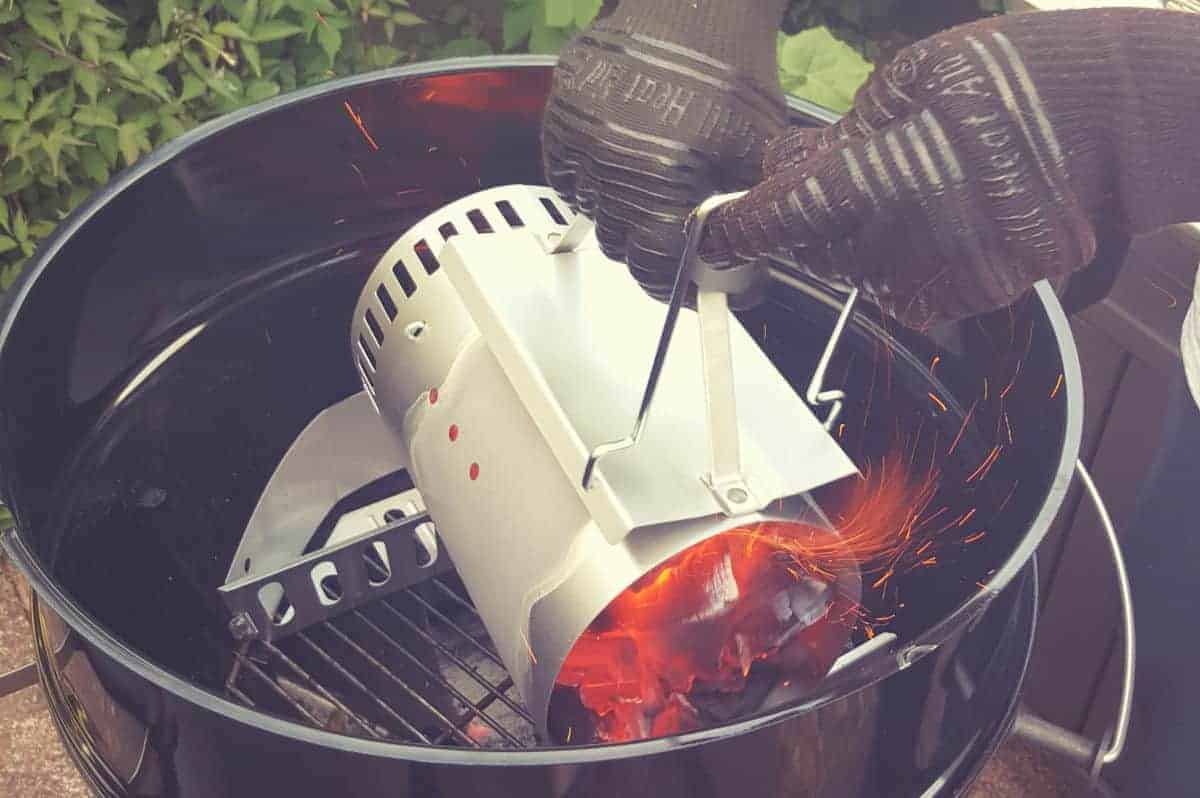 You always have to be conscious of hot surfaces with any type of grill, but there is even more handling of hot stuff when using a charcoal grill.
There's the handling of the chimney full of hot coals to get started. You may need to move the grates around to top up with more charcoal mid-cook. The lid and fire chamber can get very hot, and your hand is very close to the flames when adding, turning or removing food. It can be easy to get burned.
Therefore it's highly recommended to get yourself a pair of heat-resistant grilling gloves. Always think safety first! A pair of suitable grilling gloves is essential.
Grilling Tools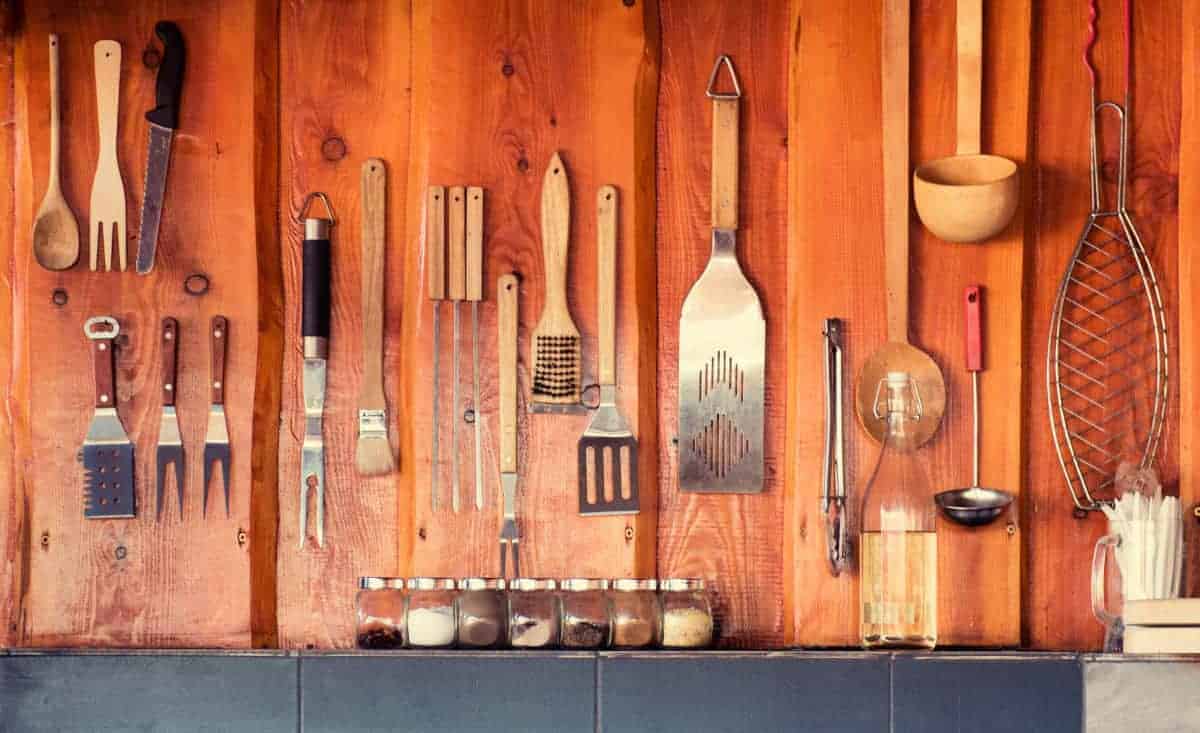 Whatever you're cooking, you need to be able to add, turn over and reposition, and finally remove items from the grill. To do this, you need, at minimum, a good spatula and some BBQ tongs.
It can make sense to buy individual BBQ tools, though there are some fantastic grilling tool sets available too. However you choose to buy them, they are essential.
Thermometers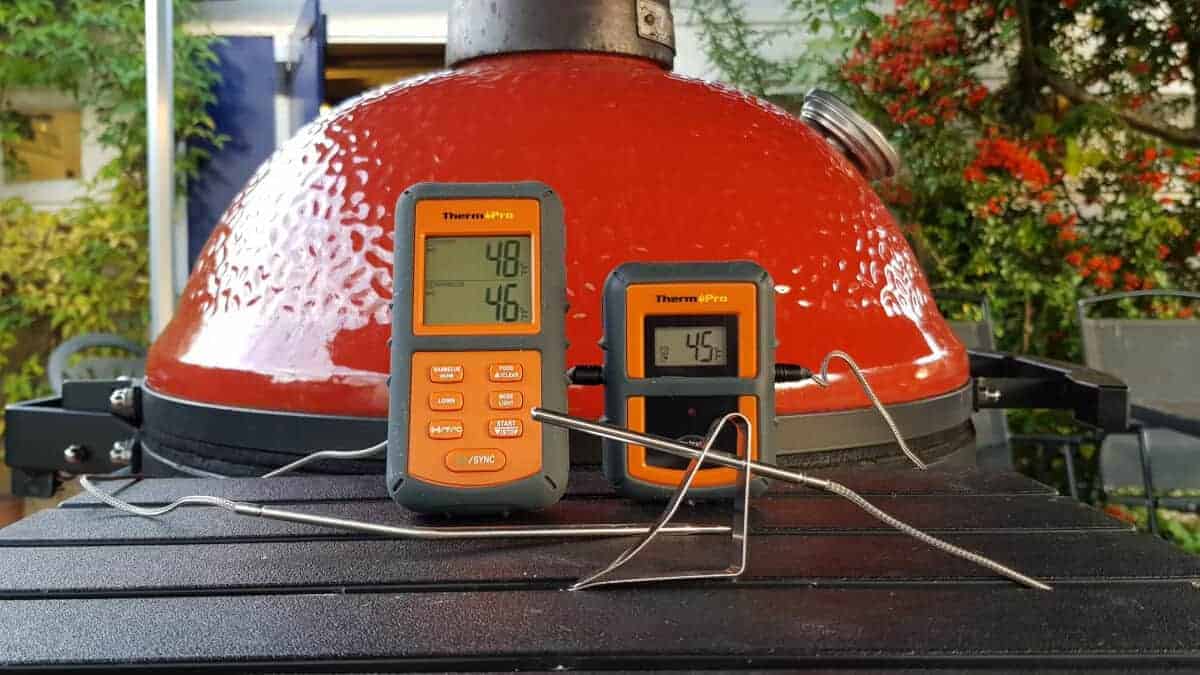 You will hear me repeatedly say throughout this site that we cook to temperature and feel, not to time. And the only way to know the temperature of your food is to use an instant-read thermometer.
But that's not all. The inside of your charcoal grill can be at any temperature between 200 and 750 degrees Fahrenheit! To follow a recipe correctly and to get the best results, you need to be able to control the temperatures in your grill, and this means also knowing them.
The built-in lid thermometers are almost always sub-par and not to be relied on. Therefore you want to get yourself a good dual probe smoker and grill thermometer.
With this one unit, you can monitor the temperature of your grill and the internal temperature of your food. Indispensable and one of the best tools to own if you want to master the grill.
A Good Grill Brush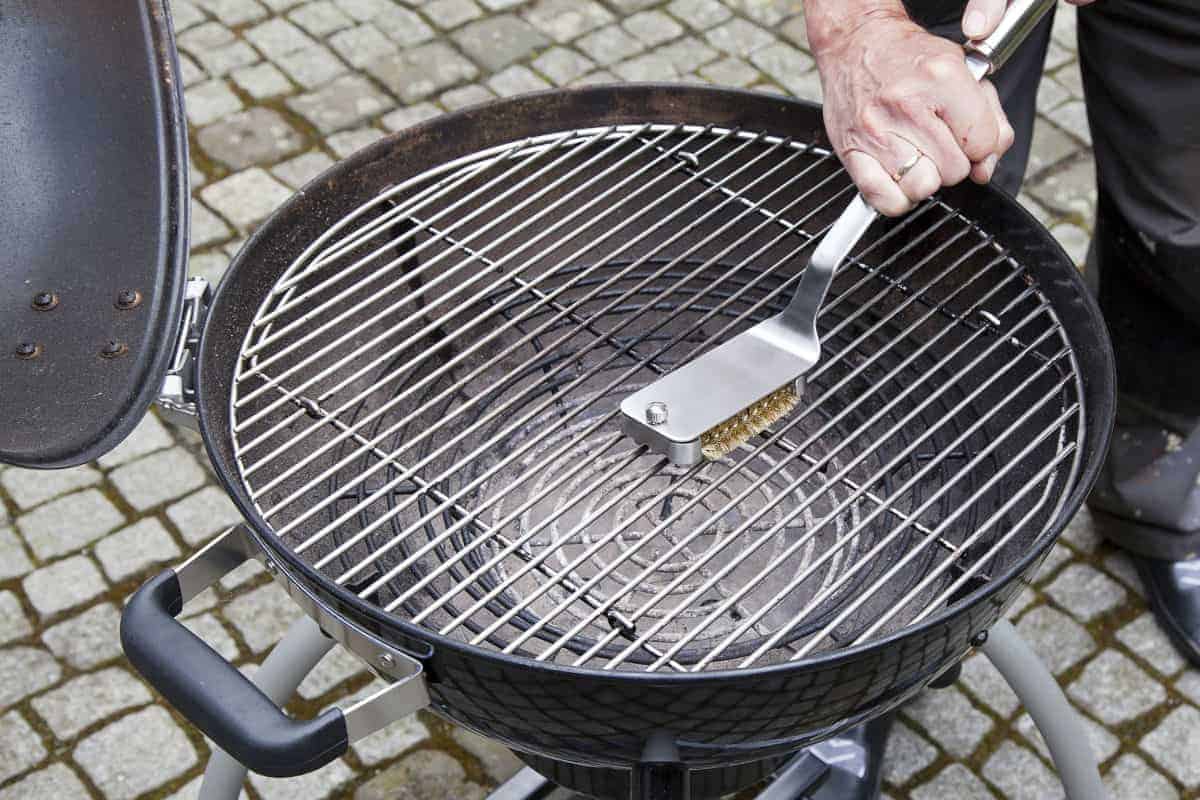 Finally, regardless of the types of grills you own, you will need to clean down your grates after cooking. The best item for this is a good grill brush.
Aim for a bristle free version, as I'm sure we've all heard the horror stories by now of people who have consumed a wire bristle from a grill brush? It can be wise to avoid bristles altogether, to take away that worry.
Final Thoughts
Intense smoky flavor. Screaming hot grates. Absolute control over the elements of fire and air. These are the things we all love about charcoal grilling. And you can see that there are many ways to enjoy this with a dazzling selection of different models, sizes and specs.
We hope in this post we've helped outline some of the pros and cons of charcoal grilling and if you've decided now to get a charcoal grill (woohoo!), we trust our round-up of the best charcoal grills out there today has made clear some of the differences between different models, both in construction, performance and price.
Let us know what you ended up choosing. How did it work out for you? We'd love to hear about your experience, and we're always appreciative when you share our post with the wider grilling community! Thanks for stopping by.
Happy Grilling!
Product image credits: © Amazon.com